The Global Healthcare Staffing Market was valued at USD 42.5 billion in 2022 and is estimated to reach approximately USD 81.9 billion by 2031, at a CAGR of 7.6% from 2023 to 2031. By offering temporary and permanent staffing solutions to healthcare facilities like hospitals, clinics, nursing homes, and home health agencies, the healthcare staffing market plays a crucial part in ensuring the efficient operation of the healthcare sector. In order to provide high-quality patient care, this dynamic and quickly changing industry tackles the crucial need for qualified healthcare personnel, including nurses, doctors, allied health professionals, and administrative employees. The rising need for healthcare services as a result of the ageing population, the incidence of chronic diseases, and technological breakthroughs in medicine is one of the main factors driving the healthcare staffing industry. These variables cause shifts in the amount of workers needed, opening doors for healthcare staffing companies to fill labour shortages. By carefully matching individuals' talents and qualifications with the unique needs of healthcare providers, healthcare staffing services link healthcare facilities with healthcare experts. They give healthcare organizations flexibility by enabling them to modify their personnel levels in response to changes in patient volume and seasonality. This adaptability enables medical facilities to provide patients with the treatment they require while maximizing the use of their resources. The demand for highly qualified and certified healthcare workers is fueled by regulatory developments such as licensure requirements and compliance standards, which have an impact on the healthcare staffing industry. The COVID-19 pandemic also highlighted the vital role of healthcare staffing companies in responding to public health emergencies because they were instrumental in sending medical personnel to regions with an increase in cases. By addressing staffing issues, guaranteeing high-quality patient care, and adjusting to the changing demands of the industry, the healthcare staffing market plays a crucial role in the healthcare ecosystem. Due to its versatility and durability, it is a crucial part of the larger healthcare ecosystem.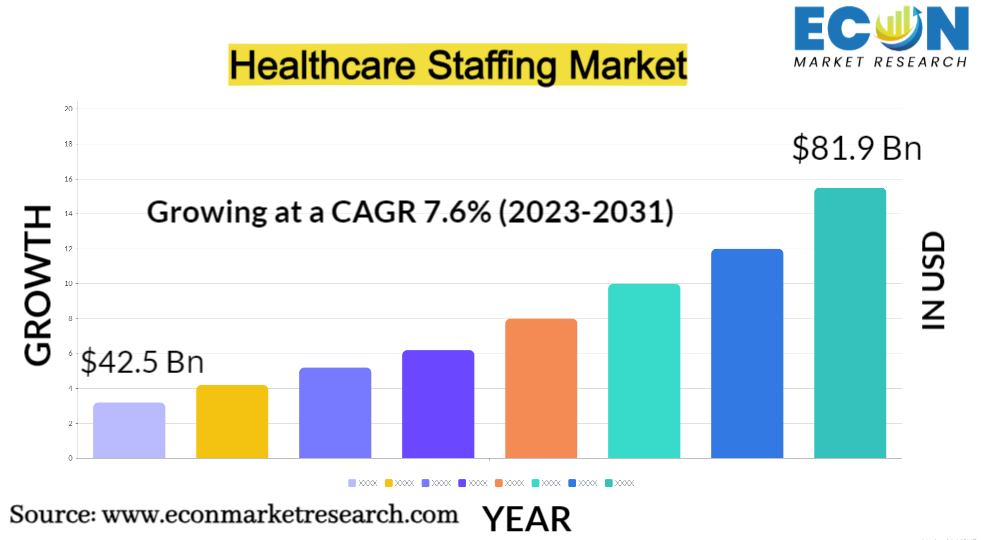 HEALTHCARE STAFFING MARKET: REPORT SCOPE & SEGMENTATION
| | |
| --- | --- |
| Report Attribute | Details |
| Estimated Market Value (2022) | 42.5 Bn |
| Projected Market Value (2031) | 81.9 Bn |
| Base Year | 2022 |
| Forecast Years | 2023 - 2031 |
| Scope of the Report | Historical and Forecast Trends, Industry Drivers and Constraints, Historical and Forecast Market Analysis by Segment- By Service Type, By End-user, & Region |
| Segments Covered | By Service Type, By End-user, & Region |
| Forecast Units | Value (USD Billion or Million), and Volume (Units) |
| Quantitative Units | Revenue in USD million/billion and CAGR from 2023 to 2031 |
| Regions Covered | North America, Europe, Asia Pacific, Latin America, and Middle East & Africa, and the Rest of World |
| Countries Covered | U.S., Canada, Mexico, U.K., Germany, France, Italy, Spain, China, India, Japan, South Korea, Brazil, Argentina, GCC Countries, and South Africa, among others |
| Report Coverage | Market growth drivers, restraints, opportunities, Porter's five forces analysis, PEST analysis, value chain analysis, regulatory landscape, market attractiveness analysis by segments and region, company market share analysis, and COVID-19 impact analysis. |
| Delivery Format | Delivered as an attached PDF and Excel through email, according to the purchase option. |
Global Healthcare Staffing Market Dynamics
Ageing populations and a rise in the prevalence of chronic diseases are key demographic trends that influence demand for healthcare services. As a result, there is a constant need for healthcare personnel, opening doors for staffing companies to close the skills gap. The market is highly impacted by regulatory dynamics. Staffing requirements are directly impacted by recurring changes in healthcare regulations, licence requirements, and compliance standards. To make sure that the healthcare experts they provide adhere to the changing standards, healthcare staffing services must negotiate these regulatory challenges. Furthermore, the healthcare sector is changing as a result of technological developments like telemedicine and electronic health records. These developments increase the need for specialized IT employees, giving the staffing market a new facet. Market dynamics have been further enhanced by the COVID-19 epidemic. The importance of healthcare staffing companies in quickly responding to caseload increases was emphasised, underscoring the necessity of flexibility and readiness in the face of public health catastrophes. Decisions about staffing within healthcare organizations are also influenced by economic issues, such as healthcare budgets and reimbursement schemes. Organizations looking to control expenses may experience temporary hiring freezes or a rise in demand for temporary workers as a result of economic changes. The healthcare staffing market functions in a dynamic context where demographic changes, legal amendments, technological developments, pandemic responses, and monetary conditions all contribute to its changing terrain. To guarantee the availability of qualified healthcare personnel and maintain the standard of patient care, it is crucial to adapt to these dynamics.
Global Healthcare Staffing Market Drivers
Growing elderly population and Increased Healthcare Needs
The continual demographic change brought on by an ageing population and the consequent rise in healthcare needs is one of the major factors driving the healthcare staffing market. The need for healthcare services has increased dramatically as the population in many wealthy nations continues to age. Increasing life expectancy and decreased birth rates have led to an ageing population with a higher number of elderly people who need more regular and involved medical care. Multiple chronic illnesses are common among the elderly, demanding continuing medical care. Healthcare facilities are under tremendous pressure from this demographic transition to maintain enough personnel levels to handle the increasing patient population.Therefore, by locating, enlisting, and placing healthcare specialists including nurses, doctors, and allied health workers, healthcare staffing companies play a crucial part in addressing this crisis. By filling the labour gap in healthcare institutions, these organizations make sure that they have a skilled and sufficient workforce to provide ageing populations with high-quality care.
Changing Healthcare Regulations and Compliance
The dynamic environment of healthcare legislation and compliance standards has a considerable impact on the market for staffing in the healthcare industry. A major factor is the constantly changing qualification and licensure requirements for healthcare workers. The qualifications and certifications required for healthcare practitioners are frequently changed by state and federal regulatory organizations, which has an impact on both the candidates for employment and the organizations in charge of placing them. To make sure that its candidates have the required qualifications, staffing firms must stay up to date on these standards. The healthcare staffing market is directly impacted by changing healthcare policies and regulations. Staffing requirements within healthcare organizations may change as a result of modifications to reimbursement models, healthcare delivery systems, and insurance regulations. Healthcare organizations must hire more people to meet compliance criteria, such as those pertaining to patient care and safety.
Restraints:
Shortage of Skilled Healthcare Professionals
The chronic shortage of qualified healthcare workers is one of the main obstacles to the market for healthcare staffing. This problem includes a lack of skilled nurses, doctors, and healthcare specialists in many areas. Numerous variables, such as population changes, rising healthcare demands, and educational bottlenecks, are to blame for the shortfall. The demand for healthcare services is at an all-time high as a result of the ageing population and an increase in chronic disorders. Healthcare facilities are under tremendous pressure to maintain proper staffing levels as a result of the increase in patient volume. The training and education of healthcare professionals, however, take time, and the supply of recent graduates frequently finds it difficult to keep up with the expanding demand. Additionally, the difficulty in filling positions is made more difficult by the rivalry for the small pool of skilled healthcare workers.
Budgetary Constraints in Healthcare Organizations
Due to a variety of economic variables, healthcare organizations including hospitals, clinics, and long-term care institutions sometimes operate within strict financial limits. Healthcare organizations may implement cost-cutting measures as a result of economic challenges, which may involve personnel reductions or hiring freezes. When healthcare facilities try to control labour costs, staffing firms may experience decreased demand for their services, making it difficult to sustain steady development in the staffing market. Budget restrictions can prevent investments in workforce training and development, making it challenging for healthcare organizations to prepare their current personnel for specialist tasks or higher-level responsibilities. This in turn may have an impact on the talent pool and the accessibility of healthcare professionals with the necessary training and credentials.
Opportunities:
Rapid Technological Advancements
The fast improvements in technology within the healthcare industry create a huge opportunity for the healthcare staffing market. The industry is changing as a result of these technological advancements, opening up new opportunities for employment firms to offer specialized talent and knowledge. There is a rising need for IT experts with experience in healthcare due to the increased integration of technology in healthcare, including electronic health records (EHRs), telemedicine, and digital health solutions. These specialists are essential for putting technological systems into place, keeping them running smoothly, and optimizing their performance. The demand for medical personnel who can provide care remotely has led to a significant growth in telemedicine in particular. This gives staffing companies the chance to link healthcare organizations with medical professionals who offer telehealth services. The need for people who can use data to improve patient care and healthcare outcomes is being driven by the ongoing advancement of health informatics and data analytics. By hiring and placing specialists in health informatics, data analysis, and healthcare AI, healthcare staffing companies can meet this demand.
Growing Demand for Healthcare Services
The ongoing and expanding demand for healthcare services is one of the most significant opportunities in the healthcare staffing sector. The ageing population and the rising incidence of chronic diseases are the two main causes driving this need. Healthcare requirements are continuously increasing as a result of people living longer and needing more regular and complex medical treatment. In order to accommodate the growing patient population, healthcare infrastructure and facilities are also growing globally, particularly in emerging nations. There is a growing need for healthcare workers as a result of the development and operation of new healthcare facilities, such as hospitals, clinics, and long-term care institutions.This offers a big chance for healthcare staffing companies to play a key role in bridging the gap between trained healthcare professionals and the rising needs of healthcare organizations. To guarantee that healthcare facilities maintain ideal staffing levels, staffing agencies can offer a flexible and responsive option. This will improve patient care and outcomes.
Segment Overview
By Service Type
Based on service type, the global healthcare staffing market is divided into travel nurse, per diem nurse, locum tenens, and allied healthcare. The per diem nurse category dominates the market with the largest revenue share.Per diem nurses provide healthcare facilities with flexible, on-demand staffing choices. They are suitable for short-term or last-minute staffing needs since they are regularly available, ensuring that healthcare organizations maintain ideal nurse-to-patient ratios. A key player in the market, travel nurses offer temporary nursing services to healthcare facilities that are experiencing staffing shortages as a result of seasonality or changes in local demand. They frequently travel, filling up nursing staffing gaps and taking advantage of the flexibility to work in various healthcare environments. Specialized healthcare practitioners known as locum tenens professionals give their skills on a temporary basis to cover for doctors or other clinicians who are out sick or when there is a staffing shortage. Allied healthcare workers encompass a wide range of professionals, including medical technologists, physical therapists, and radiologic technologists, among others. They play vital roles in patient care and diagnostics, making them indispensable to the healthcare staffing market.
By End-User
Based on end-user, the global healthcare staffing market is segmented into hospitals, clinics, clients, and others. The clients segment dominates the healthcare staffing market. The category of clients encompasses a wide range of healthcare organizations beyond hospitals and clinics. This category includes long-term care facilities, rehabilitation centers, home health agencies, and other healthcare providers. Each client type has unique staffing needs, which staffing agencies must tailor their services to meet.Hospitals, as a primary segment, are major consumers of healthcare staffing services. They encompass a broad spectrum of medical facilities, including large academic medical centers, community hospitals, and specialty hospitals. These institutions often require temporary or permanent staffing solutions for a variety of positions, from nurses and physicians to administrative and support staff. Clinics form another critical segment within the healthcare staffing market. These can include medical, dental, or specialty clinics that provide outpatient services. Clinic staffing needs may differ from those of hospitals, often requiring specialized professionals and support staff to manage patient care efficiently.
Global Healthcare Staffing Market Overview by Region
The global healthcare staffing market is categorized into North America, Europe, Asia-Pacific, and the Rest of the World. Asia Pacific emerged as the leading region, capturing the largest market share in 2022. In the international healthcare staffing market, Asia Pacific has risen to the top due to its impressive expansion and prominence. The population in the Asia Pacific region is expanding quickly, and the middle class is expanding, which is driving up healthcare demand. The ageing population and the incidence of chronic diseases have increased demand for healthcare services and, consequently, for healthcare workers. Furthermore, the technology and infrastructure of healthcare have advanced significantly in the Asia-Pacific region. The complexity and specialization of healthcare tasks have increased as a result of significant investments that countries in the region have made in contemporary healthcare facilities and digital health technologies. As a result, there is a growing need for qualified healthcare workers with a range of skill sets.In addition, medical tourism has increased significantly in the Asia-Pacific region, with people from all over the world travelling to places like India, Thailand, and Singapore to receive treatment. Due to the influx of international patients, this has increased the demand for healthcare personnel, fueling the market's expansion. Asia Pacific has emerged as a top location for offshore healthcare staffing solutions due to the availability of a highly skilled and cost-competitive workforce in nations like India and the Philippines. Numerous healthcare organizations from Western nations have delegated to service providers in this area a variety of tasks, including radio logical reporting, medical transcription, and telemedicine support.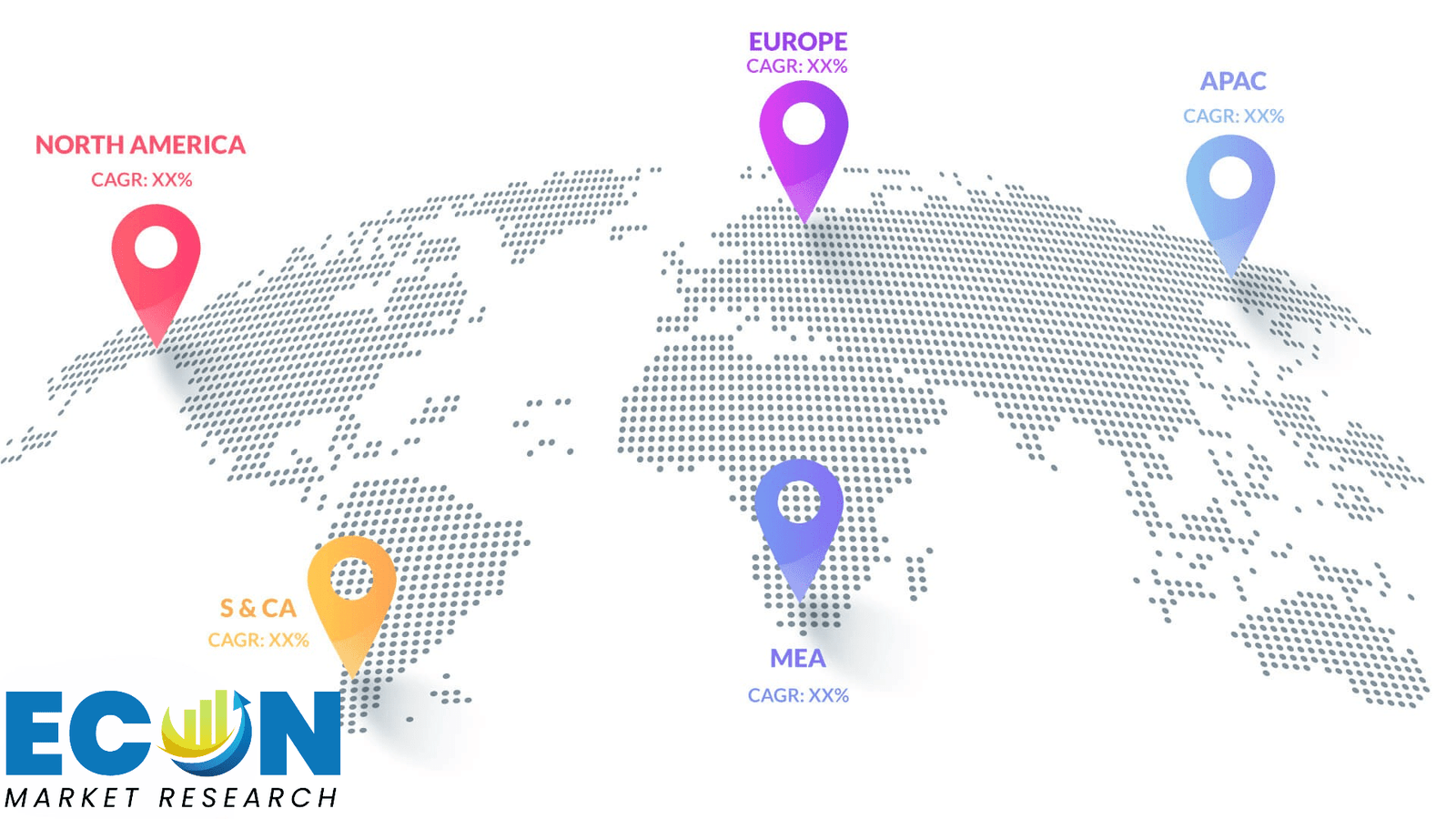 Global Healthcare Staffing Market Competitive Landscape
In the global healthcare staffing market, a few major players exert significant market dominance and have established a strong regional presence. These leading companies remain committed to continuous research and development endeavors and actively engage in strategic growth initiatives, including product development, launches, joint ventures, and partnerships. By pursuing these strategies, these companies aim to strengthen their market position, expand their customer base, and capture a substantial share of the market.
Some of the prominent players in the global healthcare staffing market include AMN Healthcare Services Inc., Envision Healthcare Corporation, Maxim Healthcare Group, teamhealth, Adecco Group, Aya Healthcare, locumtenens.com, trustaff, CHG Management, Inc, Cross Country Healthcare, Inc. , and various other key players.
Global Healthcare Staffing Market Recent Developments
In August 2023, Healthcare staffing companies like WORKFORCE fight to have temporary nurses treated like workers. According to the companies, temporary nurses do not genuinely meet the requirements for contract workers under the Fair Labour Standards Act.
Scope of the Global Healthcare Staffing Market Report
Healthcare Staffing Market Report Segmentation
ATTRIBUTE

DETAILS

By Service Type

Travel Nurse

Per Diem Nurse

Locum Tenens

Allied Healthcare

By End-User

Hospitals

Clinics

Clients

Others

By Geography

North America (USA,

and Canada)

Europe (UK, Germany, France, Italy, Spain, Russia and Rest of Europe)

Asia Pacific (Japan, China, India, Australia, Southeast Asia and Rest of Asia Pacific)

Latin America (Brazil, Mexico, and Rest of Latin America)

Middle East & Africa (South Africa, GCC, and Rest of Middle East & Africa)

Customization Scope

Pricing
Objectives of the Study
The objectives of the study are summarized in 5 stages. They are as mentioned below:
Global Healthcare Staffing

Market

Size and Forecast:
To identify and estimate the market size for the global healthcare staffing market segmented by service type, by end user, region and by value (in U.S. dollars). Also, to understand the consumption/ demand created by consumers of healthcare staffing between 2019 and 2031.
Market Landscape and Trends:
To identify and infer the drivers, restraints, opportunities, and challenges for the global healthcare staffing market
Market Influencing Factors:
To find out the factors which are affecting the sales of healthcare staffing among consumers
To identify and understand the various factors involved in the global healthcare staffing market affected by the pandemic
To provide a detailed insight into the major companies operating in the market. The profiling will include the financial health of the company's past 2-3 years with segmental and regional revenue breakup, product offering, recent developments, SWOT analysis, and key strategies.
Intended Audience
Healthcare Staffing Agencies

Healthcare Providers

Educational Institutions

Technology and Service Providers

Governments, Associations, and Industrial Bodies

Investors and Trade Experts
Research Methodology
Our research methodology has always been the key differentiating reason which sets us apart in comparison from the competing organizations in the industry. Our organization believes in consistency along with quality and establishing a new level with every new report we generate; our methods are acclaimed and the data/information inside the report is coveted. Our research methodology involves a combination of primary and secondary research methods. Data procurement is one of the most extensive stages in our research process. Our organization helps in assisting the clients to find the opportunities by examining the market across the globe coupled with providing economic statistics for each and every region. The reports generated and published are based on primary & secondary research. In secondary research, we gather data for global Market through white papers, case studies, blogs, reference customers, news, articles, press releases, white papers, and research studies. We also have our paid data applications which includes hoovers, Bloomberg business week, Avention, and others.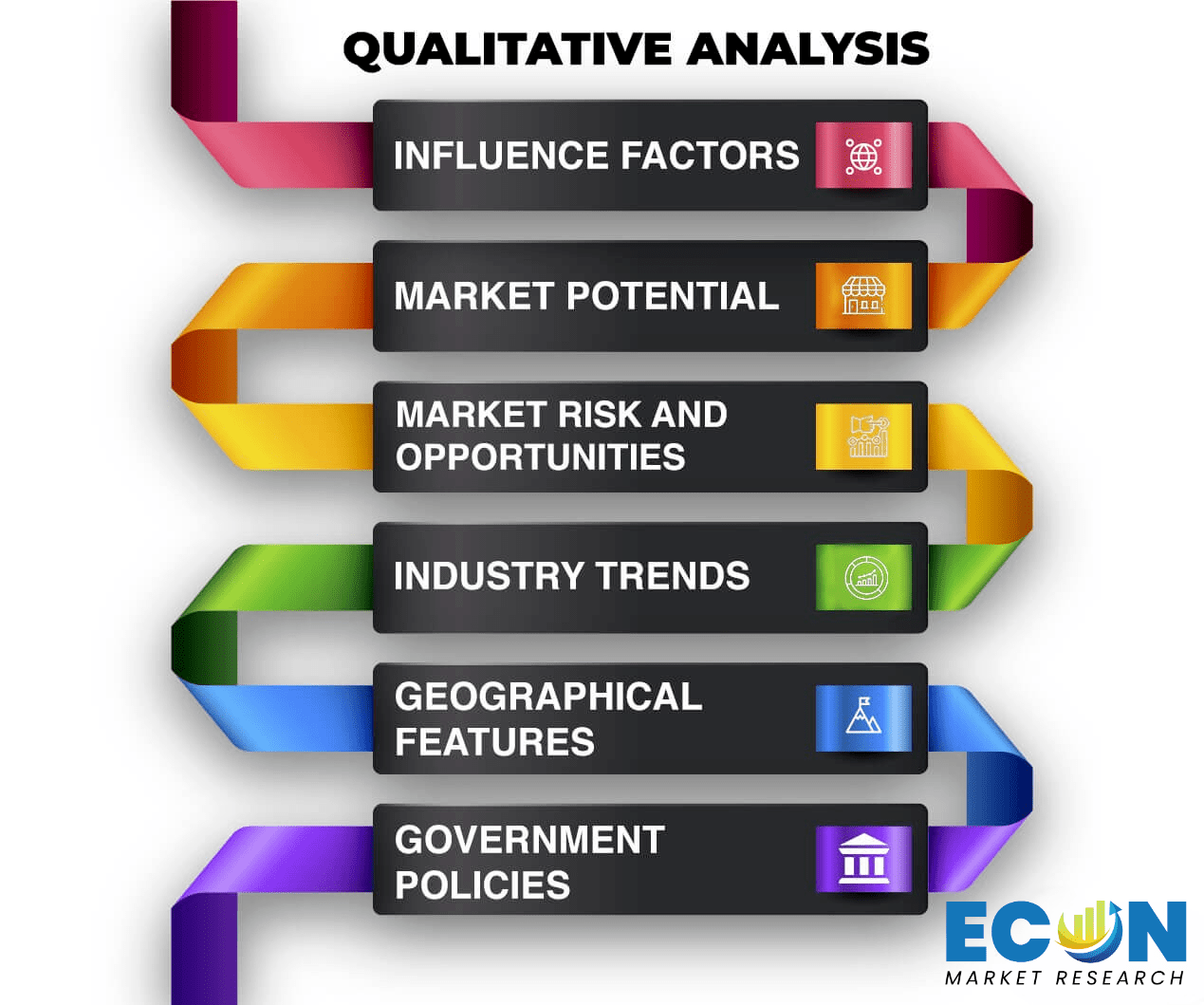 Data Collection
Data collection is the process of gathering, measuring, and analyzing accurate and relevant data from a variety of sources to analyze market and forecast trends. Raw market data is obtained on a broad front. Data is continuously extracted and filtered to ensure only validated and authenticated sources are considered. Data is mined from a varied host of sources including secondary and primary sources.

Primary Research
After the secondary research process, we initiate the primary research phase in which we interact with companies operating within the market space. We interact with related industries to understand the factors that can drive or hamper a market. Exhaustive primary interviews are conducted. Various sources from both the supply and demand sides are interviewed to obtain qualitative and quantitative information for a report which includes suppliers, product providers, domain experts, CEOs, vice presidents, marketing & sales directors, Type & innovation directors, and related key executives from various key companies to ensure a holistic and unbiased picture of the market. 
Secondary Research
A secondary research process is conducted to identify and collect information useful for the extensive, technical, market-oriented, and comprehensive study of the market. Secondary sources include published market studies, competitive information, white papers, analyst reports, government agencies, industry and trade associations, media sources, chambers of commerce, newsletters, trade publications, magazines, Bloomberg BusinessWeek, Factiva, D&B, annual reports, company house documents, investor presentations, articles, journals, blogs, and SEC filings of companies, newspapers, and so on. We have assigned weights to these parameters and quantified their market impacts using the weighted average analysis to derive the expected market growth rate.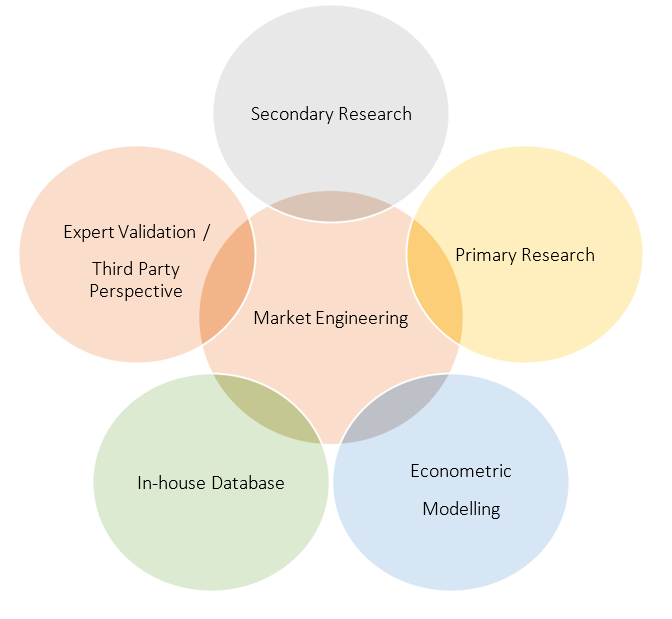 Top-Down Approach & Bottom-Up Approach
In the top – down approach, the Global Batteries for Solar Energy Storage Market was further divided into various segments on the basis of the percentage share of each segment. This approach helped in arriving at the market size of each segment globally. The segments market size was further broken down in the regional market size of each segment and sub-segments. The sub-segments were further broken down to country level market. The market size arrived using this approach was then crosschecked with the market size arrived by using bottom-up approach.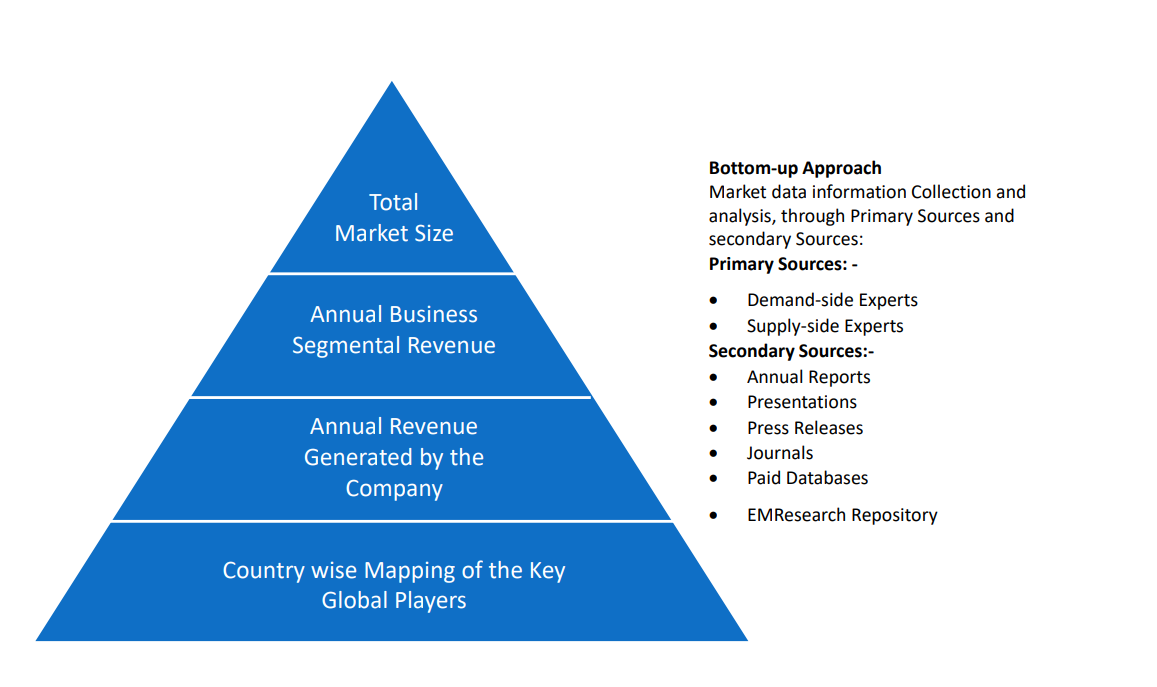 In the bottom-up approach, we arrived at the country market size by identifying the revenues and market shares of the key market players. The country market sizes then were added up to arrive at regional market size of the decorated apparel, which eventually added up to arrive at global market size.
This is one of the most reliable methods as the information is directly obtained from the key players in the market and is based on the primary interviews from the key opinion leaders associated with the firms considered in the research. Furthermore, the data obtained from the company sources and the primary respondents was validated through secondary sources including government publications and Bloomberg.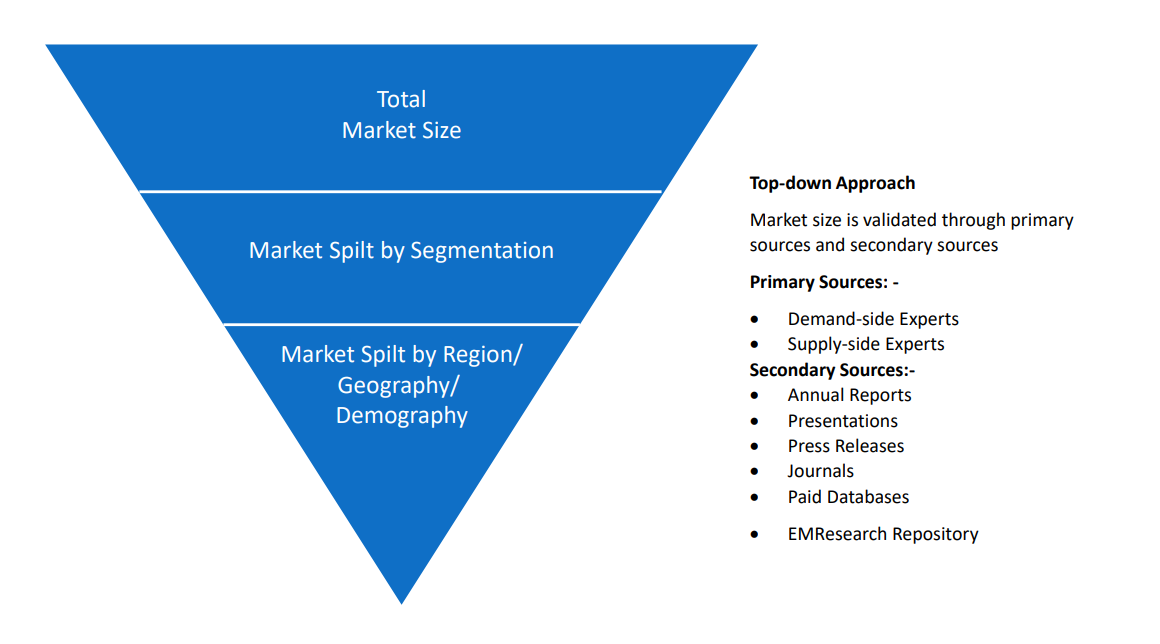 Market Analysis & size Estimation
Post the data mining stage, we gather our findings and analyze them, filtering out relevant insights. These are evaluated across research teams and industry experts. All this data is collected and evaluated by our analysts. The key players in the industry or markets are identified through extensive primary and secondary research. All percentage share splits, and breakdowns have been determined using secondary sources and verified through primary sources. The market size, in terms of value and volume, is determined through primary and secondary research processes, and forecasting models including the time series model, econometric model, judgmental forecasting model, the Delphi method, among Flywheel Energy Storage. Gathered information for market analysis, competitive landscape, growth trends, product development, and pricing trends is fed into the model and analyzed simultaneously.
Quality Checking & Final Review
The analysis done by the research team is further reviewed to check for the accuracy of the data provided to ensure the clients' requirements. This approach provides essential checks and balances which facilitate the production of quality data. This Type of revision was done in two phases for the authenticity of the data and negligible errors in the report. After quality checking, the report is reviewed to look after the presentation, Type and to recheck if all the requirements of the clients were addressed.