The Global Health Economics and Outcomes Research Services Market was valued at USD 1.10 billion in 2022 and is estimated to reach approximately USD 3.48 billion by 2031, at a CAGR of 13.6% from 2023 to 2031. The health economics and outcomes research (HEOR) is a multidisciplinary field that evaluates the financial and clinical results of medical interventions. It provides useful information to stakeholders, such as healthcare providers, pharmaceutical firms, payers, and policymakers, to help them make informed decisions. To best allocate resources, treatment alternatives must be rigorously evaluated due to the rising complexity and cost of healthcare. HEOR studies support healthcare organizations in attaining improved patient outcomes while controlling costs by identifying cost-effective interventions and therapies. Additionally, HEOR services help in customizing treatment methods to unique patient profiles, improving the overall quality of care, as precision medicine and personalized healthcare gain importance. The demand for HEOR services is being further driven by the increased significance of real-world evidence and health technology assessments. The COVID-19 pandemic has also brought attention to the need for HEOR expertise in assessing the clinical and financial effects of public health measures. As a result, the market for HEOR services is well-positioned for future growth and innovation since it will have a significant impact on how healthcare is delivered and how policy is developed. Organizations providing HEOR services are in a good position to aid in the global optimization of healthcare systems in this changing environment.
HEALTH ECONOMICS AND OUTCOMES RESEARCH SERVICS MARKET: REPORT SCOPE & SEGMENTATION
| | |
| --- | --- |
| Report Attribute | Details |
| Estimated Market Value (2022) | 1.10 Bn |
| Projected Market Value (2031) | 3.48 Bn |
| Base Year | 2022 |
| Forecast Years | 2023 - 2031 |
| Scope of the Report | Historical and Forecast Trends, Industry Drivers and Constraints, Historical and Forecast Market Analysis by Segment- By Service, By Service Provider, By End User, & Region |
| Segments Covered | By Service, By Service Provider, By End User,& Region |
| Forecast Units | Value (USD Billion or Million), and Volume (Units) |
| Quantitative Units | Revenue in USD million/billion and CAGR from 2023 to 2031 |
| Regions Covered | North America, Europe, Asia Pacific, Latin America, and Middle East & Africa, and the Rest of World |
| Countries Covered | U.S., Canada, Mexico, U.K., Germany, France, Italy, Spain, China, India, Japan, South Korea, Brazil, Argentina, GCC Countries, and South Africa, among others |
| Report Coverage | Market growth drivers, restraints, opportunities, Porter's five forces analysis, PEST analysis, value chain analysis, regulatory landscape, market attractiveness analysis by segments and region, company market share analysis, and COVID-19 impact analysis. |
| Delivery Format | Delivered as an attached PDF and Excel through email, according to the purchase option. |
Global Health Economics and Outcomes Research (HEOR) Services Market Dynamics
The market for health economics and outcomes research (HEOR) services has undergone considerable change recently. By assessing the clinical and financial effects of medical therapies, HEOR plays a significant part in healthcare decision-making. The rising need for evidence-based medicine has been a significant change agent in this sector. Payers, providers, and pharmaceutical firms are looking for robust data and analysis to show the value of their goods and services as healthcare prices rise. As a result, there is an increasing need for HEOR services. Additionally, as businesses strive to adapt their goods and tactics to various healthcare systems and regulations around the world, globalization of healthcare has increased the size of the HEOR market.Due to these prospects, HEOR consultancies may now provide their knowledge on a global basis. The HEOR landscape has been impacted by technological improvements as well. Big data and powerful analytics tools have made it possible for more complex modelling and data analysis, giving HEOR specialists a better understanding of the results and cost-effectiveness of healthcare interventions. Regulatory obstacles, problems with the quality of the data, and the constantly changing nature of healthcare itself continue to be problems in the market for HEOR services, nevertheless. However, as stakeholders in the healthcare sector place a greater emphasis on evidence-based decision-making and cost-effective healthcare solutions, the need for HEOR services is anticipated to increase.
Global Health Economics and Outcomes Research (HEOR) Services Market Drivers
Pharmaceutical Innovation
The health economics and outcomes research (HEOR) services Market is mostly driven by pharmaceutical innovation. It alludes to the ongoing creation of fresh medications, treatments, and medical innovations by pharmaceutical firms. The quest to find cutting-edge therapies for diverse medical diseases and enhance patient outcomes is what spurs on this innovation. HEOR studies are crucial to determining the clinical effectiveness and safety profiles of new medications as they are released onto the market. These studies help healthcare professionals and policymakers by offering insightful information on the advantages and hazards of the new pharmaceuticals, enabling them to make well-informed choices regarding their acceptance and use. Pharmaceutical innovation frequently carries a hefty price tag. In comparison to existing alternatives, HEOR services assist in evaluating the cost-effectiveness and value for money of these novel treatments. For payers, healthcare systems, and insurers to effectively manage resources and ensure that the introduction of novel therapies does not result in unaffordable healthcare costs, this economic evaluation is essential.
Demand for Evidence-Based Medicine
The health economics and outcomes research (HEOR) services market is significantly influenced by the demand for evidence-based medicine. An method known as "evidence-based medicine" places a strong emphasis on combining clinical knowledge with the most up-to-date scientific data to help patients make well-informed healthcare decisions. Evidence-based decision-making is becoming more and more valued by those involved in the healthcare industry, such as clinicians, healthcare providers, and legislators. To evaluate the practical efficacy and security of medical interventions, such as medications, therapies, and healthcare technologies, they rely on HEOR research. By bridging the gap between clinical trials and routine clinical practise, these studies assist ensure that healthcare decisions are supported by facts and rigorous science. Patient-centered care is highly demanded in the field of evidence-based medicine.Patients and their families look for therapies that are compatible with their tastes and values in addition to being effective. By assessing patient-reported outcomes, quality of life, and patient satisfaction, HEOR services enable healthcare providers to customize therapies to meet the needs of specific patients.
Restraints:
The existence of regulatory barriers is one of the key inhibitors in the health economics and outcomes research (HEOR) Services Market. These challenges are related to the different rules, policies, and compliance standards that control how HEOR studies are conducted. It is vital to ensure compliance with data protection and ethical standards since HEOR research frequently involves the collecting and analysis of sensitive healthcare data. It can take a long time and be difficult to get approval from institutional review boards (IRBs), ethical committees, and other regulatory organizations. Particularly for transnational studies, each nation or region could have its own unique set of regulations, which increases the administrative cost. In HEOR research, protecting data security and privacy is of utmost importance.Although necessary, adhering to data protection laws like the GDPR in Europe or HIPAA in the US can be difficult, especially when working with massive datasets from many sources.
Methodological Challenges
The health economics and outcomes research (HEOR) services Market is significantly constrained by methodological difficulties. These difficulties relate to the choice and use of suitable research procedures in HEOR studies. It can be difficult to choose pertinent comparators and endpoints. For in-depth analysis of the efficacy and economic value of healthcare interventions, selecting the appropriate control group or treatment arm is essential. The study's capacity to offer practical insights can be jeopardized by the lack of clearly specified comparators or endpoints. It can be difficult to gather actual data that fairly depicts patient experiences and results. Patient-reported outcomes (PROs) and electronic health records (EHRs) are two examples of data collection techniques that may introduce biases or missing data, lowering the quality of the study.
Opportunities:
Rising Demand for Real-World Evidence (RWE)
The health economics and outcomes research (HEOR) services Market has a sizable opportunity due to the rising need for real-world evidence (RWE). Instead of controlled clinical trials, real-world evidence (RWE) refers to data and evidence gathered from actual clinical practise. For those involved in healthcare, this kind of information is essential because it shows how treatments and interventions work across a range of patient demographics, healthcare settings, and time periods. By offering the knowledge and tools required to produce, examine, and evaluate RWE, HEOR services are well positioned to capitalise on this opportunity. The growing appreciation of RWE in decision-making by regulatory agencies is a significant driver of this need. RWE has been incorporated into the evaluation procedures used by agencies like the FDA and EMA to approve drugs and expand labeling.
Telehealth and Remote Monitoring
The market for health economics and outcomes research (HEOR) services is presented with a tempting opportunity due to the development of telehealth and remote monitoring technology. Remote monitoring, which enables ongoing observation of patient health data, and telehealth, which entails providing healthcare services remotely, have both gained major popularity, especially in reaction to the COVID-19 epidemic. For HEOR investigations, telehealth and remote monitoring technologies produce enormous amounts of real-world data. These data sources provide a chance to evaluate the efficacy and value of remote monitoring technologies and telehealth interventions for treating chronic illnesses, decreasing hospital readmission, and enhancing general healthcare outcomes. HEOR studies are necessary to determine the financial impact of these technologies as healthcare systems incorporate telehealth into routine care delivery in an increasing number of settings.
Segment Overview
By Service
Based on service, the global health economics and outcomes research services market is divided into economic modeling/evaluation, real-world data analysis & information systems, clinical outcome, market access solutions & reimbursement. The market access solutions & reimbursement category dominates the market with the largest revenue share.Market access solutions & reimbursement services are instrumental in navigating the complex landscape of healthcare reimbursement and market access. These services support pharmaceutical companies in demonstrating the value of their products to payers, ensuring access to the market and reimbursement for their innovations. Economic modeling and evaluation form a cornerstone of HEOR services, involving the development and application of sophisticated economic models to assess the cost-effectiveness and budget impact of healthcare interventions. This segment plays a pivotal role in guiding decision-makers by providing insights into resource allocation and value-for-money considerations. Real-world data analysis & information systems focus on harnessing the power of real-world data sources, such as electronic health records and patient registries, to conduct robust analyses. This segment facilitates evidence generation from real-world patient experiences, aiding in evaluating treatment effectiveness, safety, and patient-reported outcomes. Clinical outcomes research delves into understanding the clinical effectiveness of healthcare interventions through rigorous study designs and data analysis. It provides critical insights into the benefits and risks of medical treatments, helping healthcare providers and pharmaceutical companies make informed decisions.
By Service Provider
Based on the service provider, the global health economics and outcomes research services market is categorized into consultancy and CROs. The CROs category leads the global health economics and outcomes research services market with the largest revenue share. CROs in the HEOR market are service providers that offer end-to-end research solutions, including study design, data collection, analysis, and reporting. They specialize in conducting HEOR studies on behalf of pharmaceutical companies and other healthcare organizations. CROs have dedicated teams of researchers, data analysts, and project managers who execute HEOR projects efficiently and with a strong emphasis on data quality. Consultancy firms in the HEOR market offer specialized expertise and advisory services to healthcare stakeholders, including pharmaceutical companies, healthcare providers, and policymakers. These firms typically provide strategic guidance, study design, and data analysis services. They work closely with clients to develop HEOR study plans, select appropriate methodologies, and interpret study results.
By End-User
Based on end-user, the global health economics and outcomes research services market is segmented into healthcare providers, healthcare payers, biotech/pharma companies, and government organizations. The biotech/pharma companies segment dominates the health economics and outcomes research services market.Biotechnology and pharmaceutical companies are major stakeholders in the HEOR Services Market. They utilize HEOR studies to demonstrate the clinical and economic benefits of their products to regulatory agencies, payers, and healthcare providers. HEOR supports market access strategies, pricing, and reimbursement negotiations, helping these companies secure market approval and access. Healthcare providers, including hospitals, clinics, and medical practices, are primary end-users of HEOR services. They engage HEOR to assess treatment effectiveness, patient outcomes, and the cost-effectiveness of medical interventions. Providers rely on HEOR data to enhance clinical decision-making, improve patient care, and optimize resource allocation within their organizations. Healthcare payers, such as insurance companies, managed care organizations, and government payers (e.g., Medicaid and Medicare), use HEOR to evaluate the value of healthcare interventions. Payers assess the cost-effectiveness of treatments and interventions to make informed coverage and reimbursement decisions. Government entities at various levels (local, state, and federal) play a crucial role in healthcare policy and regulation. They use HEOR to inform public health policies, evaluate the cost-effectiveness of healthcare programs, and assess the real-world impact of interventions.
Global Health Economics and Outcomes Research (HEOR) Services Market Overview by Region
The global health economics and outcomes research services market is categorized into North America, Europe, Asia-Pacific, and the Rest of the World. North America emerged as the leading region, capturing the largest market share in 2022. The market for health economics and outcomes research (HEOR) services has firmly established North America as the dominant region. This region, which consists of the United States and Canada, has demonstrated tremendous growth and supremacy in this industry for a number of compelling reasons. The first is that North America has a strong and sophisticated healthcare infrastructure, including cutting-edge medical facilities, a large pharmaceutical sector, and a vibrant research ecosystem. These elements foster an environment where HEOR services can thrive. Second, the area has consistently led the creation of novel drugs, medical technologies, and treatment modalities. It has been at the vanguard of healthcare innovation. The need for HEOR services to assess and prove the worth of these healthcare interventions to many stakeholders is increased by this innovation.Additionally, the healthcare system in the United States, in particular, is extremely dynamic and complicated, with several payers, providers, and regulatory organizations. To successfully manage market access, reimbursement, and regulatory obligations, this complexity needs thorough HEOR analyses. Additionally, the use of real-world data and evidence-based medicine in healthcare decision-making has been pioneered in North America. The region's dedication to evidence-based practise has increased the value of HEOR services in producing superior, useful insights. Due to its cutting-edge healthcare environment, dedication to innovation, and emphasis on evidence-based decision-making, North America leads the HEOR Services Market. North America is probably going to continue to play a major role in influencing how healthcare is delivered, regulated, and researched in the future through HEOR services.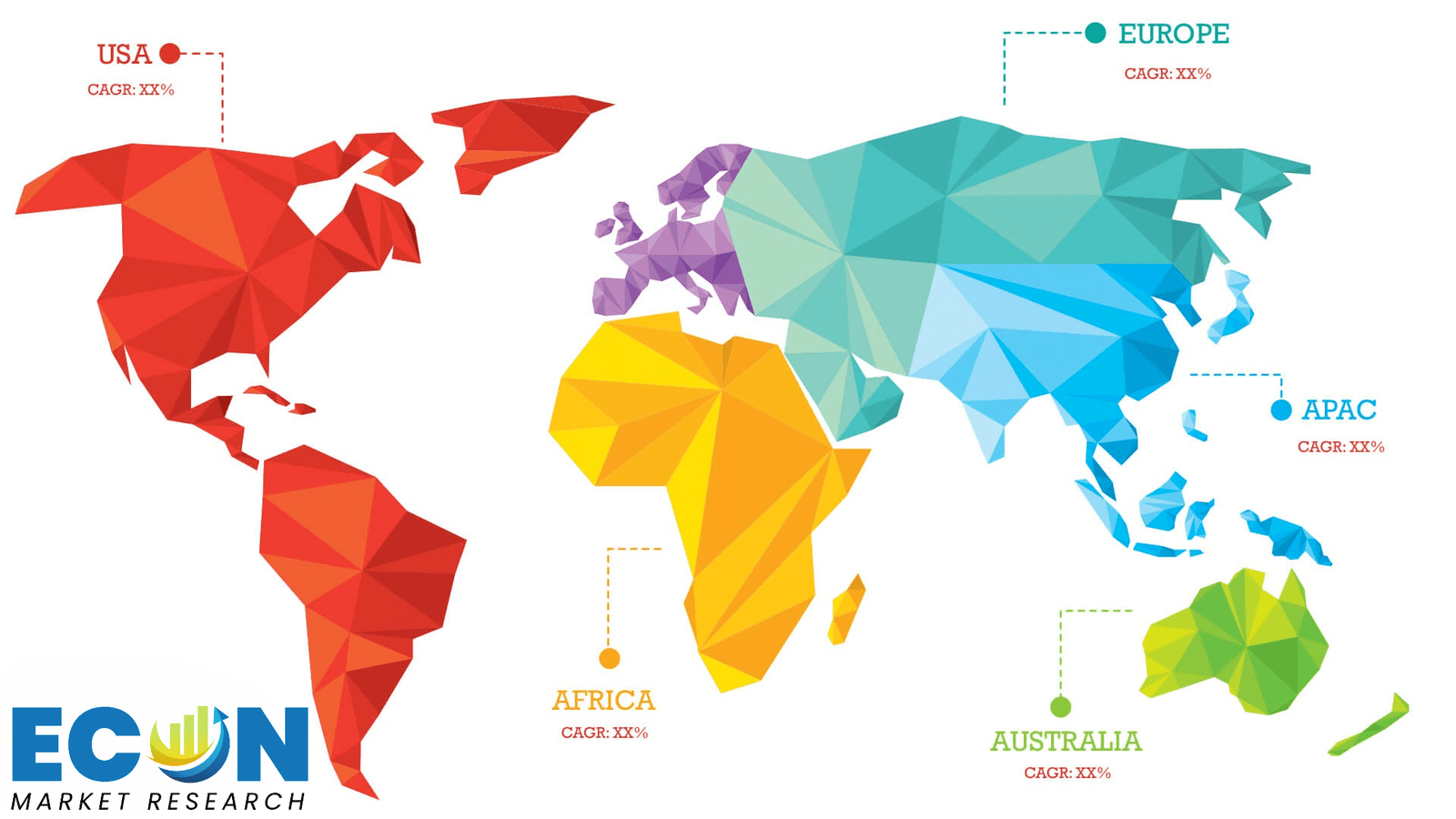 Global Health Economics and Outcomes Research (HEOR) Services Market Competitive Landscape
In the global health economics and outcomes research services market, a few major players exert significant market dominance and have established a strong regional presence. These leading companies remain committed to continuous research and development endeavors and actively engage in strategic growth initiatives, including product development, launches, joint ventures, and partnerships. By pursuing these strategies, these companies aim to strengthen their market position, expand their customer base, and capture a substantial share of the market.
Some of the prominent players in the global health economics and outcomes research services market include Axtria, Inc.; Avalon Health Economics LLC; MEDLIOR; PHARMALEX GMBH; Analysis Group; ICON PLC; IQVIA Inc.; McKESSON CORPORATION; Syneos Health; Optum, Inc. , and various other key players.
Global Health Economics and Outcomes Research (HEOR) Services Market Recent Developments
In January 2023,SCIRIS BUYS HEALTH ECONOMICS SOURCE. The UK-based Source Health Economics, a company that specialises in health economics and outcomes research (HEOR), has been acquired by SCIRIS, a global healthcare communications company.
Scope of the Global Health Economics and Outcomes Research (HEOR) Services Market Report
Health Economics and Outcomes Research (HEOR) Services Market Report Segmentation
ATTRIBUTE

DETAILS

By Service

Economic Modeling/Evaluation

Real-world Data Analysis & Information Systems

Clinical Outcome

Market Access Solutions & Reimbursement

By Service Provider

By End-User

Healthcare Providers

Healthcare Payers

Biotech/Pharma Companies

Government Organizations

By Geography

North America (USA,

and Canada)

Europe (UK, Germany, France, Italy, Spain, Russia and Rest of Europe)

Asia Pacific (Japan, China, India, Australia, Southeast Asia and Rest of Asia Pacific)

Latin America (Brazil, Mexico, and Rest of Latin America)

Middle East & Africa (South Africa, GCC, and Rest of Middle East & Africa)

Customization Scope

Pricing
Objectives of the Study
The objectives of the study are summarized in 5 stages. They are as mentioned below:
Global Health Economics and Outcomes Research (HEOR) Services

Market

Size and Forecast:
To identify and estimate the market size for the global health economics and outcomes research services market segmented by service, by service provider, by end user, region and by value (in U.S. dollars). Also, to understand the consumption/ demand created by consumers of health economics and outcomes research services between 2019 and 2031.
Market Landscape and Trends:
To identify and infer the drivers, restraints, opportunities, and challenges for the global health economics and outcomes research services market
Market Influencing Factors:
To find out the factors which are affecting the sales of health economics and outcomes research services among consumers
To identify and understand the various factors involved in the global health economics and outcomes research services market affected by the pandemic
To provide a detailed insight into the major companies operating in the market. The profiling will include the financial health of the company's past 2-3 years with segmental and regional revenue breakup, product offering, recent developments, SWOT analysis, and key strategies.
Intended Audience
Healthcare Providers

Biotech and Pharmaceutical Companies

Non-Governmental Organizations

Health Economists and Researchers

Contract Research Organizations (CROs)

Retailers, Wholesalers, and Distributors

Governments, Associations, and Industrial Bodies

Investors and Trade Experts
Research Methodology
Our research methodology has always been the key differentiating reason which sets us apart in comparison from the competing organizations in the industry. Our organization believes in consistency along with quality and establishing a new level with every new report we generate; our methods are acclaimed and the data/information inside the report is coveted. Our research methodology involves a combination of primary and secondary research methods. Data procurement is one of the most extensive stages in our research process. Our organization helps in assisting the clients to find the opportunities by examining the market across the globe coupled with providing economic statistics for each and every region. The reports generated and published are based on primary & secondary research. In secondary research, we gather data for global Market through white papers, case studies, blogs, reference customers, news, articles, press releases, white papers, and research studies. We also have our paid data applications which includes hoovers, Bloomberg business week, Avention, and others.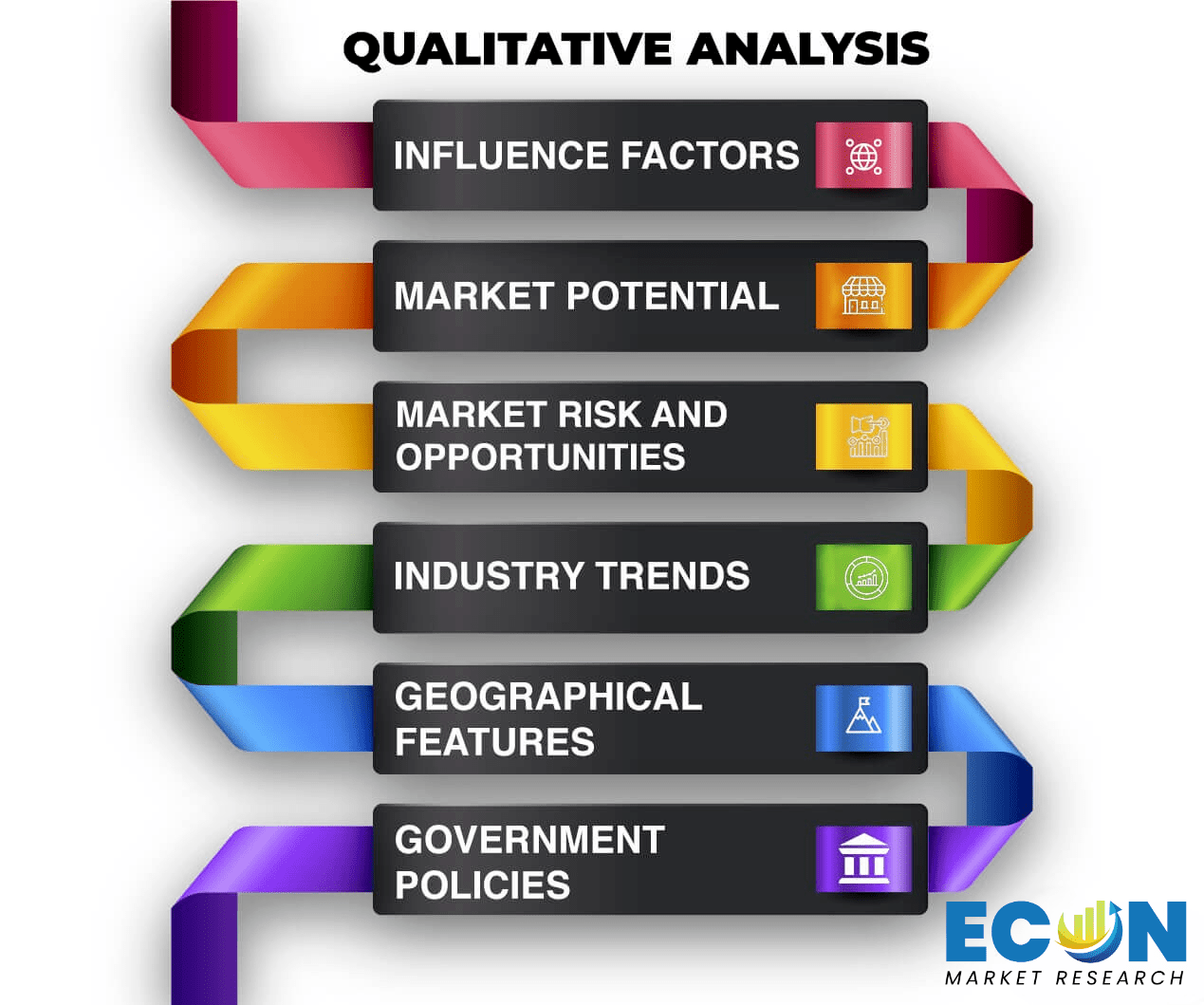 Data Collection
Data collection is the process of gathering, measuring, and analyzing accurate and relevant data from a variety of sources to analyze market and forecast trends. Raw market data is obtained on a broad front. Data is continuously extracted and filtered to ensure only validated and authenticated sources are considered. Data is mined from a varied host of sources including secondary and primary sources.

Primary Research
After the secondary research process, we initiate the primary research phase in which we interact with companies operating within the market space. We interact with related industries to understand the factors that can drive or hamper a market. Exhaustive primary interviews are conducted. Various sources from both the supply and demand sides are interviewed to obtain qualitative and quantitative information for a report which includes suppliers, product providers, domain experts, CEOs, vice presidents, marketing & sales directors, Type & innovation directors, and related key executives from various key companies to ensure a holistic and unbiased picture of the market. 
Secondary Research
A secondary research process is conducted to identify and collect information useful for the extensive, technical, market-oriented, and comprehensive study of the market. Secondary sources include published market studies, competitive information, white papers, analyst reports, government agencies, industry and trade associations, media sources, chambers of commerce, newsletters, trade publications, magazines, Bloomberg BusinessWeek, Factiva, D&B, annual reports, company house documents, investor presentations, articles, journals, blogs, and SEC filings of companies, newspapers, and so on. We have assigned weights to these parameters and quantified their market impacts using the weighted average analysis to derive the expected market growth rate.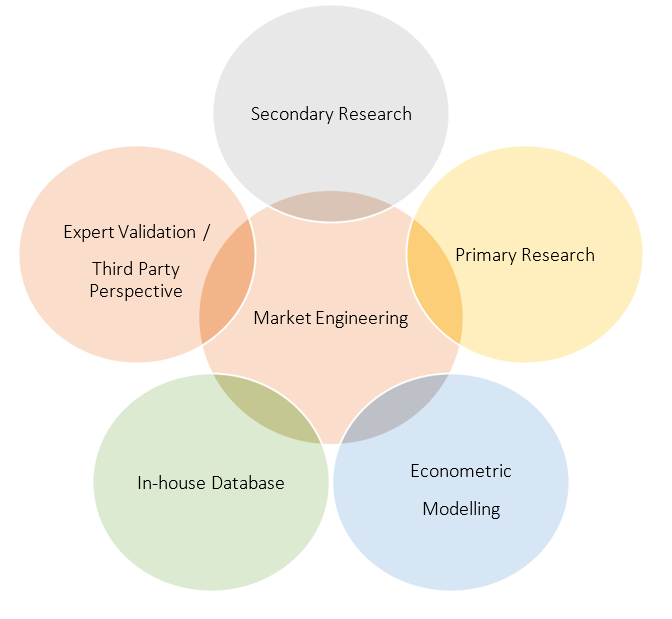 Top-Down Approach & Bottom-Up Approach
In the top – down approach, the Global Batteries for Solar Energy Storage Market was further divided into various segments on the basis of the percentage share of each segment. This approach helped in arriving at the market size of each segment globally. The segments market size was further broken down in the regional market size of each segment and sub-segments. The sub-segments were further broken down to country level market. The market size arrived using this approach was then crosschecked with the market size arrived by using bottom-up approach.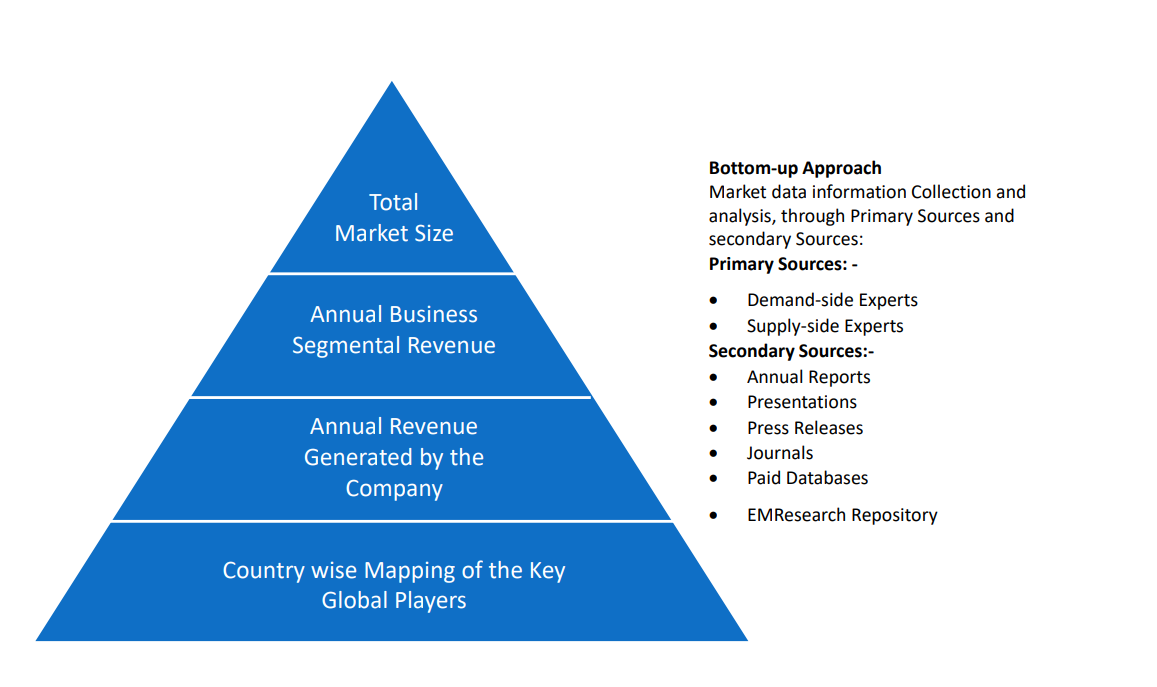 In the bottom-up approach, we arrived at the country market size by identifying the revenues and market shares of the key market players. The country market sizes then were added up to arrive at regional market size of the decorated apparel, which eventually added up to arrive at global market size.
This is one of the most reliable methods as the information is directly obtained from the key players in the market and is based on the primary interviews from the key opinion leaders associated with the firms considered in the research. Furthermore, the data obtained from the company sources and the primary respondents was validated through secondary sources including government publications and Bloomberg.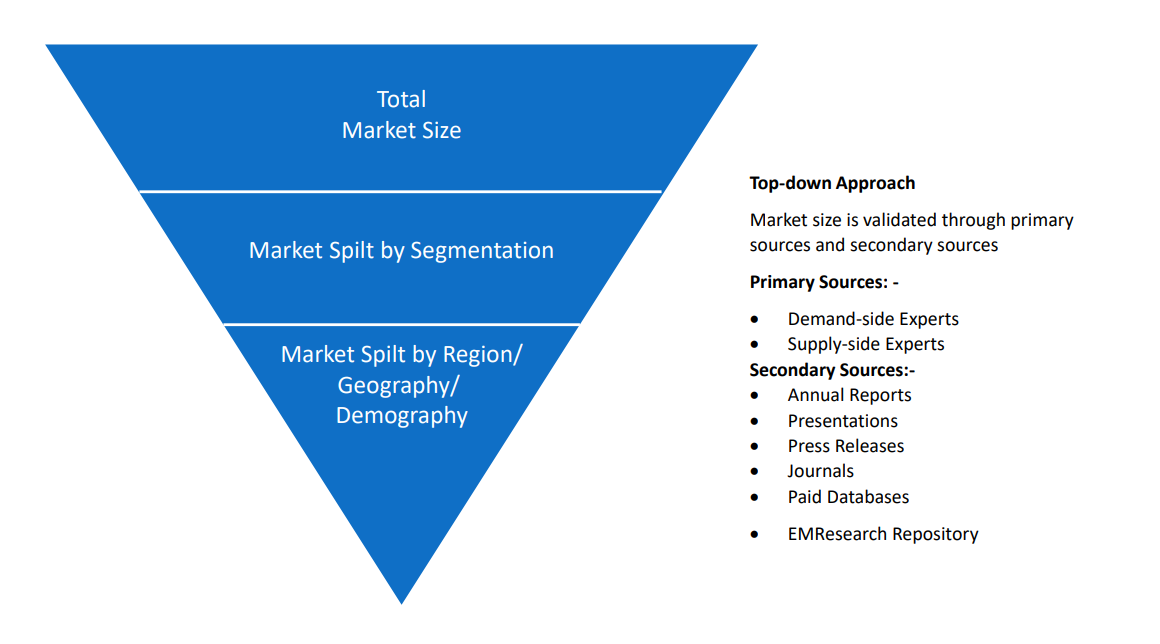 Market Analysis & size Estimation
Post the data mining stage, we gather our findings and analyze them, filtering out relevant insights. These are evaluated across research teams and industry experts. All this data is collected and evaluated by our analysts. The key players in the industry or markets are identified through extensive primary and secondary research. All percentage share splits, and breakdowns have been determined using secondary sources and verified through primary sources. The market size, in terms of value and volume, is determined through primary and secondary research processes, and forecasting models including the time series model, econometric model, judgmental forecasting model, the Delphi method, among Flywheel Energy Storage. Gathered information for market analysis, competitive landscape, growth trends, product development, and pricing trends is fed into the model and analyzed simultaneously.
Quality Checking & Final Review
The analysis done by the research team is further reviewed to check for the accuracy of the data provided to ensure the clients' requirements. This approach provides essential checks and balances which facilitate the production of quality data. This Type of revision was done in two phases for the authenticity of the data and negligible errors in the report. After quality checking, the report is reviewed to look after the presentation, Type and to recheck if all the requirements of the clients were addressed.