The global gift cards market was valued at USD 834.62 billion in 2022 and is estimated to reach approximately USD 3.70 trillion by 2031, at a CAGR of 18.0% from 2023 to 2031.
The gift card market has developed into a strong and significant segment of the retail business, providing a versatile and well-liked means for people to recognize special occasions and express gratitude. Gift cards, also known as gift certificates or gift vouchers, have revolutionized the art of giving gifts by removing the burden of finding the ideal item. The beneficiaries can choose their desired goods or services thanks to the small plastic or digital tokens, which are widely accepted and exist in a variety of formats. In order to accommodate to a variety of likes and preferences, gift cards are currently offered by a huge range of enterprises, including restaurants, retail shops, entertainment venues, and internet platforms. Digital and e-gift cards have become increasingly popular in recent years, making rapid delivery and redemption via cellphones and computers possible. Gift cards are now more convenient and accessible because to the digital revolution, which has increased their appeal to tech-savvy customers and broadened their market. In order to fulfil changing customer demands, the gift card market is dynamic and constantly innovating, including personalized gift cards, subscription-based solutions, and eco-friendly options. The gift card market, which is an essential part of the retail landscape and provides a flexible and customization presenting experience, is important for both givers and recipients.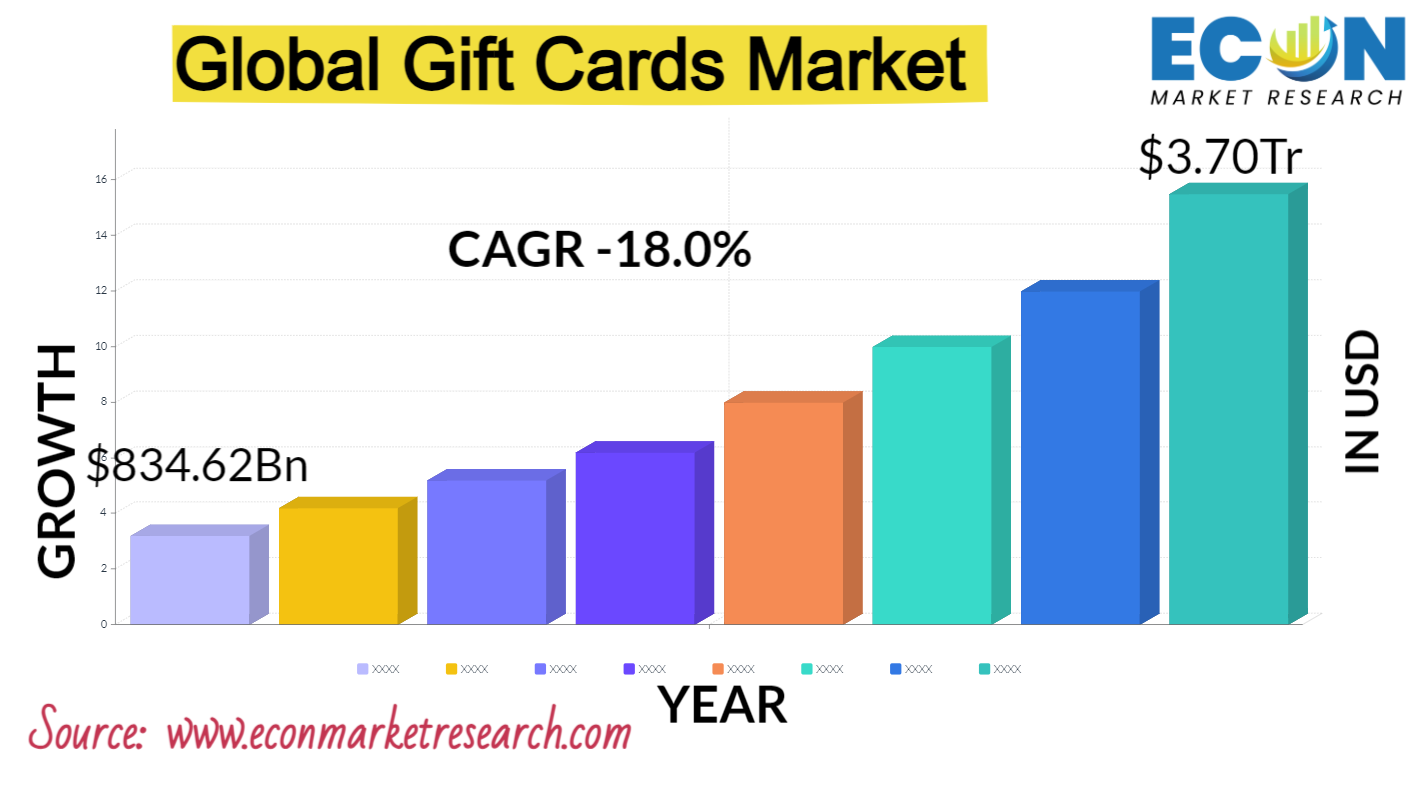 GIFT CARDS MARKET: REPORT SCOPE & SEGMENTATION
| | |
| --- | --- |
| Report Attribute | Details |
| Estimated Market Value (2022) | 834.62 Bn |
| Projected Market Value (2031) | 3.70 Tn |
| Base Year | 2022 |
| Forecast Years | 2023 - 2031 |
| Scope of the Report | Historical and Forecast Trends, Industry Drivers and Constraints, Historical and Forecast Market Analysis by Segment- By Card Type, By End User, & Region |
| Segments Covered | By Card Type, By End User, & Region |
| Forecast Units | Value (USD Billion or Million), and Volume (Units) |
| Quantitative Units | Revenue in USD million/billion and CAGR from 2023 to 2031 |
| Regions Covered | North America, Europe, Asia Pacific, Latin America, and Middle East & Africa, and the Rest of World |
| Countries Covered | U.S., Canada, Mexico, U.K., Germany, France, Italy, Spain, China, India, Japan, South Korea, Brazil, Argentina, GCC Countries, and South Africa, among others |
| Report Coverage | Market growth drivers, restraints, opportunities, Porter's five forces analysis, PEST analysis, value chain analysis, regulatory landscape, market attractiveness analysis by segments and region, company market share analysis, and COVID-19 impact analysis. |
| Delivery Format | Delivered as an attached PDF and Excel through email, according to the purchase option. |
Global Gift Cards Market Dynamics
The gift card business is significantly shaped by consumer demand. The trend towards e-gift cards and personalized gift cards is being driven by preferences for ease, personalization, and digital possibilities. The way gift cards are bought and used has changed as a result of the explosive rise of e-commerce and digital technology. Mobile apps and e-gift cards have improved accessibility and convenience. The willingness of businesses to sell gift cards and properly promote them has an impact on the market. Retailers in a range of sectors, including fashion and food, are extending their selection of gift cards. During significant holidays and special occasions, gift card sales frequently see seasonal spikes that have an impact on the market's overall performance. Gift cards are increasingly being used for employee awards, incentives, and corporate gifting programmes, which has an effect on the B2B market segment. Government laws, such as those governing taxes and expiration dates, can have a big impact on how the market operates and how confident consumers are in it. Some gift cards are created from recycled materials as the market adjusts to greater awareness of sustainability and eco-friendly solutions. Market participants always innovate to maintain their competitiveness. To draw customers, this includes introducing new services, forming alliances, and implementing loyalty programmes. The security of sensitive consumer data is a growing worry as more gift cards become digital, which has an effect on market dynamics. With more international businesses offering gift cards and cross-border gifting becoming increasingly popular, the gift card market has experienced global expansion.
Global Gift Cards Market Drivers
Growth of O

nline

S

hopping and

D

igital

G

ifting Platforms
Platforms for digital gifting and online purchasing have grown rapidly, which can be due to the confluence of various powerful forces that have altered consumer behaviour and retail strategies. The introduction of the internet and the mass dissemination of high-speed access have completely changed how people purchase. Online shopping offers consumers a level of ease never before possible, allowing them to explore, compare, and buy products either at home or on the road, thus removing time and location restrictions. This convenience is a key motivator since it satisfies consumers' growing need for contactless and hassle-free retail experiences, especially in the wake of the COVID-19 pandemic and their busy, modern lifestyles. Additionally, digital gifting platforms have offered a solution to the age-old problem of selecting the ideal present.
Gifting Culture and Occasions
Giving gifts is frequently a cultural and traditional custom that is passed down through the generations. There is a significant social expectation that gifts will be given at events like weddings, birthdays, and religious festivities. The market for gifts is consistently driven by this practise. Gifts are used to convey feelings of love, thanks, and admiration. They help people express their emotions and improve connections. The emotional component is a strong force behind the need for thoughtful and meaningful presents. Valentine's Day, Christmas, and Black Friday have all become into commercial juggernauts that significantly influence the economy. During these times, retailers run special deals and promotions to draw customers and stimulate the growth of the giving business. Companies engage in corporate gifting as a way to acknowledge and motivate employees, partners, and clients. This practice has become an integral part of business culture, stimulating the demand for corporate gifts.
Restraints:
Seasonal Demand Fluctuations
The requirement for efficient inventory management is one of the main constraints. The ongoing struggle is to strike a balance between keeping just enough stock on hand to meet seasonal demand and staying away from excess, which can result in wastage. Poor inventory control can tie up capital and cause losses in money. Seasonal staffing can be expensive and time-consuming to hire and train in order to meet increasing demand. Additionally, because turnover rates may be higher during seasonal peaks, it might be difficult to maintain a trained and engaged team. To accommodate seasonal demand, businesses may need to make costly and possibly underutilized investments in new infrastructure and equipment. If demand is lower than anticipated, there would be a risk and a resulting financial strain. In the rush to meet increased demand, there can be challenges in maintaining consistent product or service quality, potentially leading to customer dissatisfaction.
Competition from Alternative Gifting Options
Market saturation may result from the rise of alternative gifting options including experiential gifts, subscription services, and DIY gifts. The abundance of options may overwhelm customers, making it challenging for traditional gift sellers to stand out. Alternative gifting alternatives frequently include one-of-a-kind, personalized, or immersive presents that could compete with standard gifts in terms of price. This can put pressure on traditional gift shops to maintain their competitiveness, which might have an impact on their profit margins. Consumers may gravitate towards alternative gifting options that support their values, such as sustainable or philanthropic gifts, as they grow more environmentally and socially aware. Customers looking for more meaningful or environmentally sustainable solutions may be unwilling to accept traditional gifts. The rise of digital gifting options and e-cards has made gift-giving more convenient and instantaneous. Traditional gifts can seem less appealing due to the inconvenience of physical shopping, shipping, and delivery.
Opportunities:
Businesses can improve the reputation of their company by providing eco-friendly gift cards manufactured from recycled materials or sustainable sources. Customers are favouring eco-conscious businesses more and more, which can promote customer loyalty and boost word-of-mouth advertising. Gift cards that are ecologically friendly serve a growing market segment of consumers that care about the environment. Businesses can get a competitive edge and even expand their consumer base by appealing to this group. Eco-friendly solutions offer a distinctive marketing advantage that can set a company apart from its rivals in a crowded market for gift cards. This distinctiveness can draw customers looking for environmentally friendly options. Gift cards and other products, especially those with an environmental impact, are subject to rules in some areas.
Corporate Gifting Solutions
Businesses frequently look for gift ideas for a variety of B2B occasions, such as thanking partners, clients, and workers or marking important anniversaries. Businesses can access a lucrative market where the size of orders and the possibility for long-term collaborations are large by offering customized corporate gifting solutions. Businesses can effectively promote their brand identity by using personalized corporate gifts, such as branded gift cards and personalized parcels. These presents act as effective marketing tools by raising brand awareness and leaving a positive impression. Throughout the year, businesses provide gifts, with peak seasons occurring around holidays, corporate anniversaries, and special occasions. These periodic peaks can be taken advantage of by corporate gifting solutions to produce steady revenue. Corporate gifting solutions offer a wide range of gift options, from gift cards and custom merchandise to personalized hampers. Businesses have the flexibility to choose the most appropriate gifts for their specific occasions and recipients.
Segment Overview
By Card Type
Based on card type, the global gift cards market is divided into closed-loop card, open-loop card. The closed-loop card category dominates the market with the largest revenue share in 2022. Closed-loop cards, often referred to as retailer-specific or proprietary gift cards, are typically issued by a specific retailer, restaurant, or brand. They can only be used at the issuing business or within a network of affiliated establishments. These gift cards are primarily intended for use within a specific retail chain or service provider, making them ideal for customers who frequent those establishments. Closed-loop cards often feature the branding and logo of the issuing retailer, reinforcing brand loyalty and serving as a marketing tool. They are a popular choice for businesses aiming to boost sales, attract new customers, and retain existing ones. Open-loop cards, commonly known as network-branded gift cards, are more versatile. They bear the logo of major credit card companies like Visa, MasterCard, or American Express, and they are accepted at a wide range of businesses, including those outside the issuing retailer's network. Open-loop cards offer greater flexibility for both purchasers and recipients, as they can be used for a broader spectrum of products or services.
By End User
Based on the end user, the global gift cards market is categorized into retail establishment, corporate institutions. The retail establishment category leads the global gift cards market with the largest revenue share in 2022. This segment primarily encompasses gift cards offered by retail businesses, such as department stores, specialty shops, restaurants, and entertainment venues. These gift cards are typically designed for consumers to purchase and gift to others, offering recipients the freedom to choose from a variety of products or services within the issuing retailer's specific offerings. Retail establishments use gift cards as a marketing and sales tool to increase brand recognition, boost sales, and encourage customer loyalty. They are commonly associated with occasions like birthdays, holidays, and special events, making them popular among individual consumers looking for thoughtful and versatile gifts. Corporate institutions, including businesses, organizations, and companies, use gift cards for a different set of purposes. They employ gift cards as part of corporate gifting and incentives programs. These gift cards are often distributed to employees, clients, partners, and stakeholders as tokens of appreciation, rewards, or incentives. Corporate institutions leverage gift cards to strengthen relationships, acknowledge achievements, and motivate their workforce. The gift cards used in this segment are typically customized with the company's branding and may be closed-loop (specific to a particular retailer) or open-loop (usable at various businesses).
Global Gift Cards Market Overview by Region
The global gift cards market is categorized into North America, Europe, Asia-Pacific, and the Rest of the World. North America emerged as the leading region, capturing the largest market share in 2022. First and foremost, the retail sectors in the US and Canada are well-established, with a large range of gift card options available from several sectors, including fashion, electronics, food, and entertainment. Gift cards have been a staple of gift-giving customs in these nations thanks to their consumers' appreciation of their convenience and adaptability. Additionally, North America has shown to be a fruitful region for the digital transformation of the gift card market, with the widespread adoption of e-gift cards and mobile giving apps. The tech-savvy populace of the area has quickly adopted these digital possibilities, fueling the market's expansion. The custom of giving gifts around significant holidays in North America, such Christmas, Valentine's Day, and Mother's Day, is a big contributor to the market for gift cards. Additionally, there is a high demand for gift cards due to widespread business practices in the area, such as employee incentive programmes and corporate gifting. The evolution of the gift card market has also been significantly influenced by the retail behemoths and powerful brands of North America, many of whom have pioneered cutting-edge gifting strategies and campaigns. Due to its robust consumer culture, technology improvements, significant retail presence, and tradition of accepting gift cards for both private and business gifting, North America currently holds the top spot in the global gift card industry. The region's continuing dedication to gifting customs and innovation guarantees its leadership in the worldwide gift card market.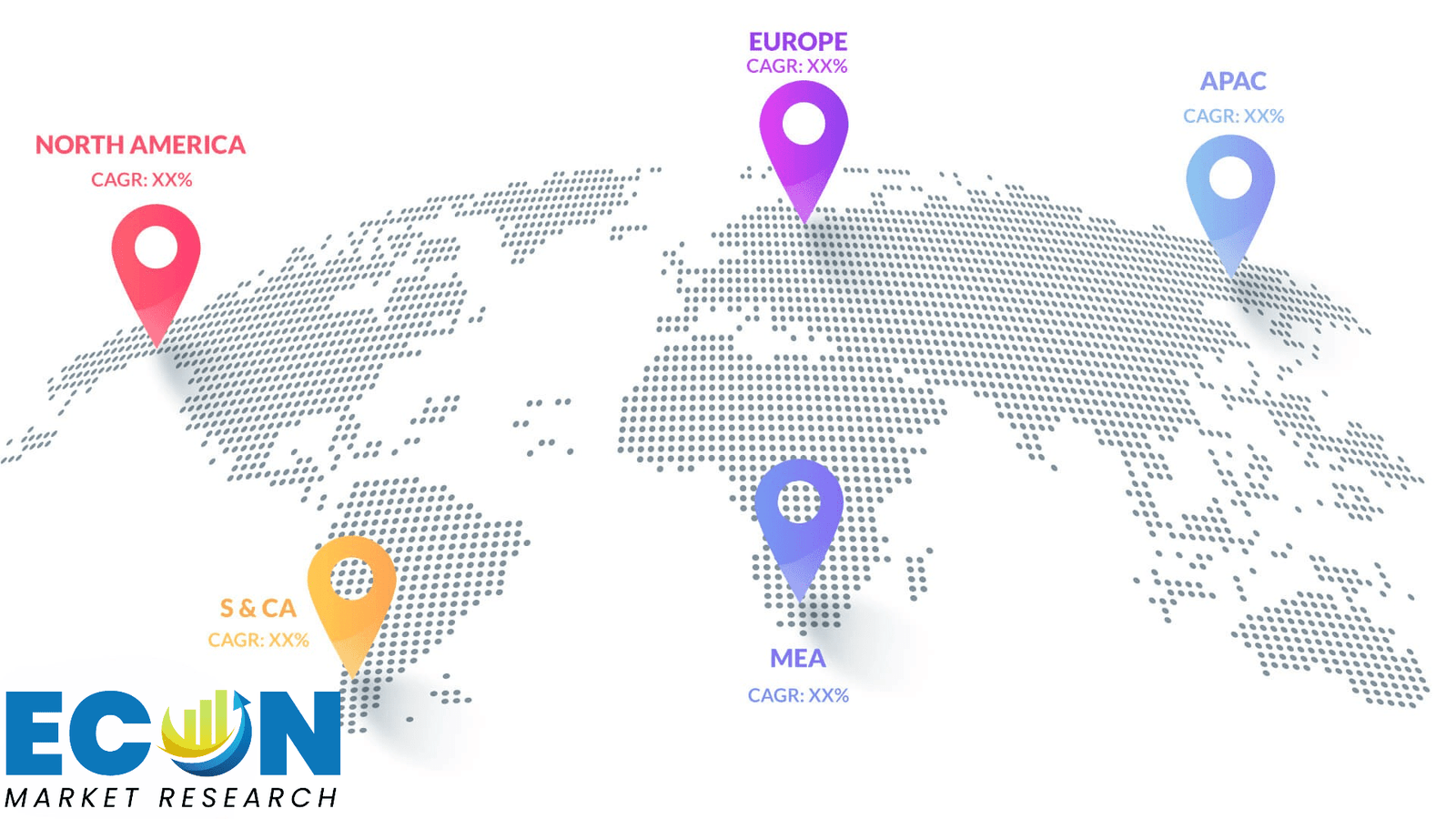 Global Gift Cards Market Competitive Landscape
In the global gift cards market, a few major players exert significant market dominance and have established a strong regional presence. These leading companies remain committed to continuous research and development endeavors and actively engage in strategic growth initiatives, including product development, launches, joint ventures, and partnerships. By pursuing these strategies, these companies aim to strengthen their market position, expand their customer base, and capture a substantial share of the market.
Some of the prominent players in the global gift cards market include
Amazon.com Inc.,

InComm Payments LLC,

Blackhawk Network,

PayPal, Inc.,

American Express Company,

Fiserv, Inc.,

Walmart Inc.,

Qwikcilver Solutions Pvt Ltd.,

Paytronix Systems, Inc.,

Givex Corporation, and various other key players.
Global Gift Cards Market Recent Developments
In September 2023, In order to increase platform sales over the holiday season, ONDC has introduced a corporate gift card. The ONDC Network Gift Card enables cardholders to make purchases using any buyer application supported by ONDC. The gift card operates on the RuPay Network and has a maximum load of INR 10,000.
Scope of the Global Gift Cards Market Report
Gift Cards Market Report Segmentation
ATTRIBUTE

DETAILS

By Card Type

Closed-loop Card

Open-loop Card

By End-User

Retail Establishment

Corporate Institutions

By Geography

North America (USA,

and Canada)

Europe (UK, Germany, France, Italy, Spain, Russia and Rest of Europe)

Asia Pacific (Japan, China, India, Australia, Southeast Asia and Rest of Asia Pacific)

Latin America (Brazil, Mexico, and Rest of Latin America)

Middle East & Africa (South Africa, GCC, and Rest of Middle East & Africa)

Customization Scope

Pricing
Objectives of the Study
The objectives of the study are summarized in 5 stages. They are as mentioned below:
Global Gift Cards Market

Size and Forecast:
To identify and estimate the market size for the global gift cards market segmented by card type, by end user, region and by value (in U.S. dollars). Also, to understand the consumption/ demand created by consumers of gift cards between 2019 and 2031.
Market Landscape and Trends:
To identify and infer the drivers, restraints, opportunities, and challenges for the global gift cards market
Market Influencing Factors:
To find out the factors which are affecting the sales of gift cards among consumers
To identify and understand the various factors involved in the global gift cards market affected by the pandemic
To provide a detailed insight into the major companies operating in the market. The profiling will include the financial health of the company's past 2-3 years with segmental and regional revenue breakup, product offering, recent developments, SWOT analysis, and key strategies.
Intended Audience
Raw Material Suppliers

Marketing and Sales Professionals

Financial and Payment Service Providers

Retailers, Wholesalers, and Distributors

Governments, Associations, and Industrial Bodies

Investors and Trade Experts
Research Methodology
Our research methodology has always been the key differentiating reason which sets us apart in comparison from the competing organizations in the industry. Our organization believes in consistency along with quality and establishing a new level with every new report we generate; our methods are acclaimed and the data/information inside the report is coveted. Our research methodology involves a combination of primary and secondary research methods. Data procurement is one of the most extensive stages in our research process. Our organization helps in assisting the clients to find the opportunities by examining the market across the globe coupled with providing economic statistics for each and every region. The reports generated and published are based on primary & secondary research. In secondary research, we gather data for global Market through white papers, case studies, blogs, reference customers, news, articles, press releases, white papers, and research studies. We also have our paid data applications which includes hoovers, Bloomberg business week, Avention, and others.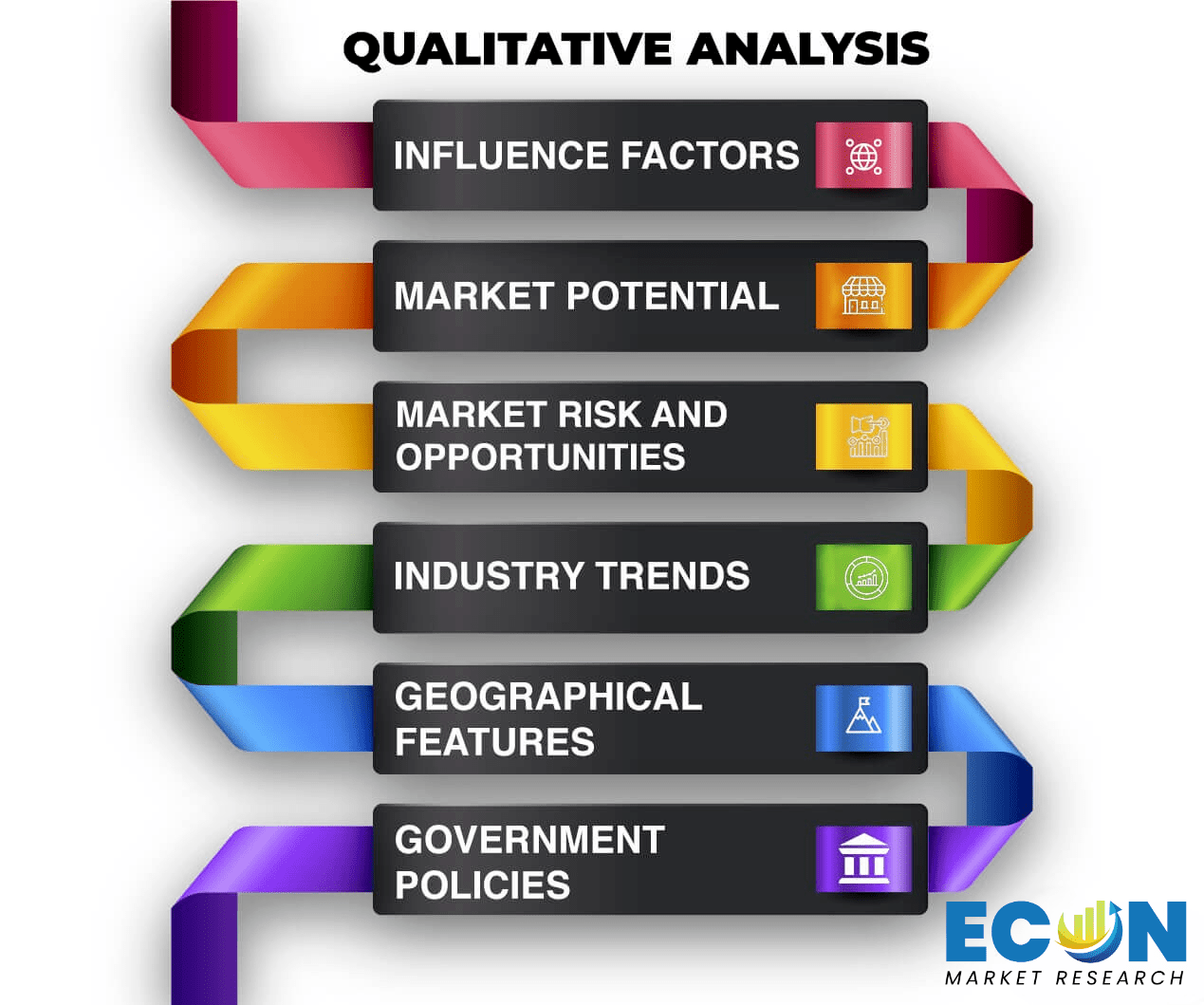 Data Collection
Data collection is the process of gathering, measuring, and analyzing accurate and relevant data from a variety of sources to analyze market and forecast trends. Raw market data is obtained on a broad front. Data is continuously extracted and filtered to ensure only validated and authenticated sources are considered. Data is mined from a varied host of sources including secondary and primary sources.

Primary Research
After the secondary research process, we initiate the primary research phase in which we interact with companies operating within the market space. We interact with related industries to understand the factors that can drive or hamper a market. Exhaustive primary interviews are conducted. Various sources from both the supply and demand sides are interviewed to obtain qualitative and quantitative information for a report which includes suppliers, product providers, domain experts, CEOs, vice presidents, marketing & sales directors, Type & innovation directors, and related key executives from various key companies to ensure a holistic and unbiased picture of the market. 
Secondary Research
A secondary research process is conducted to identify and collect information useful for the extensive, technical, market-oriented, and comprehensive study of the market. Secondary sources include published market studies, competitive information, white papers, analyst reports, government agencies, industry and trade associations, media sources, chambers of commerce, newsletters, trade publications, magazines, Bloomberg BusinessWeek, Factiva, D&B, annual reports, company house documents, investor presentations, articles, journals, blogs, and SEC filings of companies, newspapers, and so on. We have assigned weights to these parameters and quantified their market impacts using the weighted average analysis to derive the expected market growth rate.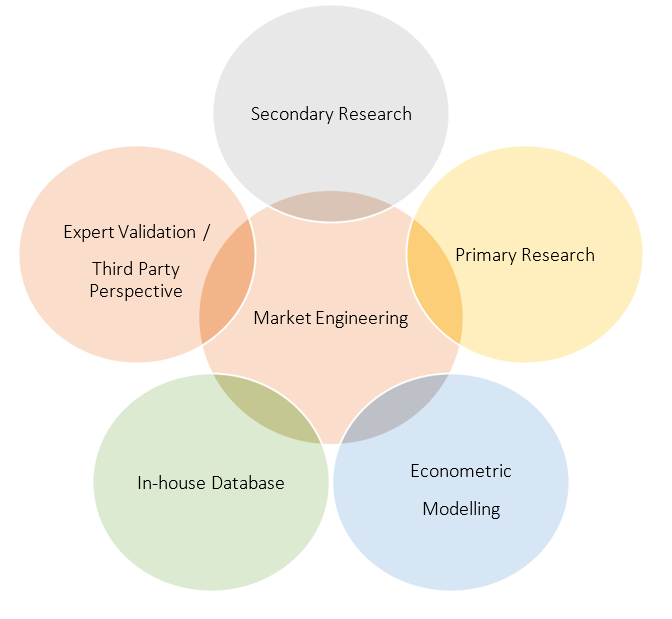 Top-Down Approach & Bottom-Up Approach
In the top – down approach, the Global Batteries for Solar Energy Storage Market was further divided into various segments on the basis of the percentage share of each segment. This approach helped in arriving at the market size of each segment globally. The segments market size was further broken down in the regional market size of each segment and sub-segments. The sub-segments were further broken down to country level market. The market size arrived using this approach was then crosschecked with the market size arrived by using bottom-up approach.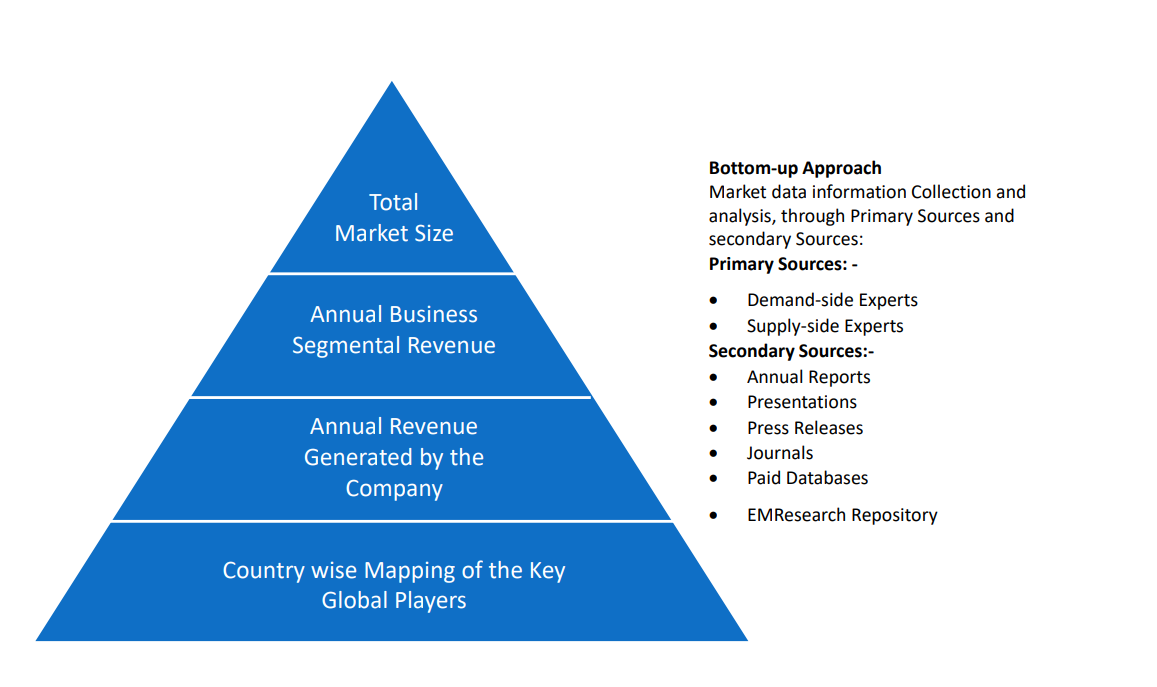 In the bottom-up approach, we arrived at the country market size by identifying the revenues and market shares of the key market players. The country market sizes then were added up to arrive at regional market size of the decorated apparel, which eventually added up to arrive at global market size.
This is one of the most reliable methods as the information is directly obtained from the key players in the market and is based on the primary interviews from the key opinion leaders associated with the firms considered in the research. Furthermore, the data obtained from the company sources and the primary respondents was validated through secondary sources including government publications and Bloomberg.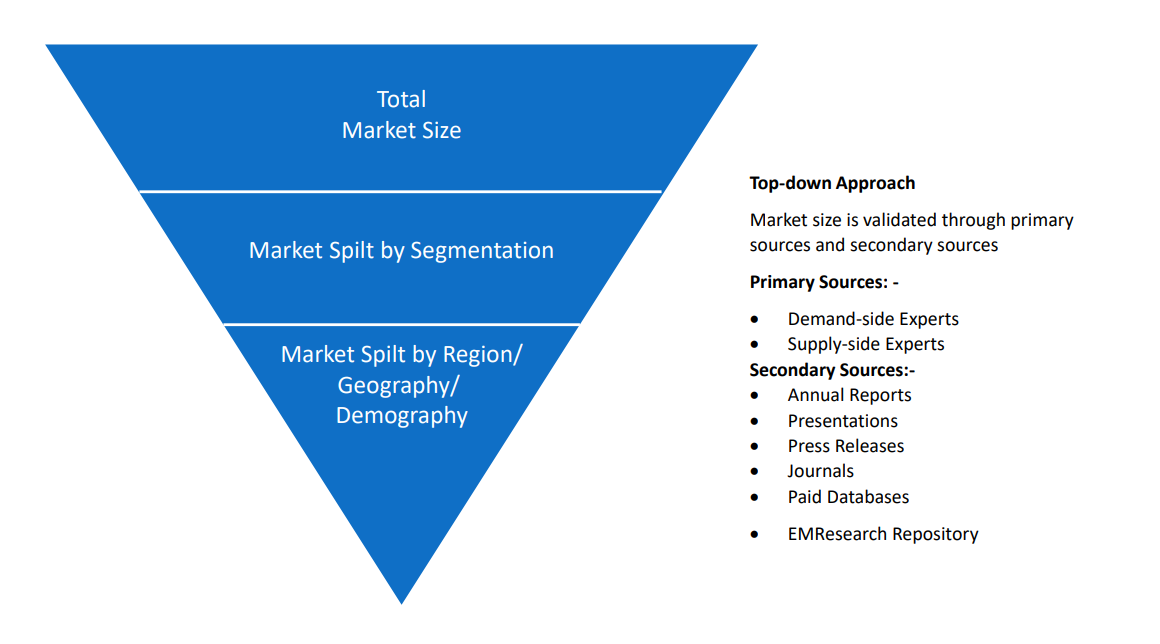 Market Analysis & size Estimation
Post the data mining stage, we gather our findings and analyze them, filtering out relevant insights. These are evaluated across research teams and industry experts. All this data is collected and evaluated by our analysts. The key players in the industry or markets are identified through extensive primary and secondary research. All percentage share splits, and breakdowns have been determined using secondary sources and verified through primary sources. The market size, in terms of value and volume, is determined through primary and secondary research processes, and forecasting models including the time series model, econometric model, judgmental forecasting model, the Delphi method, among Flywheel Energy Storage. Gathered information for market analysis, competitive landscape, growth trends, product development, and pricing trends is fed into the model and analyzed simultaneously.
Quality Checking & Final Review
The analysis done by the research team is further reviewed to check for the accuracy of the data provided to ensure the clients' requirements. This approach provides essential checks and balances which facilitate the production of quality data. This Type of revision was done in two phases for the authenticity of the data and negligible errors in the report. After quality checking, the report is reviewed to look after the presentation, Type and to recheck if all the requirements of the clients were addressed.