The Global Fruit Concentrate Market was valued at USD 78.15 billion in 2022 and is estimated to reach approximately USD 126.51 billion by 2031, at a CAGR of 5.5% from 2023 to 2031. Fruit concentrate is a thick, viscous liquid that is produced by evaporating the water content from freshly squeezed fruit juice. By lowering the fruit's volume and preserving its inherent flavors and sugars, this concentrated form makes it simpler to carry and store the fruit. Fruit concentrate provides a quick way to incorporate fruit flavor and sweetness into recipes for a variety of food and beverage products, including juices, smoothies, jams, and desserts. The food and beverage industry's dynamic and crucial fruit concentrate market is characterized by the removal and decrease of water content from fruit juices to produce concentrated, delicious syrups. This procedure prolongs the shelf life of fruits while maintaining their flavor and sweetness as a natural preservation technique. Fruit concentrates are crucial ingredients in the creation of many consumer items, such as juices, carbonated drinks, jams, jellies, and desserts using fruit as the main ingredient. The market for fruit concentrate is primarily driven by the rising demand for healthy, natural ingredients as people look for products without artificial additives and preservatives. Fruit concentrates' broad use has also been facilitated by the convenience they offer manufacturers in terms of storage and delivery. The selection of fruits available on the market includes berries, apples, and tropical fruits like mangoes and pineapples, as well as citrus fruits like oranges and lemons. Furthermore, fruit concentrates are now used in new product categories because of advancements in packaging and processing methods. With considerable production and consumption in places like North America, Europe, Asia-Pacific, and South America, the market has a significant global presence. The market for fruit concentrates is positioned for additional growth and innovation as the trend toward healthier and more natural food options continues to gain traction. This presents a variety of opportunities for both established and up-and-coming businesses in the food and beverage industries.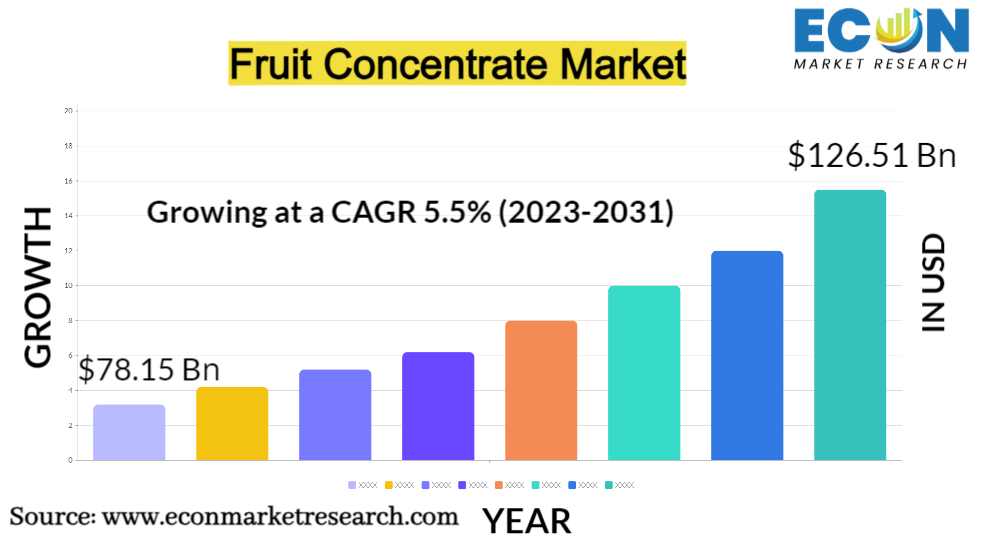 FRUIT CONCENTRATE MARKET: REPORT SCOPE & SEGMENTATION
| | |
| --- | --- |
| Report Attribute | Details |
| Estimated Market Value (2022) | 78.15 Bn |
| Projected Market Value (2031) | 126.51 Bn |
| Base Year | 2022 |
| Forecast Years | 2023 - 2031 |
| Scope of the Report | Historical and Forecast Trends, Industry Drivers and Constraints, Historical and Forecast Market Analysis by Segment- By Concentrates Type, By Form, By Application, & Region |
| Segments Covered | By Concentrates Type, By Form, By Application, & Region |
| Forecast Units | Value (USD Billion or Million), and Volume (Units) |
| Quantitative Units | Revenue in USD million/billion and CAGR from 2023 to 2031 |
| Regions Covered | North America, Europe, Asia Pacific, Latin America, and Middle East & Africa, and the Rest of World |
| Countries Covered | U.S., Canada, Mexico, U.K., Germany, France, Italy, Spain, China, India, Japan, South Korea, Brazil, Argentina, GCC Countries, and South Africa, among others |
| Report Coverage | Market growth drivers, restraints, opportunities, Porter's five forces analysis, PEST analysis, value chain analysis, regulatory landscape, market attractiveness analysis by segments and region, company market share analysis, and COVID-19 impact analysis. |
| Delivery Format | Delivered as an attached PDF and Excel through email, according to the purchase option. |
Global Fruit Concentrate Market Dynamics
A sector that is constantly changing and evolving within the food and beverage business is the fruit concentrate market. First off, there is a noticeable trend in consumer preferences towards cleaner, more organic food and drink options. Fruit concentrates, which contain the authentic flavor of fruits without added sugars or artificial additives, are therefore in more demand. Additionally, the rapidly growing beverage business significantly depends on fruit concentrates to improve flavors and satisfy customer expectations, especially in the juice and soft drink categories. Fruit concentrates are in high demand as a key component in this expanding sector. The fruit concentrate market does face certain difficulties, though. Fruit availability over different seasons has a big impact on productivity and cost. Producers must manage inventory in accordance with supply changes. The market has been significantly shaped by advances in technology. Cold-pressed and vacuum-evaporation procedures are two examples of processing innovations that have enhanced fruit concentrate quality while lowering production costs. Sustainability issues are still another crucial factor. Consumers are demanding more environmentally friendly packaging and processing techniques, which is pressuring manufacturers to follow suit. Fruit concentrate products now have a wider market reach thanks to worldwide trade in food, which benefits both consumers and producers. However, it also exposes the sector to trade-related and geopolitical concerns. The intense competition in the fruit concentrate business encourages flavor and branding innovation as competitors try to set themselves apart. Market dynamics are also influenced by regulatory issues, such as food safety and labelling requirements. A complex interaction of consumer trends, industrial dynamics, technical breakthroughs, sustainability issues, and variables affecting the global economy shapes the fruit concentrate market. Adaptability, creativity, and a thorough understanding of these dynamics are necessary for success in this industry.
Global Fruit Concentrate Market Drivers
The market for fruit concentrates is being significantly driven by the swift rise of the beverage sector. Juices, soft drinks, and beverages flavored with fruit stand out as categories where this rise is most noticeable. Fruit concentrates are essential to this business because they improve flavor, particularly. The demand for beverages with true fruit flavors without excessive sugars or artificial additions has increased as a result of consumers' shifting preferences, driven by health consciousness and a desire for more natural components. Fruit concentrates provide beverage producers with a practical and affordable solution to satisfy these customer demands. Additionally, the global beverage sector is continuously coming up with new, tantalizing flavor combinations to appeal to consumer taste buds. Fruit concentrates serve as essential ingredients in crafting a wide variety of these flavors, from classic citrus blends to exotic tropical concoctions. This versatility makes fruit concentrates indispensable in product development.
Health and Wellness Trends
The consumer inclination towards health and wellbeing is one of the main factors driving the fruit concentrate industry. People are searching for products that match their need for healthier options as they become more cognizant of their food decisions. Due to their inherent qualities, fruit concentrates are at the forefront of this trend. Fruit concentrates, which are essentially the essence of fruit juices without the need for additional sweeteners or other additives, fully satisfy this requirement. These concentrates provide a practical and adaptable ingredient for a variety of products while maintaining the unique flavors and underlying nutritional advantages of fruits. Moreover, the desire for fruit-based, naturally flavored products extends beyond beverages to include items like jams, yogurts, and desserts. Fruit concentrates serve as a foundational ingredient in such applications, helping manufacturers meet the demand for clean-label and healthier choices.
Restraints:
Fluctuating Raw Material Supply
The market for fruit concentrates is severely constrained by the erratic availability of raw materials. Fruit availability for concentrate processing is inextricably linked to seasonal and environmental conditions. Fruit harvests can be significantly impacted by weather factors like temperature, precipitation, and extreme occurrences like frost or drought. These issues are made worse by climate change, which results in unpredictable and occasionally lower fruit yields. The market for fruit concentrates may be negatively impacted by these variations in the supply of raw materials in a number of ways. First and foremost, they can result in supply shortages, which can impede production and raise costs for producers. Price fluctuation brought on by sudden scarcity can also make it challenging for firms to plan and budget properly. Moreover, it can compromise the quality and consistency of fruit concentrate products, as varying fruit quality and quantity affect the end product's flavor and characteristics.
Consumption of items with a lot of added sugar is being scrutinized more and more as customers' awareness of their own health continues to rise. Some fruit concentrates, especially those employed in specific beverage recipes, can have large amounts of sugars that are present naturally. They influence customer preferences in favor of lower-sugar or sugar-free options, which has an effect on the demand for products made with fruit concentrates. Consumers who are concerned about their health are more likely to carefully review nutrition labels and select products with lower sugar content. In order to address the problem of added sugars in food and beverages, regulatory agencies have also taken action. As a result, there have been modifications to labeling laws, and some jurisdictions now require that additional sugar information appears on product labels. Manufacturers may find it difficult to comply with these rules, which could have an impact on the market's expansion.
Opportunities:
Growing Demand for Natural Ingredients
Customers are looking more and more for food and drink items that support their desire for a healthier, more natural lifestyle. Fruit concentrates, which are essentially the pure essence of fruit juice without the need for added sugars or other chemicals, are well-positioned to meet this need. Fruit concentrates have a number of benefits in this situation. They are an attractive option for consumers who are concerned about their health because they maintain the natural flavors and nutritional advantages of fruits. They can also be used for a variety of purposes, such as boosting the flavor of liquids or providing natural sweetness to baked foods and sauces. Fruit concentrates are a desirable component for food and beverage producers trying to meet the clean-label trend because of their versatility.
Expanding Functional Beverage Market
Functional beverages enhanced with vitamins, minerals, antioxidants, and other bioactive components are a result of this movement. Fruit concentrates, which are abundant in natural flavors and nutrients, are crucial ingredients in the creation of these beverages with a focus on health. Fruit concentrates offer a practical and affordable way to add beneficial qualities to beverages. They can improve these goods nutritional content, natural sweetness, and flavor profile. This is especially enticing because customers prefer drinks that not only taste excellent but also have measurable health benefits. Vitamin-enhanced waters, herbal teas, energy drinks, and sports drinks are some of the major product categories in the functional beverage market. Fruit concentrates are adaptable to each category's unique functional objectives.
Segment Overview
By Concentrates Type
Based on concentrates type, the global fruit concentrate market is divided into oranges, apples, grapes, grapefruit, pineapple, peaches, pears, apricots, cherries, prunes, dates, and others. The grape category dominates the market with the largest revenue share. Grape concentrate is fundamental for the production of grape juice, wine, and grape-flavored snacks and desserts. Orange concentrate is a staple in the fruit concentrate market, primarily used in the production of orange juice, fruit-flavored beverages, and a wide range of food products. Apple concentrate finds its place in various applications, including juices, ciders, apple sauces, and bakery items like apple pies and pastries. Pineapple concentrate is a popular choice for tropical fruit juices, smoothies, and canned pineapple products. Grapefruit concentrate is used to create grapefruit juices and blended fruit juices that offer a tangy and refreshing flavor. Peach concentrate is employed in fruit juices, canned peaches, and peach-flavored desserts and yogurts. Pear concentrate is used in fruit juices and the production of pear-based food products like baby food and preserves. Cherry concentrate is a key ingredient in cherry-flavored beverages, jams, and desserts.
By Form
Based on the form, the global fruit concentrate market is categorized into powder and liquid. The liquid category leads the global fruit concentrate market with the largest revenue share. Liquid fruit concentrates are highly versatile and commonly used in various applications. They are convenient for adding natural fruit flavors and sweetness to a wide range of products, including juices, soft drinks, sauces, and desserts. Liquid fruit concentrates are suitable for beverages and food items where a liquid form is preferred, as they easily mix and dissolve into recipes. They are often used in the production of ready-to-drink beverages and as an ingredient in cooking and baking. Powdered fruit concentrates offer benefits such as extended shelf life and reduced transportation costs due to their lower weight and volume compared to liquid concentrates. They are also convenient for products where a dry or powdered form is desirable.
By Application
Based on application, the global fruit concentrate market is segmented into food and beverages, dietary supplements, pharmaceuticals, sports nutrition, personal care and cosmetics. The food and beverages segment dominates the fruit concentrate market. Fruit concentrates are widely used in the food and beverage industry to enhance flavor, sweetness, and natural fruit content in products like fruit juices, soft drinks, jams, jellies, bakery items, sauces, and confectionery. They provide a convenient and cost-effective way to incorporate authentic fruit flavors and natural sweetness into a wide range of food and beverage products. Fruit concentrate powders or extracts are used in dietary supplements to provide natural vitamins, minerals, antioxidants, and phytonutrients. They are often included in multivitamins, energy supplements, and health-focused supplements. Fruit concentrates offer a natural and appealing way to enhance the nutritional content of dietary supplements while providing a source of vitamins and minerals. In the pharmaceutical industry, fruit concentrates may be used as flavoring agents or carriers for medicines, particularly in liquid medications, chewable tablets, and syrups. Fruit concentrates can improve the taste and palatability of pharmaceutical formulations, making them more appealing to patients, especially children. Fruit concentrates can be found in personal care and cosmetic products, particularly those promoting natural and organic formulations. They may be used in skincare, haircare, and cosmetic products for their natural fragrances and potential antioxidant properties. Fruit concentrates enhance the sensory appeal of personal care products while potentially offering skincare benefits through their natural compounds.
Global Fruit Concentrate Market Overview by Region
The global fruit concentrate market is categorized into North America, Europe, Asia-Pacific, and the Rest of the World. Asia Pacific emerged as the leading region, capturing the largest market share in 2022. The region's extensive and diverse agricultural landscape, which provides a rich abundance of fruits, is one of the main motivators. Fruit concentrate production has access to a plentiful supply of raw materials from nations like China, India, Thailand, and Vietnam, who are major producers of fruits including oranges, mangoes, pineapples, and more. The Asia-Pacific area has also experienced rapid urbanization and a growing middle class with shifting food choices. Due to the changing demographics, more people are consuming fruit-based products including juices, soft drinks, and snacks, all of which heavily rely on fruit concentrates. The region's sizable population and improving standard of living have also fueled the boom in demand for products made with fruit concentrate. Additionally, Asia Pacific's manufacturing capabilities and infrastructure have significantly improved, enabling efficient processing and distribution of fruit concentrates. This has allowed both domestic and international manufacturers to establish a strong presence in the region, meeting the escalating demand for fruit concentrate products.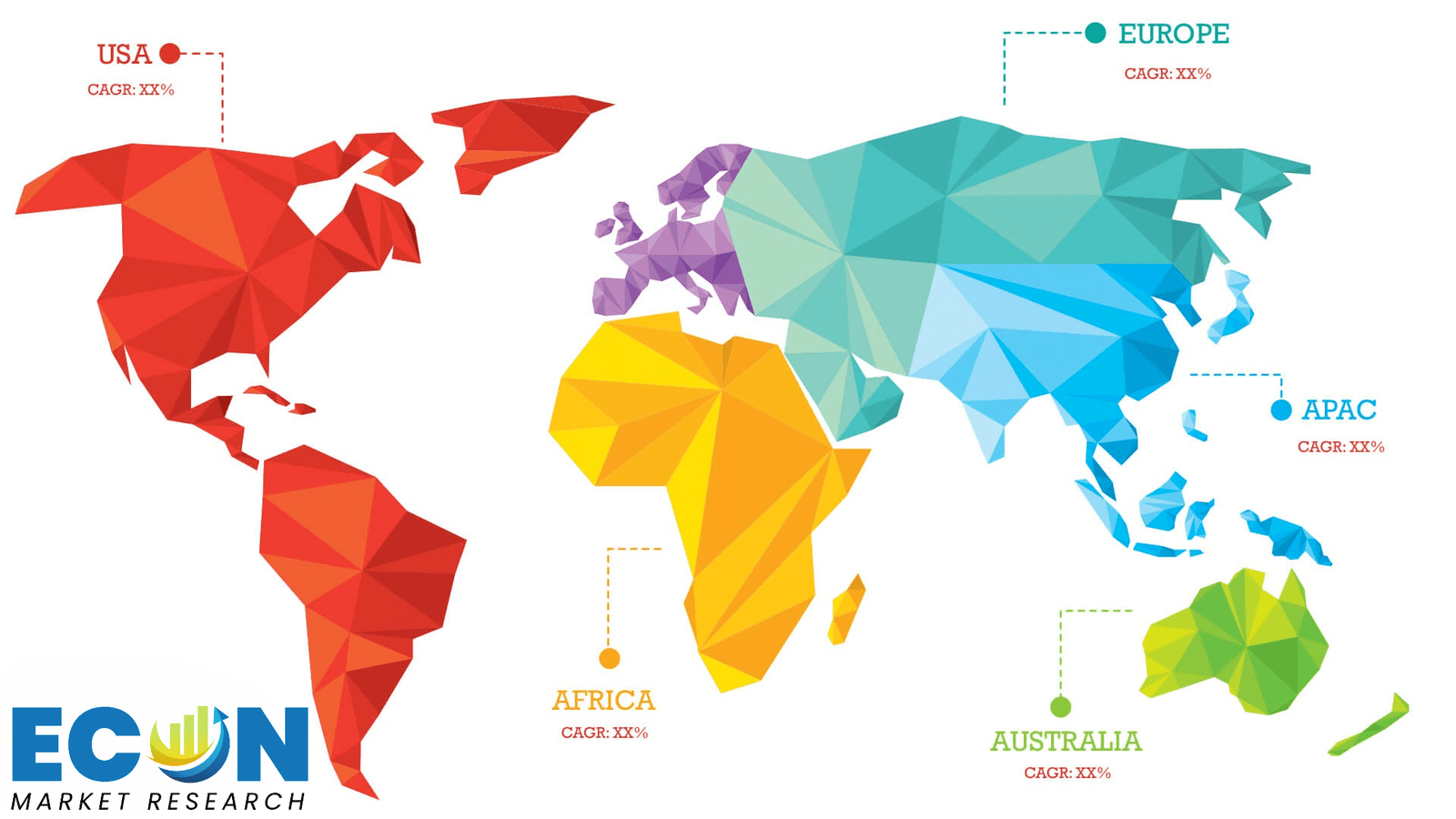 Global Fruit Concentrate Market Competitive Landscape
In the global fruit concentrate market, a few major players exert significant market dominance and have established a strong regional presence. These leading companies remain committed to continuous research and development endeavors and actively engage in strategic growth initiatives, including product development, launches, joint ventures, and partnerships. By pursuing these strategies, these companies aim to strengthen their market position, expand their customer base, and capture a substantial share of the market.
Some of the prominent players in the global fruit concentrate market include Skypeople Fruit Juice Inc.; Royal Cosun; Kerr Concentrates, Inc.; Dohler GmBH; Archer Daniels Midland; Agrana Beteiligungs Ag; China Haiseng Juice Holdings Co., Ltd; Lemon Concentrate, S.L.; Rudolf Wild GmBH & Co. Kg; Sunopata Inc., and various other key players.
Global Fruit Concentrate Market Recent Developments
In August 2023, GrubMarket purchases London Fruit in order to grow even further in Texas. With a vast network of growers spanning Mexico, Peru, and other countries in South America, London Fruit is a market leader in avocados, limes, mangos, and other high-quality tropical fruits. London Fruit provides value-added services like private labelling, bespoke packing, and grading in addition to import and distribution.
In March 2023, DKSH and Döhler enter into an exclusive distribution agreement for pectins and fruit fibres in Switzerland and Austria. Pectins, citrus and apple fibres, texturizing fruit powders, and other natural additives are developed by Döhler GmbH. Numerous meals, including yoghurt, jam, baked goods, meat products, and smoothies, use these ingredients. The pectins and fibres from Döhler are created from natural ingredients and don't include any additives.
Scope of the Global Fruit Concentrate Market Report
Fruit Concentrate Market Report Segmentation
ATTRIBUTE

DETAILS

By Concentrates Type

Orange

Apples

Grapes

Grapefruit

Pineapple

Peaches

Pears

Apricots

Cherries

Prunes

Dates

Others

By Form

By Application

Food and beverages

Dietary Supplements

Pharmaceuticals

Sports Nutrition

Personal Care & Cosmetics

By Geography

North America (USA,

and Canada)

Europe (UK, Germany, France, Italy, Spain, Russia and Rest of Europe)

Asia Pacific (Japan, China, India, Australia, Southeast Asia and Rest of Asia Pacific)

Latin America (Brazil, Mexico, and Rest of Latin America)

Middle East & Africa (South Africa, GCC, and Rest of Middle East & Africa)

Customization Scope

Pricing
Objectives of the Study
The objectives of the study are summarized in 5 stages. They are as mentioned below:
Global Fruit Concentrate Market

Size and Forecast:
To identify and estimate the market size for the global fruit concentrate market segmented by concentrates type, by form, by application, region and by value (in U.S. dollars). Also, to understand the consumption/ demand created by consumers of fruit concentrate between 2019 and 2031.
Market Landscape and Trends:
To identify and infer the drivers, restraints, opportunities, and challenges for the global fruit concentrate market
Market Influencing Factors:
To find out the factors which are affecting the sales of fruit concentrate among consumers
To identify and understand the various factors involved in the global fruit concentrate market affected by the pandemic
To provide a detailed insight into the major companies operating in the market. The profiling will include the financial health of the company's past 2-3 years with segmental and regional revenue breakup, product offering, recent developments, SWOT analysis, and key strategies.
Intended Audience
Food and Beverage Manufacturers

Dietary Supplement Manufacturers

Pharmaceutical Companies

Personal Care and Cosmetic Companies

Retailers, Wholesalers, and Distributors

Governments, Associations, and Industrial Bodies

Investors and Trade Experts
Research Methodology
Our research methodology has always been the key differentiating reason which sets us apart in comparison from the competing organizations in the industry. Our organization believes in consistency along with quality and establishing a new level with every new report we generate; our methods are acclaimed and the data/information inside the report is coveted. Our research methodology involves a combination of primary and secondary research methods. Data procurement is one of the most extensive stages in our research process. Our organization helps in assisting the clients to find the opportunities by examining the market across the globe coupled with providing economic statistics for each and every region. The reports generated and published are based on primary & secondary research. In secondary research, we gather data for global Market through white papers, case studies, blogs, reference customers, news, articles, press releases, white papers, and research studies. We also have our paid data applications which includes hoovers, Bloomberg business week, Avention, and others.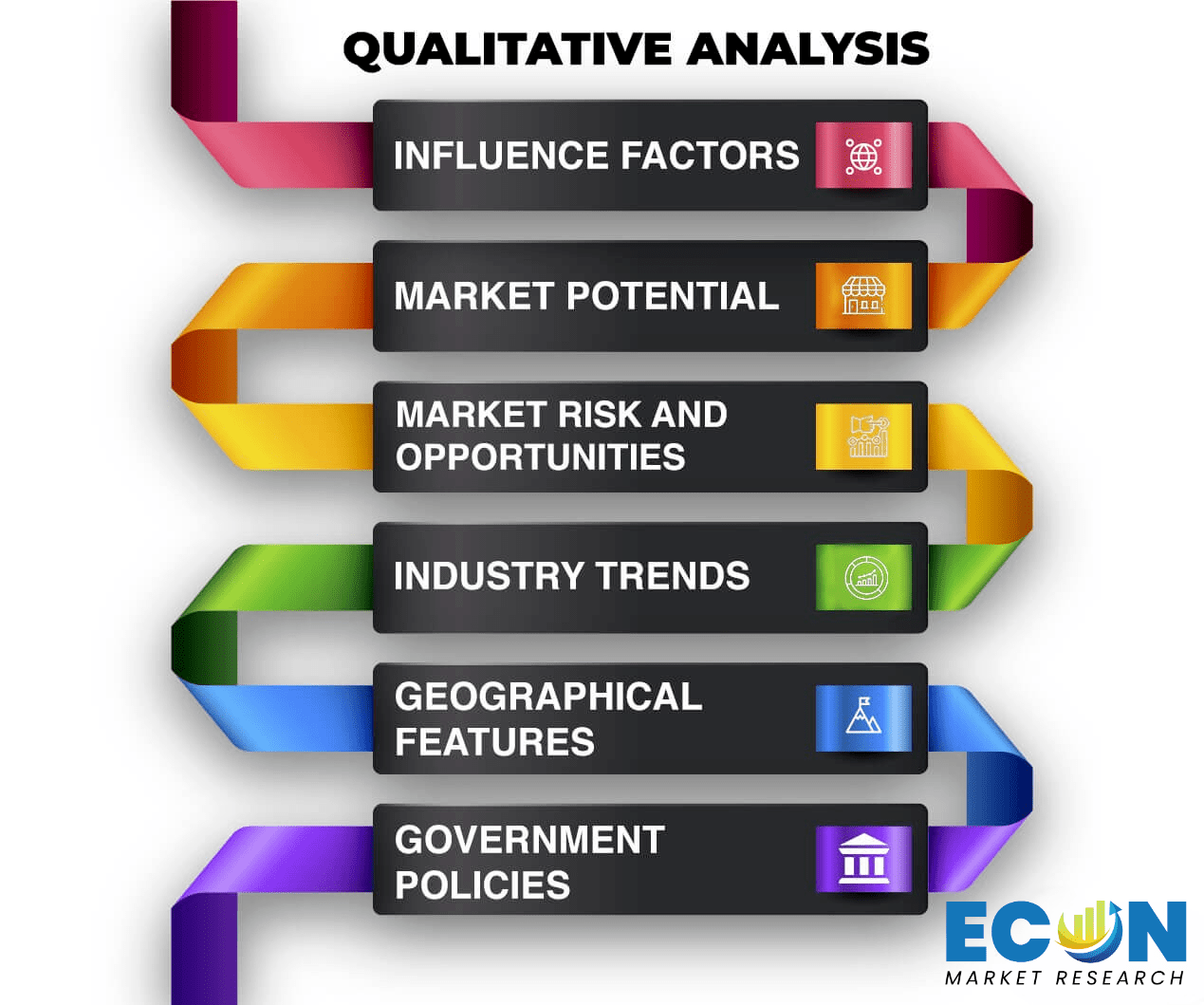 Data Collection
Data collection is the process of gathering, measuring, and analyzing accurate and relevant data from a variety of sources to analyze market and forecast trends. Raw market data is obtained on a broad front. Data is continuously extracted and filtered to ensure only validated and authenticated sources are considered. Data is mined from a varied host of sources including secondary and primary sources.

Primary Research
After the secondary research process, we initiate the primary research phase in which we interact with companies operating within the market space. We interact with related industries to understand the factors that can drive or hamper a market. Exhaustive primary interviews are conducted. Various sources from both the supply and demand sides are interviewed to obtain qualitative and quantitative information for a report which includes suppliers, product providers, domain experts, CEOs, vice presidents, marketing & sales directors, Type & innovation directors, and related key executives from various key companies to ensure a holistic and unbiased picture of the market. 
Secondary Research
A secondary research process is conducted to identify and collect information useful for the extensive, technical, market-oriented, and comprehensive study of the market. Secondary sources include published market studies, competitive information, white papers, analyst reports, government agencies, industry and trade associations, media sources, chambers of commerce, newsletters, trade publications, magazines, Bloomberg BusinessWeek, Factiva, D&B, annual reports, company house documents, investor presentations, articles, journals, blogs, and SEC filings of companies, newspapers, and so on. We have assigned weights to these parameters and quantified their market impacts using the weighted average analysis to derive the expected market growth rate.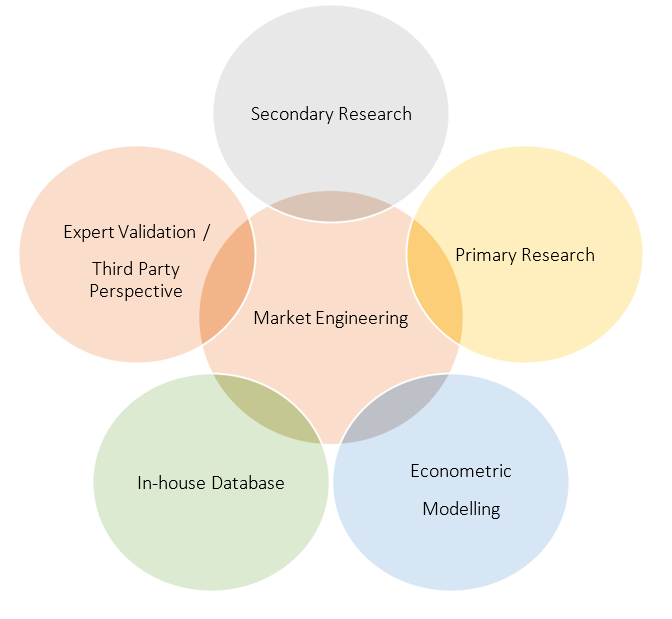 Top-Down Approach & Bottom-Up Approach
In the top – down approach, the Global Batteries for Solar Energy Storage Market was further divided into various segments on the basis of the percentage share of each segment. This approach helped in arriving at the market size of each segment globally. The segments market size was further broken down in the regional market size of each segment and sub-segments. The sub-segments were further broken down to country level market. The market size arrived using this approach was then crosschecked with the market size arrived by using bottom-up approach.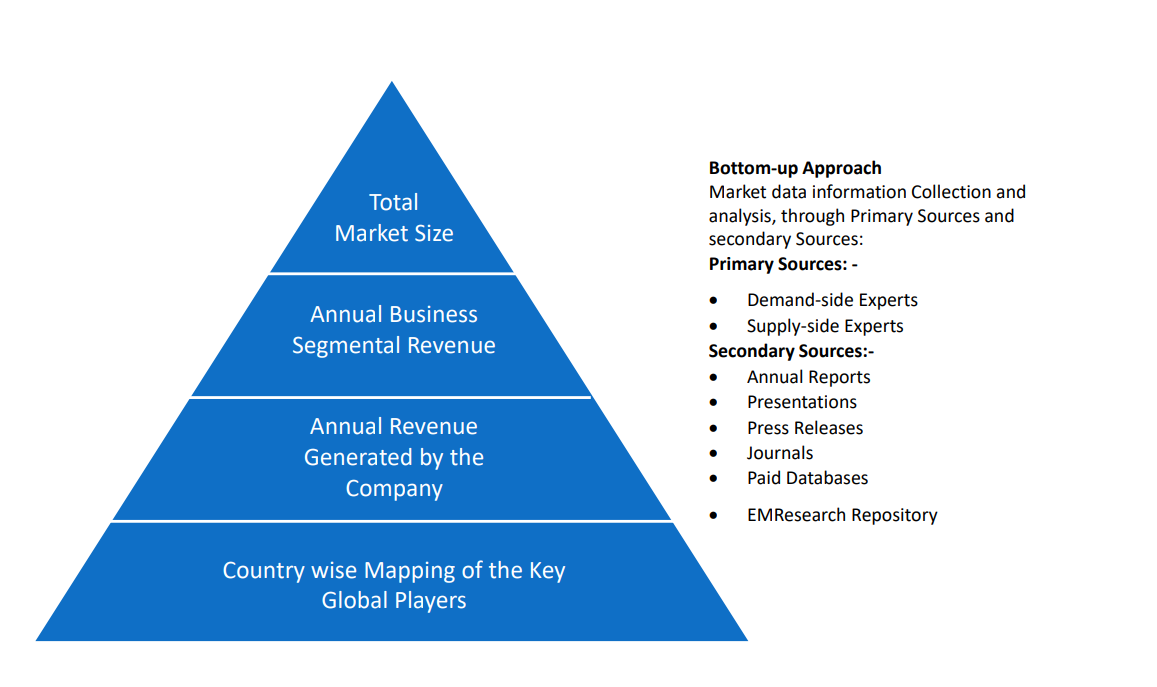 In the bottom-up approach, we arrived at the country market size by identifying the revenues and market shares of the key market players. The country market sizes then were added up to arrive at regional market size of the decorated apparel, which eventually added up to arrive at global market size.
This is one of the most reliable methods as the information is directly obtained from the key players in the market and is based on the primary interviews from the key opinion leaders associated with the firms considered in the research. Furthermore, the data obtained from the company sources and the primary respondents was validated through secondary sources including government publications and Bloomberg.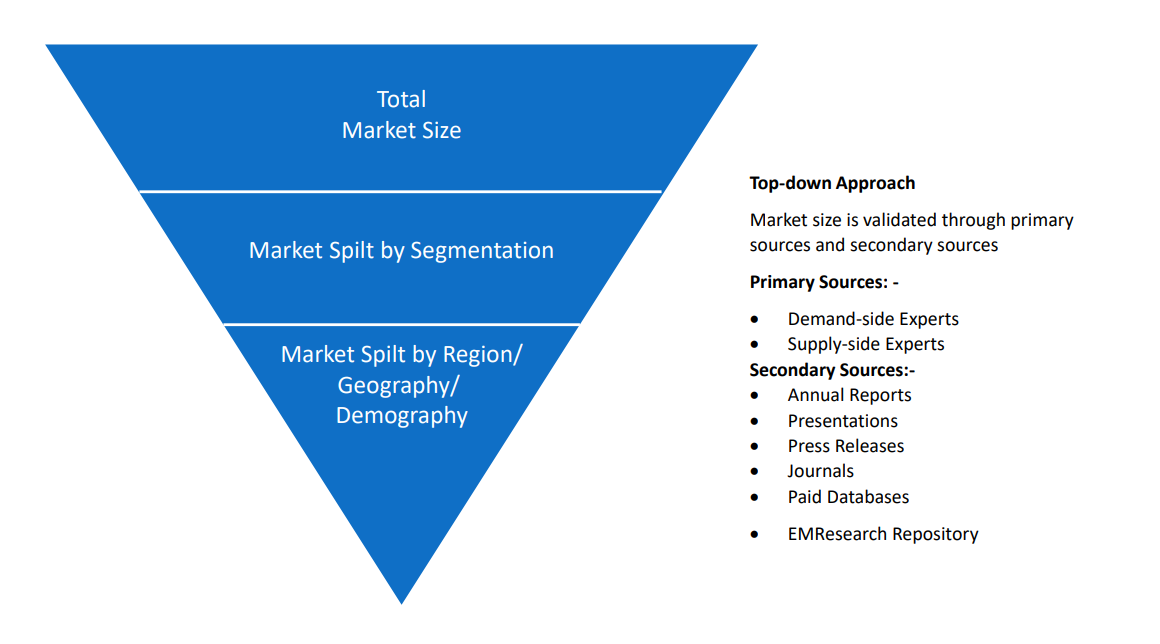 Market Analysis & size Estimation
Post the data mining stage, we gather our findings and analyze them, filtering out relevant insights. These are evaluated across research teams and industry experts. All this data is collected and evaluated by our analysts. The key players in the industry or markets are identified through extensive primary and secondary research. All percentage share splits, and breakdowns have been determined using secondary sources and verified through primary sources. The market size, in terms of value and volume, is determined through primary and secondary research processes, and forecasting models including the time series model, econometric model, judgmental forecasting model, the Delphi method, among Flywheel Energy Storage. Gathered information for market analysis, competitive landscape, growth trends, product development, and pricing trends is fed into the model and analyzed simultaneously.
Quality Checking & Final Review
The analysis done by the research team is further reviewed to check for the accuracy of the data provided to ensure the clients' requirements. This approach provides essential checks and balances which facilitate the production of quality data. This Type of revision was done in two phases for the authenticity of the data and negligible errors in the report. After quality checking, the report is reviewed to look after the presentation, Type and to recheck if all the requirements of the clients were addressed.