The Global Floor Adhesive Market was valued at USD 9.20 billion in 2022 and is estimated to reach approximately USD 14.92 billion by 2031, at a CAGR of 5.5% from 2023 to 2031. Floor adhesive is a specialized adhesive designed for securely bonding flooring materials to subfloors. It is a crucial component in construction and renovation projects where various types of flooring, such as tiles, carpets, vinyl, hardwood, and laminates, need to be affixed to surfaces. This adhesive offers strong and durable bonds, preventing the flooring from shifting, lifting, or buckling over time. It often provides moisture resistance, maintaining the integrity of the flooring in humid or wet environments. Additionally, floor adhesive contributes to sound insulation and provides a smooth, even surface for the flooring material, enhancing the final aesthetic and functional quality of the floor. With advancements in adhesive technology, there are options tailored to specific flooring materials and subfloor types. Proper application of floor adhesive is essential to ensure a successful and long-lasting flooring installation. The floor adhesive market has witnessed substantial growth due to the expanding construction and renovation sectors. As urbanization and infrastructure projects surge, the demand for reliable floor bonding solutions escalates. Consumers also increasingly seek aesthetically pleasing and durable flooring, further boosting the market. Technological advancements have led to adhesives with improved bonding strength, moisture resistance, and eco-friendliness. The market is competitive, with manufacturers striving to differentiate products based on quality and environmental considerations. Regulations regarding safety and emissions impact product development. Economic fluctuations influence construction activities, impacting adhesive demand. To navigate this dynamic market, manufacturers must innovate to meet varying adhesive requirements across regions and flooring types while considering environmental regulations and economic factors.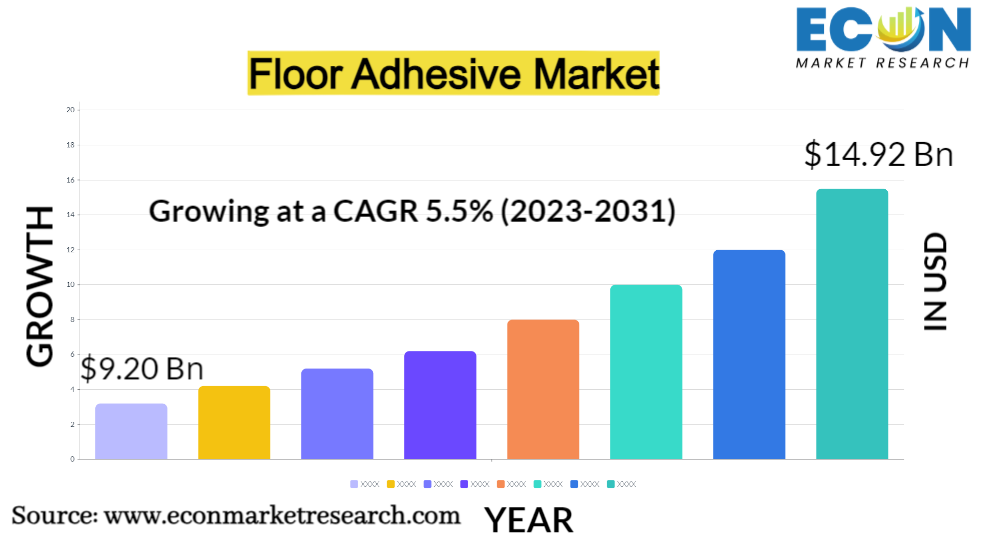 FLOOR ADHESIVES MARKET: REPORT SCOPE & SEGMENTATION
| | |
| --- | --- |
| Report Attribute | Details |
| Estimated Market Value (2022) | 9.20 Bn |
| Projected Market Value (2031) | 14.92 Bn |
| Base Year | 2022 |
| Forecast Years | 2023 - 2031 |
| Scope of the Report | Historical and Forecast Trends, Industry Drivers and Constraints, Historical and Forecast Market Analysis by Segment- By Resin Type, By Application, By Technology, By End User, & Region |
| Segments Covered | By Resin Type, By Application, By Technology, By End User, & Region |
| Forecast Units | Value (USD Billion or Million), and Volume (Units) |
| Quantitative Units | Revenue in USD million/billion and CAGR from 2023 to 2031 |
| Regions Covered | North America, Europe, Asia Pacific, Latin America, and Middle East & Africa, and the Rest of World |
| Countries Covered | U.S., Canada, Mexico, U.K., Germany, France, Italy, Spain, China, India, Japan, South Korea, Brazil, Argentina, GCC Countries, and South Africa, among others |
| Report Coverage | Market growth drivers, restraints, opportunities, Porter's five forces analysis, PEST analysis, value chain analysis, regulatory landscape, market attractiveness analysis by segments and region, company market share analysis, and COVID-19 impact analysis. |
| Delivery Format | Delivered as an attached PDF and Excel through email, according to the purchase option. |
Global Floor Adhesives Market Dynamics
The floor adhesives market is characterized by dynamic factors that influence its growth, trends, and overall dynamics. construction and renovation activities strongly drive demand, as the need for reliable bonding solutions for various flooring materials increases. Technological advancements play a vital role, with improved adhesive formulations offering better bonding strength, moisture resistance, and environmental friendliness. Diverse flooring materials, including tiles, carpets, vinyl, and hardwood, require specialized adhesive solutions tailored to their unique characteristics. Consumer preferences for both aesthetics and functionality contribute to market trends, while regulations governing safety, emissions, and environmental impact product development and consumer choices. Economic conditions influence adhesive demand, with economic growth boosting construction activities and adhesive consumption. The growing DIY culture fuels the demand for user-friendly adhesive products for non-professional users. Geographical variations in demand are driven by regional construction trends, economic factors, and cultural preferences. To succeed in this dynamic market, manufacturers must innovate to meet evolving adhesive requirements, while considering environmental regulations, economic fluctuations, and the shifting landscape of consumer preferences.
Global Floor Adhesives Market Drivers
Boom in Construction and Renovation
As urbanization and infrastructure development continue to accelerate, the demand for floor adhesive products has surged. This trend is a result of the expanding construction sector, as cities grow and modernize. As new buildings are erected and existing structures undergo renovations, a reliable and efficient means of securely bonding flooring materials to subfloors becomes paramount. Floor adhesives play a vital role in ensuring that diverse flooring types, such as tiles, carpets, vinyl, and hardwood, remain firmly in place, contributing to the durability and longevity of the overall flooring installation. The increasing demand for housing, commercial spaces, and public infrastructure fuels construction activities globally. With this growth, there's a direct correlation to the need for effective adhesives that offer robust bonding, moisture resistance, and longevity. The construction and renovation boom sets a strong foundation for the floor adhesives market, presenting manufacturers with opportunities to cater to the evolving needs of the construction industry and consumers seeking dependable flooring solutions.
Technological Advancements in Adhesives
The continuous technological advancements have reshaped the industry landscape by introducing adhesive products with improved performance, sustainability, and functionality. Manufacturers have been diligently working to develop adhesive formulations that offer enhanced bonding strength, moisture resistance, and environmental friendliness. This innovation addresses the demand for adhesives that can withstand varying conditions and maintain their efficacy over time. Low-VOC (volatile organic compounds) and eco-friendly adhesive options have gained prominence due to their reduced environmental impact and improved indoor air quality, aligning with stricter regulatory standards and growing consumer preferences for sustainable products. As eco-friendly and high-performance adhesive options become available, they cater to both construction professionals and consumers seeking long-lasting, reliable flooring solutions. This driver nurtures a competitive market where manufacturers must stay ahead of the curve in developing adhesive formulations that offer superior bonding capabilities while meeting stringent environmental and performance standards.
Restraints:
Economic Fluctuations and Construction Slowdowns
This sector is intrinsically tied to the construction and renovation industry, making it susceptible to the ebbs and flows of the broader economy. During periods of economic downturn, construction activities often slow down due to reduced investments and consumer spending. This directly impacts the demand for floor adhesives as fewer projects are initiated, leading to decreased consumption. In challenging economic conditions, construction projects might be postponed or scaled back, resulting in a decreased need for adhesive products. The decreased demand can lead to excess inventory, pricing pressures, and reduced profitability for adhesive manufacturers. Furthermore, the uncertainty surrounding economic conditions can make long-term planning and investment decisions challenging for manufacturers and businesses within the industry.
Regulatory Compliance and Environmental Concerns
Adhesive products are subject to stringent regulations imposed by governmental bodies, aimed at ensuring the safety of both consumers and the environment. Manufacturers are obligated to invest in research, testing, and quality control measures to ensure their products meet these standards. This can result in increased production costs due to the need for specialized formulations, testing procedures, and adherence to emissions limits.
Opportunities:
Customization for Diverse Flooring Trends
The opportunity for customization for diverse flooring trends entails tailoring adhesive solutions to accommodate the ever-evolving preferences in interior design and flooring materials. As consumer tastes and architectural trends shift, manufacturers can proactively develop adhesive formulations that cater to new types of flooring materials, designs, and installation methods. In a dynamic market, where consumers seek distinct and innovative flooring solutions, manufacturers can capitalize on this demand by creating specialized adhesives. For instance, as new flooring materials like engineered wood, luxury vinyl, and eco-friendly options gain popularity, manufacturers can engineer adhesives that ensure optimal bonding and longevity for these materials. By offering adhesive products designed for specific flooring trends, manufacturers can not only meet consumer expectations for performance and aesthetics but also build a reputation for innovation and responsiveness to market shifts. This approach also aligns with the growing emphasis on personalized and tailored solutions in the construction and design industries.
Green and Sustainable Solutions
Green and sustainable solutions are a significant path for growth in the floor adhesives market. As environmental consciousness continues to rise, there's a growing demand for adhesive products that align with eco-friendly practices and reduce their impact on the environment. Manufacturers have the chance to develop adhesives with reduced volatile organic compounds (VOCs), which contribute to air pollution and indoor air quality issues. By creating low-VOC or VOC-free adhesive formulations, manufacturers can cater to environmentally conscious consumers, businesses, and projects that prioritize sustainable construction practices. Investing in research and development to create adhesive products that balance performance, durability, and sustainability can position manufacturers at the forefront of the industry. By grasping this opportunity, manufacturers not only contribute to a greener future but also capitalize on a burgeoning market trend that resonates with environmentally aware stakeholders.
Segment Overview
By Resin Type
Based on resin type, the global floor adhesives market is divided into epoxy adhesive, polyurethane adhesive, acrylic adhesive, vinyl adhesive, and others. The acrylic adhesive category dominates the market with the largest revenue share of around 40.5% in 2022. Acrylic adhesives offer quick curing times and strong initial bonds. They are often used in applications where rapid installation is important. Acrylic adhesives may not have the same level of durability as epoxy or polyurethane adhesives, but their ease of use and fast curing properties make them suitable for various flooring materials. Polyurethane adhesives are valued for their flexibility, making them suitable for flooring materials that may expand or contract due to temperature variations. They provide good bond strength and are often used in applications where some degree of movement is expected. Polyurethane adhesives also offer resistance to moisture and chemicals. Where vinyl adhesives are specifically designed for bonding vinyl flooring materials. They provide a secure bond and are often used in residential and commercial settings where vinyl tiles or sheets are being installed. Vinyl adhesives are formulated to work well with the unique characteristics of vinyl flooring. Epoxy adhesives are known for their exceptional bonding strength and durability. They are widely used in industrial and commercial flooring applications where high-performance adhesive properties are required. Epoxy adhesives offer excellent resistance to chemicals, moisture, and heavy loads.
By Technology
Based on the technology, the global floor adhesives market is categorized into water-based adhesive, solvent-based adhesive, and hot-melt adhesive. The water-based adhesive category leads the global floor adhesives market with the largest revenue share. Water-based adhesives, also known as aqueous adhesives, are formulated using water as the primary solvent. They are favored for their low levels of volatile organic compounds (VOCs) and reduced environmental impact compared to solvent-based options. Water-based adhesives are known for their ease of use, quick drying times, and relatively low odor. They are commonly used in residential applications and settings where indoor air quality is a concern. The solvent-based adhesives use organic solvents as the primary carriers for their adhesive properties. They offer strong bonding capabilities and are often preferred for their resistance to moisture and extreme temperatures. However, solvent-based adhesives can have higher VOC content and stronger odors. They are commonly used in industrial and heavy-duty applications where performance under challenging conditions is crucial. Where hot-melt adhesives are solid materials that are melted and applied in a molten state. They rapidly solidify upon cooling to form a bond. Hot-melt adhesives are valued for their fast setting times, making them suitable for high-speed production lines. They are commonly used in industries like packaging, woodworking, and textiles
By Application
Based on application, the global floor adhesives market is segmented into tile and stone, wood, carpet, laminate, and others. The carpet segment dominates the floor adhesives market. Carpets are a popular choice for both residential and commercial spaces due to their comfort, insulation, and aesthetic appeal. They are commonly found in homes, offices, hotels, and other commercial buildings, leading to a high demand for adhesive solutions that securely bond carpets to the underlying subfloor. Carpet installation requires specific adhesive formulations that offer strong bonding while accommodating the flexibility and texture of the carpet material. Adhesives for carpet installations often need to strike a balance between durability, flexibility, and ease of application. Carpet tiles, in particular, have gained popularity due to their modular nature, easy installation, and design flexibility. The adhesive market benefits from the need for reliable and efficient adhesive solutions to secure these tiles in place.
By End User
Based on the end user, the global floor adhesives market is categorized into residential floor adhesive, commercial floor adhesive, and industrial floor adhesive. The residential floor adhesive category leads the global floor adhesives market with the largest revenue share. Residential floor adhesives are tailored to the flooring needs of homes, apartments, and other residential spaces. These adhesives are designed to provide secure bonding for various flooring materials commonly used in residences, such as tiles, carpets, vinyl, and hardwood. They often prioritize factors like ease of installation, aesthetics, and comfort. The residential segment includes projects ranging from single-family homes to condominiums and apartments. The commercial floor adhesives cater to flooring installations in commercial spaces such as offices, retail stores, restaurants, hotels, and public buildings. These spaces experience higher foot traffic and diverse flooring requirements.
Global Floor Adhesives Market Overview by Region
The global floor adhesives market is categorized into North America, Europe, Asia-Pacific, and the Rest of the World. Asia Pacific emerged as the leading region, capturing the largest of market share. The Asia Pacific region has been experiencing significant urbanization and infrastructural growth. As cities expand and new construction projects arise, the demand for floor adhesives for various flooring materials increases, driving the market's growth. The construction industry in Asia Pacific is thriving, with a surge in residential, commercial, and industrial construction projects. This growth fuels the demand for reliable adhesive solutions for flooring materials, contributing to the region's dominant position in the market. Economic growth in Asia Pacific nations has led to increased consumer spending on housing, commercial spaces, and improved interior design. This trend directly influences the demand for flooring materials and adhesive products to complement these spaces. The real estate markets in many Asia Pacific countries have been resistant, leading to a higher number of housing and commercial projects. These projects contribute to the robust demand for floor adhesives.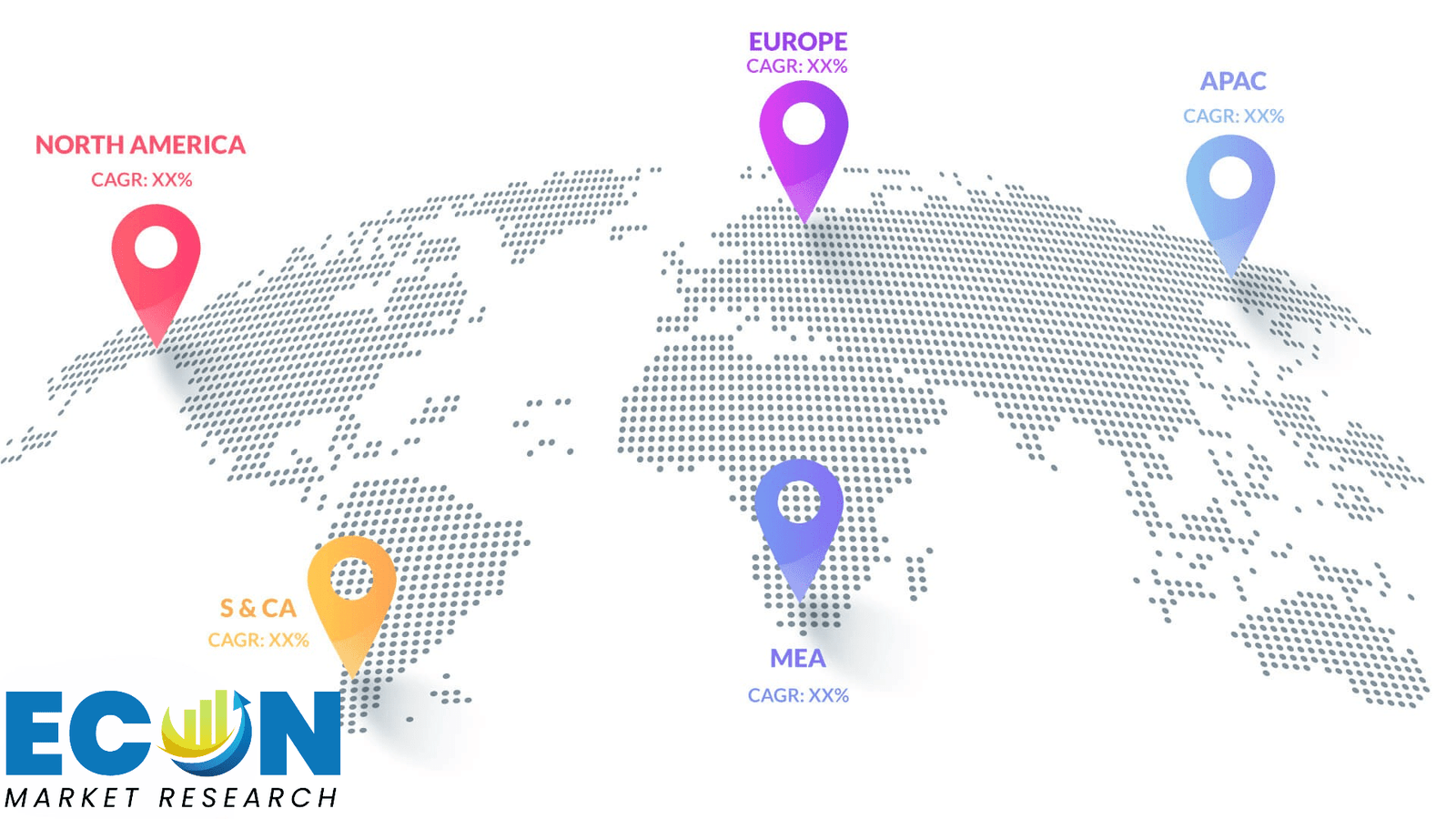 Global Floor Adhesives Market Competitive Landscape
In the global floor adhesives market, a few major players exert significant market dominance and have established a strong regional presence. These leading companies remain committed to continuous research and development endeavors and actively engage in strategic growth initiatives, including product development, launches, joint ventures, and partnerships. By pursuing these strategies, these companies aim to strengthen their market position, expand their customer base, and capture a substantial share of the market.
Some of the prominent players in the global floor adhesives market include Wacker Chemie AG, ForboGroup , Pidilite Industries Ltd., LATICRETE International, Inc, Roberts Consolidated Industries, Inc, Bona Orgnr, ARDEX, MAPEI S.p.A., Sika AG, Henkel AG & Co. KgaA, BASF SE, 3M, Bostik, H.B. Fuller, Arkema, Taylor, and various other key players.
Global Floor Adhesives Market Recent Developments
In May 2021, Frontier Products Inc. is acquired by Meridian Adhesives Group. Frontier offers new procedures and technologies to platform with its addition to our Flooring Division. Frontier produces high-performance flooring solutions such as urethane, acrylic pressure sensitive and hybrid adhesives, moisture barriers, sound control, and construction supplies.
Scope of the Global Floor Adhesives Market Report
Floor Adhesives Market Report Segmentation
ATTRIBUTE

DETAILS

By Resin Type

Epoxy Adhesive

Polyurethane Adhesive

Acrylic Adhesive

Vinyl Adhesive

Others

By Technology

Water-Based Adhesive

Solvent-Based Adhesive

Hot-Melt Adhesive

By Application

Tile and Stone

Wood

Carpet

Laminate

Others

By End User

Residential Floor Adhesive

Commercial Floor Adhesive

Industrial Floor Adhesive

By Geography

North America (USA,

and Canada)

Europe (UK, Germany, France, Italy, Spain, Russia and Rest of Europe)

Asia Pacific (Japan, China, India, Australia, Southeast Asia and Rest of Asia Pacific)

Latin America (Brazil, Mexico, and Rest of Latin America)

Middle East & Africa (South Africa, GCC, and Rest of Middle East & Africa)

Customization Scope

Pricing
Objectives of the Study
The objectives of the study are summarized in 5 stages. They are as mentioned below:
Global Floor Adhesives Market

Size and Forecast:
To identify and estimate the market size for the global floor adhesives market segmented by resin type, by application, by technology, by end user, region and by value (in U.S. dollars). Also, to understand the consumption/ demand created by consumers of floor adhesives between 2019 and 2031.
Market Landscape and Trends:
To identify and infer the drivers, restraints, opportunities, and challenges for the global floor adhesives market
Market Influencing Factors:
To find out the factors which are affecting the sales of floor adhesives among consumers
To identify and understand the various factors involved in the global floor adhesives market affected by the pandemic
To provide a detailed insight into the major companies operating in the market. The profiling will include the financial health of the company's past 2-3 years with segmental and regional revenue breakup, product offering, recent developments, SWOT analysis, and key strategies.
Intended Audience
Raw Material Suppliers

Construction Professionals

Real Estate Developers

Real Estate Developers

Retailers, Wholesalers, and Distributors

Governments, Associations, and Industrial Bodies

Investors and Trade Experts
Research Methodology
Our research methodology has always been the key differentiating reason which sets us apart in comparison from the competing organizations in the industry. Our organization believes in consistency along with quality and establishing a new level with every new report we generate; our methods are acclaimed and the data/information inside the report is coveted. Our research methodology involves a combination of primary and secondary research methods. Data procurement is one of the most extensive stages in our research process. Our organization helps in assisting the clients to find the opportunities by examining the market across the globe coupled with providing economic statistics for each and every region. The reports generated and published are based on primary & secondary research. In secondary research, we gather data for global Market through white papers, case studies, blogs, reference customers, news, articles, press releases, white papers, and research studies. We also have our paid data applications which includes hoovers, Bloomberg business week, Avention, and others.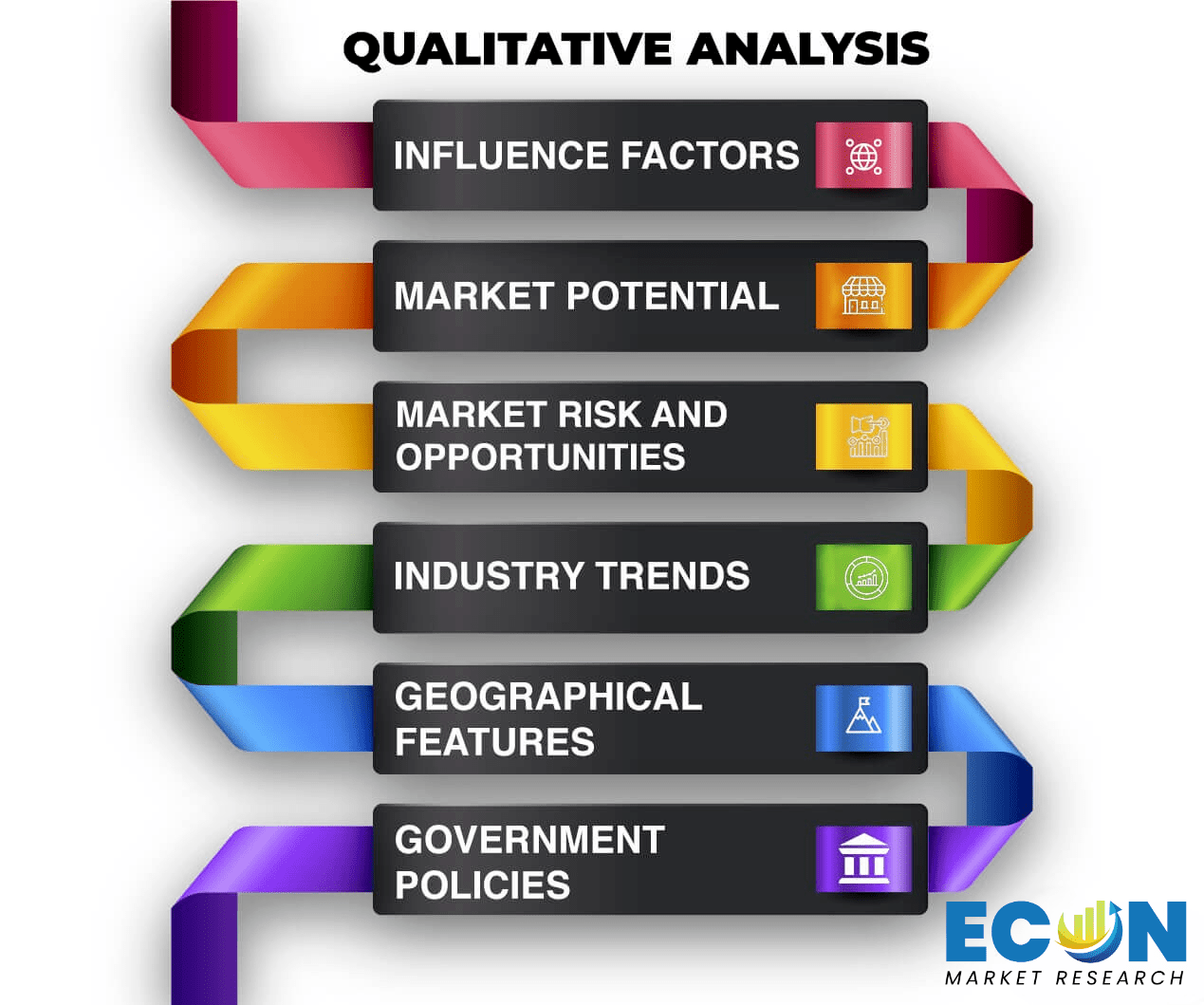 Data Collection
Data collection is the process of gathering, measuring, and analyzing accurate and relevant data from a variety of sources to analyze market and forecast trends. Raw market data is obtained on a broad front. Data is continuously extracted and filtered to ensure only validated and authenticated sources are considered. Data is mined from a varied host of sources including secondary and primary sources.

Primary Research
After the secondary research process, we initiate the primary research phase in which we interact with companies operating within the market space. We interact with related industries to understand the factors that can drive or hamper a market. Exhaustive primary interviews are conducted. Various sources from both the supply and demand sides are interviewed to obtain qualitative and quantitative information for a report which includes suppliers, product providers, domain experts, CEOs, vice presidents, marketing & sales directors, Type & innovation directors, and related key executives from various key companies to ensure a holistic and unbiased picture of the market. 
Secondary Research
A secondary research process is conducted to identify and collect information useful for the extensive, technical, market-oriented, and comprehensive study of the market. Secondary sources include published market studies, competitive information, white papers, analyst reports, government agencies, industry and trade associations, media sources, chambers of commerce, newsletters, trade publications, magazines, Bloomberg BusinessWeek, Factiva, D&B, annual reports, company house documents, investor presentations, articles, journals, blogs, and SEC filings of companies, newspapers, and so on. We have assigned weights to these parameters and quantified their market impacts using the weighted average analysis to derive the expected market growth rate.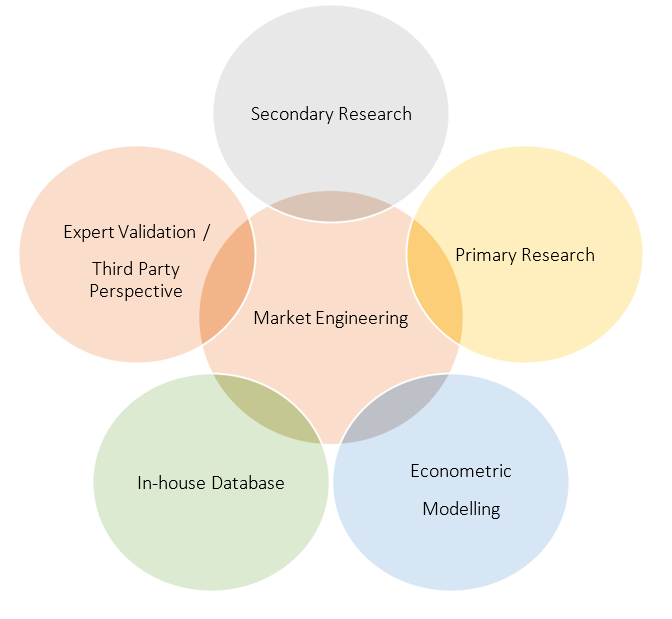 Top-Down Approach & Bottom-Up Approach
In the top – down approach, the Global Batteries for Solar Energy Storage Market was further divided into various segments on the basis of the percentage share of each segment. This approach helped in arriving at the market size of each segment globally. The segments market size was further broken down in the regional market size of each segment and sub-segments. The sub-segments were further broken down to country level market. The market size arrived using this approach was then crosschecked with the market size arrived by using bottom-up approach.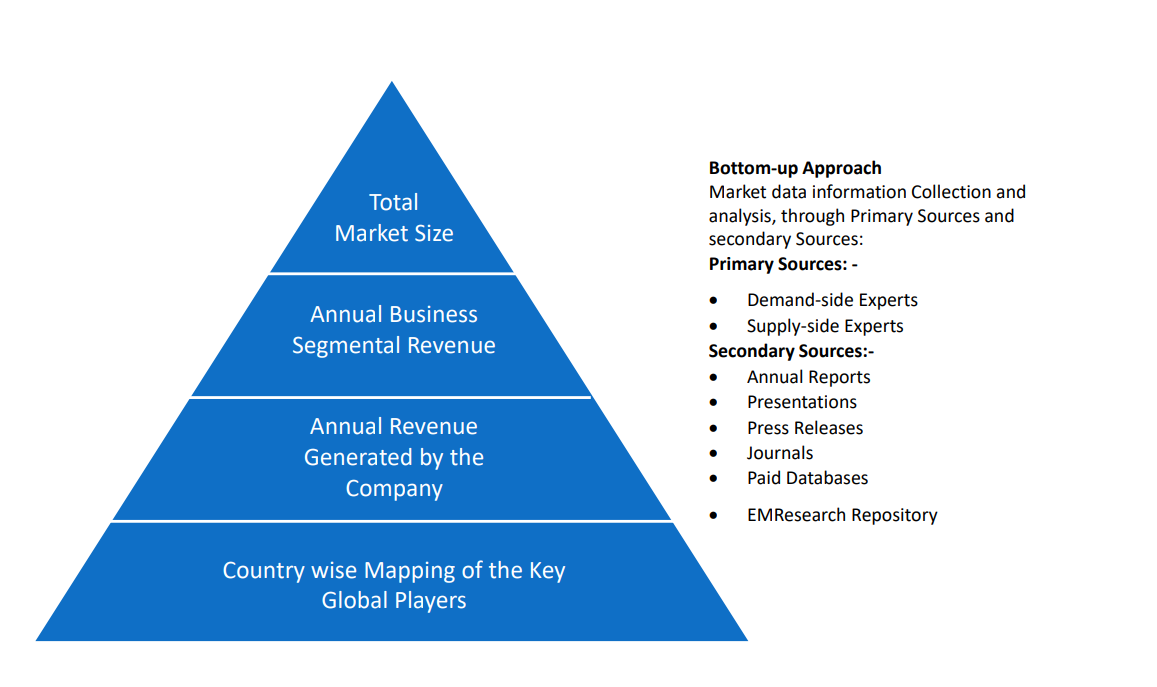 In the bottom-up approach, we arrived at the country market size by identifying the revenues and market shares of the key market players. The country market sizes then were added up to arrive at regional market size of the decorated apparel, which eventually added up to arrive at global market size.
This is one of the most reliable methods as the information is directly obtained from the key players in the market and is based on the primary interviews from the key opinion leaders associated with the firms considered in the research. Furthermore, the data obtained from the company sources and the primary respondents was validated through secondary sources including government publications and Bloomberg.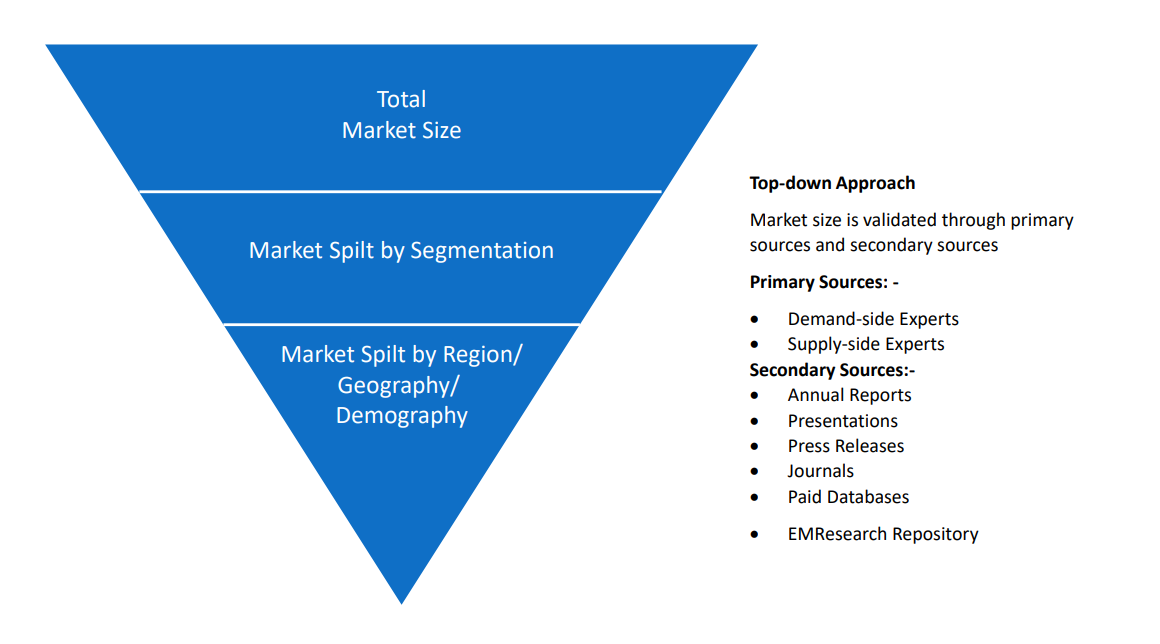 Market Analysis & size Estimation
Post the data mining stage, we gather our findings and analyze them, filtering out relevant insights. These are evaluated across research teams and industry experts. All this data is collected and evaluated by our analysts. The key players in the industry or markets are identified through extensive primary and secondary research. All percentage share splits, and breakdowns have been determined using secondary sources and verified through primary sources. The market size, in terms of value and volume, is determined through primary and secondary research processes, and forecasting models including the time series model, econometric model, judgmental forecasting model, the Delphi method, among Flywheel Energy Storage. Gathered information for market analysis, competitive landscape, growth trends, product development, and pricing trends is fed into the model and analyzed simultaneously.
Quality Checking & Final Review
The analysis done by the research team is further reviewed to check for the accuracy of the data provided to ensure the clients' requirements. This approach provides essential checks and balances which facilitate the production of quality data. This Type of revision was done in two phases for the authenticity of the data and negligible errors in the report. After quality checking, the report is reviewed to look after the presentation, Type and to recheck if all the requirements of the clients were addressed.