The global flame retardants market was valued at USD 8.12 billion in 2022 and is estimated to reach approximately USD 14.84 billion by 2031, at a CAGR of 6.9% from 2023 to 2031.
The discovery and manufacturing of substances intended to prevent or reduce the spread of fires in a variety of materials and applications is the primary focus of the flame retardants market, a vital sector of the global chemical industry. The safety of a variety of items, such as textiles, plastics, electronics, and building materials, must be improved by these chemical additives. Essential fire protection is provided by flame retardants, which either lessen a material's combustibility or delay the initiation and spread of flames. Due to stringent safety standards and heightened awareness of fire hazards, the demand for flame retardants has been rising significantly over the years. The market has developed to provide a wide range of flame retardant solutions, each suited to particular industries and applications, as safety becomes increasingly important to both consumers and industries. Furthermore, as legislation and environmental concerns push the sector toward more environmentally friendly options, advancements in green and sustainable flame retardants have gained importance. The market for flame retardants is anticipated to keep growing as a result of ongoing technical developments and a greater focus on fire safety in a variety of industries.
FLAME RETARDANTS MARKET: REPORT SCOPE & SEGMENTATION
| | |
| --- | --- |
| Report Attribute | Details |
| Estimated Market Value (2022) | 8.12 Bn |
| Projected Market Value (2031) | 14.84 Bn |
| Base Year | 2022 |
| Forecast Years | 2023 - 2031 |
| Scope of the Report | Historical and Forecast Trends, Industry Drivers and Constraints, Historical and Forecast Market Analysis by Segment- By Type, By Application, By Topology, By End use Industry, & Region |
| Segments Covered | By Type, By Application, By Topology, By End use Industry, & Region |
| Forecast Units | Value (USD Billion or Million), and Volume (Units) |
| Quantitative Units | Revenue in USD million/billion and CAGR from 2023 to 2031 |
| Regions Covered | North America, Europe, Asia Pacific, Latin America, and Middle East & Africa, and the Rest of World |
| Countries Covered | U.S., Canada, Mexico, U.K., Germany, France, Italy, Spain, China, India, Japan, South Korea, Brazil, Argentina, GCC Countries, and South Africa, among others |
| Report Coverage | Market growth drivers, restraints, opportunities, Porter's five forces analysis, PEST analysis, value chain analysis, regulatory landscape, market attractiveness analysis by segments and region, company market share analysis, and COVID-19 impact analysis. |
| Delivery Format | Delivered as an attached PDF and Excel through email, according to the purchase option. |
Global Flame Retardants Market Dynamics
The market is primarily driven by strict fire safety standards and regulations. Flame resistance is strictly regulated by governments across the globe in a number of industries, including electronics, automotive, and construction. Flame-retardant materials must be used as a result, guaranteeing constant demand. Consumer safety concerns have a big influence on the market as well. The demand for flame-retardant goods, like furniture and textiles, has surged as a result of greater awareness of the risks of fire in homes, businesses, and public areas. Innovations in technology have a significant impact on the sector. New flame retardants that are sustainable, eco-friendly, and more effective have been made possible by innovations. In order to develop solutions that not only satisfy safety regulations but also take environmental and health concerns into account, manufacturers are spending money on research. The needs of a particular industry also influence market dynamics. For example, the electronics industry needs flame retardants that don't affect the operation of delicate electronic components, while the construction industry needs materials that are structurally sound and fire resistant. In order to ensure its continuous growth and expansion, the flame retardants market is characterized by a balance between regulatory pressures, safety consciousness, technical advancement, and industry-specific needs. Sustainability and environmental concerns will become more important in determining the dynamics of the market in the future as they continue to gain importance.
Global Flame Retardants Market Drivers
Growing Construction Industry
The construction sector is expanding due to a number of major factors that work together to propel it forward. Urbanization is one of the main forces. Worldwide population migration is driving up demand for infrastructure, commercial, and residential initiatives. There is a lot of development going on in urban areas because they need additional public facilities, office space, transit systems, and housing. The increasing population is a major additional motivator. The need for housing and basic infrastructure is rising as the world's population continues to rise. Urban areas continue to expand as a result of this growth factor, necessitating ongoing construction projects to house the growing population. Additionally, economic development is crucial. Businesses and individuals have more money to invest in building projects, from residential homes to industrial buildings, as economies grow. A robust economy also promotes real estate development and company expansions. Infrastructure replacements and upgrades are also important factors. Many regions' aging infrastructure calls for replacements and repairs, which has sparked a plethora of construction projects including utility upgrading, road maintenance, and bridge restorations.
Rising Awareness of Fire Hazards
Public awareness of fire hazards has increased as a result of terrible fire accidents that have received extensive media coverage. The catastrophic effects of uncontrolled fires have been brought to light by high-profile incidents including building fires, industrial mishaps, and natural disasters, raising awareness and concern. Regulations and legislation are also essential for raising awareness. Global governments and regulatory agencies have implemented and upheld strict building codes and fire safety regulations, requiring increased awareness and compliance. Businesses, property owners, and individuals are required by these standards to take fire safety seriously, which in turn promotes heightened awareness of fire threats. A greater knowledge of fire threats and the significance of prevention has also been facilitated by organizations, fire departments, and advocacy groups' educational initiatives and awareness campaigns. These programs are aimed at informing the public about fire hazards, the value of early detection, and the application of technologies and materials that are resistant to flames. Awareness is also fueled by the way fire dangers, such as those involving contemporary materials and technology, are evolving. Understanding the possible fire risks that newly introduced products and building materials provide is essential, underscoring the importance of awareness and safety precautions.
Restraints:
Health-related issues provide a substantial barrier in a number of industries, impacting both people and businesses. The rising incidence of chronic illnesses including cancer, diabetes, and heart disease is one of the main obstacles to good health. These illnesses have a negative impact on productivity and quality of life, placing a significant strain on economies and healthcare systems. It can be difficult to implement lifestyle changes and significant resources for the management and prevention of certain diseases on a big scale. The importance of mental health problems as a crucial limitation has increased as well. Stress, anxiety, and depression are common and have an effect on people's general well-being, productivity at work, and day-to-day activities. The stigma around mental health can make it more difficult for people to get treatment, which exacerbates the issue. Infectious diseases, exemplified by pandemics like COVID-19, present a substantial health restraint. They pose immediate threats to public health, disrupting economies and daily routines. Efforts to control and prevent these diseases often require stringent measures, impacting personal freedoms and economic activities.
Global Supply Chain Disruptions
The volatility of world events is one of the main causes of supply chain disruptions. Transport of commodities and production facilities can be disrupted by natural disasters such as hurricanes, tsunamis, or earthquakes, as well as man-made crises like trade disputes or political unrest. A recent example is the COVID-19 pandemic, which affected labor availability and logistics to the point where it resulted in widespread delays and shutdowns. Supply chains can also be strained by logistical difficulties and traffic jams. Costs and delays might result from clogged ports, a lack of shipping containers, and problems with the transportation network. Furthermore, the efficiency and dependability of the transportation industry may be impacted by changes in fuel pricing and energy supply. Another barrier is the complexity of the supply chain, which is especially problematic for sectors with complex and interconnected networks.
Opportunities:
The creation and use of green flame retardants offer a chance to solve the environmental issues related to conventional flame retardants. Green flame retardants lessen the amount of hazardous chemicals released into the environment because they are made of non-halogenated, non-toxic ingredients. This improves safety while also complying with more stringent environmental laws and consumer demands for environmentally friendly goods. Green flame retardants are also frequently associated with lower health hazards, which makes them a safer option for both customers and workers who handle and manufacture flame-retardant materials. This may result in less regulatory constraints and an improved public perception. Sustainability is also supported by green flame retardants. By lowering waste and encouraging recycling, many of these solutions are biodegradable and made from renewable materials, supporting a circular economy. Green flame retardants are expected to gain popularity as sustainability becomes more and more of a focus in a variety of industries, such as electronics, textiles, and construction.
Advanced Materials and Nanotechnology
Improving material characteristics presents one important opportunity. Nanomaterials can have tremendous strength, electrical conductivity, and thermal stability because of their incredibly small size and high surface area-to-volume ratio. This provides opportunities for the development of stronger, more resilient, and lighter materials that are perfect for use in the construction, automotive, and aerospace sectors. Additionally, precise atomic and molecular level material manipulation is made possible by nanotechnology. Materials with customized qualities, like increased chemical resistance, self-healing capacity, and increased energy efficiency, can be designed thanks to this degree of control. These materials are vital in fields such as medicine delivery and tissue engineering in the healthcare industry, electronics for speedier and more energy-efficient devices, and pollution cleanup in the environmental protection industry. Improvements in energy conversion and storage may also result from the development of nanoscale materials. High-capacity batteries, effective solar cells, and sophisticated fuel cells can be designed thanks to nanotechnology, which helps with the shift to clean and sustainable energy sources.
Segment Overview
By Type
Based on type, the global flame retardants market is divided into alumina trihydrate, brominated flame retardants, antimony trioxide phosphorus flame retardants, and others. The alumina trihydrate category dominates the market with the largest revenue share in 2022. Alumina trihydrate is a widely used flame retardant known for its efficacy in reducing the flammability of materials. It functions by releasing water vapor when exposed to heat, thus cooling the material and retarding the spread of flames. This makes it a common choice in applications like plastics, textiles, and building materials. Brominated flame retardants are another significant segment. They contain bromine atoms that interfere with the combustion process, making materials less prone to ignition and flame propagation. While effective, the environmental and health concerns associated with some brominated flame retardants have led to increased scrutiny and the development of more sustainable alternatives. Antimony trioxide is used as a synergist in combination with other flame retardants to enhance their effectiveness. It functions by releasing water and diluting flammable gases during combustion, thus inhibiting the spread of fire. This segment plays a supportive role in many flame retardant formulations. Phosphorus-based flame retardants are gaining prominence due to their lower environmental impact and reduced health concerns compared to brominated counterparts. They work by forming a protective layer on the material's surface, cutting off the oxygen supply essential for combustion.
By Application
Based on the application, the global flame retardants market is categorized into unsaturated polyester resins, epoxy resins, polyvinyl chloride (PVC), rubber, and polyolefins. The polyolefins category leads the global flame retardants market with the largest revenue share in 2022. Polyolefins, including materials like polyethylene and polypropylene, are used in packaging, automotive components, and construction materials. Flame retardants are added to polyolefin formulations to meet fire safety standards and ensure the fire resistance of these products. Unsaturated polyester resins are widely used in various industries, including construction, automotive, and marine applications. Flame retardants are essential in these resins to enhance fire resistance and safety in the final products, such as fiberglass-reinforced composites. Epoxy resins are known for their high-performance properties and are used in applications like adhesives, coatings, and electronics. Flame retardants play a critical role in epoxy formulations to reduce the flammability of materials and ensure safety in demanding environments. PVC is a versatile material commonly used in pipes, cables, vinyl flooring, and automotive components. Flame retardants are incorporated into PVC formulations to prevent rapid ignition and control the spread of fire, making it a crucial element for safety in these applications. Flame retardants are utilized in rubber compounds to enhance their fire resistance. This is especially important in industries where rubber is used in various forms, such as conveyor belts, gaskets, and seals, to reduce the risk of fire-related incidents.
By End-use Industry
Based on end-use industry, the global flame retardants market is segmented into construction, automotive & transportation, and electronics. The construction segment dominates the flame retardants market. In the construction industry, flame retardants are crucial for enhancing the fire resistance of building materials and structures. These materials include insulation, wiring, roofing, flooring, and various polymers used in construction applications. Flame retardants help mitigate the risk of fires in residential, commercial, and industrial buildings. Compliance with stringent building codes and safety regulations is a driving force behind the use of flame retardants in this sector. The automotive and transportation industry relies on flame retardants to ensure the safety of vehicles and their components. Materials used in vehicle interiors, such as upholstery, dashboard components, and wiring insulation, are often treated with flame retardants to reduce flammability and smoke generation in the event of a fire. Fire safety is critical to protecting passengers and preserving the integrity of the vehicle during emergencies. Flame retardants are extensively employed in the electronics industry to safeguard electronic components and devices from fire hazards. These components can include circuit boards, cables, connectors, and housing materials. As electronic devices become smaller and more powerful, preventing overheating and fire risks is essential. Flame retardants contribute to ensuring the safety and reliability of electronic products and preventing potential electrical fires.
Global Flame Retardants Market Overview by Region
The global flame retardants market is categorized into North America, Europe, Asia-Pacific, and the Rest of the World. Asia-Pacific emerged as the leading region, capturing the largest market share in 2022. Asia-Pacific has shown impressive growth and development, emerging as the top region in a number of economic sectors and industries. This dynamic area is driven by a number of countries that contribute to its significance on the world scene, including China, India, Japan, South Korea, and many others. The fast growing economies of the Asia-Pacific region are one of the main reasons for their leadership. The countries in the region have grown economically and are now important players in global trade and business. China is a prominent worldwide economic force due to its advanced manufacturing skills, innovative technology advancements, and expanding consumer market. Furthermore, Asia-Pacific is a desirable hub for the manufacturing, technology, and service sectors due to its youthful and competent labor supply. The region has advanced in many fields thanks to the industrialization and innovation spurred by this demographic dividend. Asia-Pacific has become an essential link in global supply chains due to its advantageous geographic location and advanced transportation and logistics networks. This has increased the region's economic influence by luring in foreign investments and facilitating trade across nations. Significant technological improvements have also been made in Asia-Pacific, especially in fields like electronics, telecommunications, and e-commerce. In addition to revolutionizing local sectors, these technical advancements have made it possible to export cutting-edge goods and services around the globe.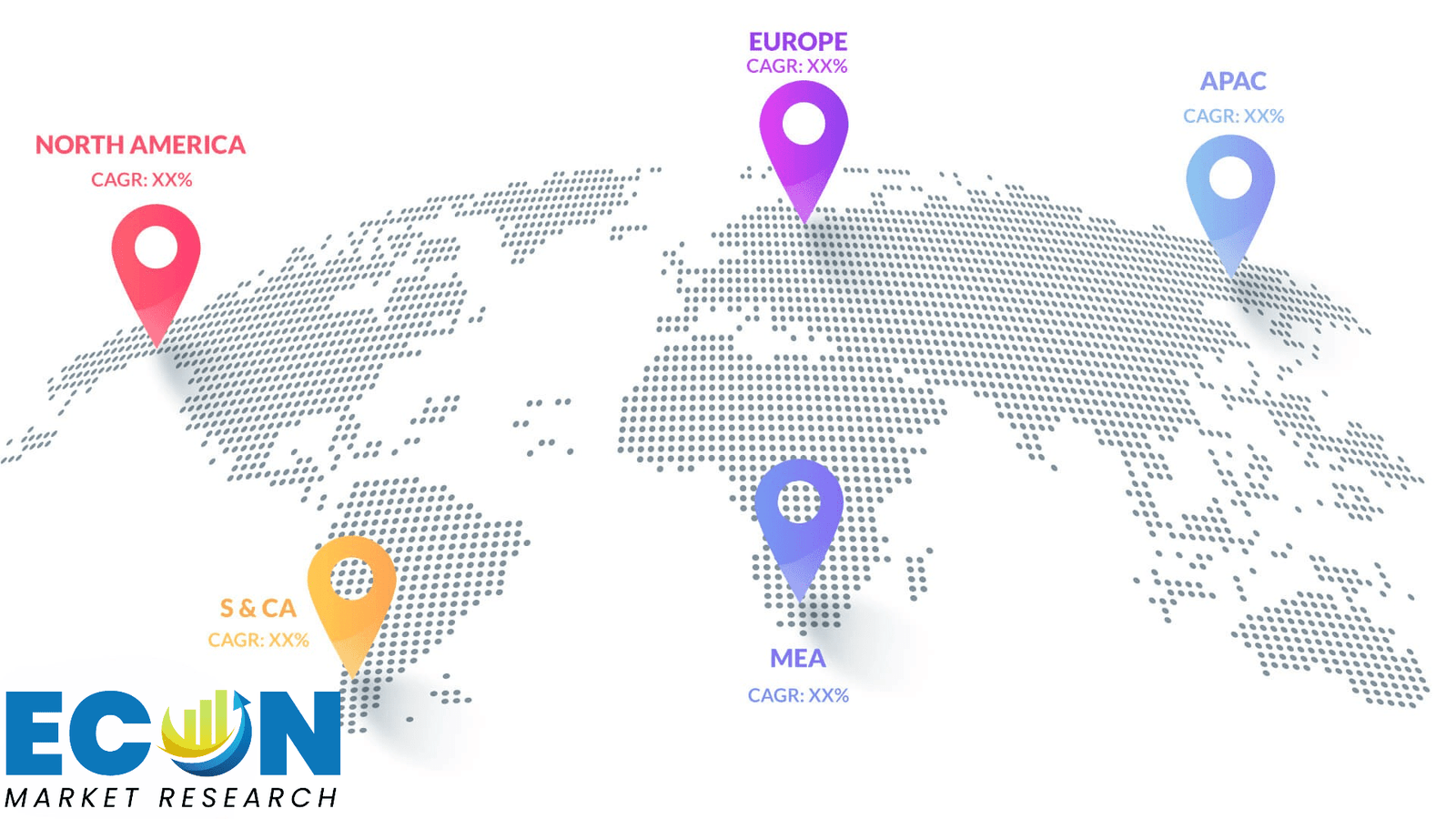 Global Flame Retardants Market Competitive Landscape
In the global flame retardants market, a few major players exert significant market dominance and have established a strong regional presence. These leading companies remain committed to continuous research and development endeavors and actively engage in strategic growth initiatives, including product development, launches, joint ventures, and partnerships. By pursuing these strategies, these companies aim to strengthen their market position, expand their customer base, and capture a substantial share of the market.
Some of the prominent players in the global flame retardants market include:
Dupont,

SOLVAY,

DAIKIN ,

Dow,

Huntsman International LLC ,

Bostik,

H.B. Fuller Company,

Sika AG,

Cardolite Corporation,

Kukdo Chemical Co., Ltd.,

BASF SE,

Freudenberg SE,

Covestro AG,

LANXESS,

Mitsui Chemicals Inc., and various other key players.
Global Flame Retardants Market Recent Developments
In January 2023, Four cotton lines have been grown by researchers at the Agricultural Research Service (ARS) of the U.S. Department of Agriculture (USDA) to produce textiles that can extinguish themselves when exposed to fire. This will lessen the need for flame-retardant chemicals to be incorporated in consumer goods.
In October 2022, Clariant announces additional funding for a new flame retardant facility in China intended for use in E&E and e-mobility applications. This additional CHF 40 million investment will support the significant growth of engineering plastics applications in the electrical and electronic and e-mobility categories by providing access to even more creative and sustainable fire prevention solutions, as well as related technical competence.
Scope of the Global Flame Retardants Market Report
Flame Retardants Market Report Segmentation
ATTRIBUTE

DETAILS

By Type

Alumina Trihydrate

Brominated Flame Retardants

Antimony Trioxide Phosphorus Flame Retardants

Others

By Application

Unsaturated Polyester Resins

Epoxy Resins

Polyvinyl Chloride (PVC)

Rubber

Polyolefins

By End-use Industry

Construction

Automotive & Transportation

Electronics

By Geography

North America (USA,

and Canada)

Europe (UK, Germany, France, Italy, Spain, Russia and Rest of Europe)

Asia Pacific (Japan, China, India, Australia, Southeast Asia and Rest of Asia Pacific)

Latin America (Brazil, Mexico, and Rest of Latin America)

Middle East & Africa (South Africa, GCC, and Rest of Middle East & Africa)

Customization Scope

Pricing
Objectives of the Study
The objectives of the study are summarized in 5 stages. They are as mentioned below:
Global Flame Retardants Market

Size and Forecast:
To identify and estimate the market size for the global flame retardants market segmented by type, by application, by end use industry, region and by value (in U.S. dollars). Also, to understand the consumption/ demand created by consumers of flame retardants between 2019 and 2031.
Market Landscape and Trends:
To identify and infer the drivers, restraints, opportunities, and challenges for the global flame retardants market
Market Influencing Factors:
To find out the factors which are affecting the sales of flame retardants among consumers
To identify and understand the various factors involved in the global flame retardants market affected by the pandemic
To provide a detailed insight into the major companies operating in the market. The profiling will include the financial health of the company's past 2-3 years with segmental and regional revenue breakup, product offering, recent developments, SWOT analysis, and key strategies.
Intended Audience
Academics and Researchers:

Patients and Healthcare Professionals

Governments, Associations, and Industrial Bodies

Investors and Trade Experts
Research Methodology
Our research methodology has always been the key differentiating reason which sets us apart in comparison from the competing organizations in the industry. Our organization believes in consistency along with quality and establishing a new level with every new report we generate; our methods are acclaimed and the data/information inside the report is coveted. Our research methodology involves a combination of primary and secondary research methods. Data procurement is one of the most extensive stages in our research process. Our organization helps in assisting the clients to find the opportunities by examining the market across the globe coupled with providing economic statistics for each and every region. The reports generated and published are based on primary & secondary research. In secondary research, we gather data for global Market through white papers, case studies, blogs, reference customers, news, articles, press releases, white papers, and research studies. We also have our paid data applications which includes hoovers, Bloomberg business week, Avention, and others.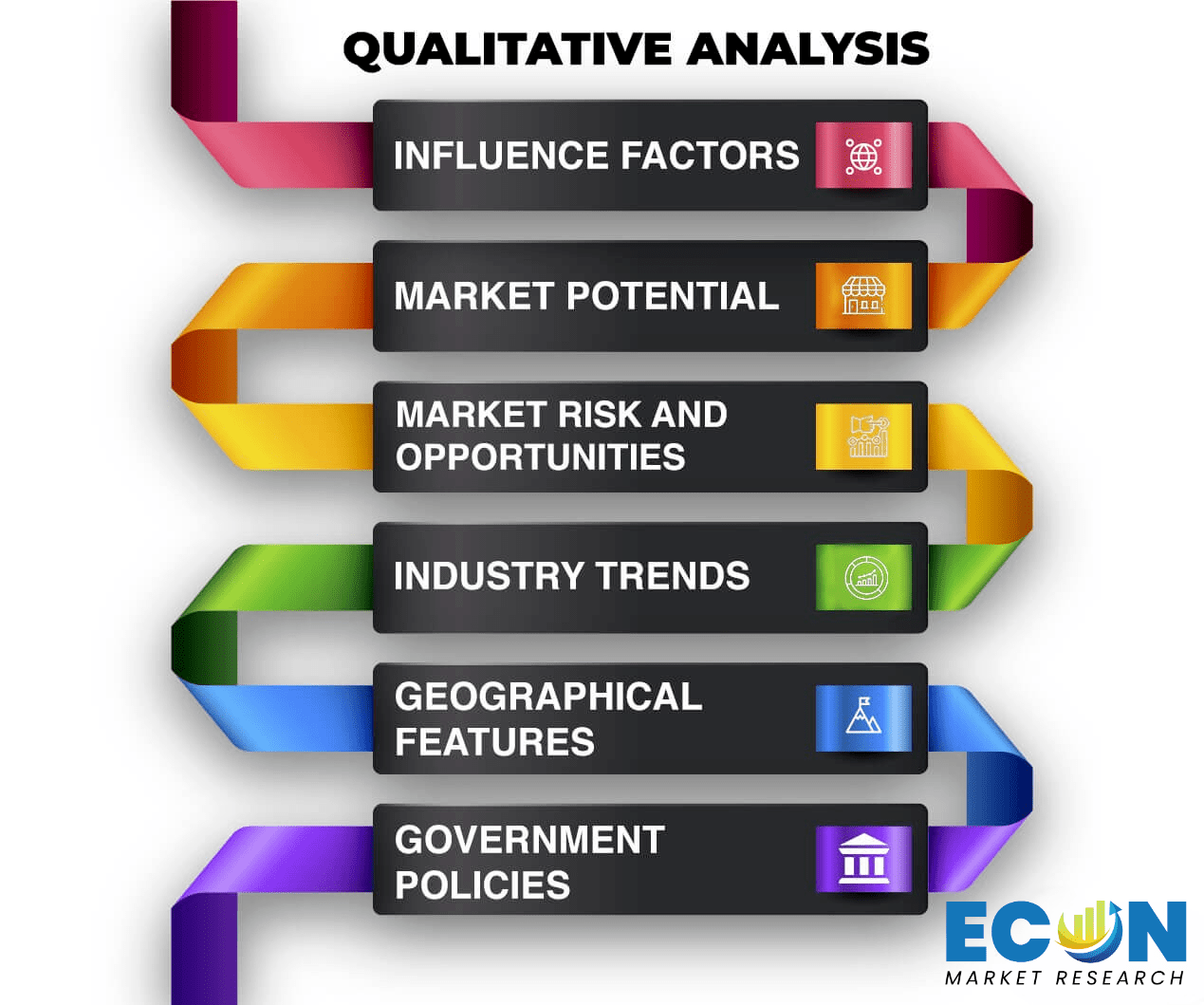 Data Collection
Data collection is the process of gathering, measuring, and analyzing accurate and relevant data from a variety of sources to analyze market and forecast trends. Raw market data is obtained on a broad front. Data is continuously extracted and filtered to ensure only validated and authenticated sources are considered. Data is mined from a varied host of sources including secondary and primary sources.

Primary Research
After the secondary research process, we initiate the primary research phase in which we interact with companies operating within the market space. We interact with related industries to understand the factors that can drive or hamper a market. Exhaustive primary interviews are conducted. Various sources from both the supply and demand sides are interviewed to obtain qualitative and quantitative information for a report which includes suppliers, product providers, domain experts, CEOs, vice presidents, marketing & sales directors, Type & innovation directors, and related key executives from various key companies to ensure a holistic and unbiased picture of the market. 
Secondary Research
A secondary research process is conducted to identify and collect information useful for the extensive, technical, market-oriented, and comprehensive study of the market. Secondary sources include published market studies, competitive information, white papers, analyst reports, government agencies, industry and trade associations, media sources, chambers of commerce, newsletters, trade publications, magazines, Bloomberg BusinessWeek, Factiva, D&B, annual reports, company house documents, investor presentations, articles, journals, blogs, and SEC filings of companies, newspapers, and so on. We have assigned weights to these parameters and quantified their market impacts using the weighted average analysis to derive the expected market growth rate.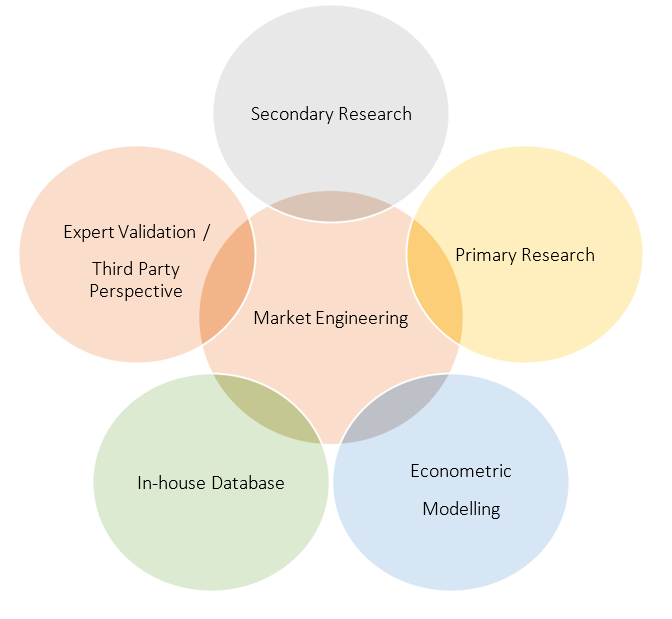 Top-Down Approach & Bottom-Up Approach
In the top – down approach, the Global Batteries for Solar Energy Storage Market was further divided into various segments on the basis of the percentage share of each segment. This approach helped in arriving at the market size of each segment globally. The segments market size was further broken down in the regional market size of each segment and sub-segments. The sub-segments were further broken down to country level market. The market size arrived using this approach was then crosschecked with the market size arrived by using bottom-up approach.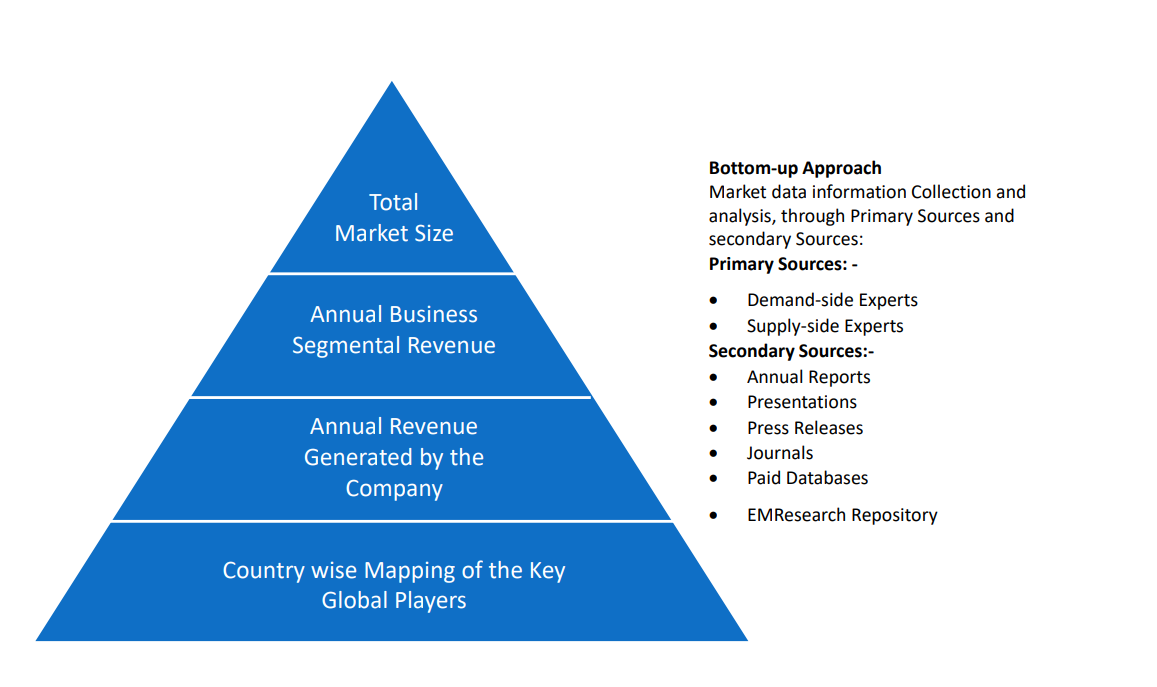 In the bottom-up approach, we arrived at the country market size by identifying the revenues and market shares of the key market players. The country market sizes then were added up to arrive at regional market size of the decorated apparel, which eventually added up to arrive at global market size.
This is one of the most reliable methods as the information is directly obtained from the key players in the market and is based on the primary interviews from the key opinion leaders associated with the firms considered in the research. Furthermore, the data obtained from the company sources and the primary respondents was validated through secondary sources including government publications and Bloomberg.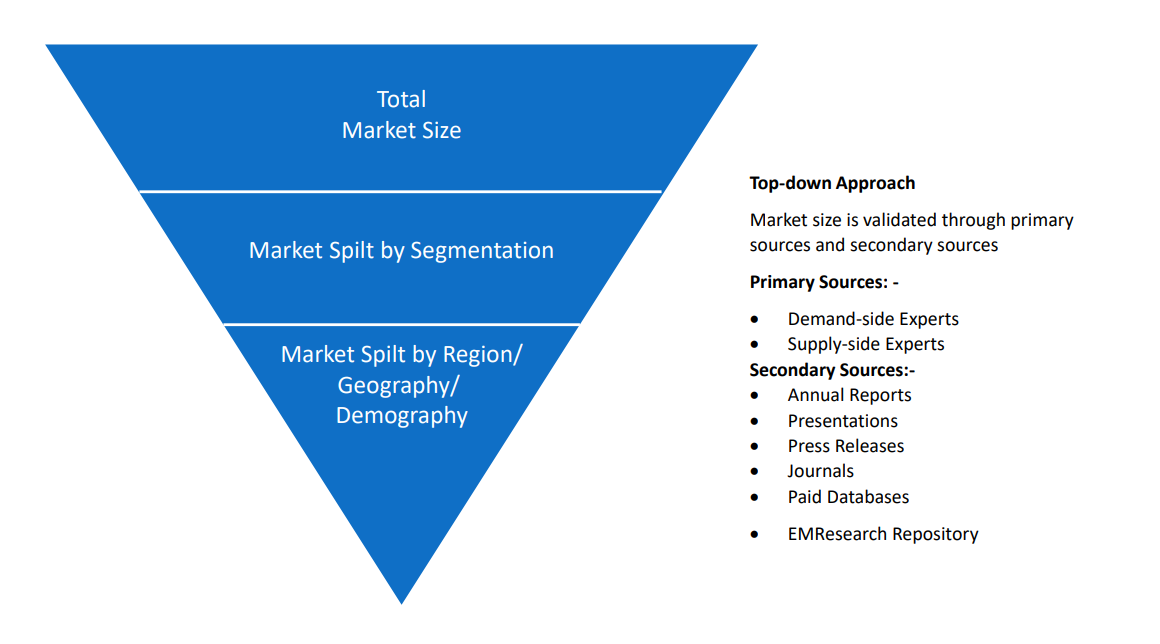 Market Analysis & size Estimation
Post the data mining stage, we gather our findings and analyze them, filtering out relevant insights. These are evaluated across research teams and industry experts. All this data is collected and evaluated by our analysts. The key players in the industry or markets are identified through extensive primary and secondary research. All percentage share splits, and breakdowns have been determined using secondary sources and verified through primary sources. The market size, in terms of value and volume, is determined through primary and secondary research processes, and forecasting models including the time series model, econometric model, judgmental forecasting model, the Delphi method, among Flywheel Energy Storage. Gathered information for market analysis, competitive landscape, growth trends, product development, and pricing trends is fed into the model and analyzed simultaneously.
Quality Checking & Final Review
The analysis done by the research team is further reviewed to check for the accuracy of the data provided to ensure the clients' requirements. This approach provides essential checks and balances which facilitate the production of quality data. This Type of revision was done in two phases for the authenticity of the data and negligible errors in the report. After quality checking, the report is reviewed to look after the presentation, Type and to recheck if all the requirements of the clients were addressed.