The Global Fire Truck Market was valued at USD 6.34 billion in 2022 and is estimated to reach approximately USD 10.50 billion by 2031, at a CAGR of 5.7% from 2023 to 2031. Fire departments and emergency services utilize fire trucks as specialized vehicles to put out flames and carry out rescue missions. A water pump and tank are usually included, along with hoses, ladders, firefighting tools, emergency lighting, and sirens. Pumpers, ladder trucks, and rescue trucks are a few of the different types of fire vehicles, each of which is intended to perform a certain type of firefighting or rescue operation. These cars are essential for responding to crises and defending people and property. In densely populated areas, rising urbanization increased the need for firefighting and rescue services, resulting in a greater need for more sophisticated and specialized fire vehicles. In addition, advances in fire vehicle design and technology were motivated by changing safety laws and environmental concerns. Manufacturers created fire vehicles during this time that were more capable of fighting fires, had better ergonomics for firefighters, and were more environmentally sensitive. Advanced water and foam distribution systems, the use of lightweight materials for improved maneuverability, and the integration of technology that reduces emissions were among the innovations. Globalization also played a role in the market's transformation, with international manufacturers expanding their reach and offering a diverse range of fire truck models to cater to various regions' needs. Furthermore, digitalization and connectivity entered the scene, allowing for better fleet management, predictive maintenance, and data-driven decision-making in fire departments.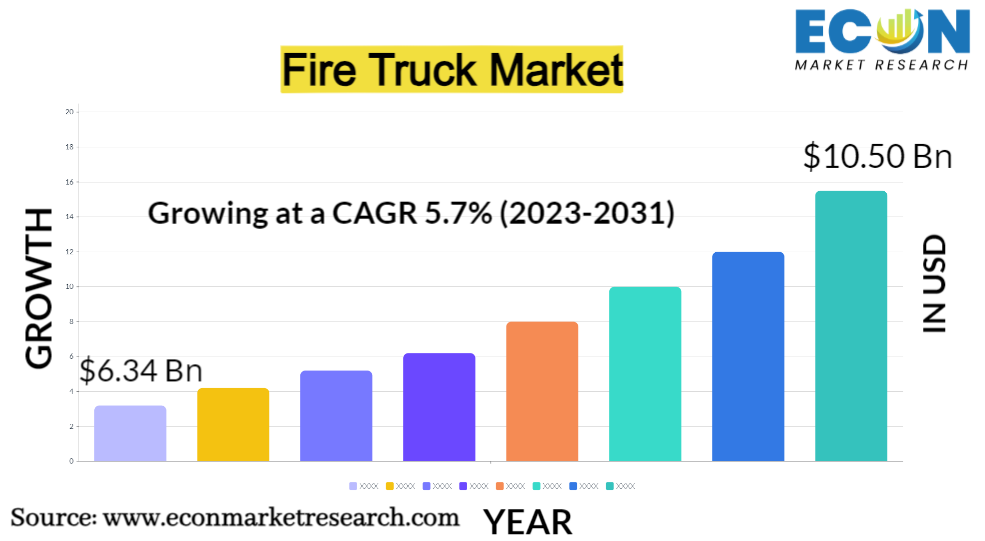 FIRE TRUCK MARKET: REPORT SCOPE & SEGMENTATION
| | |
| --- | --- |
| Report Attribute | Details |
| Estimated Market Value (2022) | 6.34 Bn |
| Projected Market Value (2031) | 10.50 Bn |
| Base Year | 2022 |
| Forecast Years | 2023 - 2031 |
| Scope of the Report | Historical and Forecast Trends, Industry Drivers and Constraints, Historical and Forecast Market Analysis by Segment- By Type, By Application, & Region |
| Segments Covered | By Type, By Application, & Region |
| Forecast Units | Value (USD Billion or Million), and Volume (Units) |
| Quantitative Units | Revenue in USD million/billion and CAGR from 2023 to 2031 |
| Regions Covered | North America, Europe, Asia Pacific, Latin America, and Middle East & Africa, and the Rest of World |
| Countries Covered | U.S., Canada, Mexico, U.K., Germany, France, Italy, Spain, China, India, Japan, South Korea, Brazil, Argentina, GCC Countries, and South Africa, among others |
| Report Coverage | Market growth drivers, restraints, opportunities, Porter's five forces analysis, PEST analysis, value chain analysis, regulatory landscape, market attractiveness analysis by segments and region, company market share analysis, and COVID-19 impact analysis. |
| Delivery Format | Delivered as an attached PDF and Excel through email, according to the purchase option. |
Global Fire Truck Market Dynamics
A complex interplay of factors drives the market for fire trucks' dynamic forces. Manufacturers are forced to constantly innovate in design and technology to achieve compliance due to the strict safety laws and standards that are in place. Particularly in densely populated places, the rate of urbanization adds to an increase in the demand for fire trucks, necessitating specialized urban firefighting gear and small fire engines. The development of fire vehicles with lower emissions and eco-friendly firefighting products has been prompted by environmental concerns and is in line with international initiatives to lessen environmental effects. Digital control systems, IoT connectivity, and data analytics are being integrated into the industry through technological improvements, improving fleet management, maintenance procedures, and firefighting effectiveness. Globalization is a driving force, as foreign producers increase their market share and provide a wide selection of fire truck models to meet regional demands and preferences. Cost-effectiveness continues to be a top goal, inspiring improvements in manufacturing techniques and materials to accommodate fire departments' tight financial limitations. The market for specialized rescue vehicles has also expanded as a result of the rise in natural disasters and accidents, which has raised the demand for fire engines outfitted for rescue missions. Market rivalry, customer preferences, economic conditions, and changes in municipal budgets all have a substantial impact on market growth, as does government spending on infrastructure for firefighting and emergency response. In general, the fire truck market is a dynamic sector that is shaped by changing economic conditions, urbanization, technological advancements, environmental concerns, and customer demands. As a result, manufacturers and fire departments are constantly enhancing their firefighting and rescue capabilities.
Global Fire Truck Market Drivers
Increasing Urbanization and Infrastructure Development
Significant market drivers include growing urbanization and infrastructural development. Cities are becoming more crowded as people continue to move from rural to urban areas, increasing the risk of fires and other emergencies. The demand for fire vehicles has increased as a result of the population movement, which entails a greater requirement for effective firefighting and rescue capabilities. Urbanization also presents particular difficulties, such as negotiating congested city streets, getting to tall buildings, and managing tricky traffic patterns. To properly and efficiently combat these urban firefighting issues, fire services need specialized fire engines. This comprises equipment for tight space rescues, ladder trucks with longer reaches, and small fire engines. The expansion of cities also leads to an increased reliance on firefighting and emergency response services. Governments and municipalities allocate significant budgets for public safety, including the procurement of modern fire trucks and equipment. This financial support bolsters the fire truck market by encouraging manufacturers to innovate and produce vehicles that meet the evolving demands of urban firefighting and rescue operations.
Growing Awareness of Fire Safety
A strong market driver for fire trucks is the rising awareness of fire safety. This increased awareness is the result of a number of reasons, including the realization of how seriously fires affect people's lives, property, and the environment. Strong fire safety precautions are absolutely necessary, as evidenced by high-profile fire catastrophes that have occurred as a result of both natural and man-made disasters. Because of this awareness, people, communities, and organizations are taking proactive measures to reduce the risk of fire and improve preparation. Governments and regulatory agencies have responded by enforcing stronger building codes and fire safety rules. These regulations call for the use of cutting-edge firefighting tools, emphasizing the importance of well-equipped fire departments. Public education efforts place a focus on avoiding fires, knowing how to evacuate, and spotting fires before they spread.
Restraints:
Fire departments and other organisations that operate fire engines have a big issue as a result of high maintenance costs. Fire trucks are complicated, specialised automobiles with advanced mechanical and technological systems. Regular maintenance, checks, and servicing are necessary to guarantee their correct operation and dependability. However, these maintenance methods can be costly, placing further strain on fire departments' already constrained budgets, particularly those in smaller communities. The costs of maintenance cover a range of activities, such as engine servicing, pump and water system inspections, ladder and aerial device upkeep, equipment inspections, and wear and tear from frequent use. To carry out these duties, mechanics and firefighters must receive training, which raises the entire cost.
Fire trucks are expensive investments that are made to last and be dependable. Fire departments frequently utilize their trucks for a long time before thinking about replacements, even if this endurance is a benefit in terms of longevity. The fleet of fire trucks could require longer to adopt newer innovations and technology as a result. Newer models may have stronger firefighting capabilities, better fuel efficiency, and safer features as technology develops. Fire departments with lengthy replacement cycles, though, can miss out on these improvements. As they age, older fire vehicles can grow less dependable and necessitate more frequent repairs. The fire departments' budgets and the fleet's readiness may both be impacted by rising maintenance costs.
Opportunities:
The market for fire vehicles is significantly expanded by the incorporation of cutting-edge technologies. In order to improve their ability to combat fires, communication, and general safety, fire departments are increasingly looking for vehicles outfitted with cutting-edge technologies. The internet of things (IoT) can be incorporated into fire trucks as one opportunity. Firefighters can make better judgments during emergencies thanks to the real-time data that IoT sensors and devices can provide on important variables like temperature, humidity, and gas levels. Predictive maintenance can also be made possible by IoT, which minimizes downtime and guarantees that fire vehicles are always prepared for action. Artificial intelligence (AI) can enhance firefighting by analyzing data from various sources, such as thermal imaging cameras and drone footage, to provide insights into fire behavior and optimal firefighting strategies. AI-powered communication systems can streamline coordination between firefighters, dispatchers, and other first responders.
Hybrid and Electric Fire Trucks
A major market potential for fire trucks has emerged with the advent of hybrid and electric vehicles, due to a global movement towards sustainability and minimal environmental effect. Fire departments are looking at the use of eco-friendly firefighting trucks as governments and communities around the world prioritize greener and more effective transportation solutions. The advantages of hybrid fire trucks, which combine internal combustion engines with electric drive, are numerous. They can lessen noise pollution, increase fuel efficiency, and reduce emissions, all of which are important in urban firefighting circumstances. Additionally, since they are fully powered by electricity, electric fire engines help to preserve the environment and save operational costs. Their carbon impact can be further reduced by charging them with renewable energy.
Segment Overview
By Application
Based on application, the global fire truck market is divided into residential & commercial, enterprise & airports, military, and others. The residential & commercial category dominates the market with the largest revenue share. In the residential & commercial sector, the emphasis lies on designing fire trucks that are well-suited for urban firefighting challenges. This includes customizing vehicles to navigate narrow streets, access high-rise buildings, and address the unique needs of densely populated areas. Additionally, there's a growing demand for eco-friendly fire trucks that minimize emissions and noise levels, aligning with environmental concerns prevalent in urban settings. In the enterprise & airports sector, the focus shifts towards specialized fire trucks tailored to the unique demands of specific industries. For airports, there's a need for Aircraft Rescue and Firefighting (ARFF) vehicles that adhere to aviation safety regulations. Industries such as chemical plants and logistics hubs require fire trucks designed to handle hazardous materials incidents effectively. The military sector presents opportunities in manufacturing specialized fire trucks for military bases, including ARFF vehicles for airfields. Tactical fire trucks designed for deployment in combat and disaster relief scenarios are also in demand. Pursuing contracts with international military agencies for fire suppression and rescue vehicles can further expand opportunities in this sector.
By Type
Based on the type, the global fire truck market is categorized into tankers, pumpers, aerial platforms, rescue, and others. The pumpers category leads the global fire truck market with the largest revenue share. Pumpers, or fire engines, are the workhorses of fire departments. They feature water pumps and hoses to deliver pressurized water or firefighting foam to extinguish fires. Pumpers are versatile and used in a wide range of firefighting scenarios, from structural fires to vehicle accidents. Tankers, also known as water tenders or water tank trucks, are specialized fire trucks equipped with large water tanks for transporting substantial amounts of water to remote or rural areas lacking hydrants. These vehicles play a critical role in supplying water for firefighting in locations where a dedicated water source can be limited. Aerial platforms, often referred to as ladder trucks, are equipped with extendable ladders or aerial devices. These trucks are essential for reaching elevated areas, such as high-rise buildings, and for performing rescue operations, including the extraction of people from upper floors during fires or emergencies. Rescue vehicles are designed to support firefighters in extricating individuals from hazardous situations.
Global Fire Truck Market Overview by Region
The global fire truck market is categorized into North America, Europe, Asia-Pacific, and the Rest of the World. North America emerged as the leading region, capturing the largest market share in 2022. First and foremost, with several fire departments and emergency response organizations spread out across the continent, North America has a sophisticated and well-established firefighting and emergency response infrastructure. To handle a variety of emergency situations, including urban firefighting, industrial accidents, and wilderness fires, these organizations require a wide variety of fire engines. Additionally, North America places a great focus on safety and environmental standards, leading to the development of cutting-edge firefighting technologies and adherence to strict emissions restrictions. Due to this, the industry has seen an increase in innovation, resulting in the creation of eco-friendly fire trucks, cutting-edge fire suppression systems, and improved safety features. A continual need for fire vehicles is fueled by the region's strong economy and significant investments in public safety. Moreover, North America's diverse geography, which includes densely populated urban areas, vast rural landscapes, and industrial hubs, requires a versatile fleet of fire trucks, ranging from urban pumpers to rural water tenders and specialized rescue vehicles. This diversity further fuels the demand for a wide array of fire truck types.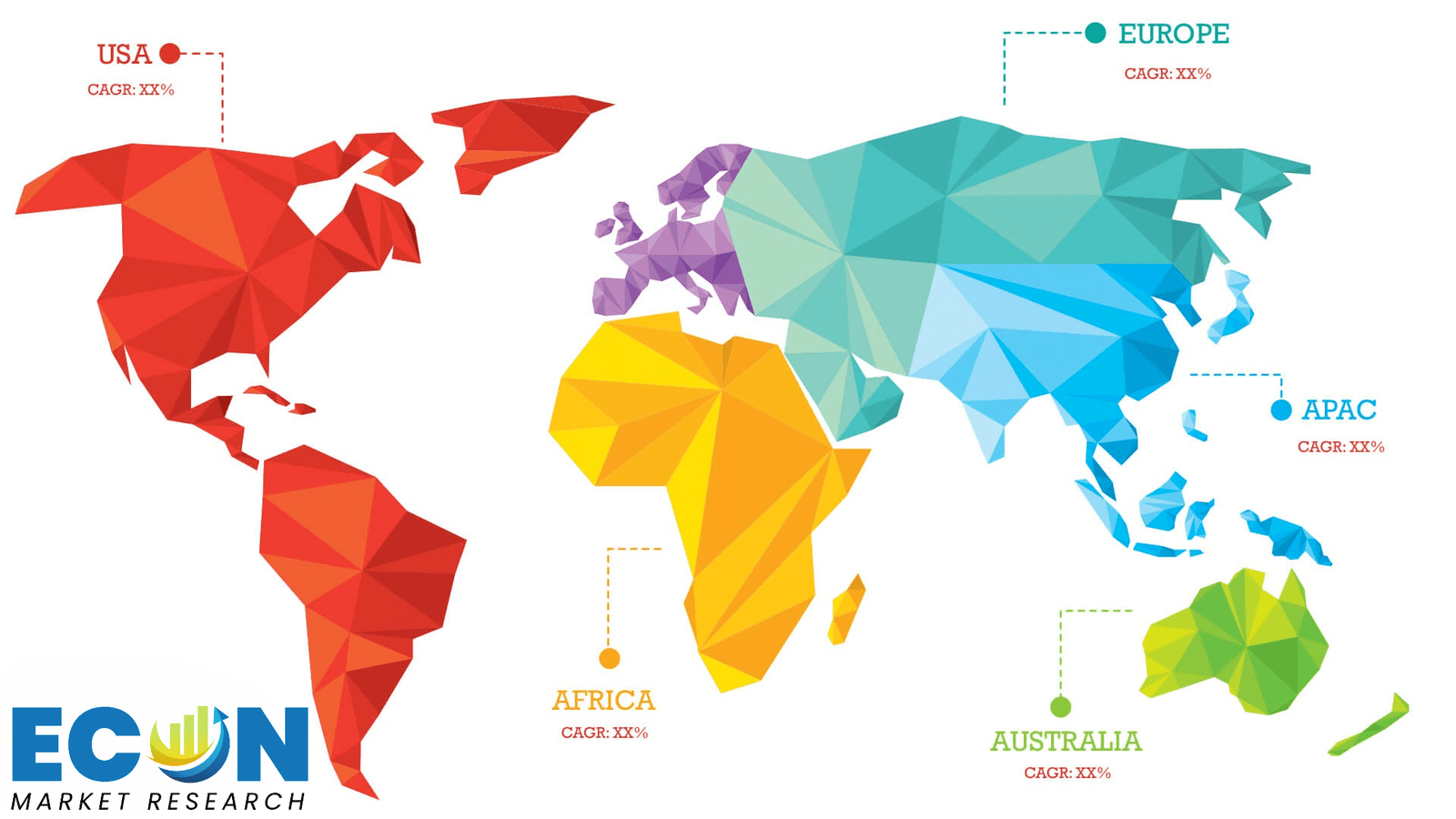 Global Fire Truck Market Competitive Landscape
In the global fire truck market, a few major players exert significant market dominance and have established a strong regional presence. These leading companies remain committed to continuous research and development endeavors and actively engage in strategic growth initiatives, including product development, launches, joint ventures, and partnerships. By pursuing these strategies, these companies aim to strengthen their market position, expand their customer base, and capture a substantial share of the market.
Some of the prominent players in the global fire truck market include Rosenbauer International AG; Oshkosh Corporation; Magirus GmbH; Weihai Guangtai; Danko Emergency Equipment Co.; E-One Inc.; Spartan Motors; Xuzhou Handler Special Vehicle Co. Ltd.; Zoomlion; Bronto Skylift Oy Ab and various other key players.
Global Fire Truck Market Recent Developments
In April 2023, New Defendertm Type III Urban Interface pumper debuts by E-ONE at FDIC 2023. The brand-new E-ONE Defender Wildland Pumper was created for the most difficult circumstances. It stands firmly at the edge of towns endangered by wildfire and can pump and roll simultaneously, helping to direct fire away from people and property
Scope of the Global Fire Truck Market Report
Fire Truck Market Report Segmentation
ATTRIBUTE

DETAILS

By Application

Residential & Commercial

Enterprise & Airports

Military

Others

By Type

Tankers

Pumpers

Aerial Platform

Rescue

Others

By Geography

North America (USA,

and Canada)

Europe (UK, Germany, France, Italy, Spain, Russia and Rest of Europe)

Asia Pacific (Japan, China, India, Australia, Southeast Asia and Rest of Asia Pacific)

Latin America (Brazil, Mexico, and Rest of Latin America)

Middle East & Africa (South Africa, GCC, and Rest of Middle East & Africa)

Customization Scope

Pricing
Objectives of the Study
The objectives of the study are summarized in 5 stages. They are as mentioned below:
Global Fire Truck Market

Size and Forecast:
To identify and estimate the market size for the global fire truck market segmented by type, by application, region and by value (in U.S. dollars). Also, to understand the consumption/ demand created by consumers of fire truck between 2019 and 2031.
Market Landscape and Trends:
To identify and infer the drivers, restraints, opportunities, and challenges for the global fire truck market
Market Influencing Factors:
To find out the factors which are affecting the sales of fire truck among consumers
To identify and understand the various factors involved in the global fire truck market affected by the pandemic
To provide a detailed insight into the major companies operating in the market. The profiling will include the financial health of the company's past 2-3 years with segmental and regional revenue breakup, product offering, recent developments, SWOT analysis, and key strategies.
Intended Audience
Retailers, Wholesalers, and Distributors

Fire Departments and Emergency Services

Firefighter Associations

Safety and Environmental Organizations

Governments, Associations, and Industrial Bodies

Investors and Trade Experts
Research Methodology
Our research methodology has always been the key differentiating reason which sets us apart in comparison from the competing organizations in the industry. Our organization believes in consistency along with quality and establishing a new level with every new report we generate; our methods are acclaimed and the data/information inside the report is coveted. Our research methodology involves a combination of primary and secondary research methods. Data procurement is one of the most extensive stages in our research process. Our organization helps in assisting the clients to find the opportunities by examining the market across the globe coupled with providing economic statistics for each and every region. The reports generated and published are based on primary & secondary research. In secondary research, we gather data for global Market through white papers, case studies, blogs, reference customers, news, articles, press releases, white papers, and research studies. We also have our paid data applications which includes hoovers, Bloomberg business week, Avention, and others.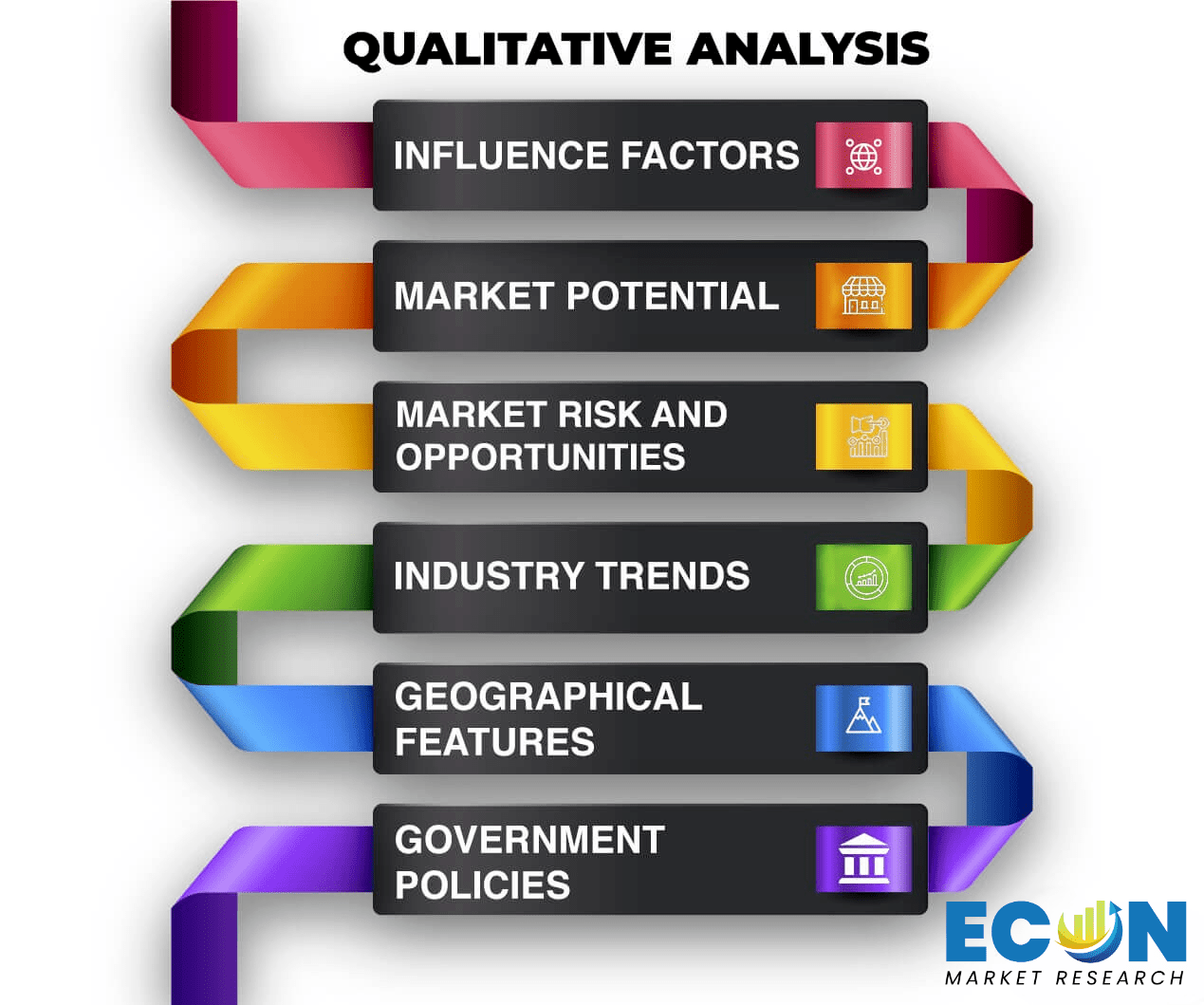 Data Collection
Data collection is the process of gathering, measuring, and analyzing accurate and relevant data from a variety of sources to analyze market and forecast trends. Raw market data is obtained on a broad front. Data is continuously extracted and filtered to ensure only validated and authenticated sources are considered. Data is mined from a varied host of sources including secondary and primary sources.

Primary Research
After the secondary research process, we initiate the primary research phase in which we interact with companies operating within the market space. We interact with related industries to understand the factors that can drive or hamper a market. Exhaustive primary interviews are conducted. Various sources from both the supply and demand sides are interviewed to obtain qualitative and quantitative information for a report which includes suppliers, product providers, domain experts, CEOs, vice presidents, marketing & sales directors, Type & innovation directors, and related key executives from various key companies to ensure a holistic and unbiased picture of the market. 
Secondary Research
A secondary research process is conducted to identify and collect information useful for the extensive, technical, market-oriented, and comprehensive study of the market. Secondary sources include published market studies, competitive information, white papers, analyst reports, government agencies, industry and trade associations, media sources, chambers of commerce, newsletters, trade publications, magazines, Bloomberg BusinessWeek, Factiva, D&B, annual reports, company house documents, investor presentations, articles, journals, blogs, and SEC filings of companies, newspapers, and so on. We have assigned weights to these parameters and quantified their market impacts using the weighted average analysis to derive the expected market growth rate.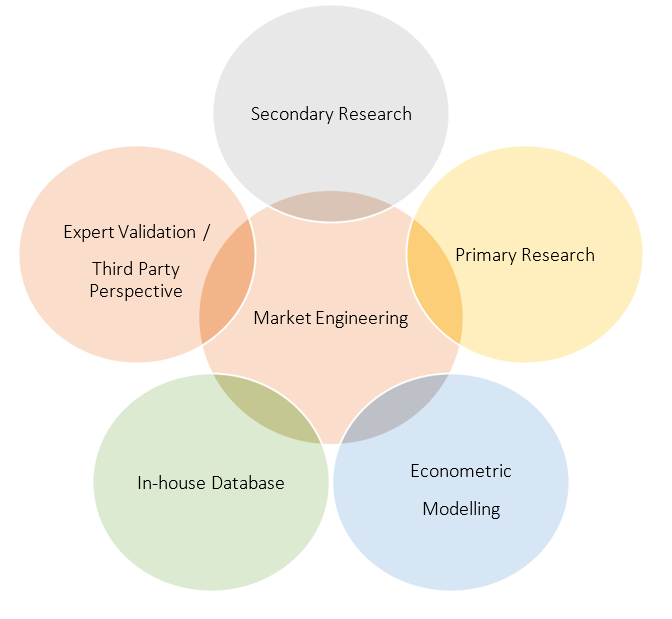 Top-Down Approach & Bottom-Up Approach
In the top – down approach, the Global Batteries for Solar Energy Storage Market was further divided into various segments on the basis of the percentage share of each segment. This approach helped in arriving at the market size of each segment globally. The segments market size was further broken down in the regional market size of each segment and sub-segments. The sub-segments were further broken down to country level market. The market size arrived using this approach was then crosschecked with the market size arrived by using bottom-up approach.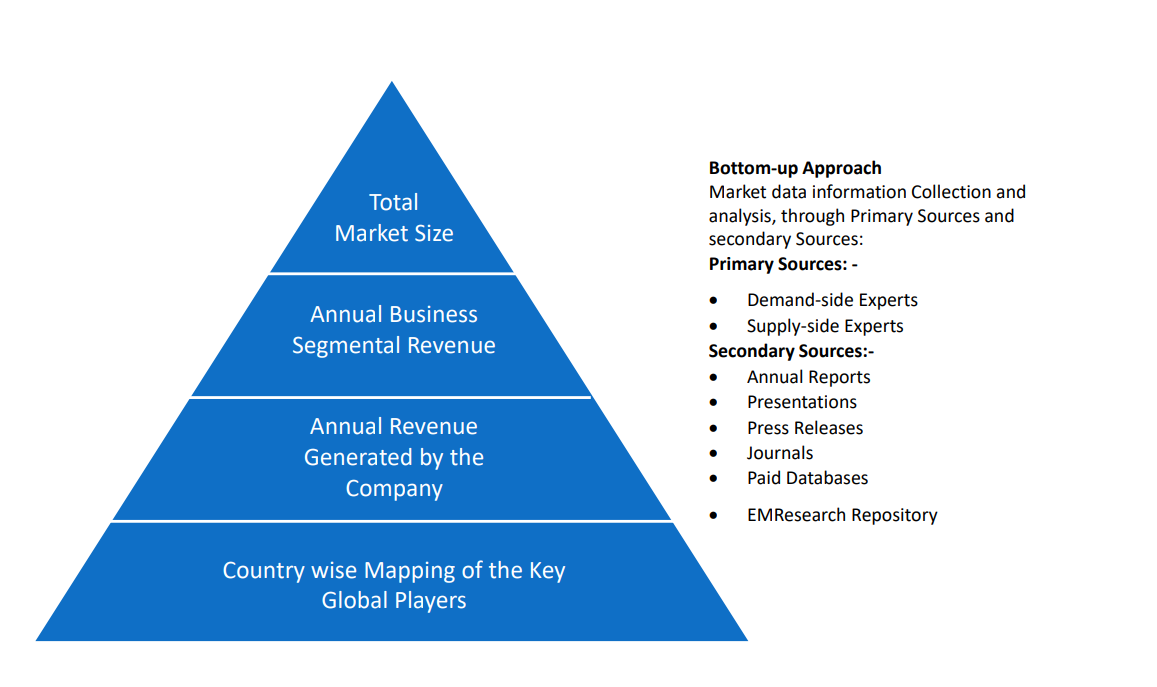 In the bottom-up approach, we arrived at the country market size by identifying the revenues and market shares of the key market players. The country market sizes then were added up to arrive at regional market size of the decorated apparel, which eventually added up to arrive at global market size.
This is one of the most reliable methods as the information is directly obtained from the key players in the market and is based on the primary interviews from the key opinion leaders associated with the firms considered in the research. Furthermore, the data obtained from the company sources and the primary respondents was validated through secondary sources including government publications and Bloomberg.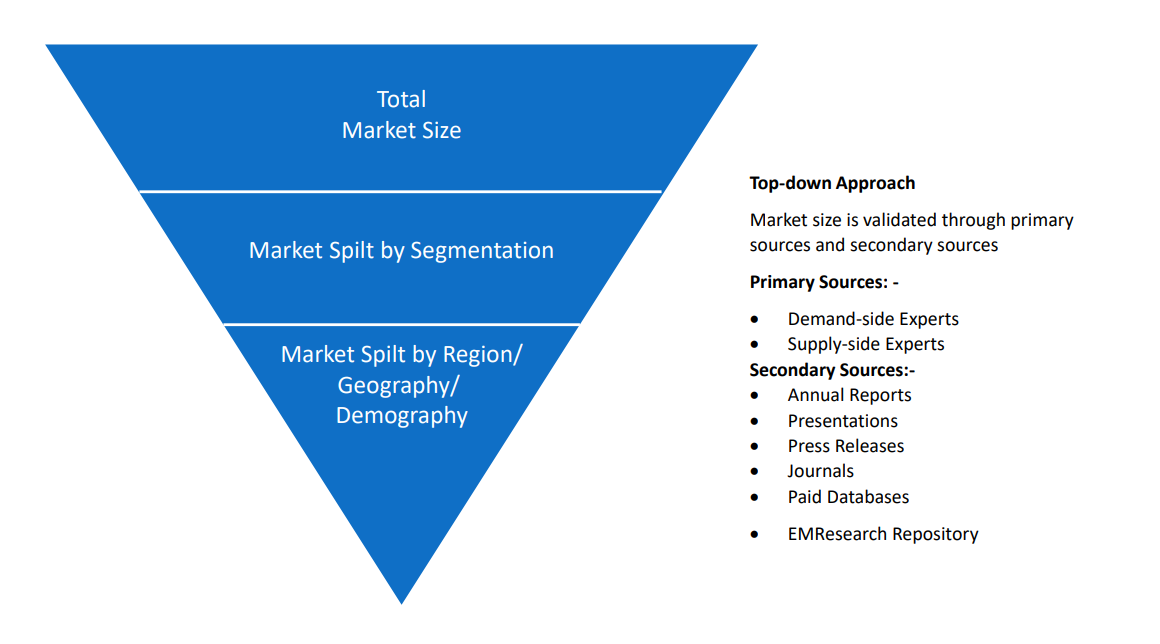 Market Analysis & size Estimation
Post the data mining stage, we gather our findings and analyze them, filtering out relevant insights. These are evaluated across research teams and industry experts. All this data is collected and evaluated by our analysts. The key players in the industry or markets are identified through extensive primary and secondary research. All percentage share splits, and breakdowns have been determined using secondary sources and verified through primary sources. The market size, in terms of value and volume, is determined through primary and secondary research processes, and forecasting models including the time series model, econometric model, judgmental forecasting model, the Delphi method, among Flywheel Energy Storage. Gathered information for market analysis, competitive landscape, growth trends, product development, and pricing trends is fed into the model and analyzed simultaneously.
Quality Checking & Final Review
The analysis done by the research team is further reviewed to check for the accuracy of the data provided to ensure the clients' requirements. This approach provides essential checks and balances which facilitate the production of quality data. This Type of revision was done in two phases for the authenticity of the data and negligible errors in the report. After quality checking, the report is reviewed to look after the presentation, Type and to recheck if all the requirements of the clients were addressed.