The global ethyleneamines market was valued at USD 1.92 billion in 2022 and is estimated to reach approximately USD 2.99 billion by 2031, at a CAGR of 5.0% from 2023 to 2031.
Ever since its start, the market for ethyleneamines has experienced substantial expansion. An ethylene backbone is joined by amine groups to form a class of chemical molecules known as ethyleneamines. The oil and gas, automobile, textile, agrochemical, pharmaceutical, and automotive industries are just a few of the industries that use these adaptable chemicals. Since ethyleneamines are used in so many different industrial processes, this is one of the main factors driving the market's growth. In the synthesis of several chemicals and goods, including detergents, fabrics, and corrosion inhibitors, ethyleneamines are employed as intermediates. In the industrial industry, their exceptional chelating and curing agent qualities, among other unique chemical characteristics, render them invaluable. Ethyleneamines are used by the pharmaceutical industry to synthesize medications and therapeutic agents. They are also used by the agrochemical industry to make herbicides and pesticides. Ethyleneamines are also used in gas treatment operations to capture and minimize harmful emissions, as environmental issues get more and more attention. The market for ethyleneamines has expanded and changed to satisfy the needs of diverse industries, making these substances essential to contemporary chemical manufacturing and aiding in the improvement of several businesses while tackling environmental issues. Driven by technical advancements and the demand for more sustainable solutions in the modern world, the industry is still growing.
ETHYLENEAMINES MARKET: REPORT SCOPE & SEGMENTATION
| | |
| --- | --- |
| Report Attribute | Details |
| Estimated Market Value (2022) | 1.92 Bn |
| Projected Market Value (2031) | 2.99 Bn |
| Base Year | 2022 |
| Forecast Years | 2023 - 2031 |
| Scope of the Report | Historical and Forecast Trends, Industry Drivers and Constraints, Historical and Forecast Market Analysis by Segment- By Type, By Manufacturing Process, By Application, By End-User, & Region |
| Segments Covered | By Type, By Manufacturing Process, By Application, By End-User, & Region |
| Forecast Units | Value (USD Billion or Million), and Volume (Units) |
| Quantitative Units | Revenue in USD million/billion and CAGR from 2023 to 2031 |
| Regions Covered | North America, Europe, Asia Pacific, Latin America, and Middle East & Africa, and the Rest of World |
| Countries Covered | U.S., Canada, Mexico, U.K., Germany, France, Italy, Spain, China, India, Japan, South Korea, Brazil, Argentina, GCC Countries, and South Africa, among others |
| Report Coverage | Market growth drivers, restraints, opportunities, Porter's five forces analysis, PEST analysis, value chain analysis, regulatory landscape, market attractiveness analysis by segments and region, company market share analysis, and COVID-19 impact analysis. |
| Delivery Format | Delivered as an attached PDF and Excel through email, according to the purchase option. |
Global Ethyleneamines Market Dynamics
Because ethyleneamines are used in so many different products, from agrochemicals to medicines, their demand is not affected by changes in the economy. The development and innovation in these industries have an impact on the market. Since ethyleneamines are used to lower emissions, their application in gas treatment operations has been prompted by strict environmental requirements. The need for ethyleneamines in pollution management is predicted to rise as environmental concerns develop. New ethyleneamine derivatives have been developed as a result of ongoing research and development, broadening their uses and propelling market expansion. Their efficiency and cost-effectiveness are increasing due to sophisticated formulations and synthesis techniques. The demand for ethyleneamines can be impacted by the expansion of economies in emerging areas and the recuperation of big economies. Changes in the price of raw materials, especially ethylene oxide, can have an impact on ethyleneamine pricing. Due to manufacturers' and customers' adaptation to shifting pricing structures, this may have an effect on market dynamics. Several major companies are vying for market dominance in this industry. Market dynamics and growth can be influenced by strategic alliances, competitive pricing, and product innovation. Geopolitical unrest, natural disasters, or other unanticipated occurrences can cause supply chain disruptions that affect ethyleneamine availability and price.
Global Ethyleneamines Market Drivers
Rising Demand in Personal Care Products
In the composition of personal care products, ethyleneamines specifically, ethylenediamine and diethylenetriamine offer a number of significant benefits. They are useful building blocks for a variety of compounds found in cosmetics, including skin care, hair care, and scent products. By serving as stabilizers, pH adjusters, and emulsifiers, these amines enable the development of stable and efficient formulations. They can increase different active components' solubility, improving the overall effectiveness of personal care solutions. Another well-known property of ethyleneamines is their capacity to aid in pigment dispersion, an essential process in the creation of color cosmetics such as lipsticks and foundations. Furthermore, the demand for eco-friendly and green cosmetic goods, along with the increased consumer attention on skin and hair health, have driven up the use of ethyleneamines. These substances can be utilized to create sulfate-free, mild formulations that satisfy consumers' growing need for personal care products that are kinder to the environment.
Development of Specialty Ethyleneamines
Specialty ethyleneamines are sophisticated derivatives created to fulfill certain industrial needs. They have particular chemical characteristics and purposes. Demand for chemicals that can satisfy exact specifications is rising as industries become more specialized and diverse. Specialty ethyleneamines are designed to provide greater stability, unique functionality, and increased reactivity, among other performance features. In industries where precise specifications and particular qualities are critical, such as electronics, agrochemicals, and pharmaceuticals, this customization is vital. Specialty ethyleneamines are used in the pharmaceutical industry as intermediates in the development of drugs that contain active pharmaceutical ingredients (APIs). Their precise chemical properties are vital for creating safe and effective medicines. Similarly, in agrochemicals, these tailored amines are used to develop crop protection agents and fertilizers with improved efficiency and reduced environmental impact.
Restraints:
Compliance with Environmental Regulations
Strict environmental laws that are designed to prevent pollution, cut greenhouse gas emissions, and protect ecosystems can be quite costly for businesses. It is frequently necessary to make large investments in waste management, pollution prevention strategies, and emission control technology in order to meet these criteria. These regulations may result in higher operating and capital expenses for sectors that use ethyleneamines, such as chemical and petrochemical industry. Because of their possible effects on the quality of the air and water, environmental rules may potentially restrict the use of some ethyleneamine derivatives. This may result in limitations on particular chemical processes or the requirement to provide more affordable and accessible alternatives that are more environmentally friendly. Moreover, compliance demands continuous monitoring and reporting, adding administrative and regulatory compliance costs.
Supply networks are becoming more linked and worldwide. Due of their complexity, they are susceptible to a range of disturbances, such as natural calamities, geopolitical conflicts, problems with transportation, and public health emergencies such as the COVID-19 pandemic. Unexpected incidents like this can impede the supply of components, materials, and finished goods, leading to price increases, delays, and even shortages. It becomes difficult to maintain sufficient inventory levels when supply channels are disturbed. Overstocking can cause financial and storage space constraints, while low inventory can cause production to stop or client orders to be fulfilled slowly. When there are delays in production, the necessity for faster shipment, or the need to source from different suppliers, supply chain disruptions can result in higher prices. Profit margins could be weakened by these expense increases.Unexpected shifts in manufacturers or suppliers could cause problems with the safety and quality of the final product. During disruptive times, it is more important than ever to implement quality control procedures and risk assessments, but it is also more difficult. Customer dissatisfaction due to delays in product delivery or service outages may result in lost business, harm to a company's brand, and expensive customer compensation initiatives.
Opportunities:
Emerging Green and Sustainable Markets
Growing consumer awareness and worries about climate change, resource depletion, and environmental challenges have led to an increase in the demand for sustainable and eco-friendly activities and products. Companies stand to gain a great deal from integrating sustainability into their operations and responding to this movement in customer priorities. This opportunity's creation and marketing of environmentally friendly products is a crucial component. Businesses that adopt green practices can benefit from a market that is growing quickly. Examples of these activities include the use of renewable resources, energy-efficient production techniques, and sustainable packaging. These environmentally sensitive customers are prepared to spend more for goods and services that show a dedication to sustainability. The market for eco-labels and certifications, such as organic, Fair Trade, or carbon-neutral certifications, is also expanding. Furthermore, as governments worldwide enact stricter environmental regulations and incentivize sustainable practices, companies that proactively adopt green initiatives can enjoy benefits such as tax incentives, reduced compliance costs, and improved relations with regulatory bodies.
Adoption of Industry 4.0 Technologies
The internet of things, cloud computing, automation, artificial intelligence, big data analytics, and other Industry 4.0 technologies have the power to completely change how enterprises run. Real-time data gathering, analysis, and decision-making are made possible by these technologies, which improve operational effectiveness, productivity, and cost savings. IoT sensors and gadgets, for example, may track supply chains and machinery, spotting inefficiencies and cutting down on downtime. Production process optimization and maintenance requirements prediction are possible with AI and machine learning techniques. Industry 4.0's improved connectivity and data-driven insights enable businesses to make smarter, more agile decisions that help them respond to shifting consumer needs and market dynamics. More innovation and competitiveness are cultivated as a result. Furthermore, labor-intensive and repetitive jobs can be handled by automation and robotics, freeing up human resources for more strategic and creative positions. Industry 4.0 can open up new revenue streams for companies by allowing them to provide data-driven services, predictive maintenance agreements, and personalized products based on the tastes of specific customers, in addition to operational advantages. Additionally, it improves supply chain traceability and transparency, which is crucial in sectors like the food and pharmaceutical industries.
Segment Overview
By Type
Based on type, the global ethyleneamines market is divided into ethylenediamine, diethylenetriamine, triethylenetetramine and others. The ethylenediamine category dominates the market with the largest revenue share in 2022. Ethylenediamine, a primary building block within this chemical family, is renowned for its versatility. It serves as a crucial intermediate in the production of various products, including pharmaceuticals, agrochemicals, and personal care items. Its ability to act as an effective chelating agent, stabilizer, and pH adjuster makes it an indispensable ingredient in numerous formulations. Diethylenetriamine is another significant member of this family, valued for its role in various applications. Its multifunctionality is particularly evident in the chelation of metal ions and its use as a curing agent in epoxy resins. This makes it a key component in the coatings, adhesives, and construction industries. Triethylenetetramine, with its distinctive properties, has gained prominence as a versatile cross-linking agent in the production of rubber and plastic compounds. Its ability to enhance product durability and performance makes it crucial in these industries.
By Application
Based on the application, the global ethyleneamines market is categorized into pesticides, corrosion inhibitors, epoxy curing agent, lube oil and fuel additives, chelating agent, polyamide, resin, adhesive and sealants, surfactants, oil field chemicals and others. The lube oil and fuel additives category leads the global ethyleneamines market with the largest revenue share in 2022. Ethyleneamines find application in the formulation of additives that improve the performance and longevity of lubricating oils and fuel. Ethyleneamines are utilized in the production of agrochemicals and pesticides, where their chemical properties help in formulating effective crop protection solutions. Ethyleneamines play a critical role in preventing corrosion in industrial equipment and pipelines, offering protection to vital infrastructure. Epoxy curing agent are widely used as curing agents in epoxy resin formulations, contributing to the adhesive and coatings industries by enhancing product durability.Ethyleneamines are integral in the manufacture of polyamide resins, which are used in a range of products, from textiles to packaging materials. Ethyleneamines are used as surfactants in personal care and cleaning products, enhancing emulsification and dispersion of substances.
By End-User
Based on end-user, the global ethyleneamines market is segmented into resin, paper, automotive, adhesive, water treatment, agriculture, agrochemicals, pharmaceutical, personal care, textile and others. The agrochemicals segment dominates the ethyleneamines market. Specifically, ethyleneamines are crucial components of agrochemicals, contributing to the effectiveness of pesticides and fertilizers. In the resin industry, ethyleneamines serve as fundamental components in the production of coatings, adhesives, and various plastic and rubber products, contributing to their strength and durability. The paper sector relies on ethyleneamines as wet-strength additives, ensuring that paper products can withstand exposure to moisture and retain their structural integrity. The automotive sector benefits from ethyleneamines in fuel and lubricant additives, which enhance engine performance and efficiency. As curing agents in the adhesive industry, they enable the creation of strong bonds in a multitude of applications, from construction to manufacturing. In water treatment, ethyleneamines are deployed as chelating agents, facilitating the removal of impurities and metal ions from water sources, ensuring the availability of clean and safe water. In agriculture, they play a pivotal role in crop protection and yield enhancement through the formulation of agrochemicals, contributing to global food production. Moreover, the pharmaceutical industry leverages the versatile chemistry of ethyleneamines for drug formulation and manufacturing. In personal care products like cosmetics and toiletries, they enhance the stability and performance of these items. Ethyleneamines also find application in the textile sector, particularly in dyeing and finishing processes, which is critical for ensuring colorfastness and fabric quality.
Global Ethyleneamines Market Overview by Region
The global ethyleneamines market is categorized into North America, Europe, Asia-Pacific, and the Rest of the World. Asia-Pacific emerged as the leading region, capturing the largest market share in 2022. Asia-Pacific has become the top region in a number of areas, such as innovation, global influence, and economic growth. The Asia-Pacific area, with its varied economies, cultures, and geographical locations, has emerged as a major player in the world economy. China, India, Japan, and South Korea are among the largest and fastest-growing economies in the world's Asia-Pacific region. Rapid industrialization and technical growth have occurred in these countries, greatly bolstering the region's economy. With well-established supply chains and trade routes, the Asia-Pacific area has emerged as a center for manufacturing, technology, and trade. The Asia-Pacific area has made significant investments in research and development, which have resulted in innovations in technology, healthcare, and sustainable solutions. China leads the world in e-commerce and telecommunications, while South Korea, Japan, and other countries are well-known for their advanced electronics and automotive sectors. Furthermore, the Asia-Pacific region is becoming more influential in world politics. The region's active engagement in international organizations and forums has served as recognition of its political and economic significance. It is crucial in determining international trade, climate change, and regional security policy. Asia-Pacific's rise to prominence is evidence of its adaptability, growth potential, and durability. The future years should see a greater solidification of its impact and prominence in the global arena as it fosters innovation, expands economic prospects, and participates in international affairs.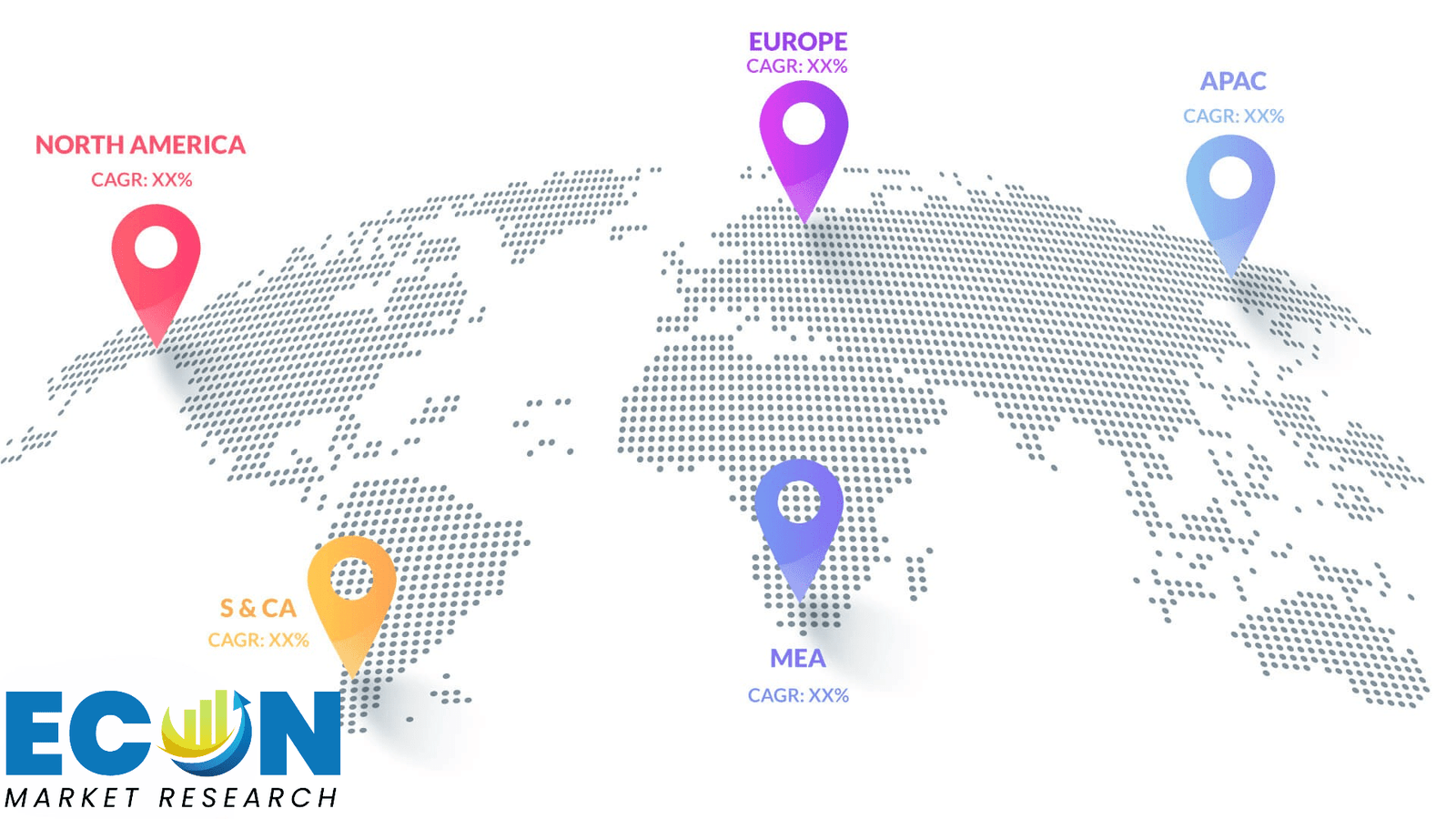 Global Ethyleneamines Market Competitive Landscape
In the global ethyleneamines market, a few major players exert significant market dominance and have established a strong regional presence. These leading companies remain committed to continuous research and development endeavors and actively engage in strategic growth initiatives, including product development, launches, joint ventures, and partnerships. By pursuing these strategies, these companies aim to strengthen their market position, expand their customer base, and capture a substantial share of the market.
Some of the prominent players in the global ethyleneamines market include Huntsman International LLC, Akzo Nobel N.V, BASF SE, Delamine B.V, Nouryon Chemicals B.V., Diamines and Chemicals Ltd, Dow, DuPont, Tosoh Corporation, LANXESS, Prasol Chemicals Pvt. Ltd, Shandong Lianmeng International Trade Co., Ltd, Gem Chemicals, Saanvi Corp, Lumitos AG, Aminat, City of Vincent, Alkyl Amines Chemicals Ltd, and various other key players.
Global Ethyleneamines Market Recent Developments
In January 2023, The acquisition of ADOB, a well-known Polish supplier of foliars, chelated micronutrients, and other specialty agricultural products, has been finalized, according to Nouryon.
In April 2022, The joint Verbund location in Nanjing, China is set to expand with the help of BASF and SINOPEC. The extension is intended to meet the increasing demand from different industries in the Chinese market. It comprises additional capabilities of many downstream chemical factories as well as a new tert-butyl acrylate factory.
Scope of the Global Ethyleneamines Market Report
Ethyleneamines Market Report Segmentation
ATTRIBUTE

DETAILS

By Type

Ethylenediamine

Diethylenetriamine

Triethylenetetramine

Others

By Application

Pesticides

Corrosion Inhibitors

Epoxy Curing Agent

Lube Oil and Fuel Additives

Chelating Agent

Polyamide

Resin

Adhesive and Sealants

Surfactants

Oil Field Chemical

Others

By End-User

Resin

Paper

Automotive

Adhesive

Water Treatment

Agriculture

Agrochemicals

Pharmaceutical

Personal Care

Textile

Others

By Geography

North America (USA,

and Canada)

Europe (UK, Germany, France, Italy, Spain, Russia and Rest of Europe)

Asia Pacific (Japan, China, India, Australia, Southeast Asia and Rest of Asia Pacific)

Latin America (Brazil, Mexico, and Rest of Latin America)

Middle East & Africa (South Africa, GCC, and Rest of Middle East & Africa)

Customization Scope

Pricing
Objectives of the Study
The objectives of the study are summarized in 5 stages. They are as mentioned below:
Global Ethyleneamines Market

Size and Forecast:
To identify and estimate the market size for the global ethyleneamines market segmented by type, by application, by end user, region and by value (in U.S. dollars). Also, to understand the consumption/ demand created by consumers of ethyleneamines between 2019 and 2031.
Market Landscape and Trends:
To identify and infer the drivers, restraints, opportunities, and challenges for the global ethyleneamines market
Market Influencing Factors:
To find out the factors which are affecting the sales of ethyleneamines among consumers
To identify and understand the various factors involved in the global
Research Methodology
Our research methodology has always been the key differentiating reason which sets us apart in comparison from the competing organizations in the industry. Our organization believes in consistency along with quality and establishing a new level with every new report we generate; our methods are acclaimed and the data/information inside the report is coveted. Our research methodology involves a combination of primary and secondary research methods. Data procurement is one of the most extensive stages in our research process. Our organization helps in assisting the clients to find the opportunities by examining the market across the globe coupled with providing economic statistics for each and every region. The reports generated and published are based on primary & secondary research. In secondary research, we gather data for global Market through white papers, case studies, blogs, reference customers, news, articles, press releases, white papers, and research studies. We also have our paid data applications which includes hoovers, Bloomberg business week, Avention, and others.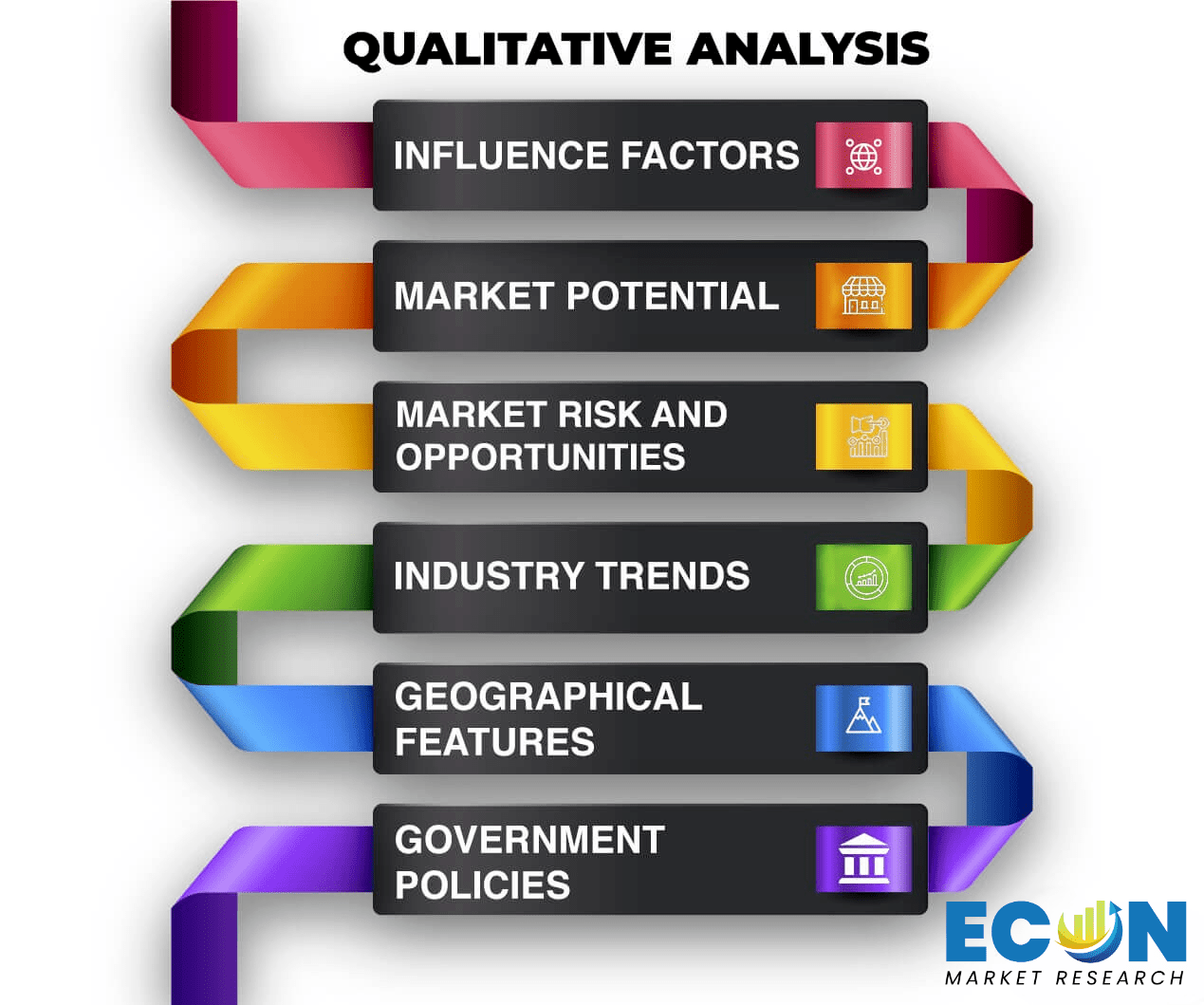 Data Collection
Data collection is the process of gathering, measuring, and analyzing accurate and relevant data from a variety of sources to analyze market and forecast trends. Raw market data is obtained on a broad front. Data is continuously extracted and filtered to ensure only validated and authenticated sources are considered. Data is mined from a varied host of sources including secondary and primary sources.

Primary Research
After the secondary research process, we initiate the primary research phase in which we interact with companies operating within the market space. We interact with related industries to understand the factors that can drive or hamper a market. Exhaustive primary interviews are conducted. Various sources from both the supply and demand sides are interviewed to obtain qualitative and quantitative information for a report which includes suppliers, product providers, domain experts, CEOs, vice presidents, marketing & sales directors, Type & innovation directors, and related key executives from various key companies to ensure a holistic and unbiased picture of the market. 
Secondary Research
A secondary research process is conducted to identify and collect information useful for the extensive, technical, market-oriented, and comprehensive study of the market. Secondary sources include published market studies, competitive information, white papers, analyst reports, government agencies, industry and trade associations, media sources, chambers of commerce, newsletters, trade publications, magazines, Bloomberg BusinessWeek, Factiva, D&B, annual reports, company house documents, investor presentations, articles, journals, blogs, and SEC filings of companies, newspapers, and so on. We have assigned weights to these parameters and quantified their market impacts using the weighted average analysis to derive the expected market growth rate.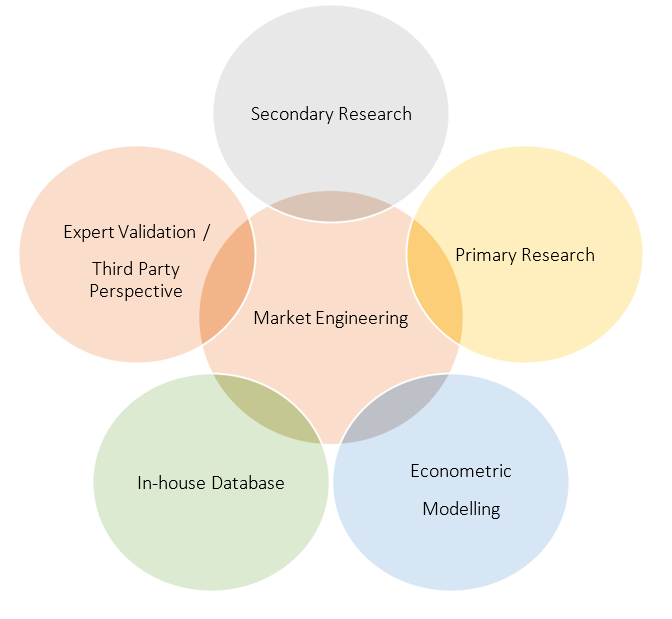 Top-Down Approach & Bottom-Up Approach
In the top – down approach, the Global Batteries for Solar Energy Storage Market was further divided into various segments on the basis of the percentage share of each segment. This approach helped in arriving at the market size of each segment globally. The segments market size was further broken down in the regional market size of each segment and sub-segments. The sub-segments were further broken down to country level market. The market size arrived using this approach was then crosschecked with the market size arrived by using bottom-up approach.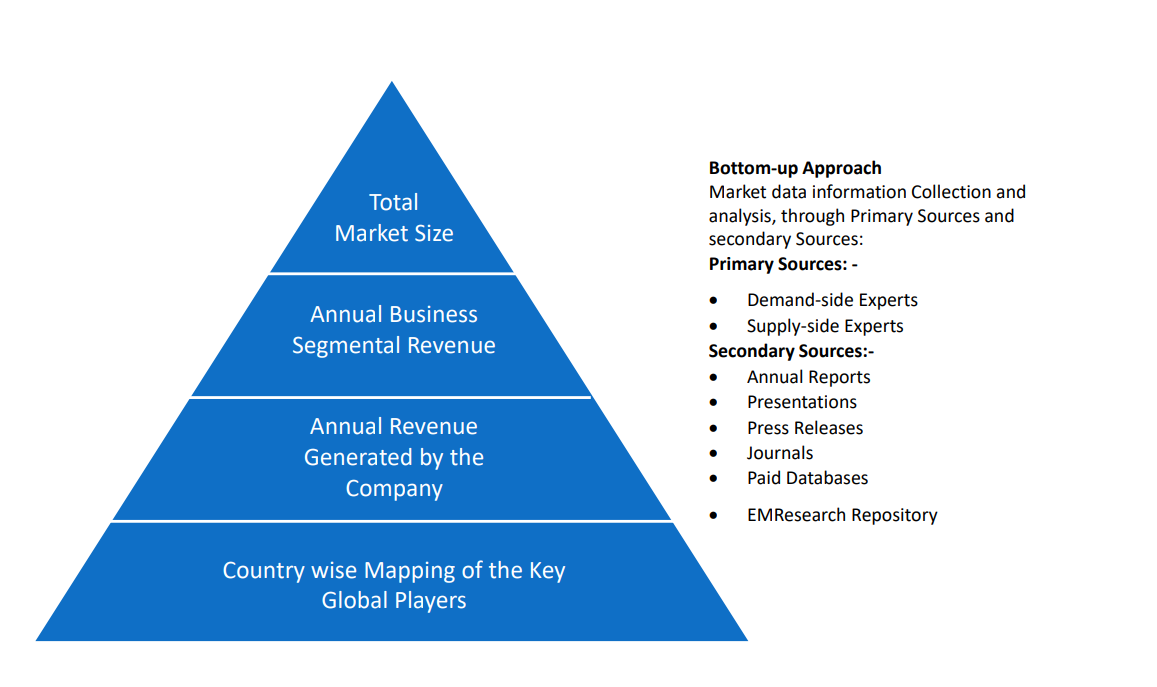 In the bottom-up approach, we arrived at the country market size by identifying the revenues and market shares of the key market players. The country market sizes then were added up to arrive at regional market size of the decorated apparel, which eventually added up to arrive at global market size.
This is one of the most reliable methods as the information is directly obtained from the key players in the market and is based on the primary interviews from the key opinion leaders associated with the firms considered in the research. Furthermore, the data obtained from the company sources and the primary respondents was validated through secondary sources including government publications and Bloomberg.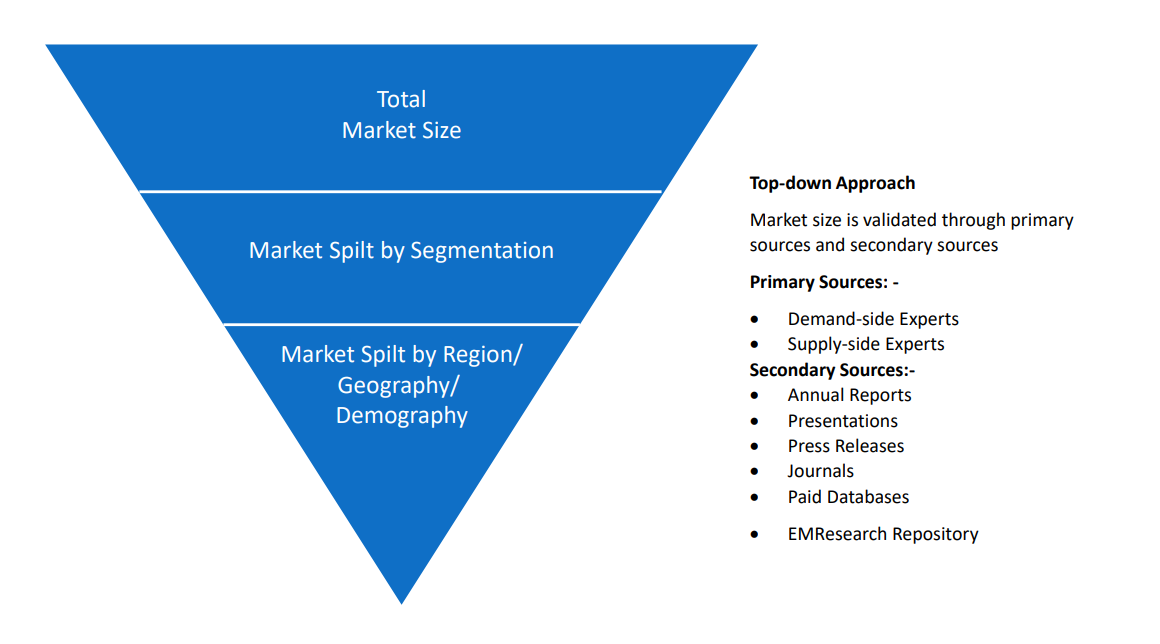 Market Analysis & size Estimation
Post the data mining stage, we gather our findings and analyze them, filtering out relevant insights. These are evaluated across research teams and industry experts. All this data is collected and evaluated by our analysts. The key players in the industry or markets are identified through extensive primary and secondary research. All percentage share splits, and breakdowns have been determined using secondary sources and verified through primary sources. The market size, in terms of value and volume, is determined through primary and secondary research processes, and forecasting models including the time series model, econometric model, judgmental forecasting model, the Delphi method, among Flywheel Energy Storage. Gathered information for market analysis, competitive landscape, growth trends, product development, and pricing trends is fed into the model and analyzed simultaneously.
Quality Checking & Final Review
The analysis done by the research team is further reviewed to check for the accuracy of the data provided to ensure the clients' requirements. This approach provides essential checks and balances which facilitate the production of quality data. This Type of revision was done in two phases for the authenticity of the data and negligible errors in the report. After quality checking, the report is reviewed to look after the presentation, Type and to recheck if all the requirements of the clients were addressed.