The Global Electronic Health Records Market was valued at USD 30.55 billion in 2022 and is estimated to reach approximately USD 60.84 billion by 2031, at a CAGR of 7.9% from 2023 to 2031. The comprehensive health information of a patient is methodically collected and stored in electronic health records (EHRs), which are digitalized versions of conventional paper-based medical records. These documents cover a person's medical background, diagnosis, prescriptions, allergies, lab findings, imaging studies, and treatment strategies. Electronic health records act as centralized databases that are only available to licensed healthcare workers, facilitating effective information sharing and teamwork in patient care amongst various medical facilities and specialties. EHRs have a number of advantages, such as better patient care coordination, easier medical billing, fewer prescription and diagnosis errors, and better overall healthcare results. These technologies provide smooth information transmission between various healthcare facilities, fostering improved professional teamwork and more informed choices. Additionally, electronic health records support data analysis and research, advancing medical understanding and treatment methods. Government adoption incentives, technological developments, and the growing demand for interoperability among healthcare ecosystems have all contributed to the electronic health records market's tremendous rise. To ensure the best usage and general adoption of EHR systems, issues like data security worries, standardization problems, and user interface design have also been addressed. The electronic health records market remains a pillar in modernizing patient care and healthcare management as the healthcare sector embraces digital transformation.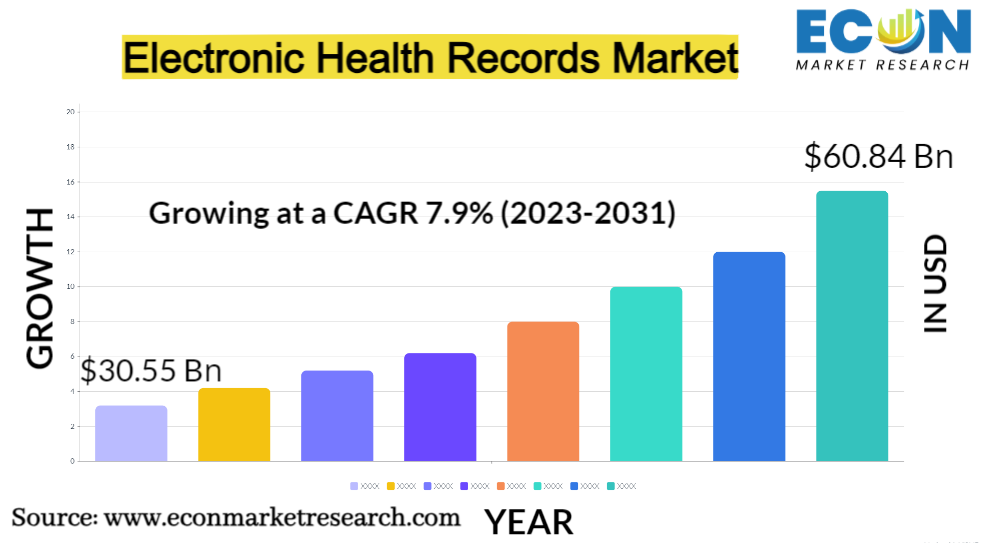 ELECTRONIC HEALTH RECORDS MARKET: REPORT SCOPE & SEGMENTATION
| | |
| --- | --- |
| Report Attribute | Details |
| Estimated Market Value (2022) | 30.55 Bn |
| Projected Market Value (2031) | 60.84 Bn |
| Base Year | 2022 |
| Forecast Years | 2023 - 2031 |
| Scope of the Report | Historical and Forecast Trends, Industry Drivers and Constraints, Historical and Forecast Market Analysis by Segment- By Product, By Type, By Application, By End User, & Region |
| Segments Covered | By Product, By Type, By Application, By End User, & Region |
| Forecast Units | Value (USD Billion or Million), and Volume (Units) |
| Quantitative Units | Revenue in USD million/billion and CAGR from 2023 to 2031 |
| Regions Covered | North America, Europe, Asia Pacific, Latin America, and Middle East & Africa, and the Rest of World |
| Countries Covered | U.S., Canada, Mexico, U.K., Germany, France, Italy, Spain, China, India, Japan, South Korea, Brazil, Argentina, GCC Countries, and South Africa, among others |
| Report Coverage | Market growth drivers, restraints, opportunities, Porter's five forces analysis, PEST analysis, value chain analysis, regulatory landscape, market attractiveness analysis by segments and region, company market share analysis, and COVID-19 impact analysis. |
| Delivery Format | Delivered as an attached PDF and Excel through email, according to the purchase option. |
Global Electronic Health Records Market Dynamics
The electronic health records (EHR) market is characterized by dynamic factors that shape its growth and evolution. Market expansion has been driven by the growing recognition of the benefits EHRs offer in improving healthcare delivery and patient outcomes. Government initiatives and regulations, such as Meaningful Use in the United States, have incentivized healthcare providers to adopt EHR systems, fostering market growth. Technological advancements play a vital role, with innovations like cloud computing, artificial intelligence, and interoperability solutions enhancing EHR capabilities. These innovations enable seamless data sharing between different healthcare facilities, enhancing care coordination and decision-making. Additionally, the increasing focus on patient engagement and personalized medicine fuels demand for EHRs that enable patients to access and manage their health information. Data security and privacy concerns remain critical market dynamics. Protecting sensitive patient information from breaches and unauthorized access is a constant challenge, necessitating robust cybersecurity measures. Interoperability challenges persist as different EHR systems often struggle to communicate effectively. Industry efforts towards standardizing data formats and interfaces are essential to overcome this issue. Market competition drives EHR vendors to offer user-friendly interfaces, improved integration, and tailored solutions for various healthcare specialties. As telemedicine and remote patient monitoring gain traction, EHRs adapt to accommodate these trends. The EHR market is propelled by regulatory, technological, and patient-centered factors, while simultaneously addressing challenges such as data security and interoperability. The market's trajectory depends on continued innovation, collaboration, and alignment with evolving healthcare needs.
Global Electronic Health Records Market Drivers
Digitization of Healthcare
The need for improved efficiency, accuracy, and patient outcomes has prompted healthcare providers and stakeholders to embrace digitization as a transformative force. The rise of electronic health records (EHRs) serves as a major driver. EHRs centralize patient information, facilitating seamless data sharing among healthcare professionals and reducing the risk of errors associated with paper-based records. This streamlines processes enhances care coordination and empowers informed decision-making. Advancements in telemedicine have also catalyzed digitization. The demand for remote healthcare services, particularly evident during global crises like the COVID-19 pandemic, has accelerated the adoption of virtual consultations, remote monitoring, and telehealth platforms. Additionally, the exponential growth of medical data has spurred the use of data analytics and artificial intelligence.
Rise of Telemedicine and Remote Care
The rise of telemedicine and remote care is driven by a convergence of technological advancement, changing patient expectations, and the need for accessible and efficient healthcare services. Technologically, the increasing availability of high-speed internet, mobile devices, and video conferencing platforms has enabled seamless virtual interactions between patients and healthcare providers. This has broken down geographical barriers, making healthcare accessible to remote and underserved areas. Changing patient expectations plays a significant role. People now seek convenience and flexibility in their healthcare interactions, similar to other aspects of their lives. Telemedicine meets these demands by offering remote consultations, prescription refills, and even remote monitoring of chronic conditions.
Restraints:
Interoperability Challenges
Interoperability challenges refer to the difficulties that arise when different electronic health records systems, often developed by different vendors, struggle to effectively communicate and exchange information with one another. This lack of seamless data interchange hampers the potential for comprehensive patient care coordination and information sharing among healthcare providers and facilities. The absence of standardized data formats, coding systems, and communication protocols presents a major obstacle to interoperability. This results in data fragmentation, where patient information is dispersed across various systems, impeding a holistic view of a patient's health history. Interoperability challenges hinder timely access to critical patient data, leading to potential medical errors, redundant testing, and compromised decision-making. Furthermore, they hinder the realization of benefits such as telemedicine and remote care, which rely on smooth data exchange between providers.
High Initial Implementation Costs
Transitioning from paper-based records to digital systems involves substantial expenses encompassing various components. The upfront costs include software acquisition or subscription fees, hardware upgrades or installations, data migration, and extensive staff training. Additionally, there are costs associated with integrating EHR systems into existing workflows and ensuring compatibility with other medical technologies. These expenses can pose financial burdens, particularly for smaller healthcare practices or resource-constrained institutions. The costs extend beyond the initial investment, encompassing ongoing maintenance, updates, and potential technical support.
Opportunities:
AI and Machine Learning Integration
AI and ML can process vast amounts of medical data, extract meaningful insights, and assist healthcare professionals in making more informed decisions. These technologies can enhance diagnostics by analyzing medical images, such as X-rays and MRIs, to identify subtle patterns and anomalies that might be missed by human eyes. ML algorithms can predict disease outcomes, recommend personalized treatment plans, and assess patient risk factors, thereby supporting more precise and individualized care. AI-powered chatbots and virtual assistants can improve patient engagement and education by providing instant responses to health-related queries, offering guidance on medication management, and even monitoring patients post-discharge. As these technologies are refined for medical applications, the opportunity to leverage AI and ML to enhance patient outcomes, streamline processes, and advance medical research is immense.
Cloud-Based EHR Platforms
Cloud-based electronic health record (EHR) platforms offer a transformative opportunity to modernize healthcare management, streamline operations, and enhance patient care delivery. By leveraging cloud technology, EHR systems can provide numerous advantages for healthcare providers, organizations, and patients. Cloud-based EHR platforms allow authorized users to securely access patient information from anywhere with an internet connection. This enables remote consultations, telemedicine services, and seamless collaboration among healthcare professionals, especially crucial during emergencies or when patients are in remote locations. Scalability is another advantage, as cloud solutions can easily accommodate the growing volume of patient data and the evolving needs of healthcare organizations. This flexibility reduces the burden of maintaining and upgrading on-premises hardware and software, resulting in cost savings and efficient resource allocation.
Segment Overview
By Product
Based on product, the global electronic health records market is divided into on-premise software and cloud-based software. The on-premise software category dominates the market with the largest revenue share. On-premise software involves installing and maintaining software directly on local servers or computers within a healthcare facility. This approach provides a high degree of control and customization over the software environment. Data is stored and managed within the organization's own infrastructure, which can offer enhanced data security for sensitive patient information. On-premise solutions are suitable for organizations with specific security requirements or regulatory constraints that prefer to have complete ownership and control over their data. Where cloud-based software, also known as software as a service (SaaS), is hosted on remote servers and accessed through the internet. This model offers greater flexibility, scalability, and accessibility. Healthcare providers can access patient data and software applications from anywhere with an internet connection, promoting collaboration and remote care capabilities. Cloud-based solutions generally have lower upfront costs, as they eliminate the need for extensive on-site hardware.
By Type
Based on the type, the global electronic health records market is categorized into inpatient EHR and ambulatory EHR. The inpatient EHR category leads the global electronic health records market with the largest revenue share. Inpatient EHR systems are designed to manage and document patient information within hospital or clinical settings where patients are admitted for extended care or treatment. These systems support various functions critical to inpatient care, including patient admissions, treatment plans, medication administration, progress notes, laboratory results, and discharge summaries. Inpatient EHRs facilitate communication and information sharing among multidisciplinary care teams, helping to improve patient outcomes, streamline workflows, and reduce errors in complex hospital environments. Where ambulatory EHR systems are tailored to the needs of outpatient care settings, where patients receive medical care without being admitted to a hospital. These settings can include physician practices, clinics, urgent care centers, and other healthcare facilities.
By Application
Based on application, the global electronic health records market is segmented into clinical application, administrative application, reporting in healthcare systems, healthcare financing, and clinical research application. The clinical application segment dominates the electronic health records market. Clinical applications encompass software solutions that directly impact patient care and medical treatment. These include electronic health records (EHRs), computerized physician order entry (CPOE) systems, clinical decision support (CDS) tools, and telemedicine platforms. These applications focus on improving diagnostic accuracy, treatment planning, and patient monitoring. Where reporting applications involve the generation and analysis of data-driven reports for decision-making and performance evaluation. These systems compile and present data on clinical outcomes, patient populations, financial metrics, and more. They provide insights that inform strategic planning, quality improvement initiatives, and compliance with regulatory requirements. The healthcare financing applications focus on billing, coding, claims processing, and insurance management. These applications play a crucial role in accurately capturing healthcare services provided and ensuring timely reimbursement for healthcare organizations.
By End User
Based on end users, the global electronic health records market is divided into hospitals, clinics, specialty centers, and others. The hospital category dominates the market with the largest revenue share. Hospitals are comprehensive healthcare facilities that offer a wide range of medical services, including emergency care, surgeries, specialized treatments, and inpatient care. They are equipped to handle various medical conditions and provide both acute and chronic care. Where specialty centers focus on specific medical areas, offering specialized care and treatments. These centers can include rehabilitation centers, cancer treatment centers, mental health facilities, and more. They cater to patients with specific medical conditions and often offer advanced diagnostic and treatment options. Clinics are outpatient facilities that offer medical services and treatments without hospitalization. Clinics provide a convenient and accessible option for routine check-ups and non-emergency medical needs.
Global Electronic Health Records Market Overview by Region
The global electronic health records market is categorized into North America, Europe, Asia-Pacific, and the Rest of the World. North America emerged as the leading region, capturing the largest market share. The region's leadership is largely driven by its technological innovation, robust research and development ecosystem, well-established healthcare infrastructure, substantial economic resources, and a stringent yet enabling regulatory framework. With technological innovation at its core, North America has initiated transformative solutions in healthcare delivery, such as the widespread adoption of electronic health records (EHRs) and the integration of telemedicine platforms. Its world-class research institutions and medical schools facilitate groundbreaking medical discoveries, fueling the development of cutting-edge treatments and medical technologies. Moreover, the region's economic prosperity allows for substantial investments in healthcare infrastructure, enabling the provision of high-quality care and access to state-of-the-art medical facilities. Stringent regulations, while challenging, ensure patient safety and drive the creation of top-tier medical products and services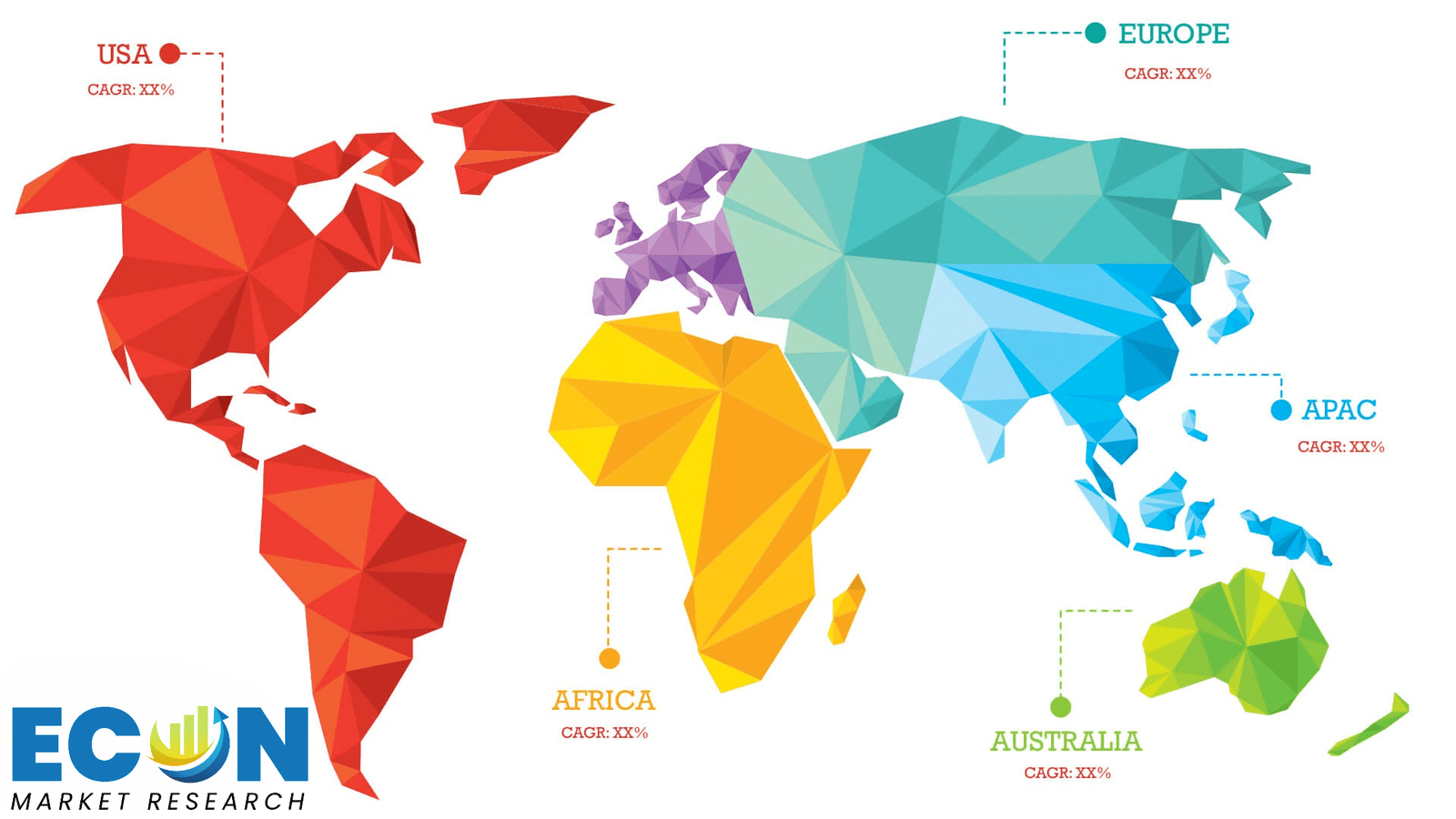 Global Electronic Health Records Market Competitive Landscape
In the global electronic health records market, a few major players exert significant market dominance and have established a strong regional presence. These leading companies remain committed to continuous research and development endeavors and actively engage in strategic growth initiatives, including product development, launches, joint ventures, and partnerships. By pursuing these strategies, these companies aim to strengthen their market position, expand their customer base, and capture a substantial share of the market.
Some of the prominent players in the global electronic health records market include Allscripts Healthcare Solutions Inc., Cerner Corporation, Computer Programs and Systems Inc., CureMD Corporation, eClinicalWorks, Epic Systems Corporation, General Electric Company, Greenway Health, LLC., Meditech, Praxis EMR, and various other key players.
Global Electronic Health Records Market Recent Developments
In July 2022, The APMA Registry's founding partner is NextGen Healthcare. This offers NextGen Healthcare customers clinically relevant expertise. In order to fulfill our pledge to lessen the load on small practices and specializations like podiatry, NextGen Healthcare has partnered with the APMA.
In August 2023, Microsoft and Epic are stepping up their AI collaboration to accelerate the effect of generative AI in healthcare. The growth of a strategic plan to integrate conversational, ambient, and generative AI technologies throughout the Epic electronic health record (EHR) ecosystem and deliver AI to healthcare at scale.
Scope of the Global Electronic Health Records Market Report
Electronic Health Records Market Report Segmentation
ATTRIBUTE

DETAILS

By Product

On-premise Software

Cloud-based Software

By Type

Inpatient HER

Ambulatory EHR

By Application

Clinical Application

Administrative Application

Reporting in Healthcare System

Healthcare Financing

Clinical Research Application

By End User

Hospitals

Clinics

Specialty Centers

Others

By Geography

North America (USA,

and Canada)

Europe (UK, Germany, France, Italy, Spain, Russia and Rest of Europe)

Asia Pacific (Japan, China, India, Australia, Southeast Asia and Rest of Asia Pacific)

Latin America (Brazil, Mexico, and Rest of Latin America)

Middle East & Africa (South Africa, GCC, and Rest of Middle East & Africa)

Customization Scope

Pricing
Objectives of the Study
The objectives of the study are summarized in 5 stages. They are as mentioned below:
Global Electronic Health Records Market

Size and Forecast:
To identify and estimate the market size for the global electronic health records market segmented by product, by type, by application, by end user, region and by value (in U.S. dollars). Also, to understand the consumption/ demand created by consumers of electronic health records between 2019 and 2031.
Market Landscape and Trends:
To identify and infer the drivers, restraints, opportunities, and challenges for the global electronic health records market
Market Influencing Factors:
To find out the factors which are affecting the sales of electronic health records among consumers
To identify and understand the various factors involved in the global electronic health records market affected by the pandemic
To provide a detailed insight into the major companies operating in the market. The profiling will include the financial health of the company's past 2-3 years with segmental and regional revenue breakup, product offering, recent developments, SWOT analysis, and key strategies.
Intended Audience
Raw Material Suppliers

Healthcare Professionals

Medical Researchers and Academics

Retailers, Wholesalers, and Distributors

Healthcare Administrators and Managers

Governments, Associations, and Industrial Bodies

Investors and Trade Experts
Research Methodology
Our research methodology has always been the key differentiating reason which sets us apart in comparison from the competing organizations in the industry. Our organization believes in consistency along with quality and establishing a new level with every new report we generate; our methods are acclaimed and the data/information inside the report is coveted. Our research methodology involves a combination of primary and secondary research methods. Data procurement is one of the most extensive stages in our research process. Our organization helps in assisting the clients to find the opportunities by examining the market across the globe coupled with providing economic statistics for each and every region. The reports generated and published are based on primary & secondary research. In secondary research, we gather data for global Market through white papers, case studies, blogs, reference customers, news, articles, press releases, white papers, and research studies. We also have our paid data applications which includes hoovers, Bloomberg business week, Avention, and others.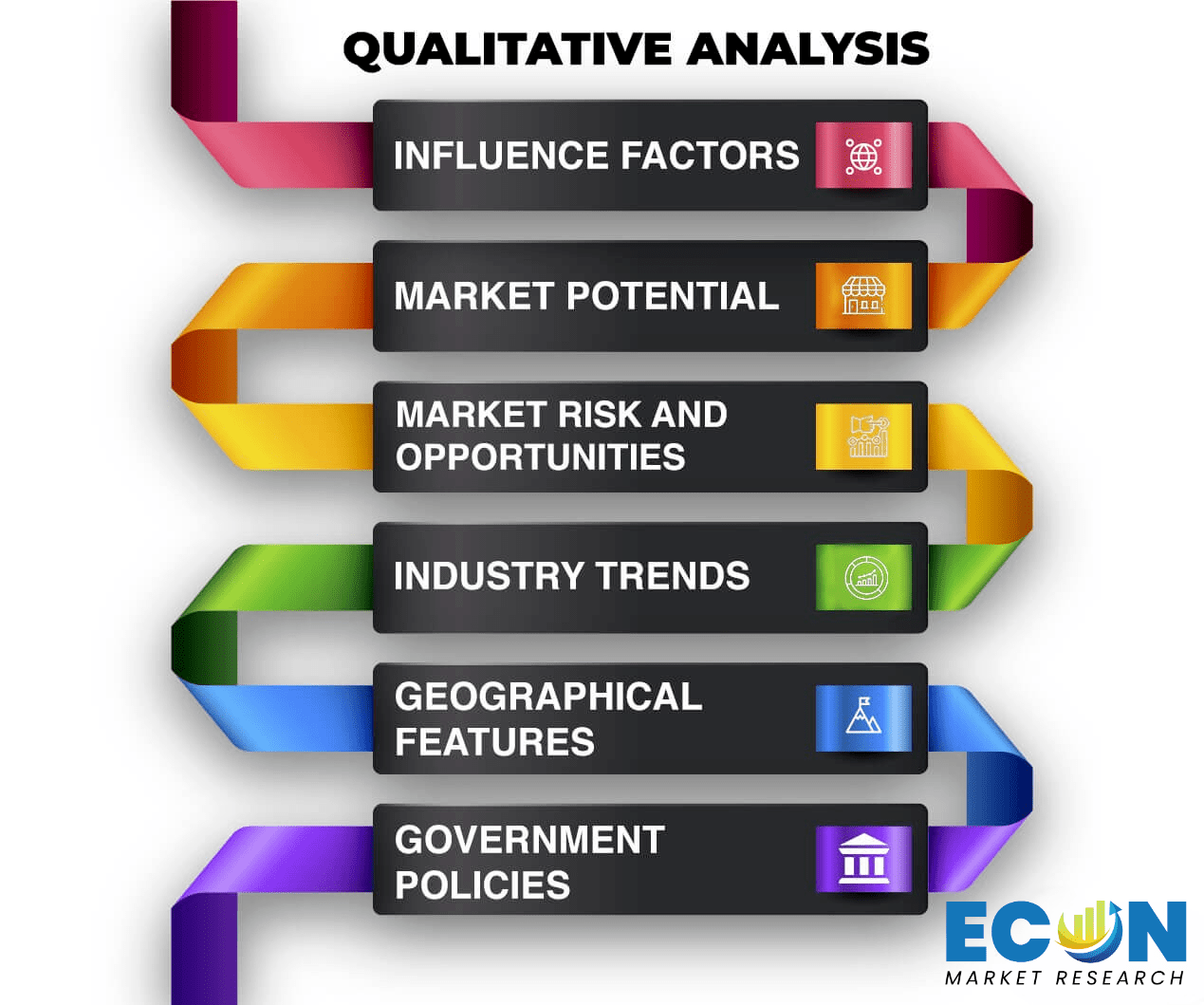 Data Collection
Data collection is the process of gathering, measuring, and analyzing accurate and relevant data from a variety of sources to analyze market and forecast trends. Raw market data is obtained on a broad front. Data is continuously extracted and filtered to ensure only validated and authenticated sources are considered. Data is mined from a varied host of sources including secondary and primary sources.

Primary Research
After the secondary research process, we initiate the primary research phase in which we interact with companies operating within the market space. We interact with related industries to understand the factors that can drive or hamper a market. Exhaustive primary interviews are conducted. Various sources from both the supply and demand sides are interviewed to obtain qualitative and quantitative information for a report which includes suppliers, product providers, domain experts, CEOs, vice presidents, marketing & sales directors, Type & innovation directors, and related key executives from various key companies to ensure a holistic and unbiased picture of the market. 
Secondary Research
A secondary research process is conducted to identify and collect information useful for the extensive, technical, market-oriented, and comprehensive study of the market. Secondary sources include published market studies, competitive information, white papers, analyst reports, government agencies, industry and trade associations, media sources, chambers of commerce, newsletters, trade publications, magazines, Bloomberg BusinessWeek, Factiva, D&B, annual reports, company house documents, investor presentations, articles, journals, blogs, and SEC filings of companies, newspapers, and so on. We have assigned weights to these parameters and quantified their market impacts using the weighted average analysis to derive the expected market growth rate.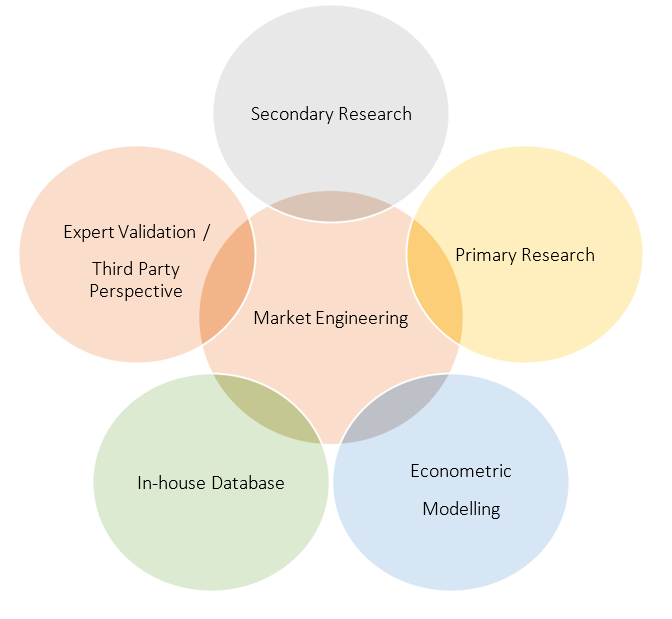 Top-Down Approach & Bottom-Up Approach
In the top – down approach, the Global Batteries for Solar Energy Storage Market was further divided into various segments on the basis of the percentage share of each segment. This approach helped in arriving at the market size of each segment globally. The segments market size was further broken down in the regional market size of each segment and sub-segments. The sub-segments were further broken down to country level market. The market size arrived using this approach was then crosschecked with the market size arrived by using bottom-up approach.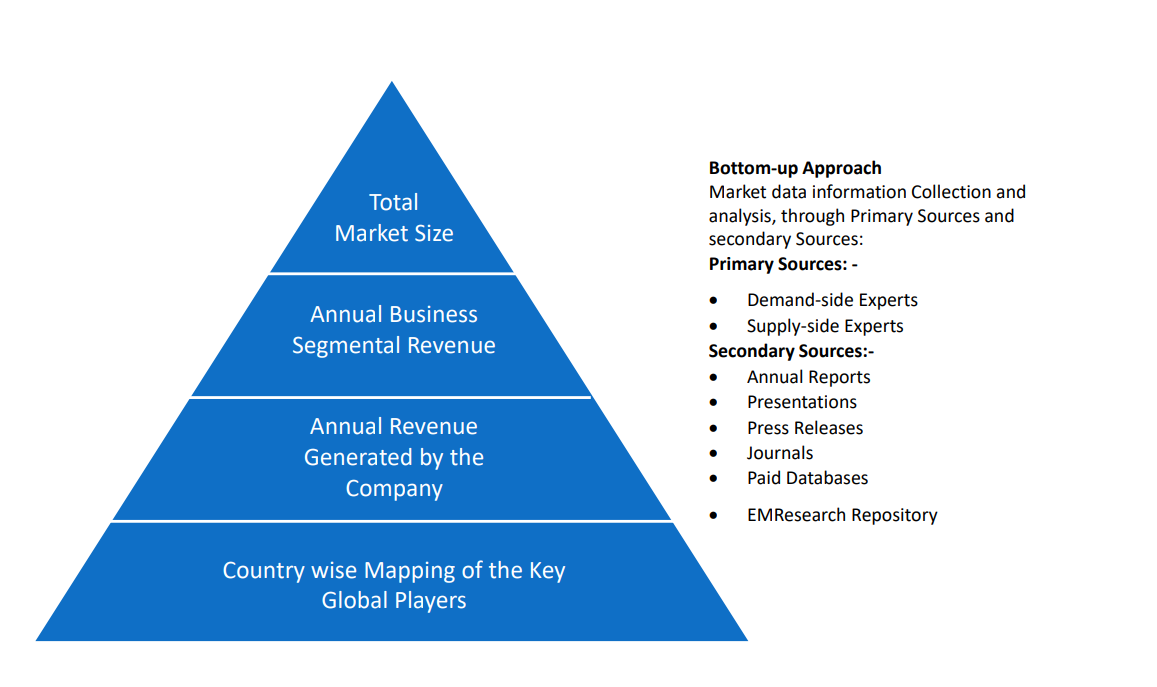 In the bottom-up approach, we arrived at the country market size by identifying the revenues and market shares of the key market players. The country market sizes then were added up to arrive at regional market size of the decorated apparel, which eventually added up to arrive at global market size.
This is one of the most reliable methods as the information is directly obtained from the key players in the market and is based on the primary interviews from the key opinion leaders associated with the firms considered in the research. Furthermore, the data obtained from the company sources and the primary respondents was validated through secondary sources including government publications and Bloomberg.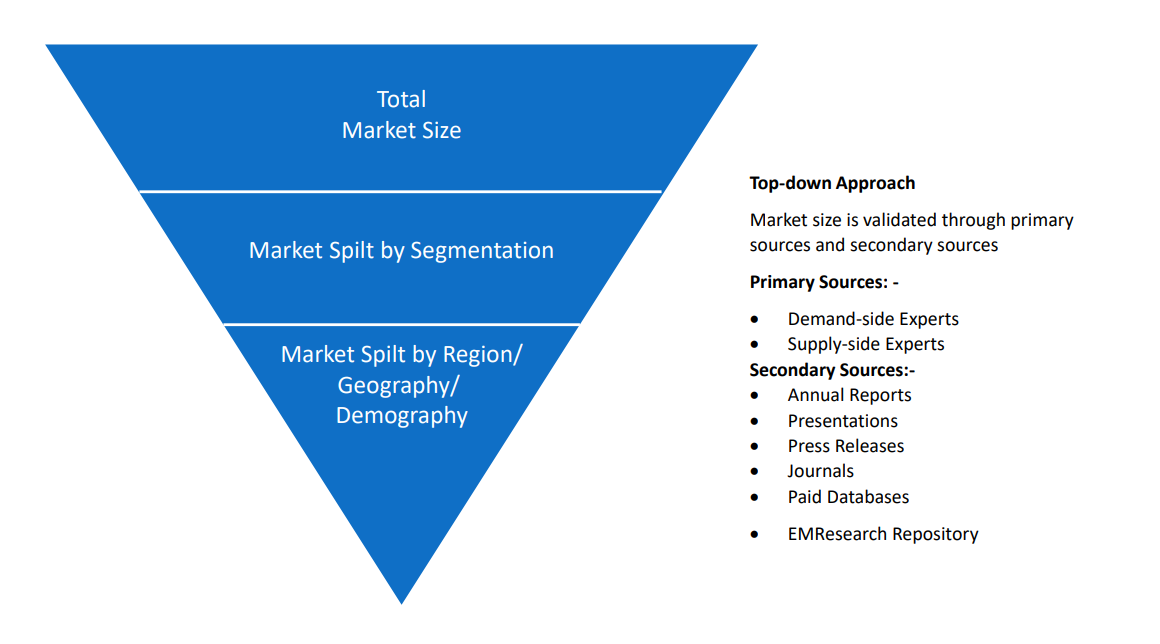 Market Analysis & size Estimation
Post the data mining stage, we gather our findings and analyze them, filtering out relevant insights. These are evaluated across research teams and industry experts. All this data is collected and evaluated by our analysts. The key players in the industry or markets are identified through extensive primary and secondary research. All percentage share splits, and breakdowns have been determined using secondary sources and verified through primary sources. The market size, in terms of value and volume, is determined through primary and secondary research processes, and forecasting models including the time series model, econometric model, judgmental forecasting model, the Delphi method, among Flywheel Energy Storage. Gathered information for market analysis, competitive landscape, growth trends, product development, and pricing trends is fed into the model and analyzed simultaneously.
Quality Checking & Final Review
The analysis done by the research team is further reviewed to check for the accuracy of the data provided to ensure the clients' requirements. This approach provides essential checks and balances which facilitate the production of quality data. This Type of revision was done in two phases for the authenticity of the data and negligible errors in the report. After quality checking, the report is reviewed to look after the presentation, Type and to recheck if all the requirements of the clients were addressed.