The Global Edible Offal Market was valued at USD 41.35 billion in 2022 and is estimated to reach approximately USD 66.85 billion by 2031, at a CAGR of 5.4% from 2023 to 2031. Internal organs and entrails of animals that are fit for human eating, such as the heart, liver, kidneys, and intestines, are referred to as edible offal. In several cuisines, these sections are frequently regarded as a delicacy and can be utilized in a variety of meals, where they serve as a rich source of nutrients like vitamins, minerals, and proteins. Although edible offal is not as frequently consumed as muscle meats, it has a distinctive flavor and texture and is used in many different culinary cultures around the world. The distribution and consumption of animal internal organs and guts that are fit for human use is the focus of the dynamic edible offal market, a subsector of the global food industry. Due to its nutritional value, distinctive flavors, and cultural significance in diverse cuisines, this niche sector has grown in importance. Depending on regional tastes and culinary customs, edible offal can refer to a broad variety of animal parts, including the heart, liver, kidneys, tongue, tripe, and more. These foods are significant aspects of balanced diets because of their high nutrient content, which supplies vital vitamins, minerals, and proteins. Due to growing interest in sustainable and nose-to-tail eating practices, which use the entire animal to reduce food waste, the market for edible offal has expanded. It also improves the economy by being more cost-effective than top cuts of meat for both producers and consumers. To turn offal into delectable dishes, cultures around the world have created a variety of recipes and cooking techniques, adding to the gastronomic diversity of world cuisine. The edible offal business continues to adapt to changing customer tastes and grow, providing suppliers, eateries, and home cooks with a variety of opportunities.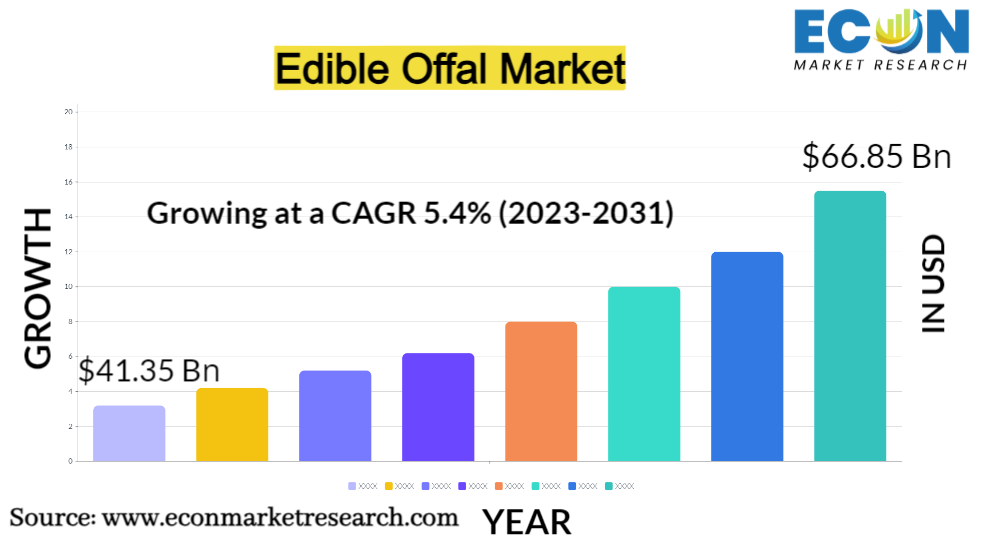 EDIBLE OFFAL MARKET: REPORT SCOPE & SEGMENTATION
| | |
| --- | --- |
| Report Attribute | Details |
| Estimated Market Value (2022) | 41.35 Bn |
| Projected Market Value (2031) | 66.85 Bn |
| Base Year | 2022 |
| Forecast Years | 2023 - 2031 |
| Scope of the Report | Historical and Forecast Trends, Industry Drivers and Constraints, Historical and Forecast Market Analysis by Segment- By Application, By Distribution Channel, By Source, & Region |
| Segments Covered | By Application, By Distribution Channel, By Source, & Region |
| Forecast Units | Value (USD Billion or Million), and Volume (Units) |
| Quantitative Units | Revenue in USD million/billion and CAGR from 2023 to 2031 |
| Regions Covered | North America, Europe, Asia Pacific, Latin America, and Middle East & Africa, and the Rest of World |
| Countries Covered | U.S., Canada, Mexico, U.K., Germany, France, Italy, Spain, China, India, Japan, South Korea, Brazil, Argentina, GCC Countries, and South Africa, among others |
| Report Coverage | Market growth drivers, restraints, opportunities, Porter's five forces analysis, PEST analysis, value chain analysis, regulatory landscape, market attractiveness analysis by segments and region, company market share analysis, and COVID-19 impact analysis. |
| Delivery Format | Delivered as an attached PDF and Excel through email, according to the purchase option. |
Global Edible Offal Market Dynamics
Consumer preferences are changing, which is quite important. Offal products are in more demand as customers become more cognizant of sustainable food practices and nose-to-tail eating. These consumers are looking for nutrient-dense foods. Market trends are heavily influenced by cultural and geographical preferences. There are special offal dishes in every cuisine, which influences the demand for different organs and cuts. Market participants must modify their products in accordance with these varying consumer preferences. Economic considerations are relevant. Consumers on a tight budget can find edible offal to be an appealing alternative to top portions of meat in many cases. Offal intake habits can be influenced by economic factors, particularly changes in the price of meat. The market has also grown as a result of the food industry's emphasis on waste reduction and sustainable practices. Utilizing the entire animal adheres to eco-friendly principles and appeals to those who care about the environment. The market is impacted by governmental restrictions and food safety standards. To maintain the safety of edible offal products, strict quality control methods are required, affecting supply networks and production procedures. Consumer tastes, cultural variety, economic reasons, sustainability trends, and regulatory constraints all have an impact on the market for edible offal. Because of these factors, market participants must continue to be flexible and sensitive to shifting circumstances in order to prosper in this distinctive and developing area of the food industry.
Global Edible Offal Market Drivers
Growing Interest in Sustainable Food Practices
The growing emphasis placed on sustainable food practices on a global scale is one of the main factors driving the market for edible offal. Food options that adhere to these ideals are increasingly in demand as customers become more morally and environmentally conscientious. The concept of edible offal, which includes using the entire animal as opposed to just the prime cuts, is ideal for this story. The environmental effects of consumers' dietary choices, notably their meat intake, have increased in recent years. By accepting edible offal, they help to reduce food waste, which is a major cause of environmental issues. This supports the more general objective of reducing the carbon footprint of food production and distribution. Additionally, ethical issues pertaining to animal care frequently cross paths with sustainable food practices. Since it maximizes the usage of each animal and eliminates the need for excessive breeding and growing animals only for top cuts, using offal shows a commitment to ethical and humane animal farming practices.
Innovative Cooking and Culinary Trends
The market for edible offal is primarily driven by the growth of culinary trends and the search of distinctive flavors and sensations. Edible offal offers an exciting blank canvas for culinary inventiveness as food enthusiasts, chefs, and home cooks continually search for new ways to titillate their palates. For cooks eager to experiment with new flavors and textures, edible offal is an appealing ingredient. Offal is being used creatively and traditionally by chefs all around the world to create new and intriguing flavor combinations. Offal has a variety of uses, including making velvety pate from the liver, luscious hearts from the grill, and flavorful stews from the tripe. In addition, the idea of nose-to-tail eating, in which every component of the animal is honored and used, has gained popularity in the modern food scene. This philosophy promotes offal as the forefront of culinary innovation while also minimizing food waste. Celebrity chefs and the food media both contribute to the growth of this trend. Offal is creatively used in cooking programs, documentaries, and on social media platforms, motivating food lovers to experiment with it at home.
Restraints:
The market for edible offal is significantly constrained by concerns about health. Offal is a source of important nutrients, but it can also pose health risks because of its high cholesterol level and other pollutants. The high cholesterol levels observed in various offal types, particularly the liver, are among the main causes of worry. Increased risk of cardiovascular illnesses is linked to excessive dietary cholesterol intake. Health-conscious consumers may be hesitant to include these goods in their diets, especially those who have diseases like high blood pressure or hypercholesterolemia. Offal can also be harmful to your health if it contains toxins like viruses, insecticides, or heavy metals. In an animal's body, offal organs frequently act as filters, collecting poisons over time.
The market for edible offal is significantly constrained by supply chain disruption susceptibility. Natural catastrophes, transportation problems, commercial disputes, and pandemics are just a few of the causes of these interruptions. The production, delivery, and accessibility of offal products may all be impacted by such interruptions, which may cascade their impacts across the supply chain. The possibility for product shortage is a serious impact of supply chain disruptions. A smooth supply chain is essential for the constant delivery of edible offal to customers and enterprises. Disruptions can cause shortages and unpredictable supply, which is frustrating for both providers and customers. Price volatility is another challenge associated with supply chain disruptions. Limited supply due to disruptions can drive up prices, making offal less affordable for consumers and businesses. This price instability can erode consumer confidence in offal products and deter potential buyers.
Opportunities:
Exploring novel and fascinating flavors and culinary experiences is becoming more and more popular as food culture develops. With its distinctive textures and flavorful flavors, edible offal is a top choice for innovative chefs and home cooks looking to push the boundaries of conventional cuisine. The fusion of several culinary cultures is a significant innovation path. Offal is being used experimentally by chefs in a variety of cultural contexts, where they combine ingredients and cooking methods to produce fusion dishes that satisfy a variety of palates. The customer base is widened, and the consumption of offal is recognized for its cultural diversity. Additionally, offal is being transformed into gourmet dishes using cutting-edge cooking methods. From sous-vide preparations to molecular gastronomy, chefs are elevating offal to new heights, turning once humble cuts into high-end delicacies.
Sustainability and Ethical Consumption
The possibility of promoting offal as a sustainable and moral choice in the beef industry is exceptional as consumers' awareness of their food choices rises. Edible offal has a number of benefits, one of which is that it fits in well with sustainable methods. Utilizing the entire animal decreases food waste, a significant environmental issue. The market can appeal to consumers who are concerned about the environment and want to lessen the impact of food production on the environment by promoting the use of offal. Additionally, ethical questions pertaining to animal care are rising in importance. Offal can be advertised as a responsible choice if it comes from animals bred in humane and ethical ways. The edible offal market also benefits from the narrative of supporting local and small-scale agriculture. Sustainable and ethical offal products can often be traced back to local farms and producers, strengthening the connection between consumers and their food sources.
Segment Overview
By Application
Based on application, the global edible offal market is divided into processed and fresh. The processed category dominates the market with the largest revenue share of around 68.5% in 2022. Processed offal refers to offal products that have undergone various forms of preservation, preparation, or cooking before reaching consumers. This category includes a wide range of products, such as canned offal, frozen offal cuts, sausages, pâtés, and other value-added items. Processed offal is favored for its convenience and longer shelf life. It offers consumers ready-to-use options for incorporating offal into their meals without the need for extensive preparation. fresh offal consists of unprocessed or minimally processed offal products that are typically sold in their natural state, such as raw liver, kidneys, hearts, and other organs. Fresh offal is sought after by traditional and adventurous cooks who prefer to prepare these cuts from scratch.
By Distribution Channel
Based on the distribution channel, the global edible offal market is categorized into food service and retail. The food service category leads the global edible offal market with the largest revenue share of around 67.2% in 2022. The food service segment encompasses restaurants, cafeterias, catering companies, and other establishments that prepare and serve meals to consumers. Within this segment, edible offal often finds a place on restaurant menus, where it can be featured in a variety of dishes, from gourmet offerings in upscale dining establishments to more traditional or culturally specific preparations in ethnic eateries. Food service providers often value offal for its versatility, flavor, and potential to create unique and memorable dining experiences. The retail segment refers to the distribution of edible offal products through grocery stores, supermarkets, butcher shops, and online retailers. Here, consumers have the opportunity to purchase offal for home cooking and experimentation. Retail packaging, labeling, and presentation play a significant role in attracting consumers, as does the availability of various offal cuts and products, both fresh and processed.
By Source
Based on the source, the global edible offal market is segmented into cattle, goat, pig, sheep, poultry, horse, and others. The pig offal segment dominates the edible offal market. Pig offal includes organs and cuts from pigs, such as pork liver, kidneys, and chitterlings (intestines). Pork offal is widely used in many culinary traditions globally, with applications ranging from pates to sausages. Goat offal comprises organs and cuts from goats. Common goat offal products include goat liver, kidneys, and intestines. Goat offal is highly regarded for its tenderness and distinctive taste, particularly in Mediterranean, Middle Eastern, and African cuisines. Cattle offal includes organs and cuts from cows and bulls. Popular items from this category include beef liver, tripe, heart, and tongue. Cattle offal is known for its robust flavors and versatility in various cuisines, often featured in dishes like liver and onions or menudo. Sheep offal consists of organs and cuts from sheep, including lamb's liver, kidneys, and sweetbreads. Sheep offal is valued for its delicate flavor and is a staple in dishes like haggis and liver and onions. Poultry offal encompasses organ meats and parts from chickens, turkeys, ducks, and other birds. Common poultry offal includes chicken livers, gizzards, and hearts. Poultry offal is popular in a variety of cuisines and is used in dishes like pâté and giblet gravy.
Global Edible Offal Market Overview by Region
The global edible offal market is categorized into North America, Europe, Asia-Pacific, and the Rest of the World. Asia Pacific emerged as the leading region, capturing approximately 44.4% of the market share in 2022. In many Asian nations, edible offal has great cultural importance. Offal has a long history of being used into traditional meals in various Asian cuisines, which has maintained and even increased demand for it. For instance, offal slices are frequently used in meals like dim sum in China, yakiniku in Japan, and pho in Vietnam. A sizeable section of the world's population lives in Asia and the Pacific, and as urbanization there keeps increasing, customers there are exposed to a larger range of culinary options. As a result, people now value different and real eating experiences more, especially those that involve edible offal. Culinary innovation is exploding in the area, as chefs and foodies experiment with offal to make novel and intriguing dishes. The nutritional importance of edible offal, which includes important vitamins and minerals, is well known. Offal is regarded as a source of nutrient-rich and sustainable protein in a region where health and wellness are becoming more important issues. Offal is frequently more economical than top cuts of beef, making it a desirable option for consumers in Asia and the Pacific who are concerned about their budgets. Its broad usage has been facilitated by its accessibility.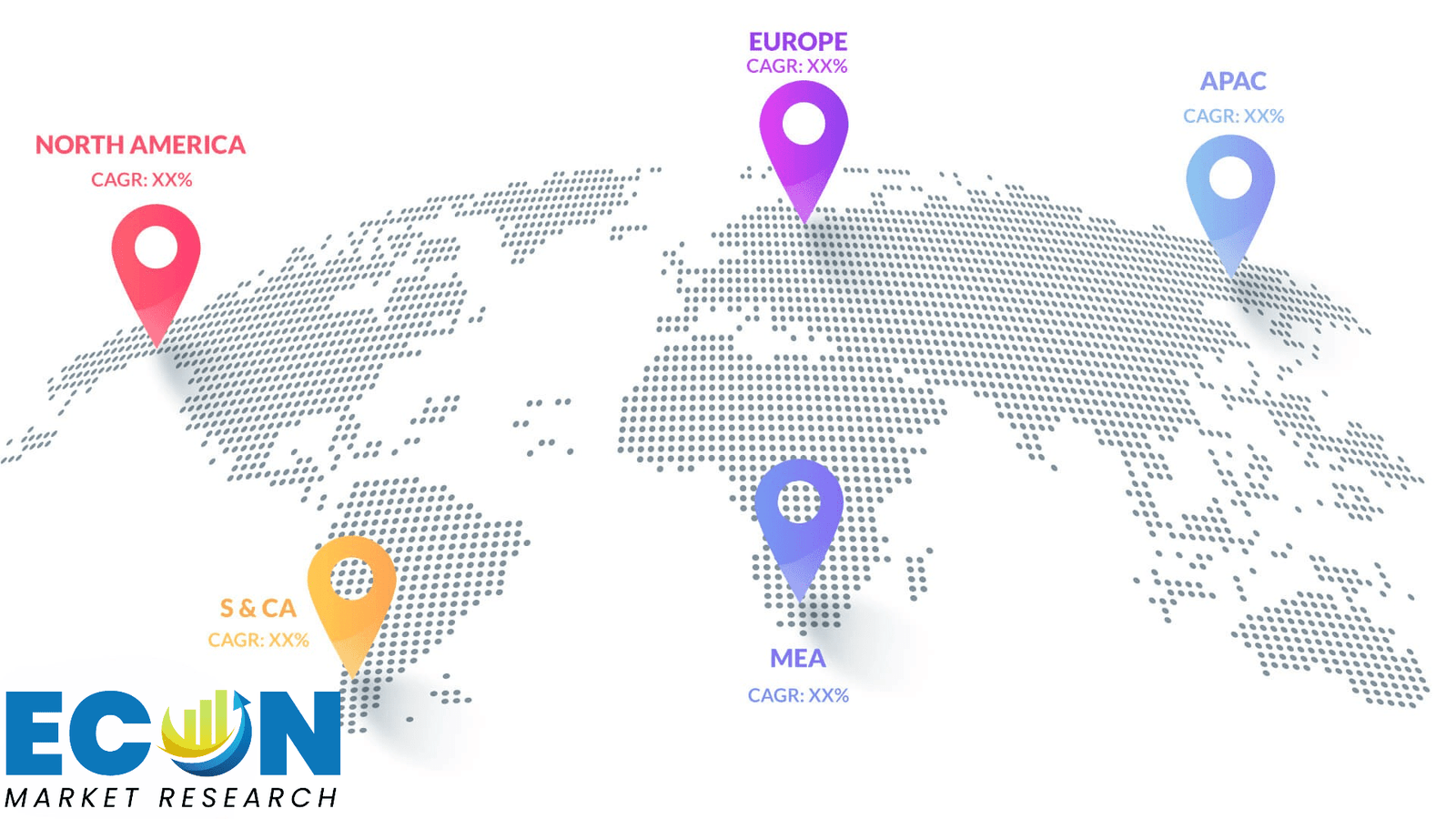 Global Edible Offal Market Competitive Landscape
In the global edible offal market, a few major players exert significant market dominance and have established a strong regional presence. These leading companies remain committed to continuous research and development endeavors and actively engage in strategic growth initiatives, including product development, launches, joint ventures, and partnerships. By pursuing these strategies, these companies aim to strengthen their market position, expand their customer base, and capture a substantial share of the market.
Some of the prominent players in the global edible offal market include Offal Good; Offal Delight; Offal Cuisine; JBS Food Canada; Alpha Field Products Co; Yoma International; Cenfood International Inc.; Sure Good Foods Ltd.; Organic Meat Company, and various other key players.
Global Edible Offal Market Recent Developments
In May 2023, The Relevance of Food Neophobia and Consumer Intention to Purchase Edible Beef Offal. Based on the results, suggestions, and implications were made to promote the consumption of edible beef, such as promoting cooking programs with famous chefs, new products, or new packaging for edible offal.
Scope of the Global Edible Offal Market Report
Edible Offal Market Report Segmentation
ATTRIBUTE

DETAILS

By Application

By Distribution Channel

By Source

Cattle

Goat

Pig

Sheep

Poultry

Horse

Others

By Geography

North America (USA,

and Canada)

Europe (UK, Germany, France, Italy, Spain, Russia and Rest of Europe)

Asia Pacific (Japan, China, India, Australia, Southeast Asia and Rest of Asia Pacific)

Latin America (Brazil, Mexico, and Rest of Latin America)

Middle East & Africa (South Africa, GCC, and Rest of Middle East & Africa)

Customization Scope

Pricing
Objectives of the Study
The objectives of the study are summarized in 5 stages. They are as mentioned below:
Global Edible Offal Market

Size and Forecast:
To identify and estimate the market size for the global edible offal market segmented by application, by distribution channel, by source, region and by value (in U.S. dollars). Also, to understand the consumption/ demand created by consumers of edible offal between 2019 and 2031.
Market Landscape and Trends:
To identify and infer the drivers, restraints, opportunities, and challenges for the global edible offal market
Market Influencing Factors:
To find out the factors which are affecting the sales of edible offal among consumers
To identify and understand the various factors involved in the global edible offal market affected by the pandemic
To provide a detailed insight into the major companies operating in the market. The profiling will include the financial health of the company's past 2-3 years with segmental and regional revenue breakup, product offering, recent developments, SWOT analysis, and key strategies.
Intended Audience
Businesses and Producers

Food Service Industry

Chefs and Culinary Professionals

Health Professionals

Retailers, Wholesalers, and Distributors

Governments, Associations, and Industrial Bodies

Investors and Trade Experts
Research Methodology
Our research methodology has always been the key differentiating reason which sets us apart in comparison from the competing organizations in the industry. Our organization believes in consistency along with quality and establishing a new level with every new report we generate; our methods are acclaimed and the data/information inside the report is coveted. Our research methodology involves a combination of primary and secondary research methods. Data procurement is one of the most extensive stages in our research process. Our organization helps in assisting the clients to find the opportunities by examining the market across the globe coupled with providing economic statistics for each and every region. The reports generated and published are based on primary & secondary research. In secondary research, we gather data for global Market through white papers, case studies, blogs, reference customers, news, articles, press releases, white papers, and research studies. We also have our paid data applications which includes hoovers, Bloomberg business week, Avention, and others.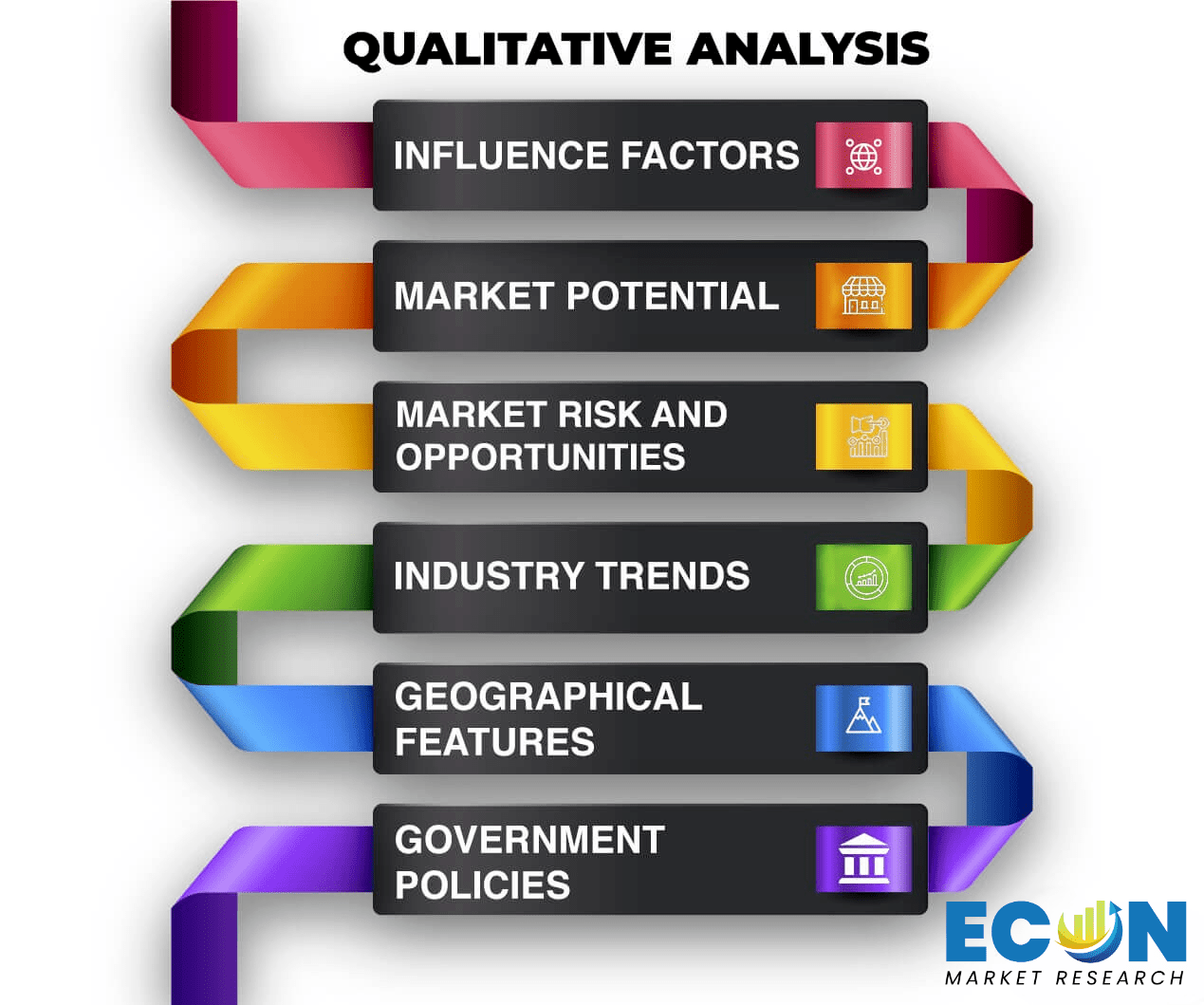 Data Collection
Data collection is the process of gathering, measuring, and analyzing accurate and relevant data from a variety of sources to analyze market and forecast trends. Raw market data is obtained on a broad front. Data is continuously extracted and filtered to ensure only validated and authenticated sources are considered. Data is mined from a varied host of sources including secondary and primary sources.

Primary Research
After the secondary research process, we initiate the primary research phase in which we interact with companies operating within the market space. We interact with related industries to understand the factors that can drive or hamper a market. Exhaustive primary interviews are conducted. Various sources from both the supply and demand sides are interviewed to obtain qualitative and quantitative information for a report which includes suppliers, product providers, domain experts, CEOs, vice presidents, marketing & sales directors, Type & innovation directors, and related key executives from various key companies to ensure a holistic and unbiased picture of the market. 
Secondary Research
A secondary research process is conducted to identify and collect information useful for the extensive, technical, market-oriented, and comprehensive study of the market. Secondary sources include published market studies, competitive information, white papers, analyst reports, government agencies, industry and trade associations, media sources, chambers of commerce, newsletters, trade publications, magazines, Bloomberg BusinessWeek, Factiva, D&B, annual reports, company house documents, investor presentations, articles, journals, blogs, and SEC filings of companies, newspapers, and so on. We have assigned weights to these parameters and quantified their market impacts using the weighted average analysis to derive the expected market growth rate.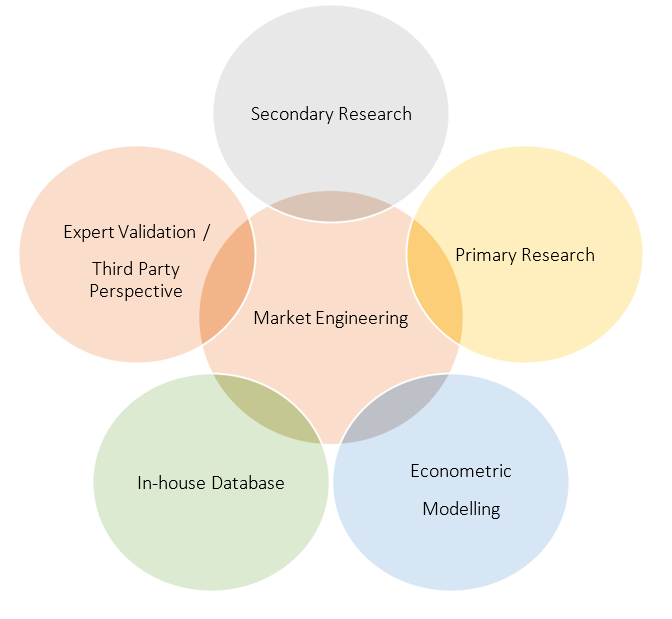 Top-Down Approach & Bottom-Up Approach
In the top – down approach, the Global Batteries for Solar Energy Storage Market was further divided into various segments on the basis of the percentage share of each segment. This approach helped in arriving at the market size of each segment globally. The segments market size was further broken down in the regional market size of each segment and sub-segments. The sub-segments were further broken down to country level market. The market size arrived using this approach was then crosschecked with the market size arrived by using bottom-up approach.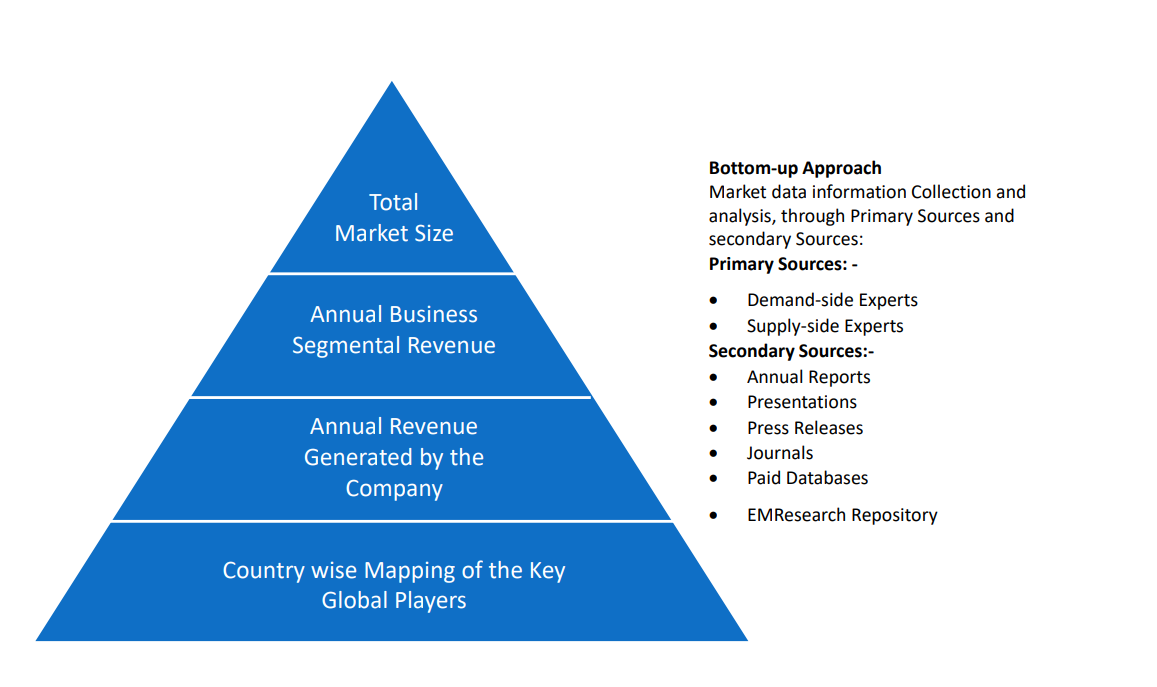 In the bottom-up approach, we arrived at the country market size by identifying the revenues and market shares of the key market players. The country market sizes then were added up to arrive at regional market size of the decorated apparel, which eventually added up to arrive at global market size.
This is one of the most reliable methods as the information is directly obtained from the key players in the market and is based on the primary interviews from the key opinion leaders associated with the firms considered in the research. Furthermore, the data obtained from the company sources and the primary respondents was validated through secondary sources including government publications and Bloomberg.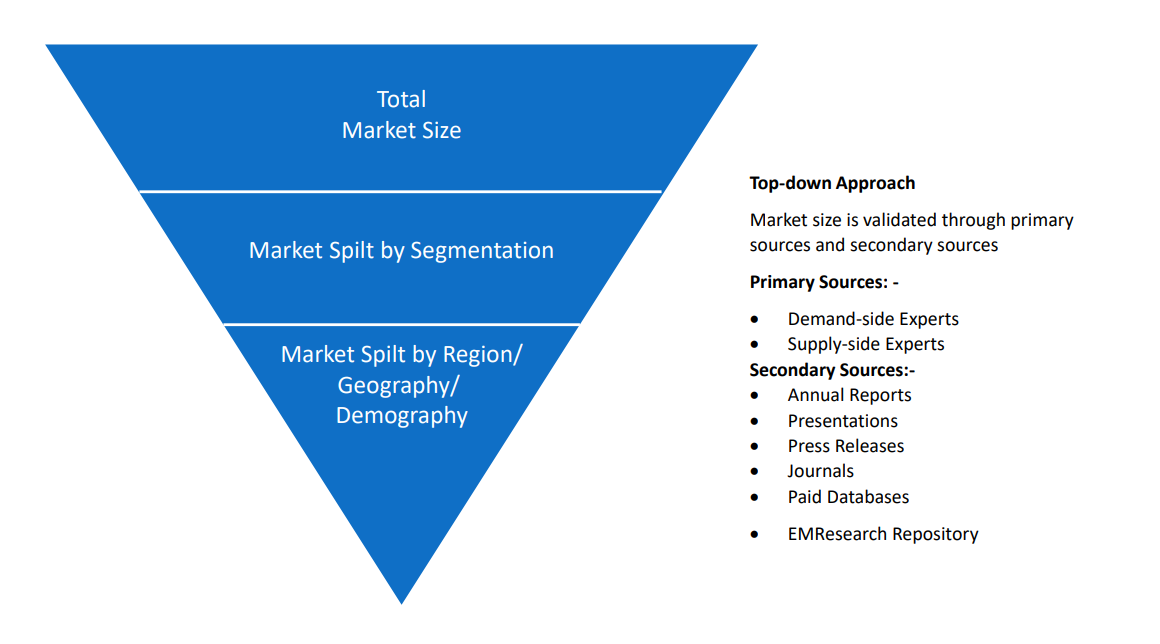 Market Analysis & size Estimation
Post the data mining stage, we gather our findings and analyze them, filtering out relevant insights. These are evaluated across research teams and industry experts. All this data is collected and evaluated by our analysts. The key players in the industry or markets are identified through extensive primary and secondary research. All percentage share splits, and breakdowns have been determined using secondary sources and verified through primary sources. The market size, in terms of value and volume, is determined through primary and secondary research processes, and forecasting models including the time series model, econometric model, judgmental forecasting model, the Delphi method, among Flywheel Energy Storage. Gathered information for market analysis, competitive landscape, growth trends, product development, and pricing trends is fed into the model and analyzed simultaneously.
Quality Checking & Final Review
The analysis done by the research team is further reviewed to check for the accuracy of the data provided to ensure the clients' requirements. This approach provides essential checks and balances which facilitate the production of quality data. This Type of revision was done in two phases for the authenticity of the data and negligible errors in the report. After quality checking, the report is reviewed to look after the presentation, Type and to recheck if all the requirements of the clients were addressed.