The global dry shipping container market was valued at USD 9.32 billion in 2022 and is estimated to reach approximately USD 20.83 billion by 2031, at a CAGR of 9.35% from 2023 to 2031.
The market for dry shipping containers has experienced a notable development in the recent past. Dry shipping contains uniform metal boxes, which were first used in the middle of the 20th century, completely changed the international transportation sector. These containers are made to carry a variety of dry items in a safe, economical, and effective way, including consumer goods, apparel, electronics, and machinery. The uniform dimensions of dry shipping containers, specifically the 20-foot and 40-foot lengths, have promoted compatibility across many transportation modalities, including trucks, trains, and ships, rendering them a fundamental component of contemporary logistics and international commerce networks. Because of their sturdy design, which shields the contents from the weather and guarantees the safe delivery of cargo to its destination, these containers are made to resist the demanding conditions of international shipping. The market for dry shipping containers has grown rapidly in response to the rising need for economical, dependable, and effective freight transportation. In order to improve supply chain visibility and cargo protection, the industry has seen advancements in container design and materials, the creation of customized containers for various types of cargo, and the integration of tracking and security technology. The dry shipping container market is a vital component of the global economy, enabling the transportation of commodities across borders and oceans, as long as global trade continues to flourish.
DRY SHIPPING COINTAINER MARKET: REPORT SCOPE & SEGMENTATION
| | |
| --- | --- |
| Report Attribute | Details |
| Estimated Market Value (2022) | 9.32 Bn |
| Projected Market Value (2031) | 20.83 Bn |
| Base Year | 2022 |
| Forecast Years | 2023 - 2031 |
| Scope of the Report | Historical and Forecast Trends, Industry Drivers and Constraints, Historical and Forecast Market Analysis by Segment- By Application, By Product, By Size , & Region |
| Segments Covered | By Application, By Product, By Size, & Region |
| Forecast Units | Value (USD Billion or Million), and Volume (Units) |
| Quantitative Units | Revenue in USD million/billion and CAGR from 2023 to 2031 |
| Regions Covered | North America, Europe, Asia Pacific, Latin America, and Middle East & Africa, and the Rest of World |
| Countries Covered | U.S., Canada, Mexico, U.K., Germany, France, Italy, Spain, China, India, Japan, South Korea, Brazil, Argentina, GCC Countries, and South Africa, among others |
| Report Coverage | Market growth drivers, restraints, opportunities, Porter's five forces analysis, PEST analysis, value chain analysis, regulatory landscape, market attractiveness analysis by segments and region, company market share analysis, and COVID-19 impact analysis. |
| Delivery Format | Delivered as an attached PDF and Excel through email, according to the purchase option. |
Global Dry Shipping Container Market Dynamics
The demand for dry shipping containers is impacted greatly by fluctuations in the volume of international trade. The dynamics of the container market can be affected by changes in cargo volumes brought about by trade agreements, geopolitical events, and economic conditions. The container market is directly impacted by the expansion, consolidation, and technical developments in the shipping sector. Container efficiency, capacity, and size are influenced by environmental legislation, larger vessels, and port infrastructure development. Supply and demand for containers must be balanced. Undersupply can result in a spike in container pricing and transportation costs, while oversupply can lower container rates and profitability for container lessors. Container security, efficiency, and environmental sustainability are improved by innovations in design, materials, and tracking systems, which have an impact on market trends. The adoption of eco-friendly container technologies is influenced by rising environmental regulations, which also affect container pricing and operating expenses. Examples of these restrictions include emissions limits and ballast water treatment requirements. Economic factors that affect shipping and container financing include interest rates, inflation, and currency exchange rates. These factors also change the dynamics of the market. Market dynamics and pricing are influenced by the intricacies of container ownership and lease agreements, as well as the competitive environment among lessors. Container flows and market dynamics can be affected by the creation of new trade routes, the enlargement of port facilities, and the establishment of multimodal transportation linkages.
Global Dry Shipping Container Market Drivers
Container Fleet Expansion
The need for a larger and more varied container fleet becomes apparent as consumer demand drives global trade to continue expanding. In order to satisfy shipping demands, increasing trade volumes demand a wider and more effective container capacity. Shipping containers are becoming much more in demand as e-commerce grows. In order to serve this growing market sector, online retailers need quick and dependable shipping for their goods, which has led to a growth of the container fleet. Increased export and import activity is a result of economic expansion in developing and emerging economies. The expansion of fleets by container shipping companies is necessary to handle the increased flow of commodities along these rapidly growing trade corridors. The efficiency and security of container transit are improved by the development of creative container designs, materials, and tracking technology. Eco-friendly container technologies are becoming more and more popular due to changing environmental rules and an increasing focus on sustainability. To comply with these rules and lessen the carbon impact of shipping operations, it is crucial to expand container fleets with ecologically friendly solutions.
Port Productivity and Technology
Ports now have to handle products more efficiently because of the increased cargo volumes brought about by the ongoing expansion of global trade. Technology provides the tools to maximize cargo flow and lessen port traffic. Companies across a range of sectors are looking for supply chain solutions that are more dependable and efficient. As important supply chain nodes, ports are under pressure to use technology to boost productivity and shorten response times, which will increase the efficacy of the supply chain as a whole. Effective ports are essential to a nation's ability to compete economically. Countries understand that cutting edge technology can boost their ports' competitiveness, drawing in international shipping lines and boosting trade income. Attaining environmental sustainability also benefits from technological advancements in port operations. Modernizing aging port infrastructure is necessary to handle the newest ships and cargo handling specifications. Ports can better meet changing customer expectations and industry standards by investing in technology. By enabling ports to make data-driven decisions, data analytics and automation technologies improve operational effectiveness, lower human error rates, and optimize resource allocation.
Restraints:
Oversupply and Underutilization
Intense rivalry brought on by an abundance of supply can lower prices and, as a result, profit margins. Businesses are compelled to lower their prices in order to draw in clients, which lowers their profitability. Overproduction can result in excess inventory in the manufacturing and retail industries. Keeping more inventory than you need locks up cash, raises storage expenses, and can cost you money if the items become outdated or lose value. Resources such as labor, energy, and raw materials are strained by oversupply. This waste not only has an impact on expenses but also has the potential to harm the environment by increasing carbon emissions and depleting resources. Inefficiencies result from underusing resources like factories or transportation equipment. Because fixed costs are dispersed over a lower output, the cost per unit rises and productivity falls overall. Financial instability can result from oversupply, especially in industries where businesses have made significant expansion investments. A decline in demand can cause certain businesses to experience financial losses, debt loads, or even insolvency. Market volatility, characterized by irregular price and demand fluctuations, is sometimes caused by oversupply. It is difficult for firms to plan ahead and make strategic decisions because of this uncertainty.
Environmental Regulations and Compliance Costs
Businesses are frequently compelled by environmental restrictions to satisfy emissions standards, invest in cleaner technologies, and implement sustainable practices. Compliance requires large capital investments, which raises operating expenses and reduces corporate margins. Businesses could have to discover alternate sources of energy, materials, or water in order to comply with environmental rules, especially if their current practices are unsustainable. These changes might be expensive and difficult in terms of logistics. Adherence to environmental regulations necessitates copious documentation, reporting, and close observation. An excessive administrative load might take resources away from important corporate operations. There can be severe penalties, legal ramifications, and reputational harm associated with breaking environmental standards. Companies' finances are further burdened by the resources they must devote to averting these dangers. Companies that work in international supply chains can face difficulties if they have to make sure that several nations, each with its own set of environmental laws, are compliant.
Opportunities:
Sustainability and Eco-friendly Containers
Businesses can show that they care about the environment by adopting eco-friendly packaging and sustainability. By doing this, they can improve their reputation and draw in more environmentally sensitive customers. Eco-friendly packaging is frequently seen as an indication of a business's commitment to lessening its environmental effect and carbon footprint. Investing in environmentally friendly containers puts firms in a position to comply with changing environmental legislation, since environmental regulations and standards are receiving more and more attention. This keeps the business's operations safe from future fines and legal problems while also making sure they can withstand stricter laws. Numerous customers actively search for environmentally friendly goods and packaging. Businesses can tap into a burgeoning market sector and perhaps increase sales and market share by providing sustainable container solutions. Creating environmentally friendly containers promotes material and design innovation. Businesses can generate new revenue streams by patenting and licensing their environmentally friendly container technologies. Due to its ability to reduce waste, use lighter materials during transit, and enhance overall logistics, sustainable containers can improve supply chain efficiency.
Smart Containers and IoT Integration
IoT-enabled smart containers provide real-time visibility over the position, state, and status of cargo while it is in transit. Supply chain transparency is improved by this data, which also lowers the possibility of loss, theft, or damage and facilitates prompt decision-making. Businesses can maximize asset and container utilization with IoT integration. Businesses can enhance operations, cut down on idle time, and optimize logistics by keeping an eye on container availability and utilization. Smart containers equipped with IoT sensors can keep an eye on variables like humidity, temperature, and pressure. This is particularly useful for assuring the quality and safety of cargo while transporting delicate commodities like medications and perishable goods. IoT technology makes it possible to perform preventative maintenance on containers and related equipment, which lowers the likelihood of failure and cuts down on downtime. IoT technology can facilitate compliance with regulations related to the transportation of hazardous materials and other specific requirements by tracking and reporting relevant data.
Segment Overview
By Application
Based on application, the global dry shipping container market is divided into consumer goods transport, industrial transport, food transport, others. Consumer goods transport, this segment primarily deals with the shipping of everyday consumer products, ranging from electronics, clothing, and household items to personal goods. Dry containers are the backbone of this sector, as they provide a secure and efficient means of transporting these goods from manufacturers to retailers or directly to consumers. Industrial transport refers to the shipping of machinery, equipment, raw materials, and industrial products. These containers are often used to transport heavy and oversized cargo, such as industrial machinery or construction materials. They play a crucial role in facilitating the global supply chain for industrial sectors. The food transport segment specializes in the shipment of perishable and non-perishable food products. Refrigerated or insulated containers, a subset of dry containers, are essential for maintaining the quality and freshness of food during transit. These containers are equipped with temperature and humidity control systems to ensure food safety and quality.
By Product
Based on the product, the global dry shipping container market is categorized into ISO containers, non-standardized containers. The ISO containers category leads the global dry shipping container market with the largest revenue share in 2022. ISO containers, also known as standardized containers, adhere to international standards set by the International Organization for Standardization (ISO). These containers come in standard sizes, with the most common being the 20-foot and 40-foot lengths. They are characterized by their uniform dimensions, corner castings for easy handling, and standardized locking mechanisms. ISO containers are designed for intermodal transport, meaning they can seamlessly move between different modes of transportation, such as ships, trucks, and trains. These standardized containers are highly versatile and widely used in global trade, offering efficiency, security, and ease of handling. ISO containers are ideal for transporting a wide range of dry goods, from consumer products to industrial equipment. Non-standardized containers, as the name suggests, do not conform to the standard dimensions and specifications of ISO containers. These containers are typically designed for specialized cargo or unique transportation requirements. They come in various sizes and shapes, and their features can vary widely depending on the cargo they are intended to carry. Non-standardized containers are used when standard ISO containers are not suitable for specific cargo, such as oversized or irregularly shaped items. They cater to niche markets and offer customized solutions for transporting goods that cannot fit into standard containers.
By Size
Based on size, the global dry shipping container market is segmented into 20' containers, 40' containers, high cube containers, others. 20-foot containers, these containers, often referred to as "20-footers," are one of the most common and standard sizes in the shipping industry. They are 20 feet in length, 8 feet in width, and 8 feet 6 inches in height. These containers are versatile and widely used for transporting a variety of dry goods, from consumer products to industrial equipment. Their smaller size makes them suitable for shipments that do not require the space of larger containers. The 40-foot containers, often called "40-footers," are another standard size commonly used in the industry. They have double the length of 20-foot containers, making them ideal for shipping larger quantities of goods. They offer a substantial increase in cargo capacity and are commonly used for bulk cargo or larger items. High cube containers are similar to 20-foot and 40-foot containers but have an increased height, typically around 9 feet 6 inches. This extra height allows for the storage of oversized cargo and goods that cannot fit into standard containers. High cube containers are especially useful for transporting tall items or cargo that requires additional vertical space.
Global Dry Shipping Container Market Overview by Region
The global dry shipping container market is categorized into North America, Europe, Asia-Pacific, and the Rest of the World. Asia-Pacific emerged as the leading region, capturing the largest market share in 2022. Imports and exports have increased dramatically as a result of the region's quick industrialization and economic expansion. The Asia-Pacific region functions as the global center for manufacturing, with China, in particular, being the world's biggest exporter of goods, playing a crucial role. Because of this, there is a huge demand for dry shipping containers in the area. This demand is driven by the need to carry a variety of items, including consumer goods, electronics, and machinery. Furthermore, the region's wide port network and sophisticated transportation system have contributed to its market domination. The Asia-Pacific region is at the center of international trade routes because of these vital logistics centers, which guarantee effective communication between land and water. The region's popularity has increased because to the growing globalization of supply chains and the growth of e-commerce, as businesses need dependable and affordable containerized transportation solutions. Asia-Pacific's manufacturing and shipping sectors are still developing, with an emphasis on technological integration and sustainability to boost container operations' effectiveness. Taking into account these considerations, it is anticipated that Asia-Pacific will maintain its strong position as the market leader for dry shipping containers, acting as the backbone of the global supply chain and trade environment.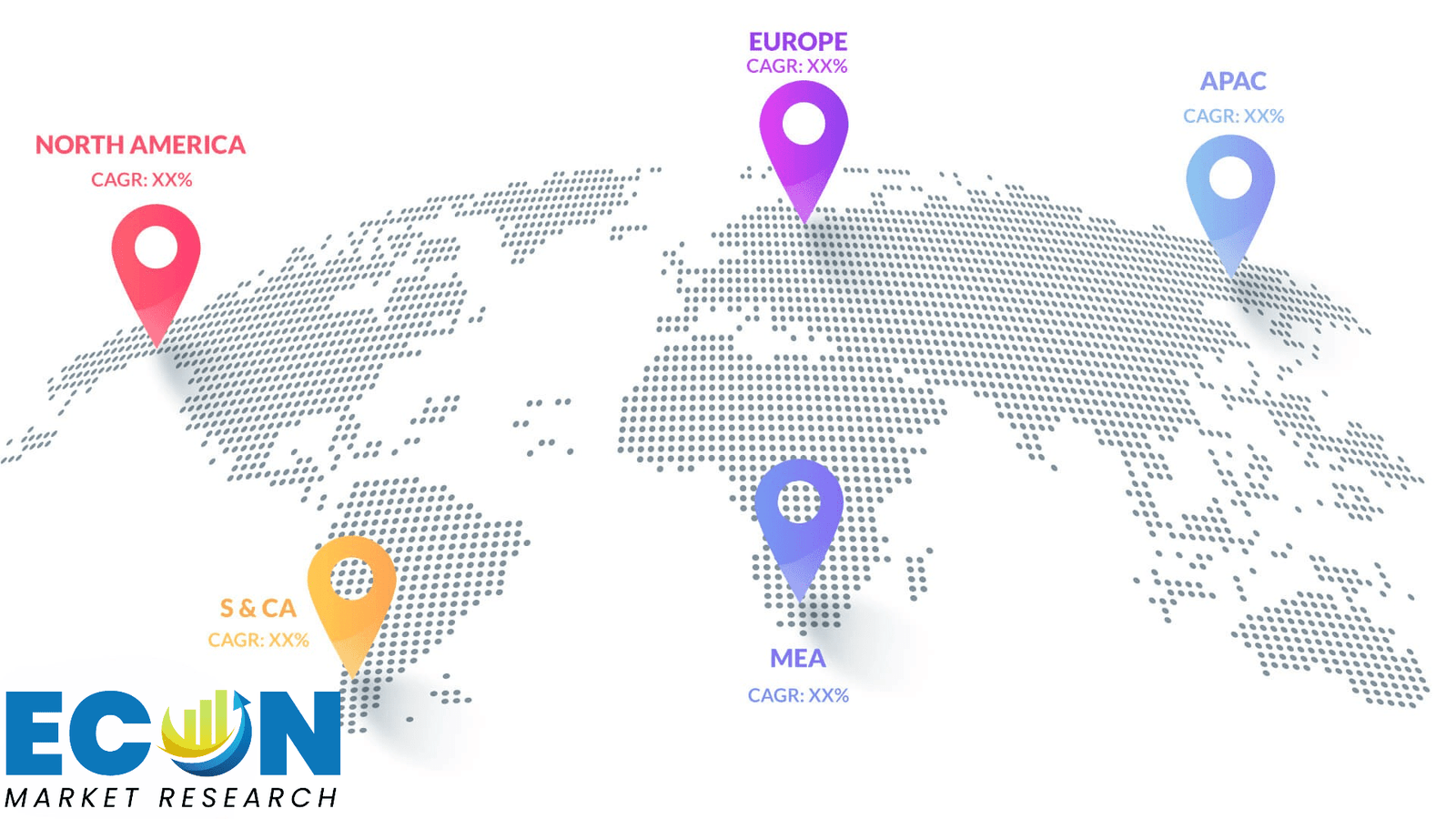 Global Dry Shipping Container Market Competitive Landscape
In the global dry shipping container market, a few major players exert significant market dominance and have established a strong regional presence. These leading companies remain committed to continuous research and development endeavors and actively engage in strategic growth initiatives, including product development, launches, joint ventures, and partnerships. By pursuing these strategies, these companies aim to strengthen their market position, expand their customer base, and capture a substantial share of the market.
Some of the prominent players in the global dry shipping container market include BNH Gas Tanks, Bulkhaul Limited, Danteco Industries BV, NewPort Tank, A.P. Moller - Maersk, COSCO SHIPPING Development Co., Ltd., CXIC Group, Singamas Container Holdings Limited, TLS Offshore Containers/TLS Special Containers, W&K Containers, Inc., Thurston Group Limited, OEG, Sea Box, Inc., and various other key players.
Global Dry Shipping Container Market Recent Developments
In September 2023, The GCT Bayonne and New York container terminals are fully acquired by CMA CGM. The Group enhances its standing as a major supply chain participant in the US and a global port terminal operator by making this calculated investment, offering end-to-end solutions to clients throughout the globe.
Scope of the Global Dry Shipping Container Market Report
Dry Shipping Container Market Report Segmentation
ATTRIBUTE

DETAILS

By Application

Consumer Goods Transport

Industrial Transport

Food Transport

Others

By Product

ISO Containers

Non-standardized Containers

By Size

20' Containers

40' Containers

High Cube Containers

Others

By Geography

North America (USA,

and Canada)

Europe (UK, Germany, France, Italy, Spain, Russia and Rest of Europe)

Asia Pacific (Japan, China, India, Australia, Southeast Asia and Rest of Asia Pacific)

Latin America (Brazil, Mexico, and Rest of Latin America)

Middle East & Africa (South Africa, GCC, and Rest of Middle East & Africa)

Customization Scope

Pricing
Objectives of the Study
The objectives of the study are summarized in 5 stages. They are as mentioned below:
Global Dry Shipping Container Market

Size and Forecast:
To identify and estimate the market size for the global dry shipping container market segmented by product, by application, by size, region and by value (in U.S. dollars). Also, to understand the consumption/ demand created by consumers of dry shipping container between 2019 and 2031.
Market Landscape and Trends:
To identify and infer the drivers, restraints, opportunities, and challenges for the global dry shipping container market
Market Influencing Factors:
To find out the factors which are affecting the sales of dry shipping container among consumers
To identify and understand the various factors involved in the global dry shipping container market affected by the pandemic
To provide a detailed insight into the major companies operating in the market. The profiling will include the financial health of the company's past 2-3 years with segmental and regional revenue breakup, product offering, recent developments, SWOT analysis, and key strategies.
Intended Audience
Raw Material Suppliers

Retailers, Wholesalers, and Distributors

Governments, Associations, and Industrial Bodies

Investors and Trade Experts
Research Methodology
Our research methodology has always been the key differentiating reason which sets us apart in comparison from the competing organizations in the industry. Our organization believes in consistency along with quality and establishing a new level with every new report we generate; our methods are acclaimed and the data/information inside the report is coveted. Our research methodology involves a combination of primary and secondary research methods. Data procurement is one of the most extensive stages in our research process. Our organization helps in assisting the clients to find the opportunities by examining the market across the globe coupled with providing economic statistics for each and every region. The reports generated and published are based on primary & secondary research. In secondary research, we gather data for global Market through white papers, case studies, blogs, reference customers, news, articles, press releases, white papers, and research studies. We also have our paid data applications which includes hoovers, Bloomberg business week, Avention, and others.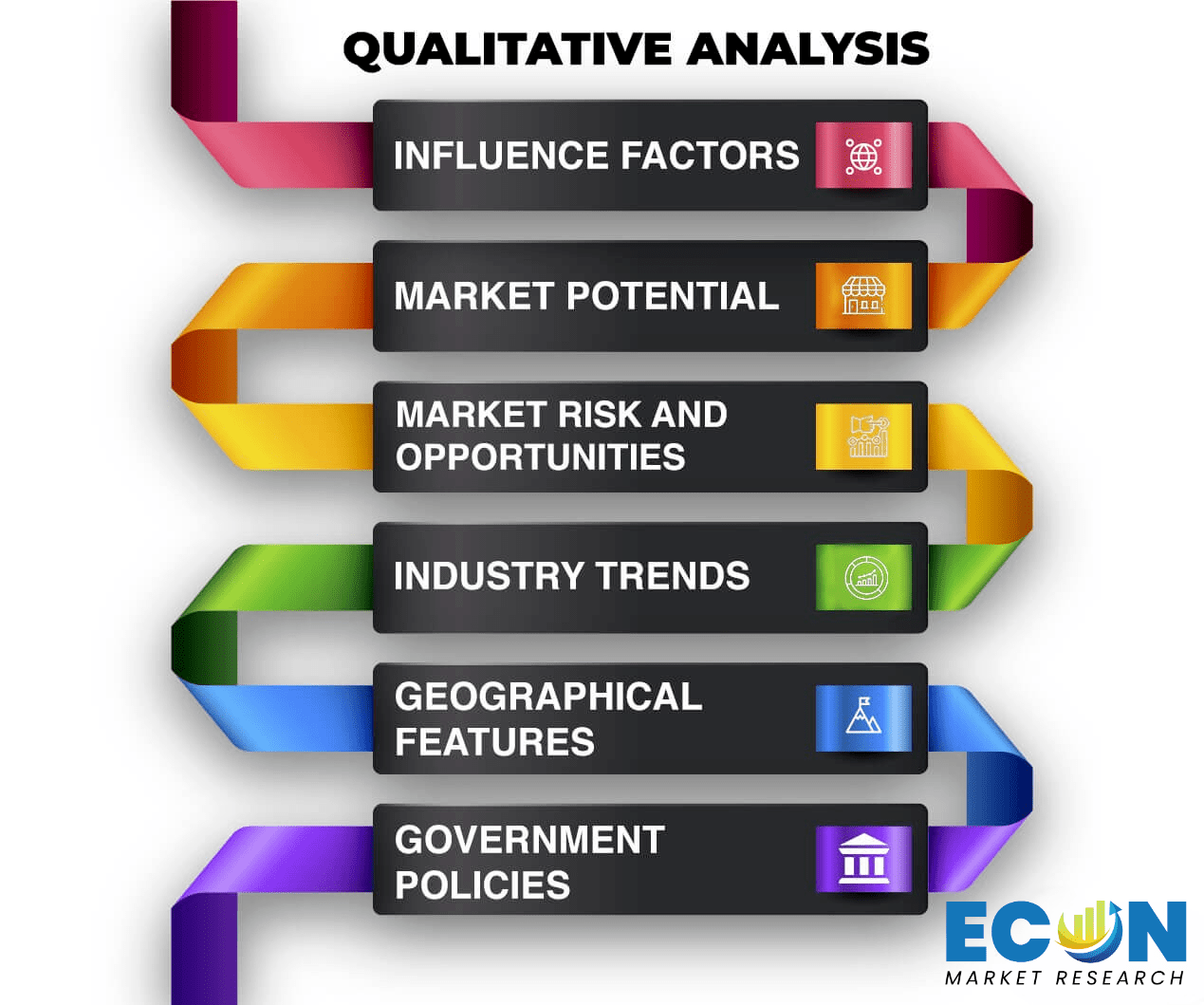 Data Collection
Data collection is the process of gathering, measuring, and analyzing accurate and relevant data from a variety of sources to analyze market and forecast trends. Raw market data is obtained on a broad front. Data is continuously extracted and filtered to ensure only validated and authenticated sources are considered. Data is mined from a varied host of sources including secondary and primary sources.

Primary Research
After the secondary research process, we initiate the primary research phase in which we interact with companies operating within the market space. We interact with related industries to understand the factors that can drive or hamper a market. Exhaustive primary interviews are conducted. Various sources from both the supply and demand sides are interviewed to obtain qualitative and quantitative information for a report which includes suppliers, product providers, domain experts, CEOs, vice presidents, marketing & sales directors, Type & innovation directors, and related key executives from various key companies to ensure a holistic and unbiased picture of the market. 
Secondary Research
A secondary research process is conducted to identify and collect information useful for the extensive, technical, market-oriented, and comprehensive study of the market. Secondary sources include published market studies, competitive information, white papers, analyst reports, government agencies, industry and trade associations, media sources, chambers of commerce, newsletters, trade publications, magazines, Bloomberg BusinessWeek, Factiva, D&B, annual reports, company house documents, investor presentations, articles, journals, blogs, and SEC filings of companies, newspapers, and so on. We have assigned weights to these parameters and quantified their market impacts using the weighted average analysis to derive the expected market growth rate.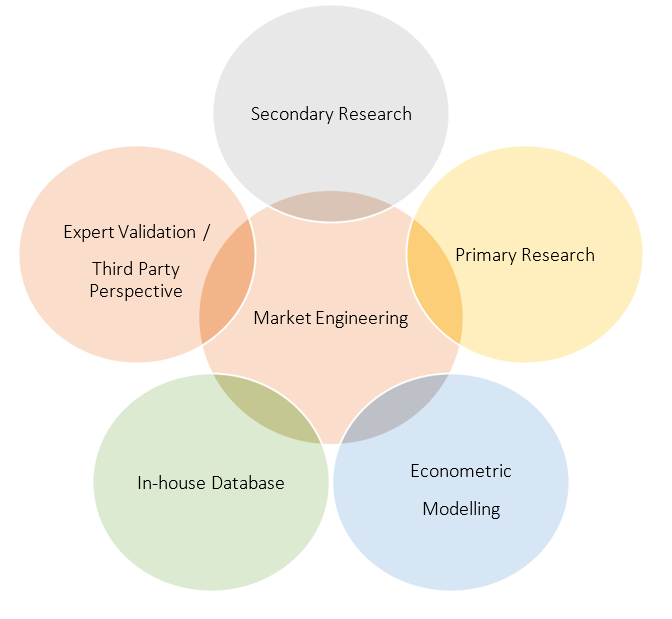 Top-Down Approach & Bottom-Up Approach
In the top – down approach, the Global Batteries for Solar Energy Storage Market was further divided into various segments on the basis of the percentage share of each segment. This approach helped in arriving at the market size of each segment globally. The segments market size was further broken down in the regional market size of each segment and sub-segments. The sub-segments were further broken down to country level market. The market size arrived using this approach was then crosschecked with the market size arrived by using bottom-up approach.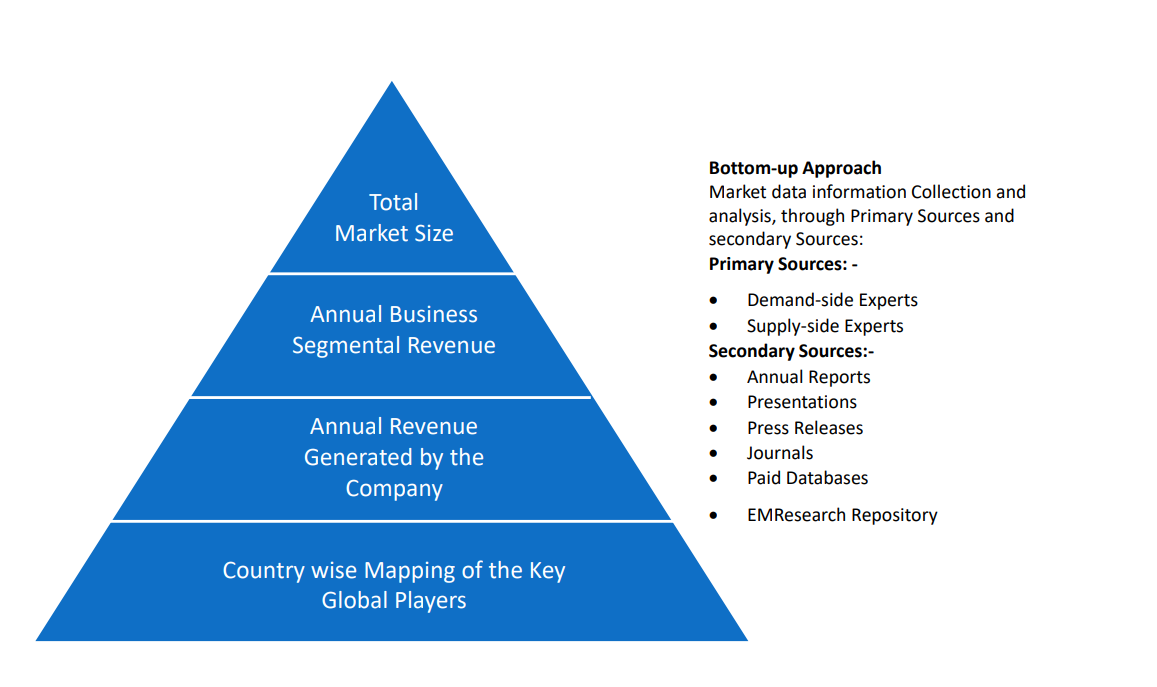 In the bottom-up approach, we arrived at the country market size by identifying the revenues and market shares of the key market players. The country market sizes then were added up to arrive at regional market size of the decorated apparel, which eventually added up to arrive at global market size.
This is one of the most reliable methods as the information is directly obtained from the key players in the market and is based on the primary interviews from the key opinion leaders associated with the firms considered in the research. Furthermore, the data obtained from the company sources and the primary respondents was validated through secondary sources including government publications and Bloomberg.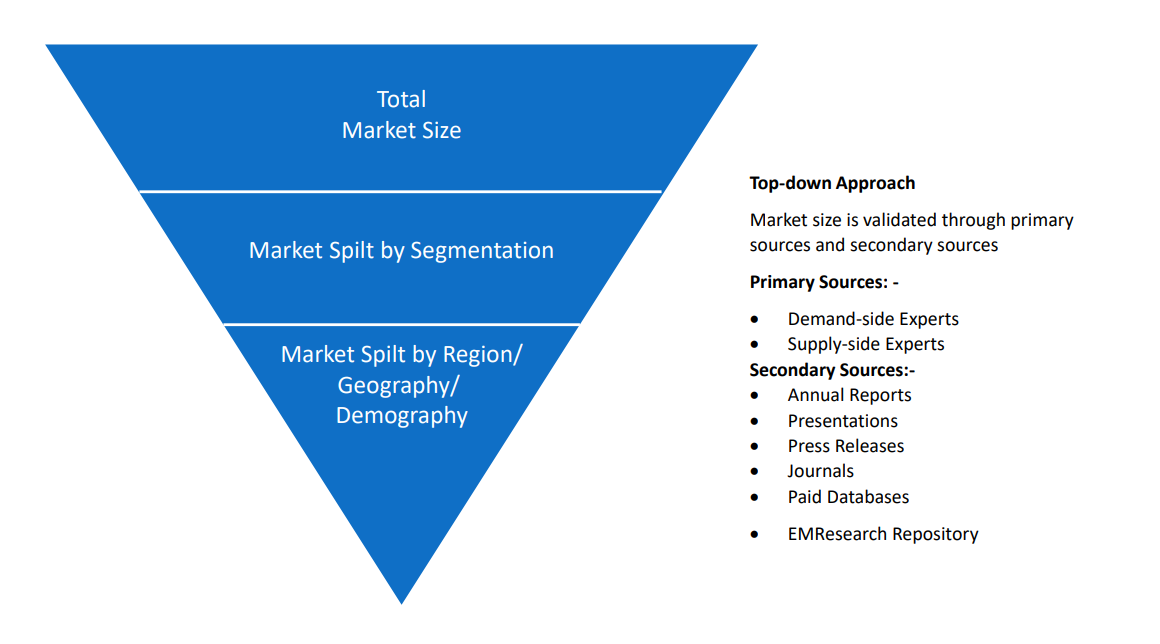 Market Analysis & size Estimation
Post the data mining stage, we gather our findings and analyze them, filtering out relevant insights. These are evaluated across research teams and industry experts. All this data is collected and evaluated by our analysts. The key players in the industry or markets are identified through extensive primary and secondary research. All percentage share splits, and breakdowns have been determined using secondary sources and verified through primary sources. The market size, in terms of value and volume, is determined through primary and secondary research processes, and forecasting models including the time series model, econometric model, judgmental forecasting model, the Delphi method, among Flywheel Energy Storage. Gathered information for market analysis, competitive landscape, growth trends, product development, and pricing trends is fed into the model and analyzed simultaneously.
Quality Checking & Final Review
The analysis done by the research team is further reviewed to check for the accuracy of the data provided to ensure the clients' requirements. This approach provides essential checks and balances which facilitate the production of quality data. This Type of revision was done in two phases for the authenticity of the data and negligible errors in the report. After quality checking, the report is reviewed to look after the presentation, Type and to recheck if all the requirements of the clients were addressed.