The Global Disposable Gloves Market was valued at USD 26.84 billion in 2022 and is estimated to reach approximately USD 39.96 billion by 2031, at a CAGR of 4.5% from 2023 to 2031. Over the years, there has been substantial expansion and change in the disposable glove business. These gloves were initially developed for healthcare workers to maintain hygiene requirements, but they quickly found use in a number of sectors, including the food service, manufacturing, and automotive industries. A increasing understanding of the value of hand hygiene, strict safety standards, and the requirement for contamination control in delicate situations are all factors contributing to the market's growth. In order to accommodate a wide range of user preferences and needs, disposable gloves are available in a variety of materials, including latex, nitrile, vinyl, and polyethylene. As people and organizations prioritized infection prevention during the COVID-19 epidemic, their adoption surged. In addition, gloves with improved abrasion resistance, tactile sensitivity, and chemical resistance have been developed, expanding their range of application. The disposable glove market is still a crucial part of infection control and occupational safety initiatives as the world struggles with health and safety issues. It is anticipated to have consistent expansion, driven by changing healthcare requirements, industry norms, and an increasing focus on cleanliness across industries. To satisfy the always evolving needs of a world that values hygiene, the disposable glove business continues to innovate and adapt.
DISPOSABLE GLOVES MARKET: REPORT SCOPE & SEGMENTATION
| | |
| --- | --- |
| Report Attribute | Details |
| Estimated Market Value (2022) | 26.84 Bn |
| Projected Market Value (2031) | 39.96 Bn |
| Base Year | 2022 |
| Forecast Years | 2023 - 2031 |
| Scope of the Report | Historical and Forecast Trends, Industry Drivers and Constraints, Historical and Forecast Market Analysis by Segment- By Material, By Product, By End-use, & Region |
| Segments Covered | By Material, By Product, By End-use, & Region |
| Forecast Units | Value (USD Billion or Million), and Volume (Units) |
| Quantitative Units | Revenue in USD million/billion and CAGR from 2023 to 2031 |
| Regions Covered | North America, Europe, Asia Pacific, Latin America, and Middle East & Africa, and the Rest of World |
| Countries Covered | U.S., Canada, Mexico, U.K., Germany, France, Italy, Spain, China, India, Japan, South Korea, Brazil, Argentina, GCC Countries, and South Africa, among others |
| Report Coverage | Market growth drivers, restraints, opportunities, Porter's five forces analysis, PEST analysis, value chain analysis, regulatory landscape, market attractiveness analysis by segments and region, company market share analysis, and COVID-19 impact analysis. |
| Delivery Format | Delivered as an attached PDF and Excel through email, according to the purchase option. |
Global Disposable Gloves Market Dynamics
The demand for disposable gloves is still primarily driven by the healthcare sector's need for them for normal patient care, operations, and infection control. The constant focus on patient and healthcare worker safety drives market expansion. Demand for disposable gloves was greatly increased by the COVID-19 epidemic. In order to stop the virus from spreading, health-conscious people, organizations, and governments stocked up on gloves, which led to an unheard-of market expansion. Market dynamics have changed as a result of innovations in glove materials like nitrile, which offers superior puncture resistance and less allergenicity than latex. Nitrile gloves are increasingly popular due to consumer preferences and industrial restrictions. Biodegradable disposable gloves were created in response to the demand for eco-friendly substitutes brought on by rising awareness of plastic pollution and environmental sustainability. This change is a reaction to consumer and governmental demand. The manufacture and application of disposable gloves are subject to strict safety and quality restrictions. Investments in research and development to meet requirements are driven by compliance with these standards, which has a significant impact on market participants. Glove availability and cost have fluctuated as a result of disruptions in global supply chains, particularly in raw materials and manufacture, leaving the market vulnerable to outside shocks. Through mergers and acquisitions, the disposable glove market has seen consolidation, enabling larger businesses to diversify their product lines and strengthen their market positions.
Global Disposable Gloves Market Drivers
Healthcare Sector Expansion
The growth of the healthcare industry is a key factor driving the disposable glove market. Disposable gloves are crucial for preserving cleanliness, infection control, and patient safety in healthcare institutions, which is primarily responsible for this increase. During normal patient examinations, surgeries, and other medical operations, doctors, nurses, and other medical professionals always use disposable gloves as part of standard operating procedure. The number of patient visits, hospital admissions, and outpatient care has increased as a result of the growing global population and increased healthcare knowledge. As a result, the need for disposable gloves in healthcare facilities has been constantly increasing. The importance of the gloves is emphasized by the fact that they act as a vital barrier to stop the spread of infectious diseases between medical personnel and patients. Furthermore, the ongoing development of advanced medical treatments, diagnostic procedures, and an aging population requiring specialized healthcare services further amplifies the demand for disposable gloves.
Disposable glove demand has increased dramatically as a result of the epidemic, with an unheard-of and quick rise in consumption. The COVID-19 epidemic had a significant influence on governments, corporations, and people by changing the market for gloves. As the virus spread over the globe, there was an instant and increased understanding of the significance of personal protective equipment (PPE) in preventing infection. Particularly, disposable gloves attracted a lot of attention as a crucial weapon in the war against the virus. As a result, there was an increase in demand as people tried to shield themselves from possible virus infection in public areas, workplaces, or healthcare facilities. To safeguard their staff and clients, businesses and healthcare facilities rushed to acquire a sufficient quantity of disposable gloves. Government policies mandating the wearing of gloves in a number of industries were implemented, which increased demand. Due to the difficulty in meeting this exceptional demand, there were supply chain interruptions and shortages. Prices increased as a result of the mismatch between supply and demand, which prompted increased production capacity and innovation in the glove industry to satisfy the enormous demand.
Restraints:
The market for disposable gloves has major challenges due to regulatory restrictions. To protect end users, especially in healthcare settings, governments and health organizations apply strict rules and guidelines on glove production and quality. Manufacturers must adhere to strict requirements regarding material composition, thickness, toughness, and barrier qualities. These rules can present challenges for producers and distributors even though they are essential for protecting the public's health. Constant monitoring and adaption, which might be resource-intensive, are necessary to comply with regulatory standards that are constantly changing. Failures to comply with regulations can also result in pricey recalls, legal liabilities, and reputational harm to a corporation. Regulation changes, particularly those pertaining to the materials used in glove production, can affect production costs and schedules by disrupting supply networks and forcing manufacturers to invest in substitute materials.
Rising Labor and Production Costs
In the disposable glove market, labour and production costs are crucial factors to take into account. Since manufacturing techniques that create disposable gloves are frequently labor-intensive, rising labour prices can have a major impact on overall production costs. This is especially important in nations where labour costs are rising, as it might reduce manufacturers' profit margins. A qualified and productive workforce must also be maintained if consistent product quality and expanding market demands are to be met. To recruit and keep qualified workers, manufacturers may need to make investments in employee training and retention programs. Furthermore, automation and technological developments can reduce the cost of rising labour, although the initial investment in automated equipment can be significant. Businesses must balance the upfront capital expense against the long-term cost reductions.
Opportunities:
Emerging Economies and Healthcare Access
The continued expansion of healthcare access and the rise in hygiene awareness in emerging nations represent a sizable opportunity for the disposable glove market. There is a concurrent surge in the construction of healthcare infrastructure, including hospitals, clinics, and diagnostic facilities, as economies in continents like Asia and Africa urbanize and enjoy economic expansion. Disposable gloves are in high demand in a variety of medical settings, including operations, examinations, and patient care, as a result of the growth of healthcare institutions. Additionally, increased access to healthcare services results in a bigger population that is more conscious of the value of personal cleanliness, infection control, and security. The need for disposable gloves has increased in non-medical fields such as food handling, hospitality, and janitorial services as a result of this increased awareness, which goes beyond healthcare settings.
Customization and Specialty Gloves
The focus of this disposable glove market potential is on providing specialized glove solutions to cater to niche markets and applications. There is no one size fits all when it comes to disposable gloves, and different industries have different standards for hand protection. Manufacturers can take advantage of this opportunity by creating customized glove goods that cater to certain market demands. For instance, gloves with exceptionally low particle production and static discharge qualities are required in clean rooms, pharmaceutical manufacturing, and electronics assembly to prevent contamination. Gloves that are created and supplied in accordance with these strict specifications can gain a firm foothold in these specialized sectors.Customization also extends to glove sizes, colors, and packaging options to accommodate varying user preferences and industry standards. Offering a range of sizes and colors can improve user satisfaction and help meet regulatory requirements in certain applications.
Segment Overview
By Material
Based on material, the global disposable gloves market is divided into natural rubber, nitrile, vinyl, neoprene, and polyethylene. The natural rubber category dominates the market with the largest revenue share. Due of their elasticity and excellent fit, natural rubber gloves, commonly known as latex gloves, have historically been a preferred option. But there is now more demand for alternatives due to worries about latex allergy. The popularity of nitrile gloves has grown as a flexible latex-free alternative. They are a popular option in healthcare, laboratory, and industrial environments because of their remarkable resistance to chemicals, punctures, and abrasions. Vinyl gloves are well known for being inexpensive and simple to use. Although they offer minimal protection and are free of latex, they might not be as durable as nitrile or natural rubber gloves. Gloves made of neoprene are prized for their ability to withstand a variety of substances, including acids and oils. Applications for them can be found in fields like chemical production and auto repair. Polyethylene gloves are lightweight and affordably priced, making them suitable for tasks that require frequent glove changes, such as food handling and general cleaning.
By Product
Based on the product, the global disposable gloves market is categorized into powdered and powder-free. The powder-free category leads the global disposable gloves market with the largest revenue share. Powder-free gloves, as the name suggests, do not have any powder coating. They are a popular choice in industries and applications where contamination must be minimized, such as food processing, electronics manufacturing, and laboratory work. Powder-free gloves are less likely to leave residue, making them ideal for situations where cleanliness and hygiene are paramount. Additionally, they are often preferred by individuals with latex allergies, as powdered latex gloves can cause allergic reactions due to the powder. Powdered gloves are coated with a fine layer of cornstarch or other types of powder on the interior surface. This powder serves several purposes. It makes the gloves easier to put on, reduces friction between the glove and the skin, and absorbs excess moisture, keeping the wearer's hands dry. Powdered gloves are particularly useful in healthcare settings, where quick and efficient glove changes are essential.
By End-Use
Based on end-use, the global disposable gloves market is segmented into medical & healthcare, automotive, oil & gas, food & beverage, pharmaceuticals, and others. The medical & healthcare segment dominates the disposable gloves market. This segment represents one of the primary and most significant markets for disposable gloves. Healthcare professionals rely on gloves to maintain infection control and hygiene during medical procedures, examinations, and patient care. The use of gloves is crucial to prevent the spread of pathogens and protect both healthcare workers and patients. The automotive industry utilizes disposable gloves for various purposes, including maintenance and repair work. Gloves help protect workers' hands from chemicals, oils, and greases, ensuring safety and cleanliness in the workplace. In the oil and gas sector, disposable gloves are essential for protecting workers from exposure to hazardous substances, chemicals, and petroleum products. These gloves help minimize the risk of skin contact with potentially harmful materials. The food processing and service industries rely heavily on disposable gloves to maintain food safety and hygiene standards. Gloves are used by workers in food preparation, handling, and packaging to prevent cross-contamination and ensure product quality. In pharmaceutical manufacturing and research, disposable gloves are crucial to maintain sterile and controlled environments. These gloves help protect sensitive products and prevent contamination during production and laboratory processes.
Global Disposable Gloves Market Overview by Region
The global disposable gloves market is categorized into North America, Europe, Asia-Pacific, and the Rest of the World. North America emerged as the leading region, capturing the largest market share in 2022. In the global market for disposable gloves, North America has solidified its position as the industry leader. A strong healthcare sector is one of the main factors contributing to North America's leadership. Hospitals, clinics, and diagnostic facilities are all present in the area, which has top-notch healthcare infrastructure. Given the strict requirements for patient care, infection control, and hygiene in North American healthcare institutions, disposable gloves are an essential part of medical procedures. Additionally, the continent is home to a sizable number of disposable glove producers, including both big multinational companies and smaller, niche manufacturers. The vast demands of the healthcare, food processing, automotive, and several other industries are met by a steady supply of gloves thanks to this manufacturing capacity.Furthermore, across a variety of industries, North America strongly emphasises safety and sanitation. Disposable gloves are required to be used in a variety of applications due to regulations and industry requirements, which supports market expansion. The food sector also places a strong emphasis on safety, and as a result, widespread usage of disposable gloves is required in the preparation and processing of food due to strict hygiene requirements. Because of its well-established industries, strict quality standards, and dedication to safety and hygiene, North America leads the disposable glove industry. These elements, along with a sizable manufacturing sector and a wide range of applications, put the area at the head of this crucial international market.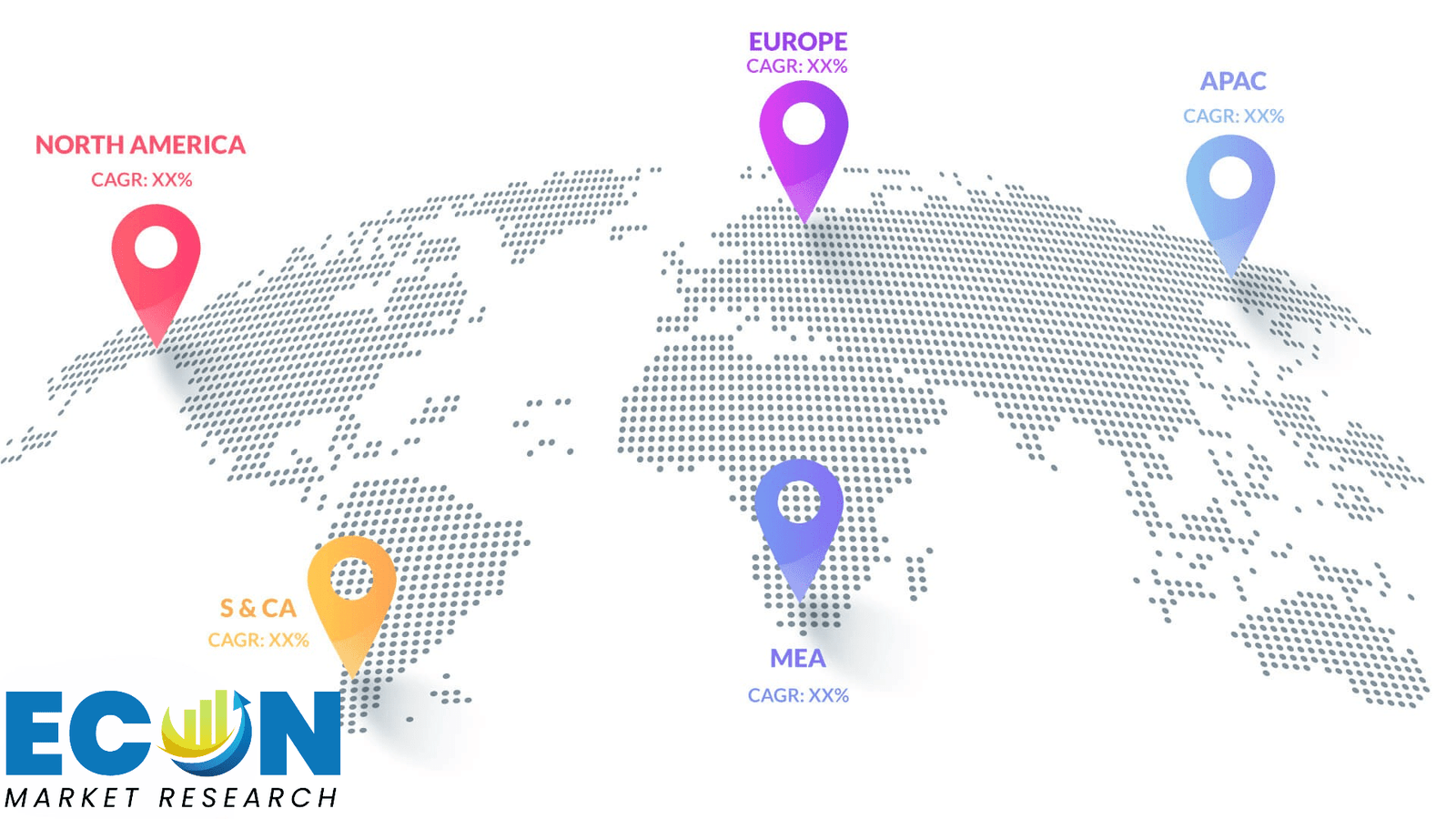 Global Disposable Gloves Market Competitive Landscape
In the global disposable gloves market, a few major players exert significant market dominance and have established a strong regional presence. These leading companies remain committed to continuous research and development endeavors and actively engage in strategic growth initiatives, including product development, launches, joint ventures, and partnerships. By pursuing these strategies, these companies aim to strengthen their market position, expand their customer base, and capture a substantial share of the market.
Some of the prominent players in the global disposable gloves market include Ansell Ltd; Top Glove Corporation Bhd; Hartalega Holdings Berhad; Unigloves (UK) Limited; The Glove Company; Superior Gloves; MAPA Professional; Adenna LLC; MCR Safety , and various other key players.
Global Disposable Gloves Market Recent Developments
In January 2023,ANSELL Adds plastic free packaging to its range of industrial gloves. As part of their commitment to reduce the environmental effect of their packaging and the usage of plastic and paper in their industrial product line by 2026, Ansell is eliminating all plastic packaging from a few kinds of industrial gloves.
In April 2023, The most recent gloves from AMMEX are extraordinary. They will safeguard you in a variety of settings, including the office, the garage, and outer space. The nitrile gloves from AMMEX in orange and green truly stand out in low-light conditions.
Scope of the Global Disposable Gloves Market Report
Disposable Gloves Market Report Segmentation
ATTRIBUTE

DETAILS

By Material

Natural Rubber

Nitrile

Vinyl

Neoprene

Polyethylene

By Product

By End-Use

Medical & Healthcare

Automotive

Oil & Gas

Food & Beverage

Pharmaceuticals

Others

By Geography

North America (USA,

and Canada)

Europe (UK, Germany, France, Italy, Spain, Russia and Rest of Europe)

Asia Pacific (Japan, China, India, Australia, Southeast Asia and Rest of Asia Pacific)

Latin America (Brazil, Mexico, and Rest of Latin America)

Middle East & Africa (South Africa, GCC, and Rest of Middle East & Africa)

Customization Scope

Pricing
Objectives of the Study
The objectives of the study are summarized in 5 stages. They are as mentioned below:
Global Disposable Gloves

Market

Size and Forecast:
To identify and estimate the market size for the global disposable gloves market segmented by material, by product, by end-use, region and by value (in U.S. dollars). Also, to understand the consumption/ demand created by consumers of disposable gloves between 2019 and 2031.
Market Landscape and Trends:
To identify and infer the drivers, restraints, opportunities, and challenges for the global disposable gloves market
Market Influencing Factors:
To find out the factors which are affecting the sales of disposable gloves among consumers
To identify and understand the various factors involved in the global disposable gloves market affected by the pandemic
To provide a detailed insight into the major companies operating in the market. The profiling will include the financial health of the company's past 2-3 years with segmental and regional revenue breakup, product offering, recent developments, SWOT analysis, and key strategies.
Intended Audience
Healthcare Professionals

Food Industry Professionals

Industrial and Manufacturing Sectors

Safety and Occupational Health Officers

Retailers, Wholesalers, and Distributors

Governments, Associations, and Industrial Bodies

Investors and Trade Experts
Research Methodology
Our research methodology has always been the key differentiating reason which sets us apart in comparison from the competing organizations in the industry. Our organization believes in consistency along with quality and establishing a new level with every new report we generate; our methods are acclaimed and the data/information inside the report is coveted. Our research methodology involves a combination of primary and secondary research methods. Data procurement is one of the most extensive stages in our research process. Our organization helps in assisting the clients to find the opportunities by examining the market across the globe coupled with providing economic statistics for each and every region. The reports generated and published are based on primary & secondary research. In secondary research, we gather data for global Market through white papers, case studies, blogs, reference customers, news, articles, press releases, white papers, and research studies. We also have our paid data applications which includes hoovers, Bloomberg business week, Avention, and others.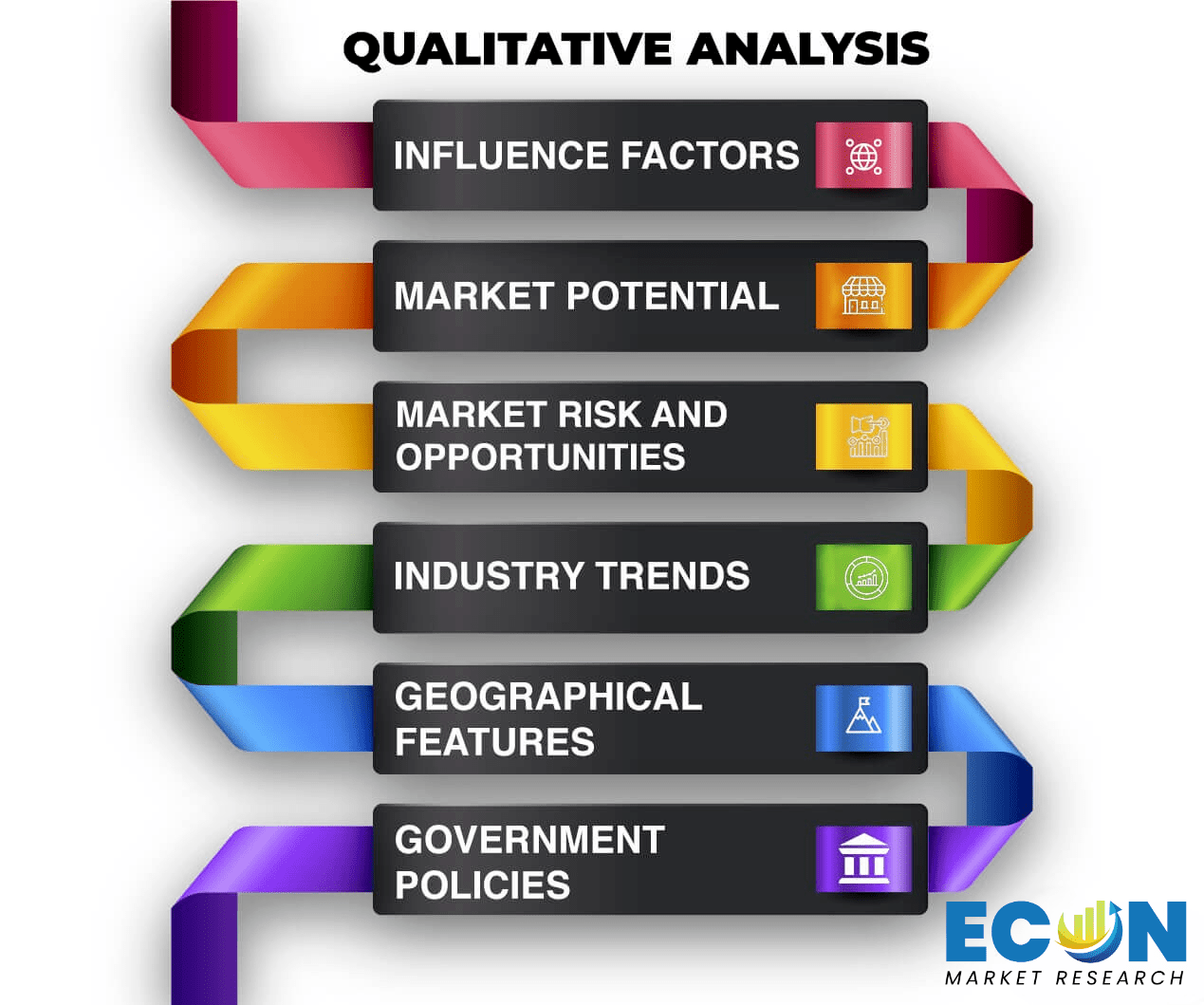 Data Collection
Data collection is the process of gathering, measuring, and analyzing accurate and relevant data from a variety of sources to analyze market and forecast trends. Raw market data is obtained on a broad front. Data is continuously extracted and filtered to ensure only validated and authenticated sources are considered. Data is mined from a varied host of sources including secondary and primary sources.

Primary Research
After the secondary research process, we initiate the primary research phase in which we interact with companies operating within the market space. We interact with related industries to understand the factors that can drive or hamper a market. Exhaustive primary interviews are conducted. Various sources from both the supply and demand sides are interviewed to obtain qualitative and quantitative information for a report which includes suppliers, product providers, domain experts, CEOs, vice presidents, marketing & sales directors, Type & innovation directors, and related key executives from various key companies to ensure a holistic and unbiased picture of the market. 
Secondary Research
A secondary research process is conducted to identify and collect information useful for the extensive, technical, market-oriented, and comprehensive study of the market. Secondary sources include published market studies, competitive information, white papers, analyst reports, government agencies, industry and trade associations, media sources, chambers of commerce, newsletters, trade publications, magazines, Bloomberg BusinessWeek, Factiva, D&B, annual reports, company house documents, investor presentations, articles, journals, blogs, and SEC filings of companies, newspapers, and so on. We have assigned weights to these parameters and quantified their market impacts using the weighted average analysis to derive the expected market growth rate.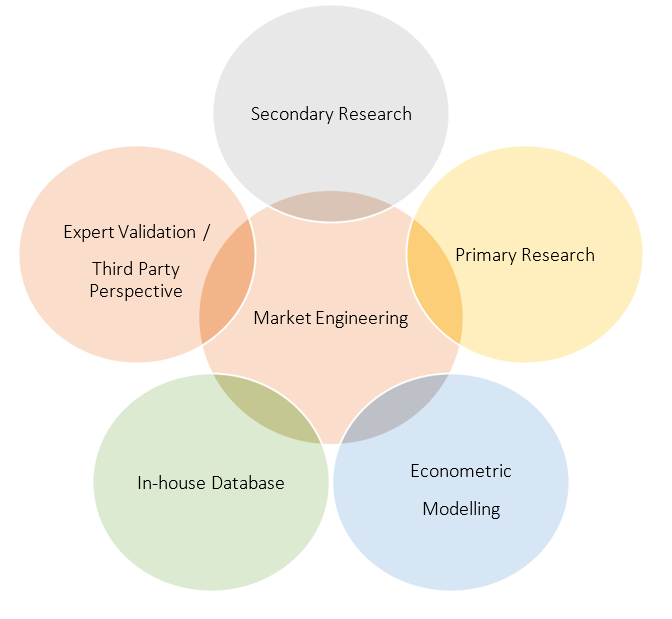 Top-Down Approach & Bottom-Up Approach
In the top – down approach, the Global Batteries for Solar Energy Storage Market was further divided into various segments on the basis of the percentage share of each segment. This approach helped in arriving at the market size of each segment globally. The segments market size was further broken down in the regional market size of each segment and sub-segments. The sub-segments were further broken down to country level market. The market size arrived using this approach was then crosschecked with the market size arrived by using bottom-up approach.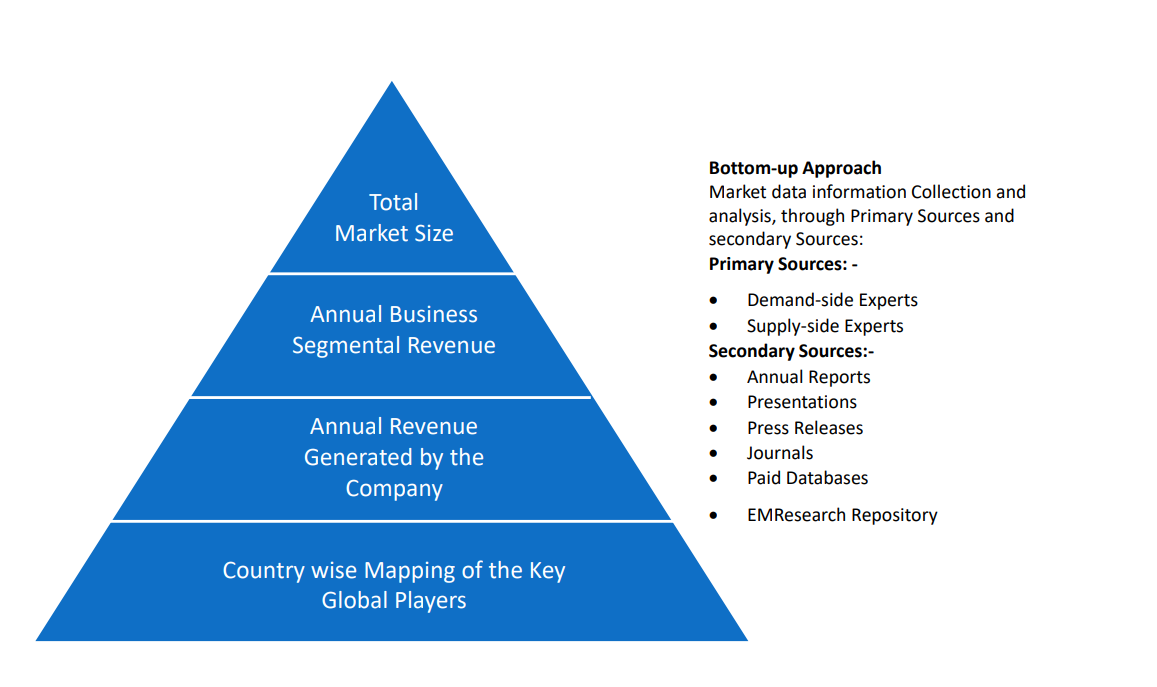 In the bottom-up approach, we arrived at the country market size by identifying the revenues and market shares of the key market players. The country market sizes then were added up to arrive at regional market size of the decorated apparel, which eventually added up to arrive at global market size.
This is one of the most reliable methods as the information is directly obtained from the key players in the market and is based on the primary interviews from the key opinion leaders associated with the firms considered in the research. Furthermore, the data obtained from the company sources and the primary respondents was validated through secondary sources including government publications and Bloomberg.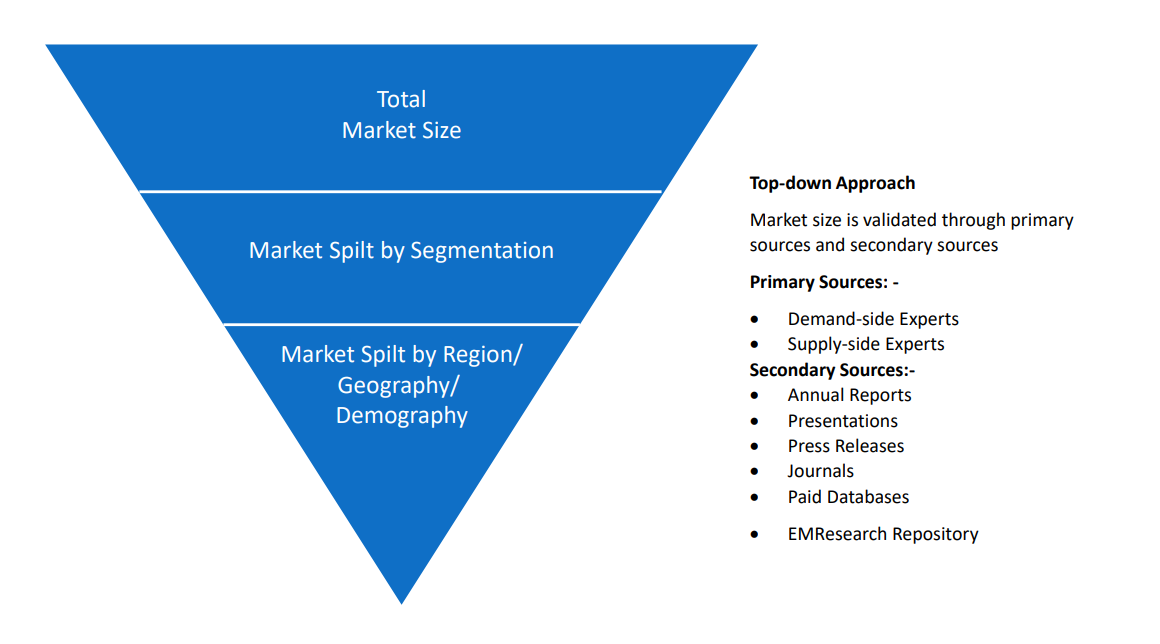 Market Analysis & size Estimation
Post the data mining stage, we gather our findings and analyze them, filtering out relevant insights. These are evaluated across research teams and industry experts. All this data is collected and evaluated by our analysts. The key players in the industry or markets are identified through extensive primary and secondary research. All percentage share splits, and breakdowns have been determined using secondary sources and verified through primary sources. The market size, in terms of value and volume, is determined through primary and secondary research processes, and forecasting models including the time series model, econometric model, judgmental forecasting model, the Delphi method, among Flywheel Energy Storage. Gathered information for market analysis, competitive landscape, growth trends, product development, and pricing trends is fed into the model and analyzed simultaneously.
Quality Checking & Final Review
The analysis done by the research team is further reviewed to check for the accuracy of the data provided to ensure the clients' requirements. This approach provides essential checks and balances which facilitate the production of quality data. This Type of revision was done in two phases for the authenticity of the data and negligible errors in the report. After quality checking, the report is reviewed to look after the presentation, Type and to recheck if all the requirements of the clients were addressed.