The Global Dimer Acid Market was valued at USD 2.35 billion in 2022 and is estimated to reach approximately USD 3.88 billion by 2031, at a CAGR of 5.7% from 2023 to 2031. Unsaturated fatty acids, which are commonly obtained from organic sources like vegetable oils, dimerize to generate the chemical known as dimer acid. It is made up of two fatty acid molecules that have been chemically bonded to create a complex molecule with special features. Due to their improved stability and viscosity, dimer acids are frequently employed in the creation of numerous industrial goods, such as lubricants, adhesives, and coatings. In many applications, they provide better performance characteristics than single-chain fatty acids. Due to its numerous applications in diverse industries, dimer acid has experienced tremendous growth in recent years. Unsaturated fatty acids, which are commonly derived from natural oils like soybean and rapeseed oil, dimerize to generate distinct molecules known as dimer acids. This technique produces a molecule with unique chemical characteristics that consists of two fatty acid chains joined together. The synthesis of high-performance polyamides and polyesters, which are widely utilized in the creation of adhesives, coatings, and sealants, is one of the main uses of dimer acids. Their use improves the robustness and durability of products. Dimer acids are also essential ingredients in the creation of synthetic lubricants because of their exceptional oxidative stability and lubricating qualities. As a sizing agent and a softening agent, respectively, in the paper and textiles sectors, dimer acid also finds usage in these markets. Additionally, dimer acids are used to make specialized compounds, corrosion inhibitors, and printing inks. Dimer acids are frequently biodegradable and made from renewable resources, which has increased demand for environmentally friendly and sustainable products. The market for dimer acid is positioned for further growth and innovation as industries continue to look for cutting-edge solutions for a range of applications.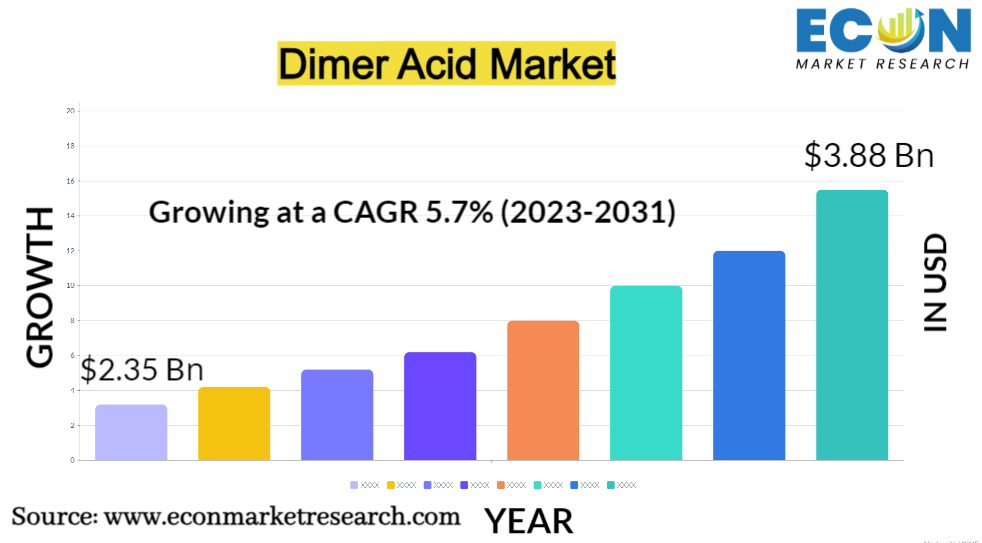 DIMER ACID MARKET: REPORT SCOPE & SEGMENTATION
| | |
| --- | --- |
| Report Attribute | Details |
| Estimated Market Value (2022) | 2.35 Bn |
| Projected Market Value (2031) | 3.88 Bn |
| Base Year | 2022 |
| Forecast Years | 2023 - 2031 |
| Scope of the Report | Historical and Forecast Trends, Industry Drivers and Constraints, Historical and Forecast Market Analysis by Segment- By Product Type, Application, & Region |
| Segments Covered | By Product Type, Application, & Region |
| Forecast Units | Value (USD Billion or Million), and Volume (Units) |
| Quantitative Units | Revenue in USD million/billion and CAGR from 2023 to 2031 |
| Regions Covered | North America, Europe, Asia Pacific, Latin America, and Middle East & Africa, and the Rest of World |
| Countries Covered | U.S., Canada, Mexico, U.K., Germany, France, Italy, Spain, China, India, Japan, South Korea, Brazil, Argentina, GCC Countries, and South Africa, among others |
| Report Coverage | Market growth drivers, restraints, opportunities, Porter's five forces analysis, PEST analysis, value chain analysis, regulatory landscape, market attractiveness analysis by segments and region, company market share analysis, and COVID-19 impact analysis. |
| Delivery Format | Delivered as an attached PDF and Excel through email, according to the purchase option. |
Global Dimer Acid Market Dynamics
Dynamic drivers and trends that have an impact on the dimer acid market's growth and direction are present. The general growth of industries like automotive, construction, and textiles, where dimer acids are widely employed in products like adhesives, lubricants, and coatings, is one of the main factors. The performance of these sectors is directly related to the demand for dimer acids. The dynamics of the market are increasingly being shaped by environmental concerns. There is an increasing preference for biodegradable and renewable materials as sustainability awareness rises. Because of their favorable environmental traits, dimer acids often made from natural oils are expected to continue growing. The usage of dimer acids has also increased as a result of the increasing industrialization seen in emerging nations, notably in industries like paints and coatings where dimer acids improve the performance and durability of the end product. Continual research and development activities provide specialized dimer acid-based goods, and innovation is another motivating factor. These developments encourage market expansion and diversification while meeting the changing demands of various industries. The dimer acid market does have certain difficulties, though. Raw material price volatility, such as that in vegetable oils, can have an effect on production costs and, in turn, have an impact on market dynamics. As a result of strict environmental restrictions and quality requirements, market preferences have changed and investments in complying technologies have been made, which have an impact on the production and usage of dimer acids. The market is fluid due to the competitive environment, global trade dynamics, technological improvements, and shifting customer tastes. As a result, the industry is dynamic and evolving, and innovation and flexibility are necessary for long-term growth.
Global Dimer Acid Market Drivers
Growing Industrial Applications
The expanding commercial uses of these distinctive chemicals are a major driver of the worldwide dimer acid market. Because of their remarkable chemical characteristics and wide range of uses, dimer acids are used in many different industries, including the automotive, building, textile, and more. Dimer acids are widely used in the automobile industry to create specialist lubricants and greases, which enhances engine longevity and performance. They play a significant role in the manufacture of high-performance adhesives and sealants used in the construction sector, extending the lifespan of buildings. Dimer acids are also advantageous to the textile sector since they are employed in fabric softening agents, producing smoother and more pleasant textiles. Dimer acids are also widely used in the paints and coatings industry to improve the durability and quality of their products. Dimer acids enhance the adhesive qualities of coatings, increasing their resistance to abrasion and the effects of the environment. They also help coatings be flexible and durable, which makes them suited for a variety of uses, such as industrial and architectural coatings. Dimer acids are being more widely used in a variety of industries, which highlights their importance in improving product performance, sturdiness, and sustainability. Due to their distinctive chemical characteristics and wide range of uses, dimer acids are an essential part of many industrial processes, which is what is fueling the expansion of the worldwide dimer acid market.
Increasing Awareness and Concern for Environmental Sustainability
A key factor driving the global dimer acid market is the increasing importance of environmental sustainability. A considerable movement towards eco-friendly and sustainable materials has resulted from growing awareness of and worries about the environmental effects of industrial activities. Dimer acids have become the preferable option in this situation as a result of their environmental friendliness. The renewable supply of dimer acids is one of their main environmental benefits. They are a sustainable alternative to chemicals made from petroleum because they are often made from natural oils like soybean and rapeseed oil. This renewable sourcing lessens reliance on fossil fuels while also assisting in reducing greenhouse gas emissions linked to conventional chemical manufacture. Additionally, dimer acids are biodegradable, meaning they can break down naturally in the environment without causing long-term harm. This feature aligns with the principles of sustainability and reduces the environmental footprint of products containing dimer acids.
Restraints:
Limited Market Penetration
The low uptake of these substances across various industries is one of the major issues the worldwide dimer acid market is now facing. Dimer acids may have a delayed rate of acceptance in some industries despite their many benefits, including improved performance and sustainability. Dimer acids' advantages and adaptability could not be fully understood by many potential consumers in sectors including textiles, automotive, and construction. These sectors might continue with tried-and-true components and procedures if dimer acids' potential to enhance product performance and environmental sustainability is not clearly understood. A barrier arises from well-known substitutes. Industries occasionally use tried-and-true products and methods that have been around for a while. Switching to dimer acids may require significant retooling, retraining, and adjustments to existing production methods, which can be viewed as a costly and disruptive process.
The global dimer acid market is severely constrained by supply chain disruptions. Natural disasters, global crises, transportation problems, and changes in geopolitical dynamics can all cause these disruptions. Natural catastrophes like hurricanes, earthquakes, or floods might obstruct the supply of raw materials needed to produce dimer acid as well as their transportation. For instance, crop failure brought on by unfavorable weather conditions may disrupt a significant supplier of vegetable oils required in the synthesis of dimer acids, resulting in shortages and price increases. Global crises have shown how weak points in the supply chain can affect the availability of raw materials and finished dimer acid products. One such crisis was the COVID-19 pandemic. Lockdowns, restrictions on international trade, and labor shortages can disrupt manufacturing operations and disrupt the timely delivery of products to customers.
Opportunities:
Growing Demand for Bio-Based Products
The dimer acid market has a sizable window of opportunity because to the rising global demand for environmentally friendly and bio-based products. Dimer acids, produced by natural oils like soybean and rapeseed oil, fit this trend admirably. Dimer acids are ideally positioned to satisfy these demands as environmentally friendly options become more important to both consumers and industries. Concerns about climate change, pollution, and the depletion of non-renewable resources are what are driving the transition to bio-based products. A sustainable and biodegradable substitute for conventional petroleum-based chemicals is dimer acids. They are a desirable option for industries looking to lessen their influence on the environment because they have a lower carbon footprint and are less damaging to the ecosystem. Dimer acids have a wide range of applications, including adhesives, coatings, and lubricants, where they can replace more conventional, less environmentally friendly components. Additionally, a wider market for dimer acid uses is provided by the growing need for bio-based materials in sectors including packaging, plastics, and personal care goods.
Technological Innovations
A significant potential for the global dimer acid market is provided by technological advancements in formulations and production methods for dimer acids. The performance and adaptability of dimer acids are improved, their range of applications is increased, and their competitiveness is increased, all of which contribute to growth. Improvements in production methods are intended to increase the effectiveness and economy of the manufacture of dimer acids. This includes creating new catalysts, reaction conditions, and process enhancements that increase yields, improve product quality, and have a smaller negative environmental impact. Such developments could increase the availability and affordability of dimer acids for a larger range of businesses. Innovations in formulation are equally crucial. To address the particular needs of the business, researchers are constantly looking for ways to alter dimer acids. Dimer acids can be tailored for a variety of uses, including biodegradable polymers, eco-friendly surfactants, and specialty lubricants, opening up new markets and sources of income. Dimer acids are more easily adapted to industry-specific requirements thanks to these formulations, which frequently concentrate on optimizing qualities including viscosity, reactivity, and biodegradability.
Segment Overview
By Product Type
Based on product type, the global dimer acid market is divided into standard, distilled, distilled and hydrogenated. Unsaturated fatty acids, often taken from natural oils like soybean or rapeseed oil, are dimerized to form standard dimer acids. They go through little processing, producing dimer acids with typical characteristics including strong oxidative stability and mild viscosity. Where their qualities match the needs, standard dimer acids find use in a variety of sectors, such as adhesives, coatings, and lubricants. Additional purification processes, usually requiring distillation procedures, are used to distill dimer acids. By removing impurities and unwanted components, this refinement process produces dimer acids with higher purity and improved properties, such as decreased color and odor. Distilled and hydrogenated dimer acids undergo further processing through hydrogenation, a chemical reaction that saturates the carbon-carbon double bonds in the molecule. This hydrogenation process imparts enhanced stability and resistance to oxidation, making these dimer acids suitable for applications requiring superior durability, such as high-performance lubricants and specialty chemicals.
By Application
Based on the application, the global dimer acid market is categorized into reactive polyamide, non-reactive polyamide, oilfield chemical, cosmetic products, and others. The reactive polyamide category leads the global dimer acid market with the largest revenue share. Dimer acids are used in the production of reactive polyamides, which are crucial components in the formulation of adhesives, coatings, and sealants. Reactive polyamides provide enhanced performance characteristics, including improved adhesion, durability, and chemical resistance, making them suitable for demanding applications in the construction, automotive, and industrial sectors. Non-reactive polyamides, often derived from dimer acids, are utilized in the manufacture of non-reactive polymers. These polymers are used in a wide range of applications, including engineering plastics, textiles, and packaging materials, where they offer properties like toughness, flexibility, and heat resistance. Dimer acids find application in the oilfield chemical sector, where they are used to formulate drilling fluids, corrosion inhibitors, and specialty chemicals. In this context, dimer acids contribute to the stability and performance of oilfield chemicals, particularly in challenging environments such as deep-sea drilling operations. Dimer acids are employed in the cosmetics and personal care industry for the production of various products, including skin creams, lotions, and shampoos. They serve as emollients, thickening agents, and stabilizers, enhancing the texture, viscosity, and shelf life of cosmetic formulations.
Global Dimer Acid Market Overview by Region
The global dimer acid market is categorized into North America, Europe, Asia-Pacific, and the Rest of the World. Asia Pacific emerged as the leading region, capturing the largest market share in 2022. Dimer acids are in high demand as a result of the quick industrialization and economic expansion of nations like China, India, and Southeast Asian countries. The automotive, building, and textile sectors, which all rely on dimer acids for uses like adhesives, coatings, and lubricants, have turned these nations into important industrial hubs. Population growth and rising spending power in Asia Pacific are driving up demand for consumer goods and dimer acid-containing products. Due to the region's expanding middle class, the cosmetics and personal care sector in particular has experienced significant growth, which has increased demand for dimer acids. Asia has made significant investments in research and development, which have resulted in technological advancements in dimer acid production methods and formulations. This has enhanced the region's competitiveness in the global market. The region's growing environmental awareness has led to a preference for sustainable and eco-friendly products. Dimer acids, derived from natural oils and offering biodegradability, align well with these concerns, making them a preferred choice in the development of environmentally friendly formulations.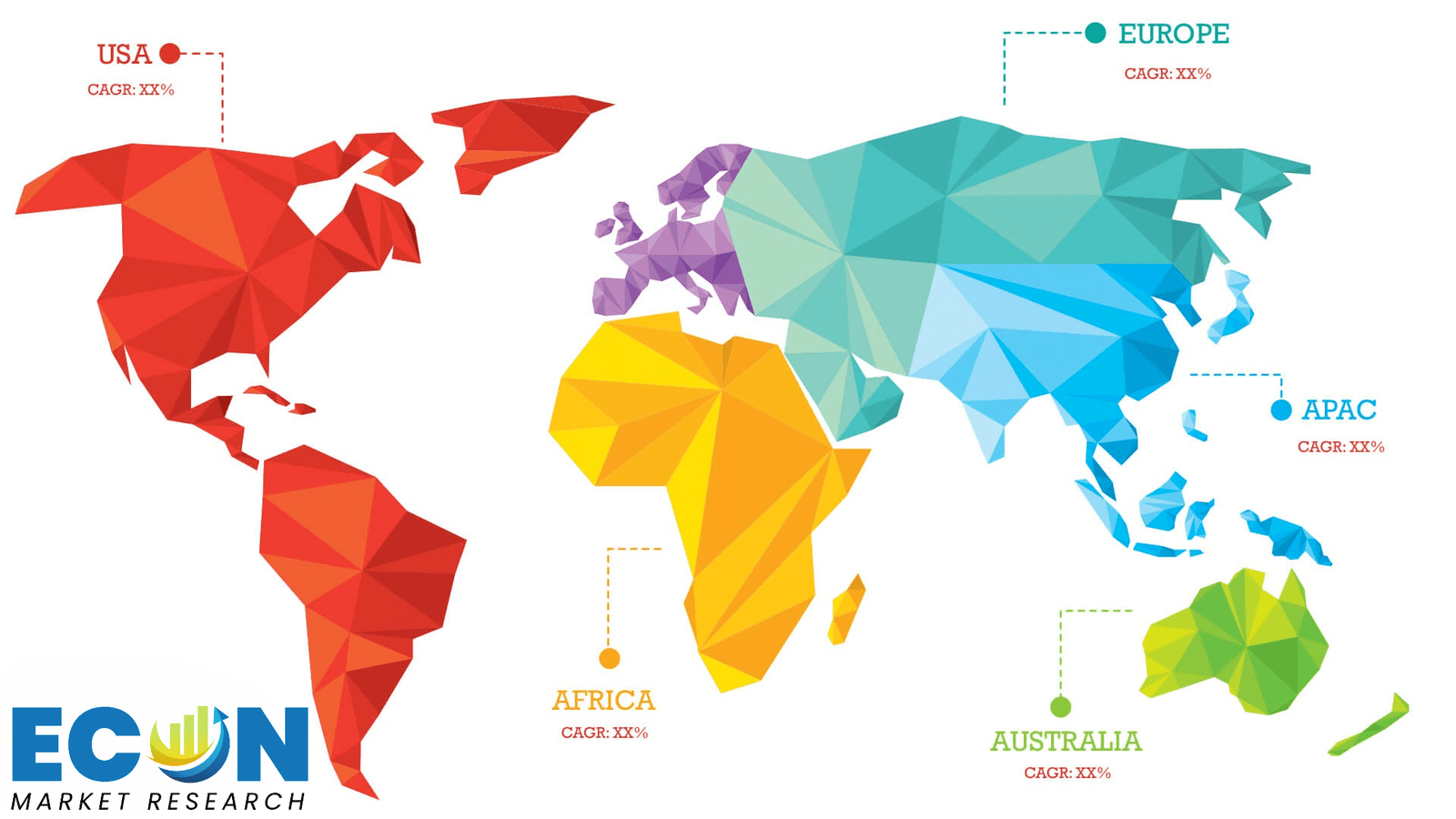 Global Dimer Acid Market Competitive Landscape
In the global dimer acid market, a few major players exert significant market dominance and have established a strong regional presence. These leading companies remain committed to continuous research and development endeavors and actively engage in strategic growth initiatives, including product development, launches, joint ventures, and partnerships. By pursuing these strategies, these companies aim to strengthen their market position, expand their customer base, and capture a substantial share of the market.
Some of the prominent players in the global dimer acid market include Florachem Corp.; BASF; Arizona Chemicals; Emery Oleochemicals; Aturex Group; Anqing Hongyu Chemical Co. Ltd.; Oleon N.V., Novepha Co. Ltd.; Harima Chemicals; Nissan Chemical America Corp., and various other key players.
Global Dimer Acid Market Recent Developments
In October 2022, In order to commercially produce non-ionic surfactants in Asia Pacific, BASF and Hannong Chemicals intend to create a production joint venture. In the planned joint venture, BASF will hold a 51% shareholding and Hannong Chemicals a 49% shareholding.
Scope of the Global Dimer Acid Market Report
Dimer Acid Market Report Segmentation
ATTRIBUTE

DETAILS

By Product Type

Standard

Distilled

Distilled & Hydrogenated

By Application

Reactive Polyamide

Non-Reactive Polyamide

Oilfield Chemical

Cosmetic Products

Others

By Geography

North America (USA,

and Canada)

Europe (UK, Germany, France, Italy, Spain, Russia and Rest of Europe)

Asia Pacific (Japan, China, India, Australia, Southeast Asia and Rest of Asia Pacific)

Latin America (Brazil, Mexico, and Rest of Latin America)

Middle East & Africa (South Africa, GCC, and Rest of Middle East & Africa)

Customization Scope

Pricing
Objectives of the Study
The objectives of the study are summarized in 5 stages. They are as mentioned below:
Global Dimer Acid Market

Size and Forecast:
To identify and estimate the market size for the global dimer acid market segmented by product type, by application, region and by value (in U.S. dollars). Also, to understand the consumption/ demand created by consumers of dimer acid between 2019 and 2031.
Market Landscape and Trends:
To identify and infer the drivers, restraints, opportunities, and challenges for the global dimer acid market
Market Influencing Factors:
To find out the factors which are affecting the sales of dimer acid among consumers
To identify and understand the various factors involved in the global dimer acid market affected by the pandemic
To provide a detailed insight into the major companies operating in the market. The profiling will include the financial health of the company's past 2-3 years with segmental and regional revenue breakup, product offering, recent developments, SWOT analysis, and key strategies.
Intended Audience
Chemical Manufacturers

Research and Development Teams

Supply Chain Professionals

Academic Institutions

Retailers, Wholesalers, and Distributors

Governments, Associations, and Industrial Bodies

Investors and Trade Experts
Research Methodology
Our research methodology has always been the key differentiating reason which sets us apart in comparison from the competing organizations in the industry. Our organization believes in consistency along with quality and establishing a new level with every new report we generate; our methods are acclaimed and the data/information inside the report is coveted. Our research methodology involves a combination of primary and secondary research methods. Data procurement is one of the most extensive stages in our research process. Our organization helps in assisting the clients to find the opportunities by examining the market across the globe coupled with providing economic statistics for each and every region. The reports generated and published are based on primary & secondary research. In secondary research, we gather data for global Market through white papers, case studies, blogs, reference customers, news, articles, press releases, white papers, and research studies. We also have our paid data applications which includes hoovers, Bloomberg business week, Avention, and others.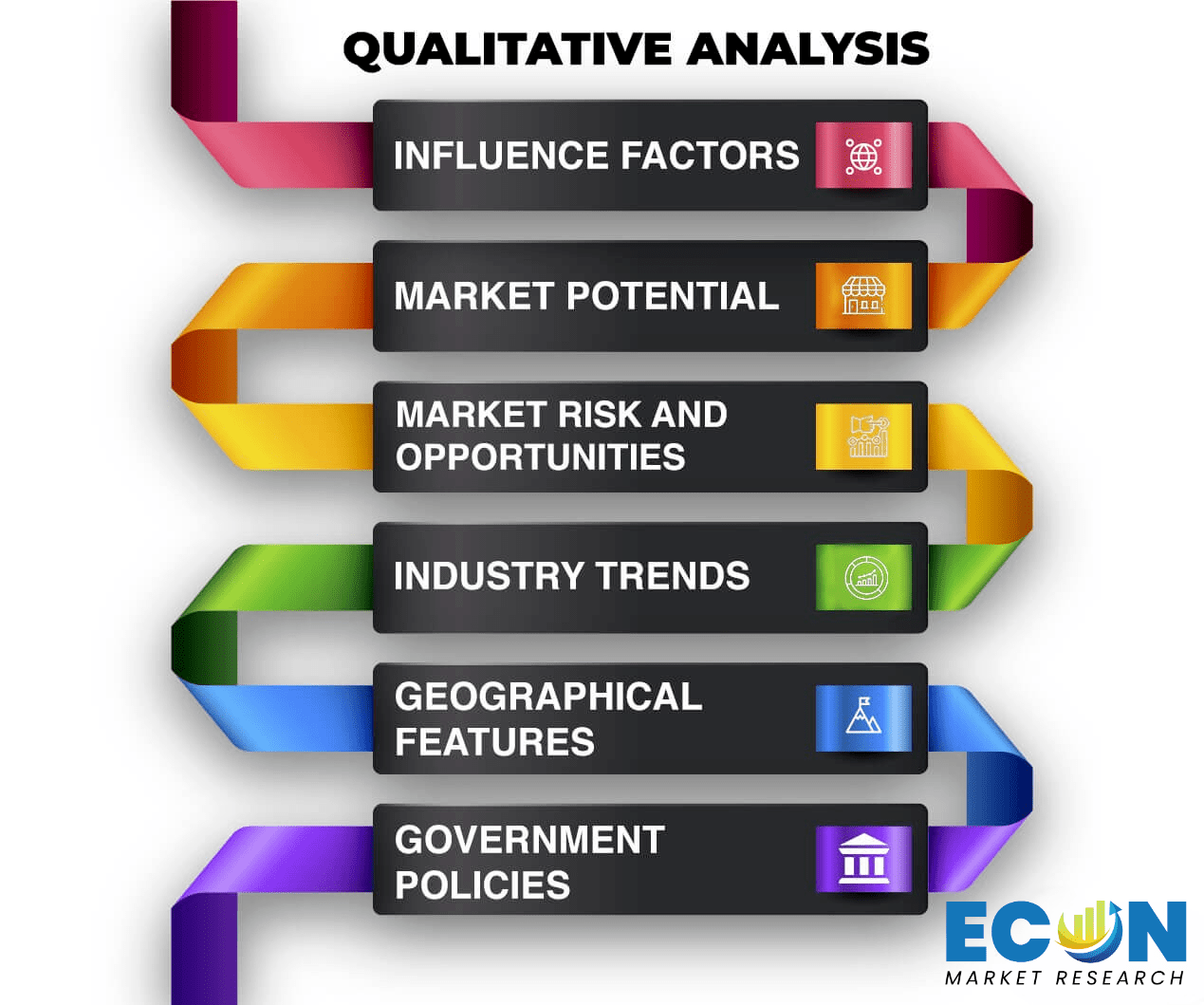 Data Collection
Data collection is the process of gathering, measuring, and analyzing accurate and relevant data from a variety of sources to analyze market and forecast trends. Raw market data is obtained on a broad front. Data is continuously extracted and filtered to ensure only validated and authenticated sources are considered. Data is mined from a varied host of sources including secondary and primary sources.

Primary Research
After the secondary research process, we initiate the primary research phase in which we interact with companies operating within the market space. We interact with related industries to understand the factors that can drive or hamper a market. Exhaustive primary interviews are conducted. Various sources from both the supply and demand sides are interviewed to obtain qualitative and quantitative information for a report which includes suppliers, product providers, domain experts, CEOs, vice presidents, marketing & sales directors, Type & innovation directors, and related key executives from various key companies to ensure a holistic and unbiased picture of the market. 
Secondary Research
A secondary research process is conducted to identify and collect information useful for the extensive, technical, market-oriented, and comprehensive study of the market. Secondary sources include published market studies, competitive information, white papers, analyst reports, government agencies, industry and trade associations, media sources, chambers of commerce, newsletters, trade publications, magazines, Bloomberg BusinessWeek, Factiva, D&B, annual reports, company house documents, investor presentations, articles, journals, blogs, and SEC filings of companies, newspapers, and so on. We have assigned weights to these parameters and quantified their market impacts using the weighted average analysis to derive the expected market growth rate.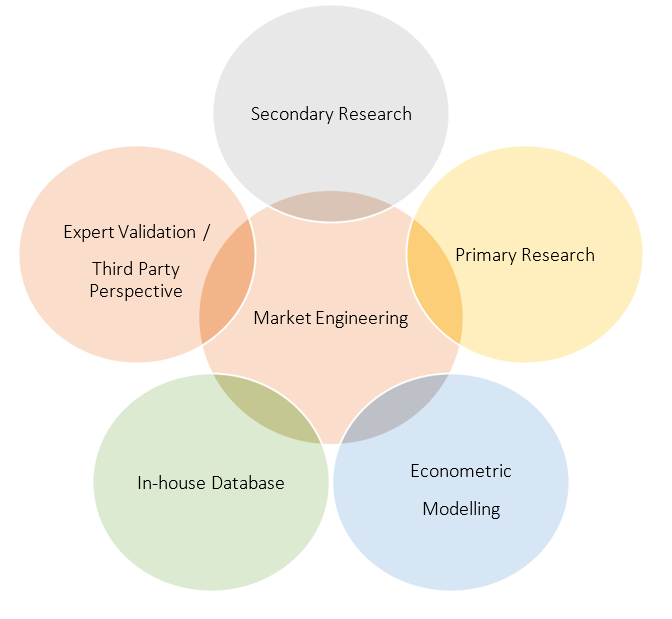 Top-Down Approach & Bottom-Up Approach
In the top – down approach, the Global Batteries for Solar Energy Storage Market was further divided into various segments on the basis of the percentage share of each segment. This approach helped in arriving at the market size of each segment globally. The segments market size was further broken down in the regional market size of each segment and sub-segments. The sub-segments were further broken down to country level market. The market size arrived using this approach was then crosschecked with the market size arrived by using bottom-up approach.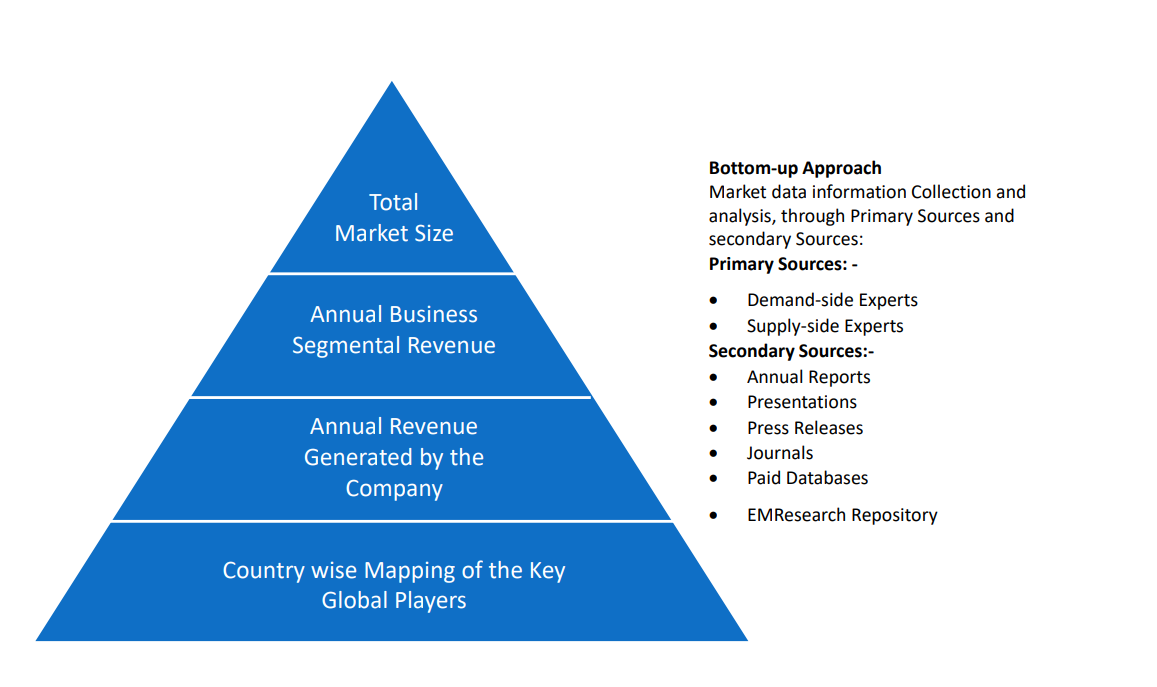 In the bottom-up approach, we arrived at the country market size by identifying the revenues and market shares of the key market players. The country market sizes then were added up to arrive at regional market size of the decorated apparel, which eventually added up to arrive at global market size.
This is one of the most reliable methods as the information is directly obtained from the key players in the market and is based on the primary interviews from the key opinion leaders associated with the firms considered in the research. Furthermore, the data obtained from the company sources and the primary respondents was validated through secondary sources including government publications and Bloomberg.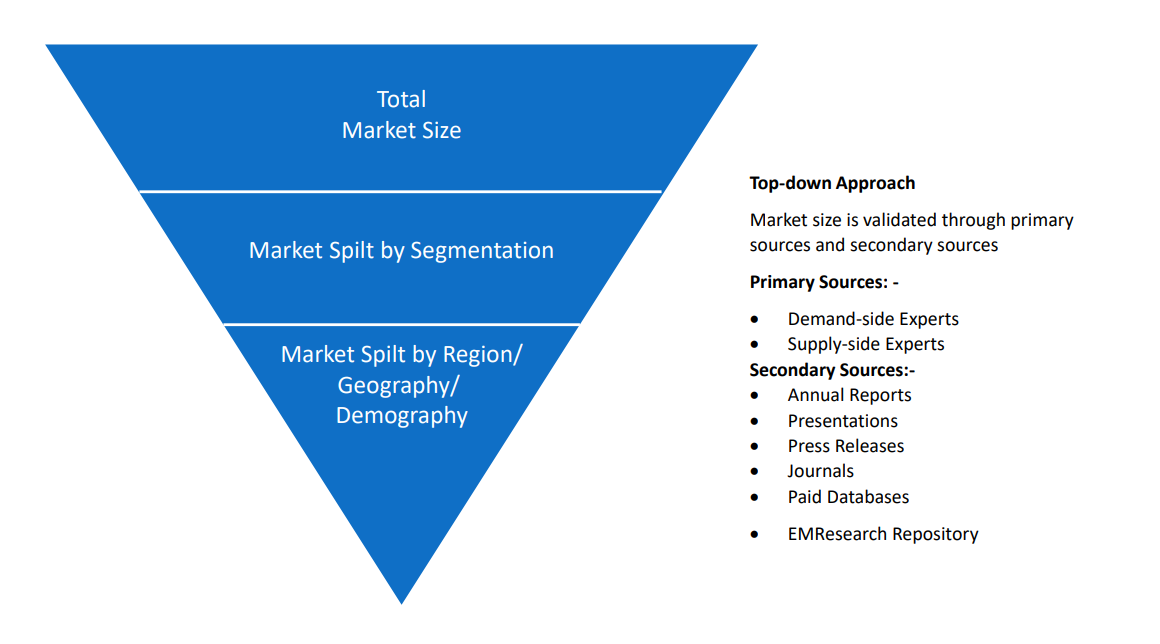 Market Analysis & size Estimation
Post the data mining stage, we gather our findings and analyze them, filtering out relevant insights. These are evaluated across research teams and industry experts. All this data is collected and evaluated by our analysts. The key players in the industry or markets are identified through extensive primary and secondary research. All percentage share splits, and breakdowns have been determined using secondary sources and verified through primary sources. The market size, in terms of value and volume, is determined through primary and secondary research processes, and forecasting models including the time series model, econometric model, judgmental forecasting model, the Delphi method, among Flywheel Energy Storage. Gathered information for market analysis, competitive landscape, growth trends, product development, and pricing trends is fed into the model and analyzed simultaneously.
Quality Checking & Final Review
The analysis done by the research team is further reviewed to check for the accuracy of the data provided to ensure the clients' requirements. This approach provides essential checks and balances which facilitate the production of quality data. This Type of revision was done in two phases for the authenticity of the data and negligible errors in the report. After quality checking, the report is reviewed to look after the presentation, Type and to recheck if all the requirements of the clients were addressed.