The Global Container Security Market was valued at USD 1.56 billion in 2022 and is estimated to reach approximately USD 12.58 billion by 2031, at a CAGR of 26.0% from 2023 to 2031. Container security involves protecting containerized applications and their infrastructure from vulnerabilities, threats, and unauthorized access. It includes image scanning for vulnerabilities, runtime monitoring, access control, network security, secrets management, authentication, and compliance. Regular patching, logging, and training are crucial. Ensuring the secure deployment and operation of containers is essential in modern software development to prevent data breaches and disruptions. The market for container security has changed and grown significantly as a result of the increasing use of containerization technologies, particularly Docker and Kubernetes. The inherent agility and efficiency advantages that containers offer in application deployment and management are the main drivers of this business boom. To protect their digital assets, however, organizations now face sophisticated security issues brought on by the introduction of containers. The constant acceptance of containers as a major element of contemporary software architectures is one of the main factors fueling the growth of the container security market. The need for specialized security solutions created to safeguard containerized apps and their supporting infrastructure has increased as a result of this change. Furthermore, heightened security concerns arise from the ephemeral nature of containers and the shared infrastructure they rely on. This has led to a pressing need for container security solutions capable of mitigating risks such as container breakouts, privilege escalation, and unauthorized access. In addition to these technical challenges, regulatory compliance requirements have become increasingly stringent across various industries. Organizations must adhere to standards like GDPR and HIPAA, necessitating the implementation of robust container security measures. The rise of DevSecOps practices, which integrate security seamlessly into the DevOps pipeline, has also contributed to the growing importance of container security tools. These tools automate security checks throughout the software development lifecycle, ensuring that security is not an afterthought but an integral part of the development process. As containerization extends to cloud-native environments, with applications running on cloud platforms like AWS, Azure, and Google Cloud, container security has further expanded its reach. The dynamic Container Security market continues to evolve as it addresses emerging cyber threats, fosters partnerships and integrations, promotes education and awareness, and offers a diverse range of solutions to safeguard containerized applications and data.
CONTAINER SECURITY MARKET: REPORT SCOPE & SEGMENTATION
| | |
| --- | --- |
| Report Attribute | Details |
| Estimated Market Value (2022) | 1.56 Bn |
| Projected Market Value (2031) | 12.58 Bn |
| Base Year | 2022 |
| Forecast Years | 2023 - 2031 |
| Scope of the Report | Historical and Forecast Trends, Industry Drivers and Constraints, Historical and Forecast Market Analysis by Segment- By Product, By Component, By Application, & Region |
| Segments Covered | By Product, By Component, By Application, & Region |
| Forecast Units | Value (USD Billion or Million), and Volume (Units) |
| Quantitative Units | Revenue in USD million/billion and CAGR from 2023 to 2031 |
| Regions Covered | North America, Europe, Asia Pacific, Latin America, and Middle East & Africa, and the Rest of World |
| Countries Covered | U.S., Canada, Mexico, U.K., Germany, France, Italy, Spain, China, India, Japan, South Korea, Brazil, Argentina, GCC Countries, and South Africa, among others |
| Report Coverage | Market growth drivers, restraints, opportunities, Porter's five forces analysis, PEST analysis, value chain analysis, regulatory landscape, market attractiveness analysis by segments and region, company market share analysis, and COVID-19 impact analysis. |
| Delivery Format | Delivered as an attached PDF and Excel through email, according to the purchase option. |
Global Container Security Market Dynamics
The growing acceptance of containerization technologies and the pressing need for reliable security solutions in this quickly shifting environment are driving the container security market's dynamic and expanding dynamics. Due to the growing use of containers in software development and deployment, the industry is expanding significantly. Containers' advantages in terms of speed and efficiency have increased their adoption, which has raised the necessity for security measures that address vulnerabilities and threats that are unique to containers. The dynamics of this sector are still being shaped by the changing threat environment. Cyber attackers are modifying their strategies and focusing on containerized systems as container technology becomes more popular. To effectively combat new and emerging threats, container security systems must continuously innovate. Moreover, the Container Security market is characterized by a competitive landscape with numerous vendors offering a wide array of solutions, including image scanning, runtime protection, and compliance auditing. Collaborations and partnerships with other cybersecurity companies and cloud service providers are becoming increasingly common to provide comprehensive security offerings. Compliance requirements have a profound impact on the market. Organizations across various sectors must comply with stringent regulations such as GDPR, HIPAA, and PCI DSS. Container security solutions must evolve to ensure that containerized applications align with these compliance standards.
Global Container Security Market Drivers
Widespread Adoption of Containerization Technologies
Software development, deployment, and management have all been revolutionized by containers, such as those offered by Docker and controlled by systems like Kubernetes. They have become a mainstay of contemporary software designs due to their efficiency, portability, and minimal weight. Containers enable developers to package apps and their dependencies into dependable, isolated units that may operate in a variety of contexts. Because of its portability and consistency, applications are being adopted by a wide range of industries with greater agility and quicker application delivery. The fundamental significance of container security has, however, also been highlighted by this spike in use. Containers have special security challenges since they share a host operating system and kernel. Data breaches may be caused by runtime dangers, vulnerabilities in container images, and poor access control.
Containers are now an essential part of developing and deploying cloud-native applications as businesses move more workloads to the cloud. With the integration of container orchestration services like AWS Elastic Kubernetes Service (EKS) and Azure Kubernetes Service (AKS), major cloud platforms like Amazon Web Services (AWS), Microsoft Azure, and Google Cloud have made it simpler to deploy and manage containers at scale in cloud settings. The migration to cloud native computing has benefits and drawbacks. Applications that can dynamically grow based on demand can be built and deployed using containers, which improves resource utilization and cost-effectiveness. However, this change also raises fresh security issues. It is crucial to extend container security procedures to these environments because cloud-based containers must deal with potential threats and network configurations unique to the cloud. Container security solutions tailored for cloud-native scenarios are necessary to protect applications and data hosted on these platforms effectively. This includes implementing security policies for container networking, securing container registries, and ensuring that cloud infrastructure resources are properly configured and monitored.
Restraints:
Lack of Container Security Expertise
While containerization has gained widespread adoption for its numerous advantages in application deployment, it has simultaneously introduced unique security challenges that demand specialized knowledge and skills to navigate effectively. Unfortunately, the pool of cybersecurity professionals with expertise in container security remains limited, creating a significant constraint for organizations looking to bolster their security measures. One of the core reasons behind this scarcity is the relatively recent emergence of containerization as a mainstream technology. Traditional cybersecurity training and education programs have not yet caught up with the rapid evolution of container security needs. As a result, organizations often struggle to find or develop in-house talent capable of understanding the intricacies of securing containerized applications. Additionally, container security is a multifaceted field that requires knowledge of container orchestration platforms, image scanning tools, runtime protection mechanisms, and the ability to adapt to evolving container-related threats. This comprehensive skill set is not readily available in the cybersecurity workforce.
Regulatory and Compliance Challenges
As containers become a fundamental part of modern software development and deployment, organizations must grapple with the intricate task of ensuring that their containerized applications meet the stringent demands of various regulatory bodies and compliance frameworks. Many industries, such as healthcare (HIPAA), finance (PCI DSS), and data protection (GDPR), impose specific rules and regulations governing the security and privacy of data. These regulations require organizations to implement robust security controls, maintain audit trails, protect sensitive information, and demonstrate compliance through rigorous reporting and documentation.
Opportunities:
Integration with DevSecOps
DevSecOps, a methodology that emphasizes the seamless integration of security into the whole software development lifecycle, from planning and coding to testing and deployment, is what's driving this opportunity. Early detection and correction of security flaws throughout the development process can lessen the possibility that production settings will get compromised. Given that containers are essential to the development and deployment of modern software, container security is a key component of DevSecOps. The opportunity is in offering DevSecOps pipeline-integrated container security tools and solutions that enable security checks and procedures to be automated throughout the development process. Organizations can get a number of advantages by incorporating container security into DevSecOps practices. By constantly checking container images for vulnerabilities, it improves security in the first place by guaranteeing that only secure images are deployed. Second, it accelerates and secures the delivery of applications by streamlining the development process, decreasing conflict between the development and security teams. Thirdly, it offers real-time monitoring and threat detection, enabling proactive management of security issues.
Real-time monitoring, anomaly detection, and behavior analysis of containers and the infrastructure they are connected to are all part of advanced threat detection in container security. This chance presents itself because container environments are dynamic and often produce, delete, and scale new containers, which renders outdated security measures ineffective. Threats to containers include lateral movement within the containerized network, malicious code injections, and unauthorized access. These risks can be found using sophisticated threat detection software that examines container behavior, network traffic, and system interactions. To stay current on new threats and vulnerabilities, they can also interact with threat intelligence sources.
Segment Overview
By Product
Based on product, the global container security market is divided into cloud and on-premises. The on-premises category dominates the market with the largest revenue share. On-premises container security solutions are deployed within an organization's own data centers or private cloud environments. They provide greater control over security infrastructure and data, making them suitable for organizations with strict compliance requirements or those that prioritize data sovereignty. On-premises solutions may require more extensive IT resources for setup, maintenance, and security operations, but they offer a higher level of customization and control. Cloud-based container security solutions are hosted and managed in the cloud by third-party providers. They offer the advantage of scalability and flexibility, aligning well with the dynamic nature of containerized environments. These solutions are accessed over the internet, making them accessible from anywhere and reducing the need for on-premises infrastructure.
By Component
Based on the component, the global container security market is categorized into container security platforms and services. The container security platform category leads the global container security market with the largest revenue share. Container security platforms are software solutions that provide comprehensive security features specifically tailored for containerized applications. These platforms offer a wide array of functionalities, including image scanning for vulnerabilities, runtime protection, access control, network security, and compliance auditing. They are designed to integrate seamlessly with container orchestration systems like Kubernetes and container registries, ensuring end-to-end security across the container lifecycle. Container security services, on the other hand, encompass a range of professional and managed services offered by security experts and service providers. These services may include security assessments, threat detection and response, security consulting, compliance consulting, and managed container security solutions. Organizations can leverage container security services to assess their security posture, identify vulnerabilities, implement best practices, and monitor their containerized environments effectively.
By Application
Based on application, the global container security market is segmented into retail & consumer goods, IT & telecom, government, BFSI, healthcare & life science, manufacturing, and others. The IT & telecom segment dominates the container security market. The IT and telecom industry encompasses technology companies, telecommunications providers, and data centers. Security is critical here to protect sensitive data, networks, and communication infrastructure from cyber threats and data breaches. The retail sector involves businesses such as brick-and-mortar stores, e-commerce platforms, and consumer goods manufacturers. Security solutions in this segment focus on preventing theft, fraud, cyberattacks, and ensuring the safety of both physical and digital assets. Government organizations at various levels require robust security measures to protect national security, critical infrastructure, and sensitive data. This sector deals with a wide range of security challenges, including physical security, cybersecurity, and data protection. The BFSI sector handles vast amounts of financial data and transactions, making it a prime target for cybercriminals. Security solutions in this segment focus on safeguarding financial assets, customer data, and compliance with industry regulations. The healthcare sector deals with sensitive patient data, medical records, and research data. Security solutions in this segment aim to protect patient privacy, secure healthcare networks, and ensure compliance with healthcare regulations like HIPAA.
Global Container Security Market Overview by Region
The global container security market is categorized into North America, Europe, Asia-Pacific, and the Rest of the World. Asia Pacific emerged as the leading region, capturing the largest market share in 2022. Rapid economic growth has been concentrated in the Asia Pacific area, with China, India, Japan, South Korea, and Singapore serving as the region's economic fulcrums. Increased investment in security solutions to safeguard crucial infrastructure, commercial enterprises, and digital assets has resulted from this economic expansion. The threat landscape has expanded as the region's economies become more digitally intertwined, raising concerns about cybersecurity. In order to protect their digital ecosystems, this has prompted businesses in the Asia Pacific region to invest in cutting-edge cybersecurity solutions and services. Numerous governments in the area have put rules and regulations in place to encourage a secure digital environment because they understand how important cybersecurity is. The demand for security products and services has increased as a result of these measures. The booming IT and telecom sectors in Asia Pacific have increased the need for cybersecurity measures to protect data, communication networks, and online services. As these sectors grow, so does the demand for security solutions tailored to their specific needs. The region has been at the forefront of technological innovation, with a strong focus on emerging technologies like artificial intelligence (AI) and the Internet of Things (IoT). While these technologies offer immense benefits, they also introduce new security challenges, driving the need for innovative security solutions.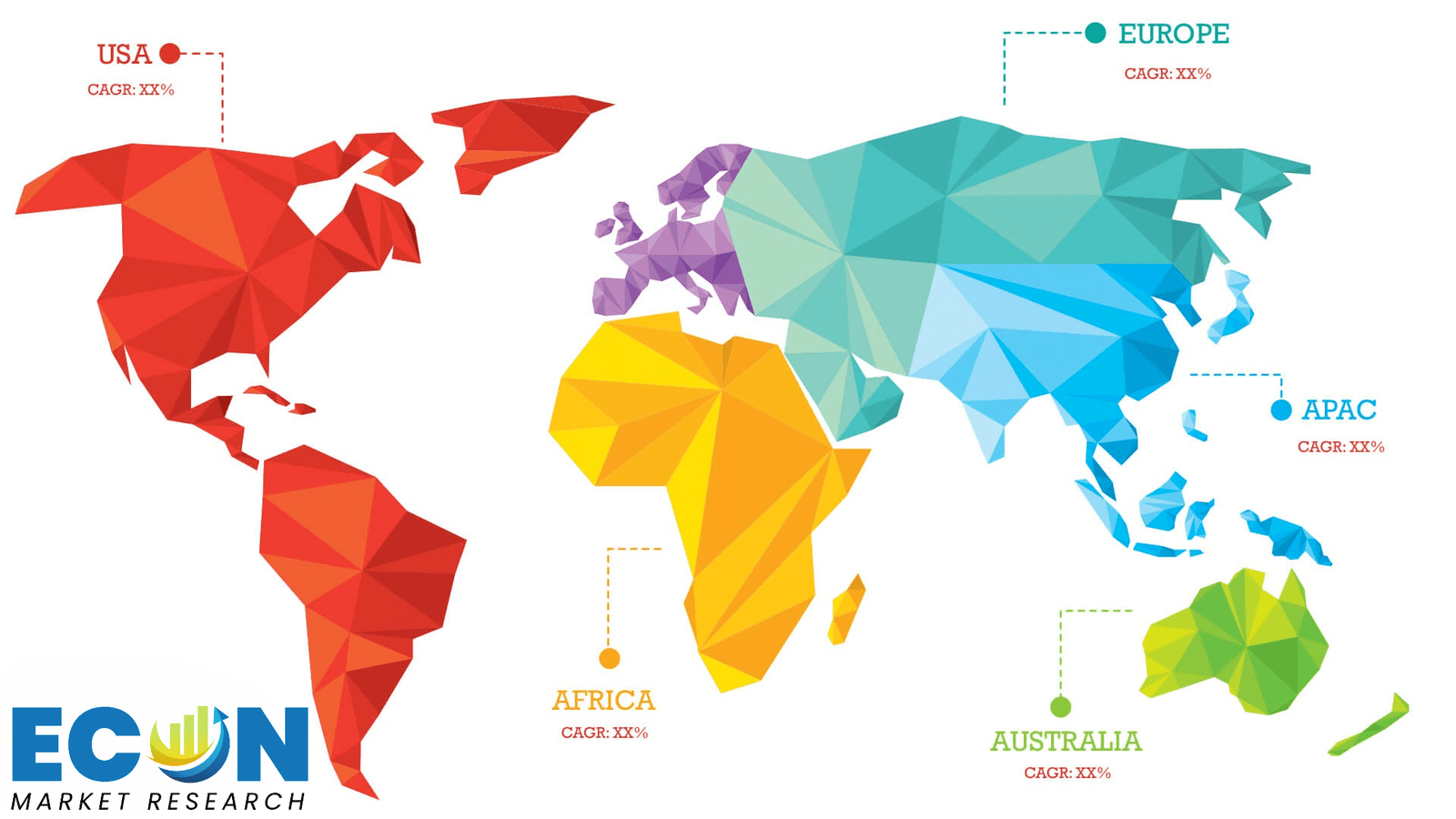 Global Container Security Market Competitive Landscape
In the global container security market, a few major players exert significant market dominance and have established a strong regional presence. These leading companies remain committed to continuous research and development endeavors and actively engage in strategic growth initiatives, including product development, launches, joint ventures, and partnerships. By pursuing these strategies, these companies aim to strengthen their market position, expand their customer base, and capture a substantial share of the market.
Some of the prominent players in the global container security market include Microsoft Corporation; Broadcom, Inc.; IBM; Amazon Web Services; VMware; Qualys; Docker Inc.; Checkpoint Software Technologies Ltd.; Zscaler; Aqua Security; Sophos; Anchore; Palo Alto Networks; HCL Technologies Limited; CROWDSTRIKE, and various other key players.
Global Container Security Market Recent Developments
In February 2023, Kaspersky bought 49% of Ximi Pro, a company that develops container security solutions. With the help of this acquisition, the business will be able to create a service that offers complete protection within the framework of cloud workload protection. Additionally, it will add the capacity to recognize and react to threats in the infrastructure of containers to its future XDR solution.
In October 2021, NeuVector is Purchased by SUSE to Strengthen Container Security. The acquisition of NeuVector, Inc., a pioneer in full lifecycle container security that offers end-to-end security, from DevOps pipeline vulnerability protection to automated security and compliance in production, is being announced today by SUSE S.A., a global leader in innovative, dependable, and enterprise-grade open-source solutions.
Scope of the Global Container Security Market Report
Container Security Market Report Segmentation
ATTRIBUTE

DETAILS

By Product

By Component

Container Security Platform

Services

By Application

Retail & Consumer Goods

IT & Telecom

Government

BFSI

Healthcare & Life Science

Manufacturing

Others

By Geography

North America (USA,

and Canada)

Europe (UK, Germany, France, Italy, Spain, Russia and Rest of Europe)

Asia Pacific (Japan, China, India, Australia, Southeast Asia and Rest of Asia Pacific)

Latin America (Brazil, Mexico, and Rest of Latin America)

Middle East & Africa (South Africa, GCC, and Rest of Middle East & Africa)

Customization Scope

Pricing
Objectives of the Study
The objectives of the study are summarized in 5 stages. They are as mentioned below:
Global Container Security Market

Size and Forecast:
To identify and estimate the market size for the global container security market segmented by product, by component, by application, region and by value (in U.S. dollars). Also, to understand the consumption/ demand created by consumers of container security between 2019 and 2031.
Market Landscape and Trends:
To identify and infer the drivers, restraints, opportunities, and challenges for the global container security market
Market Influencing Factors:
To find out the factors which are affecting the sales of container security among consumers
To identify and understand the various factors involved in the global container security market affected by the pandemic
To provide a detailed insight into the major companies operating in the market. The profiling will include the financial health of the company's past 2-3 years with segmental and regional revenue breakup, product offering, recent developments, SWOT analysis, and key strategies.
Intended Audience
Retailers, Wholesalers, and Distributors

Cybersecurity Organizations

Technology Enthusiasts

Academics and Researchers

Governments, Associations, and Industrial Bodies

IT and Security Professionals

Investors and Trade Experts
Research Methodology
Our research methodology has always been the key differentiating reason which sets us apart in comparison from the competing organizations in the industry. Our organization believes in consistency along with quality and establishing a new level with every new report we generate; our methods are acclaimed and the data/information inside the report is coveted. Our research methodology involves a combination of primary and secondary research methods. Data procurement is one of the most extensive stages in our research process. Our organization helps in assisting the clients to find the opportunities by examining the market across the globe coupled with providing economic statistics for each and every region. The reports generated and published are based on primary & secondary research. In secondary research, we gather data for global Market through white papers, case studies, blogs, reference customers, news, articles, press releases, white papers, and research studies. We also have our paid data applications which includes hoovers, Bloomberg business week, Avention, and others.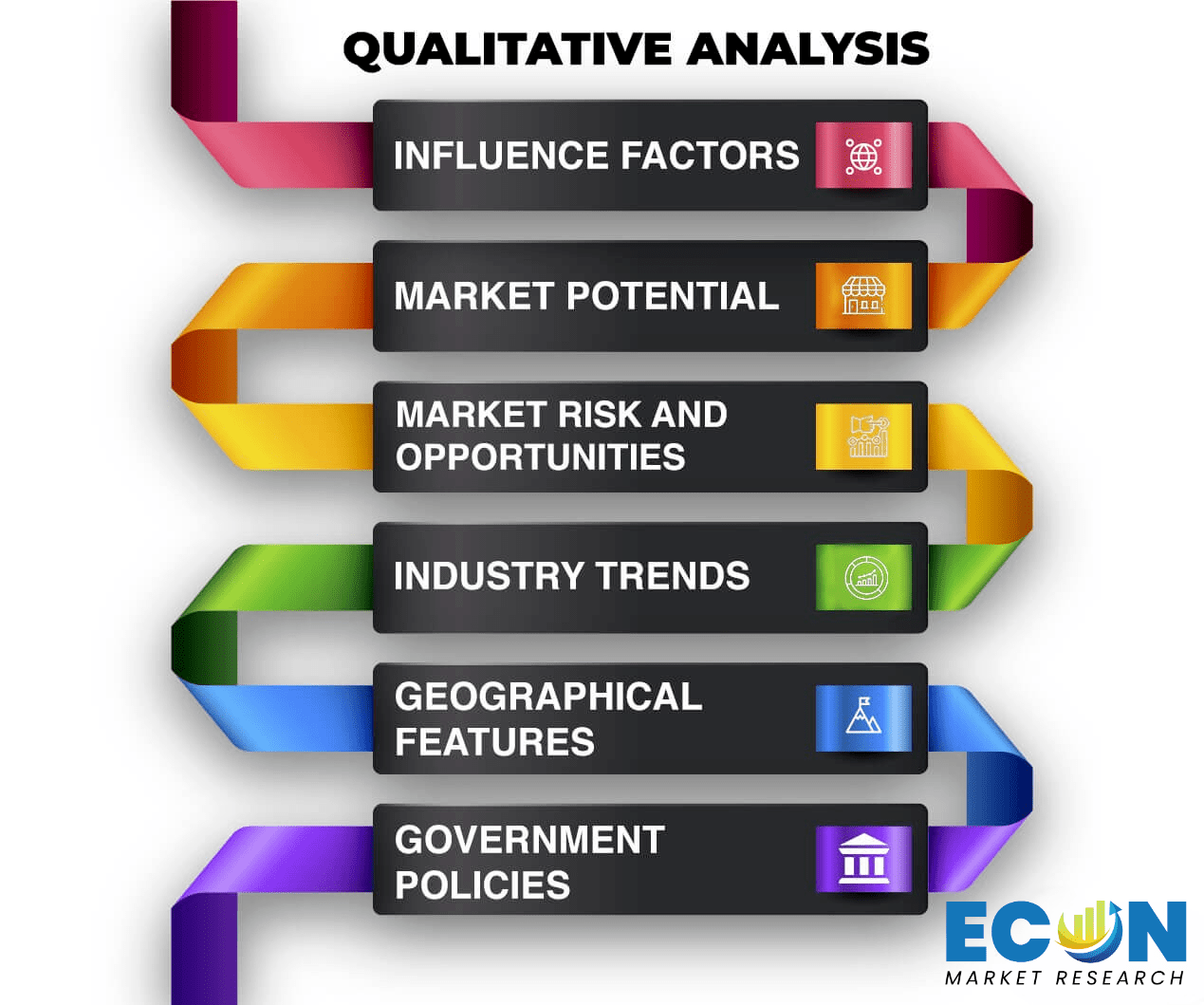 Data Collection
Data collection is the process of gathering, measuring, and analyzing accurate and relevant data from a variety of sources to analyze market and forecast trends. Raw market data is obtained on a broad front. Data is continuously extracted and filtered to ensure only validated and authenticated sources are considered. Data is mined from a varied host of sources including secondary and primary sources.

Primary Research
After the secondary research process, we initiate the primary research phase in which we interact with companies operating within the market space. We interact with related industries to understand the factors that can drive or hamper a market. Exhaustive primary interviews are conducted. Various sources from both the supply and demand sides are interviewed to obtain qualitative and quantitative information for a report which includes suppliers, product providers, domain experts, CEOs, vice presidents, marketing & sales directors, Type & innovation directors, and related key executives from various key companies to ensure a holistic and unbiased picture of the market. 
Secondary Research
A secondary research process is conducted to identify and collect information useful for the extensive, technical, market-oriented, and comprehensive study of the market. Secondary sources include published market studies, competitive information, white papers, analyst reports, government agencies, industry and trade associations, media sources, chambers of commerce, newsletters, trade publications, magazines, Bloomberg BusinessWeek, Factiva, D&B, annual reports, company house documents, investor presentations, articles, journals, blogs, and SEC filings of companies, newspapers, and so on. We have assigned weights to these parameters and quantified their market impacts using the weighted average analysis to derive the expected market growth rate.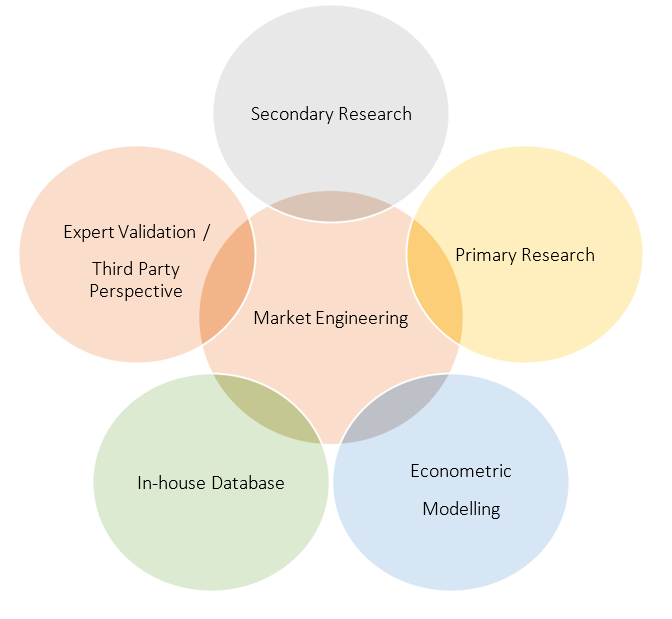 Top-Down Approach & Bottom-Up Approach
In the top – down approach, the Global Batteries for Solar Energy Storage Market was further divided into various segments on the basis of the percentage share of each segment. This approach helped in arriving at the market size of each segment globally. The segments market size was further broken down in the regional market size of each segment and sub-segments. The sub-segments were further broken down to country level market. The market size arrived using this approach was then crosschecked with the market size arrived by using bottom-up approach.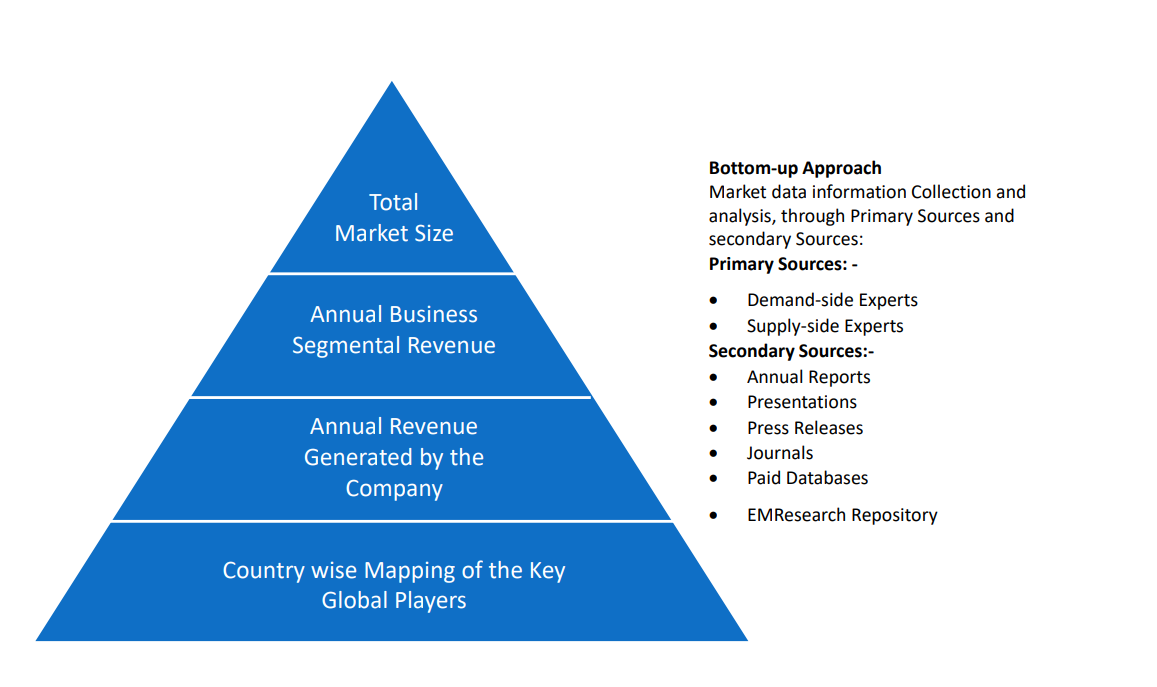 In the bottom-up approach, we arrived at the country market size by identifying the revenues and market shares of the key market players. The country market sizes then were added up to arrive at regional market size of the decorated apparel, which eventually added up to arrive at global market size.
This is one of the most reliable methods as the information is directly obtained from the key players in the market and is based on the primary interviews from the key opinion leaders associated with the firms considered in the research. Furthermore, the data obtained from the company sources and the primary respondents was validated through secondary sources including government publications and Bloomberg.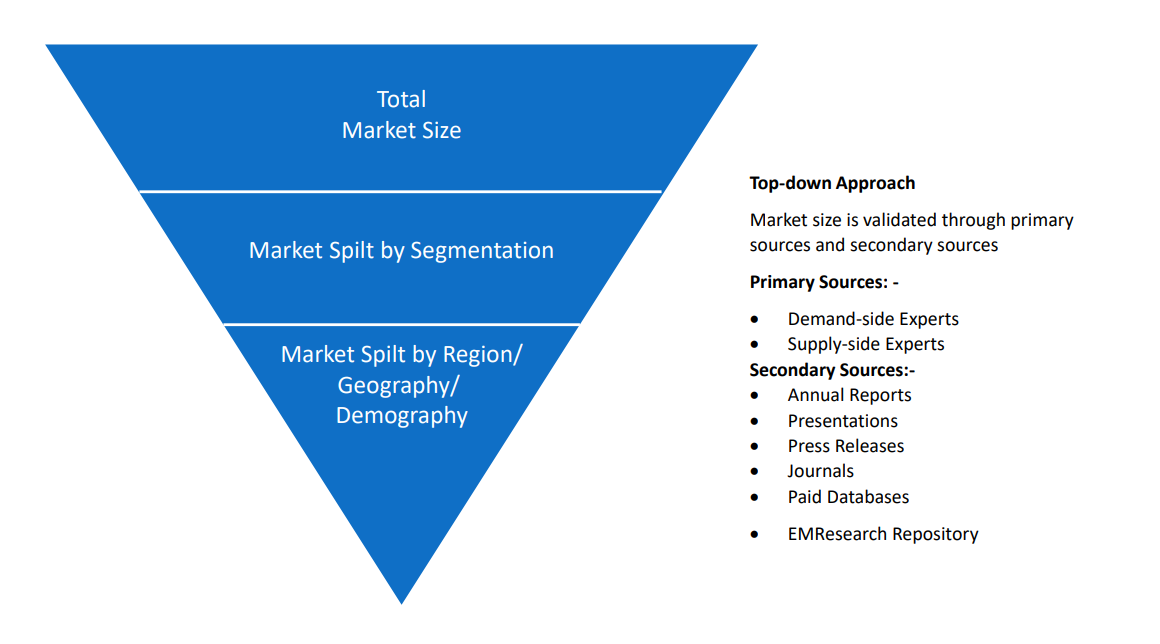 Market Analysis & size Estimation
Post the data mining stage, we gather our findings and analyze them, filtering out relevant insights. These are evaluated across research teams and industry experts. All this data is collected and evaluated by our analysts. The key players in the industry or markets are identified through extensive primary and secondary research. All percentage share splits, and breakdowns have been determined using secondary sources and verified through primary sources. The market size, in terms of value and volume, is determined through primary and secondary research processes, and forecasting models including the time series model, econometric model, judgmental forecasting model, the Delphi method, among Flywheel Energy Storage. Gathered information for market analysis, competitive landscape, growth trends, product development, and pricing trends is fed into the model and analyzed simultaneously.
Quality Checking & Final Review
The analysis done by the research team is further reviewed to check for the accuracy of the data provided to ensure the clients' requirements. This approach provides essential checks and balances which facilitate the production of quality data. This Type of revision was done in two phases for the authenticity of the data and negligible errors in the report. After quality checking, the report is reviewed to look after the presentation, Type and to recheck if all the requirements of the clients were addressed.