The Global Conformal Coatings Market was valued at USD 1.45 billion in 2022 and is estimated to reach approximately USD 2.47 billion by 2031, at a CAGR of 6.1% from 2023 to 2031. Conformal coatings are specialized protective coatings used on printed circuit boards (PCBs) and electronic parts. Corrosion, short circuits, and electrical interference are all prevented by these coatings, which protect delicate electronics from environmental elements including moisture, dust, chemicals, and temperature changes. In sectors like consumer electronics, automotive, aerospace, and medical devices, they are essential to assuring the dependability and lifespan of electronic devices. Conformal coatings support innovation in environmentally friendly formulations while assisting in meeting strict quality standards and the desire for compact, high-performance electronic gadgets. Within the international industrial and electronics industries, the conformal coatings industry is a vibrant subsegment. As a result, the dependability and longevity of electronic equipment are eventually ensured. These specialized coatings are made to shield electronic components and circuits from environmental elements including moisture, dust, chemicals, and temperature changes. Printed circuit boards (PCBs) and other delicate electronic components are commonly covered with small layers of conformal coatings, creating a barrier that protects against corrosion, short circuits, and electrical interference. They are therefore crucial in a variety of fields, including consumer electronics, automotive systems, aircraft, and medical equipment. The rise of emerging technologies like IoT and 5G, as well as the rising demand for smaller, more powerful electronic gadgets, are some of the drivers that are fueling market expansion in the conformal coatings sector. Manufacturers are always coming up with new ideas to provide coatings that provide excellent protection without sacrificing performance. Environmental issues have also had an impact on the market, resulting in the creation of eco-friendly coatings that nevertheless provide protection while adhering to legal regulations. The conformal coatings market is anticipated to expand with other sectors' growth, offering crucial solutions for the always changing electronics environment.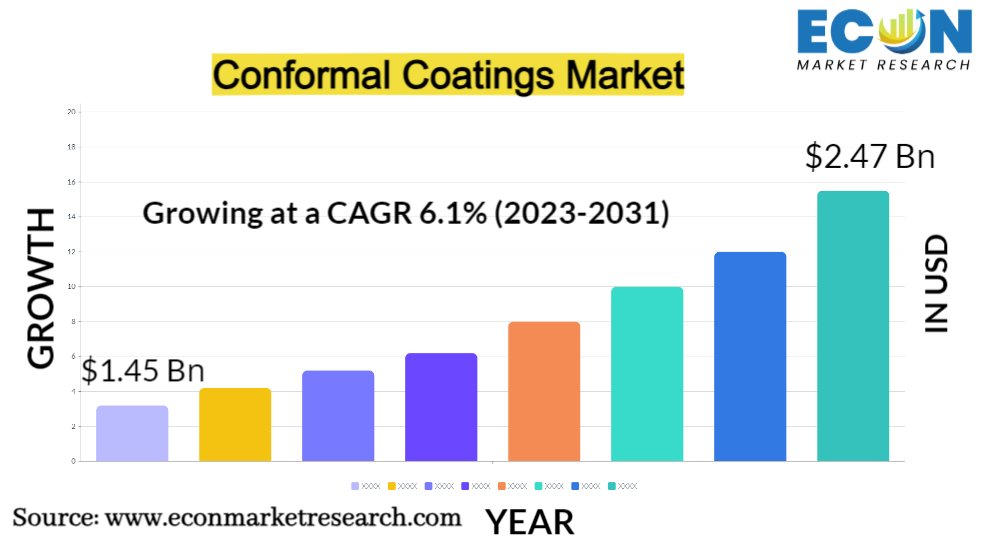 CONFORMAL COATINGS MARKET: REPORT SCOPE & SEGMENTATION
| | |
| --- | --- |
| Report Attribute | Details |
| Estimated Market Value (2022) | 1.45 Bn |
| Projected Market Value (2031) | 2.47 Bn |
| Base Year | 2022 |
| Forecast Years | 2023 - 2031 |
| Scope of the Report | Historical and Forecast Trends, Industry Drivers and Constraints, Historical and Forecast Market Analysis by Segment- By Product, By Application, & Region |
| Segments Covered | By Product, By Application, & Region |
| Forecast Units | Value (USD Billion or Million), and Volume (Units) |
| Quantitative Units | Revenue in USD million/billion and CAGR from 2023 to 2031 |
| Regions Covered | North America, Europe, Asia Pacific, Latin America, and Middle East & Africa, and the Rest of World |
| Countries Covered | U.S., Canada, Mexico, U.K., Germany, France, Italy, Spain, China, India, Japan, South Korea, Brazil, Argentina, GCC Countries, and South Africa, among others |
| Report Coverage | Market growth drivers, restraints, opportunities, Porter's five forces analysis, PEST analysis, value chain analysis, regulatory landscape, market attractiveness analysis by segments and region, company market share analysis, and COVID-19 impact analysis. |
| Delivery Format | Delivered as an attached PDF and Excel through email, according to the purchase option. |
Global Conformal Coatings Market Dynamics
The conformal coatings market is subject to a complicated dynamic interplay caused by a number of factors. The need for consumer electronics, automotive electronics, and the rising prevalence of Internet of Things (IoT) devices all contribute to the global electronics industry's explosive expansion, which is a significant stimulus for the development of protective coatings. The industry is simultaneously changing because to strict environmental and safety laws, which has prompted producers to create eco-friendly formulations in order to meet these standards while keeping great performance. Another important factor is technological development, which has led to breakthroughs like UV-curable coatings and nanotechnology that improve application effectiveness and protective capacities. The electronics industry's tendency towards miniaturization is fueling demand for precision coatings that protect delicate components in ever-smaller devices and encouraging ongoing innovation in the conformal coatings market. Additionally, the aerospace and defense sector is crucial to the market since it needs high-performance coatings to safeguard electronics in harsh environments. Electronics adoption is exploding in emerging markets, especially in poorer nations, which greatly increases the demand for conformal coatings. The sector does, however, confront difficulties, such as supply chain interruptions brought on by variations in raw material availability and the ongoing danger of quick technical obsolescence. Additionally, economic downturns that affect consumer spending on electronics can have cyclical effects on the conformal coatings business. In this dynamic landscape, adaptable manufacturers capable of meeting evolving technological, regulatory, and industry-specific demands are best positioned to thrive in the conformal coatings market.
Global Conformal Coatings Market Drivers
The Growing Demand for Electronic Devices
The worldwide electronics industry's ongoing growth is one of the main factors driving the conformal coatings market. The need for electronic devices is constantly rising in a number of industries, including consumer electronics, automotive, healthcare, industrial automation, and telecommunications. Conformal coatings now have a sizable market thanks to the widespread use of smartphones, tablets, laptops, and wearable technology. To ensure the dependability and endurance of these devices, these coatings are crucial for shielding the delicate electronic components from external elements such as moisture, dust, and temperature changes. Modern cars come with a variety of electrical devices, from sophisticated infotainment systems to engine control units. In order to protect these vital components from hostile vehicle conditions, conformal coatings are essential. This increases overall safety. The automation of manufacturing processes relies heavily on electronic control systems. Conformal coatings are vital in industrial automation to protect control boards and sensors from exposure to chemicals, vibrations, and humidity, ensuring smooth and efficient operations.
IoT Devices Fuelling the Need for Protective Coatings
The internet of things (IoT) is a network of networked devices and common objects that are equipped with connections, software, sensors, and other features that allow them to gather and share data. Many internet of things (IoT) devices are put to use in outdoor or hostile conditions, where they are subjected to moisture, dust, chemicals, and temperature changes. Conformal coatings operate as a crucial barrier to protect the delicate electronic components from these outside influences, resulting in dependable and long-lasting performance. Because they are frequently small and disguised, IoT devices are more vulnerable to physical harm and environmental stressors. Trends towards miniaturization make accurate and dependable protective coatings more necessary. Devices used in the Internet of Things usually rely on wireless communication methods, which makes them vulnerable to interference. With the use of conformal coatings, electromagnetic interference (EMI) and radiofrequency interference (RFI) can be reduced, resulting in reliable data transmission. The rapid growth of the IoT ecosystem is driving the conformal coatings market by necessitating reliable protection for electronic components in a wide range of applications. As IoT technology continues to evolve, the demand for advanced and specialized coatings is expected to grow in tandem.
Restraints:
Challenges in Applying and Curing Coatings
It might be difficult to achieve uniform and accurate coating coverage on complex PCBs. The intended protection may be compromised by portions that remain exposed to environmental forces due to inconsistent coating thickness or insufficient coverage. Curing is frequently necessary for conformal coatings to provide a protective film. Heat, UV light, or chemical reactions can all be used in the curing process. It can be difficult to choose the best curing technique and guarantee even curing throughout the entire surface, which can result in problems like uneven coating or insufficient curing, which can reduce the efficiency of the coating. Operators must be skilled and have a good understanding of the coating materials and processes in order to apply conformal coatings properly. For manufacturers, retaining and training a skilled workforce can be resource-intensive.
Disposal and Sustainability Challenges
Many conventional conformal coatings have dangerous components like volatile organic compounds (VOCs) and solvents that can be harmful to the environment and human health during production, use, and disposal. Regulations on these drugs are being placed by regulatory organizations more frequently. It can be difficult to get rid of excess or used conformal coatings. Poor disposal techniques can cause environmental pollution, which degrades the quality of the land and water. Regulations governing garbage disposal can be expensive and logistically difficult to comply with. Electronic parts and PCBs may be less recyclable because of coatings, which must be removed before recycling. Component damage can happen during the labor-intensive removal operation.
Opportunities:
Rising Adoption of Electric Vehicles (EVs) and Autonomous Vehicles
EVs feature advanced electronic systems that manage battery performance, power distribution, and connectivity. These sensitive components require effective protection from environmental factors, making conformal coatings crucial for ensuring the longevity and performance of electric vehicles. Autonomous vehicles rely heavily on advanced sensors, radar, LiDAR, and cameras for navigation and safety. Conformal coatings are essential to shield these intricate sensor systems from moisture, dust, and temperature fluctuations, as malfunctions could have life-threatening consequences. The automotive industry's focus on safety and reliability aligns with the core purpose of conformal coatings. These coatings help maintain the functionality of critical electronic systems, ensuring safe and dependable operation. The EV and autonomous vehicle markets are experiencing exponential growth, with many major automakers investing heavily in these technologies. This expansion directly translates into increased opportunities for conformal coatings suppliers to provide protection for the extensive electronics within these vehicles.
Expanding 5G Infrastructure
As 5G networks are deployed worldwide, there is a surging demand for high-performance electronic components and devices that can withstand the rigors of advanced telecommunications systems. 5G infrastructure relies on an intricate network of advanced electronic components, including high-frequency semiconductors, microelectronics, and antennas. These components must function reliably under diverse environmental conditions, making conformal coatings crucial for protection against moisture, dust, and extreme temperatures. The deployment of massive MIMO (Multiple-Input, Multiple-Output) antenna arrays is a hallmark of 5G networks. These antenna systems consist of numerous delicate electronic components that require robust protection against environmental factors to ensure uninterrupted network performance. 5G networks are expected to provide ultra-fast data transmission and low latency, critical for applications like IoT and autonomous vehicles. Conformal coatings play a vital role in maintaining the integrity of the electronics responsible for data transmission.
Segment Overview
By Product
Based on product, the global conformal coatings market is divided into acrylic, epoxy, urethane, silicone, and perylene. The acrylic category dominates the market with the largest revenue share of around 48.2% in 2022. Acrylic conformal coatings are known for their versatility and ease of application. They offer good moisture resistance, electrical insulation, and flexibility. Acrylic coatings are often used in less demanding environments where cost-effectiveness and ease of rework are important factors. Epoxy conformal coatings provide excellent protection against environmental factors such as moisture, chemicals, and mechanical stress. They have strong adhesion properties and high dielectric strength, making them suitable for demanding applications in aerospace, automotive, and industrial sectors. Urethane conformal coatings are valued for their durability and resistance to abrasion and chemicals. They offer good protection in harsh environments and are commonly used in applications where long-term reliability is crucial. Silicone conformal coatings are known for their outstanding temperature resistance and flexibility. They provide excellent protection against extreme temperature variations, making them suitable for applications in aerospace, automotive, and industrial sectors exposed to high or low temperatures. Perylene-based conformal coatings are relatively less common but offer unique properties, including high chemical resistance and UV stability. They are often used in specialized applications where these properties are essential.
By Application
Based on the application, the global conformal coatings market is categorized into electronics, automotive, medical, aerospace & defense, marine, industrial, and others. The electronics category leads the global conformal coatings market with the largest revenue share of around 43.6% in 2022. The electronics industry is one of the primary consumers of conformal coatings. Coatings are used to protect sensitive electronic components and circuitry in consumer electronics, telecommunications equipment, industrial control systems, and more. In the automotive sector, conformal coatings play a crucial role in safeguarding electronic control units (ECUs), sensors, and other electronics from harsh environmental conditions, vibrations, and temperature fluctuations. They contribute to the safety and performance of modern vehicles. Conformal coatings are used extensively in medical devices, ensuring the reliability and longevity of electronic components in devices like pacemakers, infusion pumps, diagnostic equipment, and more. They help maintain the integrity of critical healthcare systems. The aerospace and defense industry relies on conformal coatings to protect avionics, communication systems, radar equipment, and navigation systems from extreme temperatures, humidity, and other environmental stressors. Reliability is paramount in this sector. Marine applications involve protecting electronic components on ships, submarines, offshore platforms, and maritime communication systems. Conformal coatings are essential to prevent corrosion and maintain the functionality of electronics in marine environments. The industrial sector encompasses a wide range of applications, including factory automation, robotics, and industrial control systems. Conformal coatings help protect electronic components in these systems, ensuring uninterrupted operation in demanding industrial settings.
Global Conformal Coatings Market Overview by Region
The global conformal coatings market is categorized into North America, Europe, Asia-Pacific, and the Rest of the World. Asia Pacific emerged as the leading region, capturing approximately 50.1% of the market share in 2022. Since the Asia Pacific region has a reputation for experiencing strong economic growth, this assertion can infer that the area has taken the lead in boosting the world economy. Asia Pacific has had enormous growth in the fields of technology and innovation, with nations like China, Japan, and South Korea making significant strides. This claim can imply that the area is at the cutting edge of technological advancement. Asia Pacific may have attained a dominant position in a certain market or industry, possibly in terms of market share, production capacity, or consumption. Asia Pacific may have emerged as a key center for worldwide trade or the preferred location for foreign investment, demonstrating its ascendance to the top of the global economic hierarchy. In terms of geopolitics and international relations, Asia Pacific could be exerting more influence and playing a central role in shaping global policies and alliances.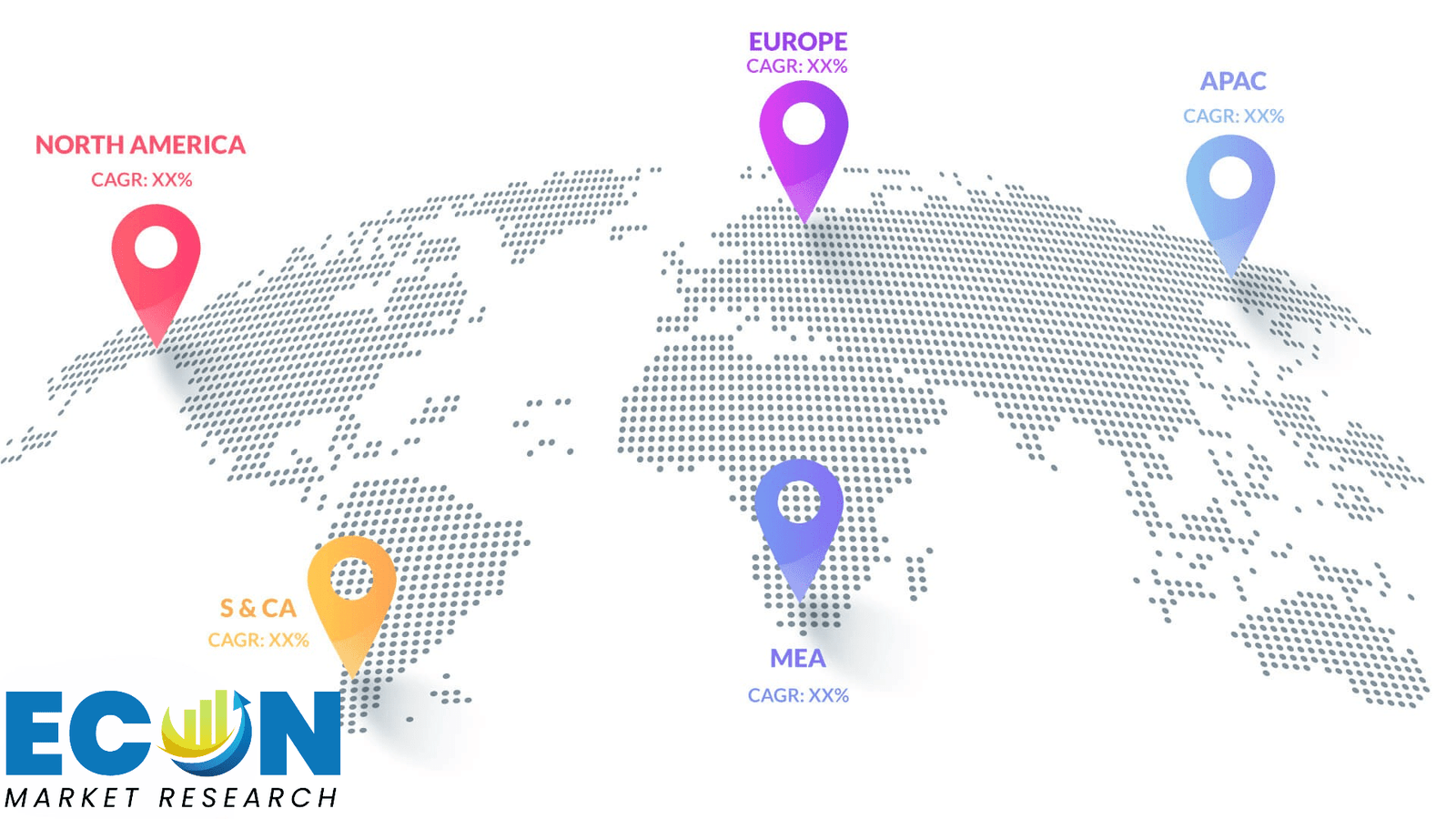 Global Conformal Coatings Market Competitive Landscape
In the global conformal coatings market, a few major players exert significant market dominance and have established a strong regional presence. These leading companies remain committed to continuous research and development endeavors and actively engage in strategic growth initiatives, including product development, launches, joint ventures, and partnerships. By pursuing these strategies, these companies aim to strengthen their market position, expand their customer base, and capture a substantial share of the market.
Some of the prominent players in the global conformal coatings market include Henkel AG & Co. KGaA; Chemtronics; Shin-Etsu Chemical Co., Ltd; Dow; H.B. Fuller Company; Chase Corp; Electrolube; Europlasma NV; MG Chemicals; KISCO LTD; Dymax Corporation; ALTANA, and various other key players.
Global Conformal Coatings Market Recent Developments
In October 2020, Henkel finances the start-up firm actnano in conformal coatings. For the protection of printed circuit boards in a variety of applications in expanding electronics areas, actnano offers customised conformal coatings technology.
Scope of the Global Conformal Coatings Market Report
Conformal Coatings Market Report Segmentation
ATTRIBUTE

DETAILS

By Product

Acrylic

Epoxy

Urethane

Silicone

Parylene

By Application

Electronics

Automotive

Medical

Aerospace & Defense

Marine

Industrial

Others

By Geography

North America (USA,

and Canada)

Europe (UK, Germany, France, Italy, Spain, Russia and Rest of Europe)

Asia Pacific (Japan, China, India, Australia, Southeast Asia and Rest of Asia Pacific)

Latin America (Brazil, Mexico, and Rest of Latin America)

Middle East & Africa (South Africa, GCC, and Rest of Middle East & Africa)

Customization Scope

Pricing
Objectives of the Study
The objectives of the study are summarized in 5 stages. They are as mentioned below:
Global Conformal Coatings Market

Size and Forecast:
To identify and estimate the market size for the global conformal coatings market segmented by product, by application, region and by value (in U.S. dollars). Also, to understand the consumption/ demand created by consumers of conformal coatings between 2019 and 2031.
Market Landscape and Trends:
To identify and infer the drivers, restraints, opportunities, and challenges for the global conformal coatings market.
Market Influencing Factors:
To find out the factors which are affecting the sales of conformal coatings among consumers.
To identify and understand the various factors involved in the global conformal coatings market affected by the pandemic.
To provide a detailed insight into the major companies operating in the market. The profiling will include the financial health of the company's past 2-3 years with segmental and regional revenue breakup, product offering, recent developments, SWOT analysis, and key strategies.
Intended Audience
Raw Material Suppliers

Academic Research Paper

Marketing Campaign

Public Service Announcements

Retailers, Wholesalers, and Distributors

Governments, Associations, and Industrial Bodies

Investors and Trade Experts
Research Methodology
Our research methodology has always been the key differentiating reason which sets us apart in comparison from the competing organizations in the industry. Our organization believes in consistency along with quality and establishing a new level with every new report we generate; our methods are acclaimed and the data/information inside the report is coveted. Our research methodology involves a combination of primary and secondary research methods. Data procurement is one of the most extensive stages in our research process. Our organization helps in assisting the clients to find the opportunities by examining the market across the globe coupled with providing economic statistics for each and every region. The reports generated and published are based on primary & secondary research. In secondary research, we gather data for global Market through white papers, case studies, blogs, reference customers, news, articles, press releases, white papers, and research studies. We also have our paid data applications which includes hoovers, Bloomberg business week, Avention, and others.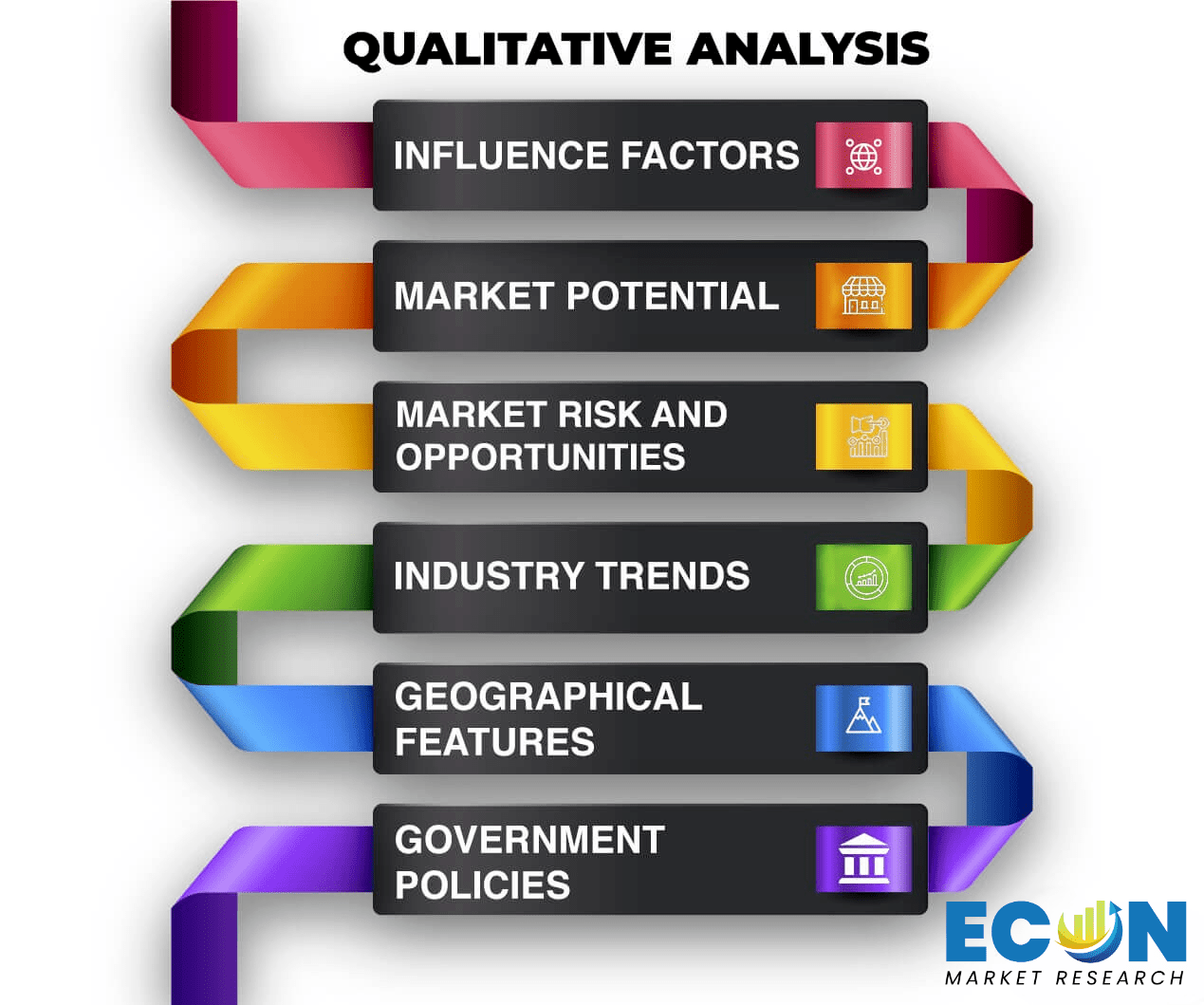 Data Collection
Data collection is the process of gathering, measuring, and analyzing accurate and relevant data from a variety of sources to analyze market and forecast trends. Raw market data is obtained on a broad front. Data is continuously extracted and filtered to ensure only validated and authenticated sources are considered. Data is mined from a varied host of sources including secondary and primary sources.

Primary Research
After the secondary research process, we initiate the primary research phase in which we interact with companies operating within the market space. We interact with related industries to understand the factors that can drive or hamper a market. Exhaustive primary interviews are conducted. Various sources from both the supply and demand sides are interviewed to obtain qualitative and quantitative information for a report which includes suppliers, product providers, domain experts, CEOs, vice presidents, marketing & sales directors, Type & innovation directors, and related key executives from various key companies to ensure a holistic and unbiased picture of the market. 
Secondary Research
A secondary research process is conducted to identify and collect information useful for the extensive, technical, market-oriented, and comprehensive study of the market. Secondary sources include published market studies, competitive information, white papers, analyst reports, government agencies, industry and trade associations, media sources, chambers of commerce, newsletters, trade publications, magazines, Bloomberg BusinessWeek, Factiva, D&B, annual reports, company house documents, investor presentations, articles, journals, blogs, and SEC filings of companies, newspapers, and so on. We have assigned weights to these parameters and quantified their market impacts using the weighted average analysis to derive the expected market growth rate.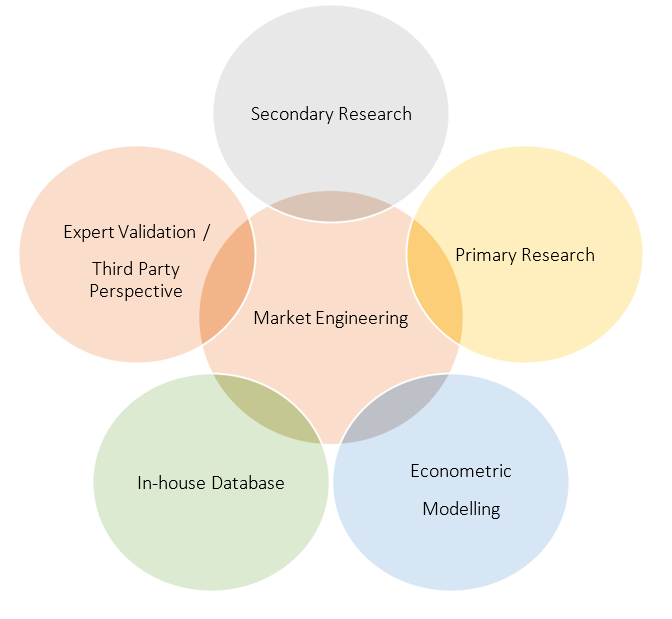 Top-Down Approach & Bottom-Up Approach
In the top – down approach, the Global Batteries for Solar Energy Storage Market was further divided into various segments on the basis of the percentage share of each segment. This approach helped in arriving at the market size of each segment globally. The segments market size was further broken down in the regional market size of each segment and sub-segments. The sub-segments were further broken down to country level market. The market size arrived using this approach was then crosschecked with the market size arrived by using bottom-up approach.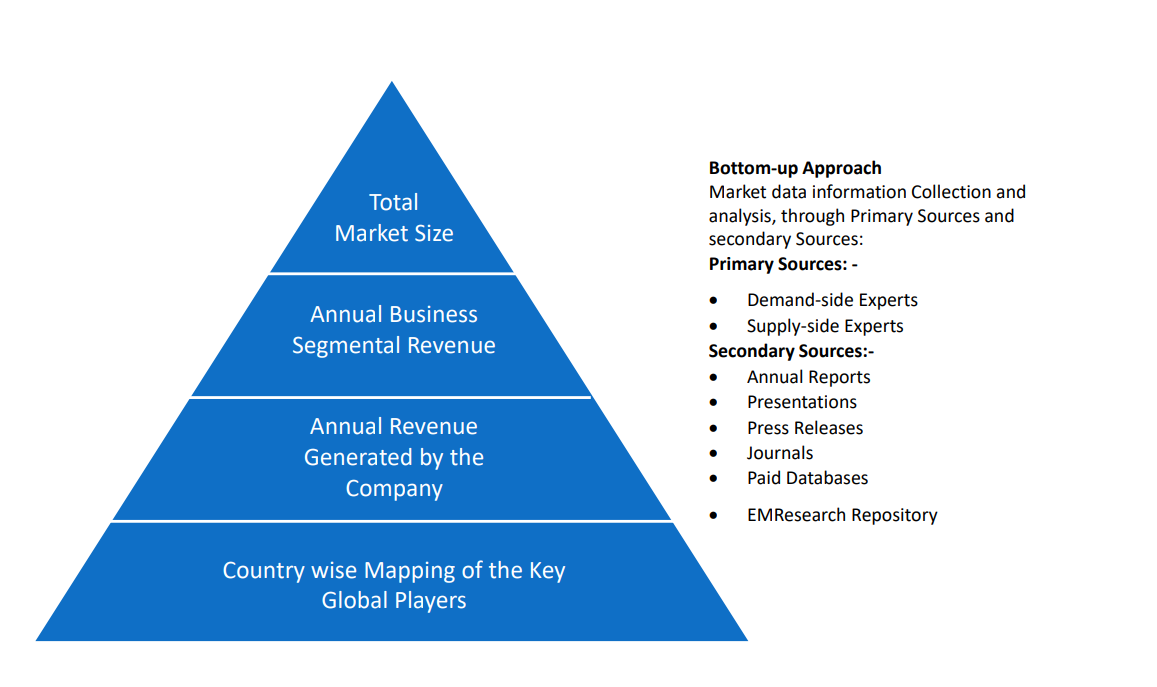 In the bottom-up approach, we arrived at the country market size by identifying the revenues and market shares of the key market players. The country market sizes then were added up to arrive at regional market size of the decorated apparel, which eventually added up to arrive at global market size.
This is one of the most reliable methods as the information is directly obtained from the key players in the market and is based on the primary interviews from the key opinion leaders associated with the firms considered in the research. Furthermore, the data obtained from the company sources and the primary respondents was validated through secondary sources including government publications and Bloomberg.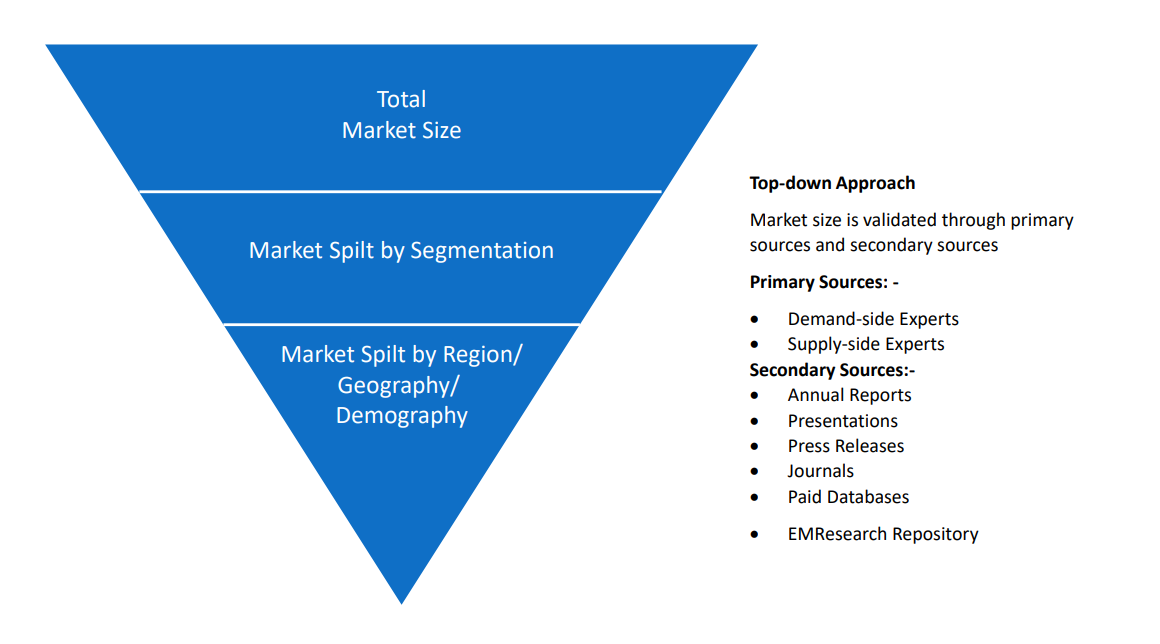 Market Analysis & size Estimation
Post the data mining stage, we gather our findings and analyze them, filtering out relevant insights. These are evaluated across research teams and industry experts. All this data is collected and evaluated by our analysts. The key players in the industry or markets are identified through extensive primary and secondary research. All percentage share splits, and breakdowns have been determined using secondary sources and verified through primary sources. The market size, in terms of value and volume, is determined through primary and secondary research processes, and forecasting models including the time series model, econometric model, judgmental forecasting model, the Delphi method, among Flywheel Energy Storage. Gathered information for market analysis, competitive landscape, growth trends, product development, and pricing trends is fed into the model and analyzed simultaneously.
Quality Checking & Final Review
The analysis done by the research team is further reviewed to check for the accuracy of the data provided to ensure the clients' requirements. This approach provides essential checks and balances which facilitate the production of quality data. This Type of revision was done in two phases for the authenticity of the data and negligible errors in the report. After quality checking, the report is reviewed to look after the presentation, Type and to recheck if all the requirements of the clients were addressed.