The Global Cone Beam Computed Tomography Market was valued at USD 487.64 million in 2022 and is estimated to reach approximately USD 1340.35 million by 2031, at a CAGR of 11.8% from 2023 to 2031. A cone-shaped X-ray beam is used in the cone beam computed tomography (CBCT) medical imaging procedure to provide finely detailed, three-dimensional images of a patient's anatomy. It is frequently used to precisely see teeth, bones, and soft tissues in dentistry, orthodontics, and maxillofacial surgery. In contrast to conventional CT scans, CBCT uses less radiation and produces precise 3D reconstructions, making it useful for treatment planning, diagnostics, and assessing intricate anatomical structures in a variety of medical specialties. In recent years, the cone beam computed tomography (CBCT) market has shown substantial development and innovation. CBCT is a state-of-the-art medical imaging technique that has been widely used in a number of healthcare specialties, including radiology, maxillofacial surgery, orthodontics, and dentistry. CBCT devices use a detector and a cone-shaped X-ray beam to produce in-depth 3D images of a patient's anatomy. CBCT scans use less radiation than conventional CT scans to produce high-resolution, three-dimensional reconstructions of teeth, bones, and soft tissues. Because of the lower radiation dose, it is a safer choice for patients, which is one reason for its rising popularity. By permitting exact visualization of oral structures and facilitating precise diagnosis of dental problems, implant implantation, and orthodontic planning, CBCT has transformed treatment planning in the dentistry and orthodontic fields. For clinicians trying to provide the best possible patient care, it has developed into an essential tool. Additionally, CBCT has uses outside of dentistry. It is essential to maxillofacial surgery because it helps with preoperative planning and enhances surgical results. For specialised inspections of distinct anatomical locations, the technology is also employed in radiology. The CBCT market is anticipated to grow further as technology progresses due to rising need for accurate diagnosis, better treatment outcomes, and decreased radiation exposure. This development will probably lead to continuing research and the creation of CBCT systems that are smaller and more affordable, assuring its continuous dominance in the field of medical imaging.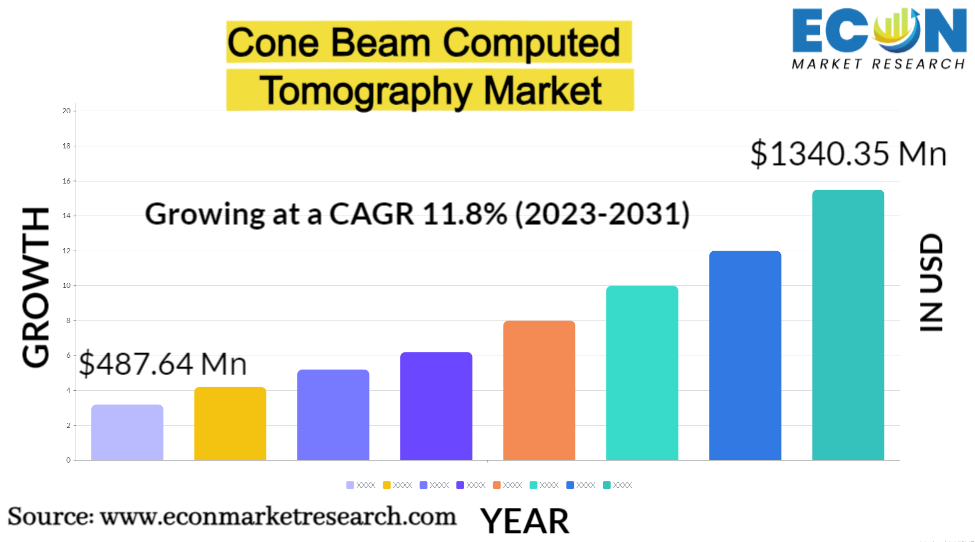 CONE BEAM COMPUTED TOMOGRAPHY MARKET: REPORT SCOPE & SEGMENTATION
| | |
| --- | --- |
| Report Attribute | Details |
| Estimated Market Value (2022) | 487.64 Mn |
| Projected Market Value (2031) | 1340.35 Mn |
| Base Year | 2022 |
| Forecast Years | 2023 - 2031 |
| Scope of the Report | Historical and Forecast Trends, Industry Drivers and Constraints, Historical and Forecast Market Analysis by Segment- By Application, By Patient Position, By End-use, & Region |
| Segments Covered | By Application, By Patient Position, By End-use, & Region |
| Forecast Units | Value (USD Billion or Million), and Volume (Units) |
| Quantitative Units | Revenue in USD million/billion and CAGR from 2023 to 2031 |
| Regions Covered | North America, Europe, Asia Pacific, Latin America, and Middle East & Africa, and the Rest of World |
| Countries Covered | U.S., Canada, Mexico, U.K., Germany, France, Italy, Spain, China, India, Japan, South Korea, Brazil, Argentina, GCC Countries, and South Africa, among others |
| Report Coverage | Market growth drivers, restraints, opportunities, Porter's five forces analysis, PEST analysis, value chain analysis, regulatory landscape, market attractiveness analysis by segments and region, company market share analysis, and COVID-19 impact analysis. |
| Delivery Format | Delivered as an attached PDF and Excel through email, according to the purchase option. |
Global Cone Beam Computed Tomography Market Dynamics
Cone beam computed tomography (CBCT) market growth and development are shaped by a number of dynamic variables. The market is expanding as a result of ongoing improvements in CBCT technology, including better image resolution, less radiation exposure, and quicker scan periods. These developments improve diagnostic capabilities and promote the use of CBCT systems in several healthcare specialties. The greater diagnostic accuracy and safety of CBCT compared to conventional imaging techniques is principally responsible for its increasing demand. CBCT is being used more frequently in dentistry, orthodontics, and maxillofacial surgery for accurate diagnosis, treatment planning, and patient care. Regulatory agencies are essential in forming the CBCT market. Manufacturers and healthcare organizations must adhere to evolving radiation safety standards and laws. Product innovation and price competitiveness are produced by the fierce competition among CBCT manufacturers. Market dynamics are influenced by companies competing for market share by providing features such software upgrades, ergonomic designs, and cost. New market prospects are emerging as applications are being expanded outside of dentistry, such as in radiography and ENT (ear, nose, and throat) specialties. The market diversifies and expands as CBCT technology continues to demonstrate its worth in numerous medical specialties. Personalized medicine and minimally invasive treatments, as well as general healthcare trends, support the use of CBCT for accurate and individualized diagnosis and treatment planning. The market for CBCT is shaped by a complex interaction of technology advancements, consumer demand, market competition, regulatory changes, and broader healthcare trends. These elements work together to support the development and advancement of CBCT technology in the field of medical imaging.
Global Cone Beam Computed Tomography Market Drivers
Advancements in Imaging Technology
Higher resolutions and greater sensitivity are now available thanks to the development of advanced imaging technologies like positron emission tomography (PET), computed tomography, and magnetic resonance imaging (MRI). This has made it possible for medical personnel to accurately identify diseases, tumors, and anomalies at an earlier stage, leading to more effective therapies and better patient outcomes. For more accurate guidance during minimally invasive procedures and interventions, high-resolution imaging technologies are now available. Real-time imaging enables surgeons to navigate through complex anatomical systems, lowering the invasiveness of treatments, minimizing patient discomfort, and quickening recovery times. Modern imaging techniques have helped personalized medicine spread. Healthcare professionals can optimize medicines and lessen side effects by customizing treatments to specific patients based on thorough imaging data, resulting in more favourable outcomes.The integration of artificial intelligence (AI) into imaging technology has revolutionized diagnostics and data analysis. AI algorithms can quickly analyze vast amounts of image data, assisting healthcare professionals in making accurate diagnoses and treatment decisions.
Rising Demand for Minimally Invasive Procedures
Smaller incisions or no incisions at all are characteristics of minimally invasive surgeries, which cause less damage to the body. This results in less postoperative discomfort, shorter stays in the hospital, and quicker recovery times. Patients are choosing these procedures more frequently to lessen the psychological and physical effects of surgery. Compared to conventional open surgeries, minimally invasive procedures frequently result in fewer problems and a decreased risk of infection. These procedures are valued by patients and healthcare professionals for their enhanced safety profile. Patients are looking for less invasive procedures like Botox injections and laser therapy in disciplines like plastic surgery and dermatology to achieve cosmetic modifications with little downtime and scars.Technological innovations, including robotic-assisted surgery and advanced imaging, have made minimally invasive procedures more precise and accessible. Surgeons can perform complex operations with greater accuracy, attracting patients who seek advanced treatments.
Restraints:
High Cost of CBCT Systems
For healthcare establishments, CBCT systems require a sizable upfront capital expenditure. Smaller clinics, dentistry practices, or other institutions with tighter budgets could discover it difficult to cover the equipment's purchase price, installation costs, and required infrastructure upgrades. As a result, many people might be unwilling or unable to invest in CBCT technology. In addition to the initial cost, CBCT system upkeep involves continuous operational costs. This covers routine upkeep, software upgrades, calibration, and technical assistance. Budgets for healthcare can become more and more burdened as a result of these costs. Specialized training for radiology and dentistry workers is necessary for the proper application of CBCT technology. Training courses and certifications have additional expenditures and can demand time away from routine tasks, which has an impact on productivity.
Limited Reimbursement Policies
Patients can be required to cover a sizeable percentage of the cost of CBCT procedures because to the limited reimbursement available. This could make it more difficult for people to receive modern diagnostics, especially when alternative imaging techniques are completely covered by insurance. If the reimbursement rates are insufficient to cover the costs of purchasing and maintaining these systems, healthcare facilities, including as hospitals and clinics, may be hesitant to engage in CBCT equipment. This may restrict the availability of improved diagnostic alternatives for patients and impede the growth of CBCT services. Even when CBCT can be the best diagnostic tool for a particular clinical circumstance, limited reimbursement may result in its under utilization in clinical practise.
Opportunities:
Expanded Clinical Applications
The capacity of the cone beam computed tomography (CBCT) market to expand outside of its traditional stronghold in dentistry is one of the sector's most important opportunities. There is considerable potential to expand the use of CBCT in other medical disciplines, despite the fact that it has been widely used in dental and orthodontic practices for procedures like implant design and root canal therapy. A good example is radiology, where CBCT can offer thorough assessments of musculoskeletal tissues, sinuses, and other anatomical locations. CBCT is a tool used in orthopaedics to evaluate joint health and direct minimally invasive procedures. The capacity of CBCT to visualize intricate head and neck tissues aids otolaryngology (ENT), improving preoperative planning for treatments like sinus surgery.As CBCT technology develops, the capacity to adapt to these various clinical uses creates new market niches and career prospects for both healthcare providers and product makers. The CBCT market can broaden its scope and contribute to more thorough patient care by utilizing these new specialties, which will ultimately spur growth and innovation in the industry.
Telemedicine and Remote Consultations
A significant prospect in contemporary healthcare is the application of cone beam computed tomography (CBCT) to telemedicine and remote consultations. Patients can obtain medical treatments and consultations remotely thanks to telemedicine, which is made possible by cutting-edge technology and connection. This experience is improved by the incorporation of CBCT into telemedicine platforms since it allows for remote access to diagnostic tools and high-quality 3D pictures. Through the combination of CBCT and telemedicine, patients in rural or undeserved locations can now receive specialized diagnostic expertise without having to make long travel distances. Additionally, it makes healthcare more convenient for people with restricted mobility or access to transportation. The remote imaging features of CBCT enable collaboration among medical personnel in various places.
Segment Overview
By Application
Based on application, the global cone beam computed tomography market is divided into dental implantology, orthodontics. The dental implantology category dominates the market with the largest revenue share of around 26% in 2022. CBCT technology plays a crucial role in dental implantology by providing thorough 3D imaging of a patient's oral anatomy. This makes it possible to arrange dental implants precisely because dentists and oral surgeons can assess elements like bone density and anatomical landmarks. This guarantees that dental implants are placed in the best possible locations for stability and longevity. Dental implantology CBCT-guided operations are connected with improved success rates and minimally invasive surgery, lowering patient suffering and recuperation periods. CBCT has developed into a crucial tool for orthodontists in the orthodontic field. By providing comprehensive 3D views of the patient's cranium and face structures, it aids in precise diagnosis and therapy planning. Orthodontists can assess the necessity for orthognathic (jaw) surgery when necessary, identify potential airway obstructions, and comprehend tooth alignment better.
By Patient Position
Based on the patient position, the global cone beam computed tomography market is categorized into seated position, standing position, and supine position. The seated position category leads the global cone beam computed tomography market with the largest revenue share of around 64% in 2022. The seated position is commonly employed for dental and oral examinations, as it allows for easy access to the patient's mouth and head. Dentists and orthodontists often utilize seated positioning for procedures such as dental check-ups, X-rays, and orthodontic evaluations. This position offers patient comfort and accessibility for the clinician, contributing to efficient and precise diagnostics and treatment planning. In the standing position, patients are upright, which is particularly relevant in orthopedics and musculoskeletal imaging. It is used to assess weight-bearing joints, spinal alignment, and postural issues. Orthopedic specialists rely on this positioning method to diagnose conditions like scoliosis, joint disorders, and fractures, as it provides insights into how the body supports weight and moves under normal conditions.
By End-Use
Based on end-use, the global cone beam computed tomography market is segmented into hospitals, imaging centers, dental clinics, and others. The dental clinics segment dominates the cone beam computed tomography market. Dental clinics have a specific focus on oral health and dental imaging, primarily employing technologies such as intraoral and panoramic X-rays, as well as cone beam computed tomography (CBCT) for detailed 3D imaging of the oral and maxillofacial regions. These clinics play a vital role in dental diagnostics, treatment planning, and oral surgery. Hospitals represent a significant and central segment of the medical imaging market. They typically house a wide array of imaging modalities, including X-ray, MRI, CT scans, and ultrasound, to support various medical specialties. Hospitals serve as the primary location for emergency and inpatient care, making medical imaging an essential component of their healthcare services. Imaging centers constitute another crucial segment, specializing in diagnostic imaging services. These facilities offer a comprehensive range of imaging modalities and often prioritize outpatient care. Imaging centers are known for their efficiency, accessibility, and convenience, providing timely diagnostic evaluations to patients with a variety of medical needs.
Global Cone Beam Computed Tomography Market Overview by Region
The global cone beam computed tomography market is categorized into North America, Europe, Asia-Pacific, and the Rest of the World. North America emerged as the leading region, capturing approximately 46% of the market share in 2022. North America is a centre for innovation and research because of its highly developed and cutting-edge technical infrastructure. For instance, Silicon Valley in the United States is well-known throughout the world for its concentration of technology businesses and startups. The United States and Canada, two of the nations with the largest economies in the world, are located in the region. The world's financial markets, commerce, and investments are driven by these economic giants. North America is recognized for its elite colleges and universities, which draw talent and promote an entrepreneurial and innovative culture. Governments, colleges, and businesses make significant investments in R&D to progress technology and position the region as a global leader in a variety of fields. With its cutting-edge medical research, cutting-edge medical technology, and groundbreaking pharmaceuticals, North America is at the forefront of healthcare innovation. This area is home to numerous prominent research and medical organizations. North America's sizable and wealthy consumer population offers firms a wide range of market prospects and draws both local and foreign investment. A favourable climate for corporate growth and investment is influenced by political stability and robust governance systems.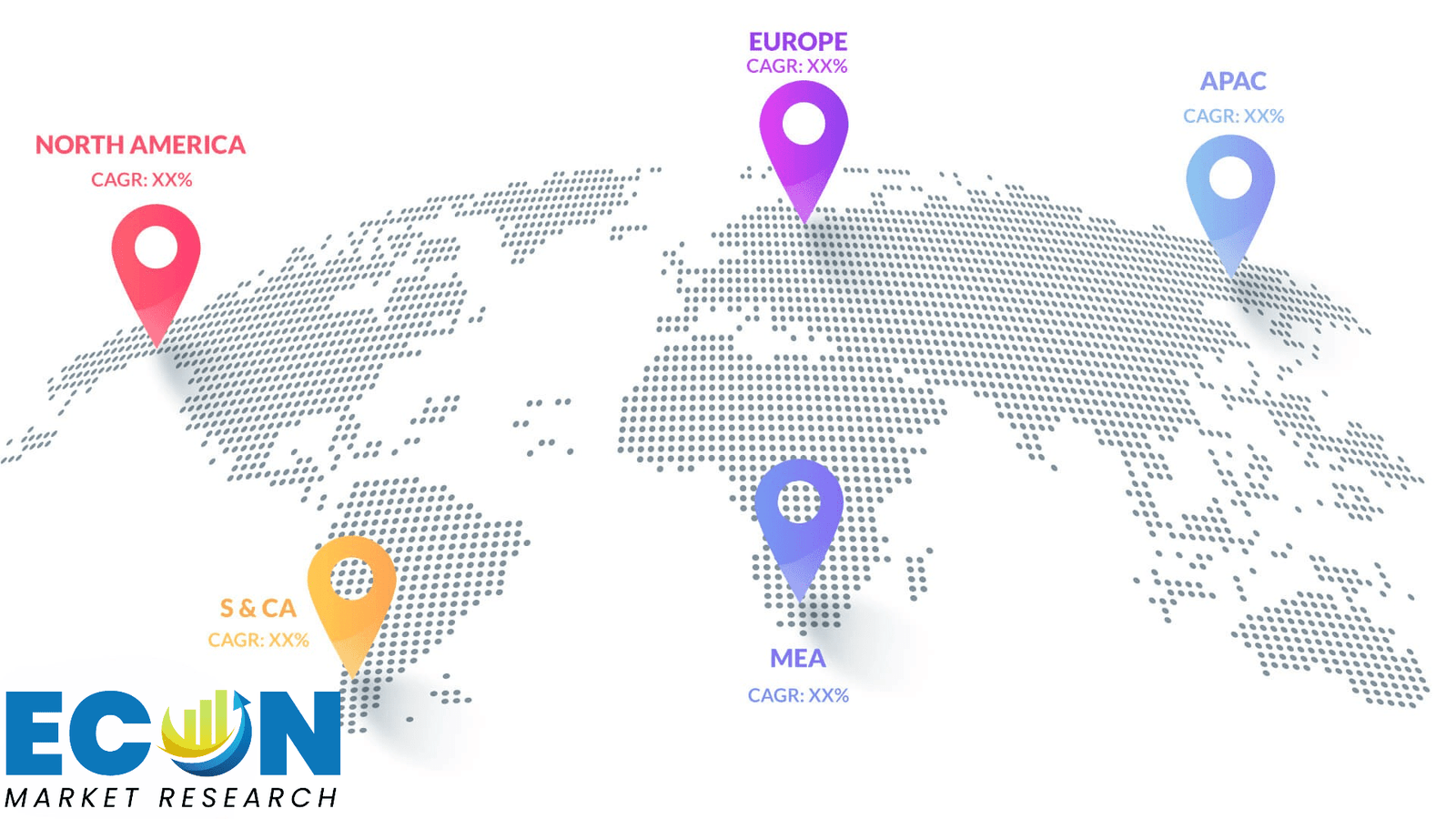 Global Cone Beam Computed Tomography Market Competitive Landscape
In the global cone beam computed tomography market, a few major players exert significant market dominance and have established a strong regional presence. These leading companies remain committed to continuous research and development endeavors and actively engage in strategic growth initiatives, including product development, launches, joint ventures, and partnerships. By pursuing these strategies, these companies aim to strengthen their market position, expand their customer base, and capture a substantial share of the market.
Some of the prominent players in the global cone beam computed tomography market include Dentsply Sirona; J. Morita Mfg. Corp.; Vatech Co., Ltd.; Curve Beam LLC; Carestream Health Inc. (Onex Corporation); Danaher Corporation , and various other key players.
Global Cone Beam Computed Tomography Market Recent Developments
In June 2022, New Modular Computed Tomography System Assembly Patent Announced by Xoran. With this development, existing ambulances may accommodate ultra-compact CT for early stroke detection without the need for a separate mobile stroke unit. Both the military on the battlefield and first responders in front-line and natural catastrophe situations can use it.
Scope of the Global Cone Beam Computed Tomography Market Report
Cone Beam Computed Tomography Market Report Segmentation
ATTRIBUTE

DETAILS

By Application

Dental Implantology

Orthodontics

By Patient Position

Seated Position

Standing Position

Supine Position

By End-Use

Hospitals

Imaging Centers

Dental Clinics

Others

By Geography

North America (USA,

and Canada)

Europe (UK, Germany, France, Italy, Spain, Russia and Rest of Europe)

Asia Pacific (Japan, China, India, Australia, Southeast Asia and Rest of Asia Pacific)

Latin America (Brazil, Mexico, and Rest of Latin America)

Middle East & Africa (South Africa, GCC, and Rest of Middle East & Africa)

Customization Scope

Pricing
Objectives of the Study
The objectives of the study are summarized in 5 stages. They are as mentioned below:
Global Cone Beam Computed Tomography

Market

Size and Forecast:
To identify and estimate the market size for the global cone beam computed tomography market segmented by application, by patient position, by end-use, region and by value (in U.S. dollars). Also, to understand the consumption/ demand created by consumers of cone beam computed tomography between 2019 and 2031.
Market Landscape and Trends:
To identify and infer the drivers, restraints, opportunities, and challenges for the global cone beam computed tomography market
Market Influencing Factors:
To find out the factors which are affecting the sales of cone beam computed tomography among consumers
To identify and understand the various factors involved in the global cone beam computed tomography market affected by the pandemic
To provide a detailed insight into the major companies operating in the market. The profiling will include the financial health of the company's past 2-3 years with segmental and regional revenue breakup, product offering, recent developments, SWOT analysis, and key strategies.
Intended Audience
Academic Research Paper

Healthcare Information Pamphlet

Corporate Training Module

Entertainment Media

Governments, Associations, and Industrial Bodies

Investors and Trade Experts
Research Methodology
Our research methodology has always been the key differentiating reason which sets us apart in comparison from the competing organizations in the industry. Our organization believes in consistency along with quality and establishing a new level with every new report we generate; our methods are acclaimed and the data/information inside the report is coveted. Our research methodology involves a combination of primary and secondary research methods. Data procurement is one of the most extensive stages in our research process. Our organization helps in assisting the clients to find the opportunities by examining the market across the globe coupled with providing economic statistics for each and every region. The reports generated and published are based on primary & secondary research. In secondary research, we gather data for global Market through white papers, case studies, blogs, reference customers, news, articles, press releases, white papers, and research studies. We also have our paid data applications which includes hoovers, Bloomberg business week, Avention, and others.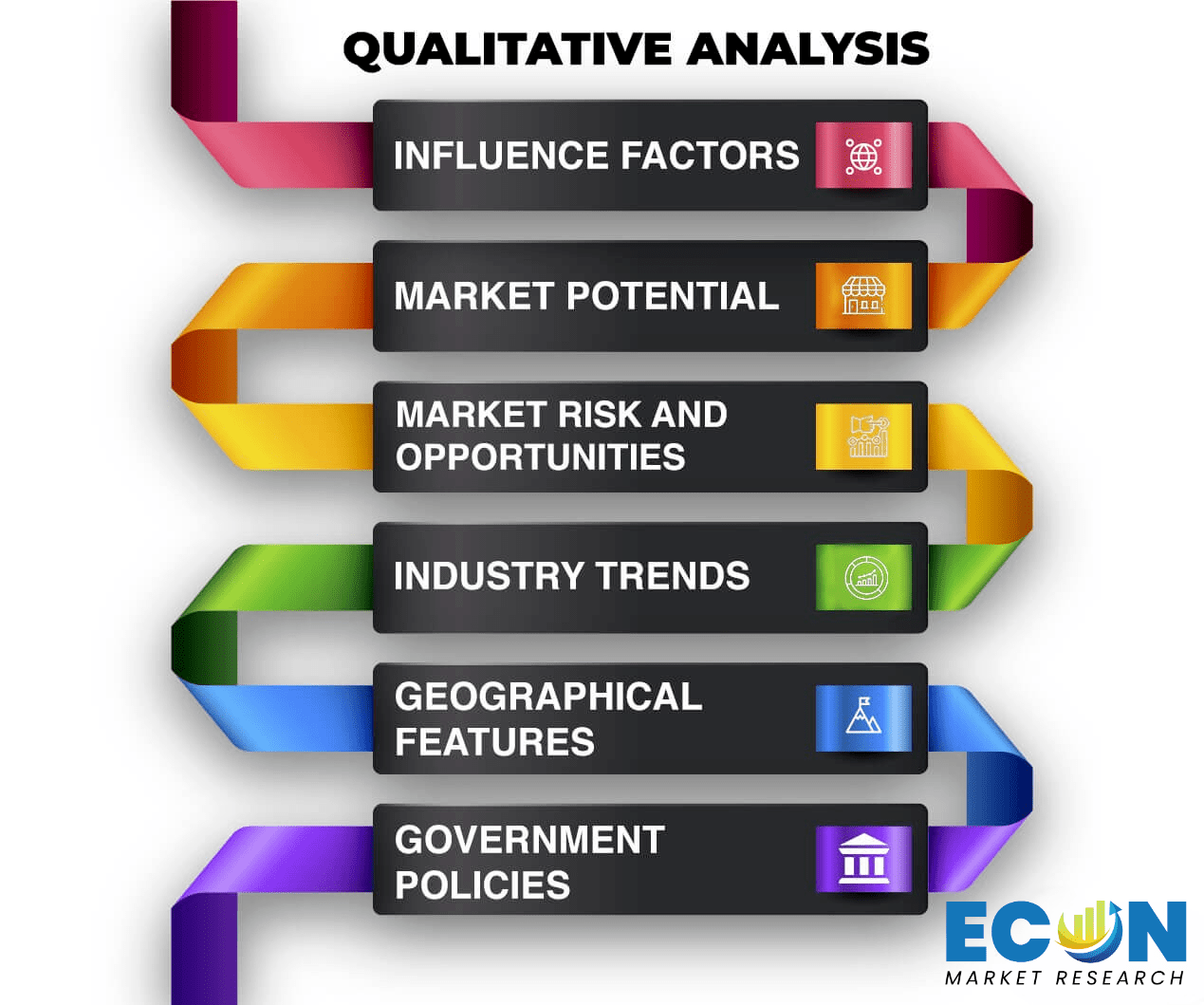 Data Collection
Data collection is the process of gathering, measuring, and analyzing accurate and relevant data from a variety of sources to analyze market and forecast trends. Raw market data is obtained on a broad front. Data is continuously extracted and filtered to ensure only validated and authenticated sources are considered. Data is mined from a varied host of sources including secondary and primary sources.

Primary Research
After the secondary research process, we initiate the primary research phase in which we interact with companies operating within the market space. We interact with related industries to understand the factors that can drive or hamper a market. Exhaustive primary interviews are conducted. Various sources from both the supply and demand sides are interviewed to obtain qualitative and quantitative information for a report which includes suppliers, product providers, domain experts, CEOs, vice presidents, marketing & sales directors, Type & innovation directors, and related key executives from various key companies to ensure a holistic and unbiased picture of the market. 
Secondary Research
A secondary research process is conducted to identify and collect information useful for the extensive, technical, market-oriented, and comprehensive study of the market. Secondary sources include published market studies, competitive information, white papers, analyst reports, government agencies, industry and trade associations, media sources, chambers of commerce, newsletters, trade publications, magazines, Bloomberg BusinessWeek, Factiva, D&B, annual reports, company house documents, investor presentations, articles, journals, blogs, and SEC filings of companies, newspapers, and so on. We have assigned weights to these parameters and quantified their market impacts using the weighted average analysis to derive the expected market growth rate.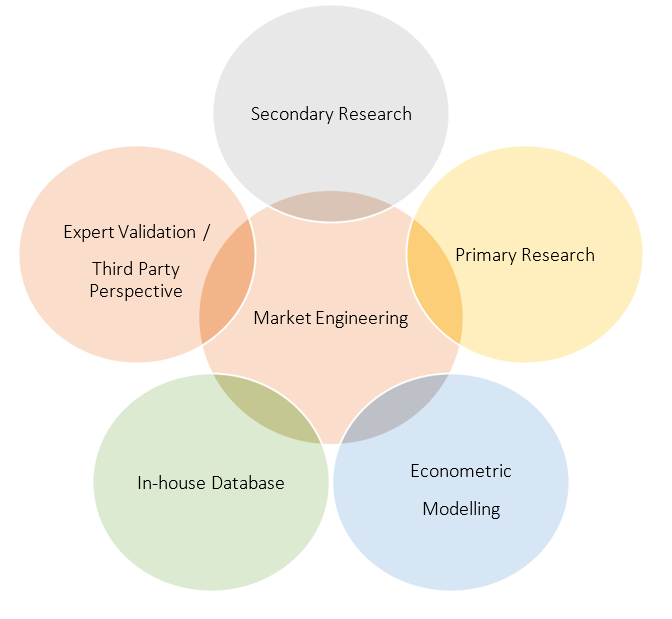 Top-Down Approach & Bottom-Up Approach
In the top – down approach, the Global Batteries for Solar Energy Storage Market was further divided into various segments on the basis of the percentage share of each segment. This approach helped in arriving at the market size of each segment globally. The segments market size was further broken down in the regional market size of each segment and sub-segments. The sub-segments were further broken down to country level market. The market size arrived using this approach was then crosschecked with the market size arrived by using bottom-up approach.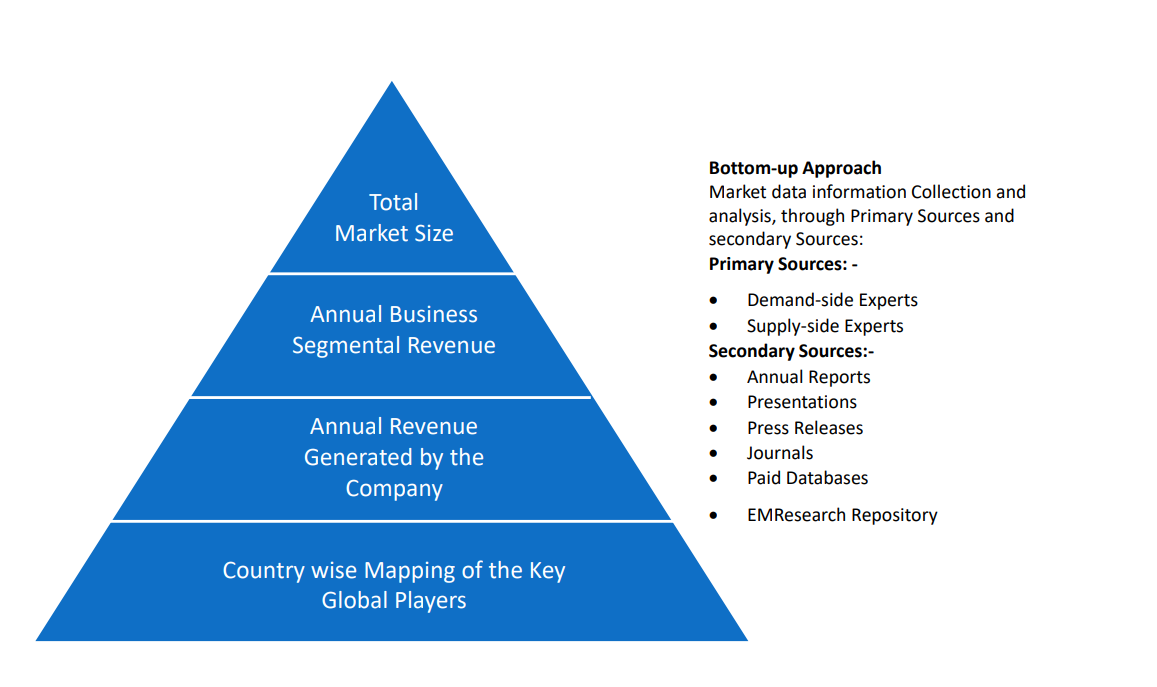 In the bottom-up approach, we arrived at the country market size by identifying the revenues and market shares of the key market players. The country market sizes then were added up to arrive at regional market size of the decorated apparel, which eventually added up to arrive at global market size.
This is one of the most reliable methods as the information is directly obtained from the key players in the market and is based on the primary interviews from the key opinion leaders associated with the firms considered in the research. Furthermore, the data obtained from the company sources and the primary respondents was validated through secondary sources including government publications and Bloomberg.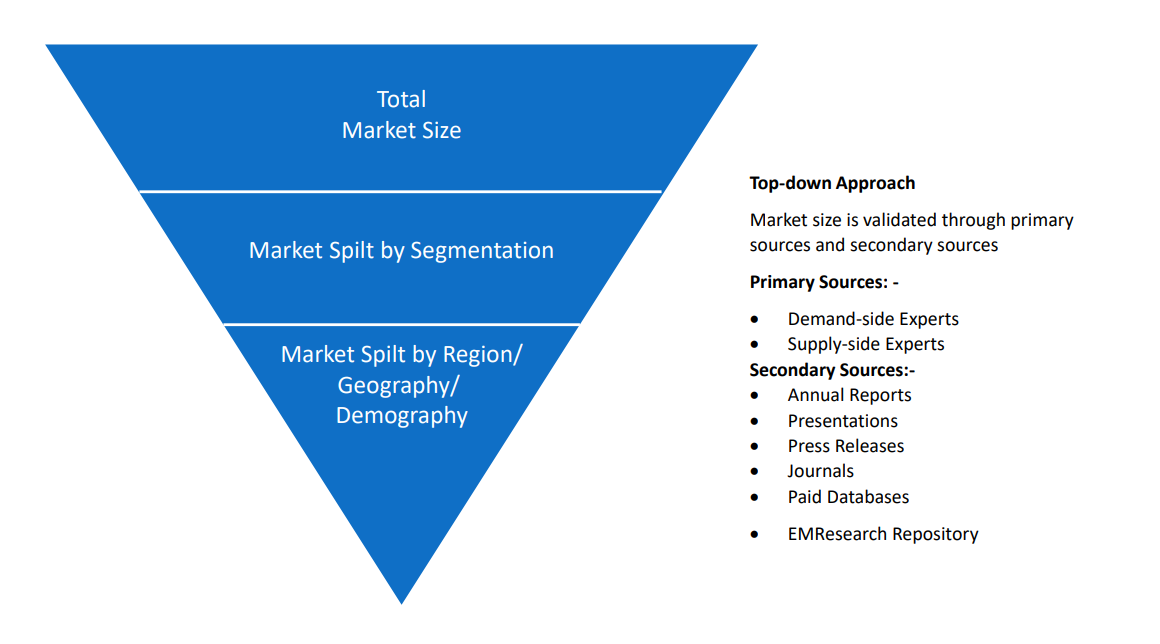 Market Analysis & size Estimation
Post the data mining stage, we gather our findings and analyze them, filtering out relevant insights. These are evaluated across research teams and industry experts. All this data is collected and evaluated by our analysts. The key players in the industry or markets are identified through extensive primary and secondary research. All percentage share splits, and breakdowns have been determined using secondary sources and verified through primary sources. The market size, in terms of value and volume, is determined through primary and secondary research processes, and forecasting models including the time series model, econometric model, judgmental forecasting model, the Delphi method, among Flywheel Energy Storage. Gathered information for market analysis, competitive landscape, growth trends, product development, and pricing trends is fed into the model and analyzed simultaneously.
Quality Checking & Final Review
The analysis done by the research team is further reviewed to check for the accuracy of the data provided to ensure the clients' requirements. This approach provides essential checks and balances which facilitate the production of quality data. This Type of revision was done in two phases for the authenticity of the data and negligible errors in the report. After quality checking, the report is reviewed to look after the presentation, Type and to recheck if all the requirements of the clients were addressed.