The global Computer Numerical Control Machines (CNC) Market was valued at USD 64.8 billion in 2022 and is estimated to reach approximately USD 91.4 billion by 2031, at a CAGR of 3.9% from 2023 to 2031.
Over the past few decades, the CNC (Computer Numerical Control) market has experienced substantial development and change, revolutionizing the manufacturing and machining industries. CNC machines are automated instruments that produce complicated and exact components and products by carefully adhering to detailed instructions from computer programmes. Due to their capacity to increase output, decrease human error, and improve efficiency, these machines have become crucial in a number of industries, including consumer electronics, aerospace, automotive, and the healthcare industry. With the development of technology, the CNC market has expanded to include capabilities like multi-axis control, high-speed machining, and integrated software solutions for design and production. A wide variety of CNC machines, including milling machines, lathes, routers, and 3D printers, are now available to meet a variety of production demands as a result of this progression. The desire for precision engineering, the necessity for mass production and customisation, and the push for environmentally friendly manufacturing techniques are some of the major factors driving the growth of the CNC market. The expansion of the CNC industry has also been accelerated by the emergence of Industry 4.0 and the Internet of Things (IoT), which has boosted connectivity and provided data-driven insights. The CNC market is positioned for continuous expansion as industries look for more effective and accurate production solutions, and innovations and technical breakthroughs are anticipated to play a significant part in determining its future.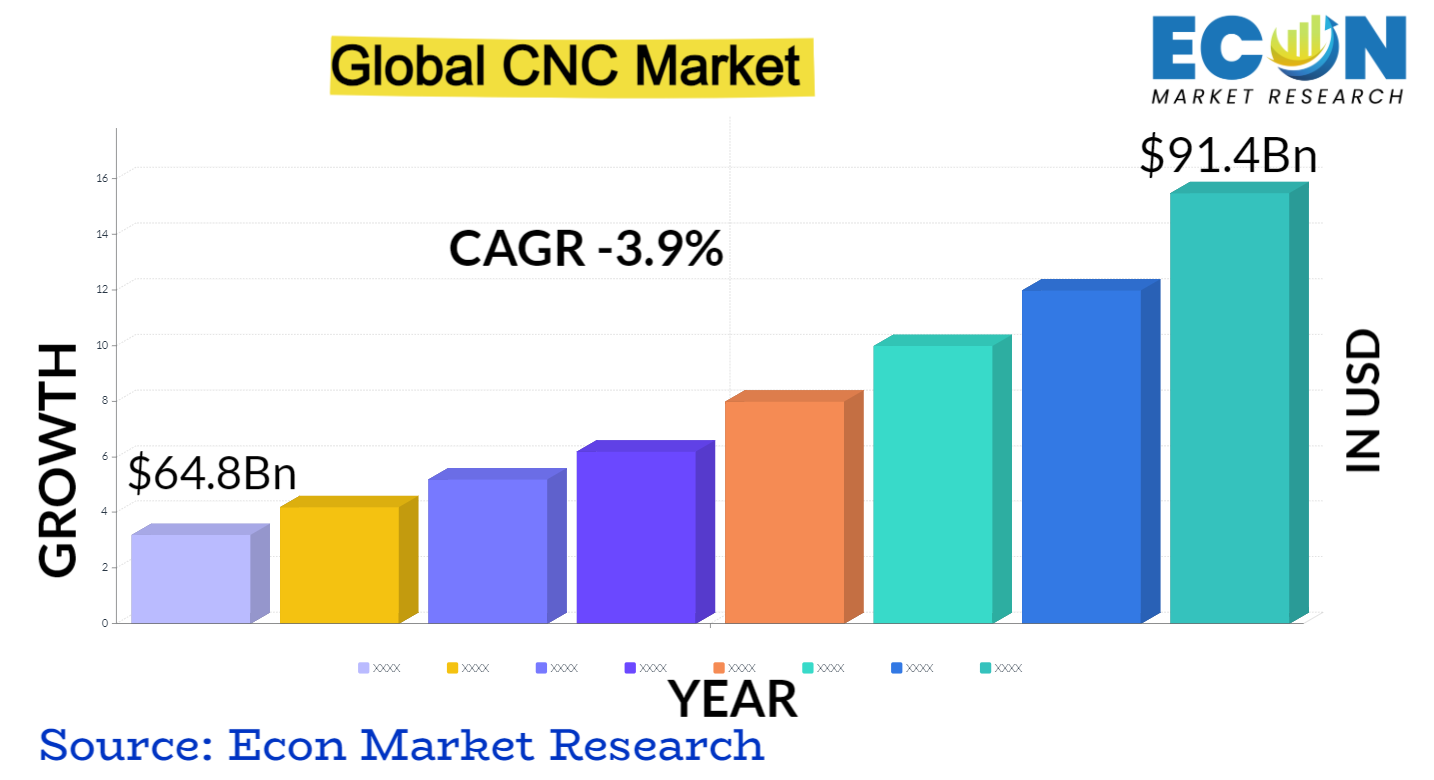 CNC MARKET: REPORT SCOPE & SEGMENTATION
| | |
| --- | --- |
| Report Attribute | Details |
| Estimated Market Value (2022) | 64.8 Bn |
| Projected Market Value (2031) | 91.4 Bn |
| Base Year | 2022 |
| Forecast Years | 2023 - 2031 |
| Scope of the Report | Historical and Forecast Trends, Industry Drivers and Constraints, Historical and Forecast Market Analysis by Segment- By Machine Tool Type, By Industry Vertical , & Region |
| Segments Covered | By Machine Tool Type, By Industry Vertical, & Region |
| Forecast Units | Value (USD Billion or Million), and Volume (Units) |
| Quantitative Units | Revenue in USD million/billion and CAGR from 2023 to 2031 |
| Regions Covered | North America, Europe, Asia Pacific, Latin America, and Middle East & Africa, and the Rest of World |
| Countries Covered | U.S., Canada, Mexico, U.K., Germany, France, Italy, Spain, China, India, Japan, South Korea, Brazil, Argentina, GCC Countries, and South Africa, among others |
| Report Coverage | Market growth drivers, restraints, opportunities, Porter's five forces analysis, PEST analysis, value chain analysis, regulatory landscape, market attractiveness analysis by segments and region, company market share analysis, and COVID-19 impact analysis. |
| Delivery Format | Delivered as an attached PDF and Excel through email, according to the purchase option. |
Global CNC Market Dynamics
The CNC (Computer Numerical Control) market has experienced substantial expansion and changing dynamics recently. Technology improvements, such as the use of Industry 4.0 and IoT (Internet of Things) principles, have been crucial. These developments have enhanced production automation, accuracy, and efficiency, attracting a range of industries from aerospace to healthcare. The demand for localized CNC manufacturing has increased due to globalization and supply chain interruptions, especially during the COVID-19 pandemic, which has helped the market grow. Furthermore, the use of 5-axis and multi-axis CNC machines has increased, enabling intricate and adaptable machining operations. The market has also been impacted by sustainability, with a focus on CNC systems and materials that are energy-efficient. This change is in line with corporate social responsibility programmes and environmental standards. The market has seen ferocious competition between the sector's top players and an inflow of startups presenting cutting-edge solutions. Customer decision-making is heavily influenced by customization, responsiveness, and dependability. The expanding global market is further evidenced by the rising demand for CNC in developing nations. The CNC market is a dynamic and competitive sector driven by the changing demands of contemporary production. It is characterized by quick technology breakthroughs, increased automation, sustainability concerns, and global expansion.
Global CNC Market Drivers
By automating tasks that were previously handled by human operators, CNC machines have revolutionized the manufacturing industry. Automation greatly boosts productivity by lowering the possibility of mistakes, improving manufacturing efficiency, and enabling round-the-clock operation. In sectors like automotive and aerospace where dependability and speed are critical, this driver is crucial. Automation in CNC is improving even further with the use of robotics, artificial intelligence, and Industry 4.0 technology. Unmatched precision and accuracy are hallmarks of CNC machines. This driver is especially important in fields like aircraft engineering and the manufacture of medical devices where even little deviations from design standards can have disastrous results. Micrometer-level tolerances can be regularly achieved by CNC machines for manufacturing elaborate and complex components. The expansion of the CNC market is fueled by the demand for high-precision components, which is fueled by developments in numerous technologies. Beyond traditional manufacturing, the desire of precision extends to newer industries like 3D printing, where precise outcomes are achieved by using CNC technology.
The ongoing desire for greater productivity across manufacturing industries has had a profound impact on the CNC business. The automation and streamlining of manufacturing processes made possible by the incorporation of CNC technology have significantly increased productivity. With little downtime required for tool changes or rest breaks, CNC machines can run constantly, around-the-clock, increasing output and speeding up production. This degree of effectiveness is especially important in high-demand industries like automotive and electronics, where it is crucial to satisfy customer demands and deadlines. CNC machines consistently create precise, high-quality parts, minimizing material waste and the requirement for rework. Moreover, CNC machines have the ability to handle complex tasks with ease, enabling the production of intricate, customized components at a faster pace than traditional manual methods. This adaptability to diverse manufacturing needs further contributes to increased productivity.
Restraints:
The high upfront costs are a major barrier to the uptake of different technologies, especially in the context of sectors that rely significantly on capital-intensive solutions like manufacturing, infrastructure building, and advanced research. The initial financial outlay can be a significant barrier for companies and organizations thinking about implementing new technology or equipment. This is especially true for businesses that must purchase and set up expensive equipment, such CNC (Computer Numerical Control) machines used in manufacturing. For small and medium-sized businesses (SMEs) with limited financial resources, the high capital demand might be a problem.It can be expensive to purchase the equipment, software, infrastructure, and trained labour needed to run and maintain the technology. Moreover, industries often face unpredictable market conditions, making it difficult to justify the high initial investment when returns on investment can not be immediate or guaranteed. As a result, the reluctance to commit to such significant upfront expenses can impede the adoption of advanced technologies, including CNC systems, which are known for their precision and efficiency but also require substantial initial investments.
CNC machines tend to become less effective and perform worse as they get older. The equipment's overall accuracy declines as mechanical parts break out and software gets out of date. As a result, there can be more downtime, slower progress, and poorer output. Older CNC machines can be expensive to maintain. Organizations can encounter increasing maintenance costs, which could have an effect on their operational budgets, as parts become more difficult to find and labor-intensive repairs grow more common. Older CNC machinery might not be compatible with newer hardware and software developments. Due to this, it is more difficult to integrate Industry 4.0 technologies, implement efficiency-boosting features, or have access to the newest software upgrades and security precautions. Older CNC machines can struggle to maintain the high levels of precision and quality required in industries such as aerospace and medical device manufacturing. This can lead to an increase in rejected or reworked parts, impacting both costs and reputation.
Opportunities:
CNC Machining for Parts Manufacturing and Customization
CNC machining makes it possible to produce incredibly accurate and exact items. In fields like aerospace, automotive, and medical devices, where even little variations can have big effects, this level of accuracy is essential. It guarantees that components continuously meet design requirements. The capacity to easily customize items with CNC machining is one of the most alluring advantages. This is crucial in today's market-driven by the consumer environments where the demand for specialized or low-volume production is rising. Components can be customized by businesses to match particular needs, giving them a competitive edge. Metals, polymers, and composites are just a few of the materials that CNC machines can work with. This adaptability opens the door for a variety of applications in diverse industries, including production, prototyping, and repair work. CNC machining is highly efficient. The automation of the manufacturing process minimizes errors and reduces the need for manual intervention. As a result, production times are shortened, and the risk of rework is significantly reduced, leading to cost savings.
3D Printing with CNC Integration for

R

apid Prototyping and Production
Numerous forces are driving the integration of 3D printing with CNC technology for rapid prototype and production, which is a game-changer in the manufacturing industry. The demand for quicker and more effective product development is one of the main forces. Traditional manufacturing procedures, which require the fabrication of moulds and tooling, are frequently time- and money-consuming. Contrarily, 3D printing makes it possible to produce complicated geometries and prototypes quickly and affordably, allowing engineers and designers to test and develop designs more quickly. Additionally, a flexible method of manufacturing is provided by the union of 3D printing with CNC machining. While CNC machines offer accuracy and flawless finishes, 3D printing excels at producing complex, lightweight structures. Furthermore, the customization potential is a significant driver. The integrated approach allows for personalized and tailor-made products, from medical implants to consumer goods. This mass customization capability can lead to higher customer satisfaction and increased market share.
Segment Overview
By Machine Tool Type
Based on machine tool type, the global CNC market is divided into lathe, mills, routers, grinders, and others. The lathe category dominates the market with the largest revenue share in 2022. CNC lathes are designed for the precision turning and shaping of cylindrical workpieces. They rotate the workpiece while a cutting tool shapes it. Lathes are commonly used in industries like automotive, aerospace, and metalworking for tasks such as creating shafts, screws, and other rotational parts. CNC milling machines are employed for cutting and drilling operations on solid materials. They are versatile and can create complex shapes by removing material from the workpiece. Milling is essential in manufacturing components for industries like electronics, molds, and general engineering. CNC routers are specialized for cutting, carving, and engraving various materials, including wood, plastic, and composites. They are frequently used in woodworking, signage, and the production of intricate designs and patterns. CNC grinding machines are crucial for achieving extremely precise and smooth surfaces on workpieces. They are utilized in industries where precision and surface finish are critical, such as aerospace, medical, and toolmaking.
By Industry Vertical
Based on the industry vertical, the global CNC market is categorized into aerospace & defense, automobile, consumer electronics, healthcare, industrial machinery, and others. The industrial machinery category leads the global CNC market with the largest revenue share in 2022. The industrial machinery sector benefits from CNC technology for the manufacturing of heavy-duty equipment and machinery, including components for factories, construction, and infrastructure projects. CNC machines are used to create parts like gears, axles, and large structural components. The automotive industry utilizes CNC machines for manufacturing vehicle components, ranging from engine parts and transmission components to chassis and interior details. CNC technology enables cost-effective and efficient production of automotive parts while ensuring precision and consistency. In the consumer electronics sector, CNC machines are used for manufacturing small, intricate components like smartphone casings, computer parts, and electronic connectors. CNC technology helps meet the demand for high-precision and aesthetically appealing products. CNC machining is vital in the healthcare industry for producing medical devices and implants with exceptional precision. CNC technology plays a key role in the fabrication of orthopedic implants, dental prosthetics, surgical instruments, and medical equipment.
Global CNC Market Overview by Region
The global CNC market is categorized into North America, Europe, Asia-Pacific, and the Rest of the World. Asia-Pacific emerged as the leading region, capturing the largest market share in 2022. Asia-Pacific has a thriving manufacturing industry, with key players including China, Japan, South Korea, and India. Numerous companies, including those in the automotive, aerospace, electronics, and healthcare, as well as other sectors, are based in these nations and primarily rely on CNC technology for precision manufacturing. Significant investments in automation and technology have been made in the area. To increase production efficiency, lower labour costs, and preserve a competitive edge on the international scene, governments and corporations alike are eager to adopt CNC technology. With a rapidly expanding digital sector and a competent labour force, Asia-Pacific is also a hotbed for innovation. The area has embraced and adjusted to the most recent CNC innovations quickly, encouraging research and development to further these technologies. Additionally, the increasing demand for customized and high-precision components in sectors like healthcare, where CNC plays a crucial role, has driven market growth.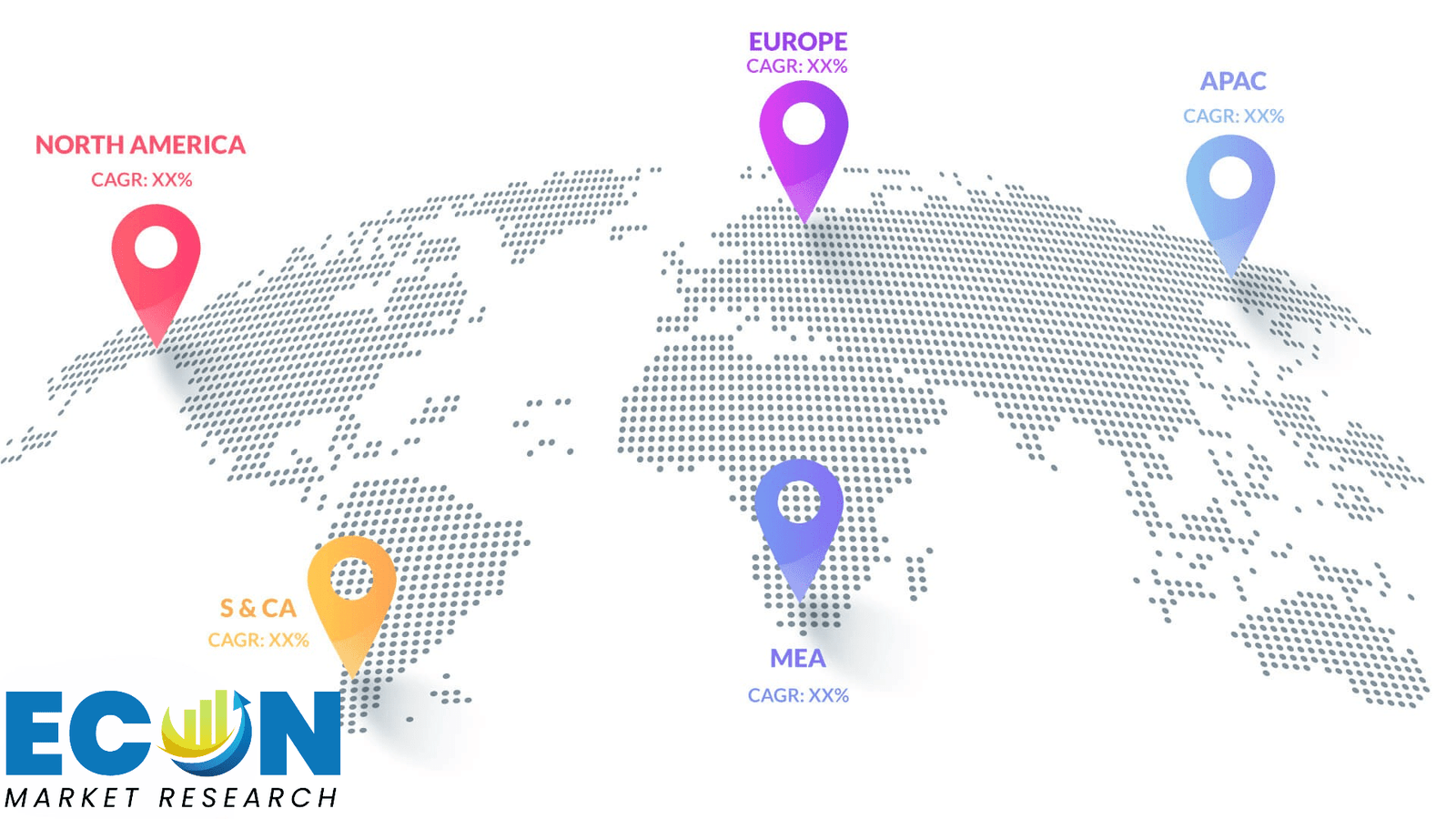 Global CNC Market Competitive Landscape
In the global CNC market, a few major players exert significant market dominance and have established a strong regional presence. These leading companies remain committed to continuous research and development endeavors and actively engage in strategic growth initiatives, including product development, launches, joint ventures, and partnerships. By pursuing these strategies, these companies aim to strengthen their market position, expand their customer base, and capture a substantial share of the market.
Some of the prominent players in the global CNC market includeBosch Rexroth AG, Dalian Machine Tool Group Corporation (DMTG), Fagor Automation, FANUC Corporation, HAAS Automation, Inc., Heidenhain Corporation, Hurco Companies, Inc., Mitsubishi Electric Corporation, Okuma Corporation, Sandvik AB, Soft Servo Systems Inc. , and various other key players.
Global CNC Market Recent Developments
In May 2023, Improved computer numerical control machining with a new model.In order to increase the effectiveness of Computer Numerical Control (CNC) using Machine Learning (ML), a group of researchers from the Centre for Product Design and Manufacturing (CPDM), Indian Institute of Science (IISc), Bengaluru, have suggested a model.
Scope of the Global CNC Market Report
CNC Market Report Segmentation
ATTRIBUTE

DETAILS

By Machine Tool Type

Lathe

Mills

Routers

Grinders

Others

By Industry Vertical

Aerospace & Defense

Automobile

Consumer Electronics

Healthcare

Industrial Machinery

Others

By Geography

North America (USA,

and Canada)

Europe (UK, Germany, France, Italy, Spain, Russia and Rest of Europe)

Asia Pacific (Japan, China, India, Australia, Southeast Asia and Rest of Asia Pacific)

Latin America (Brazil, Mexico, and Rest of Latin America)

Middle East & Africa (South Africa, GCC, and Rest of Middle East & Africa)

Customization Scope

Pricing
Objectives of the Study
The objectives of the study are summarized in 5 stages. They are as mentioned below:
Global CNC Market

Size and Forecast:
To identify and estimate the market size for the global CNC market segmented by machine tool type, by industry vertical, region and by value (in U.S. dollars). Also, to understand the consumption/ demand created by consumers of CNC between 2019 and 2031.
Market Landscape and Trends:
To identify and infer the drivers, restraints, opportunities, and challenges for the global CNC market
Market Influencing Factors:
To find out the factors which are affecting the sales of CNC among consumers
To identify and understand the various factors involved in the global CNC market affected by the pandemic
To provide a detailed insight into the major companies operating in the market. The profiling will include the financial health of the company's past 2-3 years with segmental and regional revenue breakup, product offering, recent developments, SWOT analysis, and key strategies.
Intended Audience
Manufacturers and Businesses

Research and Development Teams

Supply Chain and Procurement Professionals

Industry Associations and Trade Organizations

Governments, Associations, and Industrial Bodies

Investors and Trade Experts
Research Methodology
Our research methodology has always been the key differentiating reason which sets us apart in comparison from the competing organizations in the industry. Our organization believes in consistency along with quality and establishing a new level with every new report we generate; our methods are acclaimed and the data/information inside the report is coveted. Our research methodology involves a combination of primary and secondary research methods. Data procurement is one of the most extensive stages in our research process. Our organization helps in assisting the clients to find the opportunities by examining the market across the globe coupled with providing economic statistics for each and every region. The reports generated and published are based on primary & secondary research. In secondary research, we gather data for global Market through white papers, case studies, blogs, reference customers, news, articles, press releases, white papers, and research studies. We also have our paid data applications which includes hoovers, Bloomberg business week, Avention, and others.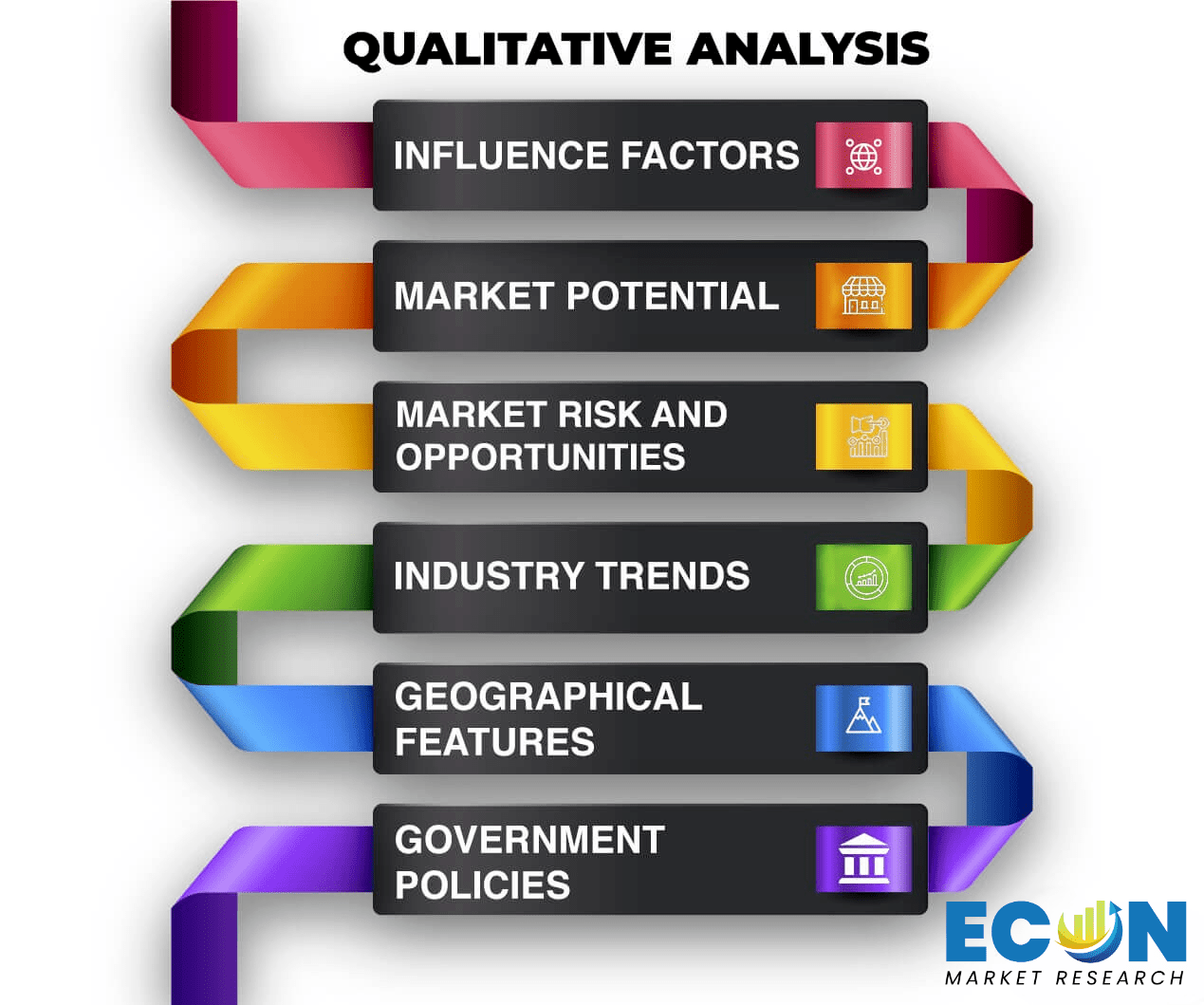 Data Collection
Data collection is the process of gathering, measuring, and analyzing accurate and relevant data from a variety of sources to analyze market and forecast trends. Raw market data is obtained on a broad front. Data is continuously extracted and filtered to ensure only validated and authenticated sources are considered. Data is mined from a varied host of sources including secondary and primary sources.

Primary Research
After the secondary research process, we initiate the primary research phase in which we interact with companies operating within the market space. We interact with related industries to understand the factors that can drive or hamper a market. Exhaustive primary interviews are conducted. Various sources from both the supply and demand sides are interviewed to obtain qualitative and quantitative information for a report which includes suppliers, product providers, domain experts, CEOs, vice presidents, marketing & sales directors, Type & innovation directors, and related key executives from various key companies to ensure a holistic and unbiased picture of the market. 
Secondary Research
A secondary research process is conducted to identify and collect information useful for the extensive, technical, market-oriented, and comprehensive study of the market. Secondary sources include published market studies, competitive information, white papers, analyst reports, government agencies, industry and trade associations, media sources, chambers of commerce, newsletters, trade publications, magazines, Bloomberg BusinessWeek, Factiva, D&B, annual reports, company house documents, investor presentations, articles, journals, blogs, and SEC filings of companies, newspapers, and so on. We have assigned weights to these parameters and quantified their market impacts using the weighted average analysis to derive the expected market growth rate.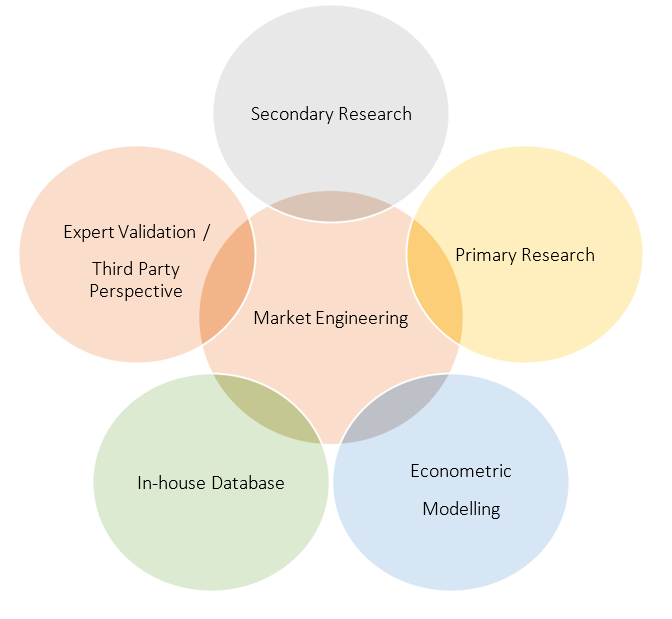 Top-Down Approach & Bottom-Up Approach
In the top – down approach, the Global Batteries for Solar Energy Storage Market was further divided into various segments on the basis of the percentage share of each segment. This approach helped in arriving at the market size of each segment globally. The segments market size was further broken down in the regional market size of each segment and sub-segments. The sub-segments were further broken down to country level market. The market size arrived using this approach was then crosschecked with the market size arrived by using bottom-up approach.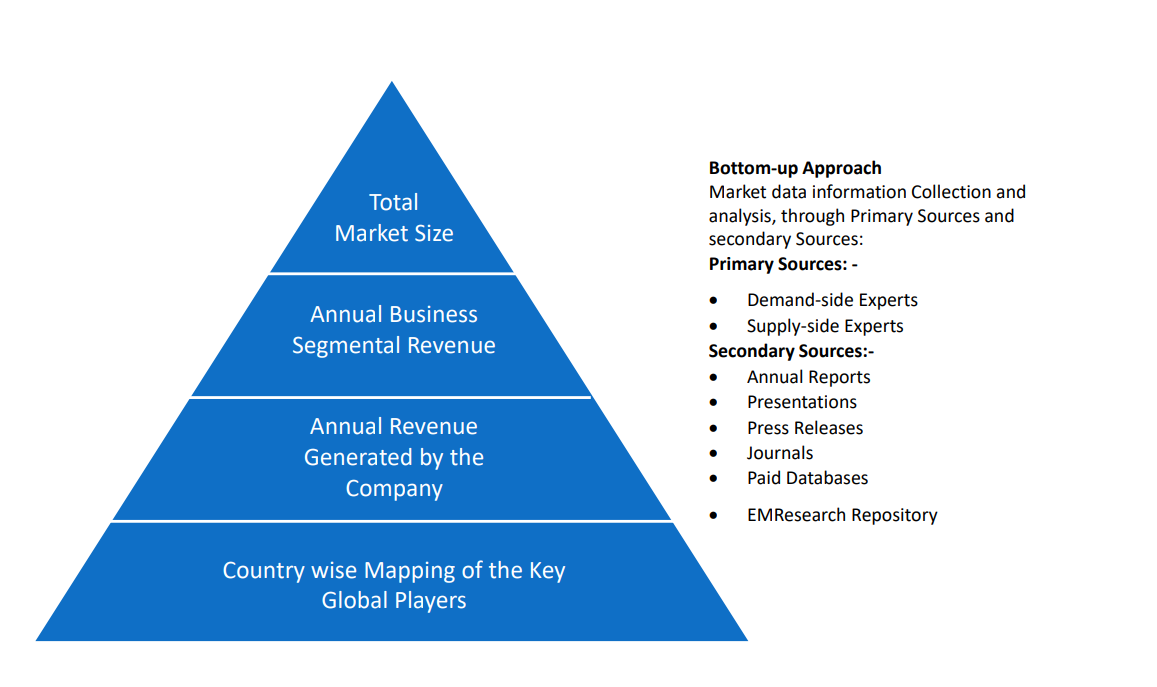 In the bottom-up approach, we arrived at the country market size by identifying the revenues and market shares of the key market players. The country market sizes then were added up to arrive at regional market size of the decorated apparel, which eventually added up to arrive at global market size.
This is one of the most reliable methods as the information is directly obtained from the key players in the market and is based on the primary interviews from the key opinion leaders associated with the firms considered in the research. Furthermore, the data obtained from the company sources and the primary respondents was validated through secondary sources including government publications and Bloomberg.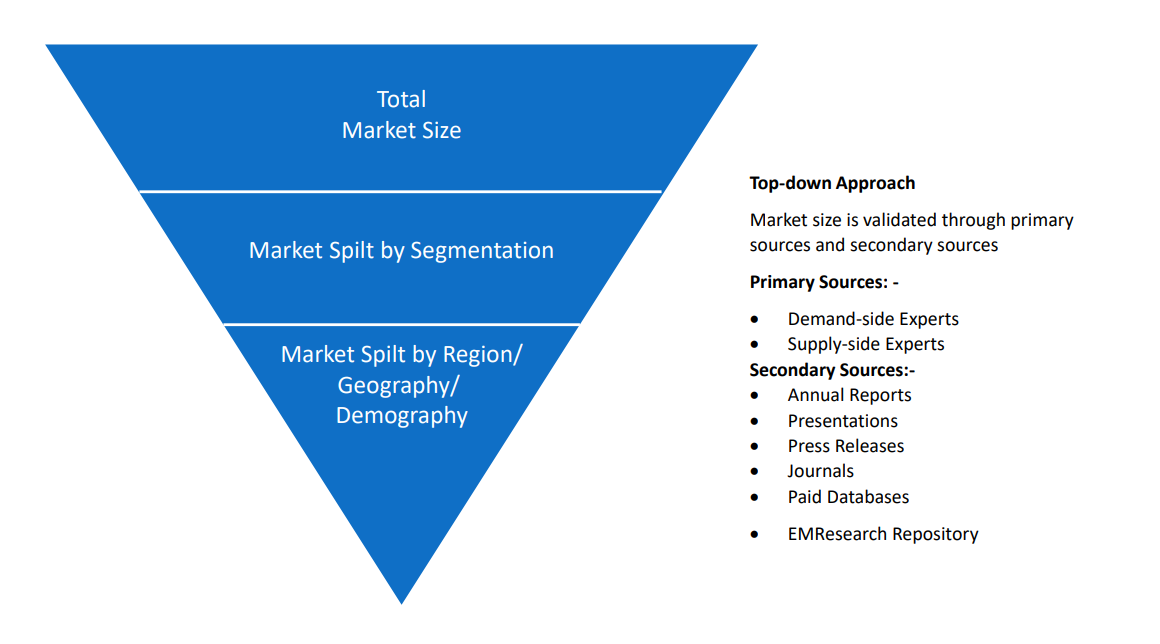 Market Analysis & size Estimation
Post the data mining stage, we gather our findings and analyze them, filtering out relevant insights. These are evaluated across research teams and industry experts. All this data is collected and evaluated by our analysts. The key players in the industry or markets are identified through extensive primary and secondary research. All percentage share splits, and breakdowns have been determined using secondary sources and verified through primary sources. The market size, in terms of value and volume, is determined through primary and secondary research processes, and forecasting models including the time series model, econometric model, judgmental forecasting model, the Delphi method, among Flywheel Energy Storage. Gathered information for market analysis, competitive landscape, growth trends, product development, and pricing trends is fed into the model and analyzed simultaneously.
Quality Checking & Final Review
The analysis done by the research team is further reviewed to check for the accuracy of the data provided to ensure the clients' requirements. This approach provides essential checks and balances which facilitate the production of quality data. This Type of revision was done in two phases for the authenticity of the data and negligible errors in the report. After quality checking, the report is reviewed to look after the presentation, Type and to recheck if all the requirements of the clients were addressed.