The Global Compressor Oil Market was valued at USD 13.1 billion in 2022 and is estimated to reach approximately USD 23.5 billion by 2031, at a CAGR of 6.6% from 2023 to 2031. A significant area of the lubricant industry that specifically serves the requirements of several kinds of compressors, such as centrifugal, rotary, and reciprocating compressors, is the compressor oil market. Because it offers lubrication, heat dissipation, and corrosion protection, compressor oil is essential to the effective and seamless running of these devices. In order to resist the tremendous pressures and temperatures produced inside compressors, compressor oils are specially prepared with special additives and base oils. They contribute to lowering friction, minimizing damage, and extending the life of compressor parts. Additionally, they stop the buildup of impurities and deposits that can impair performance. Due to rising industrialization, manufacturing, and the extensive usage of compressors in numerous applications, including refrigeration, air conditioning, gas pipelines, and more, this industry has shown consistent expansion over the years. Compressor oil is an essential part of these sectors' maintenance and operational procedures because it is strongly related to their efforts to grow and modernize. In order to comply with environmental requirements and sustainability objectives, there has also been an increasing focus on environmentally friendly and energy-efficient compressor oils in recent years. As businesses spend on research and development to create more environmentally friendly lubricants, this trend is anticipated to influence the market's future. Overall, the compressor oil market continues to evolve, driven by technological advancements, environmental concerns, and the ever-increasing demand for efficient and reliable compressors across various sectors.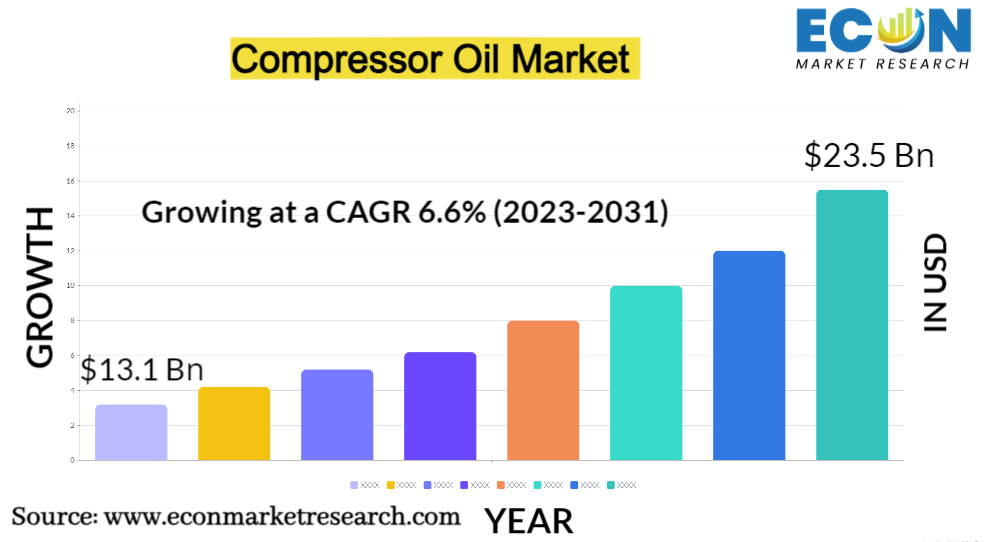 COMPRESSOR OIL MARKET: REPORT SCOPE & SEGMENTATION
| | |
| --- | --- |
| Report Attribute | Details |
| Estimated Market Value (2022) | 13.1 Bn |
| Projected Market Value (2031) | 23.5 Bn |
| Base Year | 2022 |
| Forecast Years | 2023 - 2031 |
| Scope of the Report | Historical and Forecast Trends, Industry Drivers and Constraints, Historical and Forecast Market Analysis by Segment- By Compressor Type, By Base Oil Type, By End- User, & Region |
| Segments Covered | By Compressor Type, By Base Oil Type, By End- User, & Region |
| Forecast Units | Value (USD Billion or Million), and Volume (Units) |
| Quantitative Units | Revenue in USD million/billion and CAGR from 2023 to 2031 |
| Regions Covered | North America, Europe, Asia Pacific, Latin America, and Middle East & Africa, and the Rest of World |
| Countries Covered | U.S., Canada, Mexico, U.K., Germany, France, Italy, Spain, China, India, Japan, South Korea, Brazil, Argentina, GCC Countries, and South Africa, among others |
| Report Coverage | Market growth drivers, restraints, opportunities, Porter's five forces analysis, PEST analysis, value chain analysis, regulatory landscape, market attractiveness analysis by segments and region, company market share analysis, and COVID-19 impact analysis. |
| Delivery Format | Delivered as an attached PDF and Excel through email, according to the purchase option. |
Global Compressor Oil Market Dynamics
Compressor demand is increased by infrastructural expansion and industrialization, which thus increases demand for compressor oils. Additionally, since compressors are essential to many industrial processes, the growth and expansion of the automotive industry contribute to market growth. Environment-friendly and low-VOC compressor oils are becoming more popular as a result of market-wide environmental requirements. In addition to encouraging research and development in sustainable lubricants, these rules also have an impact on market trends. Being a petroleum-based product, compressor oils, the market's pricing and profitability can be impacted by changes in the global economy, especially changes in oil prices. The availability and cost of raw materials can also be impacted by geopolitical tensions and supply chain interruptions. Technological improvements, such synthetic compressor oils, which offer improved performance and extended service life, are essential. Additionally, as digitalization and preventative maintenance technologies advance, there is a rising demand for premium compressor oils to guarantee dependable compressor performance. There is fierce manufacturer competition for market share in the market. Product quality, environmental sustainability, and customer service are how businesses set themselves apart. The compressor oil market is a dynamic and developing sector of the economy because it is influenced by factors such as industrial development, environmental concerns, economic conditions, technological advancements, and market competition.
Global Compressor Oil Market Drivers
Industrial Growth and Expansion
The compressor oil industry is fundamentally driven by industrial growth and expansion. Compressor-dependent industrial processes are becoming more and more popular as economies around the world continue to grow. Manufacturing, building, mining, petrochemicals, and other operations are among them. By delivering the necessary air or gas pressure for a variety of uses, from powering machinery to managing operations, compressors play a crucial role in various industries. Compressor oils are crucial for these industries' compressors to run effectively and dependably. These specialized lubricants are used in compressor systems to prevent wear and corrosion, minimize friction, and dissipate heat. As a result, as industrial activity increases, so does the demand for premium compressor oils. Moreover, as industries strive for greater efficiency and productivity, they increasingly rely on advanced compressor technologies. These technologies demand superior lubrication to handle higher pressures and temperatures, further driving the market for specialized compressor oils. In summary, the sustained growth of industrial sectors globally acts as a primary catalyst for the ongoing demand and development of compressor oils in the market.
Increasing Adoption of Digitalization and Predictive Maintenance
Digitalization refers to the incorporation of cutting-edge technologies into industrial processes, such as compressor operations, including the internet of things (IoT), data analytics, and artificial intelligence. Data on compressor performance may be monitored and analyzed in real-time thanks to these technologies. As a result, businesses may increase the efficiency and dependability of their compressor systems. A key aspect of digitalization, predictive maintenance uses data-driven insights to forecast equipment failures and plan maintenance before malfunctions take place. In many sectors, compressor systems are essential assets, and unplanned downtime can be expensive. By seeing possible problems before they become serious, predictive maintenance lowers the risk of unplanned downtime and maintenance expenses. For compressor oils, this trend translates into an increased need for high-quality lubricants. Predictive maintenance systems depend on consistent and reliable lubrication to ensure that compressors function at their best. Compressor oils play a vital role in preventing wear and tear, reducing friction, and maintaining optimal operating conditions.
Restraints:
Environmental Regulations and Sustainability
The strict environmental rules and sustainability issues are a big limitation on the compressor oil business. Governments and international organizations are enforcing stricter regulations in an effort to lessen the negative environmental effects of industrial processes and products. These laws frequently focus on hazardous substance use, waste disposal, and emissions. Manufacturers of compressor oil must reformulate their products to comply with these restrictions, which presents a problem. Traditional compressor oils could have base oils or additives that are bad for the environment or cause pollution of the air and water. The effectiveness and cost-effectiveness of compressor oils can be impacted by the requirement to replace or reduce these parts. Moreover, the drive towards sustainability extends beyond compliance. Many industries are actively seeking lubrication solutions that align with their sustainability initiatives. This includes demand for biodegradable and low-VOC (volatile organic compounds) compressor oils that minimize their carbon footprint.
Logistics and Supply Chain Challenges
Compressor oil market growth is significantly constrained by logistical and supply chain issues. Since products are sold all over the world and raw materials are produced from different geographical areas, the industry's global nature adds complications related to transportation, customs, and geopolitical factors. The availability and cost-effectiveness of compressor oils may be impacted by managing this complex network due to supply chain disruptions. Inaccurate demand forecasts or poor management can lead to stockouts or overstocking, both of which have financial repercussions, making it difficult to maintain ideal inventory levels. Moreover, compliance with diverse regional and international regulations related to hazardous materials transportation adds a layer of complexity. Supplier reliability is another key concern, as disruptions or inconsistencies in the supply of raw materials can disrupt production schedules. To mitigate these challenges, compressor oil manufacturers must invest in robust supply chain management practices, including accurate forecasting, risk mitigation strategies, and contingency plans to ensure a consistent and reliable flow of compressor oils to customers.
Opportunities:
Demand for Energy-Efficient Compressors
The expanding need for energy-efficient solutions represents a major opportunity in the compressor oil market. Industries are increasingly seeking ways to increase energy efficiency in their operations as the world focuses on sustainability and lowering carbon footprints. Compressors present a significant opportunity for energy reduction because they are crucial parts of many industrial processes. The energy efficiency of compressors is significantly improved by compressor oils. Lubricants with cutting-edge formulas can improve the efficiency of compressor systems by reducing heat production, reducing friction, and reducing wear. As a result, they use less energy and have lower operating expenses, which makes them a desirable option for companies looking to minimize their use of resources and environmental effects. Furthermore, energy-efficient compressor oils contribute to meeting environmental regulations and sustainability goals, positioning them as preferred solutions in today's eco-conscious market.
Technological Advancements
Technology improvements in the compressor oil business are creating a sizable and varied potential. There is a comparable need for cutting-edge lubricants that can keep up with the demands of these contemporary systems as compressor technology continues to advance, driven by variables like better efficiency, decreased emissions, and improved performance. The creation of compressor lubricants that are specifically suited to the needs of sophisticated compressors is a crucial component of this possibility. Modern compressor designs frequently have increased pressures, temperatures, and speeds, so these lubricants must be able to endure these conditions. Manufacturers can develop specialized formulas that promote heat dissipation, wear prevention, and oxidation resistance in addition to providing efficient lubrication. Additionally, technological advancements have led to the proliferation of oil-free and oil-less compressors, which require alternative lubrication solutions. Compressor oil companies can seize this opportunity by developing innovative lubricants that cater to the unique needs of these oil-free systems, ensuring their longevity and performance.
Segment Overview
By Compressor Type
Based on compressor type, the global compressor oil market is divided into positive displacement and dynamic. The dynamic category dominates the market with the largest revenue share. Dynamic compressors, exemplified by centrifugal compressors, impart velocity to the gas, which is then converted into pressure as it slows down. These compressors are typically used in large-scale industrial applications such as gas pipelines and power generation. Manufacturers have opportunities in this segment to develop advanced compressor oils capable of withstanding extreme pressures, temperatures, and rotational speeds, thereby extending the service life of dynamic compressors and reducing maintenance costs. Positive displacement compressors and dynamic compressors. Positive displacement compressors, which include reciprocating and rotary screw compressors, operate by trapping and compressing a fixed volume of air or gas before delivering it at a higher pressure.
By Base Oil Type
Based on the base oil type, the global compressor oil market is categorized into synthetic compressor oil, semi-synthetic compressor oil, mineral compressor oil, and bio-based compressor oil. The synthetic compressor oil category leads the global compressor oil market with the largest revenue share. Synthetic compressor oil stands out for its exceptional performance attributes, which include high thermal stability, resistance to oxidation, and a broad operating temperature range. Manufacturers of synthetic compressor oils have the opportunity to target industries and applications operating under extreme conditions, emphasizing extended equipment life, reduced maintenance requirements, and improved energy efficiency as key benefits. Semi-synthetic compressor oil, on the other hand, strikes a balance between the superior performance of synthetics and the cost-effectiveness of mineral oils. Mineral compressor oil, derived from refined crude oil, offers cost-effective lubrication solutions. These oils find applications in scenarios where high-performance demands are not paramount, making them attractive to industries seeking budget-friendly options. Bio-based compressor oil, formulated using renewable and biodegradable feedstocks, aligns with sustainability goals and environmental regulations. This category provides manufacturers with opportunities to cater to industries and regions prioritizing reduced carbon footprints and eco-friendly lubrication solutions
By End-User
Based on end-users, the global compressor oil market is segmented into general manufacturing, construction, oil and gas, mining, chemical and petrochemical, power generation, automotive, and others. The chemical and petrochemical segment dominates the compressor oil market. The chemical and petrochemical industry employs compressors for various processes, including gas separation and compression. Compressor oils in this sector must be compatible with potentially reactive gases. Developing compressor oils that offer exceptional chemical resistance and compatibility with aggressive gases can be a key focus. Emphasizing safety and performance in corrosive environments can attract customers in this industry. Mining operations utilize compressors for drilling, ventilation, and material handling. Compressor oils in mining must withstand abrasive dust and high load conditions. Creating robust compressor oils that resist wear and maintain performance under challenging mining conditions presents an opportunity. Highlighting extended equipment life and reduced downtime can be appealing to mining companies. Power generation facilities use compressors for combustion air supply and turbine control. Compressor oils in power generation applications must support efficient and reliable operation. Manufacturers can offer compressor oils tailored for power generation, emphasizing energy efficiency, reduced emissions, and extended service intervals. The construction industry relies on compressors for tasks such as pneumatic tools, concrete placement, and drilling. Compressor oils in this sector must withstand rugged conditions often encountered on construction sites. Developing compressor oils that excel in dusty or harsh construction environments can be a lucrative opportunity. Additionally, emphasizing product durability and maintenance cost savings can appeal to construction companies.
Global Compressor Oil Market Overview by Region
The global compressor oil market is categorized into North America, Europe, Asia-Pacific, and the Rest of the World. Asia Pacific emerged as the leading region, capturing the largest market share in 2022. The Asia Pacific area has solidified its position as the market leader for compressor oil globally. First and foremost, the extensive use of compressors across numerous applications has been pushed by Asia Pacific's rapid industrialization and expanding manufacturing sector. The area, which serves as the world's manufacturing center, significantly depends on compressors for a variety of purposes, including the production of machinery and textiles, automobiles, and electrical devices. Because of the increased demand for compressors, premium compressor oils are essential for their effective and dependable performance. The rise in infrastructure and building in Asia Pacific has also considerably fueled the market's expansion. Construction tools and equipment require compressors hence the growth of this industry has increased the demand for compressor oils. Additionally, Asia Pacific's robust oil and gas industry, particularly in countries like China and India, relies on compressors for gas transmission and processing. This sector's prominence has led to the adoption of specialized compressor oils designed for high-pressure and corrosive gas applications. Furthermore, the region's proactive approach to sustainability and environmental regulations has encouraged the development and adoption of eco-friendly compressor oils, aligning with global efforts to reduce carbon footprints.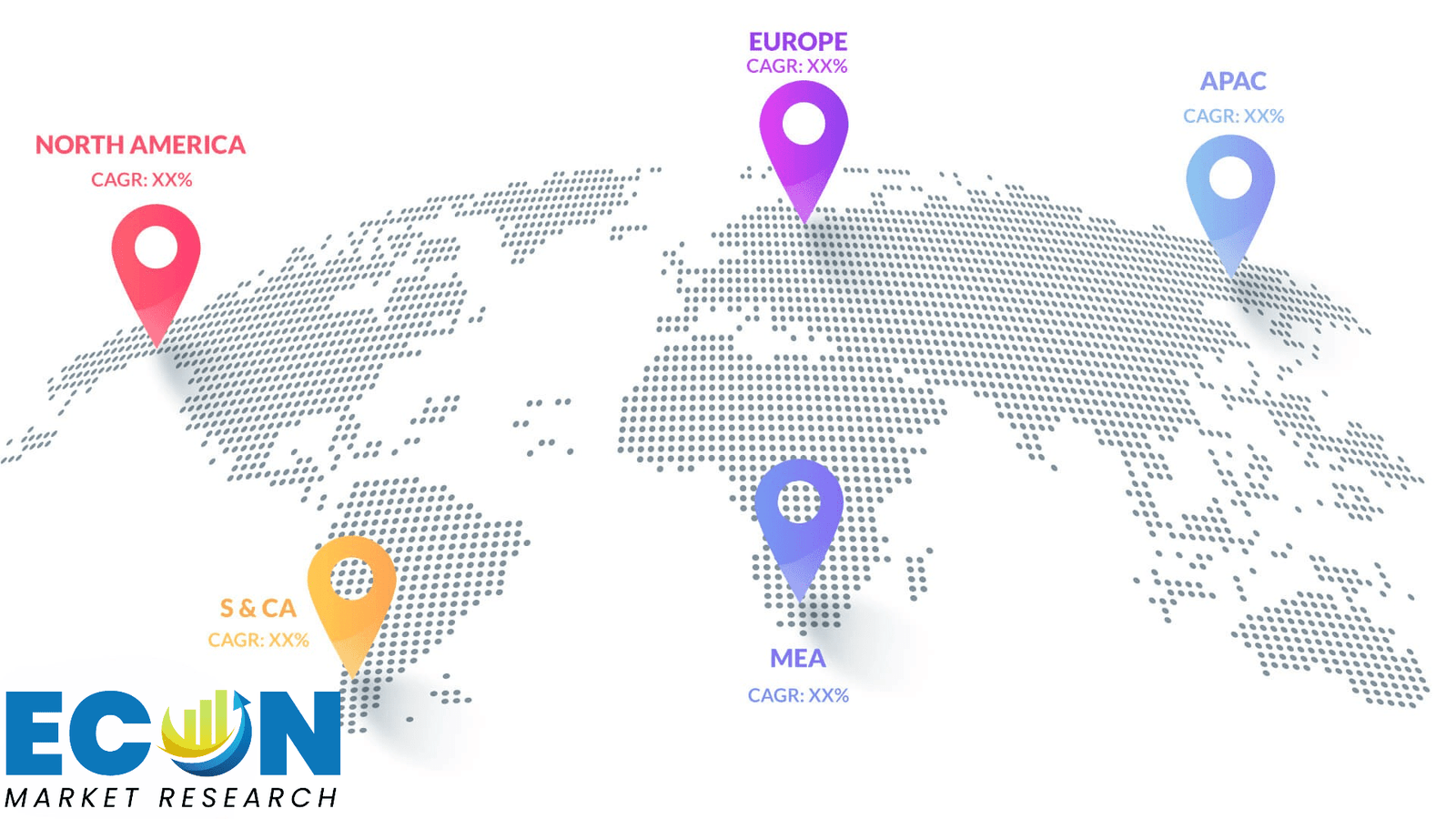 Global Compressor Oil Market Competitive Landscape
In the global compressor oil market, a few major players exert significant market dominance and have established a strong regional presence. These leading companies remain committed to continuous research and development endeavors and actively engage in strategic growth initiatives, including product development, launches, joint ventures, and partnerships. By pursuing these strategies, these companies aim to strengthen their market position, expand their customer base, and capture a substantial share of the market.
Some of the prominent players in the global compressor oil market include Shell, Exxon Mobil Corporation, BP p.l.c., Chevron Corporation, Total, China Petrochemical Corporation, LUKOIL, Indian Oil Corporation Ltd, FUCHS, Idemitsu Kosan Co. Ltd., Petroliam Nasional Berhad (PETRONAS) (20076-K), Dow, Croda International Plc, SASOL, Phillips 66 Company, Calumet Branded Products, LLC, Morris Lubricants, Penrite Oil, Valvoline LLC, LIQUI MOLY GmbH, Bharat Petroleum Corporation Limited,, and various other key players.
Global Compressor Oil Market Recent Developments
In March 2023, Bharat Pumps and Compressors are acquired by KSB. With this acquisition, KSB Limited assumes ownership of the Technology of the products made by BP&CL as its sole and exclusive property.
Scope of the Global Compressor Oil Market Report
Compressor Oil Market Report Segmentation
ATTRIBUTE

DETAILS

By Compressor Type

Positive Displacement

Dynamic

By Base Oil Type

Synthetic Compressor Oil

Semi-Synthetic Compressor Oil

Mineral Compressor Oil

Bio-Based Compressor Oil

By End-User

General Manufacturing, Construction

Oil and Gas

Mining

Chemical and Petrochemical

Power Generation

Automotive

Others

By Geography

North America (USA,

and Canada)

Europe (UK, Germany, France, Italy, Spain, Russia and Rest of Europe)

Asia Pacific (Japan, China, India, Australia, Southeast Asia and Rest of Asia Pacific)

Latin America (Brazil, Mexico, and Rest of Latin America)

Middle East & Africa (South Africa, GCC, and Rest of Middle East & Africa)

Customization Scope

Pricing
Objectives of the Study
The objectives of the study are summarized in 5 stages. They are as mentioned below:
Global Compressor Oil Market

Size and Forecast:
To identify and estimate the market size for the global compressor oil market segmented by compressor type, by base oil type, by end- user, region and by value (in U.S. dollars). Also, to understand the consumption/ demand created by consumers of compressor oil between 2019 and 2031.
Market Landscape and Trends:
To identify and infer the drivers, restraints, opportunities, and challenges for the global compressor oil market
Market Influencing Factors:
To find out the factors which are affecting the sales of compressor oil among consumers
To identify and understand the various factors involved in the global compressor oil market affected by the pandemic
To provide a detailed insight into the major companies operating in the market. The profiling will include the financial health of the company's past 2-3 years with segmental and regional revenue breakup, product offering, recent developments, SWOT analysis, and key strategies.
Intended Audience
Industrial End Users

Maintenance and Facility Managers

Research and Development Professionals

Trade Associations and Industry Organizations

Retailers, Wholesalers, and Distributors

Governments, Associations, and Industrial Bodies

Investors and Trade Experts
Research Methodology
Our research methodology has always been the key differentiating reason which sets us apart in comparison from the competing organizations in the industry. Our organization believes in consistency along with quality and establishing a new level with every new report we generate; our methods are acclaimed and the data/information inside the report is coveted. Our research methodology involves a combination of primary and secondary research methods. Data procurement is one of the most extensive stages in our research process. Our organization helps in assisting the clients to find the opportunities by examining the market across the globe coupled with providing economic statistics for each and every region. The reports generated and published are based on primary & secondary research. In secondary research, we gather data for global Market through white papers, case studies, blogs, reference customers, news, articles, press releases, white papers, and research studies. We also have our paid data applications which includes hoovers, Bloomberg business week, Avention, and others.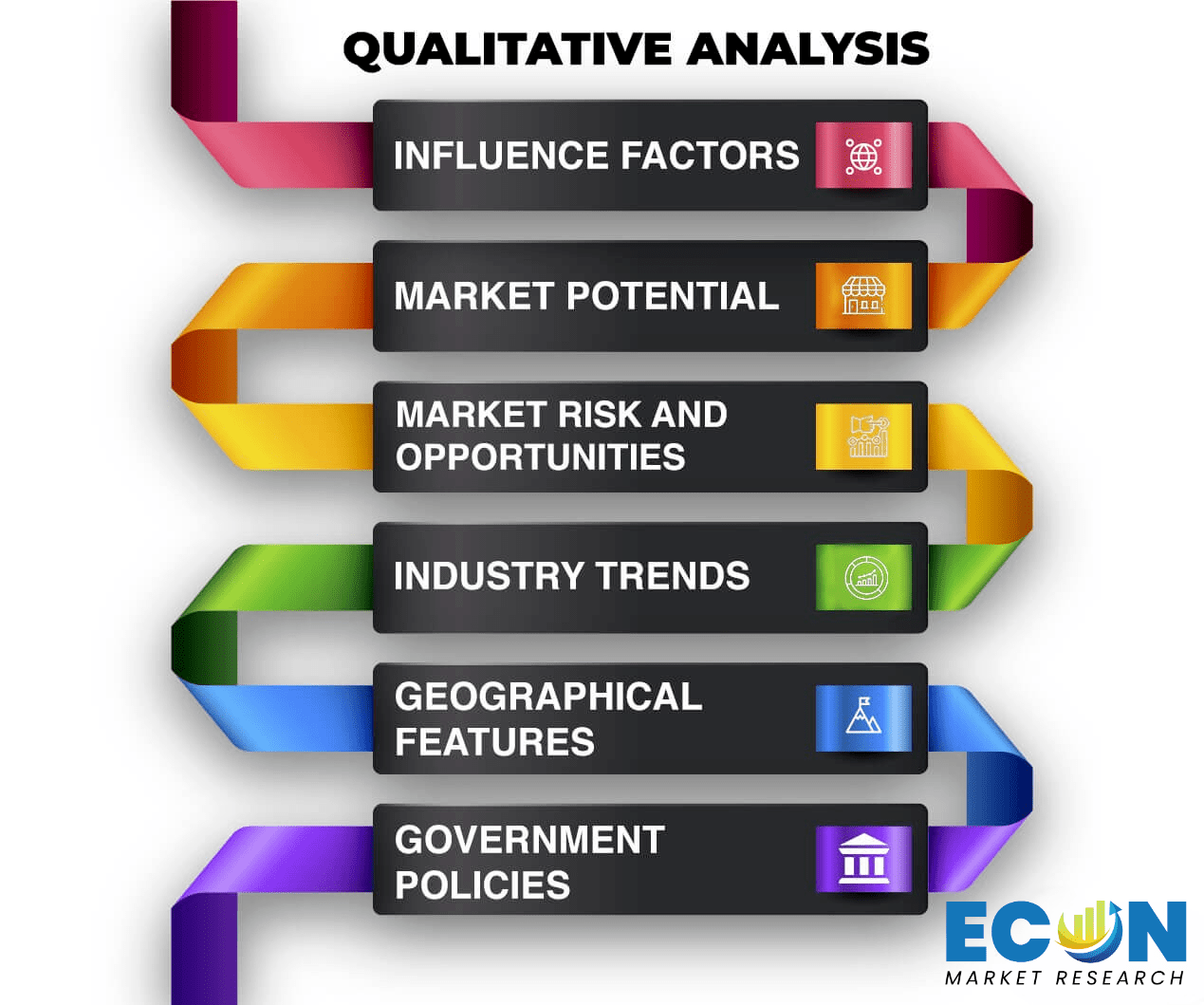 Data Collection
Data collection is the process of gathering, measuring, and analyzing accurate and relevant data from a variety of sources to analyze market and forecast trends. Raw market data is obtained on a broad front. Data is continuously extracted and filtered to ensure only validated and authenticated sources are considered. Data is mined from a varied host of sources including secondary and primary sources.

Primary Research
After the secondary research process, we initiate the primary research phase in which we interact with companies operating within the market space. We interact with related industries to understand the factors that can drive or hamper a market. Exhaustive primary interviews are conducted. Various sources from both the supply and demand sides are interviewed to obtain qualitative and quantitative information for a report which includes suppliers, product providers, domain experts, CEOs, vice presidents, marketing & sales directors, Type & innovation directors, and related key executives from various key companies to ensure a holistic and unbiased picture of the market. 
Secondary Research
A secondary research process is conducted to identify and collect information useful for the extensive, technical, market-oriented, and comprehensive study of the market. Secondary sources include published market studies, competitive information, white papers, analyst reports, government agencies, industry and trade associations, media sources, chambers of commerce, newsletters, trade publications, magazines, Bloomberg BusinessWeek, Factiva, D&B, annual reports, company house documents, investor presentations, articles, journals, blogs, and SEC filings of companies, newspapers, and so on. We have assigned weights to these parameters and quantified their market impacts using the weighted average analysis to derive the expected market growth rate.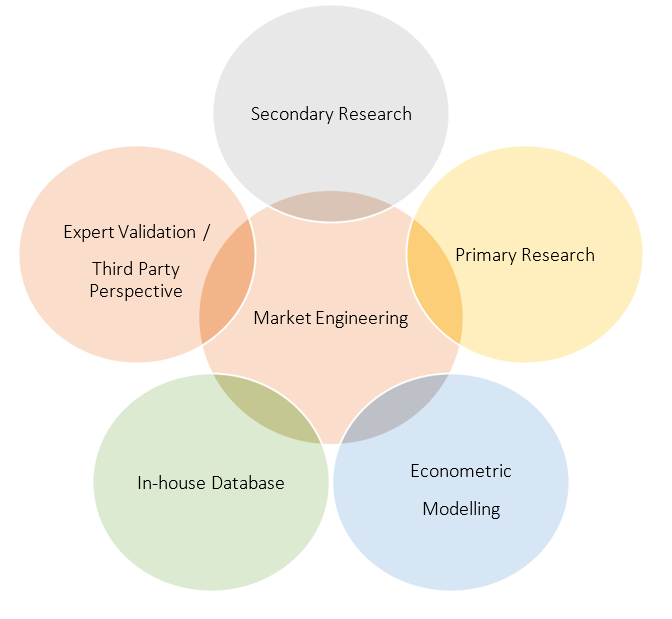 Top-Down Approach & Bottom-Up Approach
In the top – down approach, the Global Batteries for Solar Energy Storage Market was further divided into various segments on the basis of the percentage share of each segment. This approach helped in arriving at the market size of each segment globally. The segments market size was further broken down in the regional market size of each segment and sub-segments. The sub-segments were further broken down to country level market. The market size arrived using this approach was then crosschecked with the market size arrived by using bottom-up approach.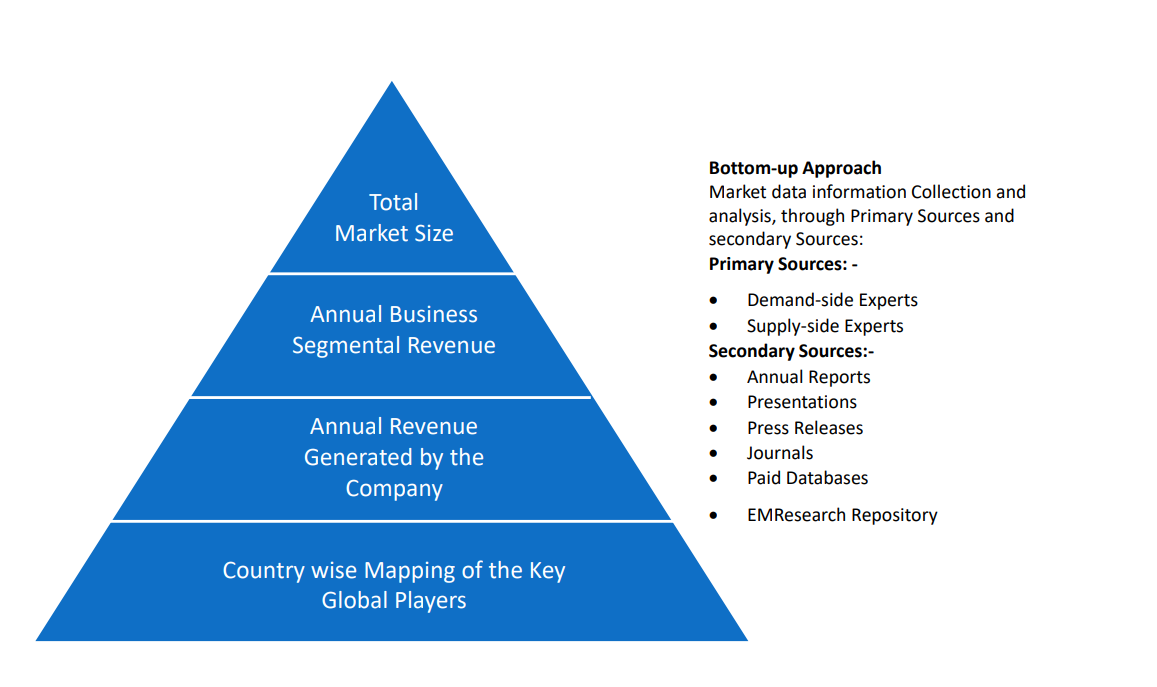 In the bottom-up approach, we arrived at the country market size by identifying the revenues and market shares of the key market players. The country market sizes then were added up to arrive at regional market size of the decorated apparel, which eventually added up to arrive at global market size.
This is one of the most reliable methods as the information is directly obtained from the key players in the market and is based on the primary interviews from the key opinion leaders associated with the firms considered in the research. Furthermore, the data obtained from the company sources and the primary respondents was validated through secondary sources including government publications and Bloomberg.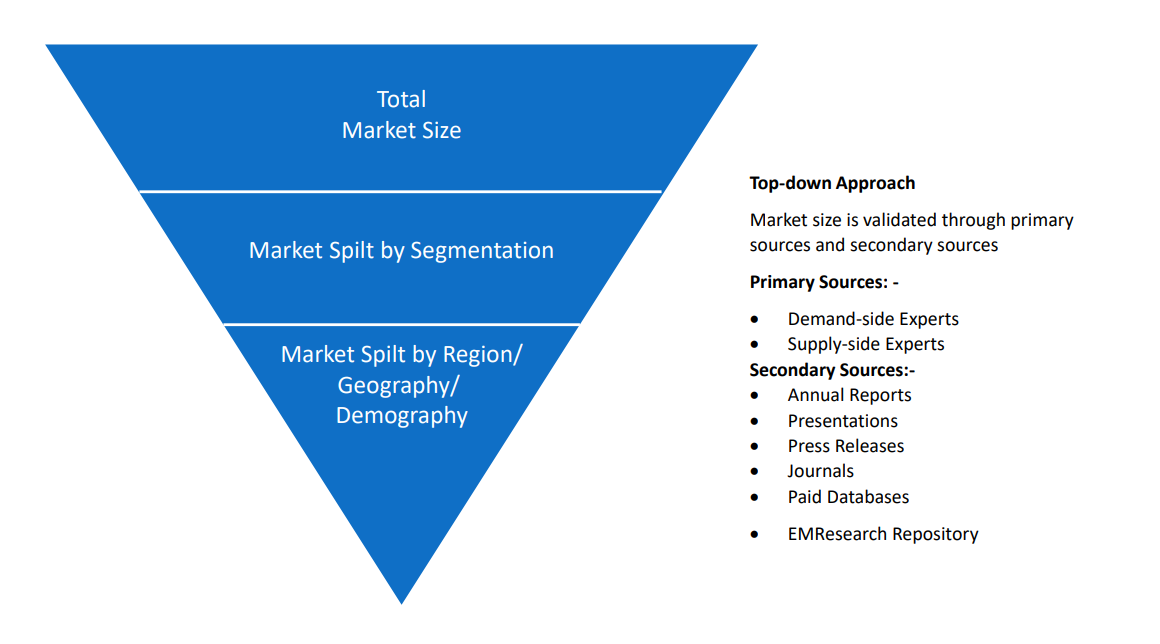 Market Analysis & size Estimation
Post the data mining stage, we gather our findings and analyze them, filtering out relevant insights. These are evaluated across research teams and industry experts. All this data is collected and evaluated by our analysts. The key players in the industry or markets are identified through extensive primary and secondary research. All percentage share splits, and breakdowns have been determined using secondary sources and verified through primary sources. The market size, in terms of value and volume, is determined through primary and secondary research processes, and forecasting models including the time series model, econometric model, judgmental forecasting model, the Delphi method, among Flywheel Energy Storage. Gathered information for market analysis, competitive landscape, growth trends, product development, and pricing trends is fed into the model and analyzed simultaneously.
Quality Checking & Final Review
The analysis done by the research team is further reviewed to check for the accuracy of the data provided to ensure the clients' requirements. This approach provides essential checks and balances which facilitate the production of quality data. This Type of revision was done in two phases for the authenticity of the data and negligible errors in the report. After quality checking, the report is reviewed to look after the presentation, Type and to recheck if all the requirements of the clients were addressed.