The Global Coated Fabrics Market was valued at USD 23.2 billion in 2022 and is estimated to reach approximately USD 32.5 billion by 2031, at a CAGR of 3.8% from 2023 to 2031. Coated fabrics are materials that have been treated with a layer of polymer or other substances to enhance their performance and characteristics. These fabrics often consist of a base fabric, which could be made of textiles like cotton, polyester, or nylon, and are then coated with various materials such as PVC (polyvinyl chloride), PU (polyurethane), rubber, or silicone. The coating process imparts several beneficial qualities to the fabric. It can make the fabric water-resistant or waterproof, protecting it from moisture and making it suitable for outdoor and wet environments. Coated fabrics can also become more durable, resistant to abrasion, and provide protection against UV radiation and chemicals. Additionally, coatings can offer improved aesthetics, like adding a glossy or matte finish to the fabric. The coated fabrics market is a dynamic sector within the global textile industry, characterized by the application of specialized coatings onto diverse types of fabrics to enhance their properties and functionalities. This market's growth is driven by its extensive utility in various sectors, including outdoor and leisure products, transportation, industrial, and healthcare. coated fabrics are integral to manufacturing high-performance products like rainwear, tents, and awnings, providing reliable weather protection. The automotive industry benefits from these fabrics for upholstery and interior components due to their aesthetics and durability. Industrial applications encompass conveyor belts, industrial curtains, and protective clothing, where resistance to abrasion and chemicals is crucial. Furthermore, coated fabrics find application in healthcare settings for items like hospital mattresses and protective covers due to their hygienic properties. As consumer demands for functional and versatile textiles grow, the coated fabrics market continues to evolve, pushing for innovations in coating technologies and sustainable practices. The ability to customize coatings to meet specific requirements, coupled with their diverse applications, positions coated fabrics as an essential player in shaping the future of textiles across multiple industries.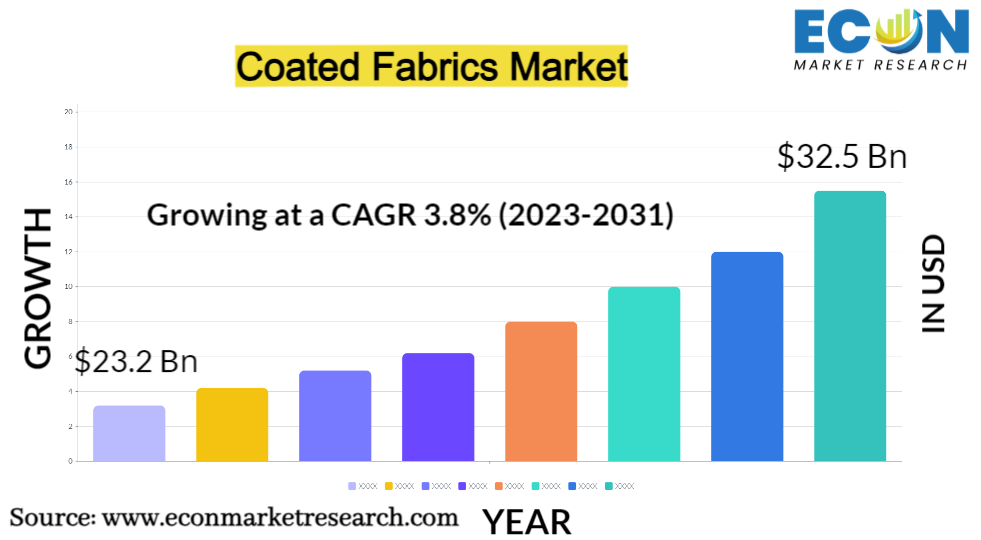 COATED FABRICS MARKET: REPORT SCOPE & SEGMENTATION
| | |
| --- | --- |
| Report Attribute | Details |
| Estimated Market Value (2022) | 23.2 Bn |
| Projected Market Value (2031) | 32.5 Bn |
| Base Year | 2022 |
| Forecast Years | 2023 - 2031 |
| Scope of the Report | Historical and Forecast Trends, Industry Drivers and Constraints, Historical and Forecast Market Analysis by Segment- By Product Type, By Application, & Region |
| Segments Covered | By Product Type, By Application, & Region |
| Forecast Units | Value (USD Billion or Million), and Volume (Units) |
| Quantitative Units | Revenue in USD million/billion and CAGR from 2023 to 2031 |
| Regions Covered | North America, Europe, Asia Pacific, Latin America, and Middle East & Africa, and the Rest of World |
| Countries Covered | U.S., Canada, Mexico, U.K., Germany, France, Italy, Spain, China, India, Japan, South Korea, Brazil, Argentina, GCC Countries, and South Africa, among others |
| Report Coverage | Market growth drivers, restraints, opportunities, Porter's five forces analysis, PEST analysis, value chain analysis, regulatory landscape, market attractiveness analysis by segments and region, company market share analysis, and COVID-19 impact analysis. |
| Delivery Format | Delivered as an attached PDF and Excel through email, according to the purchase option. |
Global Coated Fabrics Market Dynamics
The coated fabrics market is influenced by a dynamic interplay of various factors that shape its growth and trends. Technological advancements play a pivotal role, driving innovations in coating materials and application techniques, leading to improved fabric properties and expanded applications. Consumer preferences for functional and durable products also fuel demand, propelling the market's expansion. Environmental concerns drive the adoption of sustainable practices, pushing for eco-friendly coating materials and production methods. Regulatory standards and guidelines related to safety, quality, and environmental impact significantly influence market dynamics, necessitating compliance and driving product improvements. Industry diversification contributes to the market's resilience, with coated fabrics finding applications in sectors like automotive, outdoor gear, healthcare, and industrial applications. Economic factors, including global economic conditions and disposable income levels, impact market demand, especially in the consumer goods segment. Supply chain efficiency, raw material availability, and pricing fluctuations play a role in shaping market dynamics. Competition among manufacturers, both established and emerging players, drives innovation and pricing strategies, influencing overall market competitiveness. Moreover, shifts in consumer lifestyle trends, such as the growing interest in outdoor activities, impact product preferences and drive market growth in specific segments. Overall, the coated fabrics market remains dynamic and responsive to evolving technological, environmental, and consumer-driven changes, making it a crucial component of the broader textiles industry.
Global Coated Fabrics Market Drivers
Rising Demand for Functional and Sustainable Solutions
Consumers are increasingly seeking products that not only offer high performance but also align with environmental and ethical values. The push for sustainability has led to a focus on eco-friendly practices and materials in all industries, including textiles. Coated fabric manufacturers are responding by developing coatings made from renewable resources, reducing the use of harmful chemicals, and adopting energy-efficient production methods. This aligns with global efforts to reduce carbon footprints and minimize environmental impact. Adopting sustainable practices not only resolves environmental issues but also resonates with customers who value ethical consumption. As sustainability becomes a core consideration, the coated fabrics market must adapt by offering products that balance performance, durability, and eco-friendliness. This trend has also spurred collaborations between manufacturers, researchers, and environmental organizations to develop innovative, greener coating solutions, driving the industry toward a more sustainable and responsible future.
Expanding Applications in Various Industries
The versatility of coated fabrics enables their integration into a wide array of sectors, capitalizing on their enhanced properties and functionalities. In the automotive industry, coated fabrics are utilized for upholstery, interior trims, and airbag components. Their durability and aesthetic appeal make them ideal for creating comfortable and visually appealing interiors that endure wear and tear. Similarly, the outdoor gear sector benefits from coated fabrics in the production of rainwear, tents, and awnings. These fabrics' ability to repel water, resist abrasion, and provide UV protection aligns with the demands of outdoor enthusiasts seeking reliable performance in various weather conditions. Industrial applications encompass a range of products such as conveyor belts, industrial curtains, and protective clothing. Additionally, in healthcare, coated fabrics find use in items like hospital mattresses, covers, and curtains due to their hygienic properties and ease of maintenance. As each industry seeks materials that combine functionality and longevity, coated fabrics continue to play a crucial role by adapting to and meeting the unique demands of various applications, ultimately contributing to the market's growth and stability.
Restraints:
Increased Production Costs
The coated fabrics industry is sensitive to the fluctuating costs of raw materials, particularly specialized polymers, chemicals, and additives used in coatings. These price variations can create uncertainty in budgeting and planning for manufacturers, impacting their ability to offer competitive prices to consumers. As the market strives to meet rising consumer expectations for performance, durability, and sustainability, balancing these factors becomes a critical challenge. Developing and utilizing advanced coatings, as well as adhering to stricter environmental and safety standards, can elevate the expenses associated with manufacturing.
Environmental Concerns and Regulations
With growing global awareness of environmental issues, consumers, regulatory bodies, and advocacy groups are scrutinizing industrial practices, including those in the textiles sector. Coating processes often involve the use of chemicals and materials that can have adverse environmental effects during production, usage, and disposal phases. Strict regulations aimed at reducing pollution, conserving resources, and minimizing waste generation impact the way coated fabrics are manufactured. Manufacturers are required to adhere to strict guidelines, invest in pollution control measures, and adopt sustainable practices. Failure to comply with these regulations can result in legal penalties, damage to brand reputation, and restricted market access.
Opportunities:
Smart Coated Fabrics for Technological Integration
The opportunity presented by smart coated fabrics for technological integration is a fascinating path within the coated fabrics market. As technology continues to advance, textiles are being transformed into interactive and functional components, offering a wide range of applications and benefits. Coated fabrics with embedded sensors, conductive materials, and interactive features are at the forefront of this innovation. These smart-coated fabrics have the potential to transform various industries. In the healthcare sector, they can be used for monitoring patients' vital signs, tracking body movements, and even delivering medication through the fabric. In sports and fitness, smart coatings can offer real-time performance data to athletes, aiding in training and preventing injuries. The automotive sector can benefit from coatings that integrate touch-sensitive controls, enhancing both safety and user experience. Investors in the creation of smart coated fabrics will be able to take advantage of a market that is expanding quickly.
Innovations in Sustainable Coating Technologies
With the growing emphasis on environmental consciousness and eco-friendly practices, consumers are increasingly seeking products that align with their sustainability values. This presents manufacturers with a chance to lead by developing coatings that minimize environmental impact. Research and development efforts can focus on water-based coatings that reduce or eliminate the use of harmful solvents, bio-based materials derived from renewable resources, and coatings that are designed for easy recyclability. These innovations not only supply to eco-conscious consumers but also address regulatory pressures for reduced chemical emissions and waste. By accepting sustainable coatings, manufacturers can position themselves as industry leaders, attracting a growing market segment that places a premium on both performance and environmental responsibility. This opportunity extends beyond consumer preferences, as many businesses are also adopting sustainability goals throughout their supply chains.
Segment Overview
By Product Type
Based on product type, the global coated fabrics market is divided into polymer-coated fabrics, rubber-coated fabrics, and fabric-backed wall coverings. The polymer-coated fabrics category dominates the coated fabrics market. Further polymer-coated fabrics segment is classified into vinyl-coated fabrics, PU-coated fabrics, PE-coated fabrics, and others. The vinyl-coated fabrics segment dominates in the polymer-coated fabrics segment. These fabrics, coated with synthetic polymers like PVC and PU, offer a unique blend of durability, weather resistance, flexibility, and cost-effectiveness. Their widespread use spans industries, including textiles, automotive, construction, and more. The waterproof nature of polymer coatings makes them indispensable for rainwear and outdoor gear. In architecture, they find application in roofing membranes and awnings. Their durability suits transportation needs, from car upholstery to aerospace interiors. Furthermore, the medical, industrial, and military sectors benefit from their resistance to chemicals and wear. While other coated fabric types exist, polymer-coated fabrics stand out for their adaptability to diverse environments. This dominance is expected to persist as innovations in polymer technology continue to enhance their performance, ensuring their relevance across various sectors.
By Application
Based on the application, the global coated fabrics market is categorized into transportation, protective clothing, industrial, roofing, awnings and canopies, furniture and seating, and others. The transportation category leads the global coated fabrics market with the largest revenue share. This leadership position can be attributed to the extensive utilization of coated fabrics in various transportation modes and applications. From automotive to aerospace, coated fabrics play a pivotal role due to their versatile characteristics. In the automotive industry, coated fabrics find application in upholstery, seat covers, and interior trims, benefitting from their durability, ease of cleaning, and aesthetic appeal. Similarly, in aerospace, coated fabrics are used for seat covers and interior panels, addressing the industry's stringent safety and quality standards. Similarly, industrial applications involve the use of coated fabrics in manufacturing processes, conveyor belts, inflatable structures, and other equipment where durability, abrasion resistance, and chemical resistance are vibrant. Also, Coated fabrics are employed in roofing membranes to provide waterproofing and weather resistance for buildings. They are used in both residential and commercial construction.
Global Coated Fabrics Market Overview by Region
The global coated fabrics market is categorized into North America, Europe, Asia-Pacific, and the Rest of the World. Asia Pacific emerged as the leading region, capturing the largest market share. This dominance can be attributed to several factors, including rapid industrialization, urbanization, and a growing consumer base across countries in the region. The rise in disposable income, coupled with changing lifestyles, has propelled the demand for products like protective clothing, and outdoor furniture. Countries like China, India have witnessed substantial growth in various industries that heavily rely on coated fabrics. The booming automotive, construction, and industrial sectors in Asia Pacific contribute significantly to the increased demand for coated fabrics.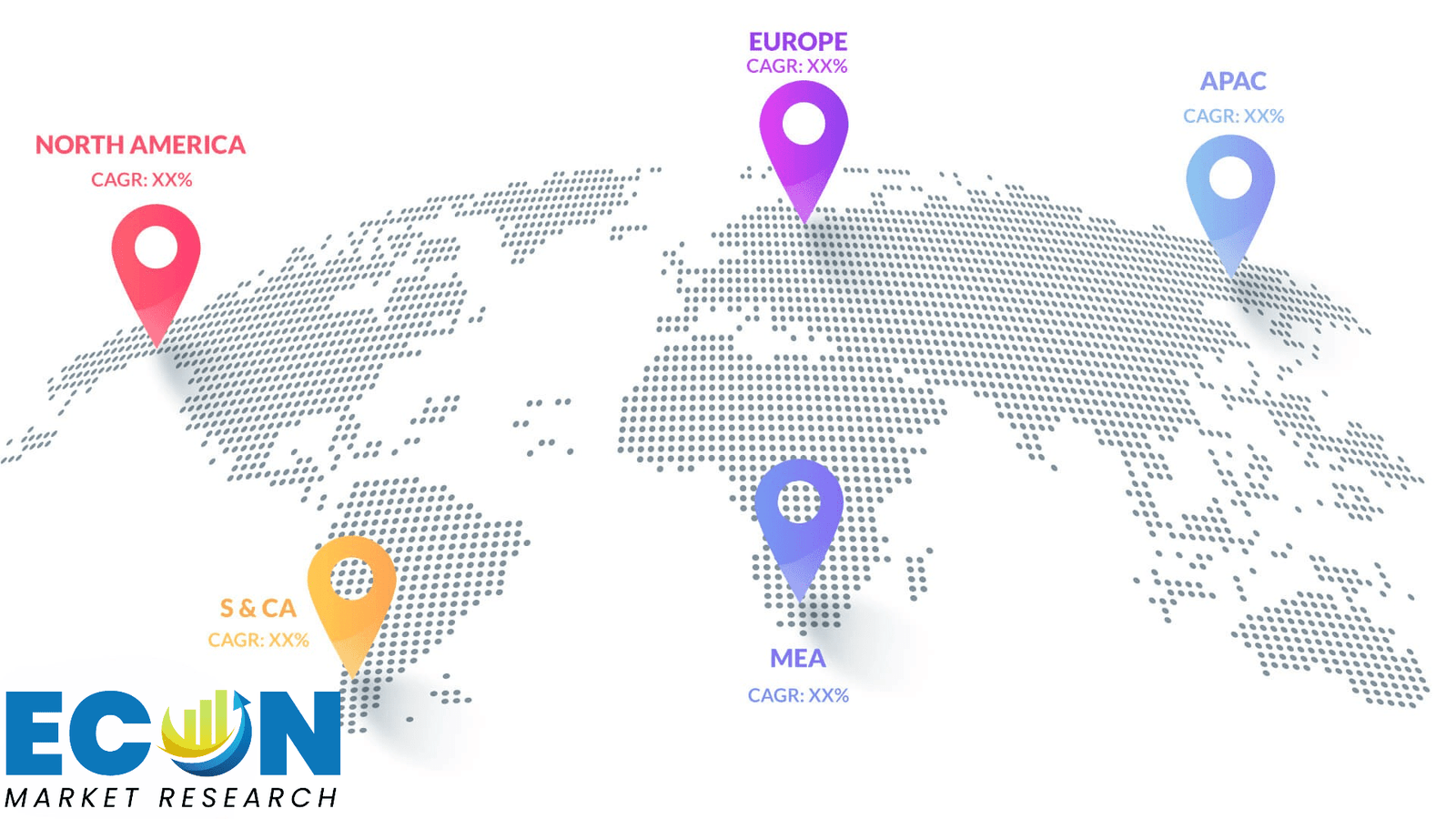 Global Coated Fabrics Market Competitive Landscape
In the global coated fabrics market, a few major players exert significant market dominance and have established a strong regional presence. These leading companies remain committed to continuous research and development endeavors and actively engage in strategic growth initiatives, including product development, launches, joint ventures, and partnerships. By pursuing these strategies, these companies aim to strengthen their market position, expand their customer base, and capture a substantial share of the market.
Some of the prominent players in the global coated fabrics market include Continental AG, Sioen Industries NV, Saint-Gobain Performance Plastics, Trelleborg Group, SergeFerrari Group, Low & Bonar, SRF Limited, OMNOVA Solutions Inc., SPRADLING GROUP, Cooley Group Holdings, Inc., Bo-Tex America, Mauritzon, Inc., Graniteville, Santex Rimar Group, ENDUTEX COATED TECHNICAL TEXTILES, The Haartz Corporation, Heytex Gruppe, Morbern Europe, Obeikan Investment Group, Uniroyal Global Engineered Products Inc., and various other key players.
Global Coated Fabrics Market Recent Developments
In December 2021, Trelleborg's acquisition of coated fabrics operation was finalized. Trelleborg Group has completed the acquisition of a business that produces polymer-coated fabrics for specialized applications from the privately held US company Alpha Engineered Composites.
Scope of the Global Coated Fabrics Market Report
Coated Fabrics Market Report Segmentation
ATTRIBUTE

DETAILS

By Product Type

Polymer-Coated Fabrics (Vinyl-Coated Fabrics, PU-Coated Fabrics, PE-Coated Fabrics, and Others)

Rubber-Coated Fabrics

Fabric-Backed Wall Coverings

By Application

Transportation

Protective Clothing

Industrial

Roofing

Awnings and Canopies

Furniture and Seating

Others

By Geography

North America (USA,

and Canada)

Europe (UK, Germany, France, Italy, Spain, Russia and Rest of Europe)

Asia Pacific (Japan, China, India, Australia, Southeast Asia and Rest of Asia Pacific)

Latin America (Brazil, Mexico, and Rest of Latin America)

Middle East & Africa (South Africa, GCC, and Rest of Middle East & Africa)

Customization Scope

Pricing
Objectives of the Study
The objectives of the study are summarized in 5 stages. They are as mentioned below:
Global Coated Fabrics Market

Size and Forecast:
To identify and estimate the market size for the global coated fabrics market segmented by product type, by application, region and by value (in U.S. dollars). Also, to understand the consumption/ demand created by consumers of coated fabrics between 2019 and 2031.
Market Landscape and Trends:
To identify and infer the drivers, restraints, opportunities, and challenges for the global coated fabrics market
Market Influencing Factors:
To find out the factors which are affecting the sales of coated fabrics among consumers
To identify and understand the various factors involved in the global coated fabrics market affected by the pandemic
To provide a detailed insight into the major companies operating in the market. The profiling will include the financial health of the company's past 2-3 years with segmental and regional revenue breakup, product offering, recent developments, SWOT analysis, and key strategies.
Intended Audience
Raw Material Suppliers

Coated Fabrics Manufacturers

Retailers, Wholesalers, and Distributors

Governments, Associations, and Industrial Bodies

Investors and Trade Experts

Academic and Educational Institutions
Research Methodology
Our research methodology has always been the key differentiating reason which sets us apart in comparison from the competing organizations in the industry. Our organization believes in consistency along with quality and establishing a new level with every new report we generate; our methods are acclaimed and the data/information inside the report is coveted. Our research methodology involves a combination of primary and secondary research methods. Data procurement is one of the most extensive stages in our research process. Our organization helps in assisting the clients to find the opportunities by examining the market across the globe coupled with providing economic statistics for each and every region. The reports generated and published are based on primary & secondary research. In secondary research, we gather data for global Market through white papers, case studies, blogs, reference customers, news, articles, press releases, white papers, and research studies. We also have our paid data applications which includes hoovers, Bloomberg business week, Avention, and others.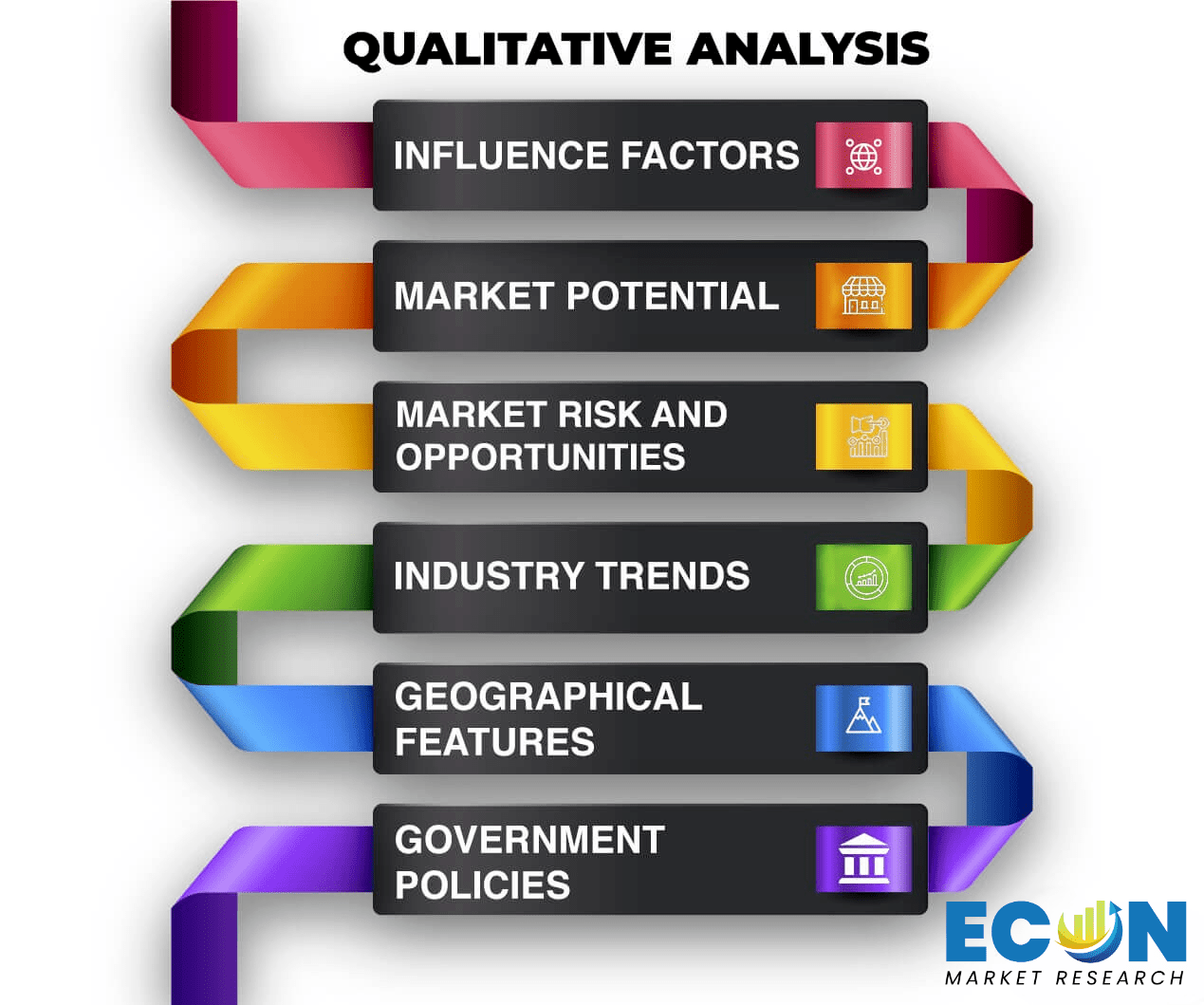 Data Collection
Data collection is the process of gathering, measuring, and analyzing accurate and relevant data from a variety of sources to analyze market and forecast trends. Raw market data is obtained on a broad front. Data is continuously extracted and filtered to ensure only validated and authenticated sources are considered. Data is mined from a varied host of sources including secondary and primary sources.

Primary Research
After the secondary research process, we initiate the primary research phase in which we interact with companies operating within the market space. We interact with related industries to understand the factors that can drive or hamper a market. Exhaustive primary interviews are conducted. Various sources from both the supply and demand sides are interviewed to obtain qualitative and quantitative information for a report which includes suppliers, product providers, domain experts, CEOs, vice presidents, marketing & sales directors, Type & innovation directors, and related key executives from various key companies to ensure a holistic and unbiased picture of the market. 
Secondary Research
A secondary research process is conducted to identify and collect information useful for the extensive, technical, market-oriented, and comprehensive study of the market. Secondary sources include published market studies, competitive information, white papers, analyst reports, government agencies, industry and trade associations, media sources, chambers of commerce, newsletters, trade publications, magazines, Bloomberg BusinessWeek, Factiva, D&B, annual reports, company house documents, investor presentations, articles, journals, blogs, and SEC filings of companies, newspapers, and so on. We have assigned weights to these parameters and quantified their market impacts using the weighted average analysis to derive the expected market growth rate.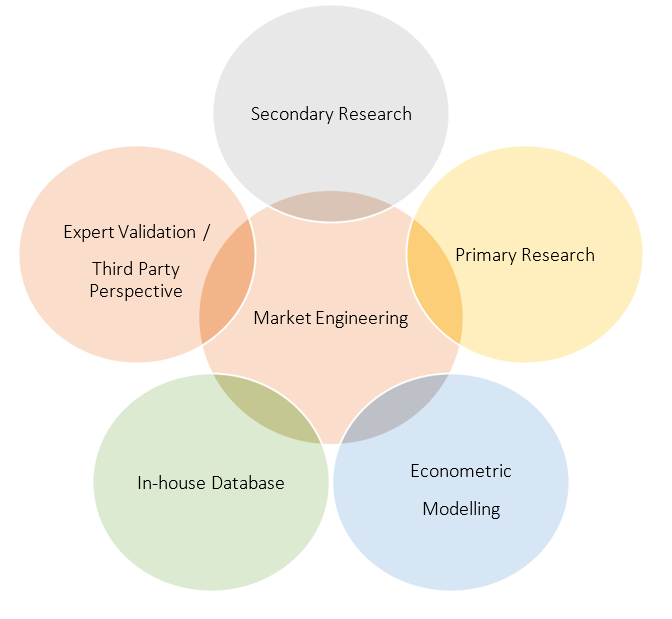 Top-Down Approach & Bottom-Up Approach
In the top – down approach, the Global Batteries for Solar Energy Storage Market was further divided into various segments on the basis of the percentage share of each segment. This approach helped in arriving at the market size of each segment globally. The segments market size was further broken down in the regional market size of each segment and sub-segments. The sub-segments were further broken down to country level market. The market size arrived using this approach was then crosschecked with the market size arrived by using bottom-up approach.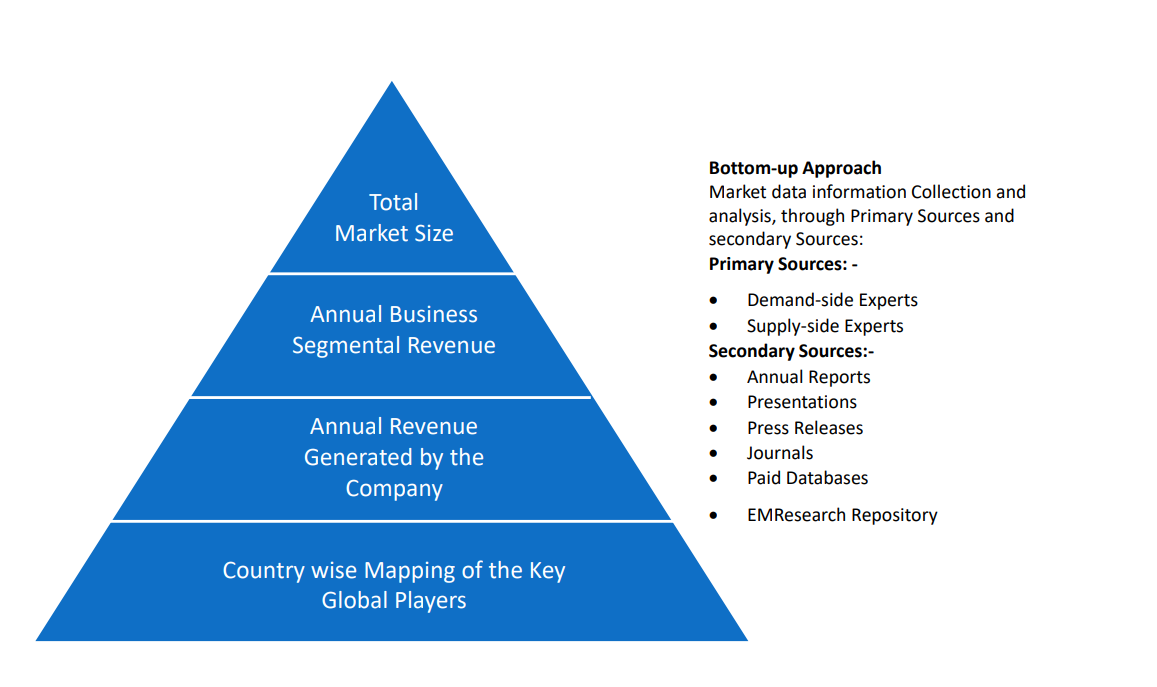 In the bottom-up approach, we arrived at the country market size by identifying the revenues and market shares of the key market players. The country market sizes then were added up to arrive at regional market size of the decorated apparel, which eventually added up to arrive at global market size.
This is one of the most reliable methods as the information is directly obtained from the key players in the market and is based on the primary interviews from the key opinion leaders associated with the firms considered in the research. Furthermore, the data obtained from the company sources and the primary respondents was validated through secondary sources including government publications and Bloomberg.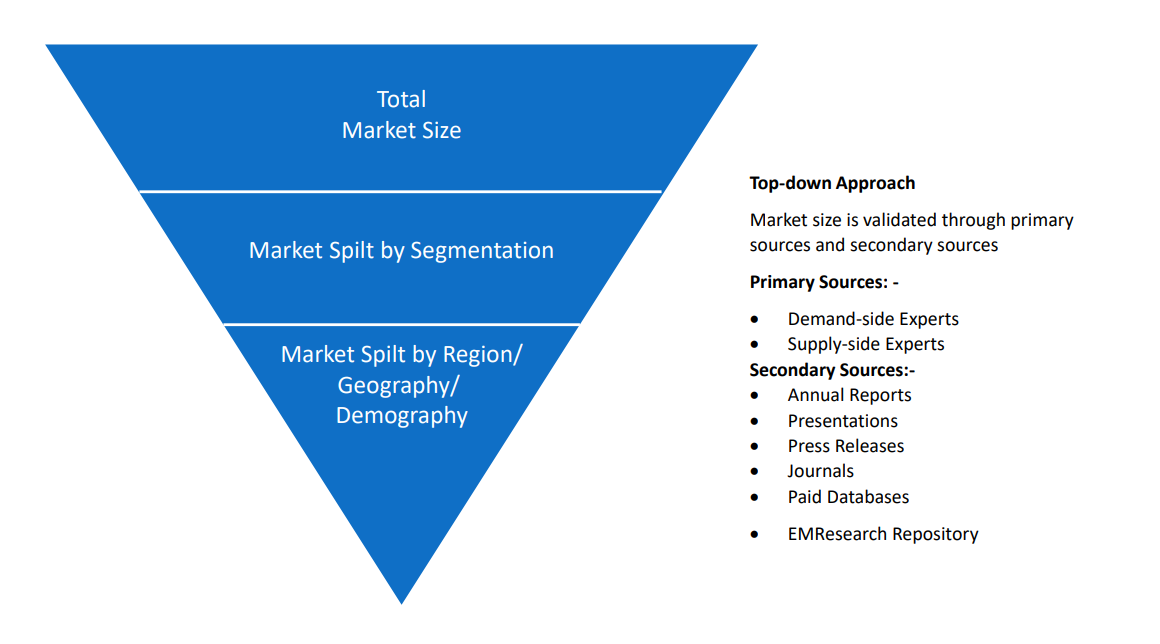 Market Analysis & size Estimation
Post the data mining stage, we gather our findings and analyze them, filtering out relevant insights. These are evaluated across research teams and industry experts. All this data is collected and evaluated by our analysts. The key players in the industry or markets are identified through extensive primary and secondary research. All percentage share splits, and breakdowns have been determined using secondary sources and verified through primary sources. The market size, in terms of value and volume, is determined through primary and secondary research processes, and forecasting models including the time series model, econometric model, judgmental forecasting model, the Delphi method, among Flywheel Energy Storage. Gathered information for market analysis, competitive landscape, growth trends, product development, and pricing trends is fed into the model and analyzed simultaneously.
Quality Checking & Final Review
The analysis done by the research team is further reviewed to check for the accuracy of the data provided to ensure the clients' requirements. This approach provides essential checks and balances which facilitate the production of quality data. This Type of revision was done in two phases for the authenticity of the data and negligible errors in the report. After quality checking, the report is reviewed to look after the presentation, Type and to recheck if all the requirements of the clients were addressed.