The Global Cloud Security Posture Management Market was valued at USD 4.50 billion in 2022 and is estimated to reach approximately USD 14.65 billion by 2031, at a CAGR of 14.0% from 2023 to 2031. To handle the special difficulties presented by cloud computing, the Cloud Security Posture Management (CSPM) market has arisen as a crucial element of cybersecurity. Making sure that the cloud environments are secure becomes increasingly important as businesses move their processes and data there. In order to manage and improve security postures across cloud platforms, CSPM solutions offer a thorough methodology. CSPM technologies provide real-time visibility, assessment, and monitoring of a company's cloud infrastructure in order to find configuration errors, security holes, and compliance gaps. Through the automation of security best practices and the provision of useful information to IT teams, these systems enable proactive risk mitigation. Data breaches, unauthorized access, and data loss can be avoided thanks to CSPM systems' constant scanning and analysis of cloud resources. The CSPM market has evolved to accommodate diverse cloud service providers and configurations, supporting public, private, and hybrid cloud environments. Organizations across industries, ranging from startups to enterprises, rely on CSPM solutions to fortify their cloud security strategies, maintain compliance with industry regulations, and uphold data integrity. As cyber threats become more sophisticated, the CSPM market continues to expand, integrating advanced features like threat intelligence, predictive analytics, and integration with other security tools. This market growth reflects the growing recognition of CSPM's crucial role in safeguarding cloud infrastructure and data, fostering a secure and resilient digital landscape.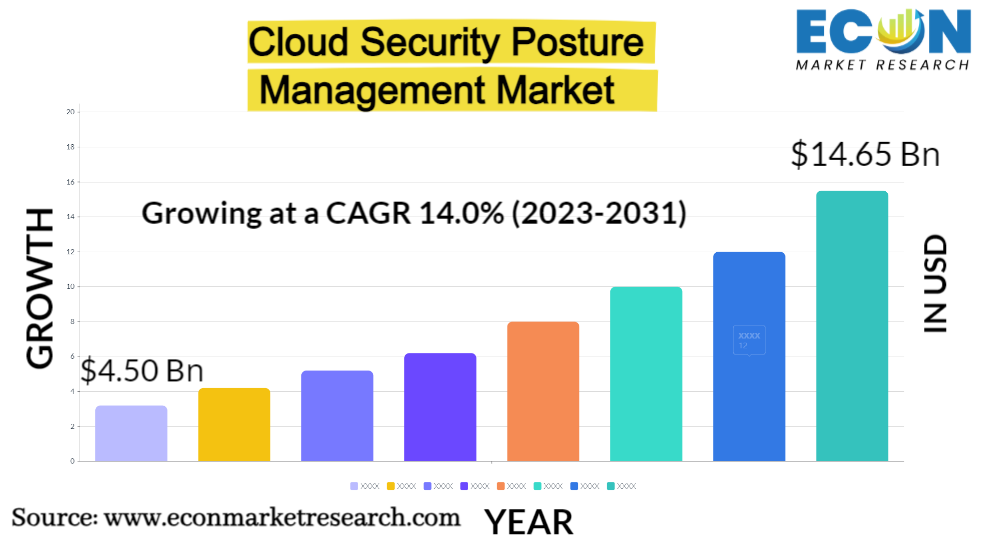 CLOUD SECURITY POSTURE MANAGEMENT MARKET: REPORT SCOPE & SEGMENTATION
| | |
| --- | --- |
| Report Attribute | Details |
| Estimated Market Value (2022) | 4.50 Bn |
| Projected Market Value (2031) | 14.65 Bn |
| Base Year | 2022 |
| Forecast Years | 2023 - 2031 |
| Scope of the Report | Historical and Forecast Trends, Industry Drivers and Constraints, Historical and Forecast Market Analysis by Segment- By Offering, By Cloud Service Model, By Enterprise Size, By Industry Vertical, & Region |
| Segments Covered | By Offering, By Cloud Service Model, By Enterprise Size, By Industry Vertical, & Region |
| Forecast Units | Value (USD Billion or Million), and Volume (Units) |
| Quantitative Units | Revenue in USD million/billion and CAGR from 2023 to 2031 |
| Regions Covered | North America, Europe, Asia Pacific, Latin America, and Middle East & Africa, and the Rest of World |
| Countries Covered | U.S., Canada, Mexico, U.K., Germany, France, Italy, Spain, China, India, Japan, South Korea, Brazil, Argentina, GCC Countries, and South Africa, among others |
| Report Coverage | Market growth drivers, restraints, opportunities, Porter's five forces analysis, PEST analysis, value chain analysis, regulatory landscape, market attractiveness analysis by segments and region, company market share analysis, and COVID-19 impact analysis. |
| Delivery Format | Delivered as an attached PDF and Excel through email, according to the purchase option. |
Global Cloud Security Posture Management Market Dynamics
The market for Cloud Security Posture Management (CSPM), which is driven by the rising popularity of cloud computing and the rising demand for effective cybersecurity, is dynamic and ever-evolving. The demand for CSPM solutions has increased as businesses migrate to cloud-based infrastructures as a result of growing worries about data breaches, compliance infringements, and configuration errors. The ongoing growth of cloud services and providers has an impact on the market dynamics for CSPM and has resulted in a wide variety of deployment options and configurations. Vendors competing to offer cutting-edge features, automation capabilities, and integration with current security technologies are fiercely competitive in the market. The prevalence of high-profile data breaches and compliance blunders has brought to light the value of CSPM in risk management plans. Regulating agencies have been forced to impose strict security requirements as a result, which has accelerated the adoption of CSPM systems across industries. Furthermore, enhanced threat detection and response capabilities must be incorporated into CSPM platforms due to the changing threat landscape. As a result, the market is seeing CSPM converge with other security disciplines including Security Information and Event Management (SIEM) and Cloud Workload Protection Platforms (CWPP), boosting comprehensive security coverage. CSPM market dynamics are also influenced by the growing emphasis on automation and orchestration, enabling organizations to swiftly remediate vulnerabilities and enforce security policies. As the cloud environment evolves, CSPM solutions will continue to adapt, integrating machine learning, artificial intelligence, and predictive analytics to proactively identify emerging threats and vulnerabilities.
Global Cloud Security Posture Management Market Drivers
Increasing Adoption of Cloud Services Across Industries Fuels the Need for Robust Security Measures
A compelling need for strong security measures has emerged as a result of the increasing adoption of cloud services across businesses. Businesses benefit from scalability, flexibility, and cost-effectiveness when they move their operations, data, and applications to cloud environments. But this change also opens up a whole new set of cybersecurity problems that call for strict protections. While cloud services have many advantages, they also expose businesses to more vulnerabilities and attack surfaces. A new approach to security is required due to the decentralized nature of cloud infrastructures and the dynamic nature of cloud resources. Risks to sensitive data, intellectual property, and business continuity are high because threat actors are quick to take advantage of misconfigurations, unauthorized access, and weak spots in the cloud. Moreover, the interconnectedness of cloud systems underscores the need for holistic security approaches. Integrating Cloud Security Posture Management (CSPM), Identity and Access Management (IAM), and threat intelligence tools helps organizations detect, prevent, and respond to threats effectively.
Complex Multi-Cloud Environments
Complex multi-cloud environments have emerged as a prominent driver of modern IT strategies due to their ability to provide unparalleled scalability, flexibility, and redundancy. Multi-cloud setups involve the use of multiple cloud service providers, allowing organizations to distribute workloads strategically and avoid vendor lock-in. This approach empowers businesses to select the best-fit solutions for different application requirements, optimize costs, and enhance overall performance. The complexity of managing diverse cloud platforms, each with distinct interfaces, services, and security models, creates a demand for advanced management solutions. Organizations must address interoperability issues, ensure consistent data flow, and streamline management processes across the multi-cloud ecosystem.
Restraints:
In many areas, including technology, industry, and procedures, the lack of standardization poses a serious constraint. This limitation in technology, and specifically cloud computing, refers to the lack of widely used protocols, interfaces, and practices among various cloud service providers and platforms. This lack of standardization can restrict interoperability, prevent easy data and workload movement, and make managing hybrid and multi-cloud infrastructures more challenging. In the world of cloud computing, the lack of standardized data formats, APIs (application programming interfaces), and security measures can make it more difficult for businesses to switch between cloud providers or combine different cloud services. The absence of standardization poses obstacles to compliance efforts and security practices. Organizations often need to navigate different security configurations, identity management methods, and encryption standards when dealing with multiple cloud providers. This lack of consistency can increase the likelihood of security gaps, misconfigurations, and compliance vulnerabilities.
Compliance and Regulatory Challenges
Challenges related to compliance and regulations are a major impediment, especially for sectors that deal with sensitive data and are subject to strict laws. These difficulties arise in the context of technology and cloud computing from the complicated and dynamic web of data protection regulations, business practices, and local requirements. Utilizing the cloud frequently necessitates that businesses store and handle data across numerous locations, each of which has its own set of rules. Data residency requirements, cross-border data transfers, and data sovereignty issues must all be thoroughly understood in order to accomplish this. Due to differences in interpretations and enforcement methods, ensuring compliance with legislation like the General Data Protection Regulation (GDPR), Health Insurance Portability and Accountability Act (HIPAA), or the Payment Card Industry Data Security Standard (PCI DSS) becomes challenging.
Opportunities:
Multi-Cloud and Hybrid Cloud Environments
Organizations can improve their IT infrastructure and operations by utilizing multi-cloud and hybrid cloud systems. Utilizing different cloud service providers as part of a multi-cloud strategy enables businesses to diversify their vendor connections, strike favorable price deals, and gain flexibility in where they store their workloads. In addition to reducing vendor lock-in and increasing cost-effectiveness, this diversity. Organizations might balance performance, scalability, and data security with hybrid cloud architectures, which integrate public and private cloud resources. They meet compliance and data sovereignty requirements by providing a way to preserve sensitive data on-premises while using public clouds for less important applications.
Security Automation and Orchestration
By automating and streamlining threat detection and response procedures, Security Automation and Orchestration (SAO) offers an excellent chance to strengthen cybersecurity. Organizations may grow their defenses effectively, respond quickly to security incidents, decrease manual duties, and maintain uniform security policies thanks to SAO systems. As a result, threat mitigation is completed more quickly, operational efficiency is increased, human error is decreased, and threat visibility is increased. Organizations may build their resilience against cyberattacks by utilizing the power of automation and orchestration to improve their entire security posture, allocate resources more efficiently, and keep on top of the changing cyber threat landscape.
Segment Overview
By Offering
Based on the offering, the global cloud security posture management market is divided into solutions and services. The solution category dominates the market with the largest revenue share. Solutions refer to the products, software, or technology offerings that address specific problems or needs in the market. These are tangible or software-based items that organizations purchase to achieve a particular goal. In the context of cybersecurity, security solutions could include firewalls, antivirus software, encryption tools, or Cloud Security Posture Management (CSPM) platforms. These are typically offered as products that organizations acquire and implement to enhance their security posture. Services, on the other hand, are intangible offerings provided by companies to support the implementation, maintenance, and optimization of solutions. In the cybersecurity market, service offerings often include consulting, risk assessments, managed security services, incident response, and support. These services help organizations make the most of their security solutions, ensure they are properly configured, and respond effectively to security incidents.
By Cloud Service Model
Based on the cloud service model, the global cloud security posture management market is categorized into infrastructure-as-a-service (IaaS), platform-as-a-service (PaaS), and software-as-a-service (SaaS). The software-as-a-service (SaaS) leads the global cloud security posture management market with the largest revenue share. SaaS delivers complete software applications over the internet on a subscription basis. Users access these applications through web browsers, eliminating the need for local installations and maintenance. SaaS offerings cover a wide range of software categories, including customer relationship management (CRM), productivity tools, email, collaboration, and more. SaaS is convenient for businesses seeking to quickly adopt and use software applications without the complexities of deployment, maintenance, and infrastructure management. IaaS provides fundamental cloud infrastructure components, including virtualized computing resources (such as virtual machines), storage, and networking. Organizations using IaaS can manage and control the operating systems, applications, and data on these virtualized resources. IaaS is particularly valuable for businesses looking to build, deploy, and manage their own IT infrastructure in a scalable and cost-effective manner without the need for physical hardware. PaaS sits on top of IaaS and offers a higher-level platform for developing, deploying, and managing applications. It provides tools, services, and environments for developers to build and host applications without worrying about underlying infrastructure management.
By Enterprise Size
Based on enterprise size, the global cloud security posture management market is segmented into large enterprises and SMEs. The large enterprises segment dominates the cloud security posture management market. Large enterprises are typically characterized by their substantial size, extensive resources, and complex organizational structures. They often have a global or national presence and employ a significant workforce. In the context of the market, they tend to have more extensive budgets and greater scalability requirements. Large enterprises may seek advanced, feature-rich solutions and services that can support their complex operations and meet stringent compliance and security standards. SMEs, on the other hand, are smaller in size compared to large enterprises. They have limited budgets, fewer employees, and simpler organizational structures. SMEs may prioritize cost-effectiveness, simplicity, and ease of use when selecting solutions and services from the market.
By Industry Vertical
Based on the industry vertical, the global cloud security posture management market is divided into BFSI, government & defense, retail & e-commerce, healthcare, IT and telecom, energy & utilities, manufacturing, education, and others. The healthcare category dominates the market with the largest revenue share. Healthcare organizations focus on patient data security, electronic health records (EHR) management, and telemedicine solutions. Compliance with healthcare regulations, such as HIPAA, is paramount. Retail and e-commerce companies demand technology solutions that enhance customer experience, support online sales, and optimize supply chain operations. Personalization, inventory management, and data analytics are critical in this sector. Government agencies and defense organizations require secure and robust IT solutions to safeguard national security interests, manage public services, and support military operations. This sector often deals with complex procurement processes and stringent security standards. The BFSI sector has unique regulatory and security requirements due to the handling of sensitive financial data. It seeks technology solutions that ensure data security, compliance, and efficient transaction processing. The IT and telecom sector seeks innovative technologies for network infrastructure, cloud services, and digital transformation. Scalability and high-performance solutions are crucial in this fast-paced industry.
Global Cloud Security Posture Management Market Overview by Region
The global cloud security posture management market is categorized into North America, Europe, Asia-Pacific, and the Rest of the World. North America emerged as the leading region, capturing the largest market share in 2022. North America, primarily represented by the United States and Canada, boasts some of the world's largest and most developed economies. These nations have a robust infrastructure, a diverse range of industries, and a high standard of living, making them significant players in the global economy. The region is a global hub for technological innovation, with Silicon Valley in California serving as the epicenter of the tech industry. Leading technology companies, including Apple, Google, Amazon, and Microsoft, call North America home, driving advances in artificial intelligence, cloud computing, and biotechnology. North America houses prestigious educational institutions like Harvard, MIT, Stanford, and others. These universities attract top talent from around the world, fostering research, development, and innovation across various fields. The region's cultural exports, including Hollywood movies, music, and technology, have a global impact, shaping entertainment and consumer trends worldwide.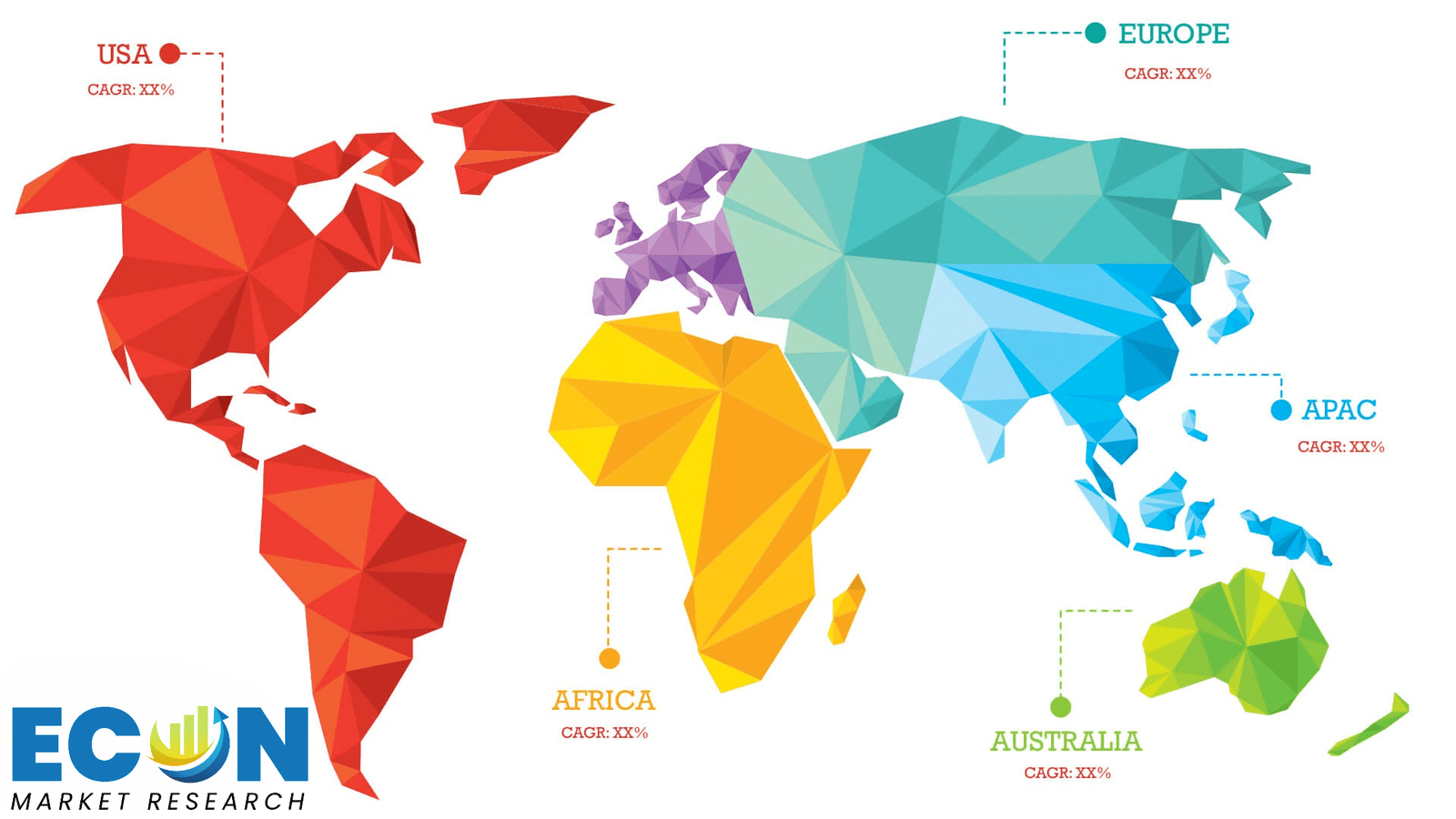 Global Cloud Security Posture Management Market Competitive Landscape
In the global cloud security posture management market, a few major players exert significant market dominance and have established a strong regional presence. These leading companies remain committed to continuous research and development endeavors and actively engage in strategic growth initiatives, including product development, launches, joint ventures, and partnerships. By pursuing these strategies, these companies aim to strengthen their market position, expand their customer base, and capture a substantial share of the market.
Some of the prominent players in the global cloud security posture management market include Aqua Security Software Ltd., Armor Defense Inc., Check Point Software Technologies Ltd, Cloudflare, Inc., CrowdStrike, Fortinet, Inc., Lacework, McAfee, LLC, Microsoft, NetApp, Inc., Palo Alto Networks, Inc., Qualys, Inc., SentinelOne, Sophos Ltd., Trend Micro Incorporated, and various other key players.
Global Cloud Security Posture Management Market Recent Developments
In August 2023, Microsoft Extends Google Cloud Security Posture Management. CSPM offers automatic monitoring to give near real-time visibility into hybrid and multicloud infrastructure-as-a-service (IaaS) and platform-as-a-service (PaaS) environments to make sure their configurations match their organisations' risk and compliance needs.
Scope of the Global Cloud Security Posture Management Market Report
Cloud Security Posture Management Market Report Segmentation
ATTRIBUTE

DETAILS

By Offering

By Cloud Service Model

Infrastructure-as-a-Service (IaaS)

Platform-as-a-Service (PaaS)

Software-as-a-Service (SaaS)

By Enterprise Size

By Industry Vertical

BFSI

Government & Defense

Retail & E-commerce

Healthcare

IT & Telecom

Energy & Utilities

Manufacturing

Education

Other

By Geography

North America (USA,

and Canada)

Europe (UK, Germany, France, Italy, Spain, Russia and Rest of Europe)

Asia Pacific (Japan, China, India, Australia, Southeast Asia and Rest of Asia Pacific)

Latin America (Brazil, Mexico, and Rest of Latin America)

Middle East & Africa (South Africa, GCC, and Rest of Middle East & Africa)

Customization Scope

Pricing
Objectives of the Study
The objectives of the study are summarized in 5 stages. They are as mentioned below:
Global Cloud Security Posture Management Market

Size and Forecast:
To identify and estimate the market size for the global cloud security posture management market segmented by offering, by cloud service model, by enterprise size, by industry vertical, region and by value (in U.S. dollars). Also, to understand the consumption/ demand created by consumers of cloud security posture management between 2019 and 2031.
Market Landscape and Trends:
To identify and infer the drivers, restraints, opportunities, and challenges for the global cloud security posture management market
Market Influencing Factors:
To find out the factors which are affecting the sales of cloud security posture management among consumers
To identify and understand the various factors involved in the global cloud security posture management market affected by the pandemic
To provide a detailed insight into the major companies operating in the market. The profiling will include the financial health of the company's past 2-3 years with segmental and regional revenue breakup, product offering, recent developments, SWOT analysis, and key strategies.
Intended Audience
Academic Research Papers

Corporate Training Programs

Nonprofit Organizations

Retailers, Wholesalers, and Distributors

Governments, Associations, and Industrial Bodies

Investors and Trade Experts
Research Methodology
Our research methodology has always been the key differentiating reason which sets us apart in comparison from the competing organizations in the industry. Our organization believes in consistency along with quality and establishing a new level with every new report we generate; our methods are acclaimed and the data/information inside the report is coveted. Our research methodology involves a combination of primary and secondary research methods. Data procurement is one of the most extensive stages in our research process. Our organization helps in assisting the clients to find the opportunities by examining the market across the globe coupled with providing economic statistics for each and every region. The reports generated and published are based on primary & secondary research. In secondary research, we gather data for global Market through white papers, case studies, blogs, reference customers, news, articles, press releases, white papers, and research studies. We also have our paid data applications which includes hoovers, Bloomberg business week, Avention, and others.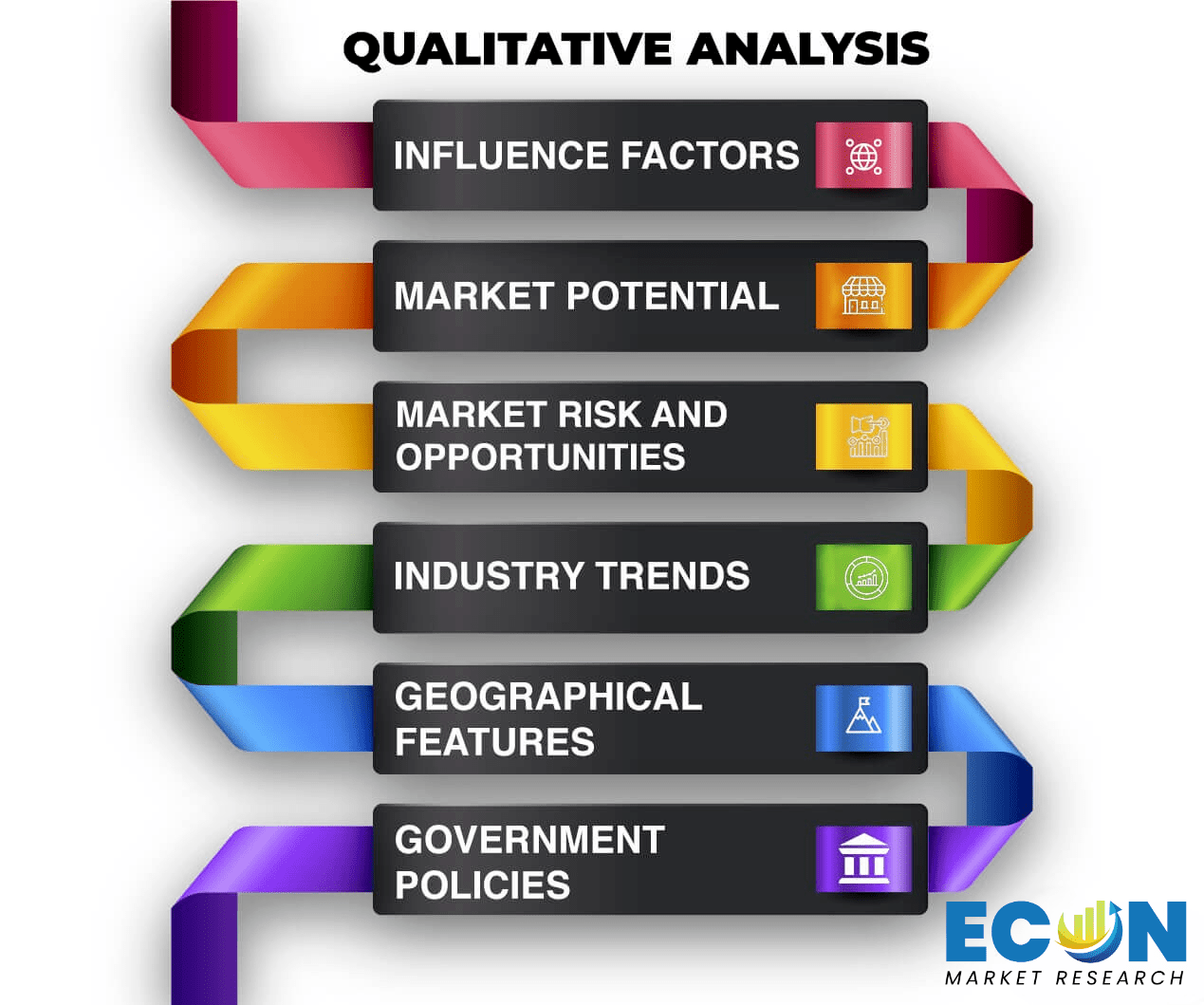 Data Collection
Data collection is the process of gathering, measuring, and analyzing accurate and relevant data from a variety of sources to analyze market and forecast trends. Raw market data is obtained on a broad front. Data is continuously extracted and filtered to ensure only validated and authenticated sources are considered. Data is mined from a varied host of sources including secondary and primary sources.

Primary Research
After the secondary research process, we initiate the primary research phase in which we interact with companies operating within the market space. We interact with related industries to understand the factors that can drive or hamper a market. Exhaustive primary interviews are conducted. Various sources from both the supply and demand sides are interviewed to obtain qualitative and quantitative information for a report which includes suppliers, product providers, domain experts, CEOs, vice presidents, marketing & sales directors, Type & innovation directors, and related key executives from various key companies to ensure a holistic and unbiased picture of the market. 
Secondary Research
A secondary research process is conducted to identify and collect information useful for the extensive, technical, market-oriented, and comprehensive study of the market. Secondary sources include published market studies, competitive information, white papers, analyst reports, government agencies, industry and trade associations, media sources, chambers of commerce, newsletters, trade publications, magazines, Bloomberg BusinessWeek, Factiva, D&B, annual reports, company house documents, investor presentations, articles, journals, blogs, and SEC filings of companies, newspapers, and so on. We have assigned weights to these parameters and quantified their market impacts using the weighted average analysis to derive the expected market growth rate.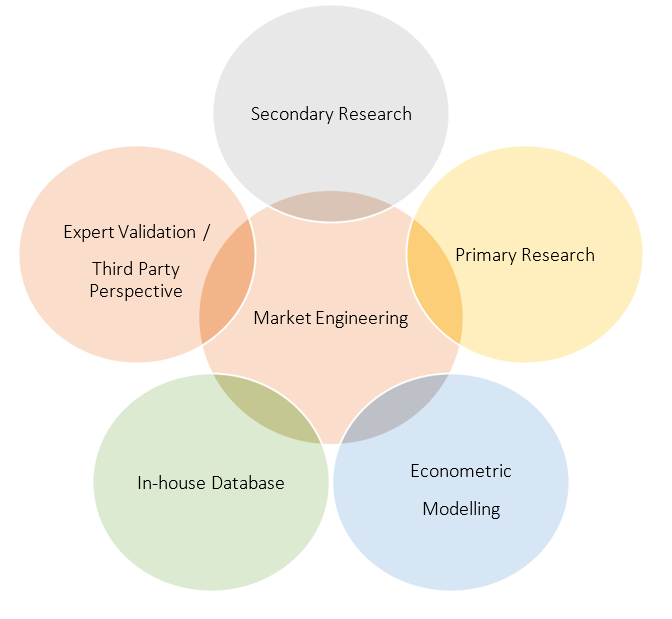 Top-Down Approach & Bottom-Up Approach
In the top – down approach, the Global Batteries for Solar Energy Storage Market was further divided into various segments on the basis of the percentage share of each segment. This approach helped in arriving at the market size of each segment globally. The segments market size was further broken down in the regional market size of each segment and sub-segments. The sub-segments were further broken down to country level market. The market size arrived using this approach was then crosschecked with the market size arrived by using bottom-up approach.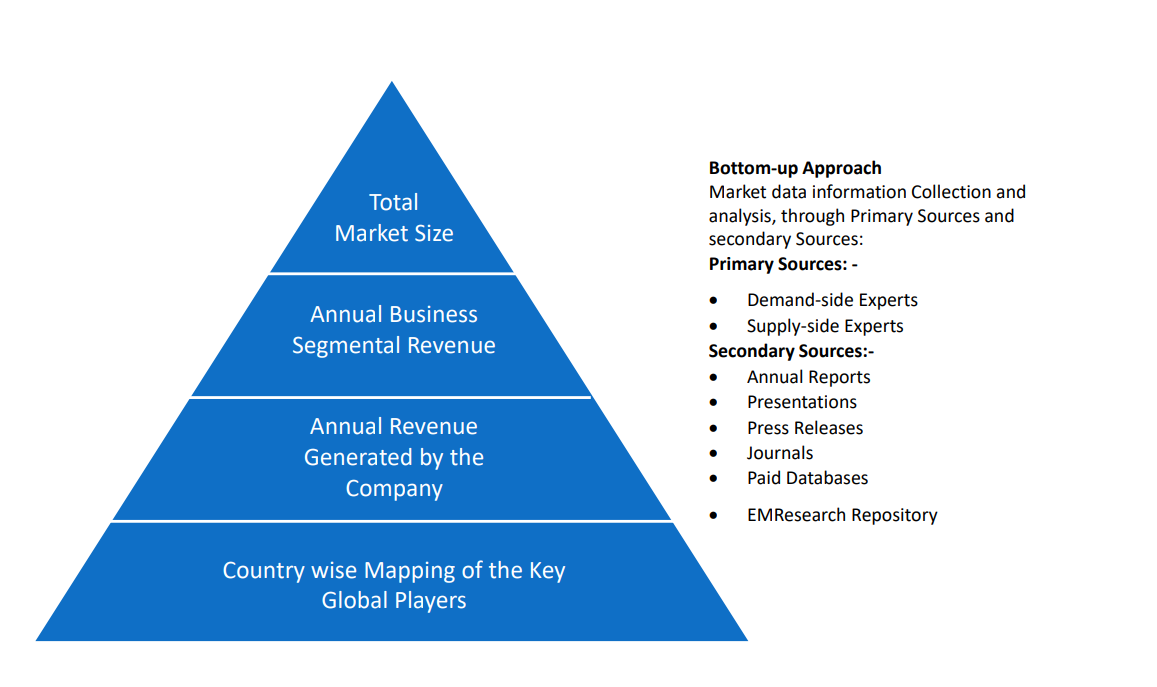 In the bottom-up approach, we arrived at the country market size by identifying the revenues and market shares of the key market players. The country market sizes then were added up to arrive at regional market size of the decorated apparel, which eventually added up to arrive at global market size.
This is one of the most reliable methods as the information is directly obtained from the key players in the market and is based on the primary interviews from the key opinion leaders associated with the firms considered in the research. Furthermore, the data obtained from the company sources and the primary respondents was validated through secondary sources including government publications and Bloomberg.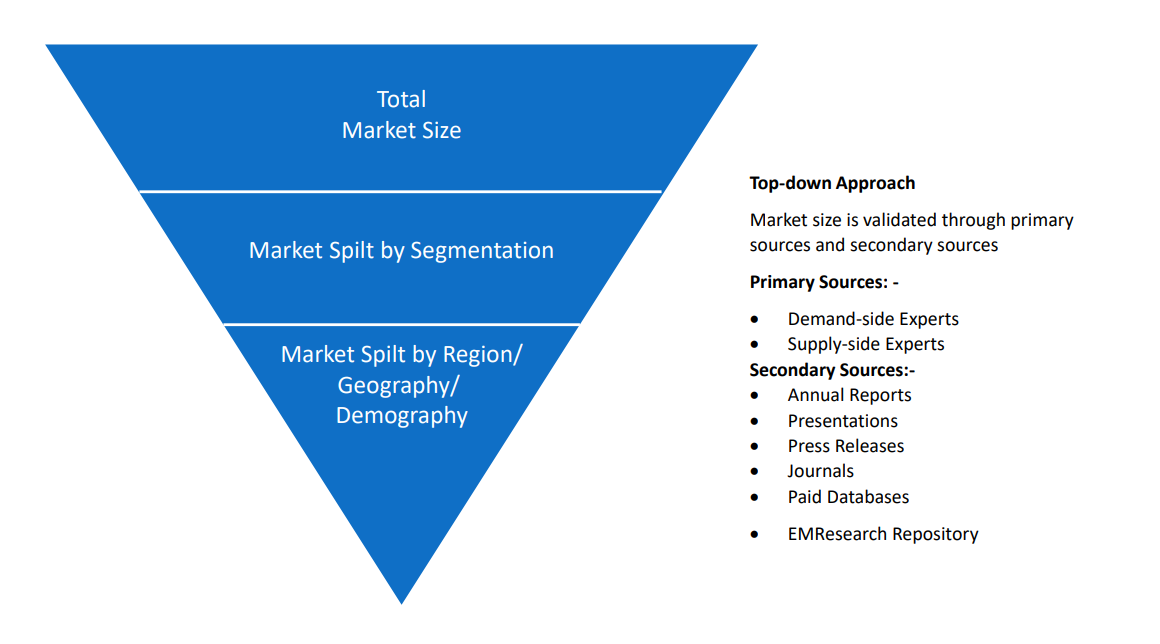 Market Analysis & size Estimation
Post the data mining stage, we gather our findings and analyze them, filtering out relevant insights. These are evaluated across research teams and industry experts. All this data is collected and evaluated by our analysts. The key players in the industry or markets are identified through extensive primary and secondary research. All percentage share splits, and breakdowns have been determined using secondary sources and verified through primary sources. The market size, in terms of value and volume, is determined through primary and secondary research processes, and forecasting models including the time series model, econometric model, judgmental forecasting model, the Delphi method, among Flywheel Energy Storage. Gathered information for market analysis, competitive landscape, growth trends, product development, and pricing trends is fed into the model and analyzed simultaneously.
Quality Checking & Final Review
The analysis done by the research team is further reviewed to check for the accuracy of the data provided to ensure the clients' requirements. This approach provides essential checks and balances which facilitate the production of quality data. This Type of revision was done in two phases for the authenticity of the data and negligible errors in the report. After quality checking, the report is reviewed to look after the presentation, Type and to recheck if all the requirements of the clients were addressed.