The Global Cloud Block Storage Market was valued at USD 74.64 billion in 2022 and is estimated to reach approximately USD 499.57 billion by 2031, at a CAGR of 23.5% from 2023 to 2031. This industry, which provides scalable and high-performance storage solutions to both organizations and individuals, is an essential part of cloud computing services. Cloud block storage, in contrast to conventional on-premises storage, gives customers the freedom to distribute and manage storage resources as needed without the requirement for actual infrastructure. The capacity to store data in distinct blocks is one of the distinguishing characteristics of cloud block storage, which makes it perfect for a variety of applications, including database management, virtual machines, and data analytics. These block-level storage solutions provide high availability and data integrity protection with options for redundancy and replication. The cloud block storage market has experienced fierce rivalry as the use of cloud computing keeps growing, with major competitors like amazon web services (AWS), microsoft azure, and google cloud offering cutting-edge storage options. Due to the intense competition, end users now enjoy cheaper costs and better performance, which has led to widespread adoption across numerous industries. In conclusion, the cloud block storage market has evolved into a crucial component of contemporary IT infrastructure, enabling companies to expand and effectively manage their data storage requirements in the always changing digital environment.
CLOUD BLOCK STORAGE MARKET: REPORT SCOPE & SEGMENTATION
| | |
| --- | --- |
| Report Attribute | Details |
| Estimated Market Value (2022) | 74.64 Bn |
| Projected Market Value (2031) | 499.57 Bn |
| Base Year | 2022 |
| Forecast Years | 2023 - 2031 |
| Scope of the Report | Historical and Forecast Trends, Industry Drivers and Constraints, Historical and Forecast Market Analysis by Segment- By Storage Type, By Deployment Mode, By Industry Vertical, & Region |
| Segments Covered | By Storage Type, By Deployment Mode, By Industry Vertical, & Region |
| Forecast Units | Value (USD Billion or Million), and Volume (Units) |
| Quantitative Units | Revenue in USD million/billion and CAGR from 2023 to 2031 |
| Regions Covered | North America, Europe, Asia Pacific, Latin America, and Middle East & Africa, and the Rest of World |
| Countries Covered | U.S., Canada, Mexico, U.K., Germany, France, Italy, Spain, China, India, Japan, South Korea, Brazil, Argentina, GCC Countries, and South Africa, among others |
| Report Coverage | Market growth drivers, restraints, opportunities, Porter's five forces analysis, PEST analysis, value chain analysis, regulatory landscape, market attractiveness analysis by segments and region, company market share analysis, and COVID-19 impact analysis. |
| Delivery Format | Delivered as an attached PDF and Excel through email, according to the purchase option. |
Global Cloud Block Storage Market Dynamics
Due to the rising acceptance of cloud computing by companies of all sizes, the market has expanded quickly. The demand for scalable and adaptable storage solutions that can handle the exponential growth of digital data is what is causing this growth. Major cloud service providers like amazon web services (AWS), microsoft azure, and google cloud are now more competitive than ever. In order to meet the varied client needs, this rivalry has led to aggressive pricing strategies, ongoing innovation, and a wide range of storage products. Many businesses are implementing hybrid and multi-cloud strategies, which call for cloud block storage solutions that can run and integrate seamlessly across various on-premises and cloud platforms. Encryption, access restrictions, and regulatory compliance features in cloud block storage products are receiving more attention as a result of worries about data security and compliance. The performance and responsiveness of cloud block storage have substantially increased because to advancements in storage technology, including the adoption of solid state drives (SSDs) and non-volatile memory express (NVMe), making it possible for it to run high-performance workloads. Utilizing features like tiered storage, data deduplication, and data lifecycle management can help users reduce the cost of their storage. With the integration of cloud block storage with data analytics and artificial intelligence (AI) capabilities, businesses are now able to gain insightful information from their data.
Global Cloud Block Storage Market Drivers
Growing Adoption of Cloud Computing
Cost effectiveness is a key motivator. Cloud computing minimizes operational costs related to maintenance and upgrades by eliminating the need for significant upfront expenditures in physical infrastructure. This cost-effectiveness democratizes access to technology by enabling businesses of all sizes to use powerful computing capabilities without having to pay excessive costs. Scalability is another important consideration. With the use of cloud services, computer resources may be quickly scaled up or down to meet demand. This flexibility is essential in the dynamic business world of today, when shifts in workload and data needs are typical. Without the limitations of conventional IT infrastructure, businesses can increase their operations without any difficulty. Additionally, the accessibility of cloud services around the globe encourages remote work and collaboration, which boosts productivity and innovation. Cloud computing also offers robust security measures, making it an attractive choice for data storage and processing, allaying concerns about data breaches and loss.
Data Explosion and Big Data Analytics
Several factors, including social media, Internet of Things (IoT) devices, online sales, sensors, and more, are driving this increase in data collection. As a result of the data explosion, huge, intricate databases are now known as big data.Big data is distinguished by its quantity, speed, variety, and authenticity. The discipline of big data analytics has evolved as a crucial part of contemporary data-driven decision-making in reaction to the data explosion. Big data analytics uses cutting-edge tools and methods to examine, interpret, and draw important conclusions from enormous and varied information. Data mining, machine learning, natural language processing, and predictive analytics are just a few of the techniques it includes. Businesses in all sectors use big data analytics to acquire a competitive edge. They use it to uncover hidden patterns, trends, and correlations within their data, which can inform strategic decisions, optimize operations, improve customer experiences, and drive innovation.
Restraints:
Organizations are naturally wary about using cloud-based storage solutions to store their sensitive and important data in a time when data breaches and counterattacks are becoming more frequent and sophisticated. Businesses run a significant risk of suffering financial losses, reputational harm, and legal penalties if there is a chance of unauthorized access, data leaks, or loss. The security environment becomes more difficult due to compliance with data protection laws like the Health Insurance Portability and Accountability Act (HIPAA) and the General Data Protection Regulation (GDPR). To ensure that the data kept on their platforms conforms with these criteria, cloud block storage companies must traverse a complex web of laws. Severe penalties may be imposed for failure to comply.
Compliance and Regulatory Hurdles
It can be difficult and time-consuming to ensure compliance when using cloud block storage solutions because numerous industries are subject to a variety of strict data protection and privacy standards. One of the most known instances is the General Data Protection Regulation (GDPR) in the European Union, which imposes stringent guidelines on the processing and storage of personal data. The GDPR's principles of data minimization, purpose limitation, and the right to be forgotten must be followed by organizations storing data in cloud block storage systems. The protection of people's privacy rights and the avoidance of harsh financial penalties make it essential to ensure compliance with GDPR and comparable laws.Furthermore, industry-specific regulations like the Health Insurance Portability and Accountability Act (HIPAA) in healthcare or the Payment Card Industry Data Security Standard (PCI DSS) in financial services impose additional compliance complexities.
Opportunities:
Hybrid and Multi-Cloud Strategies
The cloud block storage market has a sizable opportunity due to the development of hybrid and multi-cloud methods. In order to maximize their IT operations, many businesses are realizing the benefits of combining cloud services from several vendors or even combining cloud and on-premises infrastructure. With this tactic, they are able to take use of the distinct advantages offered by each cloud provider, including AWS, Azure, and Google Cloud, while avoiding vendor lock-in and boosting resiliency. This trend presents opportunity for cloud block storage vendors to provide interoperable solutions that easily interface with diverse cloud environments. For firms pursuing hybrid and multi-cloud strategies, compatibility and simplicity of data mobility between various cloud platforms become key factors to take into account. Additionally, as organizations embrace a multi-cloud approach, they often require centralized management tools and services to monitor, allocate, and optimize their storage resources efficiently across different cloud providers
Proliferation of

E

dge

Computing
The concept of edge computing involves processing and analyzing data more closely in relation to the source of generation, which could be IoT devices, sensors, or local servers. This method enables real-time decision-making while reducing latency and bandwidth utilization, making it perfect for applications like autonomous vehicles, smart cities, and industrial automation. By offering dependable and scalable storage solutions for data generated at the edge, cloud block storage plays a crucial role in assisting edge computing projects. Edge devices need a robust storage infrastructure to store and handle the enormous volumes of data they generate and gather. Block storage in the cloud may easily connect with edge computing ecosystems, providing a centralized location for data produced at the edge. Moreover, cloud block storage facilitates data aggregation and synchronization between edge devices and central cloud data centers, ensuring that valuable insights from edge data are readily available for analysis and decision-making.
Segment Overview
By Storage Type
Based on storage type, the global cloud block storage market is divided into locally-attached, network-attached. The network-attached category dominates the market with the largest revenue share. Network-attached storage (NAS) represents a centralized storage system that is connected to a network and can be accessed by multiple devices over that network. NAS solutions are highly scalable and can serve a wide range of users and applications simultaneously. They are well-suited for scenarios where data sharing, collaboration, and remote access are essential, such as in enterprise environments. NAS also provides robust data management features and can support various protocols, making it a versatile choice for organizations with diverse storage needs. Locally-attached storage refers to storage resources that are physically connected or attached to a specific computing device, such as a server or a personal computer. This type of storage typically involves the use of hard drives, solid-state drives (SSDs), or other storage media directly connected to the host device. Locally-attached storage offers low-latency access and can be suitable for applications where data access speed is critical.
By Deployment Mode
Based on the deployment mode, the global cloud block storage market is categorized into public cloud, private cloud, hybrid cloud. The hybrid cloud category leads the global cloud block storage market with the largest revenue share.Hybrid cloud solutions combine elements of both public and private clouds. Organizations using a hybrid cloud approach can integrate their on-premises infrastructure with public or private cloud resources, including cloud block storage. This hybrid model provides flexibility, allowing businesses to optimize their storage strategy by utilizing public cloud resources for scalability and cost-effectiveness while retaining sensitive or critical data in a private cloud environment. A private cloud deployment involves the creation of a dedicated and isolated cloud environment for a single organization. Cloud block storage resources are provisioned within this private infrastructure, either on-premises or hosted by a third-party provider. Private clouds offer enhanced control, security, and customization options, making them suitable for industries with strict compliance requirements or organizations that prioritize data privacy. In a public cloud deployment, cloud block storage resources are provided and managed by third-party cloud service providers and are made available to multiple organizations or individuals over the internet. This model offers scalability, cost-efficiency, and ease of access, making it suitable for businesses with variable storage needs.
By Industry Vertical
Based on industry vertical, the global cloud block storage market is segmented into retail and consumer goods, government and public, IT telecommunication, manufacturing, BFSI, healthcare and life sciences, media and entertainment, and others. The BFSI segment dominates the cloud block storage market. Security and compliance are paramount in the BFSI sector. Cloud block storage supports the storage and management of sensitive financial data, transaction records, and customer information, while ensuring data integrity and regulatory compliance. The manufacturing industry relies on cloud block storage for managing product designs, production data, and supply chain logistics. This sector benefits from scalable storage solutions to store and process data from sensors and IoT devices on the factory floor. In the IT and telecommunication sector, cloud block storage facilitates the storage of large volumes of data generated by networks and services. It plays a critical role in data center operations, hosting cloud-native applications, and supporting telecommunication infrastructure.Cloud block storage is crucial in healthcare for managing electronic health records (EHRs), medical imaging data, and health research. It enables secure data sharing among healthcare providers and researchers, facilitating better patient care and medical advancements. The media and entertainment industry relies on cloud block storage for content distribution, streaming, and archiving. It provides a scalable infrastructure for storing large media files, supporting content delivery networks, and enabling collaborative content creation. The retail and consumer goods industry leverages cloud block storage for inventory management, supply chain optimization, and customer data analytics. Scalable and reliable storage solutions are essential for handling vast amounts of transnational data and ensuring seamless e-commerce operations.
Global Cloud Block Storage Market Overview by Region
The global cloud block storage market is categorized into North America, Europe, Asia-Pacific, and the Rest of the World. North America emerged as the leading region, capturing the largest market share in 2022. For a number of convincing reasons, North America has become the market leader for cloud block storage. The cloud computing industry and related technologies have experienced rapid adoption and expansion in this region, which includes the United States and Canada. A mature and well developed cloud computing ecosystem can be found in North America. The headquarters of significant cloud service providers like Amazon Web Services (AWS), Microsoft Azure, and Google Cloud are located here. Cloud adoption and cloud block storage utilization have surged due to this concentration of cloud infrastructure providers. Cloud computing has been quickly adopted by North American businesses across a range of sectors, including manufacturing, healthcare, finance, and technology. They are aware of the advantages of cloud block storage's scalability, affordability, and flexibility.With multiple startups and well-established digital organizations always pushing the limits of what cloud storage can provide, the area is a hotspot for technical innovation. Advanced cloud block storage solutions have been developed as a result of this innovative culture. HIPAA (Health Insurance Portability and Accountability Act), which applies to the healthcare industry, as well as other financial restrictions, are among the severe data protection and privacy laws in North America. To fulfil these demands, cloud block storage companies have improved their security and compliance features. Finance, e-commerce, healthcare, and media are some of the data-intensive industries that are based in the area. To manage the enormous amounts of data generated by their operations, these industries rely extensively on cloud block storage.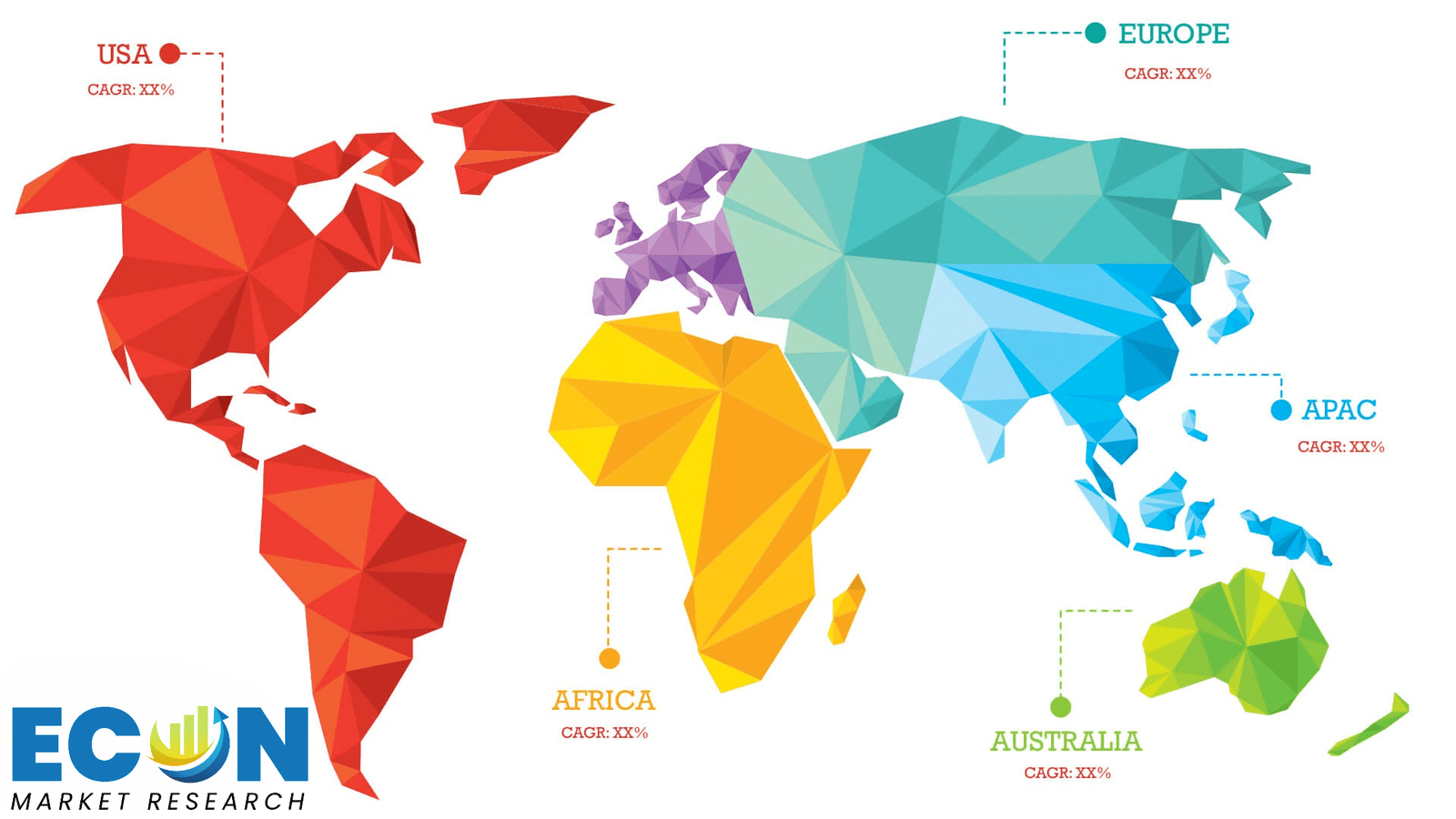 Global Cloud Block Storage Market Competitive Landscape
In the global cloud block storage market, a few major players exert significant market dominance and have established a strong regional presence. These leading companies remain committed to continuous research and development endeavors and actively engage in strategic growth initiatives, including product development, launches, joint ventures, and partnerships. By pursuing these strategies, these companies aim to strengthen their market position, expand their customer base, and capture a substantial share of the market.
Some of the prominent players in the global cloud block storage market include Amazon Web Services, Rackspace, Microsoft Corporation, Google Inc., Hewlett Packard Enterprise Development LP, VMware, Inc., IBM Corporation, Red Hat, Inc., EMC Corporation, Huawei Technologies Co. Ltd , and various other key players.
Global Cloud Block Storage Market Recent Developments
In August 2023, Azure Cloud Block Store is extended by Pure Storage to more affordable SSD instances. Premium SSD v2 Disc Storage instances are now supported by Pure Storage's Azure Cloud Block Store, its FlashArray Purity operating environment in Microsoft's cloud. For the Azure VMware Solution (AVS), this functionality isolates computation from storage to cut expenses.
Scope of the Global Cloud Block Storage Market Report
Cloud Block Storage Market Report Segmentation
ATTRIBUTE

DETAILS

By Storage Type

Locally-Attached

Network-Attached

By Deployment Mode

Public Cloud

Private Cloud

Hybrid Cloud

By Industry Vertical

Retail and Consumer Goods

Government and Public

IT Telecommunication

Manufacturing

BFSI

Healthcare and Life Sciences

Media and Entertainment

Others

By Geography

North America (USA,

and Canada)

Europe (UK, Germany, France, Italy, Spain, Russia and Rest of Europe)

Asia Pacific (Japan, China, India, Australia, Southeast Asia and Rest of Asia Pacific)

Latin America (Brazil, Mexico, and Rest of Latin America)

Middle East & Africa (South Africa, GCC, and Rest of Middle East & Africa)

Customization Scope

Pricing
Objectives of the Study
The objectives of the study are summarized in 5 stages. They are as mentioned below:
Global Cloud Block Storage

Market

Size and Forecast:
To identify and estimate the market size for the global cloud block storage market segmented by storage type, by deployment mode, by industry vertical,, region and by value (in U.S. dollars). Also, to understand the consumption/ demand created by consumers of cloud block storage between 2019 and 2031.
Market Landscape and Trends:
To identify and infer the drivers, restraints, opportunities, and challenges for the global cloud block storage market
Market Influencing Factors:
To find out the factors which are affecting the sales of cloud block storage among consumers
To identify and understand the various factors involved in the global cloud block storage market affected by the pandemic
To provide a detailed insight into the major companies operating in the market. The profiling will include the financial health of the company's past 2-3 years with segmental and regional revenue breakup, product offering, recent developments, SWOT analysis, and key strategies.
Intended Audience
IT Decision-Makers

Enterprise Organizations

Data Architects and Administrators

Government and Regulatory Bodies

Cloud Service Providers

Governments, Associations, and Industrial Bodies

Investors and Trade Experts
Research Methodology
Our research methodology has always been the key differentiating reason which sets us apart in comparison from the competing organizations in the industry. Our organization believes in consistency along with quality and establishing a new level with every new report we generate; our methods are acclaimed and the data/information inside the report is coveted. Our research methodology involves a combination of primary and secondary research methods. Data procurement is one of the most extensive stages in our research process. Our organization helps in assisting the clients to find the opportunities by examining the market across the globe coupled with providing economic statistics for each and every region. The reports generated and published are based on primary & secondary research. In secondary research, we gather data for global Market through white papers, case studies, blogs, reference customers, news, articles, press releases, white papers, and research studies. We also have our paid data applications which includes hoovers, Bloomberg business week, Avention, and others.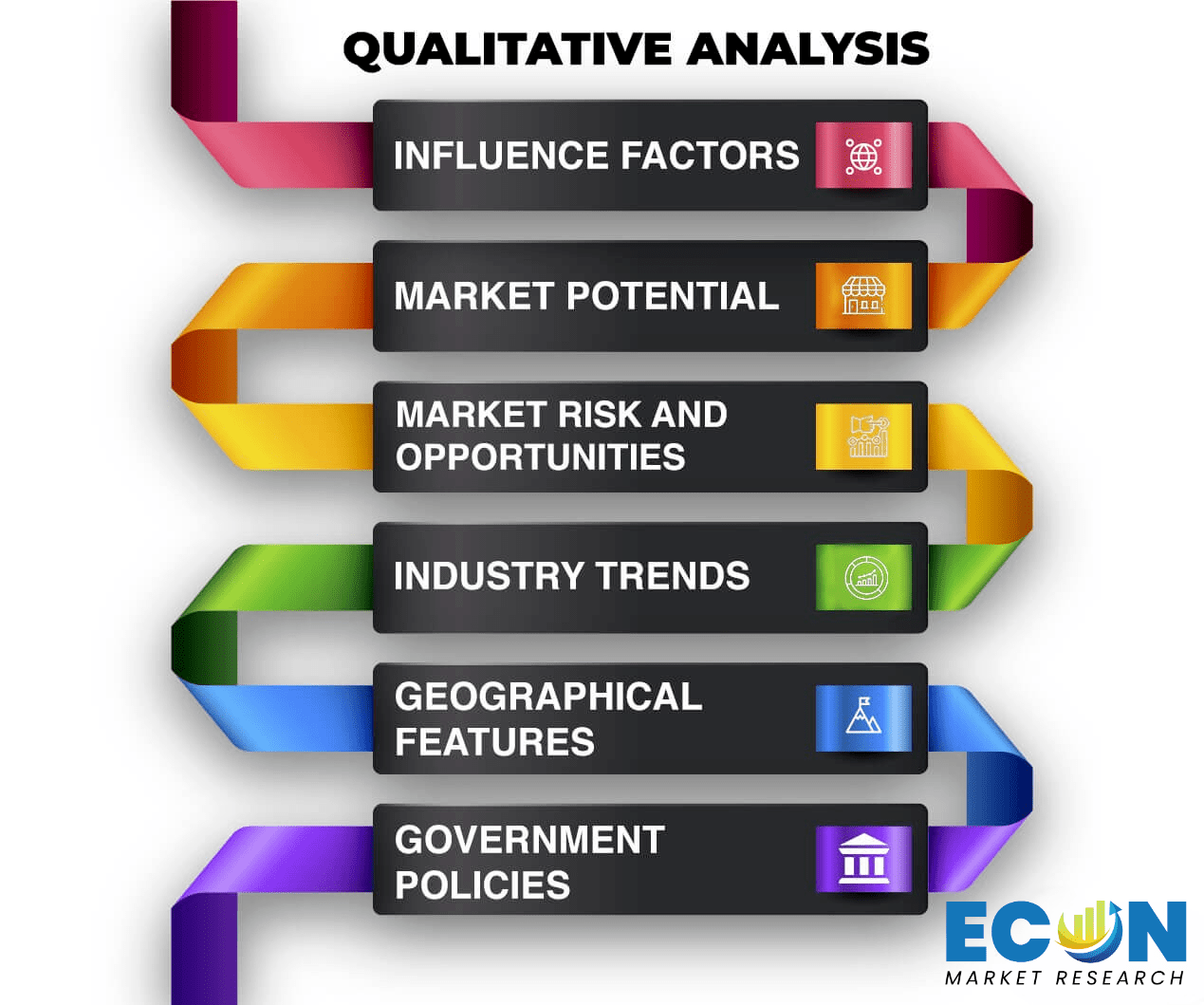 Data Collection
Data collection is the process of gathering, measuring, and analyzing accurate and relevant data from a variety of sources to analyze market and forecast trends. Raw market data is obtained on a broad front. Data is continuously extracted and filtered to ensure only validated and authenticated sources are considered. Data is mined from a varied host of sources including secondary and primary sources.

Primary Research
After the secondary research process, we initiate the primary research phase in which we interact with companies operating within the market space. We interact with related industries to understand the factors that can drive or hamper a market. Exhaustive primary interviews are conducted. Various sources from both the supply and demand sides are interviewed to obtain qualitative and quantitative information for a report which includes suppliers, product providers, domain experts, CEOs, vice presidents, marketing & sales directors, Type & innovation directors, and related key executives from various key companies to ensure a holistic and unbiased picture of the market. 
Secondary Research
A secondary research process is conducted to identify and collect information useful for the extensive, technical, market-oriented, and comprehensive study of the market. Secondary sources include published market studies, competitive information, white papers, analyst reports, government agencies, industry and trade associations, media sources, chambers of commerce, newsletters, trade publications, magazines, Bloomberg BusinessWeek, Factiva, D&B, annual reports, company house documents, investor presentations, articles, journals, blogs, and SEC filings of companies, newspapers, and so on. We have assigned weights to these parameters and quantified their market impacts using the weighted average analysis to derive the expected market growth rate.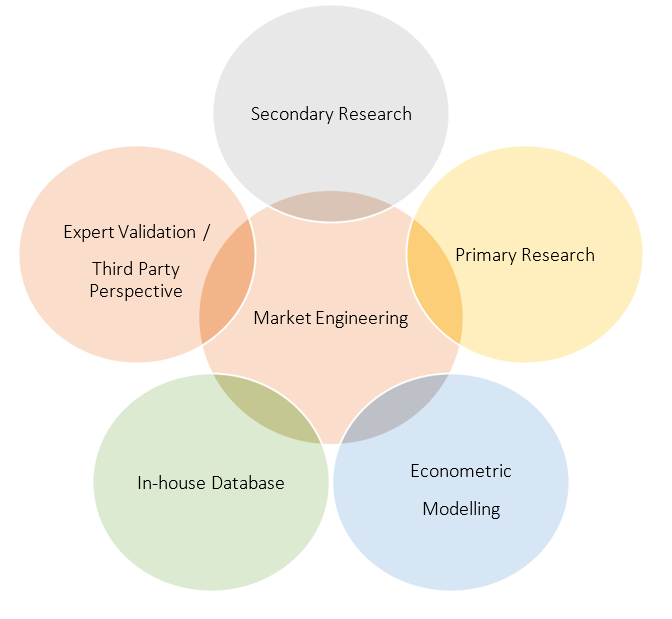 Top-Down Approach & Bottom-Up Approach
In the top – down approach, the Global Batteries for Solar Energy Storage Market was further divided into various segments on the basis of the percentage share of each segment. This approach helped in arriving at the market size of each segment globally. The segments market size was further broken down in the regional market size of each segment and sub-segments. The sub-segments were further broken down to country level market. The market size arrived using this approach was then crosschecked with the market size arrived by using bottom-up approach.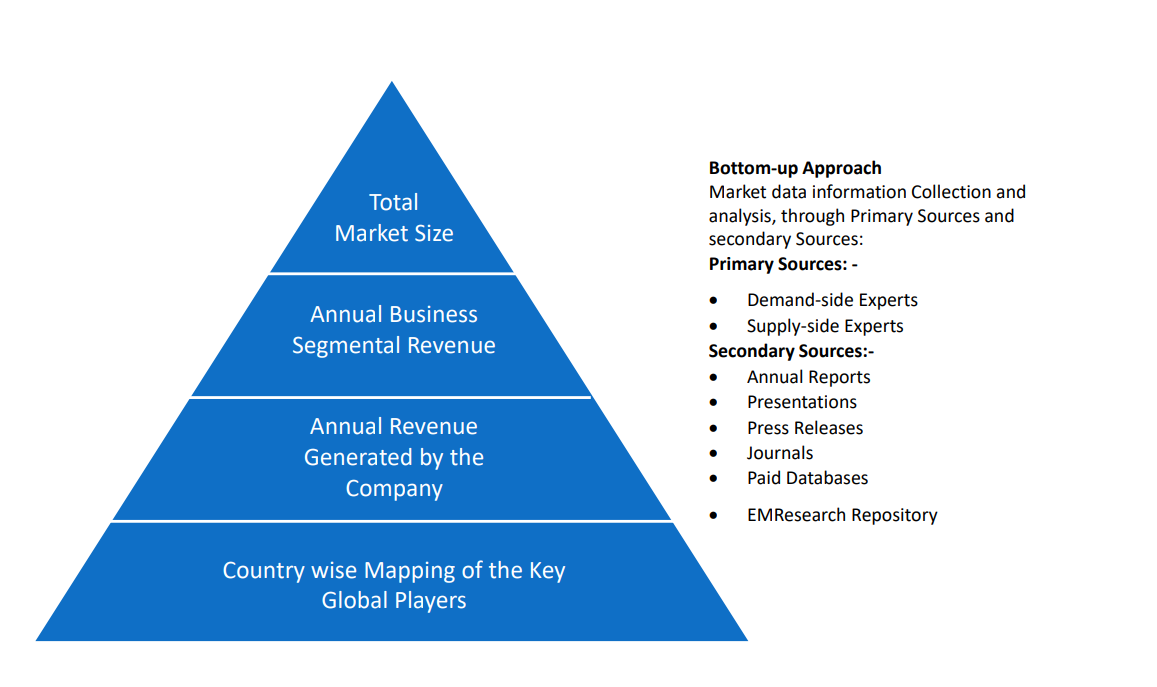 In the bottom-up approach, we arrived at the country market size by identifying the revenues and market shares of the key market players. The country market sizes then were added up to arrive at regional market size of the decorated apparel, which eventually added up to arrive at global market size.
This is one of the most reliable methods as the information is directly obtained from the key players in the market and is based on the primary interviews from the key opinion leaders associated with the firms considered in the research. Furthermore, the data obtained from the company sources and the primary respondents was validated through secondary sources including government publications and Bloomberg.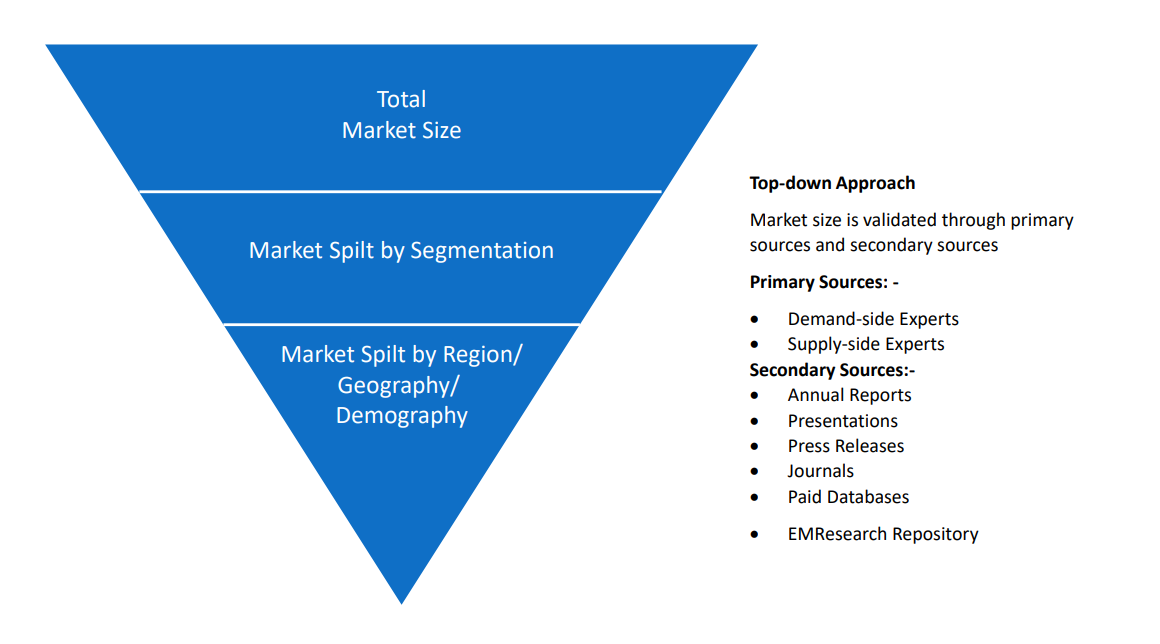 Market Analysis & size Estimation
Post the data mining stage, we gather our findings and analyze them, filtering out relevant insights. These are evaluated across research teams and industry experts. All this data is collected and evaluated by our analysts. The key players in the industry or markets are identified through extensive primary and secondary research. All percentage share splits, and breakdowns have been determined using secondary sources and verified through primary sources. The market size, in terms of value and volume, is determined through primary and secondary research processes, and forecasting models including the time series model, econometric model, judgmental forecasting model, the Delphi method, among Flywheel Energy Storage. Gathered information for market analysis, competitive landscape, growth trends, product development, and pricing trends is fed into the model and analyzed simultaneously.
Quality Checking & Final Review
The analysis done by the research team is further reviewed to check for the accuracy of the data provided to ensure the clients' requirements. This approach provides essential checks and balances which facilitate the production of quality data. This Type of revision was done in two phases for the authenticity of the data and negligible errors in the report. After quality checking, the report is reviewed to look after the presentation, Type and to recheck if all the requirements of the clients were addressed.