The global audio and video equipment market was valued at USD 153.25 billion in 2022 and is estimated to reach approximately USD 200.84 billion by 2031, at a CAGR of 3.0% from 2023 to 2031.
The market for audio and video equipment is a vibrant, quickly developing sector that includes a wide range of electronic products made for communication, entertainment, and business uses. The creation, consumption, and dissemination of audio and visual material are the mainstays of this business. There are many different pieces of audio equipment, including headphones, speakers, amplifiers, microphones, and soundbars. These items are designed for both private consumers and business users, and they can be used for anything from live events and studio recordings to personal entertainment. Video equipment, on the other hand, includes things like televisions, projectors, cameras, and monitors. Professional video equipment meets the needs of filmmakers, broadcasters, and content producers, while high-definition displays, 4K, and even 8K resolution screens have entered the public thanks to ongoing technological advancements. The market for audio and video equipment is impacted by customer preferences, technological advancements, and the expansion of the media and entertainment sector. Social networking, virtual reality, gaming, and streaming services have all increased demand for high-end audio and video gear. In order to stay competitive in this highly competitive market, prominent competitors frequently launch cutting-edge items. This market has further changed due to the fusion of audio and video technology and the incorporation of smart features, making it a fascinating and constantly changing industry.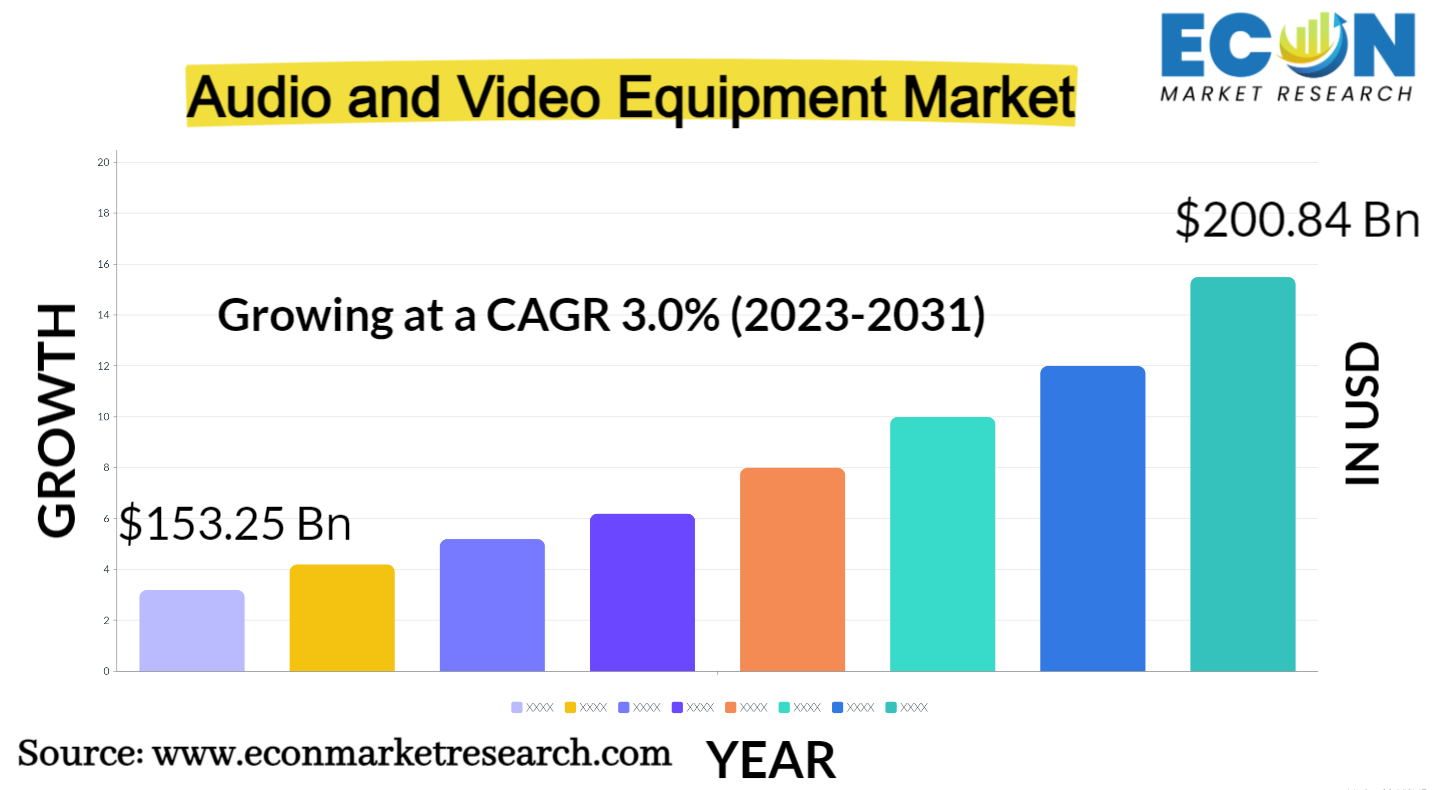 AUDIO AND VIDEO EQUIPMENT MARKET: REPORT SCOPE & SEGMENTATION
| | |
| --- | --- |
| Report Attribute | Details |
| Estimated Market Value (2022) | 153.25 Bn |
| Projected Market Value (2031) | 200.84 Bn |
| Base Year | 2022 |
| Forecast Years | 2023 - 2031 |
| Scope of the Report | Historical and Forecast Trends, Industry Drivers and Constraints, Historical and Forecast Market Analysis by Segment- By Type, By End User, By Sales Channel, & Region |
| Segments Covered | By Type, By End User, By Sales Channel, & Region |
| Forecast Units | Value (USD Billion or Million), and Volume (Units) |
| Quantitative Units | Revenue in USD million/billion and CAGR from 2023 to 2031 |
| Regions Covered | North America, Europe, Asia Pacific, Latin America, and Middle East & Africa, and the Rest of World |
| Countries Covered | U.S., Canada, Mexico, U.K., Germany, France, Italy, Spain, China, India, Japan, South Korea, Brazil, Argentina, GCC Countries, and South Africa, among others |
| Report Coverage | Market growth drivers, restraints, opportunities, Porter's five forces analysis, PEST analysis, value chain analysis, regulatory landscape, market attractiveness analysis by segments and region, company market share analysis, and COVID-19 impact analysis. |
| Delivery Format | Delivered as an attached PDF and Excel through email, according to the purchase option. |
Global Audio And Video Equipment Market Dynamics
The market for audio and video equipment is impacted by a wide range of dynamic factors and trends that have a big impact on how it develops. The importance of technology is crucial, with ongoing developments in audio and video technologies driving consumer demand and influencing market dynamics. High-definition, 4K, and 8K resolutions are now commonplace, while new technologies like virtual reality and augmented reality are broadening the market's possibilities. Another crucial element is shifting consumer tastes. People are increasingly looking for immersive and interactive experiences, which has boosted the need for high-quality audio and visual technology. Additionally, the distinctions between conventional audio and video equipment have become more hazy as a result of the expanding influence of smart gadgets, increasing the convergence of these two categories. Global trends that have impacted the industry include the growth of e-sports and remote work. As a result of these trends, sales of professional audio and video equipment have increased significantly, and the ongoing COVID-19 epidemic has sped up the adoption of virtual communication tools and home entertainment systems. There is intense competition for market share among the leading companies in the audio and video equipment sector. This rivalry encourages a continuous cycle of pricing and product innovation, providing consumers with a variety of options at reasonable prices. Consumer demand for green and energy-efficient items has started to have an impact on the market, encouraging producers to create goods that are more ecologically friendly.
Global Audio And Video Equipment Market Drivers
Rapid Advancements in

A

udio and

V

ideo Technologies
The industry is being propelled forward by the quick developments in audio and video technology, which have fundamentally altered how we create, share, and consume audio and visual information. Consumer expectations are the main factor that is continually changing. Manufacturers are compelled to create cutting-edge technologies to satisfy consumers' growing desire for immersive and high-quality entertainment experiences. Advanced audio technologies, like as surround sound and spatial audio, give a more immersive and realistic auditory experience. High-resolution screens have become commonplace, boosting the visual experience. The world of audio and video is also continuing to change as a result of new technologies like augmented reality (AR), virtual reality (VR), and mixed reality (MR). Furthermore, the drive for efficiency and compactness encourages miniaturization and portability, leading to the development of smaller, yet more powerful, audio and video equipment.
Increasing Consumer Demand
The dynamics of the audio and video equipment market are basically shaped by rising consumer demand, which acts as a key driving force. First and foremost, the digital technology has ushered in a revolutionary era of communication and pleasure. Streaming services, gaming, social media, and video conferencing are just a few of the platforms where consumers today expect high-quality audio and video experiences. Because of this voracious hunger for content, there is a need for cutting-edge technology that can give greater audio and visual quality. Furthermore, the increasing use of smartphones and other smart gadgets has raised expectations among consumers. People now carry high-definition screens and potent audio capabilities around with them, which has changed the expectations they have for the quality of specialized audio and video equipment.
Restraints:
The high price of audio and video equipment is a key market limitation that creates problems for both buyers and producers. This restriction is shaped by a number of important elements. High-end headphones, professional cameras, and home theatre systems are a few examples of expensive high-quality audio and video equipment. Many consumers may find this price to be a deterrent to using cutting-edge technology and engaging entertainment, preventing them from taking advantage of these opportunities. It might be challenging for emerging markets in particular to afford such equipment. Furthermore, the cost problem is made worse by the industry's swift technological development. Consumers might feel pressured to replace their equipment periodically as new features and capabilities are announced, which would increase long-term expenditures.
The audio and video equipment market is significantly constrained by supply chain interruptions, highlighting how susceptible the sector is to diverse outside forces. These disruptions can come from a variety of sources, and they have a wide-ranging effect on the market. First and foremost, natural calamities like hurricanes, earthquakes, or floods can damage industrial facilities, transportation systems, and distribution hubs, causing delays in supply and shortages of goods. This has an impact on manufacturers, but it also irritates consumers who wait too long to get the audio and video equipment they want. The global supply chain can be hampered by trade conflicts and geopolitical instability. Tariffs, import/export limitations, and international political strife can raise the price of finished goods and raw materials.
Opportunities:
The Rollout of 5G Networks
Compared to 4G networks, 5G networks provide much faster data speeds and lower latency. This makes it possible for high-definition and even 4K/8K video content to stream without any interruption on mobile devices and smart TVs. Customers will be able to experience high-quality audio and video on the go, which will increase demand for compatible devices like 5G-capable smartphones and tablets. Furthermore, 5G supports the development of cutting-edge technologies like augmented reality (AR) and virtual reality (VR). For immersive experiences, these technologies largely rely on low latency and fast data rates, which has led to the emergence of a new market for AR and VR headsets and related audio gear. Furthermore, the 5G rollout supports the expansion of Internet of Things (IoT) devices and smart homes. This interconnected ecosystem relies on robust, high-speed networks for real-time communication between devices. Consequently, audio and video equipment, such as smart speakers and home surveillance cameras, can take full advantage of the 5G infrastructure, allowing for improved functionality and user experiences.
Growing I

nterest in VR and AR Technologies
VR and AR provide immersive and engaging gaming, entertainment, and learning experiences. This increase in interest fuels the market for high-end audio and video technology, such as spatial audio VR headsets and enhanced visual AR glasses. These innovations drive a demand for specialized audio products that can give 3D soundscapes and lifelike visual overlays, giving producers a chance to build cutting-edge goods. In the world of business, VR and AR are transforming a number of sectors, such as healthcare, architecture, engineering, and training. While architects and engineers use VR for immersive design visualization, medical professionals utilize AR for surgical guidance. These applications call for cutting-edge audio and video gear, such as precise audio solutions and high-resolution 3D displays, which creates a niche market for specialized tools. Furthermore, the intersection of VR, AR, and teleconferencing technologies introduces the potential for more immersive virtual meetings, where high-quality audio and video equipment will be essential to create lifelike avatars and specialized audio, simulating in-person interactions.
Segment Overview
By Type
Based on type, the global audio and video equipment market is divided into audio equipment and video equipment. The video equipment category dominates the market with the largest revenue share in 2022. Video equipment focuses on visual content, encompassing devices like televisions, projectors, cameras, monitors, and professional video recording equipment. Video equipment is central to displaying, recording, and streaming visual content, meeting the needs of individuals for entertainment, businesses for presentations, and professionals for film making and broadcasting. Audio equipment encompasses a wide range of devices designed to capture, reproduce, or enhance sound. This category includes items like headphones, speakers, microphones, amplifiers, soundbars, and professional audio recording equipment. Whether it's for personal enjoyment, professional studio recording, or live sound reinforcement, audio equipment plays a crucial role in delivering high-quality and immersive audio experiences.
By Sales Channel
Based on the sales channel, the global audio and video equipment market is categorized into OEM, aftermarket. The OEM category leads the global audio and video equipment market with the largest revenue share in 2022. This segment primarily involves manufacturers that produce audio and video equipment for the original equipment installation in various consumer electronics and professional devices. OEM equipment is typically integrated into products during the manufacturing process. For example, a television manufacturer may incorporate OEM speakers and audio components directly into their TVs. These components are designed to work seamlessly with the main device and are an integral part of the product. The aftermarket segment refers to the market for audio and video equipment that is designed to be used as replacements or upgrades for existing devices. This includes components and accessories that consumers or professionals can purchase separately to enhance or replace the original equipment. For instance, consumers might buy aftermarket headphones to upgrade the sound quality of their smartphones, or professionals might purchase aftermarket camera lenses to improve the video quality of their existing cameras.
By End-User
Based on end-user, the global audio and video equipment market is segmented into B2B and B2C. The B2B segment dominates the audio and video equipment market. In the B2B segment, the focus is on providing audio and video equipment to other businesses, organizations, and professionals rather than individual consumers. This includes supplying equipment for commercial and professional use in various sectors such as broadcasting, healthcare, education, corporate environments, and entertainment. B2B transactions often involve bulk purchases, long-term contracts, and specialized solutions tailored to the unique needs of the business or industry. The B2C segment targets individual consumers who purchase audio and video equipment for personal use. This category encompasses a wide range of products designed for entertainment, home theaters, gaming, and general consumer electronics. B2C transactions are typically conducted through retail channels, both physical stores and online platforms, where consumers can choose from a variety of products suitable for their specific needs and preferences.
Global Audio And Video Equipment Market Overview by Region
The global audio and video equipment market is categorized into North America, Europe, Asia-Pacific, and the Rest of the World. North America emerged as the leading region, capturing the largest market share in 2022. By controlling a sizeable portion of the industry's growth and innovation, North America has emerged as the market's dominant region for audio and video equipment globally. The Silicon Valley area of North America is home to some of the biggest and most powerful technology companies in the world, which are essential to the progress of technology in the audio and video equipment industry. These businesses constantly create and release cutting-edge goods, establishing trends around the world and pushing the limits of audio and visual technology. A populace that exhibits a strong hunger for high-quality audio and video experiences is another benefit of the North American consumer electronics market. This demand is driven by a strong entertainment culture, a booming video game market, and an increased focus on home theaters and streaming services. The region's robust economy and high levels of disposable income also significantly contribute to maintaining market expansion. North American consumers are able to purchase high-end audio and video equipment, which boosts sales and motivates producers to release more sophisticated and expensive items. Additionally, large trade exhibits and industry events are held across North America, offering a stage for presenting the most recent developments in audio and video technology. These occasions draw interest from around the world, enhancing the region's status as a leader in the sector.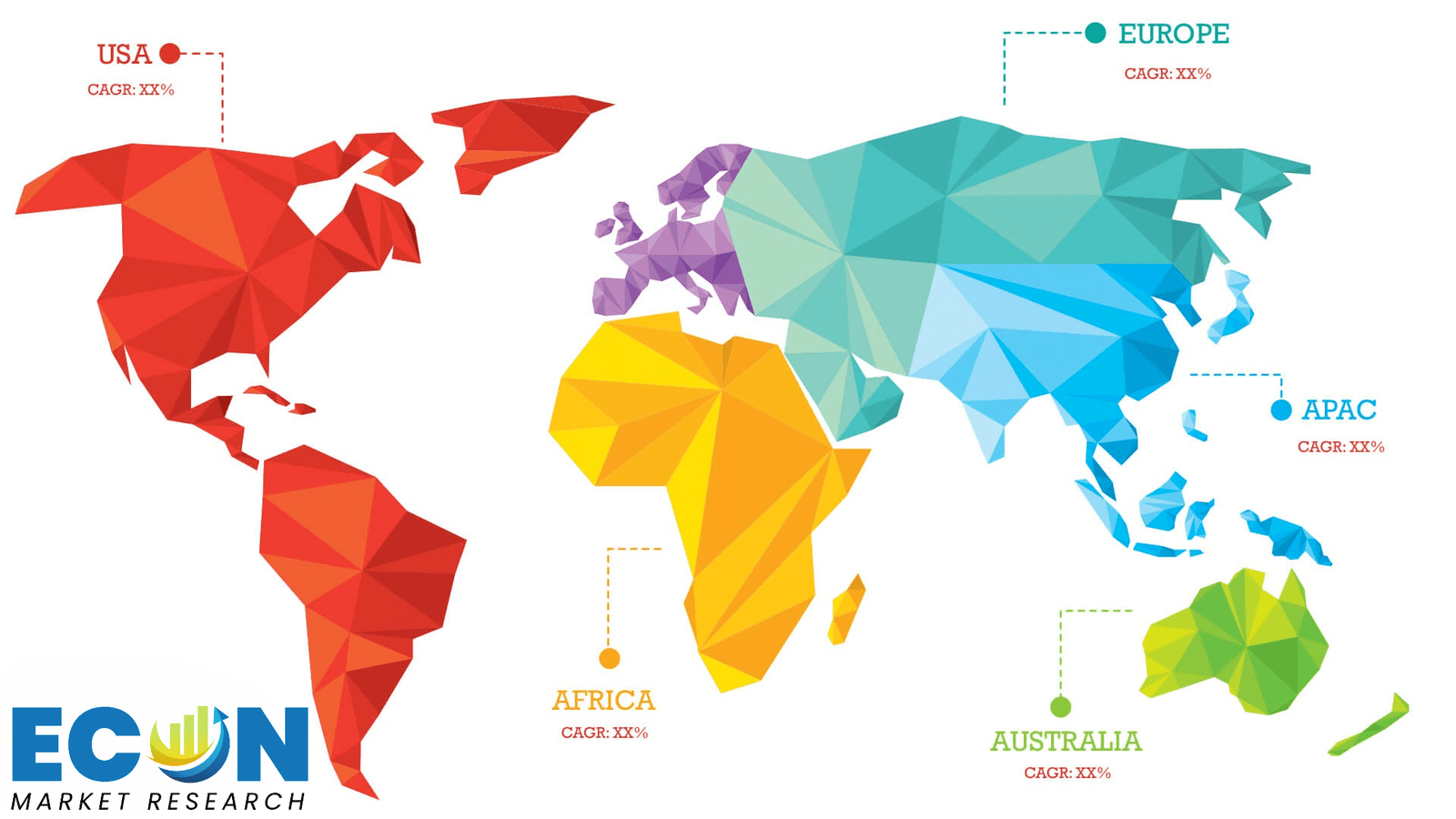 Global Audio And Video Equipment Market Competitive Landscape
In the global audio and video equipment market, a few major players exert significant market dominance and have established a strong regional presence. These leading companies remain committed to continuous research and development endeavors and actively engage in strategic growth initiatives, including product development, launches, joint ventures, and partnerships. By pursuing these strategies, these companies aim to strengthen their market position, expand their customer base, and capture a substantial share of the market.
Some of the prominent players in the global audio and video equipment market include Samsung Electronics Co Ltd, Sony Corp, LG Electronics Inc, Panasonic Corporation , Bose Corporation, and various other key players.
Global Audio And Video Equipment Market Recent Developments
In May 2022, Next-gen audio system designs are the focus of new audio devices. Recently, gadgets aiming at next-gen audio were announced by three semiconductor companies. These ICs are meant to help engineers create audio system designs that are higher quality and more capable.

In March 2023, As part of Bengaluru's safe city project, Honeywell installs 7000 AI video cameras.
Scope of the Global Audio And Video Equipment Market Report
Audio And Video Equipment Market Report Segmentation
ATTRIBUTE

DETAILS

By Type

Audio Equipment

Video Equipment

By Sales Channel

By End-User

By Geography

North America (USA,

and Canada)

Europe (UK, Germany, France, Italy, Spain, Russia and Rest of Europe)

Asia Pacific (Japan, China, India, Australia, Southeast Asia and Rest of Asia Pacific)

Latin America (Brazil, Mexico, and Rest of Latin America)

Middle East & Africa (South Africa, GCC, and Rest of Middle East & Africa)

Customization Scope

Pricing
Objectives of the Study
The objectives of the study are summarized in 5 stages. They are as mentioned below:
Global Audio And Video Equipment Market

Size and Forecast:
To identify and estimate the market size for the global audio and video equipment market segmented by type, by sales channel, by end user, region and by value (in U.S. dollars). Also, to understand the consumption/ demand created by consumers of audio and video equipment between 2019 and 2031.
Market Landscape and Trends:
To identify and infer the drivers, restraints, opportunities, and challenges for the global audio and video equipment market
Market Influencing Factors:
To find out the factors which are affecting the sales of audio and video equipment among consumers
To identify and understand the various factors involved in the global audio and video equipment market affected by the pandemic
To provide a detailed insight into the major companies operating in the market. The profiling will include the financial health of the company's past 2-3 years with segmental and regional revenue breakup, product offering, recent developments, SWOT analysis, and key strategies.
Intended Audience
Technology Enthusiasts

Retailers, Wholesalers, and Distributors

Governments, Associations, and Industrial Bodies

Investors and Trade Experts
Research Methodology
Our research methodology has always been the key differentiating reason which sets us apart in comparison from the competing organizations in the industry. Our organization believes in consistency along with quality and establishing a new level with every new report we generate; our methods are acclaimed and the data/information inside the report is coveted. Our research methodology involves a combination of primary and secondary research methods. Data procurement is one of the most extensive stages in our research process. Our organization helps in assisting the clients to find the opportunities by examining the market across the globe coupled with providing economic statistics for each and every region. The reports generated and published are based on primary & secondary research. In secondary research, we gather data for global Market through white papers, case studies, blogs, reference customers, news, articles, press releases, white papers, and research studies. We also have our paid data applications which includes hoovers, Bloomberg business week, Avention, and others.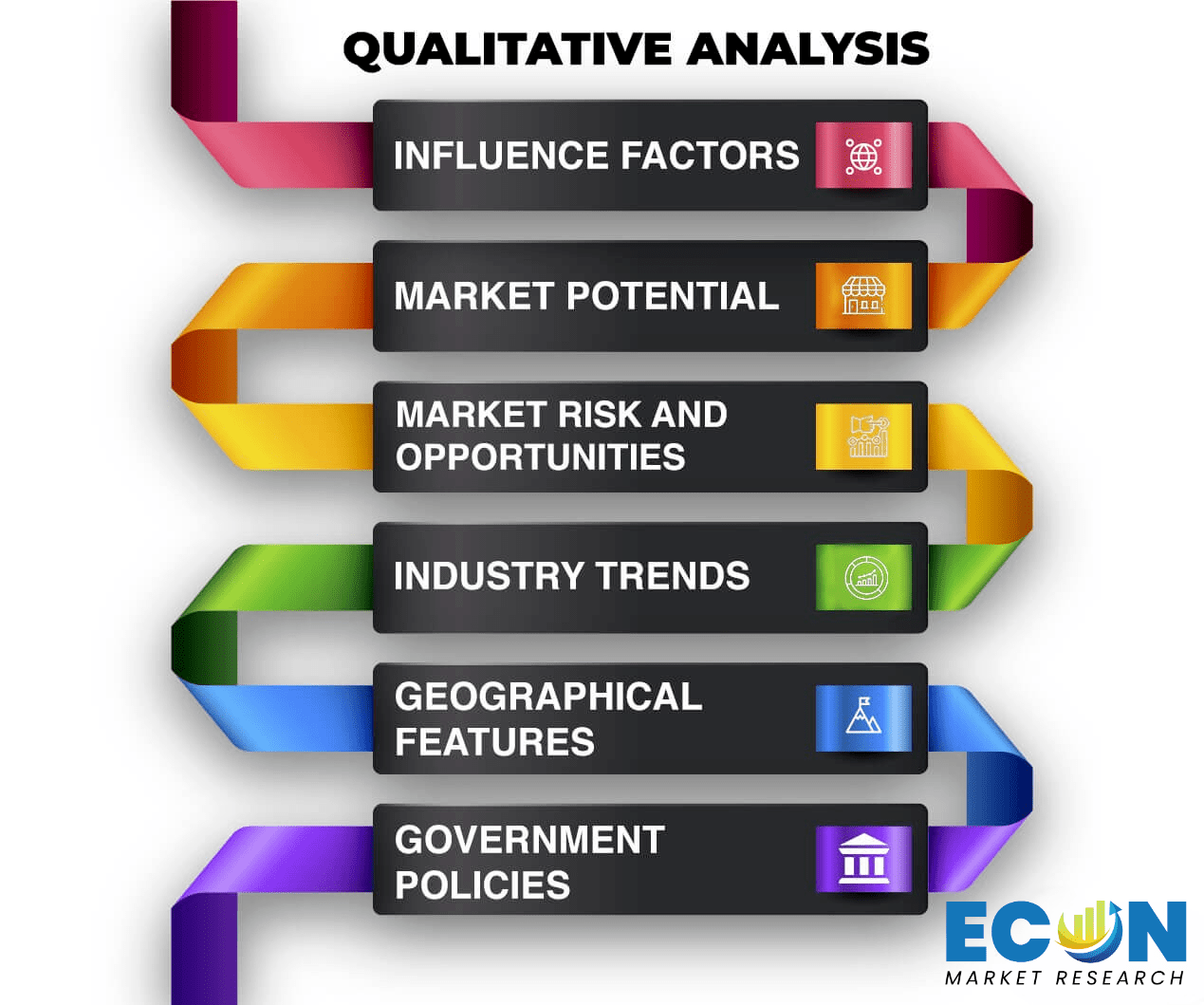 Data Collection
Data collection is the process of gathering, measuring, and analyzing accurate and relevant data from a variety of sources to analyze market and forecast trends. Raw market data is obtained on a broad front. Data is continuously extracted and filtered to ensure only validated and authenticated sources are considered. Data is mined from a varied host of sources including secondary and primary sources.

Primary Research
After the secondary research process, we initiate the primary research phase in which we interact with companies operating within the market space. We interact with related industries to understand the factors that can drive or hamper a market. Exhaustive primary interviews are conducted. Various sources from both the supply and demand sides are interviewed to obtain qualitative and quantitative information for a report which includes suppliers, product providers, domain experts, CEOs, vice presidents, marketing & sales directors, Type & innovation directors, and related key executives from various key companies to ensure a holistic and unbiased picture of the market. 
Secondary Research
A secondary research process is conducted to identify and collect information useful for the extensive, technical, market-oriented, and comprehensive study of the market. Secondary sources include published market studies, competitive information, white papers, analyst reports, government agencies, industry and trade associations, media sources, chambers of commerce, newsletters, trade publications, magazines, Bloomberg BusinessWeek, Factiva, D&B, annual reports, company house documents, investor presentations, articles, journals, blogs, and SEC filings of companies, newspapers, and so on. We have assigned weights to these parameters and quantified their market impacts using the weighted average analysis to derive the expected market growth rate.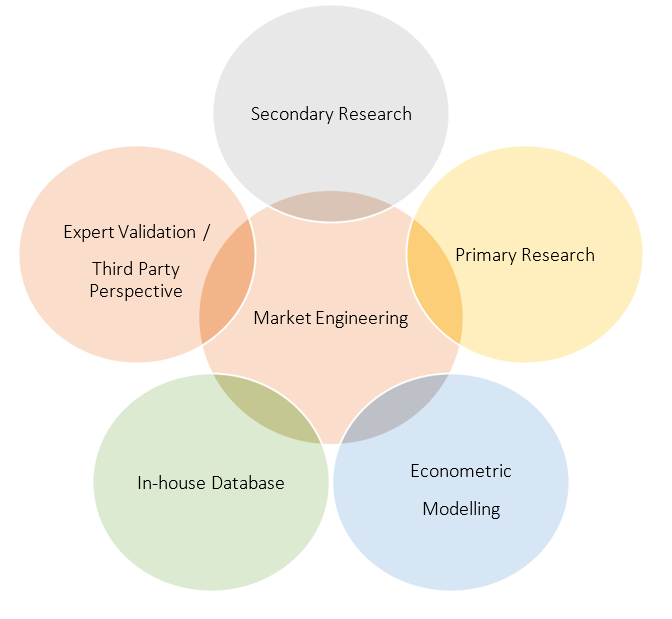 Top-Down Approach & Bottom-Up Approach
In the top – down approach, the Global Batteries for Solar Energy Storage Market was further divided into various segments on the basis of the percentage share of each segment. This approach helped in arriving at the market size of each segment globally. The segments market size was further broken down in the regional market size of each segment and sub-segments. The sub-segments were further broken down to country level market. The market size arrived using this approach was then crosschecked with the market size arrived by using bottom-up approach.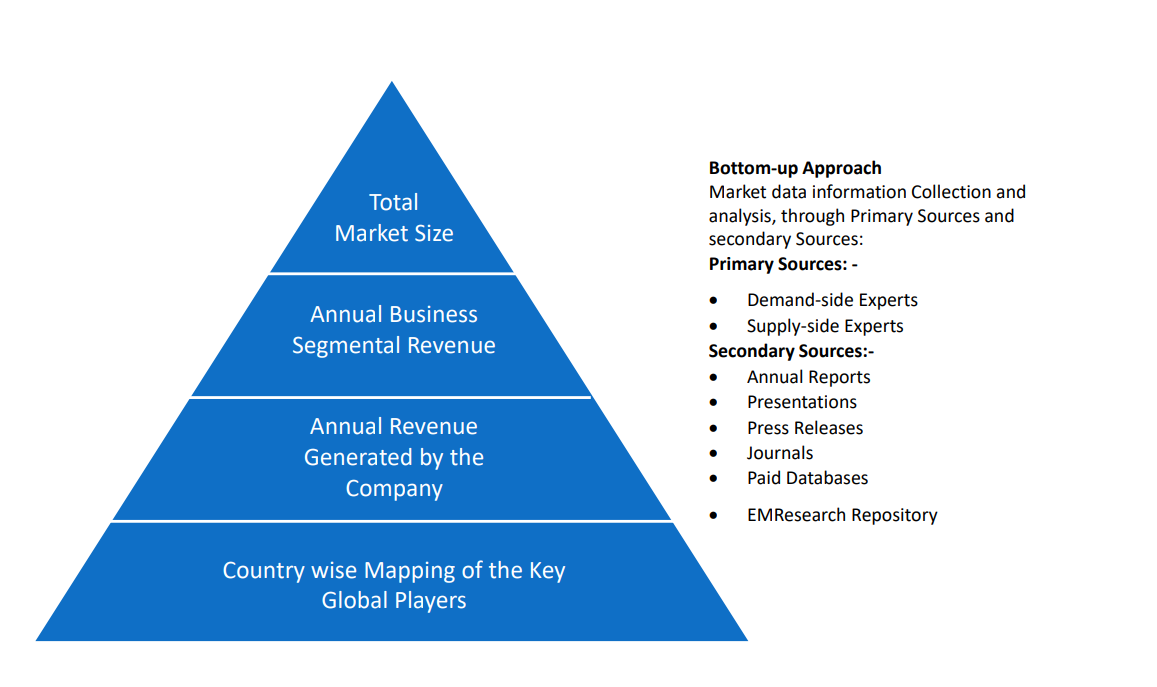 In the bottom-up approach, we arrived at the country market size by identifying the revenues and market shares of the key market players. The country market sizes then were added up to arrive at regional market size of the decorated apparel, which eventually added up to arrive at global market size.
This is one of the most reliable methods as the information is directly obtained from the key players in the market and is based on the primary interviews from the key opinion leaders associated with the firms considered in the research. Furthermore, the data obtained from the company sources and the primary respondents was validated through secondary sources including government publications and Bloomberg.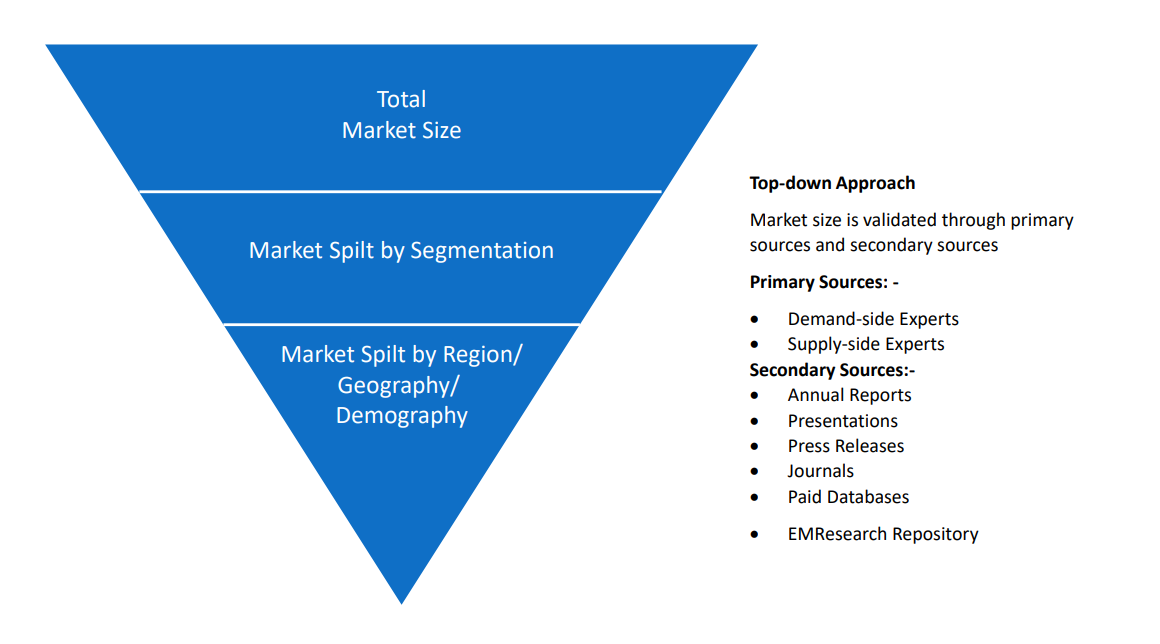 Market Analysis & size Estimation
Post the data mining stage, we gather our findings and analyze them, filtering out relevant insights. These are evaluated across research teams and industry experts. All this data is collected and evaluated by our analysts. The key players in the industry or markets are identified through extensive primary and secondary research. All percentage share splits, and breakdowns have been determined using secondary sources and verified through primary sources. The market size, in terms of value and volume, is determined through primary and secondary research processes, and forecasting models including the time series model, econometric model, judgmental forecasting model, the Delphi method, among Flywheel Energy Storage. Gathered information for market analysis, competitive landscape, growth trends, product development, and pricing trends is fed into the model and analyzed simultaneously.
Quality Checking & Final Review
The analysis done by the research team is further reviewed to check for the accuracy of the data provided to ensure the clients' requirements. This approach provides essential checks and balances which facilitate the production of quality data. This Type of revision was done in two phases for the authenticity of the data and negligible errors in the report. After quality checking, the report is reviewed to look after the presentation, Type and to recheck if all the requirements of the clients were addressed.