The Global Athletic Footwear Market was valued at USD 130.3 billion in 2022 and is estimated to reach approximately USD 191.2 billion by 2031, at a CAGR of 4.4% from 2023 to 2031. The athletic footwear market has evolved into a dynamic and lucrative sector within the global consumer goods industry. Over the years, it has undergone substantial growth and transformation, becoming a critical component of both sports performance and casual fashion. This market encompasses a wide range of footwear designed to enhance athletic performance, cater to various sports activities, and align with prevailing fashion trends. Characterized by relentless innovation, cutting-edge technologies, and convergence of style and functionality, the athletic footwear market has captured the attention of athletes, fitness enthusiasts, and trend-conscious consumers alike. Major players in the industry, such as Nike, Adidas, Puma, and Under Armour, have continuously invested in research and development to create footwear that not only optimizes athletic performance but also resonates with the lifestyle choices of consumers. The market's evolution has been driven by factors such as rising health consciousness, increasing participation in sports and fitness activities, and the growing popularity of athleisure wear. Sneakers, running shoes, training shoes, and specialized sports footwear have become integral to daily attire for many, transcending their utilitarian purpose to become fashion statements. Moreover, advancements in materials, cushioning technologies, sustainability efforts, and customization options have further fueled the market's expansion. As the athletic footwear landscape continues to evolve, the integration of digital platforms, augmented reality, and personalized experiences is reshaping how consumers interact with and purchase footwear. The athletic footwear market is a dynamic and multifaceted industry that blends performance, fashion, and technology. Its evolution over the years highlights its relevance in modern culture, making it an essential component of both sports and lifestyle preferences.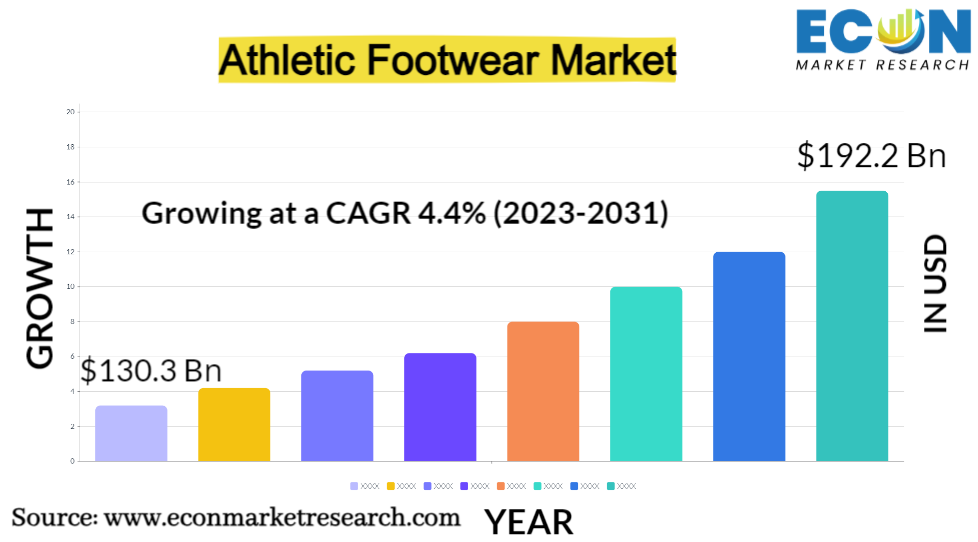 ATHLETIC FOOTWEAR MARKET: REPORT SCOPE & SEGMENTATION
| | |
| --- | --- |
| Report Attribute | Details |
| Estimated Market Value (2022) | 130.3 Bn |
| Projected Market Value (2031) | 191.2 Bn |
| Base Year | 2022 |
| Forecast Years | 2023 - 2031 |
| Scope of the Report | Historical and Forecast Trends, Industry Drivers and Constraints, Historical and Forecast Market Analysis by Segment- By Type, By End User, By Distribution Channel, & Region |
| Segments Covered | By Type, By End User, By Distribution Channel, & Region |
| Forecast Units | Value (USD Billion or Million), and Volume (Units) |
| Quantitative Units | Revenue in USD million/billion and CAGR from 2023 to 2031 |
| Regions Covered | North America, Europe, Asia Pacific, Latin America, and Middle East & Africa, and the Rest of World |
| Countries Covered | U.S., Canada, Mexico, U.K., Germany, France, Italy, Spain, China, India, Japan, South Korea, Brazil, Argentina, GCC Countries, and South Africa, among others |
| Report Coverage | Market growth drivers, restraints, opportunities, Porter's five forces analysis, PEST analysis, value chain analysis, regulatory landscape, market attractiveness analysis by segments and region, company market share analysis, and COVID-19 impact analysis. |
| Delivery Format | Delivered as an attached PDF and Excel through email, according to the purchase option. |
Global Athletic Footwear Market Dynamics
The athletic footwear market is propelled by a multitude of dynamic factors that collectively shape its trajectory. Consumer preferences and lifestyle shifts significantly influence demand. Increasing health awareness and participation in sports and fitness activities drive the market's growth. Technological advancements in cushioning, materials, and performance-enhancing features foster innovation, attracting athletes and enthusiasts seeking improved performance. Fashion trends and the rise of athleisure continue to blur the lines between sports and casual wear, expanding the market's appeal. Key players' marketing strategies and endorsements by athletes amplify brand visibility and consumer engagement. Regional economic conditions, disposable income, and demographic shifts further impact market dynamics. Sustainability concerns have prompted brands to develop eco-friendly options, catering to environmentally-conscious consumers. Online retail channels and e-commerce reshape distribution, offering convenience and global reach. Counterfeit products and pricing fluctuations present challenges. The athletic footwear market is shaped by evolving consumer attitudes, technological progress, fashion convergence, marketing strategies, economic variables, and sustainability imperatives. Navigating these dynamic forces is crucial for stakeholders to remain competitive and meet the diverse demands of a rapidly changing market.
Global Athletic Footwear Market Drivers
Innovation in Material Technology
Innovation in material technology has revolutionized the athletic footwear industry, propelling it to new heights of performance, comfort, and sustainability. Advanced materials such as lightweight polymers, engineered fabrics, and responsive foams have transformed the way athletic shoes are designed and experienced. Utilizing cutting-edge cushioning systems, such as Nike's Air technology or Adidas' Boost foam, which offer the best impact absorption and energy return, is one important innovation. This improves athletic performance while lowering injury risk. Additionally, fabrics that drain away moisture and breathe easily reduce discomfort and maintain the ideal foot temperature throughout the intense exercise. Furthermore, sustainability has become a pivotal focus, leading to the development of eco-friendly materials such as recycled plastics, organic fibers, and bio-based alternatives. Brands are increasingly incorporating these materials into their footwear to address environmental concerns and cater to conscientious consumers.
Growing Emphasis on Fitness and Health-Conscious Lifestyles
Trends in health and wellness show a shift in society's focus toward holistic well-being, which includes the physical, mental, and emotional aspects of life. People are now more aware than ever before of the value of keeping a balanced and healthy lifestyle. This trend has shown itself in a variety of forms, such as the adoption of consistent exercise routines, healthy eating habits, mindfulness exercises, and stress reduction methods. Fitness, nutrition, and personal care are just a few of the many businesses that have been impacted by the health and wellness trend. People are increasingly actively looking for ways to improve their whole quality of life, putting an emphasis on mental acuity and emotional fortitude in addition to physical fitness. This has increased the demand for items as well as the popularity of practices like yoga, meditation, and mindfulness.
Restraints:
Rising Raw Material Costs
Increasing raw material costs frequently results in higher production costs for businesses. Given that companies must absorb or pass on these higher costs to consumers, manufacturers may struggle to sustain profit margins. This can result in increased final product pricing, which may have an effect on consumer purchasing power and overall demand. Increasing raw material costs can have a direct impact on product pricing in industries like the athletic footwear sector where materials like specialized foams, fabrics, and synthetic compounds are essential components. To address these issues, businesses could look into other sourcing possibilities, make investments in more effective production techniques, or even rethink their product designs to maximize the use of materials.
When supply chain disruptions occur, they can have cascading effects on various stages of production and distribution. Manufacturers can face delays in obtaining necessary raw materials, components, or parts, which in turn can lead to production slowdowns or stoppages. This can result in reduced product availability and potentially impact customer satisfaction. In industries like athletic footwear, where timely delivery of materials and efficient manufacturing processes are critical, supply chain disruptions can have significant implications. Brands might face challenges in meeting product release schedules, fulfilling customer orders, and maintaining relationships with retailers.
Opportunities:
Growing Health and Fitness Awareness
The growing societal focus on physical vitality and personal well-being is reflected in growing health and fitness awareness. People are becoming noticeably more inclined to adopt regular exercise routines, balanced meals, and active habits as they become aware of the advantages of living a healthy lifestyle. Rising healthcare expenses, easier access to information via digital channels, and a better knowledge of the relationship between lifestyle decisions and general health are some of the causes driving this trend. The demand for fitness activities like yoga and meditation as well as gym exercises and outdoor sports has increased due to the desire to prevent chronic diseases and lengthen lifespan. This trend affects the market for athletic footwear by driving up demand for shoes that can be used for a variety of fitness activities, including cross-training and sports. To maximize their workout experiences, consumers look for footwear that offers comfort, support, and performance-enhancing qualities.
E-commerce expansion is the rapid development and growth of online retail platforms that have changed both consumer behavior and company practices. E-commerce has developed into a crucial tenet of contemporary retail thanks to the development of digital technology, the internet, and mobile devices. Convenience, accessibility, and a larger product selection are some of the elements that are driving this expansion. In the athletic footwear industry, e-commerce expansion has reshaped the way brands interact with their customers. Online platforms provide an avenue for direct-to-consumer sales, allowing companies to offer exclusive products and personalized experiences. Virtual try-on tools and detailed product information enhance the online shopping experience.
Segment Overview
By Type
Based on type, the global athletic footwear market is divided into sports shoes, running & walking shoes, hiking & backpacking shoes, and aerobic & gym wear shoes. The running & walking shoes category dominates the market with the largest revenue share. Running shoes are designed to provide optimal cushioning, support, and shock absorption for runners. Walking shoes offer comfort and stability for individuals engaged in walking or casual everyday activities. Where footwear in the hiking & backpacking shoe category is crafted for outdoor enthusiasts who engage in hiking and backpacking. These shoes offer ruggedness, traction, and ankle support to navigate various terrains. aerobic & gym wear shoes are intended for activities that involve dynamic movements, such as aerobic workouts, dance classes, and gym sessions. They prioritize flexibility, comfort, and lightweight construction to accommodate various exercises.
By End User
Based on the end user, the global athletic footwear market is categorized into men, women, and kids. The men's category leads the global athletic footwear market with the largest revenue share. This segment includes a wide range of athletic shoes designed specifically for men. These shoes are crafted to provide the necessary support, cushioning, and performance features required for various sports and activities. Men's athletic footwear also includes options that align with fashion trends, making them suitable for both active pursuits and casual wear. Similar to the men's segment, women's athletic footwear is tailored to cater to the unique requirements of female consumers. These shoes offer the necessary comfort, support, and style for sports, workouts, and everyday activities. Women's athletic footwear often integrates design elements that reflect fashion trends and personal preferences. The kids segment focuses on athletic shoes designed for children and adolescents. Kids' footwear prioritizes comfort, durability, and growth support, as children are typically engaged in sports, play, and physical activities.
By Distribution Channel
Based on distribution channels, the global athletic footwear market is segmented into supermarkets/hypermarkets, specialty stores, brand outlets, and online channels. The supermarkets/hypermarkets segment dominates the athletic footwear market. These large retail establishments offer a diverse range of products, including athletic footwear. Supermarkets and hypermarkets provide a convenient one-stop shopping experience, allowing consumers to explore and purchase footwear alongside their regular grocery shopping. Where specialty stores exclusively focus on athletic footwear and related products. These stores offer a wide selection of brands and styles tailored to sports, fitness, and fashion preferences. Staff in specialty stores are often knowledgeable about the products they offer, assisting customers in making informed choices. Also, Athletic footwear brands often operate their own brand outlets, providing a direct-to-consumer shopping experience. These outlets offer the latest collections, exclusive releases, and personalized customer service, creating a unique brand experience. Similarly, e-commerce platforms have become increasingly popular for purchasing athletic footwear. Online channels provide convenience, a vast product selection, and the ability to compare prices and reviews. Virtual try-on tools and detailed product information enhance the online shopping experience.
Global Athletic Footwear Market Overview by Region
The global athletic footwear market is categorized into North America, Europe, Asia-Pacific, and the Rest of the World. Asia-Pacific emerged as the leading region, capturing the largest market share in 2022. The dynamic confluence of elements in the Asia-Pacific area that promotes economic expansion, consumer demand, and cultural changes has led to the region's rise as a major market. With its several nations and sizable population, the area has become a major player in a number of markets, including that for athletic footwear. With such a large consumer base in the Asia-Pacific region, which includes nations like China and India, athletic footwear is in high demand across a variety of demographics. Rapid urbanization in the area and rising disposable incomes have encouraged people to embrace healthier lifestyles and participate in more sports and fitness activities. Consequently, there is a demand for specialty athletic footwear. The intersection of Western fashion influences and local cultural trends has elevated the demand for stylish yet functional athletic footwear. Furthermore, the rise of e-commerce and digital connectivity in the region has facilitated easy access to a broad spectrum of athletic footwear options, contributing to market growth. Asia-Pacific's hosting of major sporting events and its rich sporting traditions further stimulate demand for specific athletic footwear tailored to various activities. These combined dynamics position the Asia-Pacific region as a dominant force in the athletic footwear market, prompting brands and manufacturers to focus their attention on understanding and catering to the unique preferences of this influential market.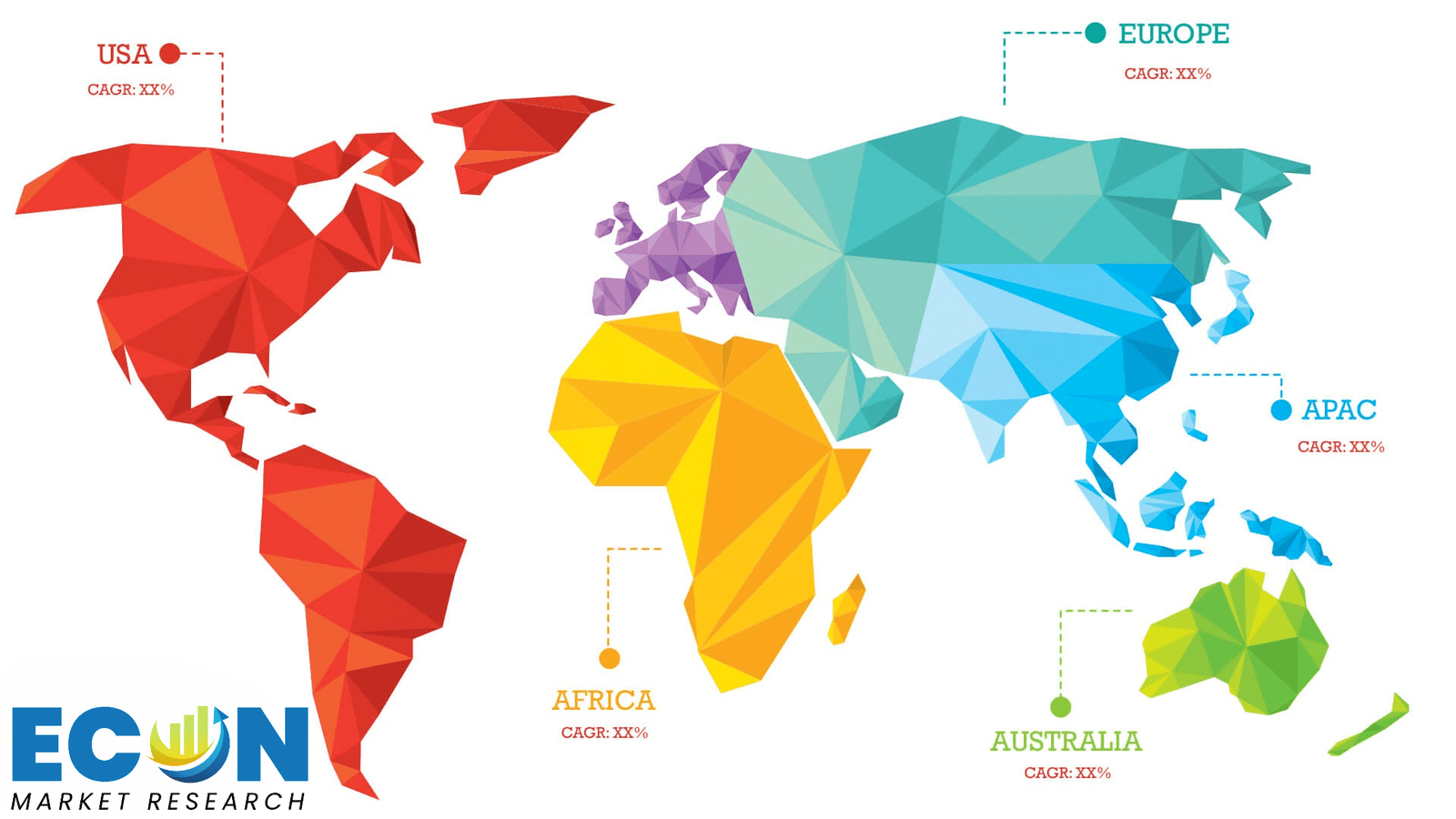 Global Athletic Footwear Market Competitive Landscape
In the global athletic footwear market, a few major players exert significant market dominance and have established a strong regional presence. These leading companies remain committed to continuous research and development endeavors and actively engage in strategic growth initiatives, including product development, launches, joint ventures, and partnerships. By pursuing these strategies, these companies aim to strengthen their market position, expand their customer base, and capture a substantial share of the market.
Some of the prominent players in the global athletic footwear market include Nike, Inc, Puma SE, Adidas AG, Bata Brand, Honeywell International Inc., New Balance, Rahman Group, COFRA Holding, ELTEN GmbH, Uvex group, Rock Fall Ltd., Oftenrich Holdings Co. Ltd, Wolverine World Wide Inc., Hewat's Edinburgh, W. L. Gore & Associates, Inc., and various other key players.
Global Athletic Footwear Market Recent Developments
In June 2021, Launch of the Solarthon golf shoe by Adidas. The new shoe's upper contains 50% recycled plastic. The lightweight and comfortable Solarthon golf shoe from Adidas has just been released, and it will help keep players fresh for longer days on the course in the summer.
In November 2021, NIKE and DICK'S Sporting Goods Form a Connected Partnership. By offering a user-friendly platform where customers can conveniently shop an expanded assortment of NIKE footwear and gear, DICK'S and NIKE hope to make the experience straightforward and convenient.
Scope of the Global Athletic Footwear Market Report
Athletic Footwear Market Report Segmentation
ATTRIBUTE

DETAILS

By Type

Sports Shoes

Running & Walking Shoes

Hiking & Backpacking Shoes

Aerobic & Gym Wear Shoes

By End User

By Distribution Channel

Supermarkets/Hypermarkets

Specialty Stores

Brand Outlets

Online Channels

By Geography

North America (USA,

and Canada)

Europe (UK, Germany, France, Italy, Spain, Russia and Rest of Europe)

Asia Pacific (Japan, China, India, Australia, Southeast Asia and Rest of Asia Pacific)

Latin America (Brazil, Mexico, and Rest of Latin America)

Middle East & Africa (South Africa, GCC, and Rest of Middle East & Africa)

Customization Scope

Pricing
Objectives of the Study
The objectives of the study are summarized in 5 stages. They are as mentioned below:
Global Athletic Footwear Market

Size and Forecast:
To identify and estimate the market size for the global athletic footwear market segmented by type, by end-user, By distribution channel, region and by value (in U.S. dollars). Also, to understand the consumption/ demand created by consumers of athletic footwear between 2019 and 2031.
Market Landscape and Trends:
To identify and infer the drivers, restraints, opportunities, and challenges for the global athletic footwear market
Market Influencing Factors:
To find out the factors which are affecting the sales of athletic footwear among consumers
To identify and understand the various factors involved in the global athletic footwear market affected by the pandemic
To provide a detailed insight into the major companies operating in the market. The profiling will include the financial health of the company's past 2-3 years with segmental and regional revenue breakup, product offering, recent developments, SWOT analysis, and key strategies.
Intended Audience
Raw Material Suppliers

Retailers, Wholesalers, and Distributors

Industry Professionals

Consumers

Governments, Associations, and Industrial Bodies

Investors and Trade Experts
Research Methodology
Our research methodology has always been the key differentiating reason which sets us apart in comparison from the competing organizations in the industry. Our organization believes in consistency along with quality and establishing a new level with every new report we generate; our methods are acclaimed and the data/information inside the report is coveted. Our research methodology involves a combination of primary and secondary research methods. Data procurement is one of the most extensive stages in our research process. Our organization helps in assisting the clients to find the opportunities by examining the market across the globe coupled with providing economic statistics for each and every region. The reports generated and published are based on primary & secondary research. In secondary research, we gather data for global Market through white papers, case studies, blogs, reference customers, news, articles, press releases, white papers, and research studies. We also have our paid data applications which includes hoovers, Bloomberg business week, Avention, and others.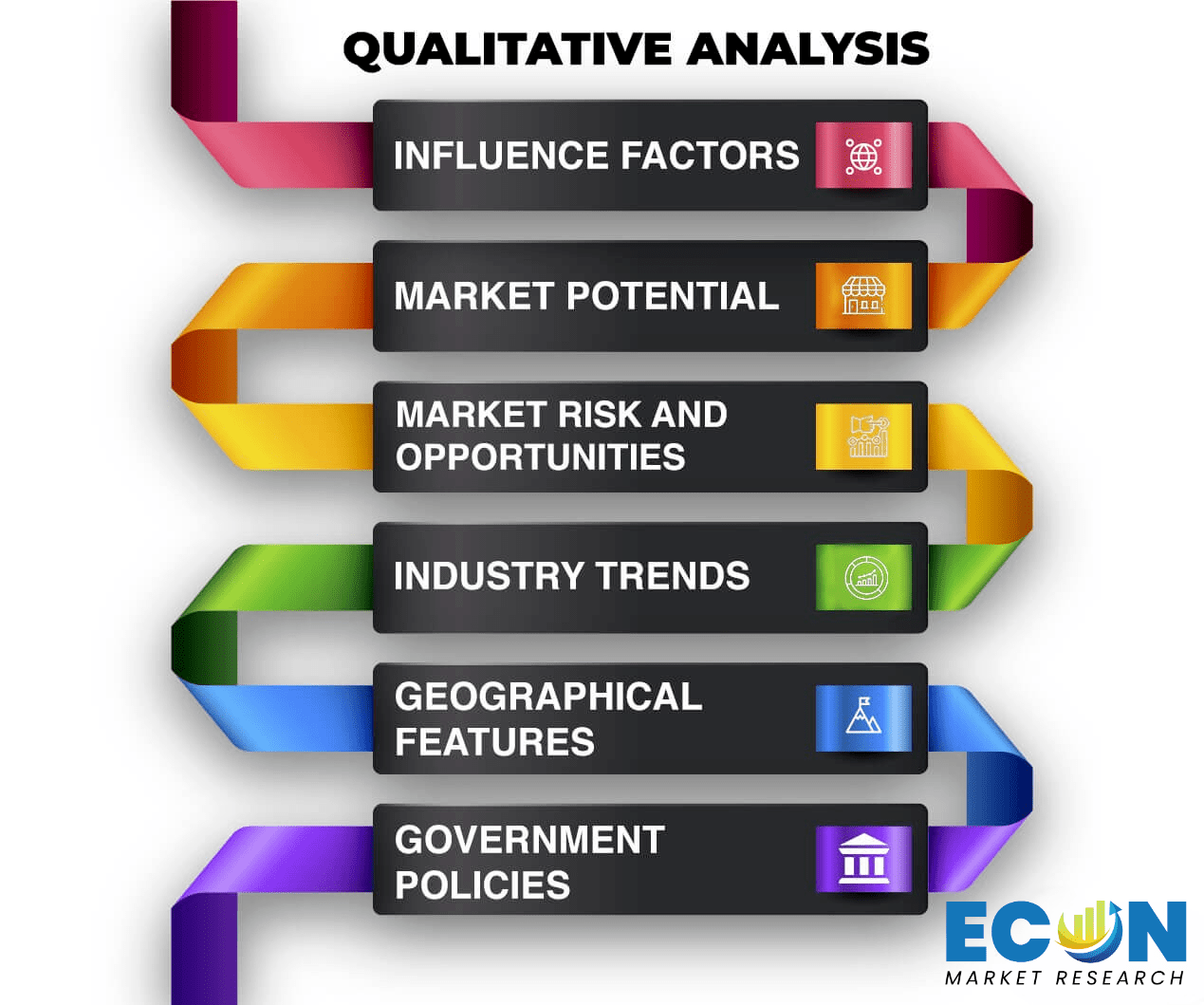 Data Collection
Data collection is the process of gathering, measuring, and analyzing accurate and relevant data from a variety of sources to analyze market and forecast trends. Raw market data is obtained on a broad front. Data is continuously extracted and filtered to ensure only validated and authenticated sources are considered. Data is mined from a varied host of sources including secondary and primary sources.

Primary Research
After the secondary research process, we initiate the primary research phase in which we interact with companies operating within the market space. We interact with related industries to understand the factors that can drive or hamper a market. Exhaustive primary interviews are conducted. Various sources from both the supply and demand sides are interviewed to obtain qualitative and quantitative information for a report which includes suppliers, product providers, domain experts, CEOs, vice presidents, marketing & sales directors, Type & innovation directors, and related key executives from various key companies to ensure a holistic and unbiased picture of the market. 
Secondary Research
A secondary research process is conducted to identify and collect information useful for the extensive, technical, market-oriented, and comprehensive study of the market. Secondary sources include published market studies, competitive information, white papers, analyst reports, government agencies, industry and trade associations, media sources, chambers of commerce, newsletters, trade publications, magazines, Bloomberg BusinessWeek, Factiva, D&B, annual reports, company house documents, investor presentations, articles, journals, blogs, and SEC filings of companies, newspapers, and so on. We have assigned weights to these parameters and quantified their market impacts using the weighted average analysis to derive the expected market growth rate.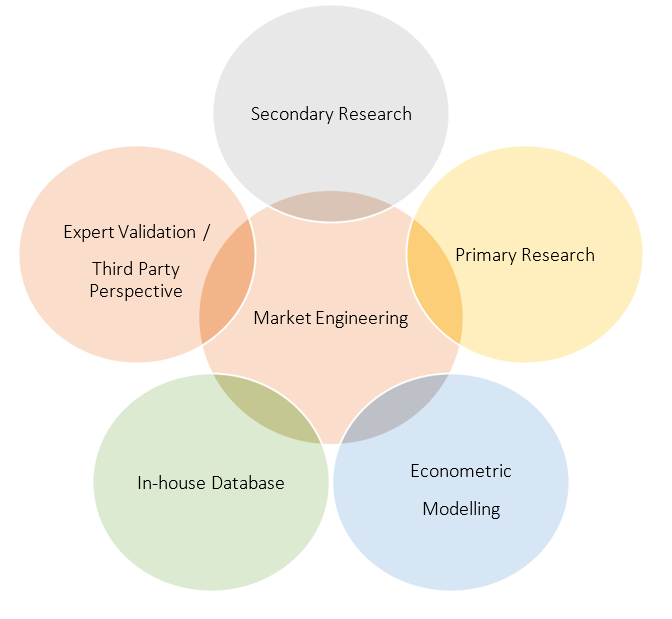 Top-Down Approach & Bottom-Up Approach
In the top – down approach, the Global Batteries for Solar Energy Storage Market was further divided into various segments on the basis of the percentage share of each segment. This approach helped in arriving at the market size of each segment globally. The segments market size was further broken down in the regional market size of each segment and sub-segments. The sub-segments were further broken down to country level market. The market size arrived using this approach was then crosschecked with the market size arrived by using bottom-up approach.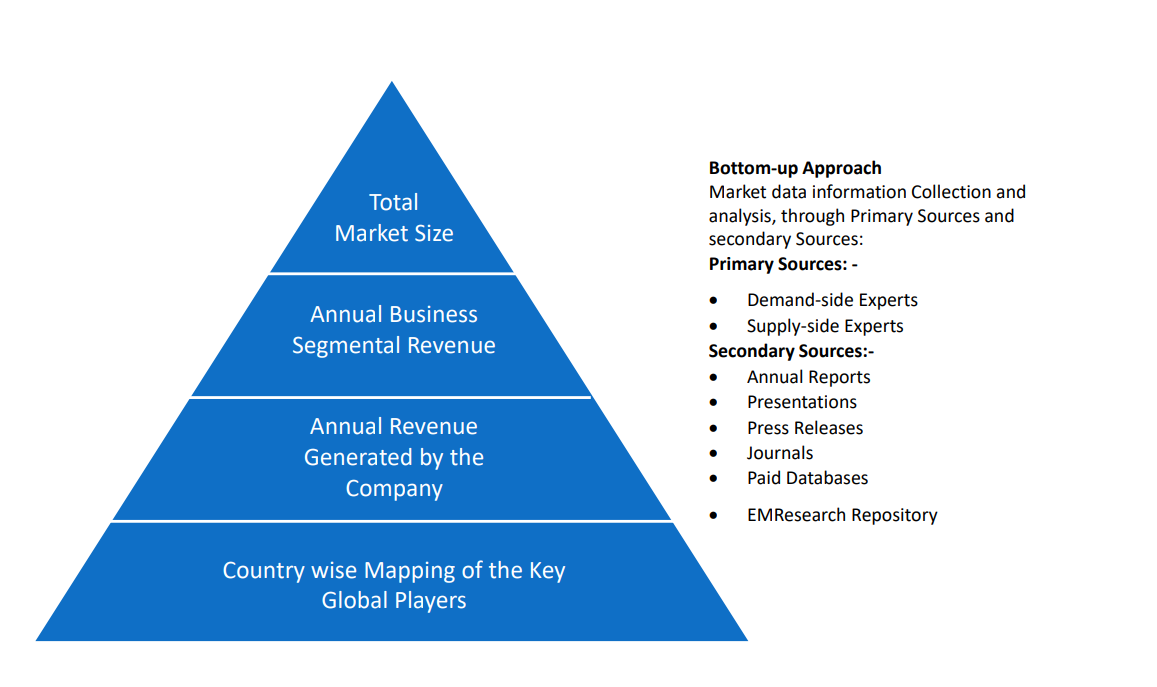 In the bottom-up approach, we arrived at the country market size by identifying the revenues and market shares of the key market players. The country market sizes then were added up to arrive at regional market size of the decorated apparel, which eventually added up to arrive at global market size.
This is one of the most reliable methods as the information is directly obtained from the key players in the market and is based on the primary interviews from the key opinion leaders associated with the firms considered in the research. Furthermore, the data obtained from the company sources and the primary respondents was validated through secondary sources including government publications and Bloomberg.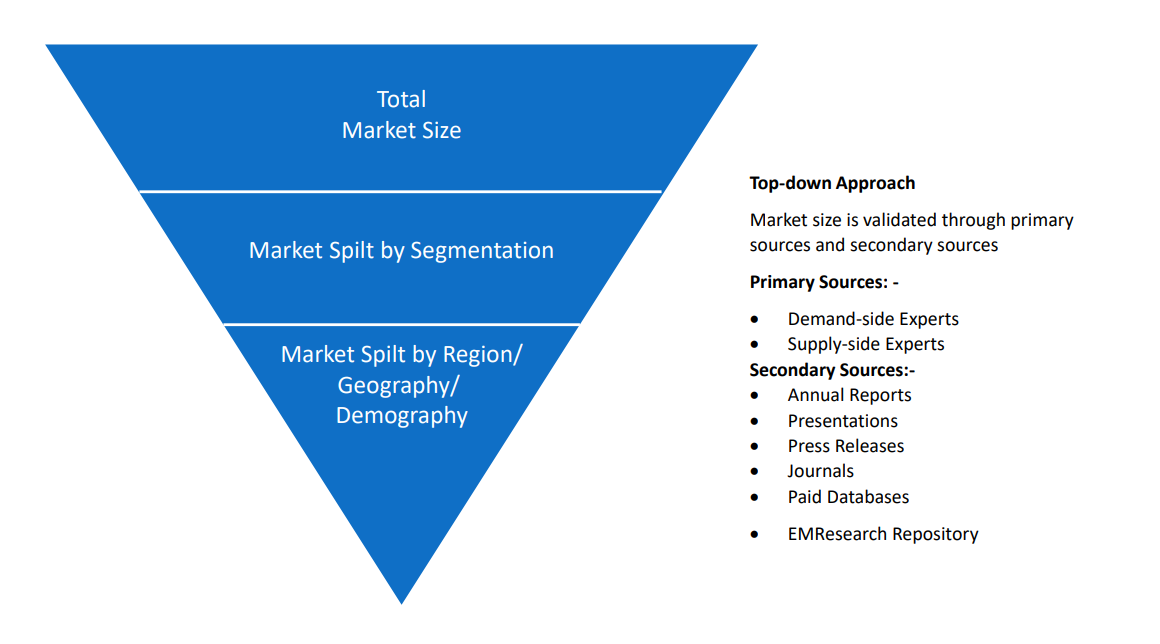 Market Analysis & size Estimation
Post the data mining stage, we gather our findings and analyze them, filtering out relevant insights. These are evaluated across research teams and industry experts. All this data is collected and evaluated by our analysts. The key players in the industry or markets are identified through extensive primary and secondary research. All percentage share splits, and breakdowns have been determined using secondary sources and verified through primary sources. The market size, in terms of value and volume, is determined through primary and secondary research processes, and forecasting models including the time series model, econometric model, judgmental forecasting model, the Delphi method, among Flywheel Energy Storage. Gathered information for market analysis, competitive landscape, growth trends, product development, and pricing trends is fed into the model and analyzed simultaneously.
Quality Checking & Final Review
The analysis done by the research team is further reviewed to check for the accuracy of the data provided to ensure the clients' requirements. This approach provides essential checks and balances which facilitate the production of quality data. This Type of revision was done in two phases for the authenticity of the data and negligible errors in the report. After quality checking, the report is reviewed to look after the presentation, Type and to recheck if all the requirements of the clients were addressed.