The Global Application Delivery Controller Market was valued at USD 4.26 billion in 2022 and is estimated to reach approximately USD 18.56 billion by 2031, at a CAGR of 17.7% from 2023 to 2031. A specialized hardware or software system called an Application Delivery Controller (ADC) optimizes the delivery of online applications. By controlling traffic distribution, load balancing, SSL decryption, and other application-related functions, it assures high availability, performance, and security, improving the overall user experience and application dependability. Assuring high availability, performance, and security, ADCs are specialized hardware or software solutions created to optimize the delivery of web applications. The main task of ADCs was load balancing, which involved splitting up incoming network traffic among several servers to avoid overloads and guarantee flawless user experiences. ADCs have developed through time to include a wider range of functionality as web applications have grown more complicated and demanding. Due to the escalating use of web-based applications, e-commerce, and the shift to cloud computing, the ADC industry experienced tremendous development. With the addition of features like SSL offloading, content caching, web application firewall (WAF), and traffic control, ADCs increased their functionality. These developments met the growing demand for web services that are quicker, safer, and more readily available. The ADC market continues to evolve, driven by trends such as microservices, containerization, and the need for enhanced security against evolving cyber threats. Organizations across various industries rely on ADC solutions to optimize their application delivery, improve user experiences, and bolster their cybersecurity posture, making it a pivotal segment within the broader network infrastructure landscape.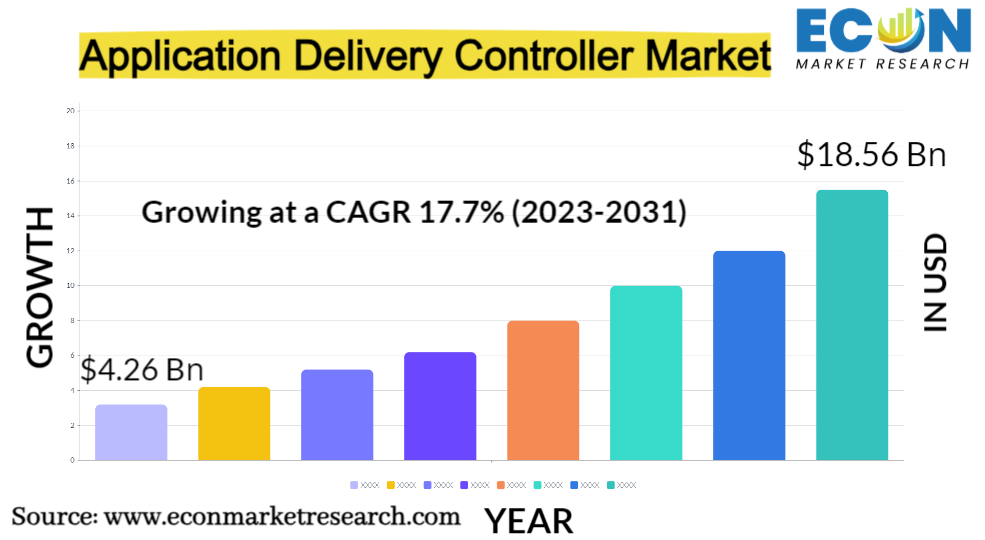 APPLICATION DELIVERY CONTROLLER MARKET: REPORT SCOPE & SEGMENTATION
| | |
| --- | --- |
| Report Attribute | Details |
| Estimated Market Value (2022) | 4.26 Bn |
| Projected Market Value (2031) | 18.56 Bn |
| Base Year | 2022 |
| Forecast Years | 2023 - 2031 |
| Scope of the Report | Historical and Forecast Trends, Industry Drivers and Constraints, Historical and Forecast Market Analysis by Segment- By Deployment, By Enterprise Size, By End-Use, & Region |
| Segments Covered | By Deployment, By Enterprise Size, By End-Use, & Region |
| Forecast Units | Value (USD Billion or Million), and Volume (Units) |
| Quantitative Units | Revenue in USD million/billion and CAGR from 2023 to 2031 |
| Regions Covered | North America, Europe, Asia Pacific, Latin America, and Middle East & Africa, and the Rest of World |
| Countries Covered | U.S., Canada, Mexico, U.K., Germany, France, Italy, Spain, China, India, Japan, South Korea, Brazil, Argentina, GCC Countries, and South Africa, among others |
| Report Coverage | Market growth drivers, restraints, opportunities, Porter's five forces analysis, PEST analysis, value chain analysis, regulatory landscape, market attractiveness analysis by segments and region, company market share analysis, and COVID-19 impact analysis. |
| Delivery Format | Delivered as an attached PDF and Excel through email, according to the purchase option. |
Global Application Delivery Controller Market Dynamics
Market dynamics for Application Delivery Controllers (ADCs) are dynamic and ever-changing, influenced by a number of factors. The demand for ADC solutions has been spurred by the constant growth of web-based applications, cloud computing, and mobile services. These controllers have evolved beyond their basic load-balancing functions to serve as crucial parts in the optimization of application delivery, improvement of user experiences, and maintenance of high availability. The increasing emphasis on security is one of the most urgent trends. To defend applications from growing cyber threats, ADCs now incorporate advanced security capabilities like Web Application Firewalls (WAFs) and DDoS protection. The number of sensitive data being processed by online apps is growing, which is another factor driving this security need. Moreover, the market has adapted to the widespread adoption of cloud technologies. ADCs play a pivotal role in ensuring consistent application performance and security across hybrid and multi-cloud environments. They provide seamless traffic management, load balancing, and secure connections in these dynamic settings. The rise of microservices architectures and containerization has prompted ADCs to evolve yet again. These controllers now offer traffic management for the highly dynamic and containerized application components, ensuring that microservices function efficiently and reliably. Furthermore, edge computing's emergence has increased the need for ADCs at the edge to optimize content delivery and application performance in close proximity to end-users, reducing latency and enhancing user experiences. Additionally, the incorporation of artificial intelligence (AI) and automation in ADCs allows for real-time adaptability to changing network conditions, ensuring optimal application performance and operational efficiency. Amidst competitive pressures and regulatory compliance requirements, the ADC market remains highly dynamic, with both traditional and emerging players continuously innovating to address the evolving needs of businesses in an increasingly digital world.
Global Application Delivery Controller Market Drivers
Increasing Demand for Application Performance Optimization
Application Performance Optimisation (APO) is in increasing demand as a result of a number of reasons that are transforming the modern digital landscape. Businesses from a variety of sectors are becoming more and more dependent on digital services and applications to run their businesses and engage with customers. Therefore, ensuring these apps run as efficiently as possible has become crucial. APO is necessary to satisfy these needs and avoid customer discontent and attrition since users have elevated their expectations as a result of being conditioned by the speed and responsiveness of contemporary digital platforms. The necessity of APO has been further highlighted by the multinational nature of firms and the increased use of remote labor. No matter where they are physically located, remote workers and user populations need seamless access to vital apps. Additionally, the proliferation of mobile devices and IoT technologies necessitates APO to ensure these resource-constrained endpoints can effectively interact with applications. Cloud computing's ascendancy has introduced complexities in application delivery, with organizations relying on APO to optimize traffic between on-premises and cloud resources, ensuring consistent, efficient, and secure connectivity. As businesses vie for a competitive edge, they recognize that superior application performance can be a differentiator in user acquisition, retention, and market share.
Rising Internet Traffic and Data Consumption
Numerous interrelated elements that have a significant impact on how we communicate, work, and obtain information in the modern digital era are the growing forces behind the increase in internet traffic and data consumption. The number of users and the amount of data produced and consumed have both greatly increased as a result of the spread of connected devices, such as smartphones, tablets, and IoT devices. The ability to connect and stream data-intensive content on these devices has made data consumption even more rapid with the introduction of 5G technology. Internet usage has reached record highs as a result of the pandemic-driven movement towards remote labor, online education, and telemedicine. Data traffic has exponentially increased as a result of people's increased reliance on video conferencing, streaming services, and cloud-based apps. Additionally, the proliferation of digital content, such as high-definition and 4K video streaming, virtual reality experiences, and online gaming, has contributed significantly to the rise in internet traffic. These content-rich applications demand robust and high-speed data connections, further fueling data consumption.
Restraints:
High Initial Investment and Ongoing Maintenance Costs
For enterprises and organizations considering the adoption of various technologies and solutions, the high initial investment and continuing maintenance expenses pose a substantial barrier. This financial burden can do a number of things to stifle innovation and reduce operational effectiveness. The initial investment needed to install new technologies or systems might be significant. The upfront expenses can put a burden on budgets and financial resources, regardless of whether the IT infrastructure is upgraded to one that is more efficient, cutting-edge software solutions are adopted, or cutting-edge equipment is used. For startups and smaller companies with little financial resources, this can be especially difficult. Ongoing maintenance and operational costs can quickly add up. Beyond the initial investment, organizations must allocate resources for software updates, hardware maintenance, licensing fees, and technical support. Failure to do so can lead to system vulnerabilities, reduced efficiency, and increased downtime, all of which can negatively impact productivity and profitability.
When integrating new technologies or software solutions, the complexity of deployment poses a substantial barrier for organizations. This difficulty results from a number of interrelated variables that may make it more difficult to implement and spread these technologies. Even experienced IT professionals can be overcome by the sheer complexity of modern technology and software solutions. It may not be easy for an organization to find the specialized expertise and skills needed to implement complicated systems. Deployment delays, mistakes, and inefficiencies may result from this complexity. Integrating new technologies with current infrastructure and applications may lead to compatibility problems. The most recent developments may not interact with legacy systems without difficulty, demanding substantial adaptation, middleware, or even system replacement. These compatibility issues may result in longer deployment times and higher expenses.
Opportunities:
Cloud Adoption and Migration
Organizations in a variety of industries can alter themselves through the adoption and migration to the cloud. This digital transformation has the potential to lead to greater productivity, flexibility, and creativity. First off, adopting cloud computing enables companies to drastically cut capital expenditures on conventional on-premises equipment. By switching to an operational expenditure model, it is now possible to allocate resources more effectively, reduce costs, and have more financial flexibility. Adoption of the cloud also promotes market expansion and worldwide reach. Organizations can easily access international audiences thanks to data centers that are strategically positioned around the world, opening up new markets and generating new sources of income. Geographically separated teams may now work together more effectively thanks to improved collaboration and remote work capabilities. This is particularly important in the modern era of remote work settings.
For businesses and industries looking to capitalize on the advantages of quicker data processing, lower latency, and more efficiency, the rise of edge computing represents a transformative opportunity. Contrary to typical cloud computing, which centralizes data processing in far-off data centers, edge computing moves computation and data storage closer to the data source, frequently at the network's edge or inside the device itself. Several exciting opportunities are presented by this change. A real-time application like augmented reality, driverless vehicles, or industrial automation is more practical and responsive because to edge computing's considerable reduction in data latency. From healthcare to manufacturing, this might revolutionize a number of industries. Edge computing empowers organizations to process and analyze data locally, reducing the need for extensive data transfers to remote data centers. This not only conserves bandwidth but also enhances data privacy and security, a critical concern in today's digital landscape.
Segment Overview
By Deployment
Based on deployment, the global application delivery controller market is divided into hardware-based and virtual. The virtual category dominates the market with the largest revenue share. Virtual ADCs are software-defined solutions that run on virtualized or cloud-based infrastructure. They offer unparalleled flexibility, as they can be deployed on commodity hardware or within virtualized environments. Virtual ADCs are well-suited for modern, cloud-native applications and dynamic workloads, allowing organizations to scale resources as needed. They typically have more cost-effective licensing models and are easier to manage through software interfaces. However, they may not match the performance capabilities of their hardware counterparts in extremely high-demand situations. Hardware-based ADCs are dedicated physical appliances engineered to efficiently manage and optimize application traffic. These devices excel in high-performance scenarios and are renowned for their robustness and scalability. They are often preferred in data center environments where performance and reliability are paramount. However, they come with higher upfront costs, occupy physical rack space, and can be less flexible when it comes to rapid scalability.
By Enterprise Size
Based on the enterprise size, the global application delivery controller market is categorized into small & medium enterprises and large enterprises. The small & medium enterprise category leads the global application delivery controller market with the largest revenue share. SMEs represent a significant portion of the market and encompass a diverse range of businesses. These are typically companies with relatively smaller employee counts, annual revenues, and resources compared to large enterprises. SMEs can include startups, family-owned businesses, local enterprises, and mid-sized firms. They are often characterized by their agility, ability to adapt quickly, and a more straightforward decision-making process. Due to their size and resource constraints, SMEs may prioritize cost-effective solutions, scalability, and technologies that enhance efficiency and competitiveness. Large enterprises are typically corporations with substantial resources, extensive employee bases, and significant market presence. These organizations often operate on a global scale and have more complex and diversified operations. Large enterprises tend to have larger budgets for technology investments and can afford more comprehensive and tailored solutions. They often require solutions that can handle massive data volumes, intricate workflows, and complex integrations.
By End-Use
Based on end-use, the global application delivery controller market is segmented into IT & telecom, BFSI, government, healthcare, retail. The BFSI segment dominates the application delivery controller market. The Banking, Financial Services, and Insurance (BFSI) industry handles sensitive financial data and transactions, requiring robust security, compliance, and risk management solutions. This sector relies heavily on technologies like data analytics, fintech applications, blockchain, and cloud computing to streamline operations, improve customer experiences, and ensure data integrity. The IT & Telecom sector comprises companies involved in technology development, telecommunications, and digital services. This industry often demands cutting-edge solutions to enhance connectivity, network infrastructure, cybersecurity, and software development. IT & Telecom companies seek innovation, scalability, and reliability to meet the ever-evolving demands of a digitally connected world. Government organizations at various levels—local, regional, and national—rely on technology solutions to enhance public services, cybersecurity, data management, and citizen engagement. Government IT needs often include e-governance, data privacy, infrastructure development, and public safety technologies. The healthcare industry seeks technology solutions to enhance patient care, streamline operations, and improve medical research. Electronic Health Records (EHRs), telemedicine, health data analytics, and medical imaging technologies play a crucial role in healthcare's digital transformation. The retail sector leverages technology to enhance the customer experience, optimize supply chains, and implement e-commerce solutions. Retailers require point-of-sale systems, inventory management, e-commerce platforms, and data-driven insights to stay competitive in a rapidly changing market.
Global Application Delivery Controller Market Overview by Region
The global application delivery controller market is categorized into North America, Europe, Asia-Pacific, and the Rest of the World. Asia Pacific emerged as the leading region, capturing the largest market share in 2022. Due to the influence of nations like China, India, Japan, South Korea, and Southeast Asian countries, the Asia Pacific area has some of the fastest-growing economies in the world. This economic vitality encourages entrepreneurship, attracts investment, and builds a growing middle class with greater purchasing power.The Asia Pacific region has developed into a centre for digital transformation and technical innovation. China, for instance, is a pioneer in artificial intelligence, 5G technology, and e-commerce. Singapore and Bangalore, two Silicon Valley rivals, are promoting strong IT ecosystems.Numerous Asia-Pacific nations are renowned for their manufacturing capacities and for providing efficient production methods. The region is now prominent in global supply chains as a result of this.Governments in the Asia Pacific region are making significant investments in smart cities, transit networks, and infrastructure, which is fostering an environment for entrepreneurship and innovation.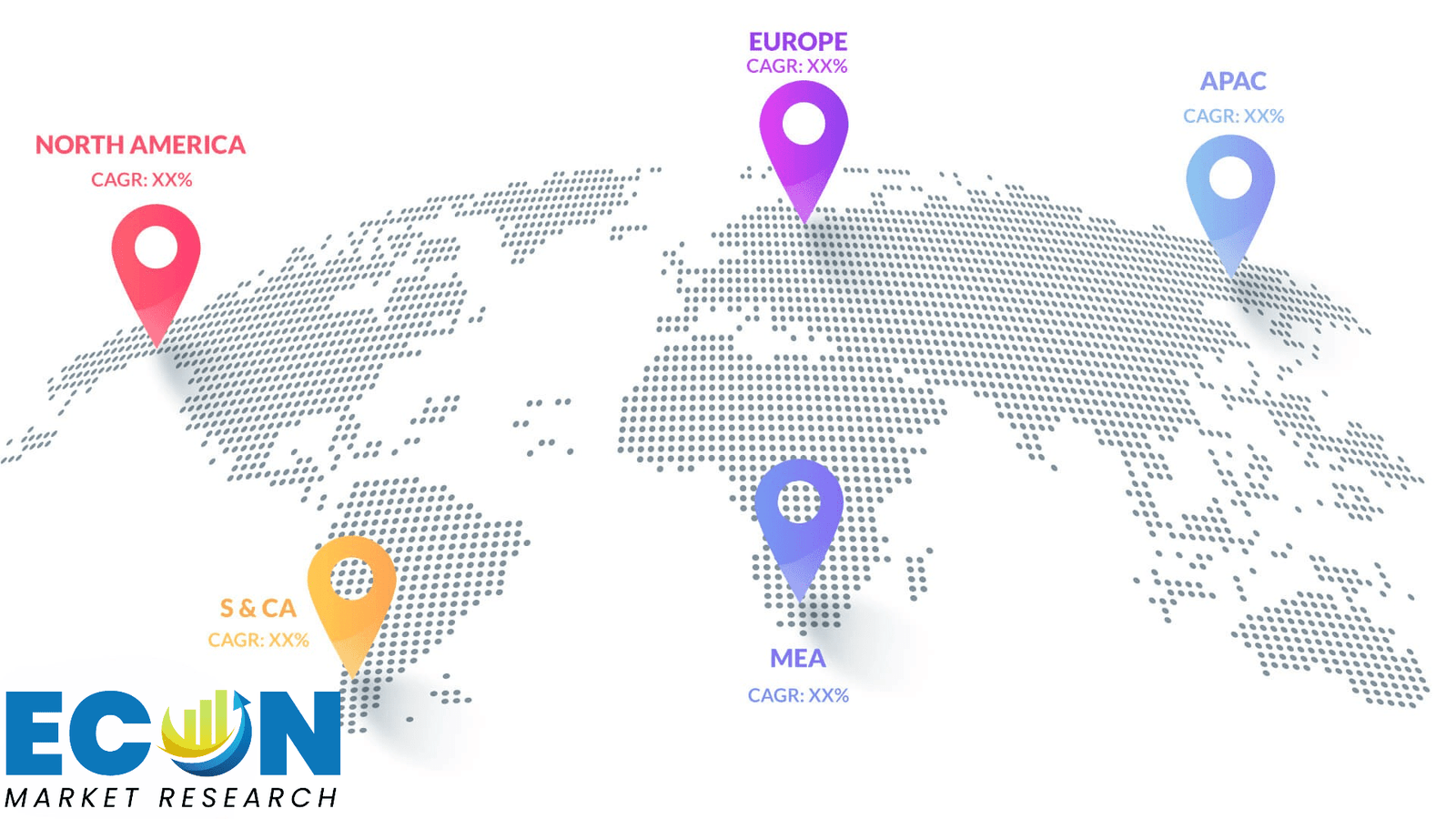 Global Application Delivery Controller Market Competitive Landscape
In the global application delivery controller market, a few major players exert significant market dominance and have established a strong regional presence. These leading companies remain committed to continuous research and development endeavors and actively engage in strategic growth initiatives, including product development, launches, joint ventures, and partnerships. By pursuing these strategies, these companies aim to strengthen their market position, expand their customer base, and capture a substantial share of the market.
Some of the prominent players in the global application delivery controller market include, F5 Networks; Inc.; A10 Networks; Inc.; Array Networks; Inc.; Citrix Systems; Brocade Communications Systems; Inc.; Dell Inc.; Fortinet Inc.; Barracuda Networks Inc.; KEMP Technologies Inc. and various other key players.
Global Application Delivery Controller Market Recent Developments
In March 2023, Secure Multi-Cloud Networking Solutions from F5 Operation Simplification for Distributed Application Deployments. Apps and APIs in cloud, hybrid, and edge settings are securely connected via F5 Distributed Cloud Services.
In April 2023, A10 Networks strengthens cloud defence by integrating the first application delivery solution with Fastly's next-generation WAF. Hybrid cloud environments benefit from increased security and resilience because to combined application delivery and next-generation WAF.
Scope of the Global Application Delivery Controller Market Report
Application Delivery Controller Market Report Segmentation
ATTRIBUTE

DETAILS

By Deployment

By Enterprise Size

Small & Medium Enterprise

Large Enterprise

By End-Use

IT & Telecom

BFSI

Government

Healthcare

Retail

By Geography

North America (USA,

and Canada)

Europe (UK, Germany, France, Italy, Spain, Russia and Rest of Europe)

Asia Pacific (Japan, China, India, Australia, Southeast Asia and Rest of Asia Pacific)

Latin America (Brazil, Mexico, and Rest of Latin America)

Middle East & Africa (South Africa, GCC, and Rest of Middle East & Africa)

Customization Scope

Pricing
Objectives of the Study
The objectives of the study are summarized in 5 stages. They are as mentioned below:
Global Application Delivery Controller Market

Size and Forecast:
To identify and estimate the market size for the global application delivery control market segmented by deployment, by enterprise size, by end-use, region and by value (in U.S. dollars). Also, to understand the consumption/ demand created by consumers of application delivery controller between 2019 and 2031.
Market Landscape and Trends:
To identify and infer the drivers, restraints, opportunities, and challenges for the global application delivery controller market
Market Influencing Factors:
To find out the factors which are affecting the sales of application delivery controller among consumers
To identify and understand the various factors involved in the global application delivery controller market affected by the pandemic
To provide a detailed insight into the major companies operating in the market. The profiling will include the financial health of the company's past 2-3 years with segmental and regional revenue breakup, product offering, recent developments, SWOT analysis, and key strategies.
Intended Audience
Educational Materials

Healthcare and Medical Information

Retailers, Wholesalers, and Distributors

Entertainment Industry

Governments, Associations, and Industrial Bodies

Investors and Trade Experts
Research Methodology
Our research methodology has always been the key differentiating reason which sets us apart in comparison from the competing organizations in the industry. Our organization believes in consistency along with quality and establishing a new level with every new report we generate; our methods are acclaimed and the data/information inside the report is coveted. Our research methodology involves a combination of primary and secondary research methods. Data procurement is one of the most extensive stages in our research process. Our organization helps in assisting the clients to find the opportunities by examining the market across the globe coupled with providing economic statistics for each and every region. The reports generated and published are based on primary & secondary research. In secondary research, we gather data for global Market through white papers, case studies, blogs, reference customers, news, articles, press releases, white papers, and research studies. We also have our paid data applications which includes hoovers, Bloomberg business week, Avention, and others.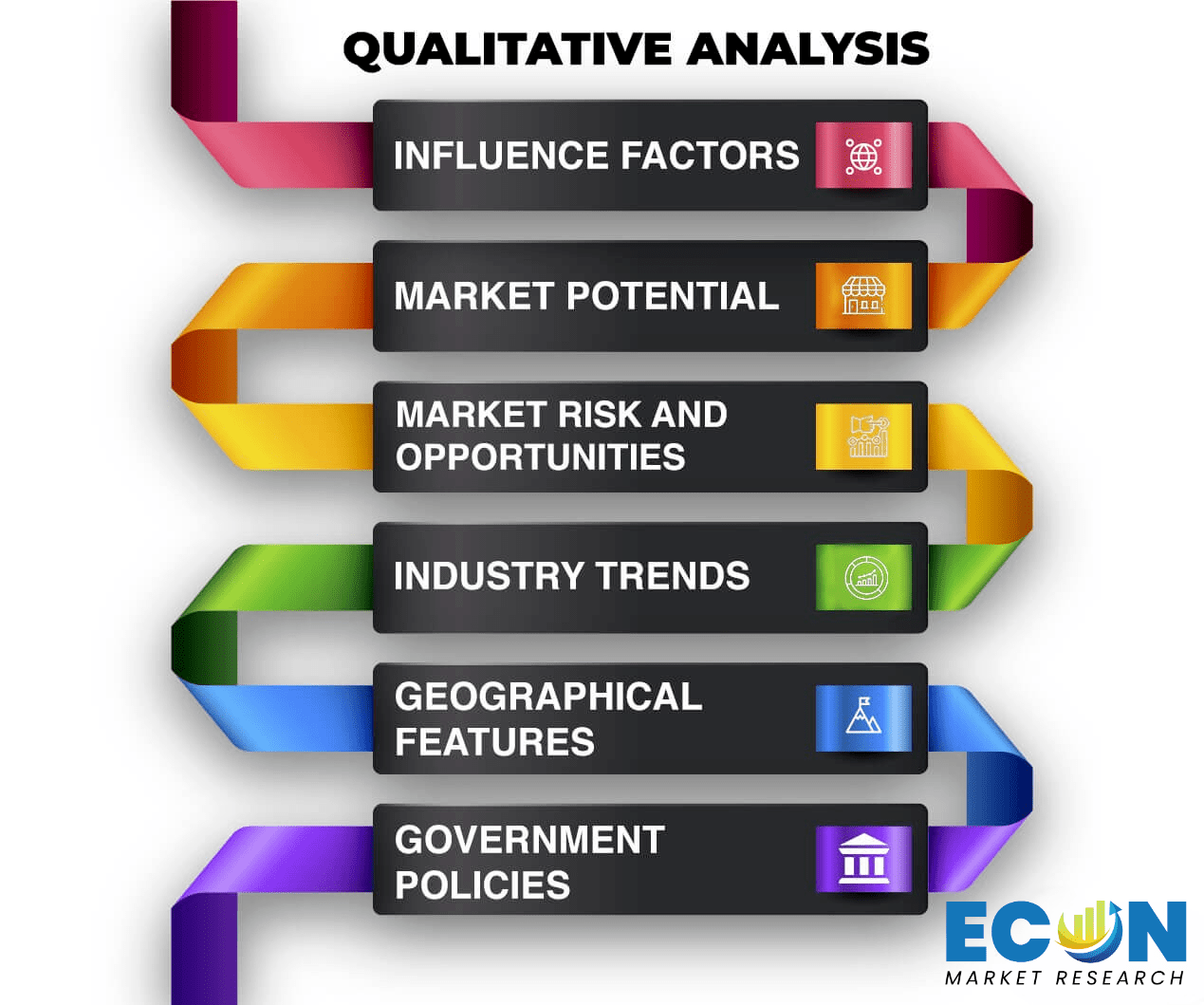 Data Collection
Data collection is the process of gathering, measuring, and analyzing accurate and relevant data from a variety of sources to analyze market and forecast trends. Raw market data is obtained on a broad front. Data is continuously extracted and filtered to ensure only validated and authenticated sources are considered. Data is mined from a varied host of sources including secondary and primary sources.

Primary Research
After the secondary research process, we initiate the primary research phase in which we interact with companies operating within the market space. We interact with related industries to understand the factors that can drive or hamper a market. Exhaustive primary interviews are conducted. Various sources from both the supply and demand sides are interviewed to obtain qualitative and quantitative information for a report which includes suppliers, product providers, domain experts, CEOs, vice presidents, marketing & sales directors, Type & innovation directors, and related key executives from various key companies to ensure a holistic and unbiased picture of the market. 
Secondary Research
A secondary research process is conducted to identify and collect information useful for the extensive, technical, market-oriented, and comprehensive study of the market. Secondary sources include published market studies, competitive information, white papers, analyst reports, government agencies, industry and trade associations, media sources, chambers of commerce, newsletters, trade publications, magazines, Bloomberg BusinessWeek, Factiva, D&B, annual reports, company house documents, investor presentations, articles, journals, blogs, and SEC filings of companies, newspapers, and so on. We have assigned weights to these parameters and quantified their market impacts using the weighted average analysis to derive the expected market growth rate.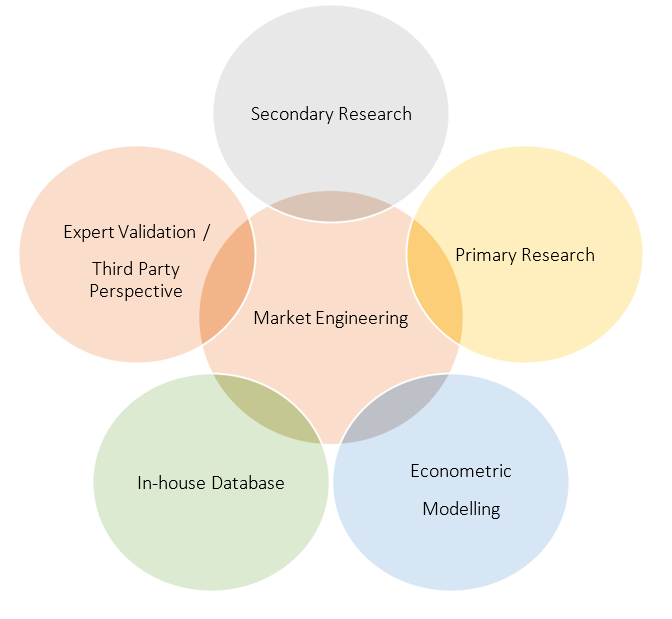 Top-Down Approach & Bottom-Up Approach
In the top – down approach, the Global Batteries for Solar Energy Storage Market was further divided into various segments on the basis of the percentage share of each segment. This approach helped in arriving at the market size of each segment globally. The segments market size was further broken down in the regional market size of each segment and sub-segments. The sub-segments were further broken down to country level market. The market size arrived using this approach was then crosschecked with the market size arrived by using bottom-up approach.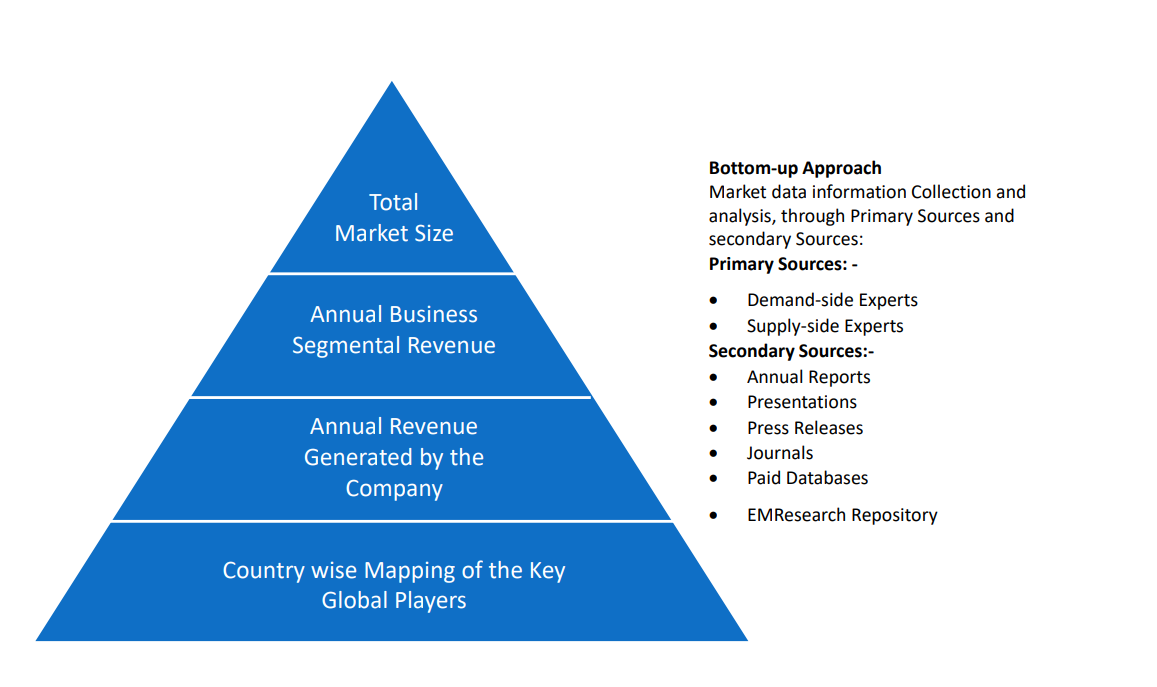 In the bottom-up approach, we arrived at the country market size by identifying the revenues and market shares of the key market players. The country market sizes then were added up to arrive at regional market size of the decorated apparel, which eventually added up to arrive at global market size.
This is one of the most reliable methods as the information is directly obtained from the key players in the market and is based on the primary interviews from the key opinion leaders associated with the firms considered in the research. Furthermore, the data obtained from the company sources and the primary respondents was validated through secondary sources including government publications and Bloomberg.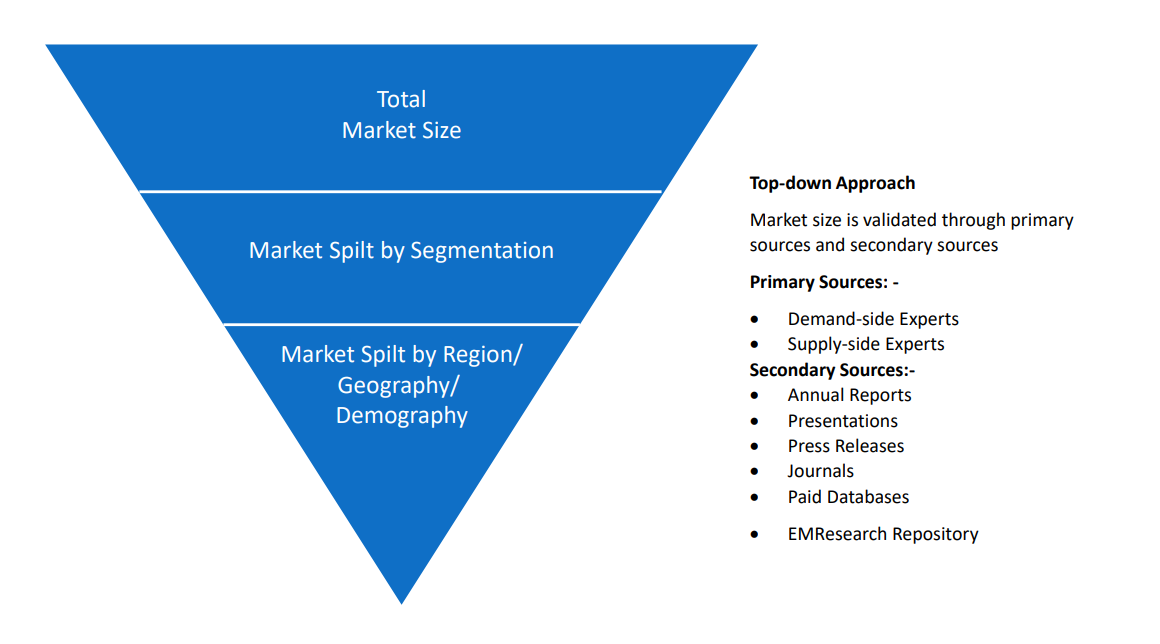 Market Analysis & size Estimation
Post the data mining stage, we gather our findings and analyze them, filtering out relevant insights. These are evaluated across research teams and industry experts. All this data is collected and evaluated by our analysts. The key players in the industry or markets are identified through extensive primary and secondary research. All percentage share splits, and breakdowns have been determined using secondary sources and verified through primary sources. The market size, in terms of value and volume, is determined through primary and secondary research processes, and forecasting models including the time series model, econometric model, judgmental forecasting model, the Delphi method, among Flywheel Energy Storage. Gathered information for market analysis, competitive landscape, growth trends, product development, and pricing trends is fed into the model and analyzed simultaneously.
Quality Checking & Final Review
The analysis done by the research team is further reviewed to check for the accuracy of the data provided to ensure the clients' requirements. This approach provides essential checks and balances which facilitate the production of quality data. This Type of revision was done in two phases for the authenticity of the data and negligible errors in the report. After quality checking, the report is reviewed to look after the presentation, Type and to recheck if all the requirements of the clients were addressed.