The Global Animal Genetics Market was valued at USD 6.35 billion in 2022 and is estimated to reach approximately USD 12.50 billion by 2031, at a CAGR of 7.8% from 2023 to 2031. The study and use of genetic data in animals for diverse purposes is covered by the animal genetics market, which has emerged as a crucial subsegment within the larger biotechnology and agriculture industries. Due to its potential to improve animal health, productivity, and overall performance, this market has grown significantly since its launch. Researchers and stakeholders are working to create qualities that are in line with consumer preferences, industry needs, and environmental sustainability by examining and modifying the genetic makeup of livestock, pets, and other animals. Improving breeding practices, disease resistance, reproduction effectiveness, and product quality are among the market's top priorities. The industry has made great progress in locating and disseminating desired features through selective breeding, sophisticated genetic testing, and genome sequencing tools. Additionally, the area has been revolutionized by molecular methods like gene editing and marker-assisted selection, which allow for exact changes to animal genomes. The agricultural, aquaculture, companion animal breeding, and conservation industries are just a few of the many industries that the animal genetics market serves. The market for genetically enhanced animals is expected to increase as long as the world's population continues to grow and pet ownership and protein consumption are both on the rise. However, the trajectory of the market is also influenced by ethical issues, legal frameworks, and public opinion surrounding genetically modified organisms. The Animal Genetics Market plays a crucial role in shaping modern animal husbandry, offering innovative solutions to meet evolving consumer needs, sustainability goals, and industry requirements.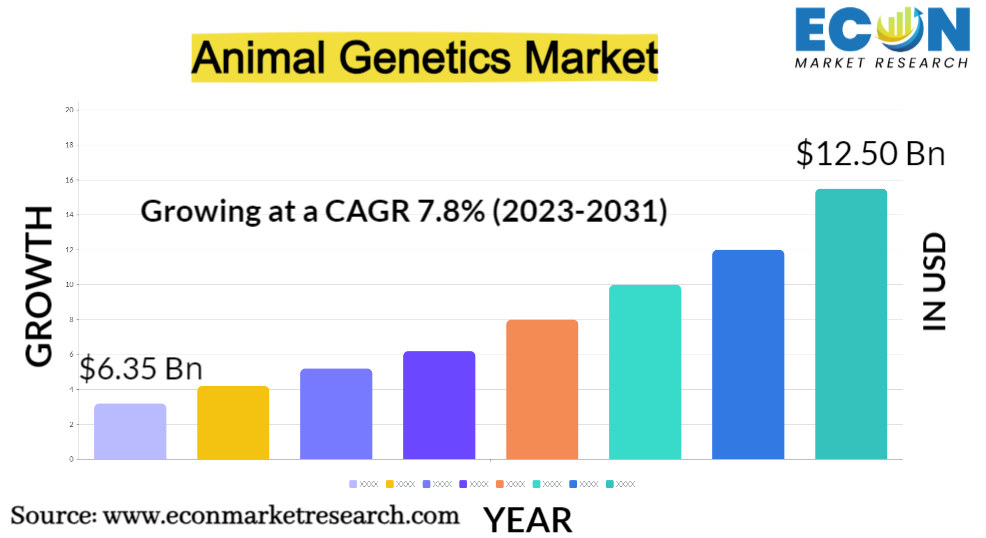 ANIMAL GENETICS MARKET: REPORT SCOPE & SEGMENTATION
| | |
| --- | --- |
| Report Attribute | Details |
| Estimated Market Value (2022) | 6.35 Bn |
| Projected Market Value (2031) | 12.50 Bn |
| Base Year | 2022 |
| Forecast Years | 2023 - 2031 |
| Scope of the Report | Historical and Forecast Trends, Industry Drivers and Constraints, Historical and Forecast Market Analysis by Segment- By Live Animals, By Genetic Material, By Services, & Region |
| Segments Covered | By Live Animals, By Genetic Material, By Services, & Region |
| Forecast Units | Value (USD Billion or Million), and Volume (Units) |
| Quantitative Units | Revenue in USD million/billion and CAGR from 2023 to 2031 |
| Regions Covered | North America, Europe, Asia Pacific, Latin America, and Middle East & Africa, and the Rest of World |
| Countries Covered | U.S., Canada, Mexico, U.K., Germany, France, Italy, Spain, China, India, Japan, South Korea, Brazil, Argentina, GCC Countries, and South Africa, among others |
| Report Coverage | Market growth drivers, restraints, opportunities, Porter's five forces analysis, PEST analysis, value chain analysis, regulatory landscape, market attractiveness analysis by segments and region, company market share analysis, and COVID-19 impact analysis. |
| Delivery Format | Delivered as an attached PDF and Excel through email, according to the purchase option. |
Global Animal Genetics Market Dynamics
The market for animal genetics is characterized by a variety of dynamic and varied variables that influence its development and expansion. The development of the market has been accelerated by technological developments that have made precise genetic alterations possible, such as genome sequencing and gene editing tools. To meet the demands of an expanding global population, these technologies have raised disease resistance, increased animal output, and improved product quality. Market dynamics have also been influenced by consumer demands for animal products that are produced ethically and sustainably. Growing consumer demand for livestock and pets with greater well-being and smaller environmental footprints is driving the industry to create creatures that can survive in particular environments with the least amount of resource use. The market's trajectory is significantly influenced by legal and moral frameworks. As worries over genetically modified organisms and their possible effects on ecosystems and human health continue to influence research paths and public perceptions, it is imperative to strike a balance between innovation and bioethics. The market for animal genetics is highly impacted by international commerce and economic issues. Harmonization between various regions is necessary because the cross-border movement of animals demands conformity to genetic standards and health laws. Collaborations between academic institutions, research facilities, and business stakeholders also promote innovation and knowledge sharing, advancing the market. To remain at the forefront of genetic technology, it is essential to invest in research and development.
Global Animal Genetics Market Drivers
Increased Demand for Quality Animal Products
As the global population continues to grow and dietary preferences shift towards healthier and protein-rich options, there is a heightened emphasis on producing high-quality livestock products. Consumers are increasingly aware of the nutritional benefits associated with consuming products like meat, milk, and eggs that are rich in essential nutrients. This awareness has led to a higher demand for animal products that meet stringent quality standards, including better taste, improved texture, and enhanced nutritional profiles. Farmers and producers are investing in advanced genetics to ensure their livestock are capable of consistently delivering these premium products. This trend also aligns with broader consumer trends towards sustainable and ethical practices in agriculture, as high-quality products are often associated with healthier and better-treated animals. Overall, the increased demand for quality animal products is a driving force behind the ongoing advancements and innovations in the animal genetics market.
Genetic Advancements Enhancing Productivity
Genetic advancements enable the identification and selection of animals with desirable traits such as faster growth rates, improved feed conversion efficiency, and enhanced reproductive capabilities. By targeting these traits, farmers can achieve higher yields and more efficient production processes, meeting the demands of a growing global population. Biotechnology plays a pivotal role in this driver. Techniques like marker-assisted selection and genomic selection allow breeders to identify specific genetic markers associated with desired traits. Additionally, technologies like artificial insemination and embryo transfer facilitate the propagation of superior genetics across a larger population, exponentially increasing their impact.
Restraints:
Ethical and Regulatory Concerns
Genetic modification and engineering of animals raise concerns about cruelty, potential suffering, and interference with natural processes. These ethical dilemmas can trigger public opposition and skepticism, impacting consumer attitudes and purchasing decisions. Moreover, regulatory bodies often impose strict guidelines to ensure that genetic modifications adhere to ethical standards and that any potential risks are carefully evaluated. Stringent regulatory frameworks are put in place to address these concerns, but they can also slow down the approval process for new genetic technologies. Public opinions, informed by ethical considerations, can influence policy decisions and hinder the adoption of certain genetic modifications or engineering techniques.
High Initial Costs and Investment
Creating and refining new genetic lines, conducting research, and establishing the necessary infrastructure require significant upfront investments. The costs encompass specialized equipment, laboratory facilities, skilled personnel, and ongoing research efforts. These financial requirements can be daunting for individuals or enterprises with limited capital. The high initial costs can hinder the widespread adoption of advanced genetics, creating a divide between larger operations with more resources and smaller ones with less capacity to invest. This divide can lead to unequal access to genetic innovations, limiting the potential benefits for the entire industry.
Opportunities:
Precision Breeding and Data-Driven Innovation
Precision breeding involves using comprehensive genetic and phenotypic data to make informed breeding decisions. By analyzing vast datasets, including genomic information, health records, and performance metrics, breeders can identify animals with the most desirable traits for specific objectives. This approach enhances the accuracy of trait selection, resulting in animals that exhibit improved productivity, disease resistance, and overall performance. Data-driven innovation further enhances precision breeding by enabling rapid and efficient trait identification. Machine learning algorithms can identify complex genetic patterns associated with traits that might otherwise be challenging to detect. This accelerates breeding cycles and reduces the time required to develop new genetic lines.
Genetic Diversity Preservation and Conservation
Genetic technologies offer the potential to contribute significantly to the conservation of endangered and rare livestock breeds, as well as the maintenance of genetic diversity within populations. Many traditional livestock breeds, known for their unique traits and adaptability, are at risk of extinction due to shifts towards more commercial and standardized breeds. Genetic technologies, such as cryopreservation of embryos or semen, allow for the storage of genetic material from endangered breeds. This genetic material can be used to revive and reintroduce these breeds in the future, preserving their genetic diversity and contributing to agricultural biodiversity.
Segment Overview
By Live Animals
Based on live animals, the global animal genetics market is divided into porcine, bovine, poultry, and canine. The porcine category dominates the market with the largest revenue share. Porcine genetics focus on breeding pigs with improved disease resistance, optimized meat quality, and enhanced feed efficiency. These advancements not only ensure healthier animals but also contribute to more sustainable pork production practices. In the bovine segment, genetic innovations lead to cattle with higher meat and milk yields, as well as attributes like climate adaptability. By enhancing traits related to productivity and resilience, genetic advancements address the increasing demand for beef and dairy products while considering environmental sustainability. Poultry genetics target the poultry industry, aiming to produce chickens and turkeys with higher meat yields, efficient egg-laying capabilities, and disease resistance. These genetic improvements support the demand for poultry products while minimizing the environmental footprint of production. Canine genetics cater to responsible breeding practices for dogs, focusing on health, longevity, and breed-specific traits. Genetic testing helps identify potential hereditary disorders and promotes the well-being of companion animals, ensuring ethical and responsible breeding.
By Genetic Material
Based on the genetic material, the global animal genetics market is categorized into embryos and semen. The embryos category leads the global animal genetics market with the largest revenue share. Embryo technology involves the transfer of fertilized eggs from one animal (donor) to another (recipient) for gestation and birth. This method allows for the propagation of superior genetics and desirable traits. Embryo transfer is particularly valuable when animals with exceptional genetic qualities are limited in their reproductive capacity. It offers the advantage of rapidly disseminating desirable genetics to multiple animals within a short timeframe. Semen technology involves the collection, processing, and distribution of sperm from genetically superior males to be used for artificial insemination (AI) in females. AI enables breeders to use semen from high-performing sires to improve traits like growth rate, meat quality, and disease resistance in their herds. Semen technology is widely employed in both livestock and companion animal breeding, contributing to the genetic enhancement of various species.
By Services
Based on services, the global animal genetics market is segmented into genetic trait tests, genetic disease tests, and DNA typing. The genetic trait tests segment dominates the animal genetics market. Genetic trait tests focus on identifying and selecting specific desired traits within animals. These traits can encompass a wide range of characteristics such as growth rate, meat quality, milk production, fur color, and temperament. By analyzing an animal's genetic makeup, breeders can make informed decisions about which animals to breed to achieve desired traits in their offspring. Genetic trait tests play a vital role in enhancing the performance, productivity, and quality of livestock and companion animals. Genetic disease tests are designed to identify the presence of specific hereditary diseases or disorders in animals. These tests are crucial for responsible breeding practices as they allow breeders to avoid mating animals that carry or are susceptible to genetic diseases. By identifying carriers or affected animals, breeders can work to reduce the incidence of hereditary diseases within populations, ensuring healthier animals and promoting animal welfare. DNA typing involves the analysis of an animal's DNA to establish its genetic identity or parentage. This segment is particularly important for ensuring accurate pedigree records and maintaining the integrity of breeding programs. DNA typing is commonly used to verify parentage, confirm breed authenticity, and prevent fraudulent practices in animal breeding.
Global Animal Genetics Market Overview by Region
The global animal genetics market is categorized into North America, Europe, Asia-Pacific, and the Rest of the World. Asia-Pacific emerged as the leading region, capturing the largest market share in 2022. In recent developments, the Asia-Pacific region has emerged as the leading geographical area within the animal genetics market. Asia-Pacific's expanding population and increasing disposable income have led to a surge in demand for animal-derived products such as meat, dairy, and eggs. This demand has prompted a greater focus on genetic improvements in livestock to meet the requirements of a growing consumer base. Changing dietary habits in Asia-Pacific, characterized by a transition towards protein-rich diets, have necessitated the development of livestock genetics that optimize meat and dairy production. This shift has accelerated the adoption of advanced genetic technologies. Economic growth in countries within the Asia-Pacific region has resulted in urbanization and a larger middle-class population. This demographic shift drives the demand for higher-quality animal products, stimulating investment in improved genetics. The region has seen significant advancements in genetic research and biotechnology, leading to the development of innovative genetic solutions tailored to local conditions and demands. Supportive government policies and regulatory changes in some countries have encouraged the adoption of advanced genetics in livestock farming, promoting sustainable agricultural practices.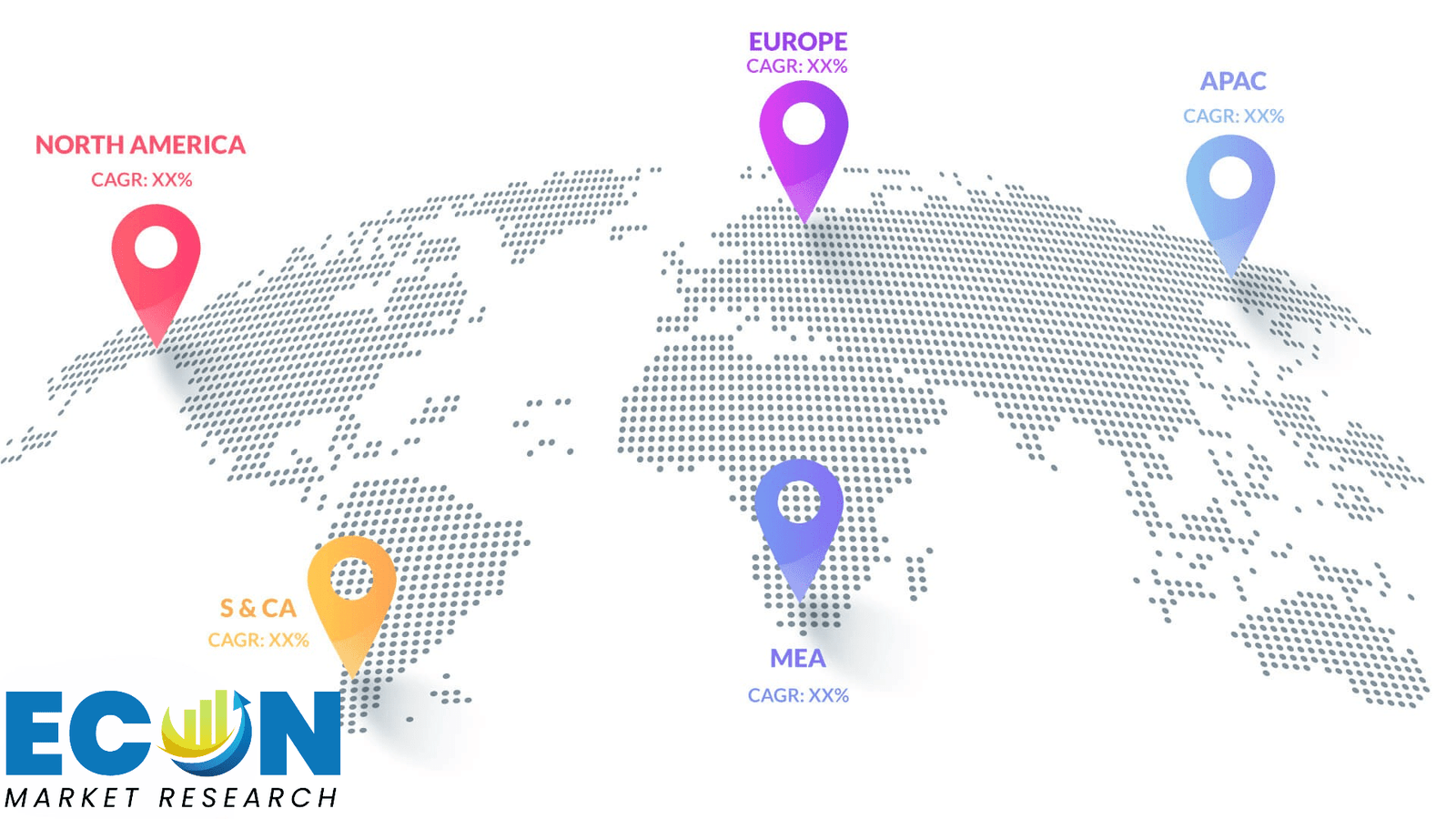 Global Animal Genetics Market Competitive Landscape
In the global animal genetics market, a few major players exert significant market dominance and have established a strong regional presence. These leading companies remain committed to continuous research and development endeavors and actively engage in strategic growth initiatives, including product development, launches, joint ventures, and partnerships. By pursuing these strategies, these companies aim to strengthen their market position, expand their customer base, and capture a substantial share of the market.
Some of the prominent players in the global animal genetics market include, Neogen Corporation, Genus, URUS Group LP., EW Group Ltd, GROUPE GRIMAUD LA CORBIERE, Topigs Norsvin, Zoetis, Envigo Marketing Private Limited, Hendrix Genetics BV, Animal Genetics Inc., VetGen, Tropical Bovine Genetics, Trans Ova Genetics, Inguran LLC dba STgenetics, SEMEX, Cobb-Vantress, Inc., Milk Source, Eurogene AI Services, CRV, EW Nutrition, Trans Ova Genetics., Beacon Automation Pty Ltd, GENEX Cooperative, ABS, ANICAM ENTERPRISES INC., and various other key players.
Global Animal Genetics Market Recent Developments
In May 2022, Launch of Neogen and Gencove The first whole genome and genotyping sequencing tool for cattle breeders is called InfiniSEE. The solution can give genomic insights to help develop cattle breeding programmes around the world by fusing Gencove's low-pass sequencing and analytics software with Neogen's top-notch genomic products and services.
In June 2022, To strengthen its portfolio of precise animal health solutions, Zoetis completes the acquisition of Basepaws, a pioneer in petcare genetics. The genetic information from Basepaws can boost the possibility of early disease detection and treatment by helping pet owners and veterinarians understand each pet's risk for disease and its propensity for it.
Scope of the Global Animal Genetics Market Report
Animal Genetics Market Report Segmentation
ATTRIBUTE

DETAILS

By Live Animals

Porcine

Bovine

Poultry

Canine

By Genetic Material

By Services

Genetic Trait Test

Genetic Diseases Test

DNA Typing

By Geography

North America (USA,

and Canada)

Europe (UK, Germany, France, Italy, Spain, Russia and Rest of Europe)

Asia Pacific (Japan, China, India, Australia, Southeast Asia and Rest of Asia Pacific)

Latin America (Brazil, Mexico, and Rest of Latin America)

Middle East & Africa (South Africa, GCC, and Rest of Middle East & Africa)

Customization Scope

Pricing
Objectives of the Study
The objectives of the study are summarized in 5 stages. They are as mentioned below:
Global Animal Genetics Market

Size and Forecast:
To identify and estimate the market size for the global animal genetics market segmented by live animals, by genetic material, by services, region and by value (in U.S. dollars). Also, to understand the consumption/ demand created by consumers of animal genetics between 2019 and 2031.
Market Landscape and Trends:
To identify and infer the drivers, restraints, opportunities, and challenges for the global animal genetics market
Market Influencing Factors:
To find out the factors that are affecting the sales of animal genetics among consumers
To identify and understand the various factors involved in the global animal genetics market affected by the pandemic
To provide a detailed insight into the major companies operating in the market. The profiling will include the financial health of the company's past 2-3 years with segmental and regional revenue breakup, product offering, recent developments, SWOT analysis, and key strategies.
Intended Audience
Retailers, Wholesalers, and Distributors

Governments, Associations, and Industrial Bodies

Environmental and Sustainability Organizations

Investors and Trade Experts

Farmers and Breeders

Animal Health Professionals

Biotechnology Companies
Research Methodology
Our research methodology has always been the key differentiating reason which sets us apart in comparison from the competing organizations in the industry. Our organization believes in consistency along with quality and establishing a new level with every new report we generate; our methods are acclaimed and the data/information inside the report is coveted. Our research methodology involves a combination of primary and secondary research methods. Data procurement is one of the most extensive stages in our research process. Our organization helps in assisting the clients to find the opportunities by examining the market across the globe coupled with providing economic statistics for each and every region. The reports generated and published are based on primary & secondary research. In secondary research, we gather data for global Market through white papers, case studies, blogs, reference customers, news, articles, press releases, white papers, and research studies. We also have our paid data applications which includes hoovers, Bloomberg business week, Avention, and others.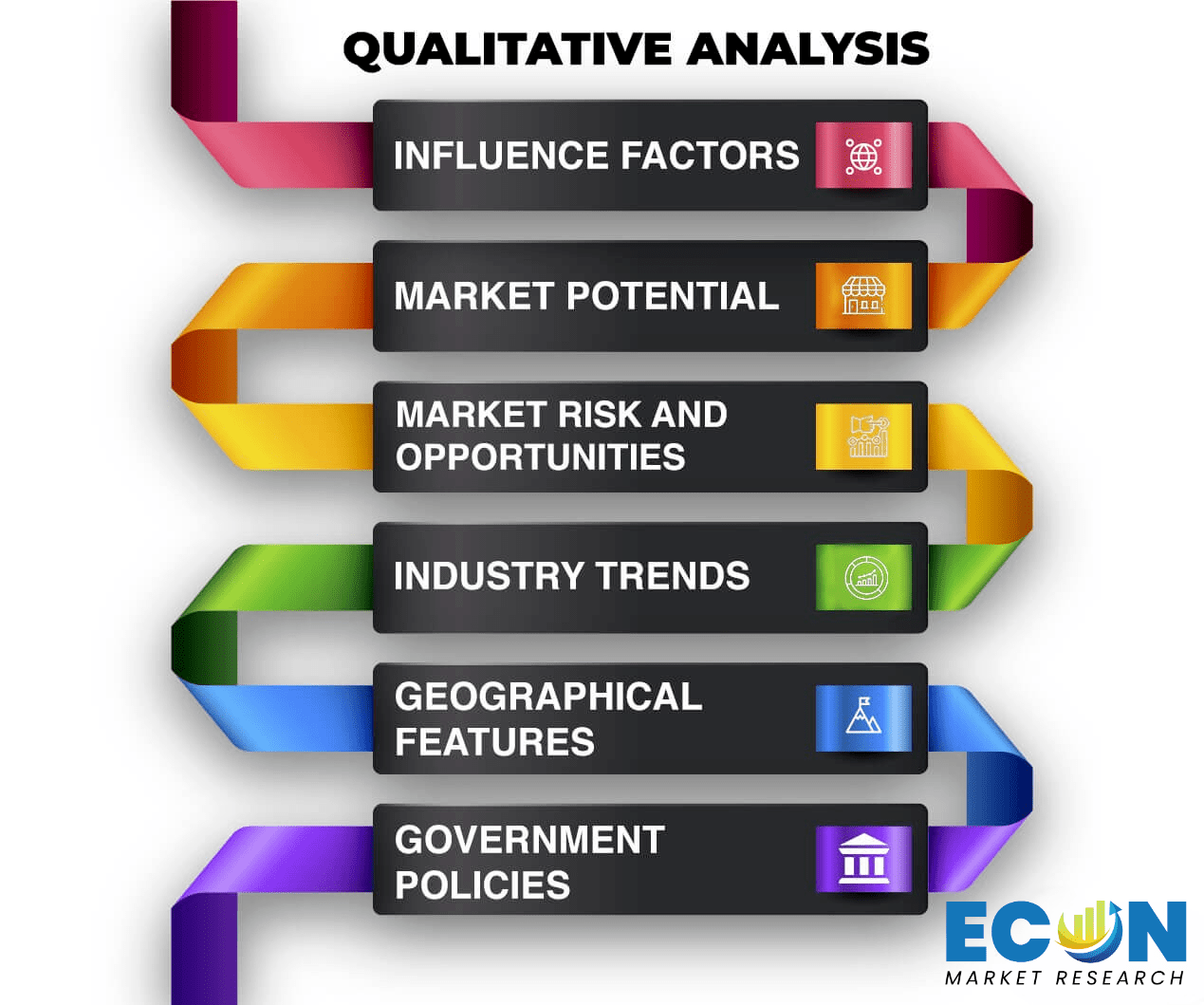 Data Collection
Data collection is the process of gathering, measuring, and analyzing accurate and relevant data from a variety of sources to analyze market and forecast trends. Raw market data is obtained on a broad front. Data is continuously extracted and filtered to ensure only validated and authenticated sources are considered. Data is mined from a varied host of sources including secondary and primary sources.

Primary Research
After the secondary research process, we initiate the primary research phase in which we interact with companies operating within the market space. We interact with related industries to understand the factors that can drive or hamper a market. Exhaustive primary interviews are conducted. Various sources from both the supply and demand sides are interviewed to obtain qualitative and quantitative information for a report which includes suppliers, product providers, domain experts, CEOs, vice presidents, marketing & sales directors, Type & innovation directors, and related key executives from various key companies to ensure a holistic and unbiased picture of the market. 
Secondary Research
A secondary research process is conducted to identify and collect information useful for the extensive, technical, market-oriented, and comprehensive study of the market. Secondary sources include published market studies, competitive information, white papers, analyst reports, government agencies, industry and trade associations, media sources, chambers of commerce, newsletters, trade publications, magazines, Bloomberg BusinessWeek, Factiva, D&B, annual reports, company house documents, investor presentations, articles, journals, blogs, and SEC filings of companies, newspapers, and so on. We have assigned weights to these parameters and quantified their market impacts using the weighted average analysis to derive the expected market growth rate.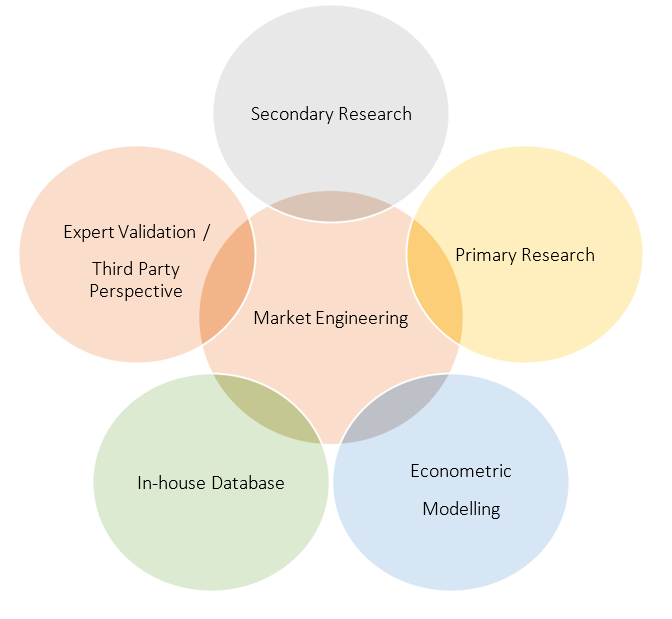 Top-Down Approach & Bottom-Up Approach
In the top – down approach, the Global Batteries for Solar Energy Storage Market was further divided into various segments on the basis of the percentage share of each segment. This approach helped in arriving at the market size of each segment globally. The segments market size was further broken down in the regional market size of each segment and sub-segments. The sub-segments were further broken down to country level market. The market size arrived using this approach was then crosschecked with the market size arrived by using bottom-up approach.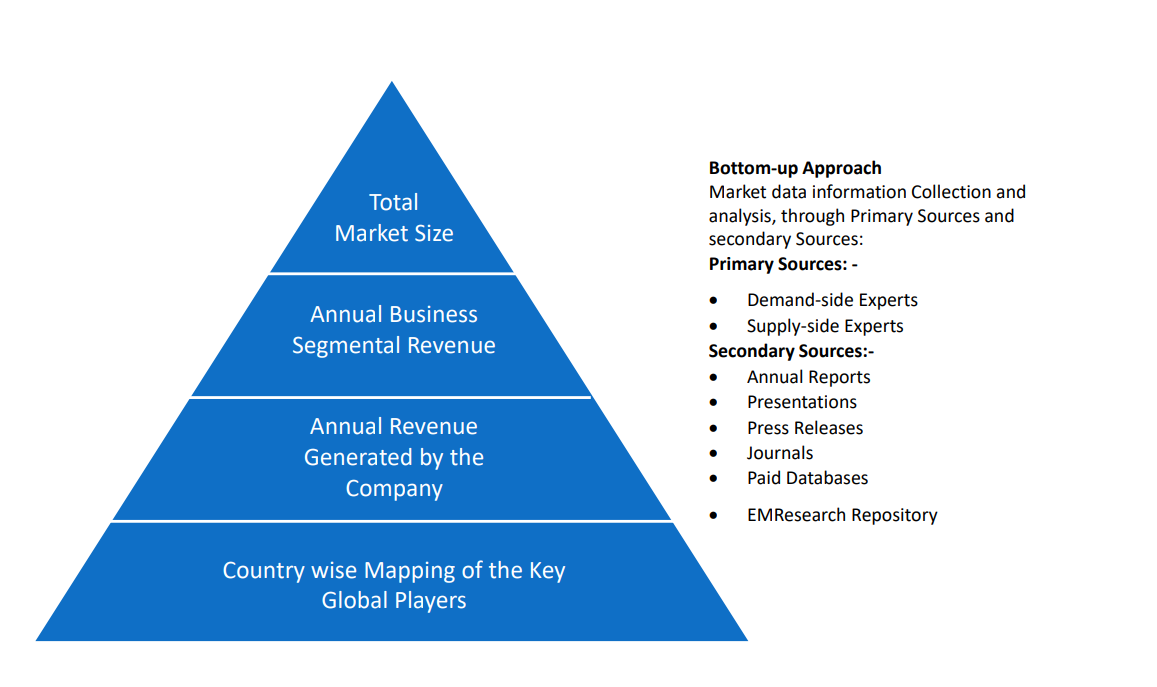 In the bottom-up approach, we arrived at the country market size by identifying the revenues and market shares of the key market players. The country market sizes then were added up to arrive at regional market size of the decorated apparel, which eventually added up to arrive at global market size.
This is one of the most reliable methods as the information is directly obtained from the key players in the market and is based on the primary interviews from the key opinion leaders associated with the firms considered in the research. Furthermore, the data obtained from the company sources and the primary respondents was validated through secondary sources including government publications and Bloomberg.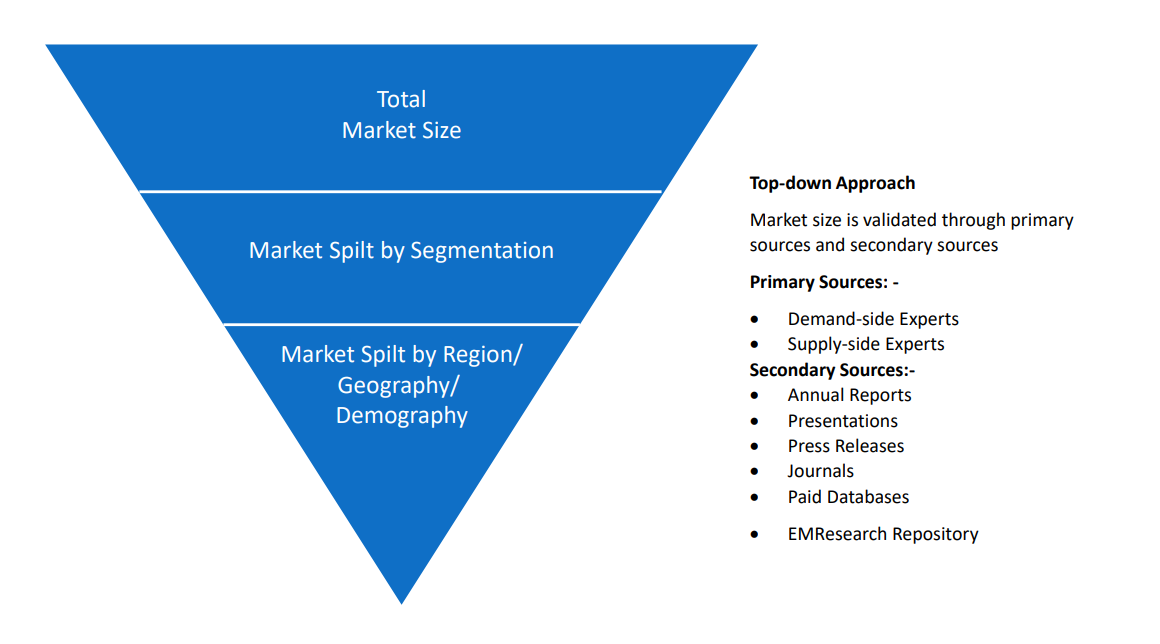 Market Analysis & size Estimation
Post the data mining stage, we gather our findings and analyze them, filtering out relevant insights. These are evaluated across research teams and industry experts. All this data is collected and evaluated by our analysts. The key players in the industry or markets are identified through extensive primary and secondary research. All percentage share splits, and breakdowns have been determined using secondary sources and verified through primary sources. The market size, in terms of value and volume, is determined through primary and secondary research processes, and forecasting models including the time series model, econometric model, judgmental forecasting model, the Delphi method, among Flywheel Energy Storage. Gathered information for market analysis, competitive landscape, growth trends, product development, and pricing trends is fed into the model and analyzed simultaneously.
Quality Checking & Final Review
The analysis done by the research team is further reviewed to check for the accuracy of the data provided to ensure the clients' requirements. This approach provides essential checks and balances which facilitate the production of quality data. This Type of revision was done in two phases for the authenticity of the data and negligible errors in the report. After quality checking, the report is reviewed to look after the presentation, Type and to recheck if all the requirements of the clients were addressed.