The global analytical standards market was valued at USD 1.32 billion in 2022 and is estimated to reach approximately USD 2.48 billion by 2031, at a CAGR of 7.2% from 2023 to 2031.
Since its introduction at the beginning of the 20th century, the market for analytical standards has grown to be an essential part of several sectors, including research, food safety, pharmaceuticals, and environmental monitoring. Reference materials known as analytical standards are used to verify analytical procedures, calibrate equipment, and guarantee the precision and dependability of measurements. These standards are essential for quality assurance and legal compliance since they act as benchmarks for the identification and measurement of substances. Due to the growing need for accurate and reliable analytical data in industries including healthcare, manufacturing, and research, the industry has experienced significant growth over the years. An extensive range of approved standards is now more important than ever because to developments in analytical techniques like mass spectrometry and chromatography. The market is distinguished by a broad range of goods that meet the various needs of laboratories and businesses, including organic and inorganic standards. The analytical standards market is always growing and adapting due to the dynamic nature of scientific research and the strict rules that oversee different industries. This is because analytical standards are essential to guaranteeing the efficacy and safety of products and processes.
ANALYTICAL STANDARDS MARKET: REPORT SCOPE & SEGMENTATION
| | |
| --- | --- |
| Report Attribute | Details |
| Estimated Market Value (2022) | 1.32 Bn |
| Projected Market Value (2031) | 2.48 Bn |
| Base Year | 2022 |
| Forecast Years | 2023 - 2031 |
| Scope of the Report | Historical and Forecast Trends, Industry Drivers and Constraints, Historical and Forecast Market Analysis by Segment- By Category, By Technique, By End Users, & Region |
| Segments Covered | By Category, By Technique, By End Users, & Region |
| Forecast Units | Value (USD Billion or Million), and Volume (Units) |
| Quantitative Units | Revenue in USD million/billion and CAGR from 2023 to 2031 |
| Regions Covered | North America, Europe, Asia Pacific, Latin America, and Middle East & Africa, and the Rest of World |
| Countries Covered | U.S., Canada, Mexico, U.K., Germany, France, Italy, Spain, China, India, Japan, South Korea, Brazil, Argentina, GCC Countries, and South Africa, among others |
| Report Coverage | Market growth drivers, restraints, opportunities, Porter's five forces analysis, PEST analysis, value chain analysis, regulatory landscape, market attractiveness analysis by segments and region, company market share analysis, and COVID-19 impact analysis. |
| Delivery Format | Delivered as an attached PDF and Excel through email, according to the purchase option. |
Global Analytical Standards Market Dynamics
A convergence of forces has produced dynamic trends in the analytical standards market. Technological developments are crucial, as the need for new and varied standards is driven by breakthroughs in analytical tools and methodologies. The market reacts to laboratories' and industries' constant quest for increased measurement precision and accuracy by producing a constant flow of new reference materials. Tight rules are a major development engine in many industries, but especially in the pharmaceutical and environmental monitoring sectors. In order to guarantee the quality and safety of products and to comply with these rules, approved analytical standards must be used, which supports the growth of the industry. International commerce and globalization also have an impact on market dynamics. Global standardization promotes international cooperation and commerce, which increases the use of standardized reference materials.Economic variables are also relevant because changes in industrial production, research funding, and healthcare spending can all have an impact on the market's growth. Moreover, unanticipated occurrences like the COVID-19 pandemic, which brought attention to the significance of analytical standards in diagnostics and vaccine research, can still have an impact on the industry. The market for analytical standards is a multifaceted ecosystem that is influenced by economic factors, global harmonization, regulatory requirements, and technology advancements. These dynamic dynamics continue to affect its progress, as the requirement for precise and trustworthy analytical data is still critical in many different businesses.
Global Analytical Standards Market Drivers
Rapid Growth in the Pharmaceutical Industry
A major motivator is the rising demand for healthcare solutions around the world. Pharmaceutical items are becoming more and more necessary to treat a wide range of medical ailments as populations get older and healthcare awareness rises. Furthermore, the significance of pharmaceutical research and development has been highlighted by the emergence of new healthcare concerns such as the COVID-19 pandemic and the prevalence of chronic diseases. The ongoing innovation in the procedures of medication development and discovery is another important motivator. Pharmaceutical research has been transformed by developments in genetics, biotechnology, and data analytics, allowing the sector to create more individualized and effective therapies. The development of innovative treatment options and drug candidates as a result of this innovation-driven strategy has fueled industry expansion. Furthermore, emerging economies' growing healthcare infrastructure and increased accessibility to healthcare services have given pharmaceutical businesses additional opportunities. The demand for a broad range of pharmaceutical items has increased in these regions due to rising incomes and bettering healthcare systems.
Advancements in Analytical Techniques
These developments are typified by innovations in tools, techniques, and data analysis software, all of which support increased analytical processes' sensitivity, accuracy, and efficiency. The pursuit of accuracy is one important motivator. Because analytical methods have developed over time to offer ever-more-accurate readings, industries and researchers are now able to identify and test compounds at ever-lower quantities. In industries like materials research, healthcare, and environmental monitoring, where even little deviations can have a big impact, this precision is essential. Another motivator is the need for quicker outcomes. Rapid analytical methods have simplified drug development, quality control, and manufacturing processes, saving time and money. Examples of these methods include high-throughput screening and real-time monitoring. In a competitive international business where time-to-market can make all the difference, speed is crucial. Furthermore, the integration of diverse analytical techniques has resulted from the rise of multidisciplinary approaches. Combining techniques like nuclear magnetic resonance, mass spectrometry, and chromatography enables a more thorough understanding of complicated samples, advancing research in areas like proteomics and metabolomics.
Restraints:
Costs are a major contributor to economic inequality since they disproportionately affect those with lower incomes. This has the potential to impede upward mobility and maintain inequalities in access to opportunities and basic services. Access to high-quality education can be hampered by the high cost of education, which includes student loans, textbooks, and tuition. Consequently, there can be fewer employment options and a decrease in social mobility as a result. The enormous expenses associated with healthcare, such as prescription drugs, insurance premiums, and medical procedures, can make it difficult for people to get the essential medical care they need, which could jeopardise their health and general wellbeing. High rent and property prices, among other housing expenditures, make it difficult for many people to find suitable and affordable accommodation, which exacerbates homelessness and instability in housing. High costs can lead to reduced consumer spending and economic stagnation, as individuals and families have less disposable income to stimulate the economy. Environmental Impacts: In some cases, high costs can discourage the adoption of environmentally friendly practices and products, as they can be more expensive than less sustainable alternatives.
Products having short shelf lives are more prone to deterioration and spoiling. Because of this, large amounts of these products are thrown away, which causes waste in the environment and financial losses. Businesses frequently use faster transportation techniques, which can be expensive and environmentally unsustainable, to lessen the effects of low shelf life. In order to avoid overstock or under stock scenarios, managing the supply chain for products with a limited shelf life requires careful inventory control, effective distribution networks, and sophisticated forecasting techniques. When products are delivered close to or over their expiration date, customers canbecome unhappy, which could damage a brand's reputation and undermine consumer confidence. In order to prolong a product's useful life, limited shelf life frequently necessitates ongoing research and development efforts, which can be expensive and technically difficult. Short-lived products can result in more packaging waste and transportation- and production-related carbon emissions.
Opportunities:
Globalization of Food Trade
Globalization gives food producers and exporters access to a larger consumer base. This might increase their earnings by enabling them to enter new markets and diversify their sources of income. The trade of a vast range of food products from many locations and cultures is made easier by globalization. Customers profit from this variety since it offers a wide range of unusual and interesting eating selections, enhancing the diversity of cuisines. Through the creation of jobs in distribution, processing, transportation, and production, increased food trade can boost economic growth. This is especially crucial for developing nations, since agriculture is frequently the main source of revenue. Adoption of technology becomes essential for meeting international requirements for food safety and quality. This promotes innovation in the transportation, packaging, and food processing sectors, propelling business improvements. The globalization of food trade encourages supply chain optimization, leading to cost efficiencies and reduced food waste. It also promotes investments in logistics and infrastructure.
Biotechnology and Life Sciences
Innovative treatments including gene editing, cell-based therapy, and personalized medicine are made possible by biotechnology. These methods have the potential to more successfully treat a variety of illnesses, such as autoimmune diseases, cancer, and genetic problems. The COVID-19 pandemic highlighted the role that biotechnology plays in the creation of vaccines. Opportunities for the quick development of vaccines and the management of newly emerging infectious diseases remain in this field. Crop productivity, hardiness, and nutritional value are all improved via biotechnology. Techniques like gene editing, precision farming, and genetic manipulation have the potential to improve food security and sustainable farming methods. Environmental sustainability can greatly benefit from the use of biotechnology. This industry can help reduce pollution and mitigate climate change in a number of ways, including through the production of bioremediation, biofuels, and bioplastics. Biotechnology has streamlined drug discovery processes, accelerating the identification of potential therapeutic agents. This expedites the translation of scientific findings into clinical applications. The vast amount of biological data generated by biotechnology requires advanced analytics and data science. This has created opportunities for professionals in bioinformatics and computational biology.
Segment Overviews
By Category
Based on category, the global analytical standards market is divided into organic standard, inorganic standard. The organic standard category dominates the market with the largest revenue share in 2022. Organic standards encompass a wide range of reference materials for organic compounds. These standards are essential for industries like pharmaceuticals, environmental testing, and food safety, where the analysis of organic substances is common. Organic standards can include compounds such as pharmaceutical drugs, pesticides, volatile organic compounds, and various organic chemicals. These standards are used to calibrate instruments, validate analytical methods, and establish a baseline for the identification and quantification of organic compounds in samples. Inorganic standards, on the other hand, are reference materials for inorganic compounds and elements. They find extensive use in industries like metallurgy, environmental monitoring, and materials science. Inorganic standards can include elements like heavy metals, minerals, and various inorganic compounds critical for specific analyses. These standards are crucial for ensuring the accuracy of tests related to water quality, soil composition, metallurgical content, and more. With environmental regulations becoming increasingly stringent and the need for quality control in diverse industries, the market for inorganic standards is also significant.
By Technique
Based on the technique, the global analytical standards market is categorized into chromatography standards, spectroscopy standards, titrimetry standards, physical properties testing standards. The spectroscopy standards category leads the global analytical standards market with the largest revenue share in 2022. Spectroscopy standards encompass reference materials used in spectroscopic techniques like UV-Visible, infrared (IR), nuclear magnetic resonance (NMR), and atomic absorption spectroscopy (AAS). These standards ensure the accuracy of spectral measurements and facilitate the qualitative and quantitative analysis of various substances, including chemicals, pharmaceuticals, and biomolecules. Chromatography standards are reference materials used to calibrate and validate chromatographic techniques, such as high-performance liquid chromatography (HPLC), gas chromatography (GC), and liquid chromatography-mass spectrometry (LC-MS). They are crucial for the quantification and identification of compounds in complex mixtures, making them essential in pharmaceuticals, environmental analysis, and food safety. Titrimetry standards are employed in titration techniques, where the concentration of a solution is determined by reacting it with a standardized solution of known concentration. These standards are essential in analytical chemistry for precise quantitative analysis, notably in applications related to acidity, alkalinity, and redox reactions. Physical properties testing standards cover a wide range of reference materials used to validate and calibrate instruments for measuring physical properties. This category includes standards for parameters like viscosity, density, melting point, refractive index, and electrical conductivity. These standards are significant in material science, quality control, and various industrial applications.
By End-Users
Based on end-users, the global analytical standards market is segmented into food and beverages, forensics, veterinary, petrochemistry, environmental, pharmaceutical and life sciences standards. The pharmaceutical and life sciences standards segment dominates the analytical standards market. Pharmaceutical analytical standards are a cornerstone of drug development, quality control, and regulatory compliance in the pharmaceutical industry. They are used to verify the identity, purity, and potency of pharmaceutical products. Life sciences standards encompass reference materials used in various biological and biochemical applications, including genomics, proteomics, and cell biology. These standards facilitate research, diagnostic testing, and the development of new biotechnological products and therapies. Forensic analytical standards are essential for forensic investigations, including the analysis of physical evidence, toxicology, and DNA profiling. These standards help maintain the integrity and accuracy of forensic results in criminal and civil cases. In veterinary medicine, analytical standards are used for diagnostic testing, drug development, and quality control of veterinary pharmaceuticals. They support the health and well-being of animals, including pets and livestock. Petrochemical standards are designed for the analysis of hydrocarbons, petroleum products, and other petrochemical compounds. They play a vital role in quality control and environmental compliance in the petrochemical industry. Environmental analytical standards are employed in environmental monitoring and assessment, helping to detect and quantify pollutants, toxins, and contaminants in air, water, soil, and ecosystems. These standards are essential for regulatory compliance and conservation efforts.
Global Analytical Standards Market Overview by Region
The global analytical standards market is categorized into North America, Europe, Asia-Pacific, and the Rest of the World. North America emerged as the leading region, capturing the largest market share in 2022. North America, and especially the United States, has one of the biggest and most powerful economies in the world. Numerous global firms, financial institutions, and a flourishing startup environment call it home. This economic strength attracts talent and resources and spurs investment, job growth, and innovation. The area is a centre for technical innovation, with Silicon Valley in California, for example, setting the standard for the creation of novel hardware, software, and other innovations. This technological superiority influences many businesses and encourages the development of digital goods and services that reshape the world. Some of the most esteemed research institutes and universities in the world are located in North America. These institutions attract scholars, scientists, and students from around the world, fostering innovation, research, and the development of intellectual capital. North America embraces a vast array of customs, languages, and lifestyles, and is renowned for its cultural diversity. Its influence on international culture, entertainment, and the arts is facilitated by this diversity, which also fosters creativity and the flow of ideas. Economic growth and innovation in North America have been propelled by political stability, especially in the US and Canada. An atmosphere that is conducive to business and investment has been established by robust legal frameworks, property rights, and free markets. In international relations and global diplomacy, North America is crucial. It frequently takes the lead in tackling international issues, encouraging collaboration, and promoting democracy and human rights. The area is rich in natural resources, which promote trade and commercial activity. These resources include agricultural fields and energy reserves.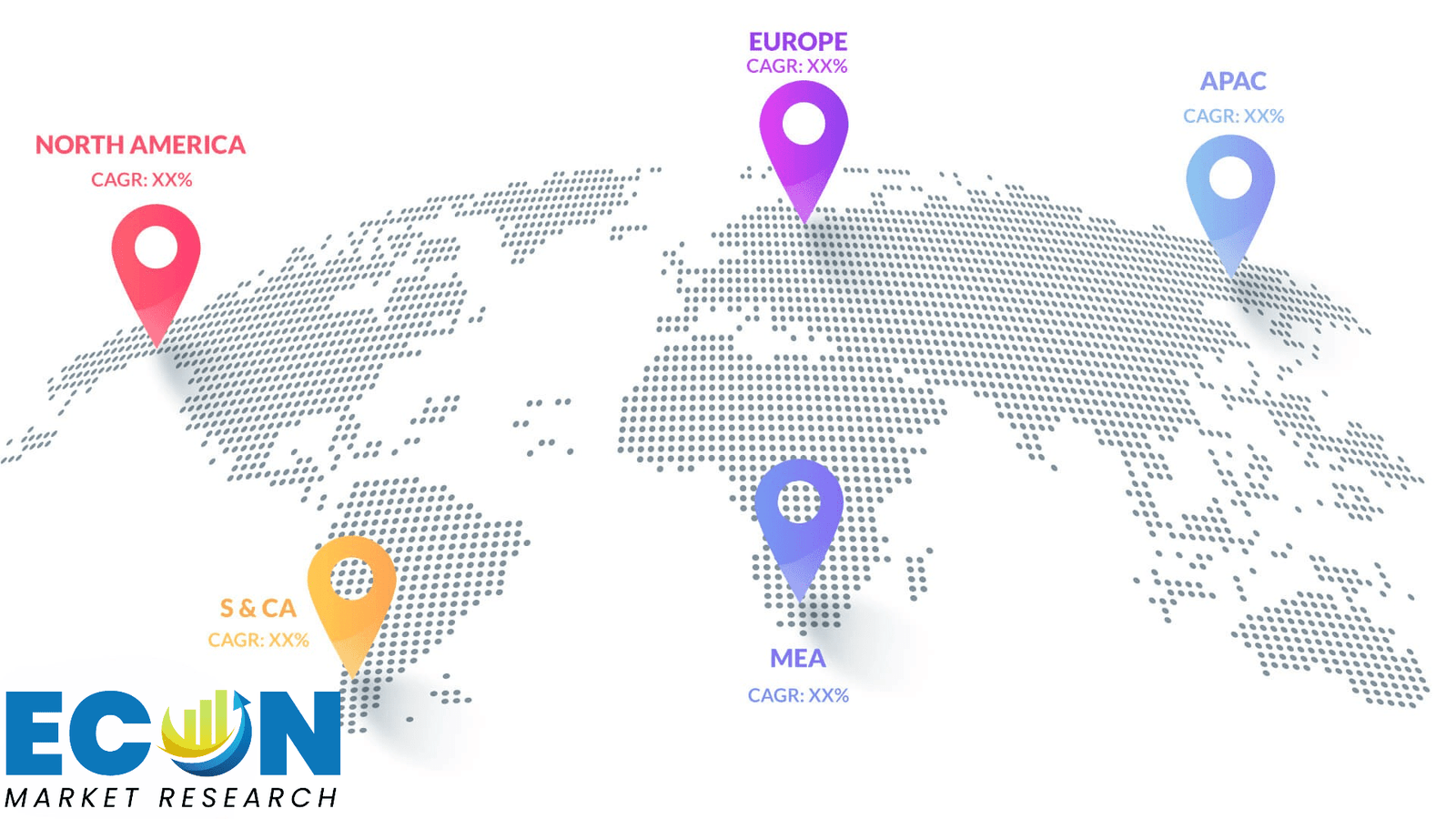 Global Analytical Standards Market Competitive Landscape
In the global analytical standards market, a few major players exert significant market dominance and have established a strong regional presence. These leading companies remain committed to continuous research and development endeavors and actively engage in strategic growth initiatives, including product development, launches, joint ventures, and partnerships. By pursuing these strategies, these companies aim to strengthen their market position, expand their customer base, and capture a substantial share of the market.
Some of the prominent players in the global analytical standards market include Merck KGaA, LGC Limited, SPEX CertiPrep, Restek Corporation, Agilent Technologies, Inc, AccuStandard, PerkinElmer Inc, Thermo Fisher Scientific, GENERAL ELECTRIC, Mallinckrodt, Cayman Chemical, GFS Chemicals, Inc., Campro Scientific GmbH, Waters Corporation, CPI International, Crescent., and various other key players.
Global Analytical Standards Market Recent Developments
In June 2022, AnalytiChem purchased Chem Service, Inc. to broaden its pesticide and CRM standards. Analytichem's portfolio will grow by over 14,000 goods as a result of the acquisition. Chem Service is based in West Chester, Pennsylvania, and will celebrate 60 years in business in 2022.

In August 2022, expanding its GPC/SEC Polymer Analysis offerings, Agilent Acquires Polymer Standards Service. Specifically in the chemical and biopharmaceutical industries for the examination of natural and synthetic polymers such proteins, nucleic acids, polysaccharides, and synthetic plastic, the purchase expands and broadens Agilent's client offers and product range.
Scope of the Global Analytical Standards Market Report
Analytical Standards Market Report Segmentation
ATTRIBUTE

DETAILS

By Category

Organic Standard

Inorganic Standard

By Technique

Chromatography Standards

Spectroscopy Standards

Titrimetry Standards

Physical Properties Testing Standards

By End-Users

Food and Beverages

Forensics, Veterinary

Petrochemistry

Environmental

Pharmaceutical and Life Sciences Standards

By Geography

North America (USA,

and Canada)

Europe (UK, Germany, France, Italy, Spain, Russia and Rest of Europe)

Asia Pacific (Japan, China, India, Australia, Southeast Asia and Rest of Asia Pacific)

Latin America (Brazil, Mexico, and Rest of Latin America)

Middle East & Africa (South Africa, GCC, and Rest of Middle East & Africa)

Customization Scope

Pricing
Objectives of the Study
The objectives of the study are summarized in 5 stages. They are as mentioned below:
Global Analytical Standards Market

Size and Forecast:
To identify and estimate the market size for the global analytical standards market segmented by category, by technique, by end users, region and by value (in U.S. dollars). Also, to understand the consumption/ demand created by consumers of analytical standards between 2019 and 2031.
Market Landscape and Trends:
To identify and infer the drivers, restraints, opportunities, and challenges for the global analytical standards market
Market Influencing Factors:
To find out the factors which are affecting the sales of analytical standards among consumers
To identify and understand the various factors involved in the global analytical standards market affected by the pandemic
To provide a detailed insight into the major companies operating in the market. The profiling will include the financial health of the company's past 2-3 years with segmental and regional revenue breakup, product offering, recent developments, SWOT analysis, and key strategies.
Intended Audience
Marketing Materials

Research Papers

Medical Brochures

Corporate Reports

Governments, Associations, and Industrial Bodies

Investors and Trade Experts
Research Methodology
Our research methodology has always been the key differentiating reason which sets us apart in comparison from the competing organizations in the industry. Our organization believes in consistency along with quality and establishing a new level with every new report we generate; our methods are acclaimed and the data/information inside the report is coveted. Our research methodology involves a combination of primary and secondary research methods. Data procurement is one of the most extensive stages in our research process. Our organization helps in assisting the clients to find the opportunities by examining the market across the globe coupled with providing economic statistics for each and every region. The reports generated and published are based on primary & secondary research. In secondary research, we gather data for global Market through white papers, case studies, blogs, reference customers, news, articles, press releases, white papers, and research studies. We also have our paid data applications which includes hoovers, Bloomberg business week, Avention, and others.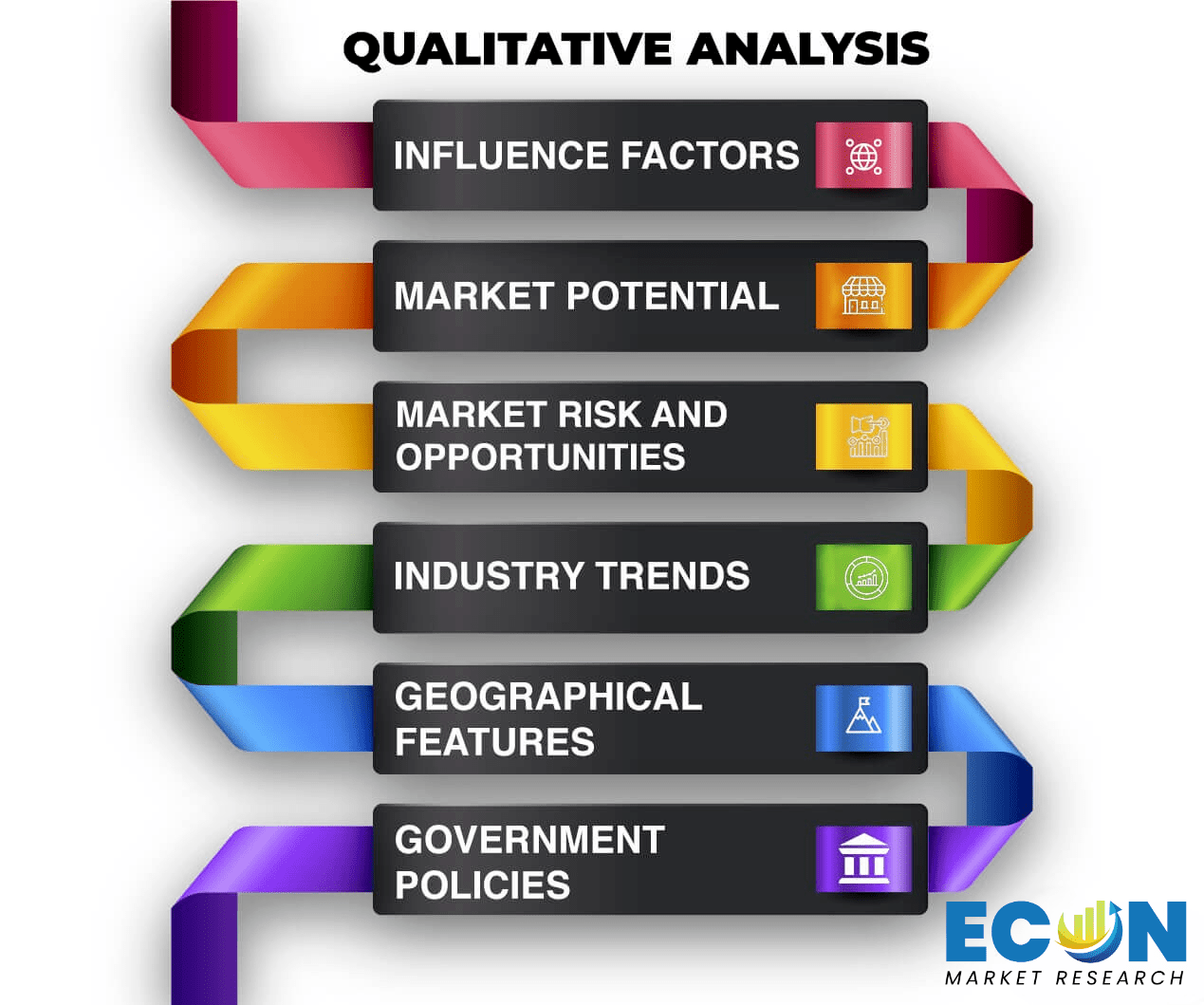 Data Collection
Data collection is the process of gathering, measuring, and analyzing accurate and relevant data from a variety of sources to analyze market and forecast trends. Raw market data is obtained on a broad front. Data is continuously extracted and filtered to ensure only validated and authenticated sources are considered. Data is mined from a varied host of sources including secondary and primary sources.

Primary Research
After the secondary research process, we initiate the primary research phase in which we interact with companies operating within the market space. We interact with related industries to understand the factors that can drive or hamper a market. Exhaustive primary interviews are conducted. Various sources from both the supply and demand sides are interviewed to obtain qualitative and quantitative information for a report which includes suppliers, product providers, domain experts, CEOs, vice presidents, marketing & sales directors, Type & innovation directors, and related key executives from various key companies to ensure a holistic and unbiased picture of the market. 
Secondary Research
A secondary research process is conducted to identify and collect information useful for the extensive, technical, market-oriented, and comprehensive study of the market. Secondary sources include published market studies, competitive information, white papers, analyst reports, government agencies, industry and trade associations, media sources, chambers of commerce, newsletters, trade publications, magazines, Bloomberg BusinessWeek, Factiva, D&B, annual reports, company house documents, investor presentations, articles, journals, blogs, and SEC filings of companies, newspapers, and so on. We have assigned weights to these parameters and quantified their market impacts using the weighted average analysis to derive the expected market growth rate.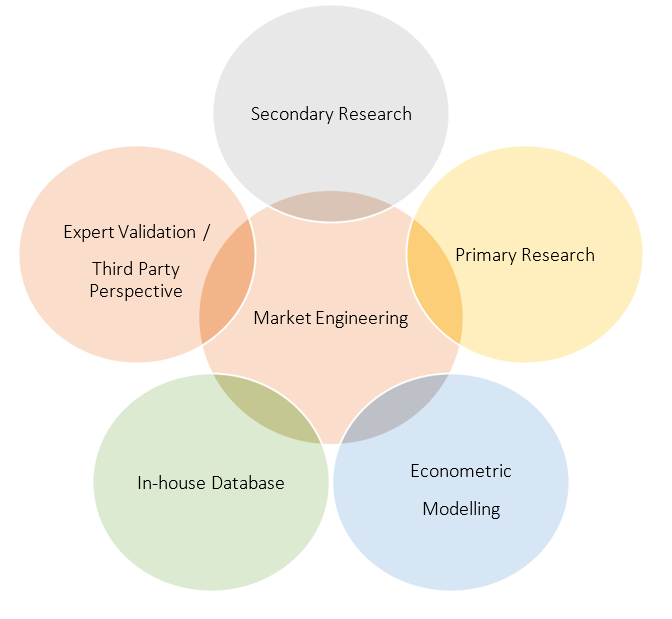 Top-Down Approach & Bottom-Up Approach
In the top – down approach, the Global Batteries for Solar Energy Storage Market was further divided into various segments on the basis of the percentage share of each segment. This approach helped in arriving at the market size of each segment globally. The segments market size was further broken down in the regional market size of each segment and sub-segments. The sub-segments were further broken down to country level market. The market size arrived using this approach was then crosschecked with the market size arrived by using bottom-up approach.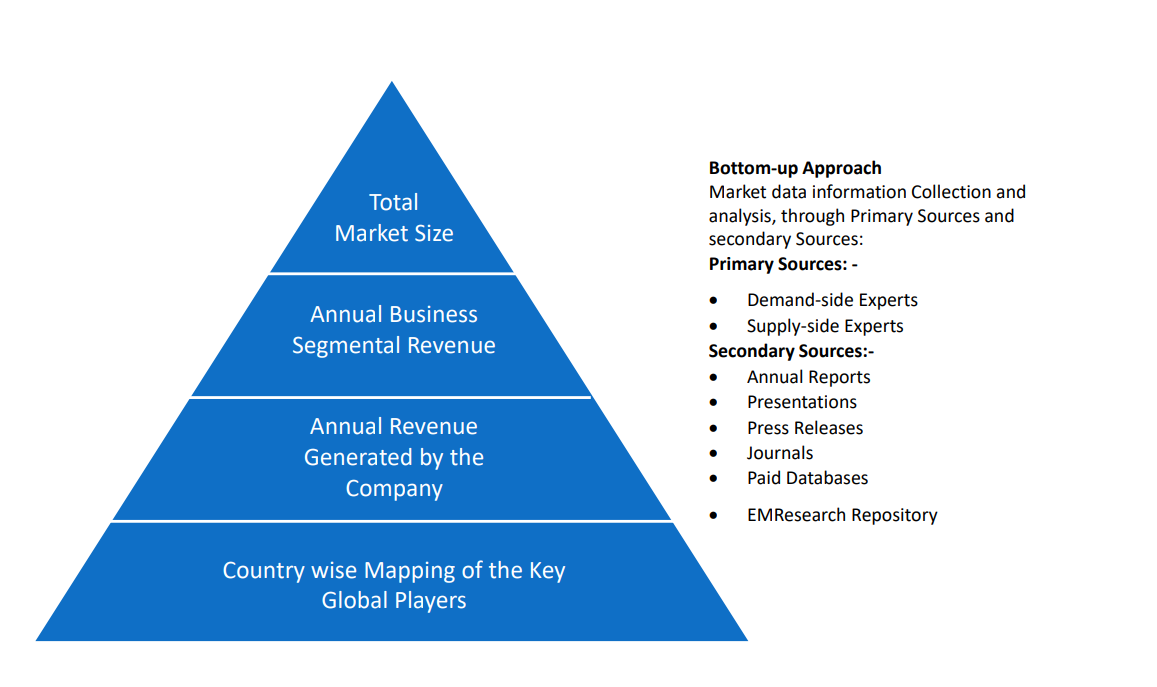 In the bottom-up approach, we arrived at the country market size by identifying the revenues and market shares of the key market players. The country market sizes then were added up to arrive at regional market size of the decorated apparel, which eventually added up to arrive at global market size.
This is one of the most reliable methods as the information is directly obtained from the key players in the market and is based on the primary interviews from the key opinion leaders associated with the firms considered in the research. Furthermore, the data obtained from the company sources and the primary respondents was validated through secondary sources including government publications and Bloomberg.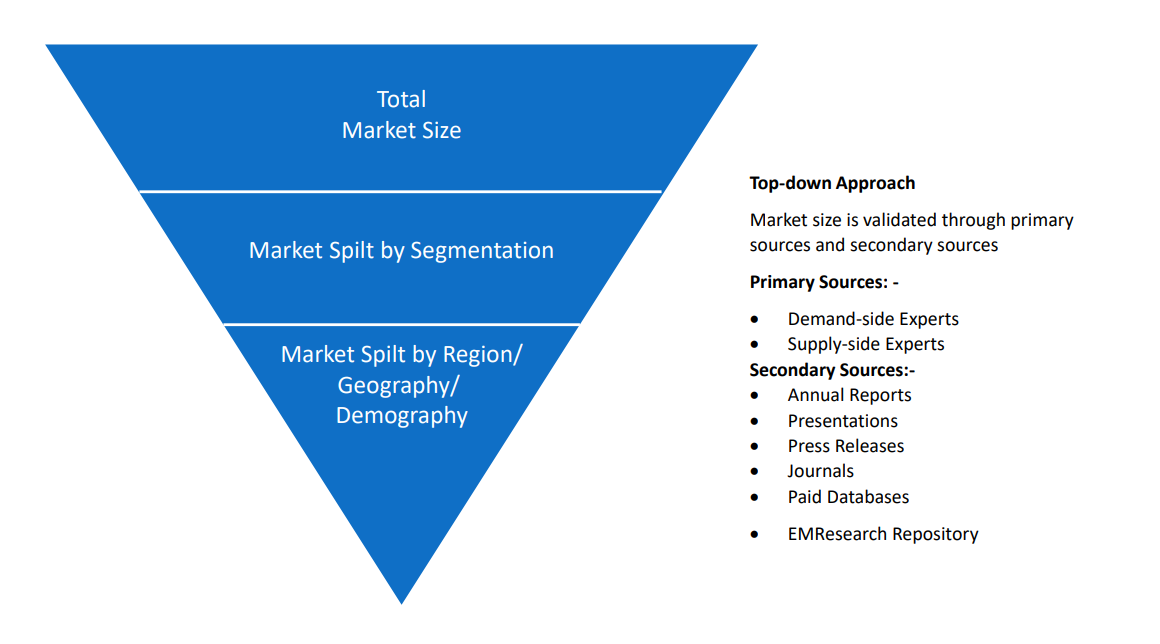 Market Analysis & size Estimation
Post the data mining stage, we gather our findings and analyze them, filtering out relevant insights. These are evaluated across research teams and industry experts. All this data is collected and evaluated by our analysts. The key players in the industry or markets are identified through extensive primary and secondary research. All percentage share splits, and breakdowns have been determined using secondary sources and verified through primary sources. The market size, in terms of value and volume, is determined through primary and secondary research processes, and forecasting models including the time series model, econometric model, judgmental forecasting model, the Delphi method, among Flywheel Energy Storage. Gathered information for market analysis, competitive landscape, growth trends, product development, and pricing trends is fed into the model and analyzed simultaneously.
Quality Checking & Final Review
The analysis done by the research team is further reviewed to check for the accuracy of the data provided to ensure the clients' requirements. This approach provides essential checks and balances which facilitate the production of quality data. This Type of revision was done in two phases for the authenticity of the data and negligible errors in the report. After quality checking, the report is reviewed to look after the presentation, Type and to recheck if all the requirements of the clients were addressed.