The Global Aircraft Leasing Market was valued at USD 181.60 billion in 2022 and is estimated to reach approximately USD 354.87 billion by 2031, at a CAGR of 7.7% from 2023 to 2031. The global aviation industry now includes a crucial and active area known as aircraft leasing. In its most basic form, leasing an aircraft refers to the practice of airlines and other aviation operators renting an aircraft from a leasing company rather than buying it altogether. Numerous benefits come with this strategy, including more operational flexibility, lower initial capital expenses, and the capacity to adjust to evolving market demands. Since its start, the market for leasing aircraft has expanded significantly, becoming into an essential part of the aviation industry. The necessity for airlines to effectively manage their fleets, the expensive cost of purchasing and maintaining aircraft, and the rising demand for air travel globally are some of the reasons contributing to the industry's growth. A wide range of participants, from tiny regional lessors to huge international enterprises, are what make aircraft leasing unique. To meet the varied demands of their customers, these lessors provide a range of leasing options, including operating leases and finance leases. The market also continuously adjusts to economic shifts and business developments, ensuring its resiliency and relevance in the dynamic aviation industry. The aircraft leasing market is anticipated to play an ever-more-important role in determining the direction of the global aviation sector as it provides airlines and operators with the flexibility and financial options they need to succeed in a cutthroat and changing business.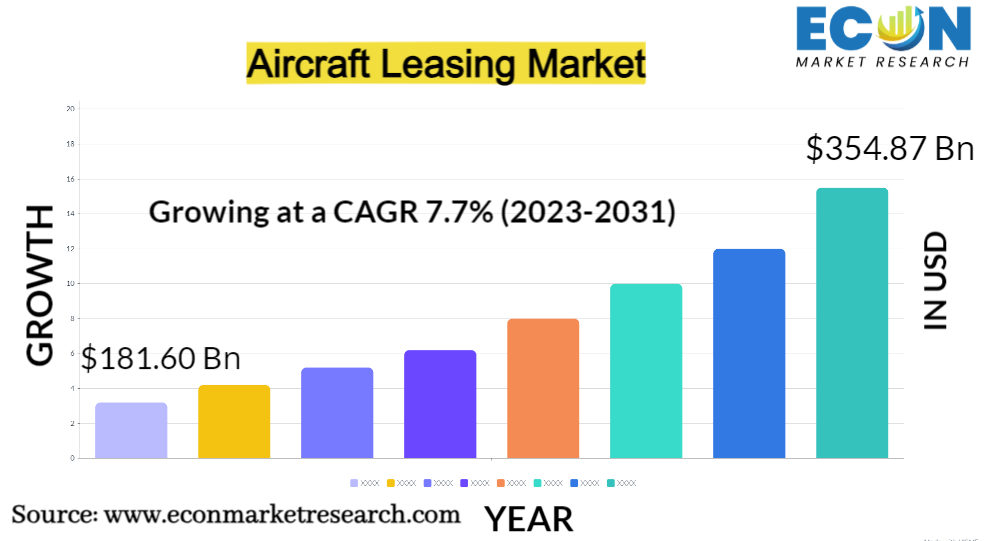 AIRCRAFT LEASING MARKET: REPORT SCOPE & SEGMENTATION
| | |
| --- | --- |
| Report Attribute | Details |
| Estimated Market Value (2022) | 181.60 Bn |
| Projected Market Value (2031) | 354.87 Bn |
| Base Year | 2022 |
| Forecast Years | 2023 - 2031 |
| Scope of the Report | Historical and Forecast Trends, Industry Drivers and Constraints, Historical and Forecast Market Analysis by Segment- By Lease, By Application, By Aircraft Type, & Region |
| Segments Covered | By Lease, By Application, By Aircraft Type & Region |
| Forecast Units | Value (USD Billion or Million), and Volume (Units) |
| Quantitative Units | Revenue in USD million/billion and CAGR from 2023 to 2031 |
| Regions Covered | North America, Europe, Asia Pacific, Latin America, and Middle East & Africa, and the Rest of World |
| Countries Covered | U.S., Canada, Mexico, U.K., Germany, France, Italy, Spain, China, India, Japan, South Korea, Brazil, Argentina, GCC Countries, and South Africa, among others |
| Report Coverage | Market growth drivers, restraints, opportunities, Porter's five forces analysis, PEST analysis, value chain analysis, regulatory landscape, market attractiveness analysis by segments and region, company market share analysis, and COVID-19 impact analysis. |
| Delivery Format | Delivered as an attached PDF and Excel through email, according to the purchase option. |
Global Aircraft Leasing Market Dynamics
In reaction to different circumstances, the aircraft leasing market has experienced dramatic developments in recent years. The sector has grown as a result of rising demand for air travel, especially in emerging nations. Leasing is becoming more popular among airlines as a flexible and affordable way to buy aircraft, and this trend is predicted to continue. Additionally, the COVID-19 epidemic had a substantial impact on the market, temporarily slowing it as airlines cut their fleet sizes. However, as the pandemic receded, a slow recovery was seen. The market has also been impacted by regulatory reforms and environmental concerns. Lessors have modified their fleets in response to the need for aircraft that are more ecologically friendly and fuel-efficient. The market environment has changed even more as a result of technological developments like the creation of more fuel-efficient and long-range aeroplanes. Regional leasing patterns are complicated by geopolitical circumstances, trade disputes, and economic situations. With established lessors and recent entrants battling for market share, the aircraft leasing business is still extremely competitive. As a result of the market for aircraft leasing's ability to react to shifting conditions, it's critical for participants in the sector to keep up with changing dynamics and trends.
Global Aircraft Leasing Market Drivers
A key factor driving the market for aircraft leasing is the expansion of the international aviation sector. This phenomena is supported by a number of important variables. First off, there is a greater demand for air travel as a result of the world population's constant growth and rising income levels. Airlines try to increase the size of their fleets to handle the increase in passengers as more people across the world can afford to travel by plane. Airlines frequently choose aeroplane leasing in order to avoid the hefty up-front costs involved with purchases because purchasing and owning an aircraft outright requires a lot of resources. In addition, globalization and economic growth have fueled both domestic and foreign tourism, which has increased demand for air travel. This pattern can be seen not just in developed markets but also in emerging ones, where the growing middle class is boosting the expansion of the aviation sector. Airlines commonly use leasing as a flexible and affordable method of acquiring aircraft to fulfil these growing travel demands and stay competitive.
A significant market driver for aircraft leasing is the upgrading of airline fleets. Airlines are choosing to lease newer, technologically advanced aircraft in this trend, which has several important benefits. The desire to increase operational effectiveness and reduce costs is one of the main drivers. Modern aircraft are often more fuel-efficient, which lowers operating costs, leaves a smaller carbon imprint, and makes it possible to adhere to strict environmental standards. The chance to sharpen their competitive edge motivates airlines as well. Modern luxuries including cutting-edge avionics, enhanced passenger comforts, and better dependability are frequently found in newer aircraft. In addition to enhancing the overall customer experience, this gives airlines a competitive advantage they can capitalize on. Additionally, the aviation industry is witnessing a shift towards aircraft with extended range and versatility, allowing carriers to expand their route networks and serve more destinations profitably.
Restraints:
The market for aircraft leasing is significantly constrained by high capital costs. Commercial aircraft require significant initial outlays for both acquisition and maintenance. Large upfront costs that airlines must bear in order to buy aircraft outright can put a strain on their financial resources, restrict their ability to grow, and increase their exposure to financial hazards. In order to reduce these capital expenses, several airlines choose leasing as an alternate financing strategy. However, the purchase of modern aircraft also requires a large financial investment from the lessor's perspective. The cost of the aircraft, insurance, maintenance, and finance charges are all included in this investment. As a result, to acquire aircraft for lease, leasing businesses frequently rely on outside finance sources like bank loans or bonds.
The market for aircraft leasing is significantly constrained by the preponderance of old aircraft in the aviation sector. Commercial aeroplanes frequently become less fuel-efficient and more expensive to maintain as they age. Airlines' running costs may increase as a result of this ageing, which might lower their profitability and make it harder for them to continuously make lease payments. Given the possibility of increasing maintenance costs and decreased fuel economy, which may have an impact on their ability to compete and overall operational effectiveness, airlines may be reluctant to lease older aircraft. Additionally, there is a move in the aviation sector towards more modern, technologically advanced aircraft that provide better fuel efficiency, passenger comfort, and environmental sustainability. Both airlines and customers find these contemporary aircraft more appealing. As a result, the demand for leasing older aircraft diminishes, potentially leading to a surplus of aging planes in the market. This oversupply can put downward pressure on lease rates and the residual values of older aircraft, affecting the profitability of lessors.
Opportunities:
Technological Advancements
The market for aircraft leasing has a sizable possibility thanks to technological developments in the aviation sector. These developments include the creation of aeroplanes that are more technologically sophisticated, environmentally friendly, and fuel-efficient. Such cutting-edge aircraft offer both leasing companies and airlines a wide range of alternatives. In the beginning, leasing businesses might take advantage of the chance to provide the newest aircraft models with cutting-edge avionics, more efficient engines, and improved passenger comforts. As they look to save operating costs, improve the passenger experience, and adhere to strict environmental rules, airlines are more and more likely to lease these contemporary aircraft. Airlines can obtain cutting-edge technology without incurring the high upfront capital costs associated with purchase by leasing these modern aircraft. Furthermore, the emphasis on sustainability and environmental responsibility has led to the development of eco-friendly aircraft with reduced emissions. Leasing companies can cater to the growing demand for such aircraft, positioning themselves as providers of green aviation solutions. Airlines looking to lower their carbon footprint and meet regulatory requirements will view these leasing options favorably.
Leasing businesses have attractive prospects to carve up specialized markets and meet specific industry needs by focusing on particular types or categories of aircraft within the aviation leasing market. This tactic entails focusing on certain aircraft categories, such as cargo aircraft, regional aircraft, or specialized mission aircraft, and customizing leasing solutions to match these categories' particular needs. Serving the market for cargo planes represents one important opportunity. There is a growing need for specialized cargo jets as e-commerce and global logistics expand exponentially. In order to take advantage of the growing demand for dedicated cargo capacity, leasing businesses should buy and lease freighter aircraft to logistics and shipping firms. Another area of specialization is regional aircraft, which play a vital role in connecting smaller cities and communities. Leasing companies can focus on providing regional carriers with modern, fuel-efficient regional jets, addressing the demand for more sustainable and cost-effective regional air travel.
Segment Overview
By Lease
Based on lease, the global aircraft leasing market is divided into dry lease and wet lease. The lead-acid-based category dominates the market with the largest revenue share in 2022. A dry lease is an agreement where an airline or individual lessee rents an aircraft without any additional services or crew provided by the lessor. In a dry lease, the lessee takes full operational control of the aircraft, including maintenance, crew, and operations. This option is often chosen by airlines looking to expand their fleet or businesses seeking to acquire aircraft for specific purposes. On the other hand, a wet lease involves not only the rental of the aircraft but also the inclusion of essential services, such as crew, maintenance, and insurance, offered by the lessor. This arrangement is particularly useful for airlines looking to supplement their capacity quickly during peak travel seasons or when their own aircraft are undergoing maintenance. Wet leases provide flexibility and ensure that the lessee can start operations without the burden of hiring and training additional crew or managing maintenance.
By Aircraft Type
Based on the aircraft type, the global aircraft leasing market is categorized into narrow body, wide body, and regional aircraft. The narrow body category leads the global aircraft leasing market with the largest revenue share in 2022. Narrow-body aircraft are characterized by a single aisle and are typically designed for shorter to medium-haul routes, accommodating fewer passengers. They are known for their efficiency, versatility, and cost-effectiveness, making them the preferred choice for airlines operating on routes with high frequency and smaller passenger capacity. Wide-body aircraft, in contrast, feature a larger fuselage and multiple aisles, offering more space and greater passenger capacity. These aircraft are designed for long-haul international flights and can carry a significant number of passengers, along with ample cargo capacity. Wide-bodies are favored by airlines for their ability to connect distant destinations and offer a range of amenities, making them the backbone of long-haul and intercontinental travel. Regional aircraft are a separate category, tailored to shorter routes within a particular region or country. They are typically smaller in size, seating fewer passengers, and are well-suited for connecting smaller cities or towns with major hubs. Regional aircraft play a pivotal role in improving regional connectivity and facilitating air travel in areas where larger aircraft might not be practical.
Global Aircraft Leasing Market Overview by Region
The global aircraft leasing market is categorized into North America, Europe, Asia-Pacific, and the Rest of the World. Europe emerged as the leading region, capturing the largest market share in 2022. Europe has emerged as the top region in a number of areas, highlighting its strength on the economic front and worldwide clout. With a long history, many different cultures, and a dedication to diplomacy and collaboration, Europe has established itself as a major participant on the world stage. A single market that promotes commerce, investment, and innovation has been established by the European Union as a result of its economic integration and open borders. Numerous of the greatest economies and multinational firms are based in this economic powerhouse, which has a considerable impact on the world economy. Europe has also been a leader in fields like environmental sustainability, with countries aggressively seeking renewable energy sources and pushing for the mitigation of climate change. Its leadership in putting the well being of its residents first is further demonstrated by its emphasis on social welfare, healthcare, and education. Europe is a major participant in global governance due to its devotion to democracy, human rights, and international collaboration. In conclusion, Europe's diverse leadership spans diplomatic, social, environmental, and economic facets, reaffirming the continent's position as a global leader.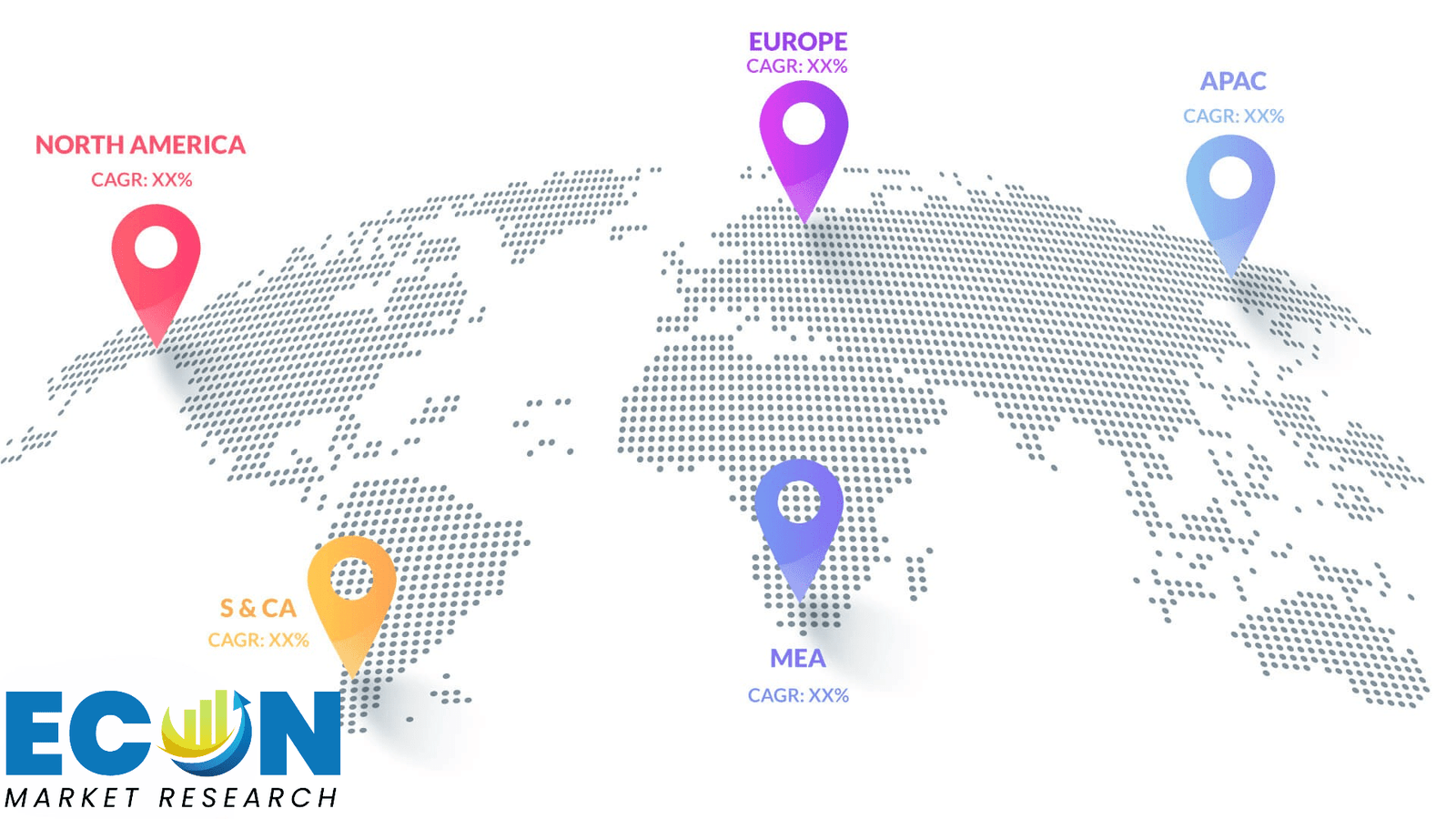 Global Aircraft Leasing Market Competitive Landscape
In the global aircraft leasing market, a few major players exert significant market dominance and have established a strong regional presence. These leading companies remain committed to continuous research and development endeavors and actively engage in strategic growth initiatives, including product development, launches, joint ventures, and partnerships. By pursuing these strategies, these companies aim to strengthen their market position, expand their customer base, and capture a substantial share of the market.
Some of the prominent players in the global aircraft leasing market include AerCap Holdings NV, ALAFCO Aviation Lease, And Finance Company K.S.C.P., Ansett Worldwide Aviation Services (AWAS), Bbam LLC, BOC Aviation, Boeing Capital Corporation, GE Capital Aviation Services, SAAB Aircraft Leasing, and various other key players.
Global Aircraft Leasing Market Recent Developments
In September 2023, By way of GIFT city, Air India leases its first A350. With the remaining deliveries planned for March 2024, the first of Air India's six Airbus A350-900 aircraft is anticipated to arrive in India by the end of this year.
In september 2023,In light of the Go First case, a global aviation leasing body downgrades India. It is likely that lessors will raise the aircraft leasing rates for Indian carriers as a result of AWG's rating.
Scope of the Global Aircraft Leasing Market Report
Aircraft Leasing Market Report Segmentation
ATTRIBUTE

DETAILS

By Lease

By Aircraft Type

Narrow Body

Wide Body

Regional Aircraft

By Geography

North America (USA,

and Canada)

Europe (UK, Germany, France, Italy, Spain, Russia and Rest of Europe)

Asia Pacific (Japan, China, India, Australia, Southeast Asia and Rest of Asia Pacific)

Latin America (Brazil, Mexico, and Rest of Latin America)

Middle East & Africa (South Africa, GCC, and Rest of Middle East & Africa)

Customization Scope

Pricing
Objectives of the Study
The objectives of the study are summarized in 5 stages. They are as mentioned below:
Global Aircraft Leasing

Market

Size and Forecast:
To identify and estimate the market size for the global aircraft leasing market segmented by aircrft type, by lease, region and by value (in U.S. dollars). Also, to understand the consumption/ demand created by consumers of aircraft leasing between 2019 and 2031.
Market Landscape and Trends:
To identify and infer the drivers, restraints, opportunities, and challenges for the global aircraft leasing market
Market Influencing Factors:
To find out the factors which are affecting the sales of aircraft leasing among consumers
To identify and understand the various factors involved in the global aircraft leasing market affected by the pandemic
To provide a detailed insight into the major companies operating in the market. The profiling will include the financial health of the company's past 2-3 years with segmental and regional revenue breakup, product offering, recent developments, SWOT analysis, and key strategies.
Intended Audience
Aircraft Lessors

Aerospace Manufacturers

Banks and Financial Institutions

Governments, Associations, and Industrial Bodies

Investors and Trade Experts
Research Methodology
Our research methodology has always been the key differentiating reason which sets us apart in comparison from the competing organizations in the industry. Our organization believes in consistency along with quality and establishing a new level with every new report we generate; our methods are acclaimed and the data/information inside the report is coveted. Our research methodology involves a combination of primary and secondary research methods. Data procurement is one of the most extensive stages in our research process. Our organization helps in assisting the clients to find the opportunities by examining the market across the globe coupled with providing economic statistics for each and every region. The reports generated and published are based on primary & secondary research. In secondary research, we gather data for global Market through white papers, case studies, blogs, reference customers, news, articles, press releases, white papers, and research studies. We also have our paid data applications which includes hoovers, Bloomberg business week, Avention, and others.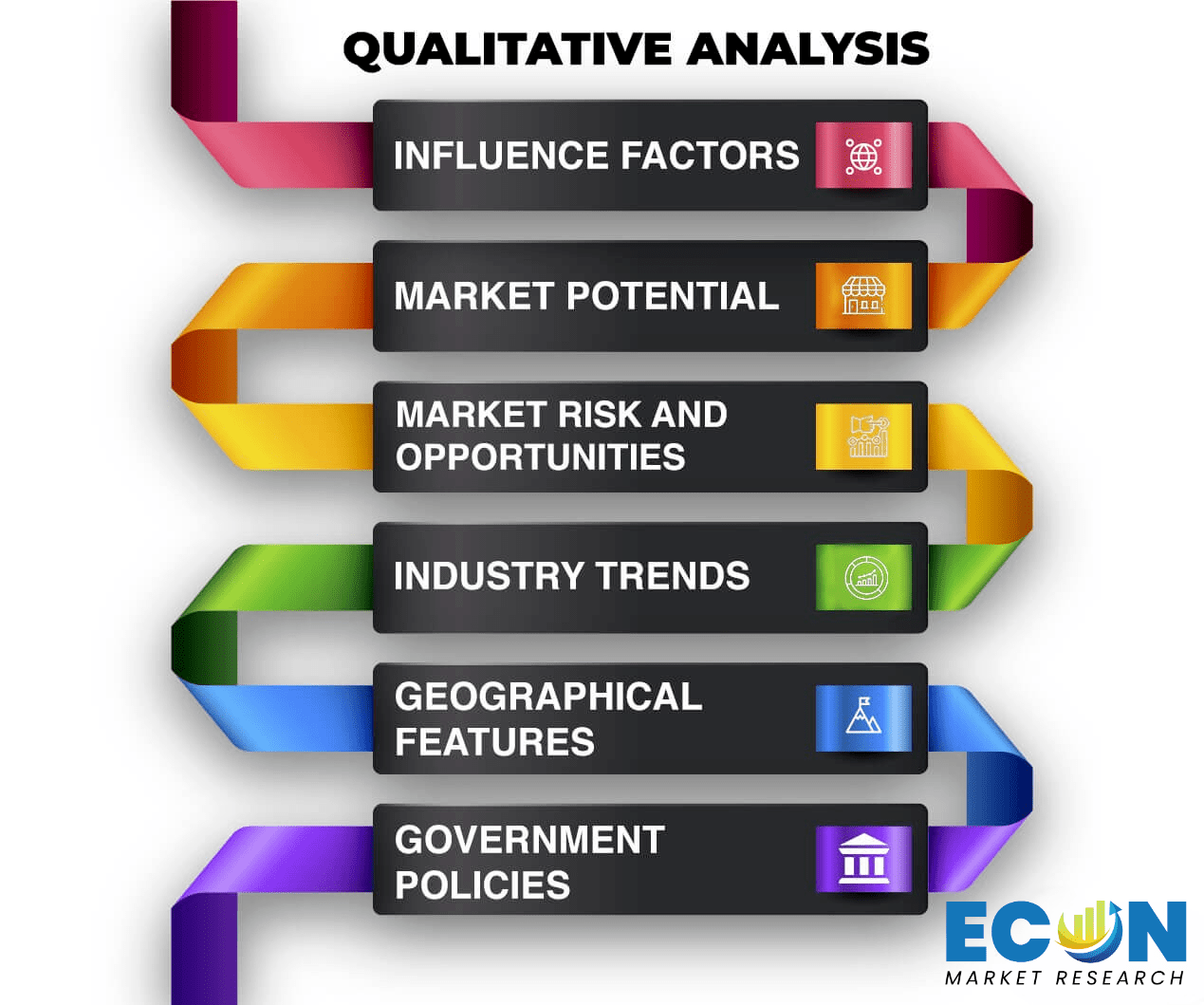 Data Collection
Data collection is the process of gathering, measuring, and analyzing accurate and relevant data from a variety of sources to analyze market and forecast trends. Raw market data is obtained on a broad front. Data is continuously extracted and filtered to ensure only validated and authenticated sources are considered. Data is mined from a varied host of sources including secondary and primary sources.

Primary Research
After the secondary research process, we initiate the primary research phase in which we interact with companies operating within the market space. We interact with related industries to understand the factors that can drive or hamper a market. Exhaustive primary interviews are conducted. Various sources from both the supply and demand sides are interviewed to obtain qualitative and quantitative information for a report which includes suppliers, product providers, domain experts, CEOs, vice presidents, marketing & sales directors, Type & innovation directors, and related key executives from various key companies to ensure a holistic and unbiased picture of the market. 
Secondary Research
A secondary research process is conducted to identify and collect information useful for the extensive, technical, market-oriented, and comprehensive study of the market. Secondary sources include published market studies, competitive information, white papers, analyst reports, government agencies, industry and trade associations, media sources, chambers of commerce, newsletters, trade publications, magazines, Bloomberg BusinessWeek, Factiva, D&B, annual reports, company house documents, investor presentations, articles, journals, blogs, and SEC filings of companies, newspapers, and so on. We have assigned weights to these parameters and quantified their market impacts using the weighted average analysis to derive the expected market growth rate.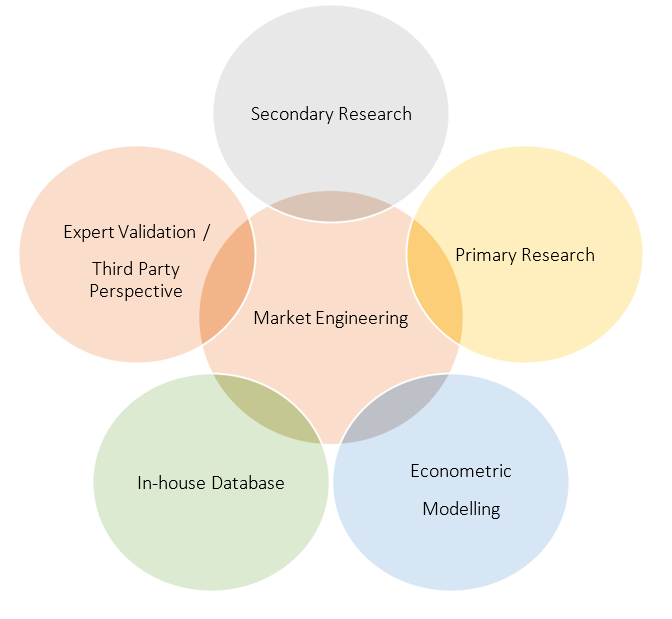 Top-Down Approach & Bottom-Up Approach
In the top – down approach, the Global Batteries for Solar Energy Storage Market was further divided into various segments on the basis of the percentage share of each segment. This approach helped in arriving at the market size of each segment globally. The segments market size was further broken down in the regional market size of each segment and sub-segments. The sub-segments were further broken down to country level market. The market size arrived using this approach was then crosschecked with the market size arrived by using bottom-up approach.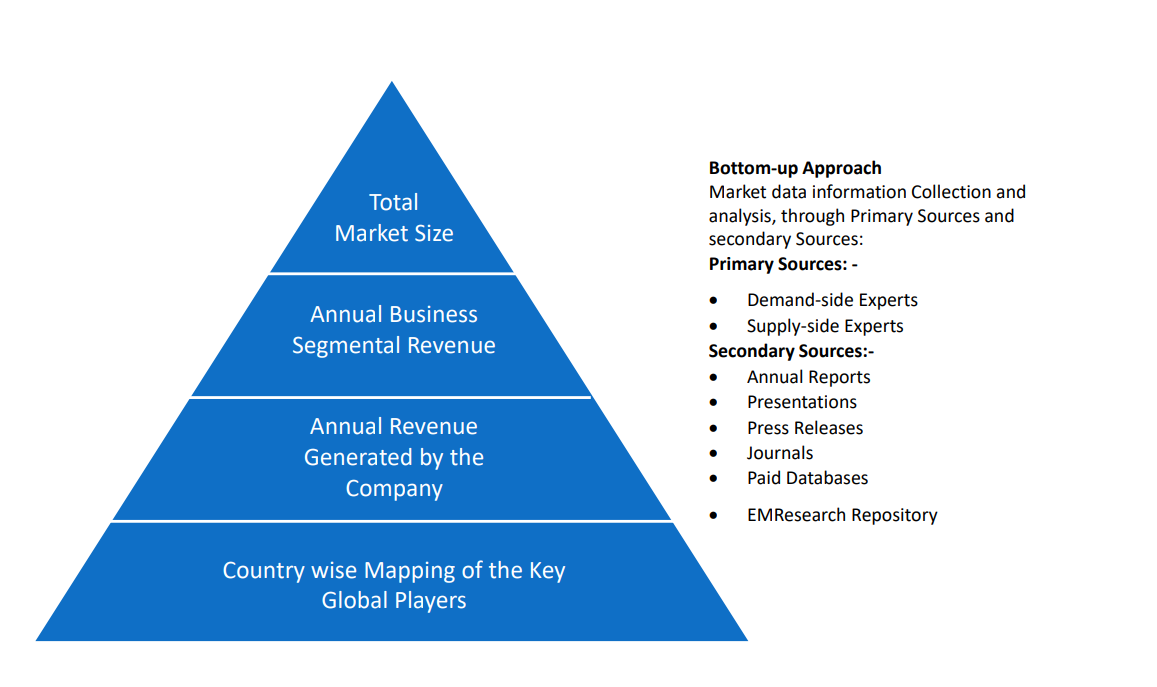 In the bottom-up approach, we arrived at the country market size by identifying the revenues and market shares of the key market players. The country market sizes then were added up to arrive at regional market size of the decorated apparel, which eventually added up to arrive at global market size.
This is one of the most reliable methods as the information is directly obtained from the key players in the market and is based on the primary interviews from the key opinion leaders associated with the firms considered in the research. Furthermore, the data obtained from the company sources and the primary respondents was validated through secondary sources including government publications and Bloomberg.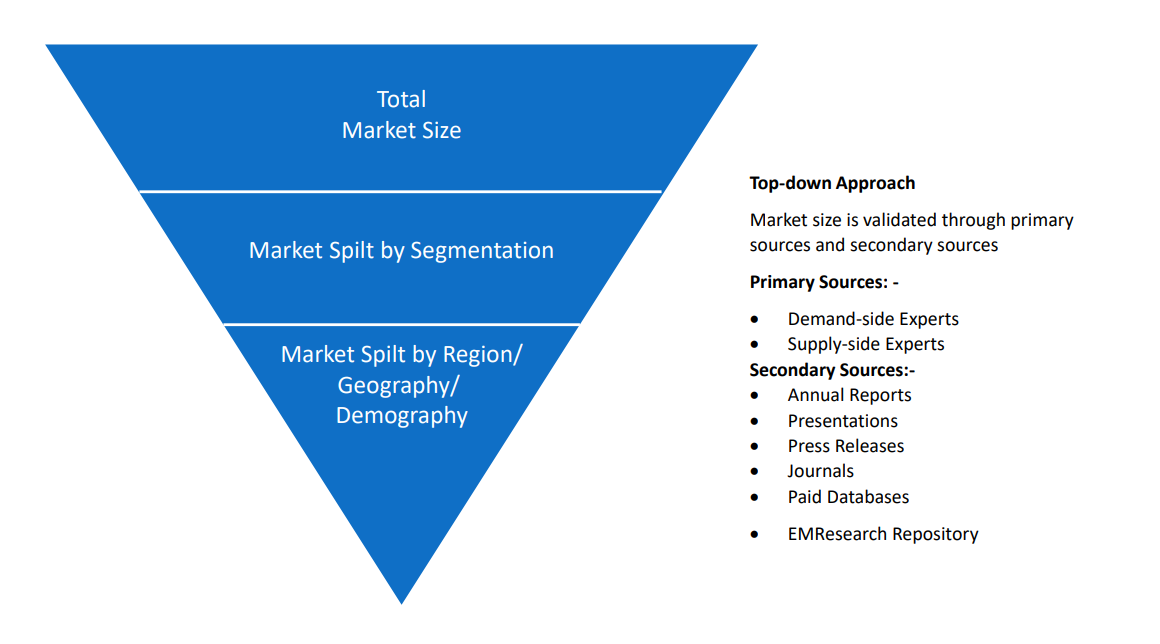 Market Analysis & size Estimation
Post the data mining stage, we gather our findings and analyze them, filtering out relevant insights. These are evaluated across research teams and industry experts. All this data is collected and evaluated by our analysts. The key players in the industry or markets are identified through extensive primary and secondary research. All percentage share splits, and breakdowns have been determined using secondary sources and verified through primary sources. The market size, in terms of value and volume, is determined through primary and secondary research processes, and forecasting models including the time series model, econometric model, judgmental forecasting model, the Delphi method, among Flywheel Energy Storage. Gathered information for market analysis, competitive landscape, growth trends, product development, and pricing trends is fed into the model and analyzed simultaneously.
Quality Checking & Final Review
The analysis done by the research team is further reviewed to check for the accuracy of the data provided to ensure the clients' requirements. This approach provides essential checks and balances which facilitate the production of quality data. This Type of revision was done in two phases for the authenticity of the data and negligible errors in the report. After quality checking, the report is reviewed to look after the presentation, Type and to recheck if all the requirements of the clients were addressed.