The Global Aircraft Engine MRO Market was valued at USD 23.5 billion in 2022 and is estimated to reach approximately USD 41.3 billion by 2031, at a CAGR of 6.4% from 2023 to 2031. A critical area of the aviation business is the maintenance, repair, and overhaul (MRO) of aircraft engines, which includes their thorough upkeep, service, and refurbishment. Any aircraft's heart, the engines, are what keep flight operations safe and effective. In order to increase the longevity and dependability of these engines and consequently enhance aviation safety, the MRO business is essential. The market offers a wide range of services, including regular checks, fixes, and overhauls that are necessary to keep the engines running at their best. In order to ensure that they adhere to strict regulatory and safety standards, aircraft engine MRO suppliers work with a variety of clients, including commercial airlines, private jet operators, and military organizations. The growing global aviation industry, which has seen an increase in the number of aircraft entering service, has contributed to the significant rise of the aircraft engine MRO market in recent years. The market is now extremely competitive and inventive due to the increased demand for engine repair services. Additionally, technological developments have made it possible for MRO companies to put into practice more effective and affordable solutions, enhancing the general performance and longevity of aircraft engines. The aircraft engine MRO industry is anticipated to remain a significant part of the aviation ecosystem as air travel continues to increase.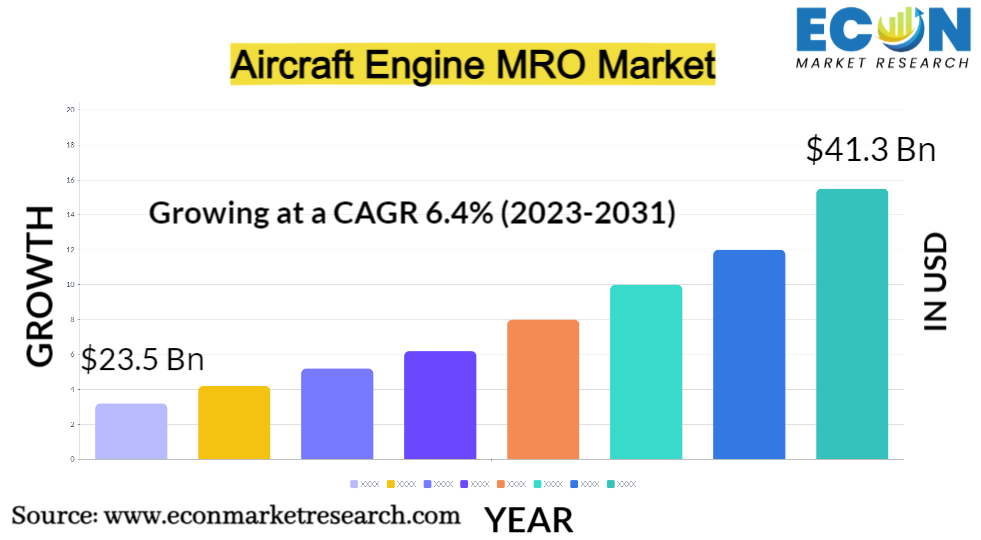 AIRCRAFT ENGINE MRO MARKET: REPORT SCOPE & SEGMENTATION
| | |
| --- | --- |
| Report Attribute | Details |
| Estimated Market Value (2022) | 23.5 Bn |
| Projected Market Value (2031) | 41.3 Bn |
| Base Year | 2022 |
| Forecast Years | 2023 - 2031 |
| Scope of the Report | Historical and Forecast Trends, Industry Drivers and Constraints, Historical and Forecast Market Analysis by Segment- By Engine Type, By Application, By Aircraft Type, & Region |
| Segments Covered | By Engine Type, By Application, By Aircraft Type, & Region |
| Forecast Units | Value (USD Billion or Million), and Volume (Units) |
| Quantitative Units | Revenue in USD million/billion and CAGR from 2023 to 2031 |
| Regions Covered | North America, Europe, Asia Pacific, Latin America, and Middle East & Africa, and the Rest of World |
| Countries Covered | U.S., Canada, Mexico, U.K., Germany, France, Italy, Spain, China, India, Japan, South Korea, Brazil, Argentina, GCC Countries, and South Africa, among others |
| Report Coverage | Market growth drivers, restraints, opportunities, Porter's five forces analysis, PEST analysis, value chain analysis, regulatory landscape, market attractiveness analysis by segments and region, company market share analysis, and COVID-19 impact analysis. |
| Delivery Format | Delivered as an attached PDF and Excel through email, according to the purchase option. |
Global Aircraft Engine MRO Market Dynamics
The need for more frequent MRO services has been driven by the increasing demand for aviation travel around the world. The market for MRO providers is flourishing as commercial airlines, in particular, engage in engine repair to maintain the safety and effectiveness of their fleets. Regulatory modifications and safety requirements are also essential. Comprehensive engine inspections and maintenance are required by strict aviation laws, which is why the MRO sector has a culture of compliance and quality. As a result of these laws, the industry is being further shaped through advancements in engine diagnostic and repair methods. The development of technology is yet another crucial factor. Advanced materials, artificial intelligence, and data analytics have all been integrated into engine maintenance procedures to increase productivity, decrease downtime, and cut costs. In order to stay competitive and give their clients more value, MRO companies are progressively implementing these technologies. Market partnerships and consolidation are common in the sector, with MRO companies joining together to offer a wider range of services and broaden their global footprint. Airline spending on MRO services may be impacted by changes in aviation fuel prices and economic conditions. Overall, the market for aircraft engine maintenance, repair, and overhaul is distinguished by a persistent push for innovation, adherence to laws, and adaptation to the changing needs of the aviation sector.
Global Aircraft Engine MRO Market Drivers
Rising Global Air Travel Demand
A key factor driving the aviation industry and having a big impact on airlines and related industries is the increasing demand for air travel around the world. This phenomenon is mostly ascribed to a wide range of elements that have combined to produce a strong and steady growth trajectory. First and foremost, a rise in global travel expectations has been sparked by the burgeoning middle-class population in emerging nations, combined with rising disposable income. Today, more individuals can afford to fly, which boosts ticket sales and expands the airline industry's clientele. Business travel has intensified due to economic interdependence and globalization, which has increased demand. Corporate travel has become a cornerstone as firms grow internationally and depend on foreign markets, resulting in a requirement for frequent flights and dependable aviation services. The adoption of larger and more fuel-efficient aircraft by airlines has also played a role, allowing carriers to offer more routes and frequencies, meeting the growing appetite for air travel.
Military and Defense Sector Growth
A complex combination of geopolitical, technological, and security-related variables is what propels the rise of the military and defence sector. This growth is a reaction to the changing international threats and strategic needs that need the bolstering of military capabilities and infrastructure. The shifting geopolitical situation is one of the main causes. To ensure national security and fend off prospective enemies, governments invest in their military forces as they adjust to evolving power balances and regional conflicts. Territorial disputes, cyberthreats, and the possibility for violence in crucial regions all highlight the necessity for a robust defence posture. Technology development also supports the expansion of the military sector. The use of advanced technology in warfare, such as cutting-edge weapons, surveillance systems, and cyber capabilities, is becoming more and more common. To maintain a competitive edge, nations continually upgrade their defense capabilities, driving demand for research and development, procurement, and maintenance of advanced military equipment.
Restraints:
High Capital and Operating Costs
High capital and operating costs are significant bottlenecks in a variety of industries, having a variety of effects on enterprises and organizations. The expenses needed to purchase or construct assets including buildings, machinery, and infrastructure are referred to as capital costs. When these expenses are too high, they can impede business growth and investment in new initiatives. It is difficult to get finance for development or innovation when an organization's financial flexibility is constrained by high capital costs. Large capital expenditures might also result in higher debt or lower profitability, which affects sustainability over the long run. The daily expenditures incurred in running a business, such as labour, materials, energy, and maintenance, are referred to as operating costs. High operating costs put a strain on profitability, which can impair competitiveness and, in the worst situations, lead to financial ruin.
Global Supply Chain Disruptions
Disruptions in the global supply chain are a multidimensional constraint that have a big impact on enterprises, sectors, and economies. Natural disasters, trade conflicts, economic crises, and even health pandemics, like the COVID-19 pandemic, are just a few of the causes of these disruptions. Increased unpredictability and risk are among the main issues that supply chain interruptions present. Supply chains that are reliable and effective are essential for businesses to obtain raw materials, parts, and finished goods. These supply networks can be significantly interrupted by events like hurricanes, political unrest, or other events, which could result in production delays, higher costs, and potential shortages. Supply chain disruptions also emphasize the vulnerability of global inter connectivity. As companies source components and products from various international suppliers, they become more exposed to potential disruptions in different regions. This can lead to a domino effect, where a single disruption in one part of the world can impact operations globally.
Opportunities:
Advanced Technologies Adoption
Modern technology make it possible for maintenance procedures to be more exact and effective, which lowers downtime and increases aircraft availability. For instance, predictive maintenance enables MRO suppliers to foresee engine problems and plan repair before they become serious. Utilizing cutting-edge technology can result in significant cost reductions. By minimizing the possibility of catastrophic engine failures and reducing the need for unplanned repairs, predictive maintenance, powered by data analytics and sensor technology, eventually decreases labour and material costs. By delivering real-time data and diagnostics that improve decision-making during maintenance procedures, advanced technologies improve safety. Massive volumes of data can be analyzed by artificial intelligence to spot any safety issues, ensuring that engines are kept up to the highest standards. The adoption of advanced materials and technologies can contribute to more fuel-efficient engines, reducing emissions and environmental impact, aligning with global efforts to address climate change.
Airlines, aircraft producers, and companies that offer maintenance, repair, and overhaul (MRO) services for aircraft engines all stand to benefit significantly from fleet modernization in the aviation sector. Through this strategic plan, older, less fuel-efficient aircraft will be retired and will be replaced with more modern, technologically sophisticated, and environmentally friendly aircraft. An important opportunity is increased operational effectiveness. Modern aeroplanes are made to be more fuel-efficient, which lowers operating costs and has a positive influence on the environment. As airlines switch to these more modern models, they gain from lower fuel consumption, fewer maintenance needs, and lower emissions, all of which help to increase their profitability and competitiveness. The need for MRO services is also significantly increased by fleet modernization. Airlines need maintenance, repair, and overhaul services for these cutting-edge engines as they add new aircraft to their fleets.
Segment Overview
By Engine Type
Based on engine type, the global aircraft engine MRO market is divided into turbo engine and piston engine. The turbo category dominates the market with the largest revenue share in 2022. Turbo engines are the primary propulsion systems for most commercial and military aircraft. They encompass a wide range of designs, including turbofan, turboprop, and turbojet engines. Turbo engines are known for their high power output, efficiency, and reliability, making them crucial for modern aviation. The maintenance, repair, and overhaul of turbo engines involve intricate and highly specialized processes, often requiring cutting-edge technologies and skilled technicians. This segment of the market is influenced by factors such as airline fleet expansion, technological advancements, and evolving environmental regulations. Piston engines, on the other hand, are primarily used in smaller aircraft, such as general aviation and regional planes. They are characterized by their simplicity and durability. The MRO requirements for piston engines differ from those of turbo engines, often focusing on routine inspections, component replacements, and general maintenance. This segment is influenced by factors like the overall health of the general aviation industry, trends in private and recreational flying, and advancements in piston engine technology.
By Aircraft Type
Based on the aircraft type, the global aircraft engine MRO market is categorized into fixed wing aircraft, rotary wing aircraft. The fixed wing aircraft category leads the global aircraft engine MRO market with the largest revenue share in 2022. Fixed wing aircraft, which include commercial airliners, military planes, and private jets, are characterized by their fixed wings and are designed for sustained, forward flight. MRO services for fixed wing aircraft encompass a wide range of activities, from routine maintenance to complete overhauls. This segment of the market is heavily influenced by factors such as the global demand for air travel, military procurement programs, and technological advancements in aviation, with a focus on fuel efficiency, safety, and performance. Rotary wing aircraft, on the other hand, consist of helicopters and other vertical take-off and landing (VTOL) aircraft. These aircraft serve various purposes, including military missions, medical transport, search and rescue operations, and offshore oil rig support. MRO services for rotary wing aircraft require specialized expertise due to the unique challenges posed by rotary-wing technology. This segment is influenced by factors like the expansion of emergency medical services, offshore exploration, and military operations.
By Application
Based on application, the global aircraft engine MRO market is segmented into commercial aviation, military aviation, and general aviation. The commercial aviation segment dominates the aircraft engine MRO market. Commercial aviation encompasses airlines, both passenger and cargo carriers. The MRO market within this segment is substantial and driven by factors like the growing global demand for air travel, the expansion of commercial airline fleets, and the need to ensure the safety and reliability of these aircraft. MRO services for commercial aviation cover a wide range of activities, including routine maintenance, inspections, component repairs, and overhauls, with a strong focus on minimizing downtime and optimizing fuel efficiency. Military aviation includes the air forces, naval aviation, and other defense-related aerial operations. The MRO market in this sector is driven by national security concerns, geopolitical tensions, and the need to maintain combat readiness. It involves the maintenance and repair of a diverse range of aircraft, from fighter jets to transport planes and helicopters. Military aviation MRO services often require stringent adherence to military standards and readiness requirements. General aviation encompasses a wide variety of non-commercial aviation activities, including private and recreational flying, business aviation, and small regional operations. The MRO market for general aviation is influenced by factors such as trends in private and corporate aircraft ownership, the health of the general aviation industry, and technological advancements in piston engine aircraft. MRO services in this segment may include inspections, engine maintenance, avionics upgrades, and component repairs, catering to a more diverse and flexible range of aircraft and customer needs.
Global Aircraft Engine MRO Market Overview by Region
The global aircraft engine MRO market is categorized into North America, Europe, Asia-Pacific, and the Rest of the World. Asia-Pacific emerged as the leading region, capturing the largest market share in 2022. In the global market for aircraft engine maintenance, repair, and overhaul (MRO), Asia-Pacific has taken the top spot. This striking change is the result of a number of forces working together to make the area a hub for aviation activity. The rising demand for air travel in the region is one of the main factors behind the growth of Asia-Pacific. Passenger numbers have significantly increased as a result of the expanding middle-class population, rising earnings, and an expanding network of regional and international lines. In order to fulfil the rising demand for air travel, airlines in the Asia-Pacific region are continuously growing their fleets and emphasizing routine engine maintenance. Additionally, the Asia-Pacific region has experienced substantial economic expansion, with nations like China and India emerging as global economic giants. Due to the booming economy, more money has been invested in aviation infrastructure, including MRO facilities, R&D, and the purchase of the newest aircraft and engine technologies. Geographically speaking, Asia-Pacific has become an important aviation centre. The region is ideally situated for international trade and travel as a bridge between the East and the West, which further increases the significance of the aviation industry. This has sparked cooperation with international MRO suppliers and the creation of top-tier aviation hubs. Asia-Pacific's ascent to the top spot in the worldwide aircraft engine MRO market is a reflection of its burgeoning economy, rising demand for air travel, and strategic significance within the aviation industry.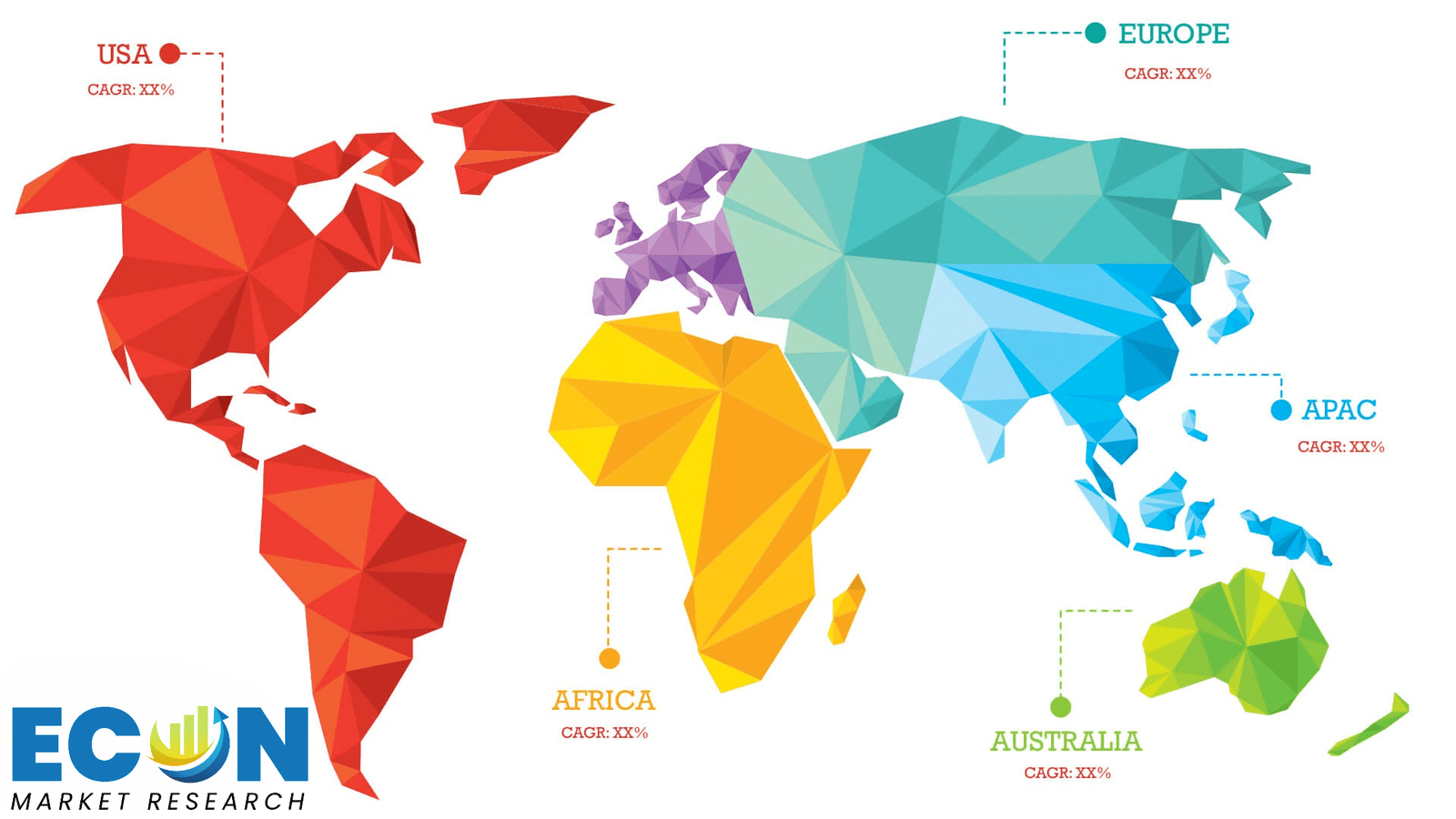 Global Aircraft Engine MRO Market Competitive Landscape
In the global aircraft engine MRO market, a few major players exert significant market dominance and have established a strong regional presence. These leading companies remain committed to continuous research and development endeavors and actively engage in strategic growth initiatives, including product development, launches, joint ventures, and partnerships. By pursuing these strategies, these companies aim to strengthen their market position, expand their customer base, and capture a substantial share of the market.
Some of the prominent players in the global aircraft engine MRO market include AIR FRANCE KLM Group Delta TechOps, GE Aviation, Hong Kong Aircraft Engineering Company Limited, Lufthansa Technik, MTU AERO ENGINES AG, Rolls-Royce plc, Safran, SIA Engineering Company, United Technologies. , and various other key players.
Global Aircraft Engine MRO Market Recent Developments
In July 2023, The largest MRO facility for aircraft engines will be built by French aerospace firm Safran at GMR Aerospace Park. Safran, a French aerospace company, is planning to build one of its largest aircraft engine maintenance and repair facilities in Hydrabad.
Scope of the Global Aircraft Engine MRO Market Report
Aircraft Engine MRO Market Report Segmentation
ATTRIBUTE

DETAILS

By Engine Type

Turbo Engine

Piston Engine

By Aircraft Type

Fixed Wing Aircraft

Rotary Wing Aircraft

By Application

Commercial Aviation

Military Aviation

General Aviation

By Geography

North America (USA,

and Canada)

Europe (UK, Germany, France, Italy, Spain, Russia and Rest of Europe)

Asia Pacific (Japan, China, India, Australia, Southeast Asia and Rest of Asia Pacific)

Latin America (Brazil, Mexico, and Rest of Latin America)

Middle East & Africa (South Africa, GCC, and Rest of Middle East & Africa)

Customization Scope

Pricing
Objectives of the Study
The objectives of the study are summarized in 5 stages. They are as mentioned below:
Global Aircraft Engine MRO

Market

Size and Forecast:
To identify and estimate the market size for the global aircraft engine MRO market segmented by engine type, by application, by aircraft type, region and by value (in U.S. dollars). Also, to understand the consumption/ demand created by consumers of aircraft engine MRO between 2019 and 2031.
Market Landscape and Trends:
To identify and infer the drivers, restraints, opportunities, and challenges for the global aircraft engine MRO market
Market Influencing Factors:
To find out the factors which are affecting the sales of aircraft engine MRO among consumers
To identify and understand the various factors involved in the global aircraft engine MRO market affected by the pandemic
To provide a detailed insight into the major companies operating in the market. The profiling will include the financial health of the company's past 2-3 years with segmental and regional revenue breakup, product offering, recent developments, SWOT analysis, and key strategies.
Intended Audience
Corporate Communications

Educational Materials

Governments, Associations, and Industrial Bodies

Investors and Trade Experts
Research Methodology
Our research methodology has always been the key differentiating reason which sets us apart in comparison from the competing organizations in the industry. Our organization believes in consistency along with quality and establishing a new level with every new report we generate; our methods are acclaimed and the data/information inside the report is coveted. Our research methodology involves a combination of primary and secondary research methods. Data procurement is one of the most extensive stages in our research process. Our organization helps in assisting the clients to find the opportunities by examining the market across the globe coupled with providing economic statistics for each and every region. The reports generated and published are based on primary & secondary research. In secondary research, we gather data for global Market through white papers, case studies, blogs, reference customers, news, articles, press releases, white papers, and research studies. We also have our paid data applications which includes hoovers, Bloomberg business week, Avention, and others.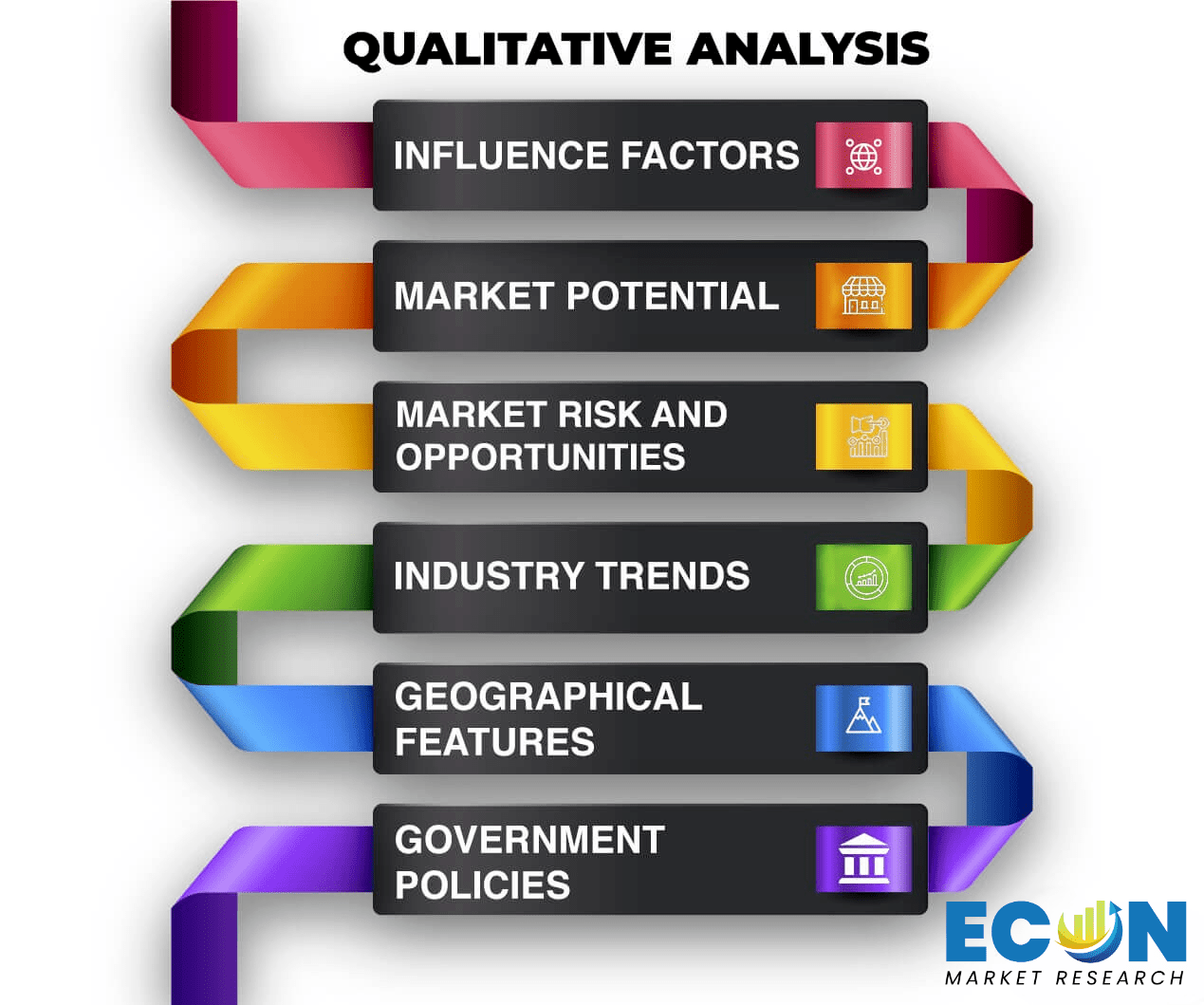 Data Collection
Data collection is the process of gathering, measuring, and analyzing accurate and relevant data from a variety of sources to analyze market and forecast trends. Raw market data is obtained on a broad front. Data is continuously extracted and filtered to ensure only validated and authenticated sources are considered. Data is mined from a varied host of sources including secondary and primary sources.

Primary Research
After the secondary research process, we initiate the primary research phase in which we interact with companies operating within the market space. We interact with related industries to understand the factors that can drive or hamper a market. Exhaustive primary interviews are conducted. Various sources from both the supply and demand sides are interviewed to obtain qualitative and quantitative information for a report which includes suppliers, product providers, domain experts, CEOs, vice presidents, marketing & sales directors, Type & innovation directors, and related key executives from various key companies to ensure a holistic and unbiased picture of the market. 
Secondary Research
A secondary research process is conducted to identify and collect information useful for the extensive, technical, market-oriented, and comprehensive study of the market. Secondary sources include published market studies, competitive information, white papers, analyst reports, government agencies, industry and trade associations, media sources, chambers of commerce, newsletters, trade publications, magazines, Bloomberg BusinessWeek, Factiva, D&B, annual reports, company house documents, investor presentations, articles, journals, blogs, and SEC filings of companies, newspapers, and so on. We have assigned weights to these parameters and quantified their market impacts using the weighted average analysis to derive the expected market growth rate.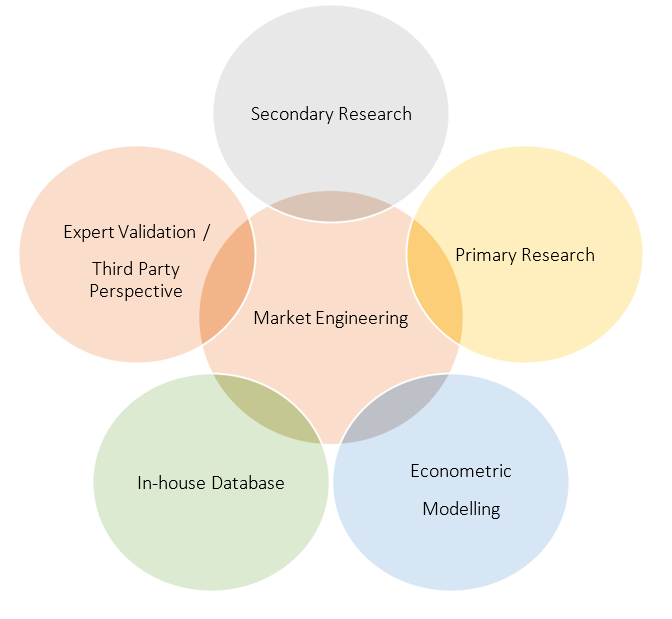 Top-Down Approach & Bottom-Up Approach
In the top – down approach, the Global Batteries for Solar Energy Storage Market was further divided into various segments on the basis of the percentage share of each segment. This approach helped in arriving at the market size of each segment globally. The segments market size was further broken down in the regional market size of each segment and sub-segments. The sub-segments were further broken down to country level market. The market size arrived using this approach was then crosschecked with the market size arrived by using bottom-up approach.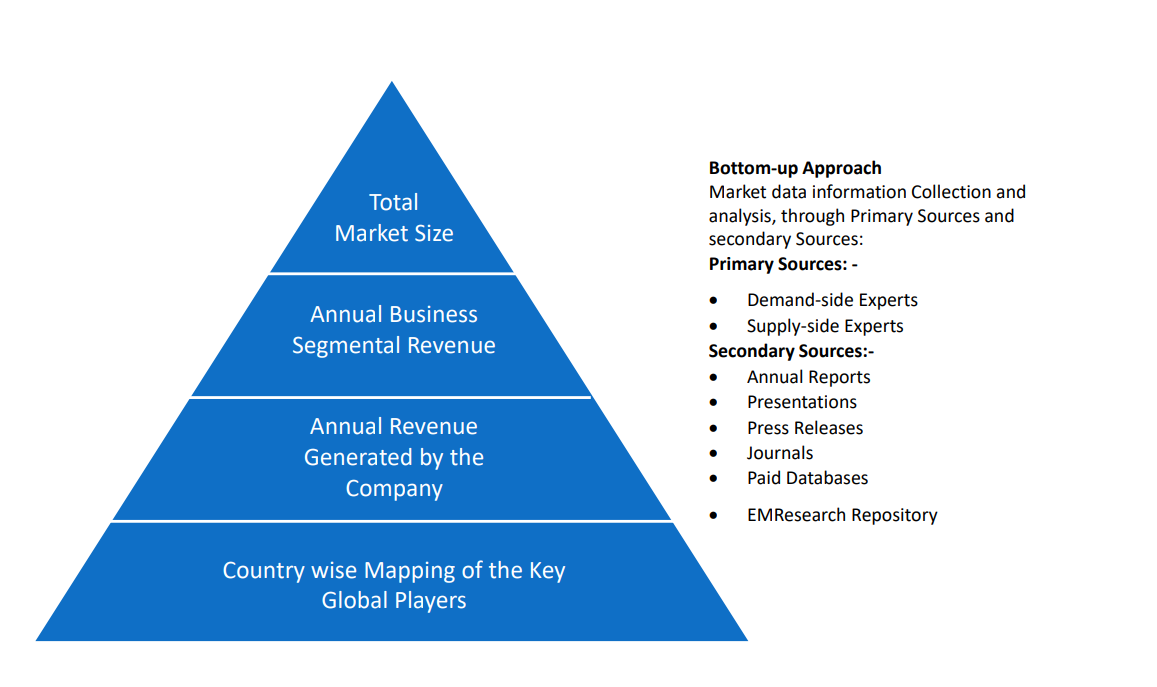 In the bottom-up approach, we arrived at the country market size by identifying the revenues and market shares of the key market players. The country market sizes then were added up to arrive at regional market size of the decorated apparel, which eventually added up to arrive at global market size.
This is one of the most reliable methods as the information is directly obtained from the key players in the market and is based on the primary interviews from the key opinion leaders associated with the firms considered in the research. Furthermore, the data obtained from the company sources and the primary respondents was validated through secondary sources including government publications and Bloomberg.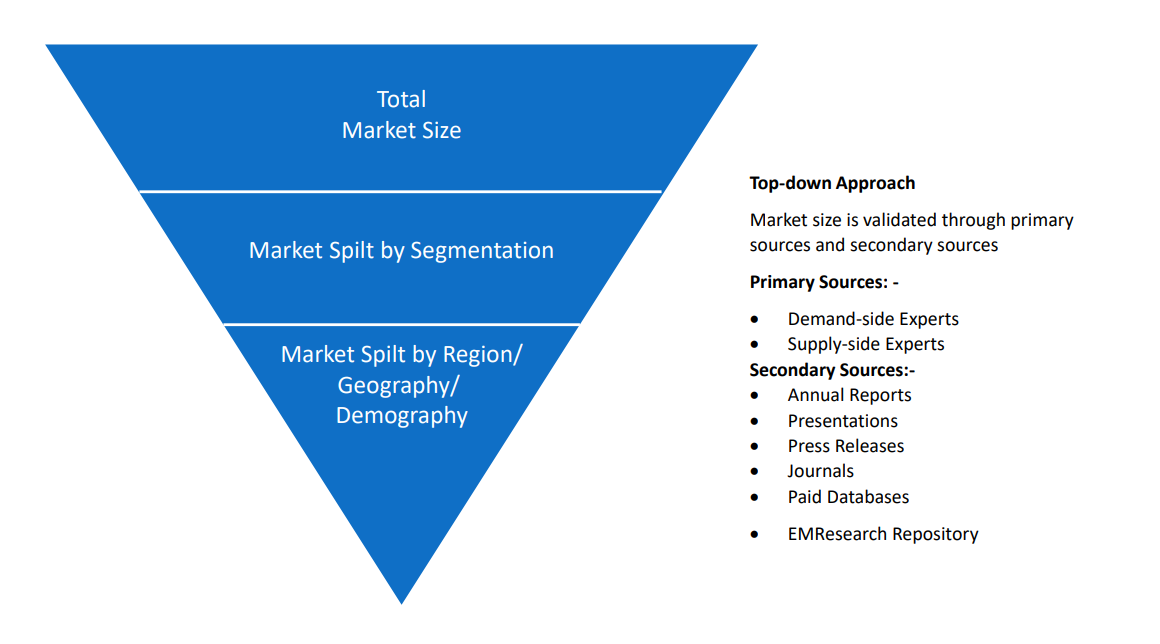 Market Analysis & size Estimation
Post the data mining stage, we gather our findings and analyze them, filtering out relevant insights. These are evaluated across research teams and industry experts. All this data is collected and evaluated by our analysts. The key players in the industry or markets are identified through extensive primary and secondary research. All percentage share splits, and breakdowns have been determined using secondary sources and verified through primary sources. The market size, in terms of value and volume, is determined through primary and secondary research processes, and forecasting models including the time series model, econometric model, judgmental forecasting model, the Delphi method, among Flywheel Energy Storage. Gathered information for market analysis, competitive landscape, growth trends, product development, and pricing trends is fed into the model and analyzed simultaneously.
Quality Checking & Final Review
The analysis done by the research team is further reviewed to check for the accuracy of the data provided to ensure the clients' requirements. This approach provides essential checks and balances which facilitate the production of quality data. This Type of revision was done in two phases for the authenticity of the data and negligible errors in the report. After quality checking, the report is reviewed to look after the presentation, Type and to recheck if all the requirements of the clients were addressed.