The Global Agrochemicals Market was valued at USD 226.80 billion in 2022 and is estimated to reach approximately USD 321.84 billion by 2031, at a CAGR of 3.9% from 2023 to 2031. In order to increase crop yields, safeguard crops from pests and diseases, and ensure food security, the agrochemicals market is a crucial part of the worldwide agriculture business. Pesticides, herbicides, fertilizers, and plant growth regulators are just a few of the chemical compounds referred to as agrochemicals that are used to increase agricultural productivity. For the purpose of preventing and lessening the harm that pests and diseases do, pesticides such as fungicides and insecticides are necessary. Herbicides, on the other hand, aid in controlling unwelcome weed growth, allowing crops to flourish without opposition. Fertilizers give the soil and crops the vital nutrients they need for growth and increased output. In order to ensure optimal growth and harvest, plant growth regulators help to regulate the growth and maturation of plants. As the global population continues to rise and more food must be produced, the agrochemicals business has experienced rapid expansion. However, this expansion also prompts questions about how using agrochemicals would affect the environment. To lessen negative consequences and encourage environmentally friendly alternatives, sustainable practices and technologies are being embraced. The agrochemicals market is still a vibrant and developing industry, essential to the production of food around the world and the general welfare of the populace.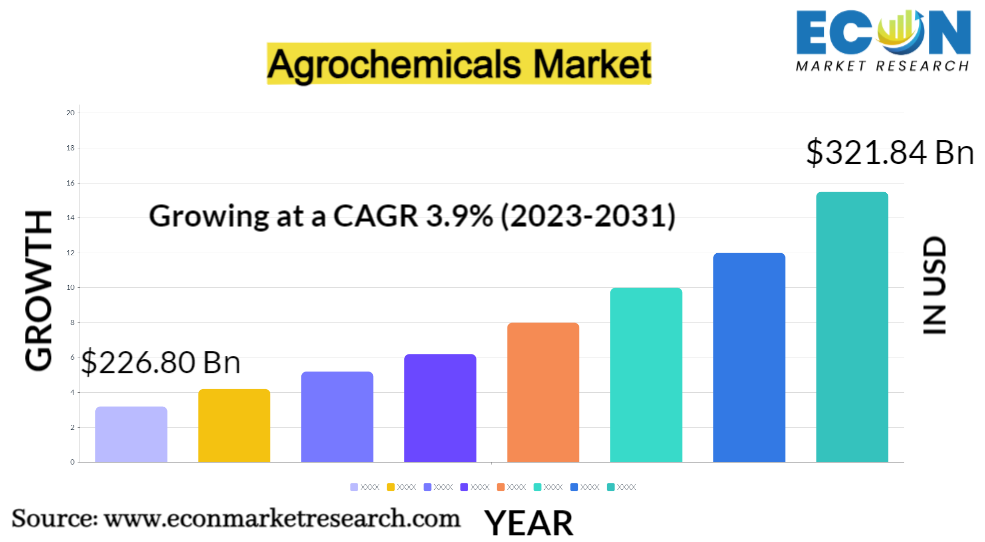 AGROCHEMICALS MARKET: REPORT SCOPE & SEGMENTATION
| | |
| --- | --- |
| Report Attribute | Details |
| Estimated Market Value (2022) | 226.80 Bn |
| Projected Market Value (2031) | 321.84 Bn |
| Base Year | 2022 |
| Forecast Years | 2023 - 2031 |
| Scope of the Report | Historical and Forecast Trends, Industry Drivers and Constraints, Historical and Forecast Market Analysis by Segment- By Crop Type, By Product, & Region |
| Segments Covered | By Crop Type, By Product, & Region |
| Forecast Units | Value (USD Billion or Million), and Volume (Units) |
| Quantitative Units | Revenue in USD million/billion and CAGR from 2023 to 2031 |
| Regions Covered | North America, Europe, Asia Pacific, Latin America, and Middle East & Africa, and the Rest of World |
| Countries Covered | U.S., Canada, Mexico, U.K., Germany, France, Italy, Spain, China, India, Japan, South Korea, Brazil, Argentina, GCC Countries, and South Africa, among others |
| Report Coverage | Market growth drivers, restraints, opportunities, Porter's five forces analysis, PEST analysis, value chain analysis, regulatory landscape, market attractiveness analysis by segments and region, company market share analysis, and COVID-19 impact analysis. |
| Delivery Format | Delivered as an attached PDF and Excel through email, according to the purchase option. |
Global Agrochemicals Market Dynamics
The market for agrochemicals is a complex industry with a number of components that interact dynamically. Population growth continues to be the main force behind expanded agricultural output and, as a result, more usage of agrochemicals to raise crop yields. The need for these compounds has increased as a result of changing agricultural techniques including precision agriculture and genetically modified crops. Environmental factors are crucial to understanding market dynamics. As a result of worries about the environmental effects of agrochemicals, there are now strict laws and an increasing number of sustainable, eco-friendly alternatives. Climate change has a significant impact as well, as changing weather patterns and increased pest pressures necessitate adaptation in pesticide use. A few big companies consolidating the market might result in price changes and market competitiveness issues that affect suppliers and customers alike. Agrochemicals are becoming more effective and environmentally conscientious because to continual technical breakthroughs, which are continuing to influence the business. Government rules have a big impact on the market because they guarantee food safety and environmental protection. In an effort to meet the needs of a market that is environmentally sensitive, producers are changing agricultural methods and pesticide usage in response to consumer preferences for organic and sustainable food products. In order to strike a balance between the demand for increasing food production and sustainability and environmental responsibility, the agrochemicals market functions within a complex web of factors. This changing environment emphasises the growing significance of environmentally friendly practices, minimal environmental impact, and creative ways to meet the world's food need.
Global Agrochemicals Market Drivers
The goal of contemporary agriculture is to increase the number and quality of crops gathered from a specific area of farmland. This is accomplished through crop yield enhancement. To meet the nutritional needs of a larger, more urbanising, and more affluent global population, there is a growing demand for increased food production as the world's population continues to rise. To fill the gap between supply and demand for food, yield increase is crucial. A major objective for governments and regions is to ensure reliable and adequate food supplies. Crop yield improvement initiatives are essential for preventing food shortages, lowering the likelihood of famine, and enhancing global food security.
The economic, social, and environmental landscapes of our world are being dramatically shaped by the growing global population. It describes the steady rise in the number of people living on Earth and is caused by a multitude of variables, including lowering death rates, rising life expectancy, and high birth rates in some areas. More people put more pressure on the planet's limited resources, such as food, water, energy, and raw materials. Due to the competitiveness and resource scarcity brought on by this rising demand, innovative solutions and technical improvements can be required to meet these issues. Cities quickly grow as a result of increased migration to metropolitan regions in search of employment opportunities as populations rise. Urbanization can spur economic growth, but it also presents problems with housing, social services, and infrastructure. Global population expansion has serious negative effects on the environment because it increases consumerism and energy use, which cause climate change, deforestation, and habitat degradation. This highlights the necessity of eco-friendly practices and environmental protection initiatives.
Restraints:
Regulatory and Environmental Constraints
Government rules are put in place to safeguard the environment, maintain fair competition, and guarantee public safety. Although these laws are necessary to protect society, the expenses and restrictions they put on enterprises make them a hindrance. Businesses have to manage a complicated web of rules that can have an impact on marketing, production, and other processes. Fines, legal obligations, and reputational harm can occur from failing to adhere to regulatory norms. Businesses are attempting to lessen their ecological footprint as a result of the global emphasis on environmental sustainability. Limitations on emissions, waste management, and resource use are examples of environmental constraints. Following environmentally responsible practices can be expensive and difficult, especially in sectors with historically large environmental consequences. Adhering to environmental and regulatory standards often extends to supply chains. Businesses must collaborate with suppliers who meet these standards, which can lead to added costs and complexities in sourcing materials and components.
Escalating C

osts of

R

aw

M

aterials and

Production
Due to rising global demand, supply chain disruptions, geopolitical unrest, and natural disasters, the price of raw materials, such as metals, energy sources, and agricultural commodities, has grown, making inputs for numerous businesses more expensive. Costs of production can increase in a chain reaction as a result of rising electricity and fossil fuel prices. With rising utility costs, industries that depend on energy-intensive operations face special difficulties. Companies might need to invest in technology and employee training to retain efficiency as a result of rising salaries brought on by labour movements and a competitive labour market. Fuel price increases and traffic jams in transport networks can raise the cost of transporting goods and resources, which can have an effect on both domestic and global supply chains.
Opportunities:
Increasing

D

emand for

B

iopesticides and

Biostimulants
Within the agriculture and horticulture industries, the rising demand for biopesticides and biostimulants offers a promising future prospect. There is an increasing focus on environmentally friendly and sustainable farming practices as a result of growing worries about the ecological effects of chemical pesticides and fertilizers. While causing the least amount of harm to the environment, beneficial insects, and non-target species, biopesticides and biostimulants provide efficient pest control and crop enhancement. Customers' preferences for items produced with fewer synthetic chemicals have changed as a result of consumer understanding of the potential health dangers linked to chemical residues in food. For both producers and consumers, biopesticides and biostimulants offer a safer and healthier option. Governments and regulatory bodies are increasingly encouraging the use of biopesticides and biostimulants through incentives, grants, and streamlined approval processes, reflecting a favorable regulatory environment.
Technological Advancements
Technological developments are anticipated to present a wide range of interesting future opportunities in a number of industries. The prospects for the future are incredibly promising as a result of the constant transformation of our lives and workplaces brought about by these technologies. By streamlining procedures, boosting efficiency, and optimizing decision-making, AI is revolutionizing industries including healthcare, banking, and manufacturing. Predictive analytics, autonomous systems, and personalized medicine are three areas where AI can be used in the future. The fight against climate change requires the use of renewable energy sources including solar, wind, and sophisticated energy storage. Opportunities for cost- and efficiency-effective, environmentally friendly energy generation are provided by the advancement of clean energy technology. Healthcare could be revolutionized by advances in biotechnology, such as gene editing and personalized treatment. The Internet of Things (IoT) is driving the development of smart cities, where data and automation are used to enhance urban living. This creates opportunities in areas like smart infrastructure, traffic management, and environmental monitoring.
Segment Overview
By Product
Based on product, the global agrochemicals market is divided into fertilizers, crop protection chemicals, pesticides. The fertilizers category dominates the market with the largest revenue share in 2022. Fertilizers are essential components in agriculture aimed at enhancing soil fertility and, in turn, crop productivity. They provide crucial nutrients, such as nitrogen, phosphorus, and potassium, which are necessary for plant growth. Fertilizers come in various forms, including synthetic and organic, and are used to replenish soil nutrients, increase crop yields, and improve the nutritional content of harvested crops. Sustainable farming practices are driving innovation in the development of environmentally friendly fertilizers to minimize the ecological impact.Crop protection chemicals encompass a wide range of substances designed to safeguard crops from pests, diseases, and unwanted weed growth. This category includes insecticides, herbicides, and fungicides. Their purpose is to maintain the health and yield of crops while minimizing losses due to these threats. Sustainable agriculture has led to the development of integrated pest management strategies, which incorporate the targeted use of crop protection chemicals in combination with other approaches to reduce environmental impact. Pesticides represent a subset of crop protection chemicals that focus on managing and controlling harmful insects, weeds, and plant diseases. They are essential for ensuring healthy crop development and preventing infestations that can reduce agricultural output. Ongoing research seeks to create more selective and less harmful pesticides to mitigate their impact on non-target species and the environment.
By Crop Type
Based on the crop type, the global agrochemicals market is categorized into cereal & grains, oilseeds & pulses, fruits & vegetables. The cereal & grains category leads the global agrochemicals market with the largest revenue share in 2022. This segment comprises crops such as wheat, rice, maize (corn), barley, oats, and sorghum. Cereals and grains are staple food sources for a significant portion of the world's population. They serve as the primary source of carbohydrates and are essential in various processed foods, including bread, pasta, and breakfast cereals. Cereals and grains are often referred to as "cash crops" and play a crucial role in ensuring global food security and nutrition. Oilseeds and pulses category includes crops like soybeans, sunflower seeds, peanuts, chickpeas, lentils, and other legumes. Oilseeds provide oils used in cooking and industrial applications, while pulses are protein-rich and an essential source of nutrition in many diets. These crops are significant for their protein content and also for the oils extracted from them, which are used in cooking, food processing, and biofuels. Fruits and vegetables segment encompasses a wide variety of produce, from apples, bananas, and citrus fruits to leafy greens, tomatoes, and root vegetables. Fruits and vegetables are rich in essential vitamins, minerals, and dietary fiber, making them vital components of a balanced diet. They are consumed fresh, frozen, canned, or processed into a range of food products. This segment also includes specialty crops and high-value horticultural products.
Global Agrochemicals Market Overview by Region
The global agrochemicals market is categorized into North America, Europe, Asia-Pacific, and the Rest of the World. Asia-Pacific emerged as the leading region, capturing the largest market share in 2022. Asia-Pacific has cemented its position as a major economic region of the world. The region has emerged as a major engine of global economic growth thanks to its enormous population and a number of fast expanding economies. Particularly notable as significant drivers of the region's economic growth are China and India. Technology advancements in the area have increased dramatically. While China has emerged as a leader in technology and e-commerce, countries like Japan and South Korea are renowned for their innovation in the electronics and automotive industries. In the domains of artificial intelligence, 5G technology, and other developing technologies, the Asia-Pacific region is at the forefront. The area is a patchwork of various cultures, customs, and tongues. The rich tapestry of art, music, cuisine, and customs that have resulted from this diversity continues to enthral people all around the world. Asia-Pacific is home to a large portion of the world's manufacturing sectors, which produce everything from consumer electronics to vehicles. As a result, the region has experienced export-driven economic expansion and become a key participant in the global supply chain. Infrastructure has seen significant investment, notably in nations like China. Smart cities, high-speed rail networks, and contemporary airports are becoming symbols of the area's dedication to growth.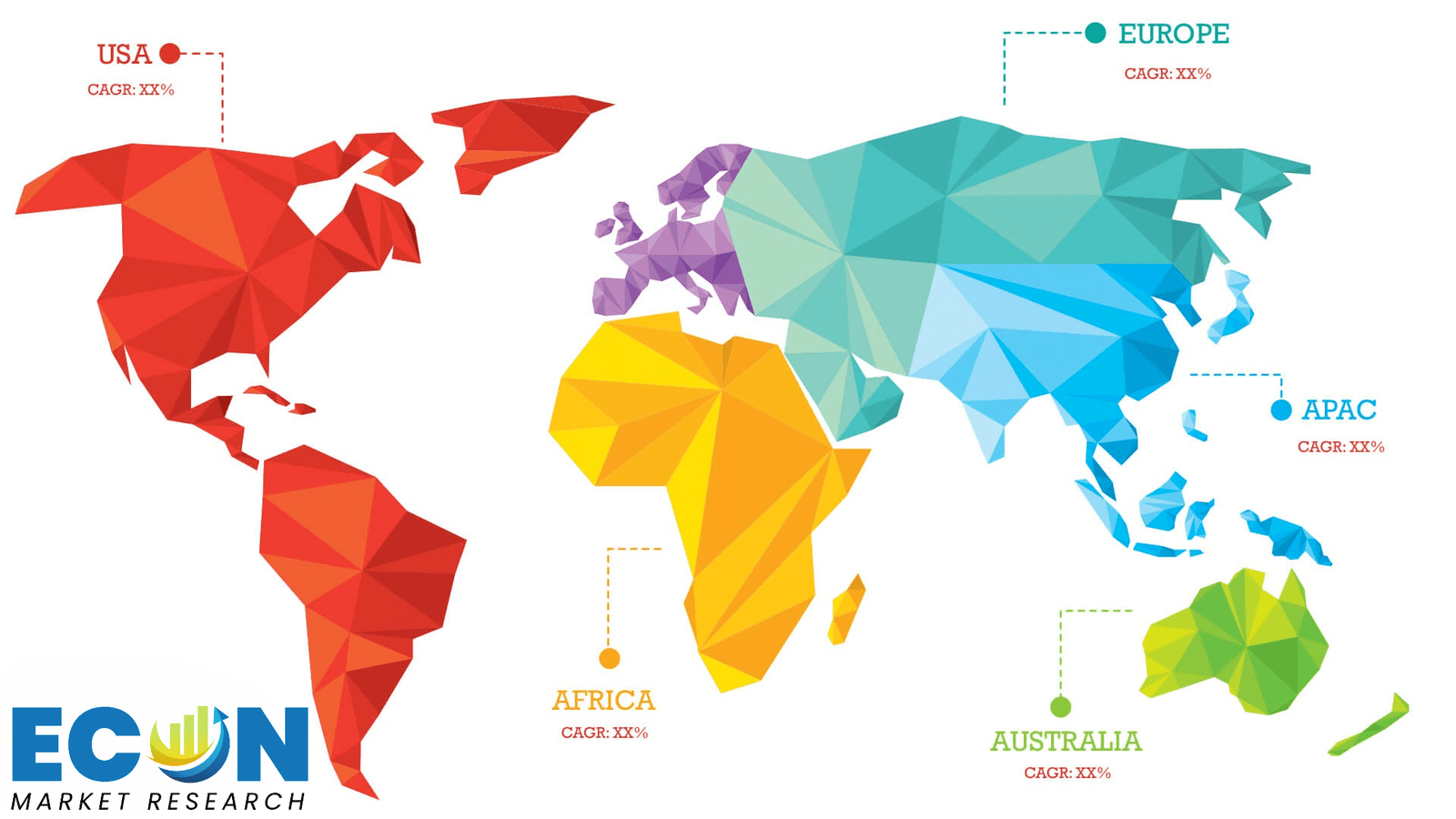 Global Agrochemicals Market Competitive Landscape
In the global agrochemicals market, a few major players exert significant market dominance and have established a strong regional presence. These leading companies remain committed to continuous research and development endeavors and actively engage in strategic growth initiatives, including product development, launches, joint ventures, and partnerships. By pursuing these strategies, these companies aim to strengthen their market position, expand their customer base, and capture a substantial share of the market.
Some of the prominent players in the global agrochemicals market include Clariant AG; BASF SE; Huntsman International LLC; Bayer AG; The DOW Chemical Company; Solvay; Nufarm; Evonik Industries AG; Croda International Plc; Helena Agri-Enterprises, LLC; Ashland, Inc.; Land O' Lakes, Inc.; FMC Corp.; ADAMA Ltd.; Stepan Company , and various other key players.
Global Agrochemicals Market Recent Developments
In December 2022, Agrochemical business situated in New Zealand is acquired by Adama. By acquiring this company, ADAMA will be able to expand its product line in the New Zealand market and enter related markets for biologicals, plant nutrition, and plant growth regulators.
Scope of the Global Agrochemicals Market Report
Agrochemicals Market Report Segmentation
ATTRIBUTE

DETAILS

By Product

Fertilizers

Crop Protection Chemicals

Pesticides

By Crop Type

Cereal & Grains

Oilseeds & Pulses

Fruits & Vegetables

By Geography

North America (USA,

and Canada)

Europe (UK, Germany, France, Italy, Spain, Russia and Rest of Europe)

Asia Pacific (Japan, China, India, Australia, Southeast Asia and Rest of Asia Pacific)

Latin America (Brazil, Mexico, and Rest of Latin America)

Middle East & Africa (South Africa, GCC, and Rest of Middle East & Africa)

Customization Scope

Pricing
Objectives of the Study
The objectives of the study are summarized in 5 stages. They are as mentioned below:
Global Agrochemicals

Market

Size and Forecast:
To identify and estimate the market size for the global agrochemicals market segmented by product, by crop type, region and by value (in U.S. dollars). Also, to understand the consumption/ demand created by consumers of agrochemicals between 2019 and 2031.
Market Landscape and Trends:
To identify and infer the drivers, restraints, opportunities, and challenges for the global agrochemicals market
Market Influencing Factors:
To find out the factors which are affecting the sales of agrochemicals among consumers
To identify and understand the various factors involved in the global agrochemicals market affected by the pandemic
To provide a detailed insight into the major companies operating in the market. The profiling will include the financial health of the company's past 2-3 years with segmental and regional revenue breakup, product offering, recent developments, SWOT analysis, and key strategies.
Intended Audience
Raw Material Suppliers

Academics and Researchers

Medical Professionals

Retailers, Wholesalers, and Distributors

Governments, Associations, and Industrial Bodies

Investors and Trade Experts
Research Methodology
Our research methodology has always been the key differentiating reason which sets us apart in comparison from the competing organizations in the industry. Our organization believes in consistency along with quality and establishing a new level with every new report we generate; our methods are acclaimed and the data/information inside the report is coveted. Our research methodology involves a combination of primary and secondary research methods. Data procurement is one of the most extensive stages in our research process. Our organization helps in assisting the clients to find the opportunities by examining the market across the globe coupled with providing economic statistics for each and every region. The reports generated and published are based on primary & secondary research. In secondary research, we gather data for global Market through white papers, case studies, blogs, reference customers, news, articles, press releases, white papers, and research studies. We also have our paid data applications which includes hoovers, Bloomberg business week, Avention, and others.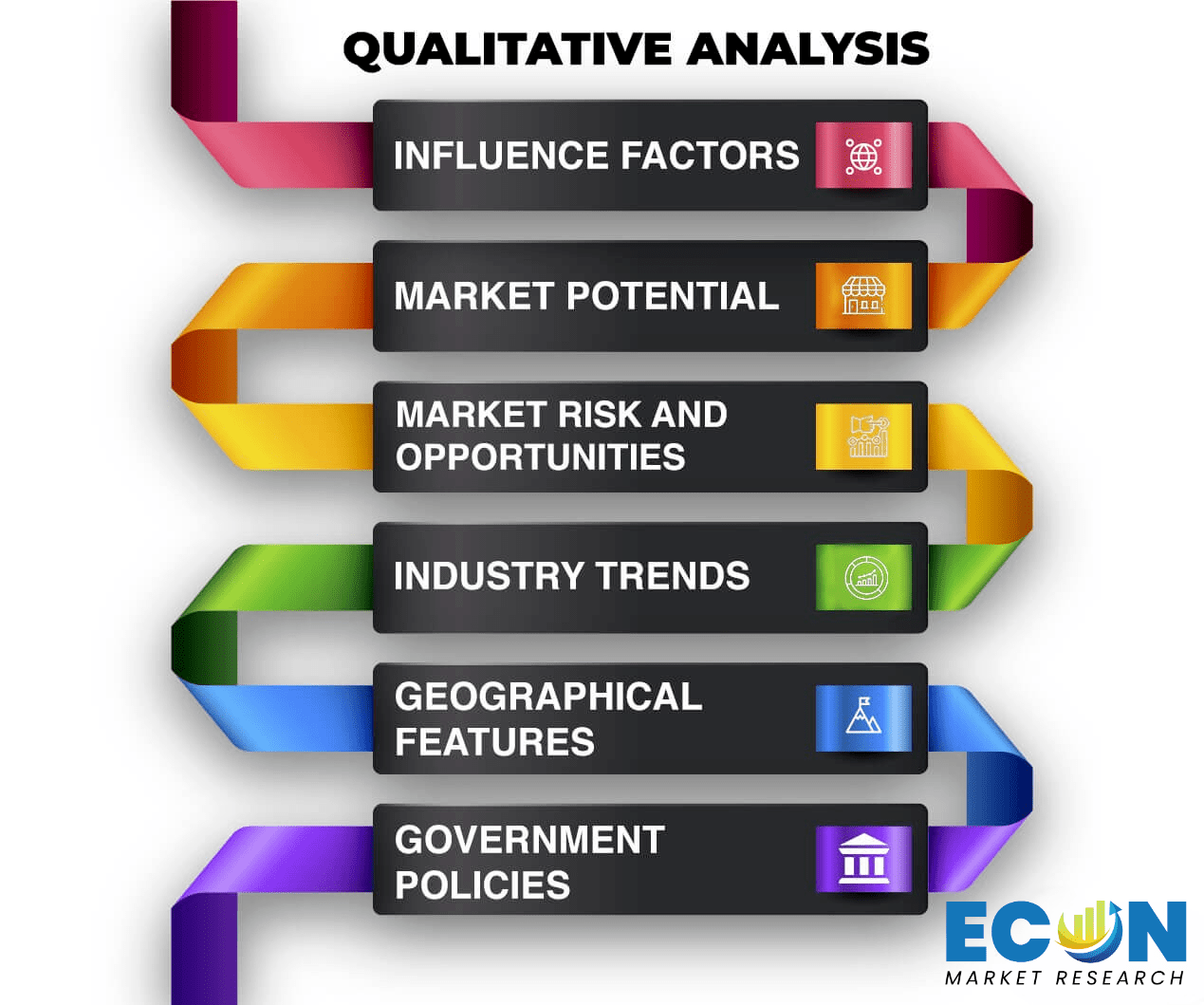 Data Collection
Data collection is the process of gathering, measuring, and analyzing accurate and relevant data from a variety of sources to analyze market and forecast trends. Raw market data is obtained on a broad front. Data is continuously extracted and filtered to ensure only validated and authenticated sources are considered. Data is mined from a varied host of sources including secondary and primary sources.

Primary Research
After the secondary research process, we initiate the primary research phase in which we interact with companies operating within the market space. We interact with related industries to understand the factors that can drive or hamper a market. Exhaustive primary interviews are conducted. Various sources from both the supply and demand sides are interviewed to obtain qualitative and quantitative information for a report which includes suppliers, product providers, domain experts, CEOs, vice presidents, marketing & sales directors, Type & innovation directors, and related key executives from various key companies to ensure a holistic and unbiased picture of the market. 
Secondary Research
A secondary research process is conducted to identify and collect information useful for the extensive, technical, market-oriented, and comprehensive study of the market. Secondary sources include published market studies, competitive information, white papers, analyst reports, government agencies, industry and trade associations, media sources, chambers of commerce, newsletters, trade publications, magazines, Bloomberg BusinessWeek, Factiva, D&B, annual reports, company house documents, investor presentations, articles, journals, blogs, and SEC filings of companies, newspapers, and so on. We have assigned weights to these parameters and quantified their market impacts using the weighted average analysis to derive the expected market growth rate.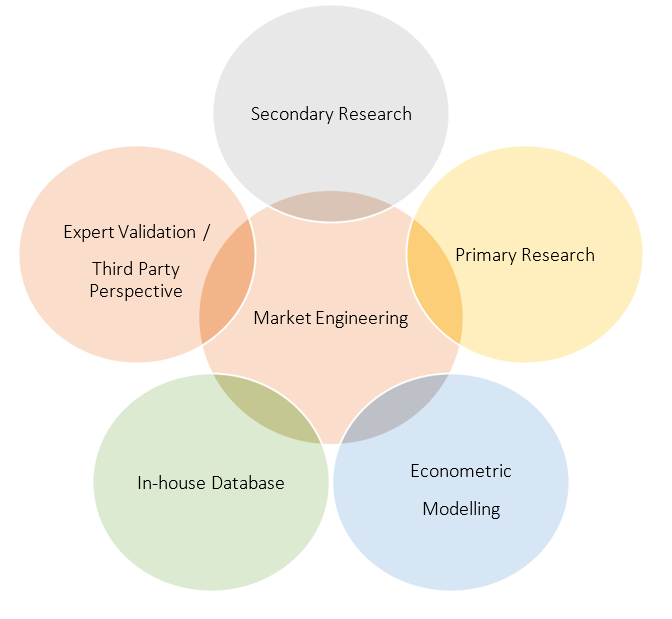 Top-Down Approach & Bottom-Up Approach
In the top – down approach, the Global Batteries for Solar Energy Storage Market was further divided into various segments on the basis of the percentage share of each segment. This approach helped in arriving at the market size of each segment globally. The segments market size was further broken down in the regional market size of each segment and sub-segments. The sub-segments were further broken down to country level market. The market size arrived using this approach was then crosschecked with the market size arrived by using bottom-up approach.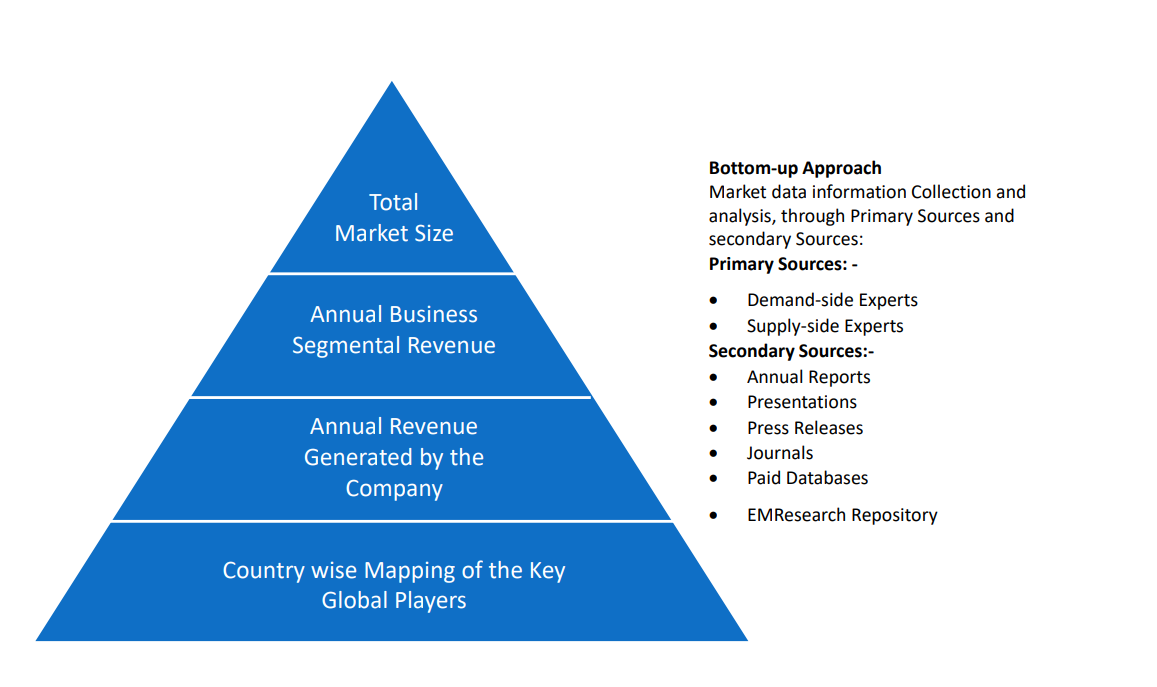 In the bottom-up approach, we arrived at the country market size by identifying the revenues and market shares of the key market players. The country market sizes then were added up to arrive at regional market size of the decorated apparel, which eventually added up to arrive at global market size.
This is one of the most reliable methods as the information is directly obtained from the key players in the market and is based on the primary interviews from the key opinion leaders associated with the firms considered in the research. Furthermore, the data obtained from the company sources and the primary respondents was validated through secondary sources including government publications and Bloomberg.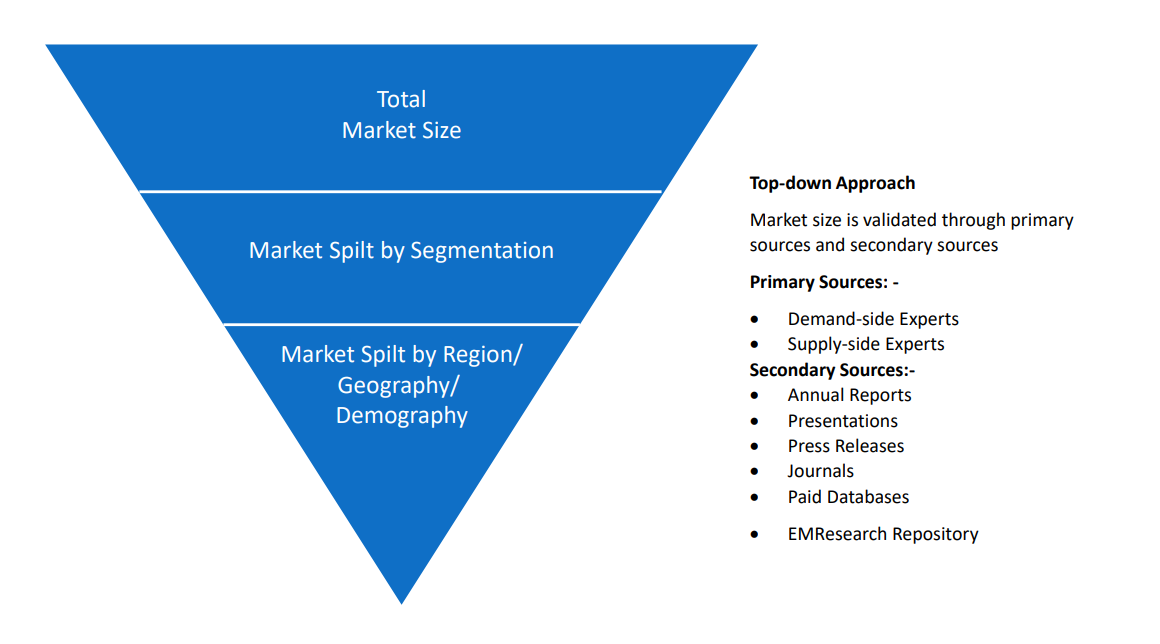 Market Analysis & size Estimation
Post the data mining stage, we gather our findings and analyze them, filtering out relevant insights. These are evaluated across research teams and industry experts. All this data is collected and evaluated by our analysts. The key players in the industry or markets are identified through extensive primary and secondary research. All percentage share splits, and breakdowns have been determined using secondary sources and verified through primary sources. The market size, in terms of value and volume, is determined through primary and secondary research processes, and forecasting models including the time series model, econometric model, judgmental forecasting model, the Delphi method, among Flywheel Energy Storage. Gathered information for market analysis, competitive landscape, growth trends, product development, and pricing trends is fed into the model and analyzed simultaneously.
Quality Checking & Final Review
The analysis done by the research team is further reviewed to check for the accuracy of the data provided to ensure the clients' requirements. This approach provides essential checks and balances which facilitate the production of quality data. This Type of revision was done in two phases for the authenticity of the data and negligible errors in the report. After quality checking, the report is reviewed to look after the presentation, Type and to recheck if all the requirements of the clients were addressed.