The Global Aerospace Parts Manufacturing Market was valued at USD 898.65 billion in 2022 and is estimated to reach approximately USD 1354.57 billion by 2031, at a CAGR of 4.6% from 2023 to 2031. Within the worldwide aerospace and defence industry, the production of aerospace parts market is a crucial subsector. The design, manufacture, and distribution of numerous parts and systems necessary for the development and upkeep of aeroplanes, spacecraft, and associated technologies are all included in this. From complex propulsion and avionics systems to structural parts like airframes and landing gear, these components come in all shapes and sizes. This industry is crucial in determining the direction of future air and space travel due to the ongoing improvement of technology and the rising demand for more effective and dependable aerospace products. Modern manufacturing techniques like additive manufacturing (3D printing) and precise machining are used, together with a variety of materials such as sophisticated composites, metals, and alloys.Commercial and military uses fuel the fierce competition in the market for aircraft parts. To guarantee the safety and dependability of their products, aerospace businesses must abide by high quality standards and regulations. Furthermore, sustainability and environmental concerns are gaining importance, which has prompted the sector to investigate eco-friendly materials and manufacturing techniques. The aircraft components manufacturing market is anticipated to remain a dynamic and growing industry, significantly contributing to technological advancement and economic development on a global scale, as demand for air travel rises and space exploration initiatives increase.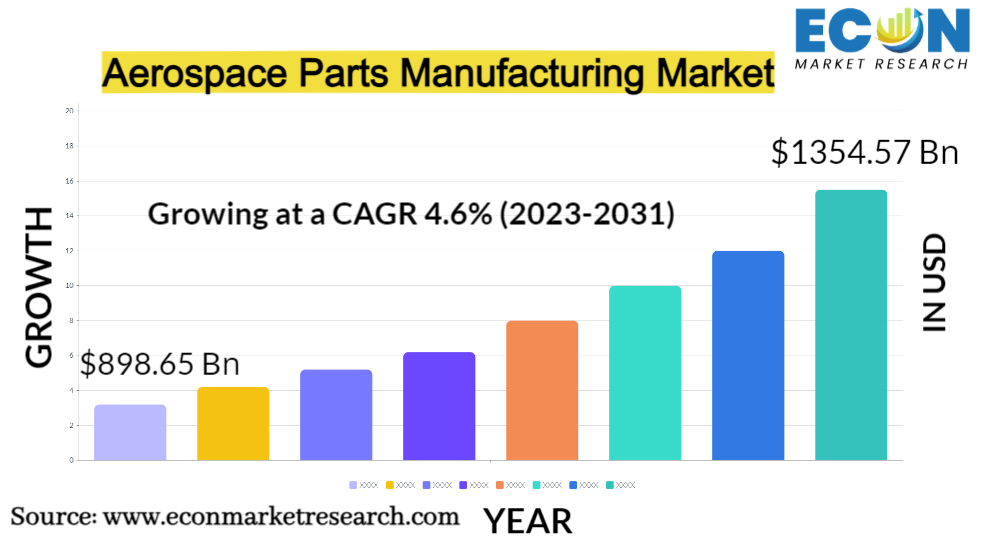 AEROSPACE PARTS MANUFACTURING MARKET: REPORT SCOPE & SEGMENTATION
| | |
| --- | --- |
| Report Attribute | Details |
| Estimated Market Value (2022) | 898.65 Bn |
| Projected Market Value (2031) | 1354.57 Bn |
| Base Year | 2022 |
| Forecast Years | 2023 - 2031 |
| Scope of the Report | Historical and Forecast Trends, Industry Drivers and Constraints, Historical and Forecast Market Analysis by Segment- By Product Type, By End User, & Region |
| Segments Covered | By Product Type, By End User, & Region |
| Forecast Units | Value (USD Billion or Million), and Volume (Units) |
| Quantitative Units | Revenue in USD million/billion and CAGR from 2023 to 2031 |
| Regions Covered | North America, Europe, Asia Pacific, Latin America, and Middle East & Africa, and the Rest of World |
| Countries Covered | U.S., Canada, Mexico, U.K., Germany, France, Italy, Spain, China, India, Japan, South Korea, Brazil, Argentina, GCC Countries, and South Africa, among others |
| Report Coverage | Market growth drivers, restraints, opportunities, Porter's five forces analysis, PEST analysis, value chain analysis, regulatory landscape, market attractiveness analysis by segments and region, company market share analysis, and COVID-19 impact analysis. |
| Delivery Format | Delivered as an attached PDF and Excel through email, according to the purchase option. |
Global Aerospace Parts Manufacturing Market Dynamics
Significant changes occurred in the aerospace parts manufacturing sector in 2003. Due to changing technology demands, geopolitical conflicts, and economic volatility, the sector encountered difficulties. Due to the demand for fuel-efficient aircraft during this time, the market started to move towards lightweight materials like composites and advanced alloys. Intense rivalry arose as a result of new competitors entering the aerospace manufacturing business, notably in Asia, forcing established players to streamline operations and increase cost-efficiency. A common tendency was the outsourcing of manufacturing operations to nations with lower labour costs. Government laws also had an impact on market dynamics, particularly those related to safety and environmental requirements. As a result, more money was spent on R&D for cutting-edge manufacturing processes and materials.Economic downturns and occurrences like the 2008 financial crisis caused variations in demand for the commercial aviation industry. However, owing to continuous defence requirements, production of military aerospace remained largely unchanged. The industry that made aerospace parts was characterized by the need for cost-efficiency, technological advancement, international rivalry, and regulatory pressures. Businesses were better positioned for success in this competitive market when they responded to these dynamics by investing in research, implementing new manufacturing techniques, and diversifying their product offers.
Global Aerospace Parts Manufacturing Market Drivers
Rising Global Air Travel Demand
The market for aircraft components manufacturing is significantly being driven by the increased demand for air travel around the world. It includes the expanding need for commercial aircraft to carry the increasing number of passengers around the world. The middle class is steadily growing in emerging economies, especially in nations like China and India. With more discretionary income and a greater desire for air travel as a result of this demographic transition, airlines are compelled to either increase their fleets or replace ageing aircraft with newer, more fuel-efficient models. Because of this, producers of aerospace parts see an increase in demand for parts including engines, avionics, airframes, and interiors. The globalization of commerce and business need effective air travel. Industries rely largely on air cargo to deliver goods quickly and reliably, which has raised demand for cargo aircraft and related aeronautical components. Technology developments and improved connection have expanded the accessibility and convenience of air travel. This accessibility has increased demand for both short- and long-haul flights, encouraging airlines to upgrade and increase the number of their aircraft fleets.
Growing Defense and Military Spending
The market for aircraft components production is significantly influenced by the rising defence and military spending. Several elements that have a substantial impact on the aircraft sector support this driving. First and foremost, increased funding for defence expenditures has been requested by several nations due to global geopolitical unrest and security concerns. Defence agencies therefore work to update their fleets of fighter jets, helicopters, unmanned aerial vehicles (UAVs), and other defence aircraft. The aircraft parts manufacturing industry is expanding as a result of this modernization effort, which directly results in more orders for aerospace systems and components. Additionally, there are constant technological developments in military aviation that call for the creation of cutting-edge aircraft components. These developments include stealth technology, sophisticated radar systems, and capabilities for electronic warfare, all of which call for specialized parts and supplies. Additionally, standardized military hardware and interoperability standards are frequently part of international alliances and partnerships like NATO. Manufacturers of aerospace components are essential to upholding these standards, encouraging cooperation, and expanding export possibilities.
Restraints:
High development costs are a significant barrier for both new entrants and incumbent businesses in the aircraft components manufacturing market. Modern technology, precise engineering, and stringent testing are required by the aerospace sector to guarantee the dependability and safety of the parts used in aeroplanes and spacecraft. These demands have a significant impact on research and development (R&D) costs. The up-front expenditures of developing aeronautical components can be prohibitive for new entrants. This entry hurdle frequently restricts the market's prospective players, lowering competition and sometimes raising prices for both producers and end users. It can be difficult for smaller businesses to obtain the money required for R&D, testing facilities, and adherence to industry norms, making it difficult to gain traction in the aircraft components manufacturing industry. Even established manufacturers face ongoing financial strain due to the need for continuous R&D investments. They must continually innovate to remain competitive and meet evolving industry standards and customer demands.
Regulatory Compliance Challenges
The market for manufacturing aeronautical parts is severely constrained by difficulties with regulatory compliance. Aviation authorities from all around the world have set stringent safety and quality restrictions on the aerospace industry. These rules are required to guarantee the security of passengers, crew, and the dependability of aircraft, but they also pose significant challenges for the producers of aerospace parts. It takes careful testing, meticulous documentation, and adherence to intricate protocols to meet regulatory standards. To attain and maintain compliance, manufacturers must spend a significant amount of money on research, development, and quality control. Any departure from these exacting standards can have dire repercussions, such as product recalls, legal obligations, and reputational harm. Additionally, the regulatory landscape is subject to frequent updates and changes, which demand ongoing adaptation and investment. Staying abreast of evolving regulations and ensuring that products continually meet these standards is a constant challenge.
Opportunities:
Rise of Electric and Hybrid Aircraft
For makers of aerospace parts, the development of electric and hybrid aircraft technology gives a sizable opportunity. An increased focus on sustainability and lowering aviation's environmental effect is what is driving this trend. These objectives can be attained with the help of electric and hybrid-electric propulsion systems, which bring a number of prospects for the aerospace components manufacturing industry. The creation of parts for electric propulsion systems represents a significant business opportunity. This covers producing cutting-edge electric motors, power electronics, and energy storage devices such thin batteries. These vital components, which are crucial for the propulsion of electric and hybrid aircraft, can be developed and supplied by aerospace parts manufacturers using their precision engineering skills. In order to maximize performance, electric and hybrid aircraft frequently need lightweight and energy-efficient materials. The development of composite materials and structural elements specifically suited to the special requirements of electric propulsion systems could be investigated by aerospace parts makers, increasing total aircraft efficiency.
Space Exploration and Commercial Spaceflight
The increased interest in space exploration and commercial spaceflight presents aircraft parts producers with a significant potential. An increase in private sector activities, government funding, satellite deployment, and space tourism projects are all characteristics of this trend. Numerous opportunities arise as a result of these changes in the aerospace components manufacturing industry. Manufacturing parts and systems for rockets and launch vehicles is one such possibility. Precision-engineered components that can survive harsh circumstances, such as high temperatures and pressures, are required by the expanding space launch sector, which includes reusable rockets. Manufacturing launch vehicle avionics, structural components, and propulsion systems are areas in which aerospace firms might specialize. Satellite technology is an important area for expansion. Satellite antennas, solar panels, and cutting-edge sensors must all be produced by manufacturers to meet the rising demand for satellite-based services including communication, navigation, and Earth observation. This comprises parts for increasingly common mega-constellations of tiny satellites.
Segment Overview
By Product Type
Based on product type, the global aerospace parts manufacturing market is divided into engines, cabin interiors, aircraft manufacturing, equipment, system, and support, avionics, insulation components. The aircraft manufacturing category dominates the market with the largest revenue share.Aircraft manufacturing encompasses the construction of airframes and structural components, where aerospace manufacturers contribute vital components like wings and fuselages. Engines represent the powerhouses of aircraft, requiring precision manufacturing to ensure reliability and performance. Cabin interiors focus on passenger comfort and safety, involving the production of seats, lighting, and entertainment systems. Equipment and systems encompass a wide array of components, including landing gear, hydraulics, and electrical systems, essential for the overall functioning of an aircraft. Support services are crucial for maintenance and repair, including spare parts manufacturing and logistics. Avionics involve advanced electronic systems, such as navigation and communication equipment, contributing to aircraft safety and efficiency. Lastly, insulation components play a critical role in temperature control and noise reduction within the aircraft.
By End-User
Based on end-user, the global aerospace parts manufacturing market is segmented into commercial aircraft, business aircraft, military aircraft, and others. The commercial aircraft segment dominates the aerospace parts manufacturing market. Commercial aircraft represent a significant portion of the market, covering passenger and cargo planes used in commercial air travel. This segment encompasses components and systems that ensure the safety, comfort, and efficiency of millions of travelers worldwide. It includes everything from engines and avionics to cabin interiors and structural components. Business aircraft, which include private jets, turboprops, and corporate aircraft, form another essential segment. These specialized aircraft demand high-end components and luxurious cabin interiors, catering to the unique needs of business travelers and high-net-worth individuals. The military aircraft sector addresses the stringent requirements of defense and national security. Aerospace parts manufacturers in this segment focus on producing components and systems critical for combat and reconnaissance aircraft, ranging from fighter jets to transport planes.
Global Aerospace Parts Manufacturing Market Overview by Region
The global aerospace parts manufacturing market is categorized into North America, Europe, Asia-Pacific, and the Rest of the World. North America emerged as the leading region, capturing the largest market share in 2022. Some of the biggest and most significant aerospace businesses in the world, such as Boeing and Lockheed Martin, which have a considerable global footprint, call it home. These titans of industry fuel innovation, research, and development, which boosts the area's stature. The aerospace industry in North America is thriving and diverse, with a well-established supply chain that includes producers, suppliers, and service providers. This infrastructure enables effective manufacturing procedures, from obtaining raw materials to putting together intricate aircraft components. The region is also at the forefront of aeronautical innovation thanks to its strong dedication to technological progress and investment in research & development. This covers, among other things, developments in avionics, propulsion technology, additive manufacturing (3D printing), and materials research.In both the commercial and military sectors, there is a substantial need for aerospace equipment, which benefits North America. A constant and considerable market for aerospace parts and components is produced by the continent's abundance of significant airlines, military installations, and space organizations. The region's leadership is further aided by supportive governmental policies and collaborations between business interests and regulatory organizations. These regulations strengthen North America's position as a hub for the global aircraft industry by fostering safety, sustainability, and competitiveness. North America leads the world in the production of aircraft parts as a result of a number of reasons, including a robust industrial base, innovation, market demand, and supportive regulations. The strategic importance of this area highlights the crucial role it will play in determining the direction of aviation and aerospace technologies globally.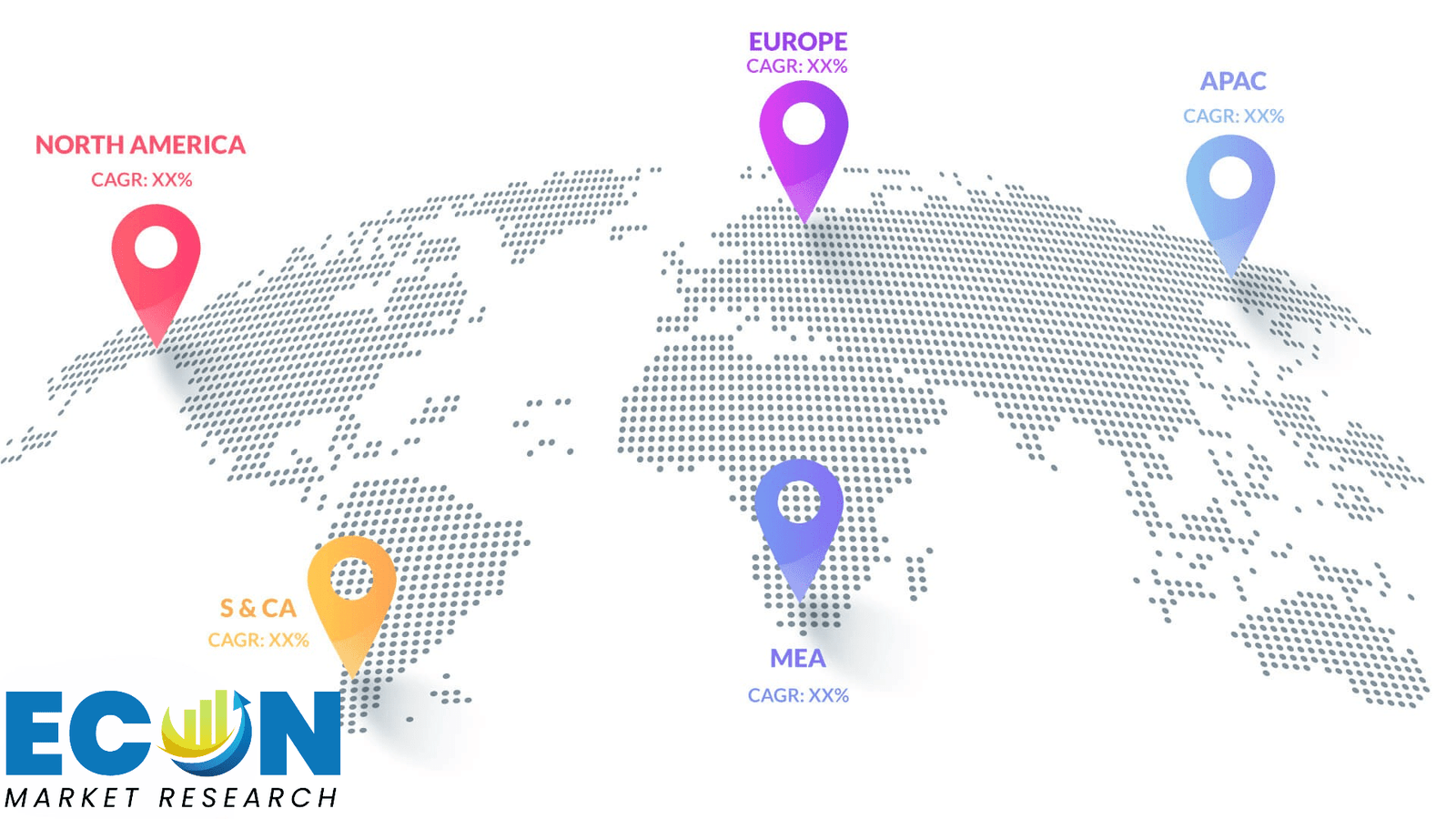 Global Aerospace Parts Manufacturing Market Competitive Landscape
In the global aerospace parts manufacturing market, a few major players exert significant market dominance and have established a strong regional presence. These leading companies remain committed to continuous research and development endeavors and actively engage in strategic growth initiatives, including product development, launches, joint ventures, and partnerships. By pursuing these strategies, these companies aim to strengthen their market position, expand their customer base, and capture a substantial share of the market.
Some of the prominent players in the global aerospace parts manufacturing market include Boeing Co, Dassault Aviation SA, GE Aviation, Honeywell International Inc., Lockheed Martin Corp, Lufthansa Technik AG, Parker Hannifin, Rolls-Royce plc, Safran S.A.,Thales Group., and various other key players.
Global Aerospace Parts Manufacturing Market Recent Developments
In July 2023, As Indian jet orders grow, Godrej Aerospace is considering a components arrangement with suppliers of Airbus and Boeing. Godrej Aerospace is in discussions to produce parts and components for suppliers to Boeing and Airbus. The negotiations are happening as airlines confirm their largest-ever order for aircraft. Nearly 1,000 new aircraft have been ordered by India's Air India and IndiGo, which means that 2,000 to 2,500 jets will eventually need maintenance.
In September 2023, Dubai Aerospace alerts authorities about corrosion in a jet rented by the insolvent Go First. After the Indian airline was granted bankruptcy protection in May, imposing an asset freeze that prevented the return of more than 50 grounded Airbus planes, foreign lessors got into a legal fight to reclaim their aircraft.
Scope of the Global Aerospace Parts Manufacturing Market Report
Aerospace Parts Manufacturing Market Report Segmentation
ATTRIBUTE

DETAILS

By Product Type

Engines

Cabin Interiors

Aircraft Manufacturing

Equipment, System, and Support

Avionics

Insulation Components

By End-User

Commercial Aircraft

Business Aircraft

Military Aircraft

Others

By Geography

North America (USA,

and Canada)

Europe (UK, Germany, France, Italy, Spain, Russia and Rest of Europe)

Asia Pacific (Japan, China, India, Australia, Southeast Asia and Rest of Asia Pacific)

Latin America (Brazil, Mexico, and Rest of Latin America)

Middle East & Africa (South Africa, GCC, and Rest of Middle East & Africa)

Customization Scope

Pricing
Objectives of the Study
The objectives of the study are summarized in 5 stages. They are as mentioned below:
Global Aerospace Parts Manufacturing

Market

Size and Forecast:
To identify and estimate the market size for the global aerospace parts manufacturing market segmented by product type, by end user, region and by value (in U.S. dollars). Also, to understand the consumption/ demand created by consumers of aerospace parts manufacturing between 2019 and 2031.
Market Landscape and Trends:
To identify and infer the drivers, restraints, opportunities, and challenges for the global aerospace parts manufacturing market
Market Influencing Factors:
To find out the factors which are affecting the sales of aerospace parts manufacturing among consumers
To identify and understand the various factors involved in the global aerospace parts manufacturing market affected by the pandemic
To provide a detailed insight into the major companies operating in the market. The profiling will include the financial health of the company's past 2-3 years with segmental and regional revenue breakup, product offering, recent developments, SWOT analysis, and key strategies.
Intended Audience
Raw Material Suppliers

Aerospace Manufacturers

Airlines and Operators

Defense and Military Organizations

Retailers, Wholesalers, and Distributors

Governments, Associations, and Industrial Bodies

Investors and Trade Experts
Research Methodology
Our research methodology has always been the key differentiating reason which sets us apart in comparison from the competing organizations in the industry. Our organization believes in consistency along with quality and establishing a new level with every new report we generate; our methods are acclaimed and the data/information inside the report is coveted. Our research methodology involves a combination of primary and secondary research methods. Data procurement is one of the most extensive stages in our research process. Our organization helps in assisting the clients to find the opportunities by examining the market across the globe coupled with providing economic statistics for each and every region. The reports generated and published are based on primary & secondary research. In secondary research, we gather data for global Market through white papers, case studies, blogs, reference customers, news, articles, press releases, white papers, and research studies. We also have our paid data applications which includes hoovers, Bloomberg business week, Avention, and others.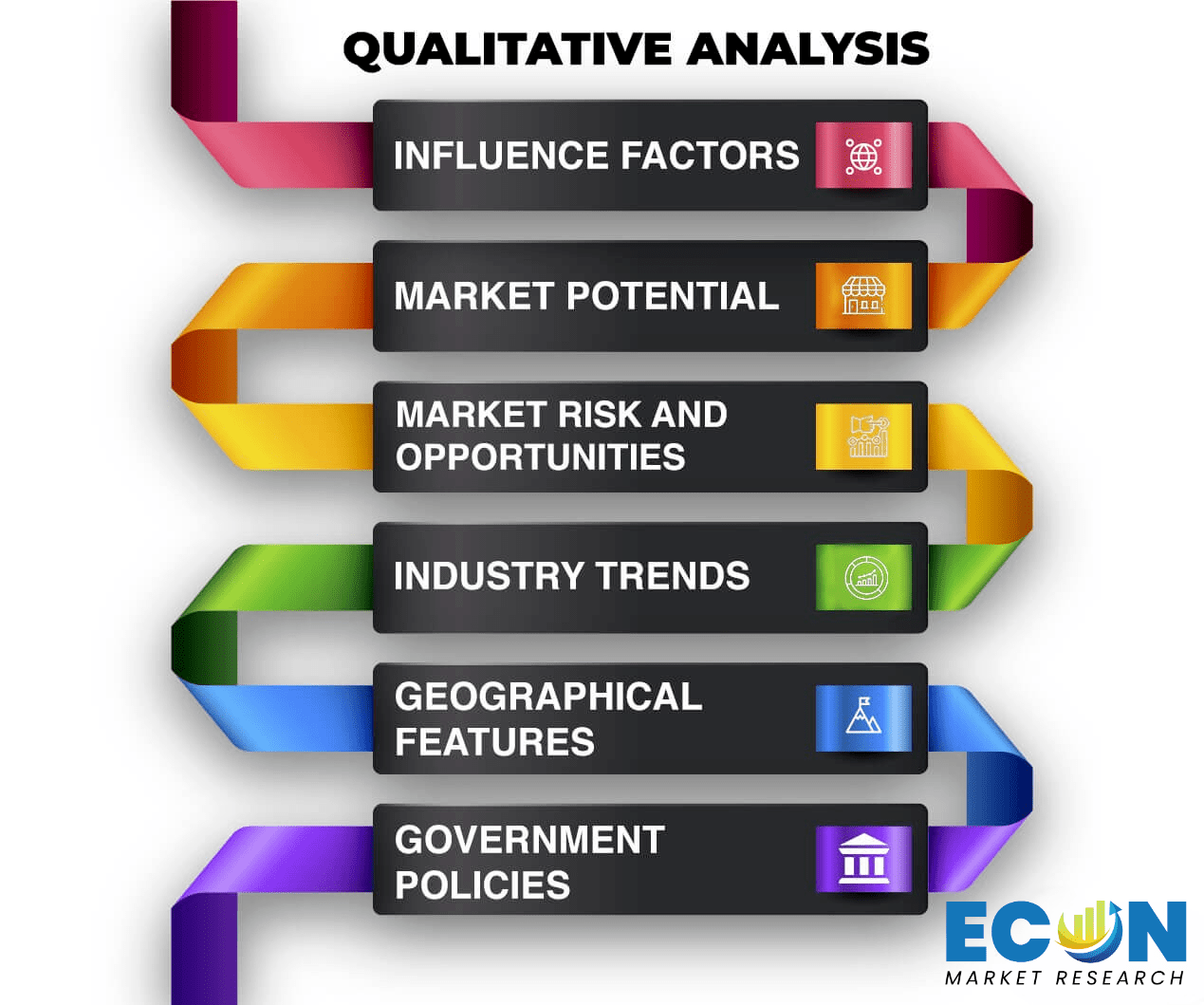 Data Collection
Data collection is the process of gathering, measuring, and analyzing accurate and relevant data from a variety of sources to analyze market and forecast trends. Raw market data is obtained on a broad front. Data is continuously extracted and filtered to ensure only validated and authenticated sources are considered. Data is mined from a varied host of sources including secondary and primary sources.

Primary Research
After the secondary research process, we initiate the primary research phase in which we interact with companies operating within the market space. We interact with related industries to understand the factors that can drive or hamper a market. Exhaustive primary interviews are conducted. Various sources from both the supply and demand sides are interviewed to obtain qualitative and quantitative information for a report which includes suppliers, product providers, domain experts, CEOs, vice presidents, marketing & sales directors, Type & innovation directors, and related key executives from various key companies to ensure a holistic and unbiased picture of the market. 
Secondary Research
A secondary research process is conducted to identify and collect information useful for the extensive, technical, market-oriented, and comprehensive study of the market. Secondary sources include published market studies, competitive information, white papers, analyst reports, government agencies, industry and trade associations, media sources, chambers of commerce, newsletters, trade publications, magazines, Bloomberg BusinessWeek, Factiva, D&B, annual reports, company house documents, investor presentations, articles, journals, blogs, and SEC filings of companies, newspapers, and so on. We have assigned weights to these parameters and quantified their market impacts using the weighted average analysis to derive the expected market growth rate.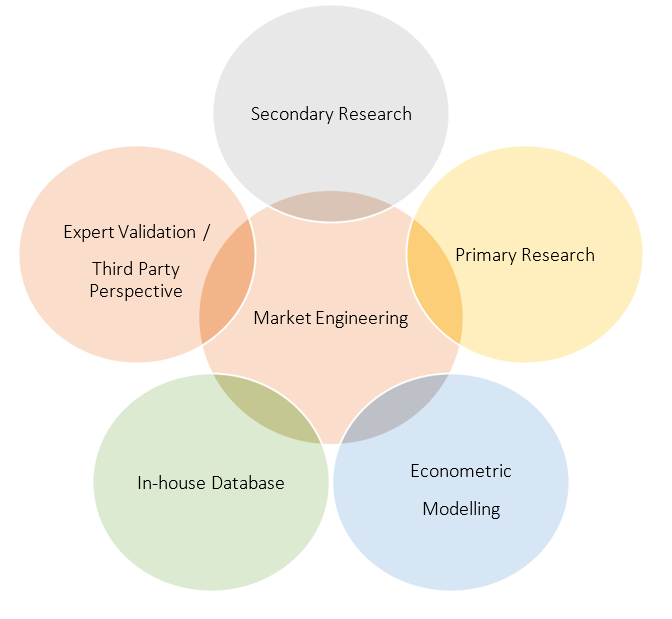 Top-Down Approach & Bottom-Up Approach
In the top – down approach, the Global Batteries for Solar Energy Storage Market was further divided into various segments on the basis of the percentage share of each segment. This approach helped in arriving at the market size of each segment globally. The segments market size was further broken down in the regional market size of each segment and sub-segments. The sub-segments were further broken down to country level market. The market size arrived using this approach was then crosschecked with the market size arrived by using bottom-up approach.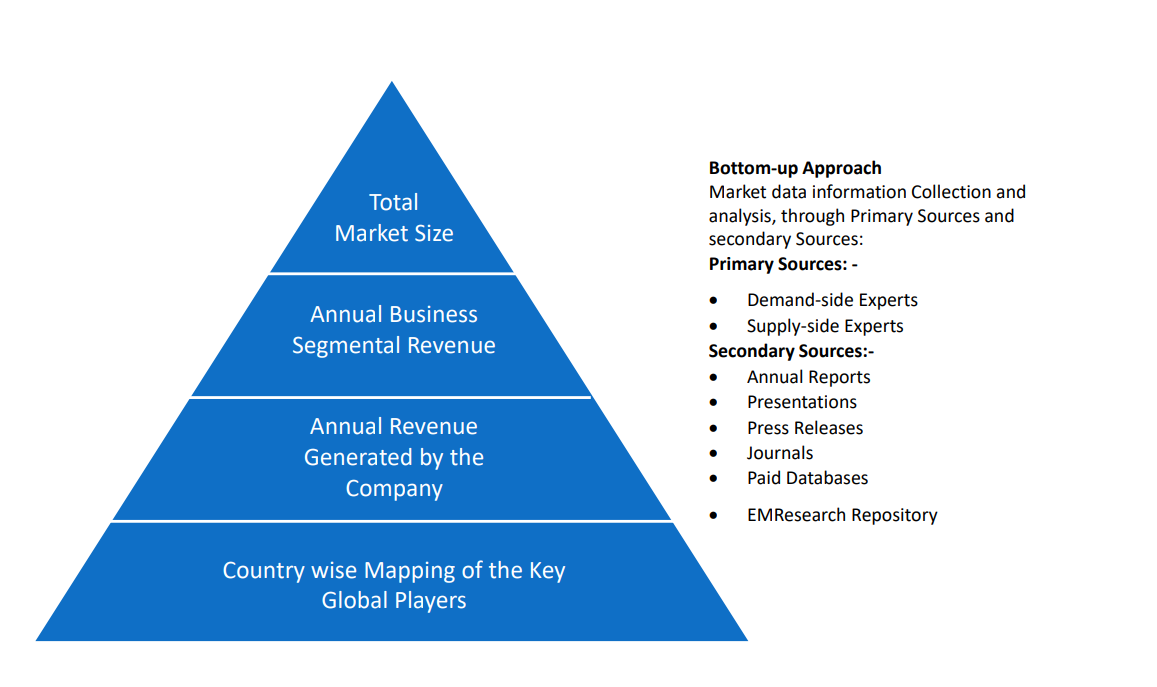 In the bottom-up approach, we arrived at the country market size by identifying the revenues and market shares of the key market players. The country market sizes then were added up to arrive at regional market size of the decorated apparel, which eventually added up to arrive at global market size.
This is one of the most reliable methods as the information is directly obtained from the key players in the market and is based on the primary interviews from the key opinion leaders associated with the firms considered in the research. Furthermore, the data obtained from the company sources and the primary respondents was validated through secondary sources including government publications and Bloomberg.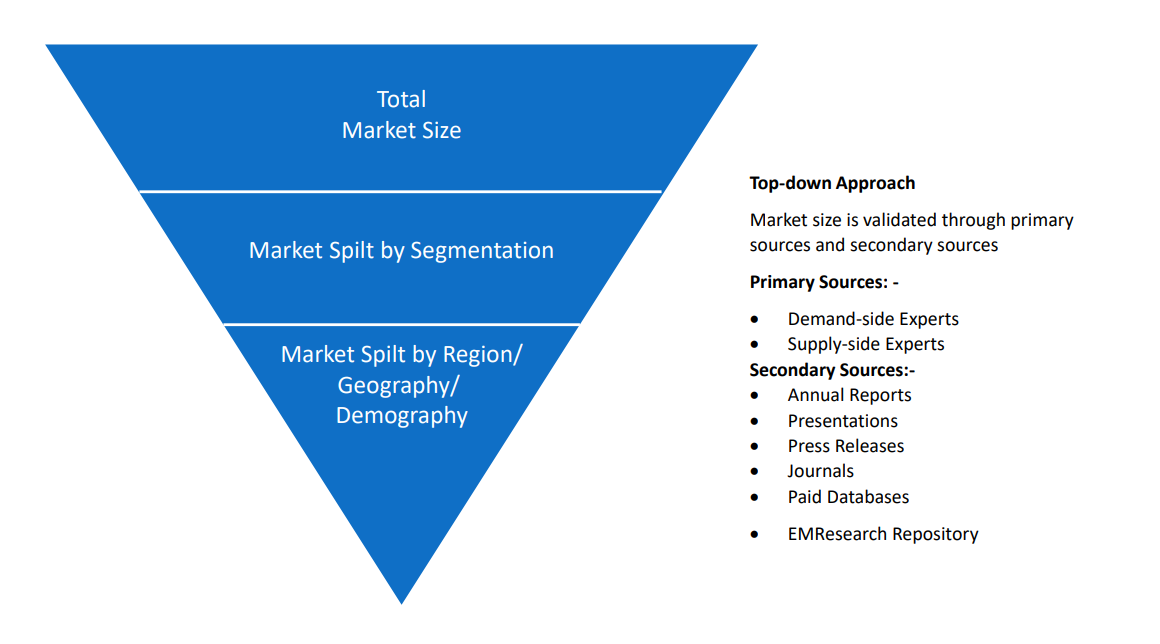 Market Analysis & size Estimation
Post the data mining stage, we gather our findings and analyze them, filtering out relevant insights. These are evaluated across research teams and industry experts. All this data is collected and evaluated by our analysts. The key players in the industry or markets are identified through extensive primary and secondary research. All percentage share splits, and breakdowns have been determined using secondary sources and verified through primary sources. The market size, in terms of value and volume, is determined through primary and secondary research processes, and forecasting models including the time series model, econometric model, judgmental forecasting model, the Delphi method, among Flywheel Energy Storage. Gathered information for market analysis, competitive landscape, growth trends, product development, and pricing trends is fed into the model and analyzed simultaneously.
Quality Checking & Final Review
The analysis done by the research team is further reviewed to check for the accuracy of the data provided to ensure the clients' requirements. This approach provides essential checks and balances which facilitate the production of quality data. This Type of revision was done in two phases for the authenticity of the data and negligible errors in the report. After quality checking, the report is reviewed to look after the presentation, Type and to recheck if all the requirements of the clients were addressed.