The Global Additive Manufacturing Market was valued at USD 15.20 billion in 2022 and is estimated to reach approximately USD 82.94 billion by 2031, at a CAGR of 20.7% from 2023 to 2031. The manufacturing sector has undergone a change thanks to the ground-breaking technology known as additive manufacturing, sometimes known as 3D printing. In contrast to conventional subtractive techniques that include cutting, drilling, or milling, it entails the construction of three-dimensional structures by layering on material. Numerous opportunities have been made possible across several industries, including consumer goods, healthcare, aerospace, and the automobile industry. Since its start, the market for additive manufacturing has grown and innovated in a remarkable way. Its primary benefit is its outstanding accuracy and productivity in producing detailed, complicated, and personalized patterns. Rapid prototyping and on-demand production are made possible by this technology, which also cuts production costs. The use of additive manufacturing has spread to a number of sectors, including the medical and dentistry fields where customized implants and prostheses can be created, and the aerospace sector where there is a significant need for lightweight, high-performance components. The market gains from the creation of novel materials and methods since they allow for even more uses. The industry for additive manufacturing is primed for continuing growth as technology advances, and it is changing how we design and make products in the modern world.
ADDITIVE MANUFACTURING MARKET: REPORT SCOPE & SEGMENTATION
| | |
| --- | --- |
| Report Attribute | Details |
| Estimated Market Value (2022) | 15.20 Bn |
| Projected Market Value (2031) | 82.94 Bn |
| Base Year | 2022 |
| Forecast Years | 2023 - 2031 |
| Scope of the Report | Historical and Forecast Trends, Industry Drivers and Constraints, Historical and Forecast Market Analysis by Segment- By Material Type, By Technology, By Application, & Region |
| Segments Covered | By Material Type, By Technology, By Application, & Region |
| Forecast Units | Value (USD Billion or Million), and Volume (Units) |
| Quantitative Units | Revenue in USD million/billion and CAGR from 2023 to 2031 |
| Regions Covered | North America, Europe, Asia Pacific, Latin America, and Middle East & Africa, and the Rest of World |
| Countries Covered | U.S., Canada, Mexico, U.K., Germany, France, Italy, Spain, China, India, Japan, South Korea, Brazil, Argentina, GCC Countries, and South Africa, among others |
| Report Coverage | Market growth drivers, restraints, opportunities, Porter's five forces analysis, PEST analysis, value chain analysis, regulatory landscape, market attractiveness analysis by segments and region, company market share analysis, and COVID-19 impact analysis. |
| Delivery Format | Delivered as an attached PDF and Excel through email, according to the purchase option. |
Global Additive Manufacturing Market Dynamics
The market for additive manufacturing (AM) has seen tremendous change recently. The increasing use of 3D printing in a variety of sectors, including consumer products, aerospace, automotive, and healthcare, was a major motivator. The widening range of applications, new materials, and technological developments all contributed to this. Additionally, shorter lead times and more customizable AM made it a desirable choice for many organizations. However, issues remained, including the demand for standardization, quality assurance, and affordable materials. As more competitors joined the market, there was a greater need for innovation and cost cutting. AM demonstrated its adaptability in the COVID-19 pandemic response by producing vital medical supplies, ventilator components, and more quickly. This demonstrated the technology's potential in emergency situations. Government alliances and investments were crucial to AM's expansion since they aimed to improve domestic supply chains and expand the nation's manufacturing capacity. The market for additive manufacturing has shown extraordinary flexibility and growth, but its future depends on legislative changes and further technology advancements.
Global Additive Manufacturing Market Drivers
The process of creating things via additive manufacturing, or 3D printing, has spread throughout many industries and changed how goods are developed, tested, and produced. For instance, additive manufacturing is revolutionizing the creation of lightweight, high-performance components in the aerospace industry, resulting in lighter, more fuel-efficient aeroplanes. In the medical field, it is used to design dental appliances, prosthetic limbs, and implants specifically for each patient, enhancing patient outcomes. To improve the performance and safety of vehicles, the automotive industry uses 3D printing for rapid prototyping and the manufacture of complex components. As businesses experiment with innovative and customized product designs, consumer goods are also being impacted. Even the fashion sector is experimenting with 3D-printed clothing and accessories. In addition, additive manufacturing is being used in a variety of ways by the defence, energy, and electronics industries, while the building and architecture sectors are looking into 3D-printed building materials. This variety demonstrates the adaptability and diversity of additive manufacturing, which makes it a transformational force in the modern economy with the potential to revolutionize conventional manufacturing processes and supply chains and contribute to breakthroughs in a variety of disciplines. Additive manufacturing has a vibrant and exciting future thanks to the variety of applications and ongoing innovation within these sectors.
Customization and Personalization
A key factor driving the market for additive manufacturing is the capability to customize and personalize things. Contrary to traditional manufacturing techniques, which frequently entail mass production of identical goods, additive manufacturing enables companies and people to design products specifically for their needs. The healthcare industry is one where this driver is very strong. Custom implants, prosthetics, and medical equipment can be created via additive manufacturing and perfectly suited to the anatomy of a patient. This customization helps patients feel more comfortable and functional, and it also improves therapy results. Additionally, the consumer goods industry now offers a variety of products that can be personalized, from jewellery and phone cases to home decor and custom-made home furnishings. This trend to customized products fills the rising consumer desire for distinctive, one-of-a-kind products and creates a substantial market potential. Additive manufacturing makes it possible to create specialized, high-performance components that are tailored for particular purposes in the aerospace and automotive industries. Depending on the exact requirements of the project, these components can be optimized for either weight, strength, or aerodynamics.
Restraints:
High Initial Investment Costs
It can be extremely expensive to purchase cutting-edge 3D printing hardware, software, and supporting infrastructure, especially for startups and small and medium-sized businesses (SMEs). Purchase, installation, and upkeep costs for 3D printers can be extremely high, as can the cost of the design and control software required. The cost of this barrier can prevent additive manufacturing from being widely used because many companies could find it difficult to justify the initial investment, especially if they already use traditional manufacturing techniques. It frequently calls for a long-term outlook and a strategic change in budget allocation, which can't be possible for all businesses.For small and medium-sized businesses (SMEs) and startups in particular, purchasing cutting-edge 3D printing hardware, software, and supporting infrastructure can be extremely expensive. The expenses of buying, installing, and maintaining 3D printers might be exorbitant, as can the cost of purchasing the essential design and control software. Because many organizations might discover it difficult to justify the initial investment, particularly when conventional production techniques are already in place, this financial barriercan prevent the broad adoption of additive manufacturing. It frequently calls for a strategic change in budget allocation and a long-term viewpoint, which could not be possible for all businesses.
Quality and Certification Challenges
Assuring consistent quality and fulfilling the strict certification criteria of diverse industries might be difficult in the market for additive manufacturing. The layer-by-layer additive manufacturing process can bring structural flaws and variations that are not present in conventional production processes. Particularly in sectors where accuracy and safety are top priorities, like aerospace and healthcare, these differences can have an impact on the dependability and performance of 3D-printed parts. Although it is growing, the variety of materials used in additive manufacturing still lack homogeneity and standardization that are present in conventional production. It can be challenging to fulfil the exacting quality requirements required by sectors like automotive and defence since variations in material qualities can result in inconsistent final products.
Opportunities:
Rapid prototyping is a field in which additive manufacturing is crucial, providing a variety of opportunities for enterprises and sectors. Rapid prototyping is the process of making physical prototypes or models quickly and affordably for iterative development, product testing, and design validation. Thanks to 3D printing technology, this procedure, which in the past needed time-consuming and expensive processes, has been greatly expedited. Rapid prototyping opens up a variety of possibilities. It primarily quickens product development cycles, allowing businesses to launch fresh concepts more quickly. This not only cuts down on time to market but also gives firms a competitive edge because they can react quickly to shifting customer wants and industry trends. Rapid prototyping also makes it simple to make iterative design modifications. Manufacturers can efficiently produce and evaluate prototypes, find problems, and make the required corrections. The final goods produced using this iterative design and development process can be better and more developed.
Innovations in Healthcare
In the healthcare industry, additive manufacturing has created a wide range of prospects, offering a game-changing route for medical device and prosthetic developments. This dynamic has become more noticeable recently, and there is much room for new developments. The potential to create personalized medical implants and prostheses is one of the most important opportunities. Traditional manufacturing techniques for these devices frequently produce generic, one-size-fits-all solutions that might not be the best option for particular individuals. By accurately tailoring implants and prosthetics to each patient's individual anatomy, additive manufacturing enhances patient results in terms of comfort, functionality, and outcomes. For instance, 3D printing enables the creation of orthopaedic implants, dental implants, and even cranial implants that are specifically tailored to the requirements of the patient. Additionally, the fabrication of medical models and surgical guidance is being revolutionized by 3D printing. To improve precision and shorten operating room times, surgeons can plan and practise complex surgery using realistic 3D-printed models. Surgery is made more precise and minimally invasive with the help of 3D-printed surgical guides.
Segment Overview
By Material Type
Based on material type, the global additive manufacturing market is divided into metal, plastic, alloys, and ceramics. The metal category dominates the market with the largest revenue share in 2022. Metal additive manufacturing involves the layer-by-layer deposition of metal powders, allowing for the production of strong and durable components. This is especially crucial in industries like aerospace and automotive, where lightweight but robust parts are essential. Metal 3D printing enables the creation of intricate, high-performance components, such as aircraft engine parts or customized orthopedic implants. The ability to work with materials like titanium, stainless steel, and aluminum opens doors to a wide range of applications. Plastic 3D printing is one of the most accessible and versatile segments of additive manufacturing. It is widely used in consumer goods, prototyping, and the creation of intricate models. Low cost, ease of use, and a variety of available plastics make it a preferred choice for both professionals and hobbyists. Plastic 3D printing is ideal for producing items such as custom phone cases, figurines, and product prototypes. Alloy-based additive manufacturing combines the properties of metals and alloys, enabling the production of materials with specific characteristics. This can be highly advantageous in industries where precise material properties are essential, such as in the production of specialized tools, aerospace components, and advanced engineering applications. Ceramic 3D printing is known for its ability to create components that are heat-resistant, corrosion-resistant, and electrically insulating. This makes it valuable in industries like electronics, aerospace, and even medical devices, where ceramics can be used for intricate components that withstand extreme conditions.
By Technology
Based on the technology, the global additive manufacturing market is categorized into stereolithography (SLA), fused disposition modelling (FDM), laser sintering (LS), binder jetting printing, polyjet printing, electron beam melting (EBM), laminated object manufacturing (LOM), and others. The stereolithography (SLA) category leads the global additive manufacturing market with the largest revenue share in 2022. SLA employs a photopolymer resin that is cured layer by layer using an ultraviolet laser. It excels in producing high-detail, intricate prototypes and is widely used in industries like product design and jewelry manufacturing. FDM is one of the most popular 3D printing methods, known for its affordability and ease of use. It heats and extrudes thermoplastic filaments to create objects, making it a favorite for hobbyists, educational settings, and rapid prototyping. LS uses a laser to fuse powdered materials, often metal or nylon, to build durable and functional parts. It's widely used in aerospace, automotive, and the medical industry for producing strong, complex components. This technology uses a binder to selectively adhere and bind layers of powdered material, suitable for producing both metal and sand molds, making it a key player in the foundry and metal casting industry. PolyJet combines multiple materials and jetting technologies to create prototypes with a wide range of physical properties. It's well-suited for applications in the medical, dental, and consumer goods industries. EBM utilizes an electron beam to selectively melt metal powder, enabling the creation of high-temperature-resistant parts. It's particularly prevalent in the aerospace and medical implant sectors. LOM layers and bonds sheets of material together, and it is often used for creating large, lightweight prototypes, architectural models, and tooling components.
By Application
Based on application , the global additive manufacturing market is segmented into automotive, healthcare, aerospace, consumer goods, industrial, defence, architecture, and others. The automotive segment dominates the additive manufacturing market. In the automotive sector, additive manufacturing is used for rapid prototyping, custom parts, and lightweight, high-performance components. It contributes to improved fuel efficiency, reduced vehicle weight, and innovative design, benefiting both manufacturers and consumers. Additive manufacturing has made remarkable strides in healthcare, primarily in the production of customized implants, prosthetics, dental devices, and even anatomical models for surgical planning. The technology enhances patient care, treatment outcomes, and the development of medical devices. The aerospace industry relies on additive manufacturing for lightweight, intricate, and high-strength components, reducing aircraft weight and improving fuel efficiency. The technology supports the creation of complex, specialized parts and prototypes for testing and validation. Additive manufacturing offers consumer goods companies the ability to produce customized products, limited-edition designs, and intricately detailed items such as jewelry, fashion accessories, and home decor. It caters to individual preferences and niche markets. Industries beyond automotive, aerospace, and healthcare utilize additive manufacturing for various purposes, from creating production tooling and molds to optimizing supply chains and manufacturing processes. It aids in efficiency and cost-effectiveness. Additive manufacturing plays a crucial role in the defense sector, allowing for the production of lightweight, specialized components for military equipment and weaponry. It contributes to national security and operational efficiency. In architecture, 3D printing is employed for creating intricate models, prototypes, and even architectural elements. It aids in the visualization and conceptualization of complex structures and designs.
Global Additive Manufacturing Market Overview by Region
The global additive manufacturing market is categorized into North America, Europe, Asia-Pacific, and the Rest of the World. North America emerged as the leading region, capturing the largest market share in 2022. In the worldwide market for additive manufacturing, North America has clearly taken the top spot. First and foremost, North America has a strong ecosystem for the advancement of innovation and technology. The presence of multiple top colleges, research centers, and 3D printing enterprises has cultivated an environment that is favourable to technical development. As a result, additive manufacturing has seen a steady stream of discoveries and achievements, catapulting the area to the top of the sector. The automotive, aerospace, and healthcare industries are also well-established and growing in North America, and they all heavily rely on additive manufacturing. The need for 3D printing technology has been fueled by this robust industrial basis, particularly for uses like quick prototyping and the creation of intricate, high-performance components. The legislative framework and intellectual property protections in the area have created a secure and hospitable environment for enterprises engaged in additive manufacturing, promoting investment and expansion. Additionally, North America is a magnet for 3D printing startups and innovation centers due to a culture of entrepreneurship and a readiness to adopt cutting-edge technologies. This has helped additive manufacturing advance and become more widely used. Due to a variety of factors, including a thriving innovation ecosystem, a robust industrial base, a favourable regulatory framework, and a culture of technological entrepreneurship, North America currently has a leadership position in the additive manufacturing sector. Because of its continued dedication to 3D printing innovation, this region is a world leader in the field.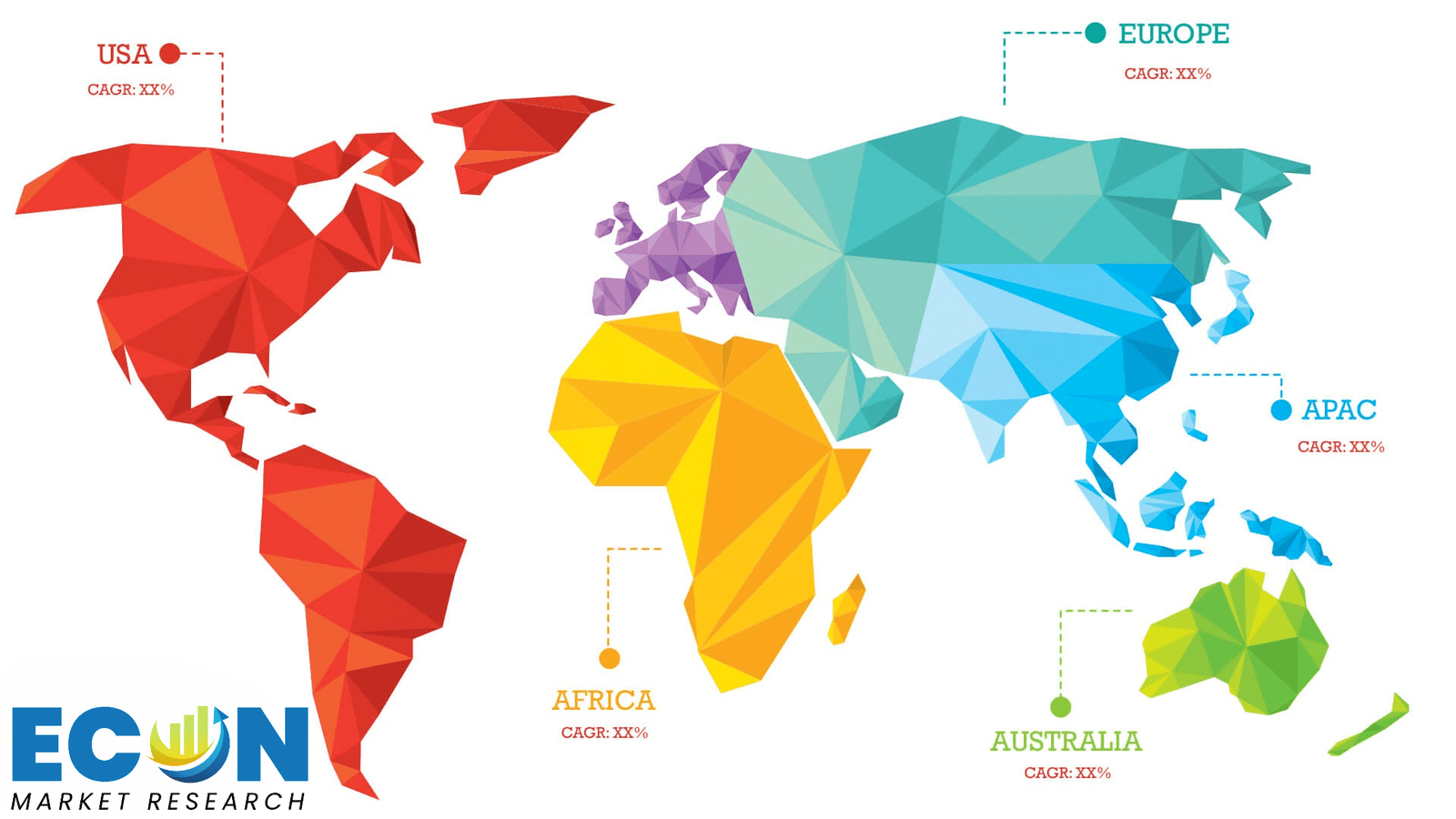 Global Additive Manufacturing Market Competitive Landscape
In the global additive manufacturing market, a few major players exert significant market dominance and have established a strong regional presence. These leading companies remain committed to continuous research and development endeavors and actively engage in strategic growth initiatives, including product development, launches, joint ventures, and partnerships. By pursuing these strategies, these companies aim to strengthen their market position, expand their customer base, and capture a substantial share of the market.
Some of the prominent players in the global additive manufacturing market include Stratasys, Ltd.; Materialise NV; EnvisionTec, Inc.; 3D Systems, Inc.; GE Additive; Autodesk Inc.; Made In Space; Canon Inc.; Voxeljet AG, and various other key players.
Global Additive Manufacturing Market Recent Developments
In October 2023, Launch of Live MonitorTM by Desktop Metal for Additive Manufacturing 2.0 Production Technology Users. A software programme called Live MonitorTM offers practical real-time data from printing systems to enhance control of a single printing machine or the entire fleet.
Scope of the Global Additive Manufacturing Market Report
Additive Manufacturing Market Report Segmentation
ATTRIBUTE

DETAILS

By Material Type

Metal

Plastic

Alloys

Ceramics

By Technology

Stereolithography (SLA)

Fused Disposition Modelling (FDM)

Laser Sintering (LS)

Binder Jetting Printing

Polyjet Printing

Electron Beam Melting (EBM)

Laminated Object Manufacturing (LOM)

Others

By Application

Automotive

Healthcare

Aerospace

Consumer Goods

Industrial

Defence

Architecture

Others

By Geography

North America (USA,

and Canada)

Europe (UK, Germany, France, Italy, Spain, Russia and Rest of Europe)

Asia Pacific (Japan, China, India, Australia, Southeast Asia and Rest of Asia Pacific)

Latin America (Brazil, Mexico, and Rest of Latin America)

Middle East & Africa (South Africa, GCC, and Rest of Middle East & Africa)

Customization Scope

Pricing
Objectives of the Study
The objectives of the study are summarized in 5 stages. They are as mentioned below:
Global Additive Manufacturing

Market

Size and Forecast:
To identify and estimate the market size for the global additive manufacturing market segmented by material type, by application, by technology, region and by value (in U.S. dollars). Also, to understand the consumption/ demand created by consumers of additive manufacturing between 2019 and 2031.
Market Landscape and Trends:
To identify and infer the drivers, restraints, opportunities, and challenges for the global additive manufacturing market
Market Influencing Factors:
To find out the factors which are affecting the sales of additive manufacturing among consumers
To identify and understand the various factors involved in the global additive manufacturing market affected by the pandemic
To provide a detailed insight into the major companies operating in the market. The profiling will include the financial health of the company's past 2-3 years with segmental and regional revenue breakup, product offering, recent developments, SWOT analysis, and key strategies.
Intended Audience
Technical Experts

Medical Professionals

Legal Professionals

Governments, Associations, and Industrial Bodies

Investors and Trade Experts
Research Methodology
Our research methodology has always been the key differentiating reason which sets us apart in comparison from the competing organizations in the industry. Our organization believes in consistency along with quality and establishing a new level with every new report we generate; our methods are acclaimed and the data/information inside the report is coveted. Our research methodology involves a combination of primary and secondary research methods. Data procurement is one of the most extensive stages in our research process. Our organization helps in assisting the clients to find the opportunities by examining the market across the globe coupled with providing economic statistics for each and every region. The reports generated and published are based on primary & secondary research. In secondary research, we gather data for global Market through white papers, case studies, blogs, reference customers, news, articles, press releases, white papers, and research studies. We also have our paid data applications which includes hoovers, Bloomberg business week, Avention, and others.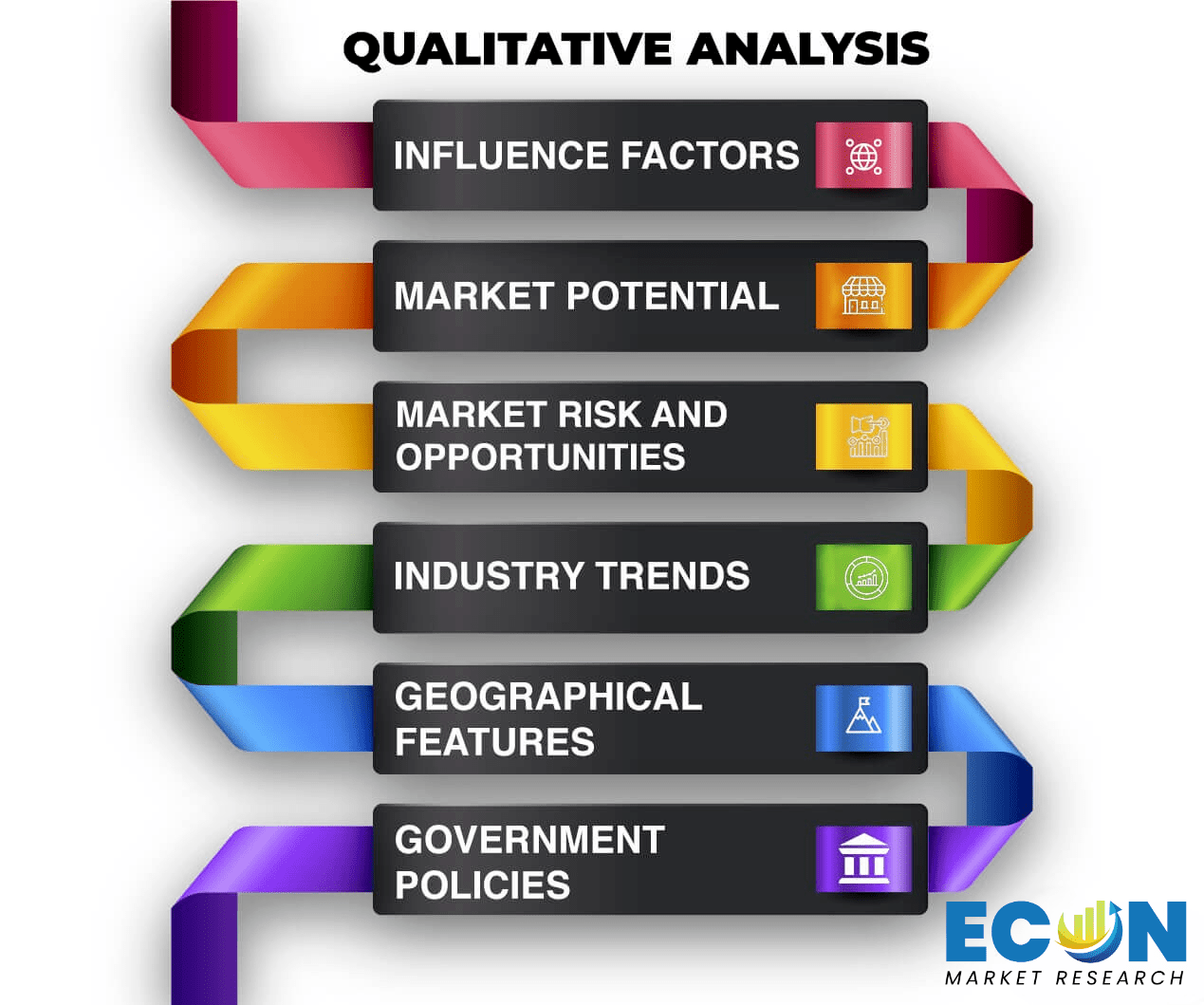 Data Collection
Data collection is the process of gathering, measuring, and analyzing accurate and relevant data from a variety of sources to analyze market and forecast trends. Raw market data is obtained on a broad front. Data is continuously extracted and filtered to ensure only validated and authenticated sources are considered. Data is mined from a varied host of sources including secondary and primary sources.

Primary Research
After the secondary research process, we initiate the primary research phase in which we interact with companies operating within the market space. We interact with related industries to understand the factors that can drive or hamper a market. Exhaustive primary interviews are conducted. Various sources from both the supply and demand sides are interviewed to obtain qualitative and quantitative information for a report which includes suppliers, product providers, domain experts, CEOs, vice presidents, marketing & sales directors, Type & innovation directors, and related key executives from various key companies to ensure a holistic and unbiased picture of the market. 
Secondary Research
A secondary research process is conducted to identify and collect information useful for the extensive, technical, market-oriented, and comprehensive study of the market. Secondary sources include published market studies, competitive information, white papers, analyst reports, government agencies, industry and trade associations, media sources, chambers of commerce, newsletters, trade publications, magazines, Bloomberg BusinessWeek, Factiva, D&B, annual reports, company house documents, investor presentations, articles, journals, blogs, and SEC filings of companies, newspapers, and so on. We have assigned weights to these parameters and quantified their market impacts using the weighted average analysis to derive the expected market growth rate.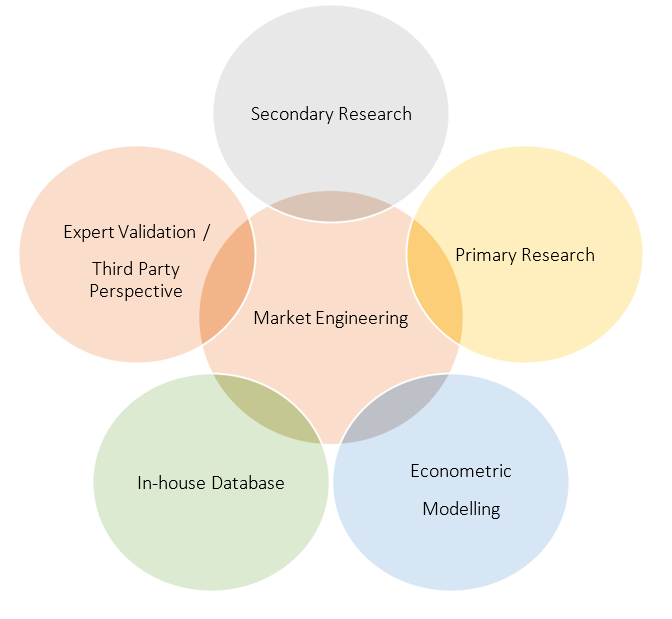 Top-Down Approach & Bottom-Up Approach
In the top – down approach, the Global Batteries for Solar Energy Storage Market was further divided into various segments on the basis of the percentage share of each segment. This approach helped in arriving at the market size of each segment globally. The segments market size was further broken down in the regional market size of each segment and sub-segments. The sub-segments were further broken down to country level market. The market size arrived using this approach was then crosschecked with the market size arrived by using bottom-up approach.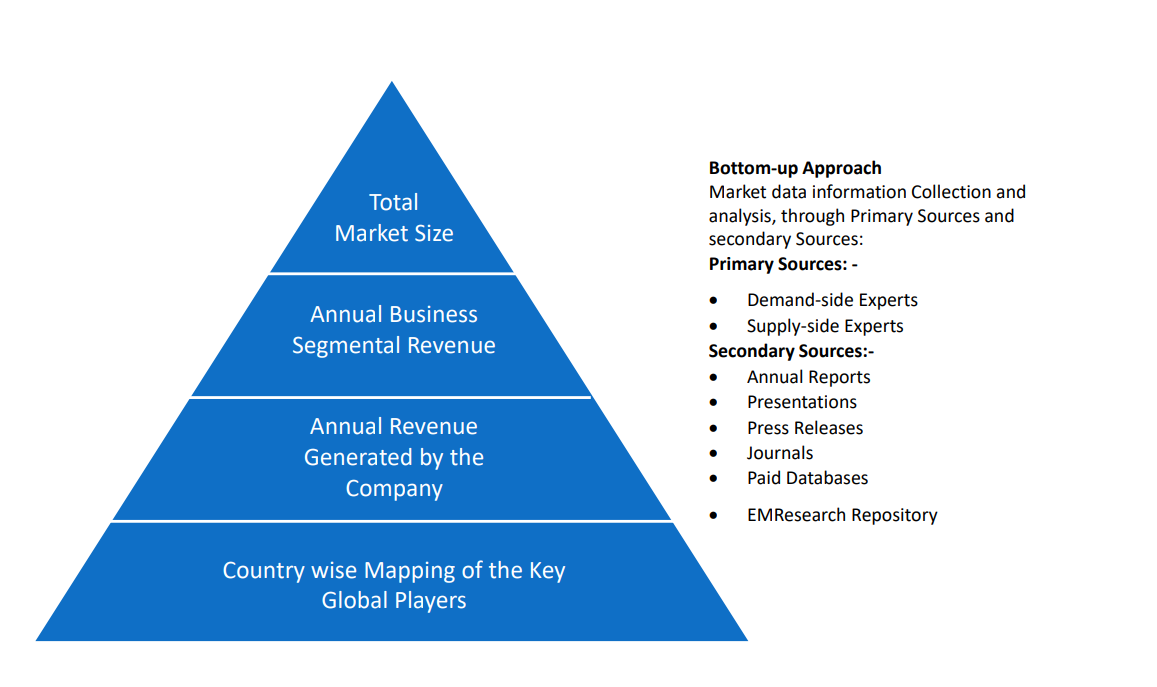 In the bottom-up approach, we arrived at the country market size by identifying the revenues and market shares of the key market players. The country market sizes then were added up to arrive at regional market size of the decorated apparel, which eventually added up to arrive at global market size.
This is one of the most reliable methods as the information is directly obtained from the key players in the market and is based on the primary interviews from the key opinion leaders associated with the firms considered in the research. Furthermore, the data obtained from the company sources and the primary respondents was validated through secondary sources including government publications and Bloomberg.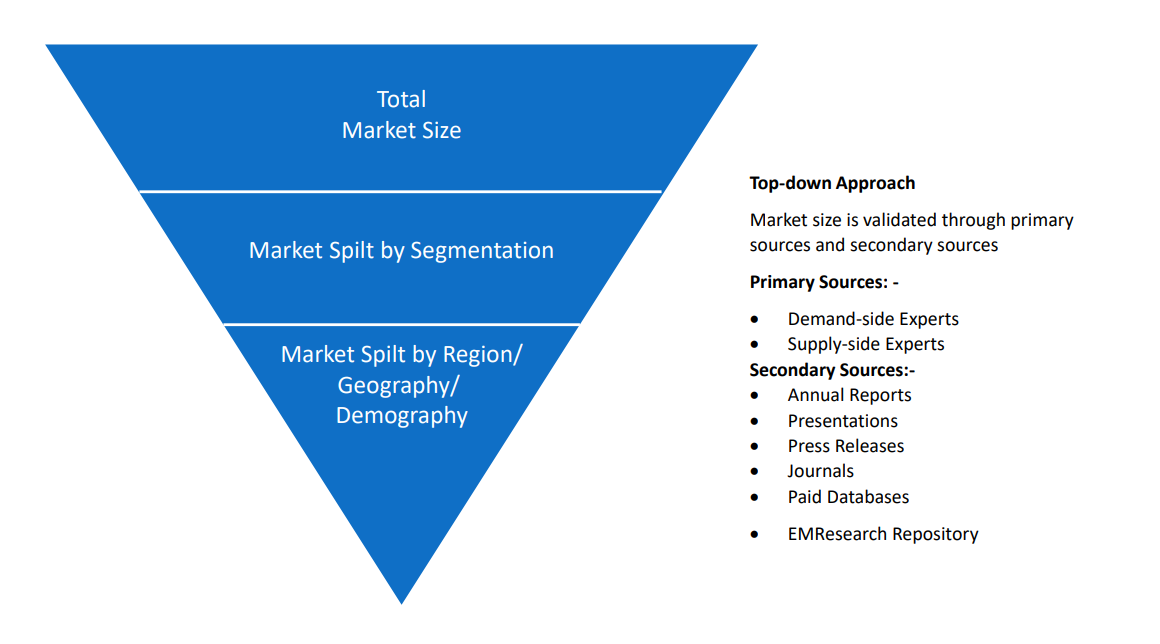 Market Analysis & size Estimation
Post the data mining stage, we gather our findings and analyze them, filtering out relevant insights. These are evaluated across research teams and industry experts. All this data is collected and evaluated by our analysts. The key players in the industry or markets are identified through extensive primary and secondary research. All percentage share splits, and breakdowns have been determined using secondary sources and verified through primary sources. The market size, in terms of value and volume, is determined through primary and secondary research processes, and forecasting models including the time series model, econometric model, judgmental forecasting model, the Delphi method, among Flywheel Energy Storage. Gathered information for market analysis, competitive landscape, growth trends, product development, and pricing trends is fed into the model and analyzed simultaneously.
Quality Checking & Final Review
The analysis done by the research team is further reviewed to check for the accuracy of the data provided to ensure the clients' requirements. This approach provides essential checks and balances which facilitate the production of quality data. This Type of revision was done in two phases for the authenticity of the data and negligible errors in the report. After quality checking, the report is reviewed to look after the presentation, Type and to recheck if all the requirements of the clients were addressed.