The Global A2P SMS Market was valued at USD 66.75 billion in 2022 and is estimated to reach approximately USD 99.44 billion by 2031, at a CAGR of 4.5% from 2023 to 2031. The practice of companies and applications sending text messages to people is known as A2P SMS, or application-to-person short message service. It frequently serves as a means of marketing, alerts, notifications, and authentication. Businesses can engage in two-way contact with their customers by sending them automated messages, information, or both. These messages offer a flexible and effective approach to engage with consumers because they are often delivered from an application or server to a recipient's mobile device. The market for A2P (Application-to-Person) SMS has shown impressive growth and evolution throughout time, becoming a crucial component of contemporary communication methods. A2P SMS is the term used to describe the delivery of text messages to mobile phones from programmes, systems, or organizations. Due to its many applications, which include marketing campaigns, consumer alerts, notifications, and authentication procedures, it has experienced substantial growth. Businesses from a variety of sectors use A2P SMS to quickly and efficiently contact their target audience. A2P SMS marketing campaigns enable businesses to interact personally with customers by distributing promotions, discounts, and product updates. In order to improve user experience and customer service, A2P SMS is also used for transactional alerts like banking notifications, appointment reminders, and delivery confirmations. With the growing popularity of mobile applications and the significance of consumer involvement, the A2P SMS industry has grown. This technology has prompted advances in message platforms, security, and delivery methods as more industries adopt it. Through strong APIs and cloud-based solutions, service providers have improved A2P SMS delivery, ensuring high deliver ability rates. The A2P SMS market is positioned for continuous expansion as a result of the rising demand for safe and automated communication methods. In a world that is becoming more and more mobile-centric, it is crucial for improving consumer interactions, providing important information, and fostering corporate success. Its market presence is expected to increase as technology develops and companies more widely appreciate the value of A2P SMS.
A2P SMS MARKET: REPORT SCOPE & SEGMENTATION
| | |
| --- | --- |
| Report Attribute | Details |
| Estimated Market Value (2022) | 66.75 Bn |
| Projected Market Value (2031) | 99.44 Bn |
| Base Year | 2022 |
| Forecast Years | 2023 - 2031 |
| Scope of the Report | Historical and Forecast Trends, Industry Drivers and Constraints, Historical and Forecast Market Analysis by Segment- By Component, By Deployment Mode, By Application, By SMS Traffic, & Region |
| Segments Covered | By Component, By Deployment Mode, By Application, By SMS Traffic, & Region |
| Forecast Units | Value (USD Billion or Million), and Volume (Units) |
| Quantitative Units | Revenue in USD million/billion and CAGR from 2023 to 2031 |
| Regions Covered | North America, Europe, Asia Pacific, Latin America, and Middle East & Africa, and the Rest of World |
| Countries Covered | U.S., Canada, Mexico, U.K., Germany, France, Italy, Spain, China, India, Japan, South Korea, Brazil, Argentina, GCC Countries, and South Africa, among others |
| Report Coverage | Market growth drivers, restraints, opportunities, Porter's five forces analysis, PEST analysis, value chain analysis, regulatory landscape, market attractiveness analysis by segments and region, company market share analysis, and COVID-19 impact analysis. |
| Delivery Format | Delivered as an attached PDF and Excel through email, according to the purchase option. |
Global A2P SMS Market Dynamics
One major cause has been the growing reliance on mobile devices and applications across numerous industries. For marketing campaigns, transactional notifications, or customer support, A2P SMS is a flexible tool that businesses can use to communicate with their customers, which in turn increases market demand. The market for A2P SMS has also been driven by the necessity for trustworthy and secure communication. Businesses understand how crucial it is to deliver vital information to clients in a trustworthy way, such as authentication codes, financial notifications, or healthcare updates. In order to protect sensitive data, A2P SMS providers have improved security procedures, which has helped the business develop. Additionally, the dynamics of the business have been significantly influenced by technology improvements and the spread of messaging platforms. A2P SMS is now more effective and accessible thanks to cloud-based solutions, reliable APIs, and better delivery systems, making it a desirable option for companies looking for seamless client engagement. Market dynamics have been impacted by regulatory compliance with data privacy laws and regulations. Compliance with privacy regulations and anti-spam laws is crucial because violators are subject to harsh fines. To ensure legal and ethical communication practices, A2P SMS providers and businesses must follow certain standards. The growing reliance on mobile devices, security issues, technological advancements, and changing regulations all have an impact on the A2P SMS business. These factors highlight the market's flexibility and ongoing expansion as it continues to be a crucial tool for companies to engage with their clients and provide information efficiently and securely.
Global A2P SMS Market Drivers
Growing Mobile Penetration
The A2P (Application-to-Person) SMS market is being significantly stimulated by the rising mobile penetration. Globally, the acceptance and use of mobile devices, such as smartphones and feature phones, is on the rise, which is a sign of this trend. It has significant effects on the market for A2P SMS since it broadens the user base and potential market for companies and applications who want to reach customers. Mobile phones are widely used, which is one of the major variables influencing this driver. Mobile technology has become a need for daily living in both industrialized and underdeveloped nations. The market addressable for A2P SMS services has significantly expanded as more individuals have access to mobile phones. This improves businesses' outreach and engagement efforts by enabling them to engage with a wider and more varied spectrum of customers. Additionally, there is a direct correlation between the rise of mobile internet usage and the increase in mobile penetration. As more people access the internet through their mobile devices, businesses can utilize A2P SMS to send interactive information like links, photos, and videos in addition to text-based communication. Businesses can offer a better and more interesting consumer experience because of this dynamic and interactive approach. Additionally, there are now additional chances for A2P SMS integration because to the quick development of mobile applications. The relevance of A2P SMS services is increased by the fact that mobile apps frequently use them for user verification, two-factor authentication, and notifications.
Demand for Customer Engagement
This factor shows the increased importance that companies have on developing individualized and meaningful contacts with their clients. Due to its capacity to provide direct and quick communication with customers, A2P SMS acts as a crucial instrument for meeting this demand. Businesses have realized that interacting with clients in real time via platforms like A2P SMS can boost client pleasure, loyalty, and, ultimately, income. A2P SMS gives users a platform for immediate, one-on-one contact, whether it's for sending surveys, order confirmations, appointment reminders, or promotional offers. The need for personalized experiences further fuels the demand for customer involvement. A2P SMS gives companies the ability to customize messages depending on user choices and behaviour, fostering a closer and more pertinent relationship with clients. This level of rationalization enhances the overall customer experience and can significantly impact brand perception and customer retention.
Restraints:
Message Filtering and Spam
The A2P (Application-to-Person) SMS industry is significantly constrained by message filtering and spam. This problem is caused by the necessity to combat the rising number of unsolicited and potentially harmful messages, which has prompted mobile carriers and service providers to implement strict anti-spam legislation and screening technologies. As a result of message filtering, legal A2P SMS messages can be mistakenly labeled as spam and blocked or delivered to users' spam folders. This can prevent important messages from getting to their intended recipients in time, such as time-sensitive alarms or authentication credentials. As a result, A2P SMS's dependability and efficiency can be jeopardized. Users experience trust concerns as a result of the abundance of spam in A2P SMS. Users are more likely to opt out of or ignore A2P SMS interactions if they consistently get a large volume of unwanted or irrelevant texts. This can lessen the impact and reach of A2P SMS marketing, which can have an influence on the profitability of enterprises. As businesses are required to follow strict anti-spam legislation like the Telephone Consumer Protection Act (TCPA) in the US and the General Data Protection Regulation (GDPR) in Europe, regulatory compliance is also becoming a rising problem.
The market for A2P (Application-to-Person) SMS is significantly constrained by the increasing SMS costs. The cost-effectiveness of this communication channel for businesses and organizations can be impacted by this difficulty, which is mostly caused by the increasing costs involved with sending A2P SMS messages. Telecommunications providers can increase the costs involved with delivering A2P SMS messages as the demand for A2P SMS services keeps increasing. Businesses' budgets can be put under pressure by these rising prices, particularly those who extensively rely on A2P SMS for marketing, customer engagement, or transactional alerts. Firms that send a large volume of messages can find the cost of A2P SMS to be particularly onerous. Even though the cost per communication might seem low when considered individually, it can soon add up and have a big influence on the entire marketing or operational budget. This can be a disincentive for startups or smaller companies with constrained resources. A2P SMS prices can also differ significantly between locales or international markets, depending on elements like carrier agreements, laws, and infrastructure. Businesses can find it difficult to successfully estimate and control their A2P SMS expenses as a result of this pricing variation.
Opportunities:
Rich Communication Services (RCS)
The development of rich communication services (RCS) will greatly advance mobile communication. Traditional SMS has evolved into RCS, which provides better features like multimedia messaging, interactive content, group conversations, read receipts, and more. Mobile carriers and companies have a chance to take advantage of this and enhance user experience and consumer engagement. RCS presents a chance for cell operators to compete with OTT messaging services like WhatsApp and Facebook Messenger. Carriers can maintain and draw new consumers while generating revenue from their messaging services by offering enhanced messaging services directly through the built-in messaging app on smartphones. On the other hand, businesses may use RCS to develop incredibly engaging and dynamic customer experiences. Rich media can be incorporated into communications using RCS, including interactive buttons, movies, and photos. Businesses can use the messaging app to promote products, provide tailored suggestions, and enable direct purchases because of this capabilities. Furthermore, tools like read receipts and typing indicators offer in-the-moment insights into customer interactions, enabling more successful customer assistance and marketing initiatives. RCS's global reach gives companies the chance to interact with clients on a global scale as it gains more adoption. This can simplify cross-border communication and establish unified brand experiences.
In the world of technology, IoT (Internet of Things) connectivity offers a revolutionary possibility. IoT refers to the process of connecting devices, sensors, and common things to the internet so they can communicate and exchange data. The foundation of this ecosystem is IoT connection, which makes a wide range of applications possible across numerous industries. Process automation and efficiency represent a huge opportunity. IoT devices have the ability to monitor, regulate, and optimize everything, from domestic appliances to industrial gear. This has the possibility for increasing productivity, lowering expenses, and improving general quality of life for both organizations and individuals. Additionally, IoT connectivity creates new opportunities for making decisions based on data. It is possible to analyse the enormous amounts of data produced by IoT devices to learn important things about consumer behaviour, equipment performance, and environmental conditions. Business strategies might be influenced by these insights, resulting in more informed decisions and specialized services. Wearable technology and remote monitoring can improve patient care and results, while IoT also presents chances for innovation in the healthcare industry.
Segment Overview
By Component
Based on component, the global A2P SMS market is divided into platform and A2P service. The A2P service category dominates the market with the largest revenue share in 2022. The A2P service segment focuses on the value-added services that leverage A2P SMS as a communication channel. This includes the actual content of the messages and the strategies employed by businesses to engage with customers. A2P services encompass a wide range of applications, including marketing campaigns, transactional alerts, notifications, and customer support. These services involve the creation of A2P SMS content, targeting specific user segments, and ensuring the messages are relevant and effective. The platform segment encompasses the infrastructure and technology that underpin A2P SMS communication. This includes the software and hardware components that enable businesses and service providers to send, receive, and manage A2P SMS messages. A2P SMS platforms provide the essential tools for message routing, delivery, reporting, and analytics. These platforms include SMS gateway solutions, application programming interfaces (APIs), and cloud-based services.
By Deployment Mode
Based on the deployment mode, the global A2P SMS market is categorized into on-premise and cloud. The cloud category leads the global A2P SMS market with the largest revenue share in 2022. Cloud-based A2P SMS solutions, on the other hand, rely on remote servers and infrastructure hosted and managed by third-party service providers. These solutions offer scalability, flexibility, and cost-effectiveness, as businesses can access the services on a subscription basis without the need to invest in and maintain their hardware. Cloud-based A2P SMS platforms are known for their rapid deployment, allowing businesses to quickly implement messaging services without extensive setup or ongoing maintenance. On-premise A2P SMS solutions involve deploying and managing the necessary infrastructure and software within an organization's physical premises. This means that the hardware, servers, and software components responsible for A2P SMS message processing and delivery are owned, operated, and maintained by the organization itself. On-premise solutions offer a high degree of control and customization, making them suitable for businesses with specific security or compliance requirements.
By Application
Based on application, the global A2P SMS market is segmented into authentication services, promotional and marketing services, pushed content services, interactive message services, customer relationship services, and others. The authentication services segment dominates the A2P SMS market. Authentication services involve the use of A2P SMS to verify the identity of users during account creation or login processes. This is crucial in enhancing security and ensuring that users are who they claim to be. Industries like finance and e-commerce heavily rely on A2P SMS for two-factor authentication (2FA) and one-time passwords (OTPs). A2P SMS is a powerful tool for promotional and marketing campaigns. Businesses use this service to send advertisements, offers, and promotions to their customers, helping to increase brand visibility, drive sales, and build customer loyalty. Pushed content services involve sending informational or content-rich messages to users' mobile devices. This can include news updates, weather alerts, sports scores, and other real-time information. These messages are pushed to users without a specific request and are often tailored to individual preferences. Interactive A2P SMS services allow businesses to engage with customers in real-time. This can involve conducting surveys, polls, quizzes, or providing interactive customer support. Interactive messages encourage customer participation and feedback, enabling businesses to gather valuable insights. A2P SMS plays a significant role in building and maintaining customer relationships. It is used for sending transaction confirmations, order updates, delivery notifications, and appointment reminders. These services enhance the customer experience and contribute to customer satisfaction.
By SMS Traffic
Based on SMS traffic, the global A2P SMS market is divided into national traffic, multi-country. The national traffic category dominates the market with the largest revenue share in 2022.National traffic in the A2P SMS market refers to messages that are sent and received within a single country. These messages are intended for domestic audiences and are often used for a variety of purposes, including marketing campaigns, transactional alerts, notifications, and customer engagement. National traffic is typically subject to the specific regulations and pricing structures of the country in which the messages are sent. This segment of the market caters to businesses and organizations that primarily focus on serving customers and users within their own country, targeting local audiences. Multi-country traffic, on the other hand, encompasses A2P SMS messages that are sent across borders and involve international communication. These messages are used for similar purposes as national traffic but are designed to reach audiences in multiple countries. Businesses and organizations that operate on a global scale or have an international customer base often utilize multi-country A2P SMS services.
Global A2P SMS Market Overview by Region
The global A2P SMS market is categorized into North America, Europe, Asia-Pacific, and the Rest of the World. Asia-Pacific emerged as the leading region, capturing the largest market share in 2022. A large chunk of the world's population resides in the Asia-Pacific area. The large market for A2P SMS services is a result of the high population density and rising mobile phone penetration. The need for A2P SMS for communication, marketing, and services increases significantly as more people have access to mobile devices. The economies of many nations in the Asia-Pacific area have grown significantly in recent years. Businesses are looking for efficient communication methods to reach and engage their customers, which has increased commercial activity. A2P SMS provides a practical and affordable way to do this. Businesses and consumers alike have embraced technology-driven solutions in the region, which has experienced a rapid pace of digital transformation. Asia-Pacific is made up of a wide variety of markets, each having unique cultural and linguistic quirks. Businesses can tailor their messaging content to fit local preferences by utilizing A2P SMS, which can be modified to serve these various markets. With mobile devices acting as the major means of internet access and communication, many nations in the Asia-Pacific area have embraced a "mobile-first" strategy. A2P SMS becomes a very pertinent and efficient communication medium as a result. Asia-Pacific emerging markets provide A2P SMS providers a variety of options. These economies are characterized by an expanding middle class and fast urbanization, which fuels a surge in demand for mobile services.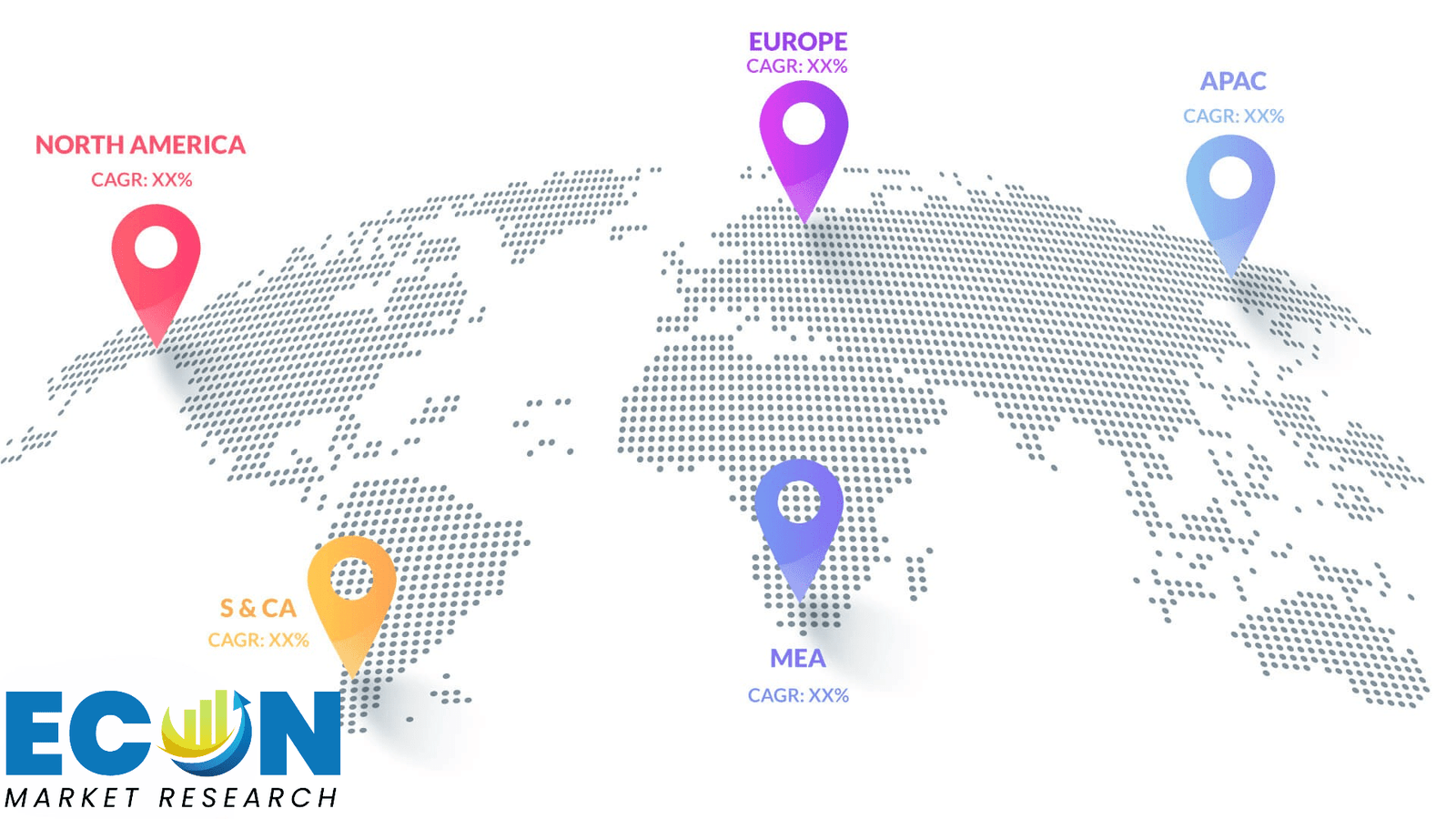 Global A2P SMS Market Competitive Landscape
In the global A2P SMS market, a few major players exert significant market dominance and have established a strong regional presence. These leading companies remain committed to continuous research and development endeavors and actively engage in strategic growth initiatives, including product development, launches, joint ventures, and partnerships. By pursuing these strategies, these companies aim to strengthen their market position, expand their customer base, and capture a substantial share of the market.
Some of the prominent players in the global A2P SMS market include Twilio Inc.; Dialogue Communications; Infobip Ltd.; Sinch; Proximus; Tata Communications; AT&T, Inc.; China Mobile Ltd.; Orange S.A.; Genesys , and various other key players.
Global A2P SMS Market Recent Developments
In August 2023, Route Mobile and Vodafone Idea will collaborate on A2P SMS monetisation using AI. An analytical firewall solution powered by artificial intelligence/machine learning (AI/ML), an SMS Hub on the VIL network, and aggregating international A2P SMS traffic on the VIL network will be used to provide the A2P SMS monetisation solutions.
In May 2023, At the 2023 Asian Telecom Awards, Vi Business won A2P SMS Monetization of the Year - India. The SMS success rate is increased by 5-7% thanks to its creative A2P approach.
Scope of the Global A2P SMS Market Report
A2P SMS Market Report Segmentation
ATTRIBUTE

DETAILS

By Component

By Deployment Mode

By Application

Authentication Services

Promotional and Marketing Services

Pushed Content Services

Interactive Message Services

Customer Relationship Services

Others

By SMS Traffic

National Traffic

Multi-Country

By Geography

North America (USA,

and Canada)

Europe (UK, Germany, France, Italy, Spain, Russia and Rest of Europe)

Asia Pacific (Japan, China, India, Australia, Southeast Asia and Rest of Asia Pacific)

Latin America (Brazil, Mexico, and Rest of Latin America)

Middle East & Africa (South Africa, GCC, and Rest of Middle East & Africa)

Customization Scope

Pricing
Objectives of the Study
The objectives of the study are summarized in 5 stages. They are as mentioned below:
Global A2P SMS

Market

Size and Forecast:
To identify and estimate the market size for the global A2P SMS market segmented by component, by application, by deployment mode, by SMS traffic, region and by value (in U.S. dollars). Also, to understand the consumption/ demand created by consumers of A2P SMS between 2019 and 2031.
Market Landscape and Trends:
To identify and infer the drivers, restraints, opportunities, and challenges for the global A2P SMS market
Market Influencing Factors:
To find out the factors which are affecting the sales of A2P SMS among consumers
To identify and understand the various factors involved in the global A2P SMS market affected by the pandemic
To provide a detailed insight into the major companies operating in the market. The profiling will include the financial health of the company's past 2-3 years with segmental and regional revenue breakup, product offering, recent developments, SWOT analysis, and key strategies.
Intended Audience
Government Communications

Academic Papers

Governments, Associations, and Industrial Bodies

Investors and Trade Experts
Research Methodology
Our research methodology has always been the key differentiating reason which sets us apart in comparison from the competing organizations in the industry. Our organization believes in consistency along with quality and establishing a new level with every new report we generate; our methods are acclaimed and the data/information inside the report is coveted. Our research methodology involves a combination of primary and secondary research methods. Data procurement is one of the most extensive stages in our research process. Our organization helps in assisting the clients to find the opportunities by examining the market across the globe coupled with providing economic statistics for each and every region. The reports generated and published are based on primary & secondary research. In secondary research, we gather data for global Market through white papers, case studies, blogs, reference customers, news, articles, press releases, white papers, and research studies. We also have our paid data applications which includes hoovers, Bloomberg business week, Avention, and others.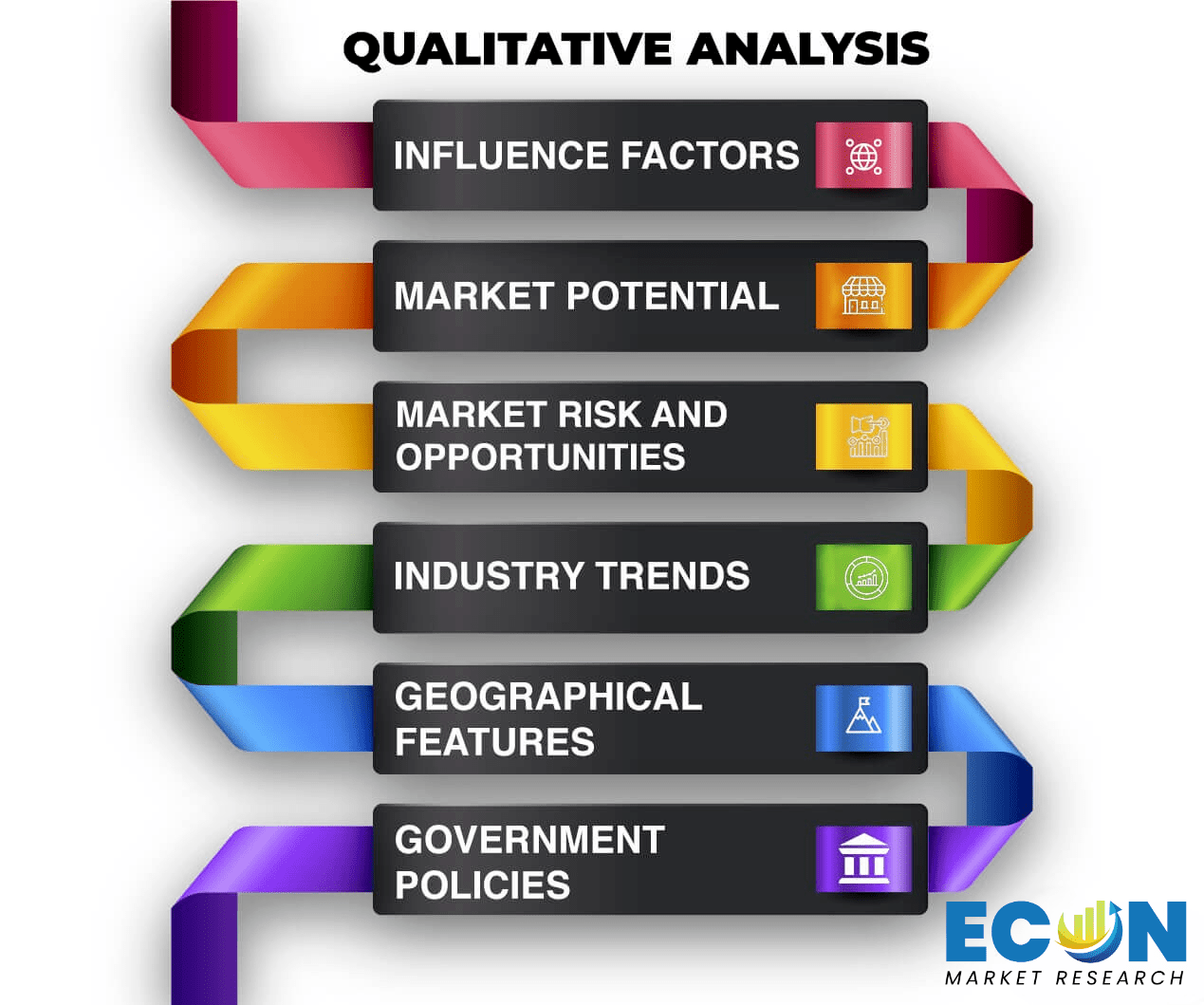 Data Collection
Data collection is the process of gathering, measuring, and analyzing accurate and relevant data from a variety of sources to analyze market and forecast trends. Raw market data is obtained on a broad front. Data is continuously extracted and filtered to ensure only validated and authenticated sources are considered. Data is mined from a varied host of sources including secondary and primary sources.

Primary Research
After the secondary research process, we initiate the primary research phase in which we interact with companies operating within the market space. We interact with related industries to understand the factors that can drive or hamper a market. Exhaustive primary interviews are conducted. Various sources from both the supply and demand sides are interviewed to obtain qualitative and quantitative information for a report which includes suppliers, product providers, domain experts, CEOs, vice presidents, marketing & sales directors, Type & innovation directors, and related key executives from various key companies to ensure a holistic and unbiased picture of the market. 
Secondary Research
A secondary research process is conducted to identify and collect information useful for the extensive, technical, market-oriented, and comprehensive study of the market. Secondary sources include published market studies, competitive information, white papers, analyst reports, government agencies, industry and trade associations, media sources, chambers of commerce, newsletters, trade publications, magazines, Bloomberg BusinessWeek, Factiva, D&B, annual reports, company house documents, investor presentations, articles, journals, blogs, and SEC filings of companies, newspapers, and so on. We have assigned weights to these parameters and quantified their market impacts using the weighted average analysis to derive the expected market growth rate.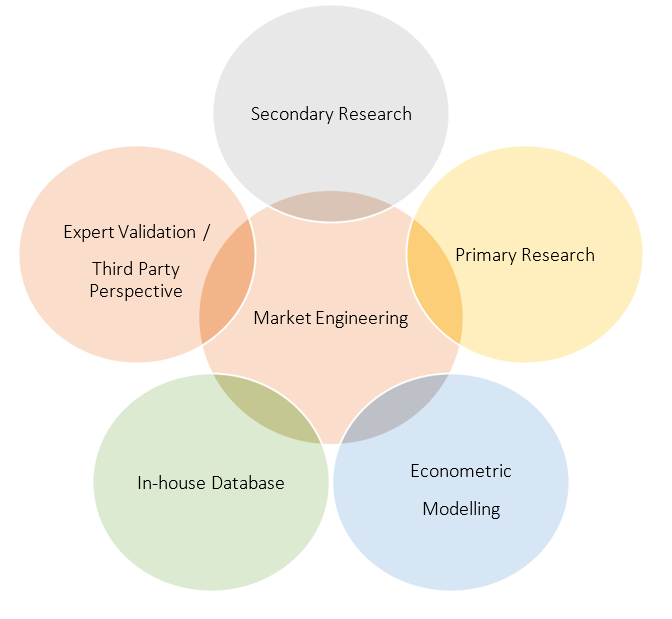 Top-Down Approach & Bottom-Up Approach
In the top – down approach, the Global Batteries for Solar Energy Storage Market was further divided into various segments on the basis of the percentage share of each segment. This approach helped in arriving at the market size of each segment globally. The segments market size was further broken down in the regional market size of each segment and sub-segments. The sub-segments were further broken down to country level market. The market size arrived using this approach was then crosschecked with the market size arrived by using bottom-up approach.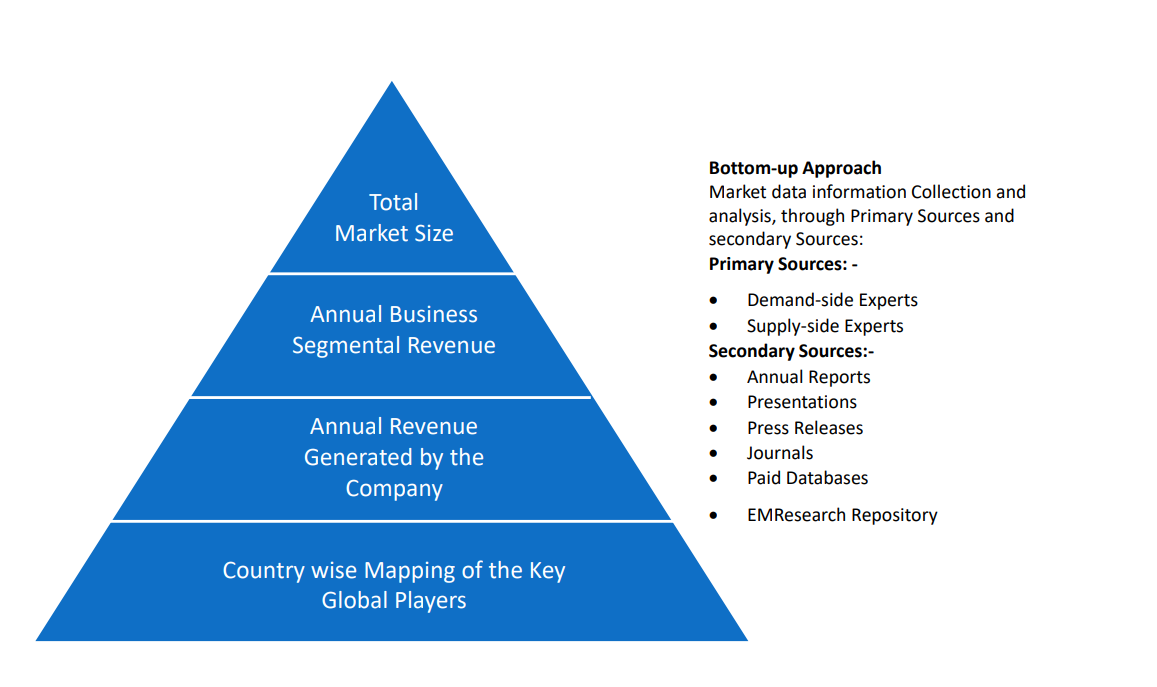 In the bottom-up approach, we arrived at the country market size by identifying the revenues and market shares of the key market players. The country market sizes then were added up to arrive at regional market size of the decorated apparel, which eventually added up to arrive at global market size.
This is one of the most reliable methods as the information is directly obtained from the key players in the market and is based on the primary interviews from the key opinion leaders associated with the firms considered in the research. Furthermore, the data obtained from the company sources and the primary respondents was validated through secondary sources including government publications and Bloomberg.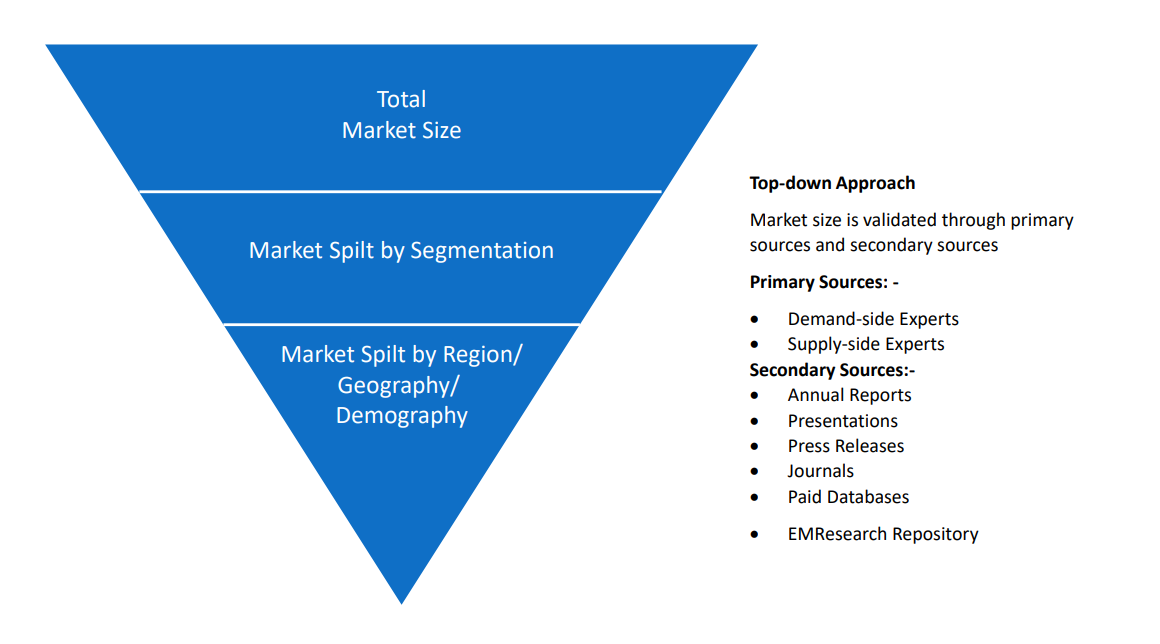 Market Analysis & size Estimation
Post the data mining stage, we gather our findings and analyze them, filtering out relevant insights. These are evaluated across research teams and industry experts. All this data is collected and evaluated by our analysts. The key players in the industry or markets are identified through extensive primary and secondary research. All percentage share splits, and breakdowns have been determined using secondary sources and verified through primary sources. The market size, in terms of value and volume, is determined through primary and secondary research processes, and forecasting models including the time series model, econometric model, judgmental forecasting model, the Delphi method, among Flywheel Energy Storage. Gathered information for market analysis, competitive landscape, growth trends, product development, and pricing trends is fed into the model and analyzed simultaneously.
Quality Checking & Final Review
The analysis done by the research team is further reviewed to check for the accuracy of the data provided to ensure the clients' requirements. This approach provides essential checks and balances which facilitate the production of quality data. This Type of revision was done in two phases for the authenticity of the data and negligible errors in the report. After quality checking, the report is reviewed to look after the presentation, Type and to recheck if all the requirements of the clients were addressed.