The Global 5G in Defense Market was valued at USD 0.87 billion in 2022 and is estimated to reach approximately USD 4.88 billion by 2031, at a CAGR of 21.1% from 2023 to 2031. New capabilities for national security have been made possible by the arrival of 5G technology, which has revolutionized the way military operations are carried out. The fifth generation of wireless communication technology, or 5G, revolutionizes the defence industry with its unmatched speed, low latency, and high connection. Real-time data transfer via 5G in the defence sector improves situational awareness and tactical decision-making on the front lines. It facilitates the use of unmanned aerial aircraft, autonomous vehicles, and other unmanned systems, enabling safer and more effective operations. Furthermore, 5G makes it easier to create cutting-edge communication networks that enable seamless coordination between military units and interoperability with allies' forces. Given the opportunities and difficulties it provides, the security of 5G in the defence industry is crucial. security and resilience of 5G networks are being worked on, along with measures to protect private data and ward off attackers. Modern defence strategies have incorporated 5G technology as a key component since it provides game-changing capabilities that improve the efficacy, efficiency, and security of military operations. The future of combat and national defence are ready to be shaped as countries continue to invest in 5G infrastructure and applications.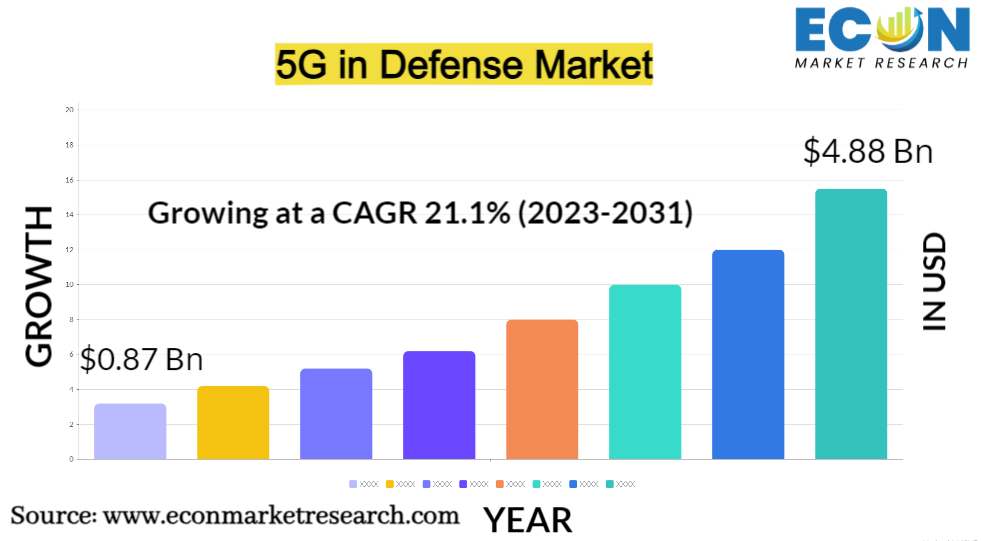 5G IN DEFENCE MARKET: REPORT SCOPE & SEGMENTATION
| | |
| --- | --- |
| Report Attribute | Details |
| Estimated Market Value (2022) | 0.87 Bn |
| Projected Market Value (2031) | 4.88 Bn |
| Base Year | 2022 |
| Forecast Years | 2023 - 2031 |
| Scope of the Report | Historical and Forecast Trends, Industry Drivers and Constraints, Historical and Forecast Market Analysis by Segment- By Communication Infrastructure, By Network Type, By Platform, & Region |
| Segments Covered | By Communication Infrastructure, By Network Type, By Platform,, & Region |
| Forecast Units | Value (USD Billion or Million), and Volume (Units) |
| Quantitative Units | Revenue in USD million/billion and CAGR from 2023 to 2031 |
| Regions Covered | North America, Europe, Asia Pacific, Latin America, and Middle East & Africa, and the Rest of World |
| Countries Covered | U.S., Canada, Mexico, U.K., Germany, France, Italy, Spain, China, India, Japan, South Korea, Brazil, Argentina, GCC Countries, and South Africa, among others |
| Report Coverage | Market growth drivers, restraints, opportunities, Porter's five forces analysis, PEST analysis, value chain analysis, regulatory landscape, market attractiveness analysis by segments and region, company market share analysis, and COVID-19 impact analysis. |
| Delivery Format | Delivered as an attached PDF and Excel through email, according to the purchase option. |
Global 5G in Defense Market Dynamics
Modern military operations have a growing requirement for communication that is quicker, more dependable, and low-latency. The real-time exchange of critical information, improved situational awareness, and capacity for quick decision-making on the battlefield are all made possible by 5G's ultra-fast data transmission capabilities. Additionally, the proliferation of remote-controlled and autonomous systems, such as drones and unmanned vehicles, has increased in the defence industry as a result of 5G's connectivity and accuracy. In order to reduce hazards to human personnel, these technologies can carry out reconnaissance, surveillance, and even combat operations more successfully. The importance of 5G is further increased by the defence industry's increasing reliance on data analytics and artificial intelligence. With the enormous volume of data produced during military operations, 5G networks make it possible for information to be processed and analyzed quickly, enabling more precise threat assessments and predictive capabilities. But these technical developments also pose problems, particularly in the area of cybersecurity. The defence industry must make significant investments in protecting 5G infrastructure and data since the connectivity that 5G offers also creates openings for attackers.Increased automation, data-driven decision-making, and improved communication are the characteristics of 5G in the defence business. While revolutionary, these developments call for a sharper attention on security and resilience to maintain the effectiveness of military operations.
Global 5G in Defense Market Drivers
Increased Data Transmission Speed and Capacity
From telecommunications to healthcare, increased data transmission speed and capacity is a major force in many industries. However, it has particularly transformational effects in the context of technological development and digitization. The modern world's exponential data growth is the main focus of this driving. Faster and more reliable data transmission is necessary due to the rise of data-intensive applications including high-definition video streaming, virtual reality, and augmented reality. In order to improve user experiences, higher internet rates and capacities make sure that consumers can easily access and interact with these content-rich applications. Additionally, the growing reliance on cloud computing and data analytics in the business world is driving the need for quick data transmission. To support real-time decision-making, data-driven insights, and effective business operations, enterprises need to be able to quickly transfer enormous volumes of data to and from the cloud. High-speed data transmission is crucial for the adoption of telemedicine and remote patient monitoring in the healthcare industry. Doctors can remotely assess patients, share medical records, and offer rapid diagnosis and treatment suggestions thanks to quick and dependable data connections.
Improved Connectivity in Remote Areas
A powerful factor that has significant ramifications for many industries, society at large, and economic growth is the driver of enhanced connection in remote locations. The awareness of the digital divide and the realization that having access to high-quality internet is no longer a luxury but rather a need are the main drivers behind this trend. Access to essential services and resources is made easier in distant places, which are frequently isolated geographically and have sparse infrastructure. In order to close quality-of-life gaps and lessen inequities between urban and rural areas, this also covers government, healthcare, and educational services that can now be provided remotely. Improved connection also creates new business prospects. Remote locations can develop into e-commerce, telecommuting, and entrepreneurial hotspots that promote economic development and employment creation. For resilient catastrophe response, rural communities must have better connectivity. During crises or natural disasters, quick and dependable communication networks can help with early warnings, emergency response coordination, and aiding impacted communities.
Restraints:
High implementation costs are a serious barrier, especially in the context of infrastructure and technical progress. These expenses can impede development and innovation in a variety of projects and businesses. The development of cutting-edge networks in the telecommunications industry, like 5G or fiber-optic broadband, necessitates large capital expenditures. The problem for telecom firms is frequently to recover these expenditures while still offering users accessible services. The digital gap can continue to exist if high deployment costs prevent high-speed internet access from being expanded to underserved and rural areas. Additionally, the expensive prices of infrastructure modifications and sensor installations create impediments for enterprises looking to adopt future technology like autonomous vehicles or smart cities. This delays the potential benefits of such technology and hinders their general integration.High deployment costs also affect government initiatives and public projects, making it challenging to fund essential infrastructure improvements or provide universal access to critical services.
Complex integration is a major barrier for many sectors, especially when it comes to the adoption of new technologies and the creation of new systems. The complexity of combining several components, systems, or technologies creates this difficulty. Complex integration can impede the seamless integration of software and hardware components in the field of information technology, resulting in compatibility problems, system failures, and higher development and maintenance costs. Organizations frequently experience difficulty integrating various systems and software programmes, which slows down efforts to implement digital transformation. When adopting automation and Industry 4.0 technology in the industrial industry, complicated integration presents difficulties. It can be difficult to incorporate robotics, IoT technology, and data analytics into current production processes without disrupting operations and spending a lot of money on training and reengineering.
Opportunities:
Enhanced Battlefield Communication
The introduction of 5G technology in the defence industry offers a tremendous chance to transform communication on the battlefield. In fast-paced, high-stress military operations, traditional communication networks frequently struggle to deliver the essential speed and dependability. The military can be able to set up safe, low-latency, and high-capacity communication networks on the battlefield thanks to 5G's fast data transmission capabilities. Military units can immediately exchange vital information, such as real-time troop movements, intelligence, and target locations, thanks to this improved communication. By vastly enhancing situational awareness, it enables commanders to make quicker, more informed judgements. Additionally, uninterrupted transmission of high-definition pictures and video conferencing allows for distant unit collaboration and intelligence exchange with command centers. Additionally, 5G can facilitate the deployment of cutting-edge communication technologies like augmented reality (AR) and virtual reality (VR), giving soldiers access to crucial information through immersive settings or heads-up displays. This improves both their alertness and their general efficacy in completing tasks.
Cybersecurity Advancements
A huge potential for cybersecurity breakthroughs is presented by the implementation of 5G technology in the defence industry. The security of 5G networks is crucial as they become a crucial component of military infrastructure and communication. The creation of more reliable and advanced cybersecurity solutions is a crucial component of this opportunity. The 5G network's higher speed and connection increase the attack surface for online attacks. As a result, the demand for sophisticated threat detection, intrusion prevention, and real-time monitoring systems is rising. In order to quickly respond to new threats, these systems can use AI and machine learning algorithms to analyse enormous volumes of network data for indications of cyberattacks. Furthermore, 5G networks can support higher levels of security in communications by utilizing sophisticated encryption methods and safe key management systems. The adoption of zero-trust network architectures is another cybersecurity opportunity. With 5G, the concept of trust is redefined, and a zero-trust approach assumes that no device or user can be inherently trusted, even within a secure network.
Segment Overview
By Communication Infrastructure
Based on communication infrastructure, the global 5G in defense market is divided into small cell, macro cell, and radio access network (RAN). The radio access network category dominates the market with the largest revenue share. The radio access network (RAN) is the underlying framework that connects small cells and macro cells to the core network. It coordinates the communication between devices and the cell sites, ensuring data transmission and reception are seamless. With 5G, the RAN is evolving to support the higher speeds and low-latency requirements of this next-generation technology. Small cells are miniature base stations that are deployed in densely populated urban areas or indoor environments. They are designed to enhance network capacity and coverage, especially in areas with high data traffic demand. Small cells are pivotal in extending 5G connectivity to indoor spaces like shopping malls, airports, and stadiums, where traditional macro cells might struggle to provide sufficient coverage. Macro cells, on the other hand, serve as the primary backbone of wireless networks. These large cell towers cover wider geographical areas and are responsible for providing broader network coverage, particularly in suburban and rural regions. They form the essential infrastructure for 5G networks, ensuring that connectivity is available beyond urban centers.
By Network Type
Based on the network type, the global 5G in defense market is categorized into enhanced mobile broadband (EMBB), ultra-reliable low-latency communications (URLLC), and massive machine type communications (MMTC). The enhanced mobile broadband (EMBB) category leads the global 5G in defense market with the largest revenue share. EMBB represents the evolution of traditional mobile broadband services, offering significantly faster data speeds and improved network capacity compared to previous generations. It is designed to meet the needs of consumers and businesses seeking higher-quality video streaming, augmented reality (AR), virtual reality (VR), and bandwidth-intensive applications. EMBB enables seamless, high-definition content delivery and supports the growing demand for data-hungry applications in urban areas and dense environments. URLLC focuses on delivering ultra-reliable, low-latency connectivity, making it ideal for critical applications that demand near-instantaneous response times and high reliability. This segment is crucial for mission-critical services such as autonomous vehicles, remote surgery, industrial automation, and emergency response systems. URLLC ensures that data is transmitted with minimal delay and guarantees robust, dependable connections, even in scenarios where lives and safety are at stake. MMTC addresses the burgeoning world of the internet of things (IoT) by providing efficient, low-power, and scalable connectivity solutions. It enables the connection of a vast number of devices, sensors, and machines, making it suitable for smart cities, smart agriculture, logistics, and various IoT applications. MMTC optimizes network resources to accommodate the massive influx of devices while conserving power, ensuring the longevity of IoT deployments.
By Platform
Based on platform, the global 5G in defense market is segmented into land, naval, and airborne. The airborne segment dominates the 5G in defense market. The airborne segment encompasses all military equipment and systems designed for use in the air and airspace. This includes military aircraft such as fighter jets, bombers, transport planes, helicopters, and unmanned aerial vehicles (UAVs). Airborne forces are pivotal for strategic reconnaissance, air superiority, and rapid deployment of troops and supplies. The naval segment comprises all equipment and technologies used in maritime environments. This includes naval vessels like aircraft carriers, submarines, frigates, and patrol boats, as well as associated systems like naval aviation and underwater warfare capabilities. Naval forces play a crucial role in securing maritime borders, ensuring sea-lane access, and projecting power and influence at sea. The land segment includes all defense-related equipment and systems designed for use on the ground or in terrestrial environments. This encompasses a wide range of military assets such as armored vehicles, tanks, infantry weapons, communication systems, and ground-based radar systems. Land-based military operations are essential for territorial defense, peacekeeping missions, and ground-based logistics and support.
Global 5G in Defense Market Overview by Region
The global 5G in defense market is categorized into North America, Europe, Asia-Pacific, and the Rest of the World. Asia-Pacific emerged as the leading region, capturing the largest market share in 2022. In terms of economic development, technical advancement, and geopolitical sway, the Asia-Pacific has established itself as the region to beat. Over the past few decades, the economies of this vibrant and diversified area, which includes nations like China, Japan, India, South Korea, and many more, have grown significantly. A growing middle class, industrialization, and a focus on innovation and technology are some of the elements that have propelled this growth. The Asia-Pacific area and the world as a whole have been significantly impacted by China's explosive economic growth. China has expanded economically and served as a centre for trade, technology, and industry because to its enormous population and expanding consumer market. The Asia-Pacific region is also at the cutting edge of technical development, with South Korea and Japan dominating fields like electronics, robotics, and telecommunications. The region's dedication to research and development has made it possible for it to compete internationally in cutting-edge fields including biotechnology, artificial intelligence, and 5G. Due to its proximity to powerful nations, important commercial routes, and maritime boundaries, the Asia-Pacific area has strategic importance from a geopolitical standpoint. It has drawn more regional and international players' attention, creating complicated geopolitical dynamics and alliances. The Asia-Pacific region's ascent to prominence is evidence of its expanding impact in the fields of geopolitics, technology, and economics. It is a crucial force for innovation and change on a worldwide scale, influencing the direction of many industries and global relations.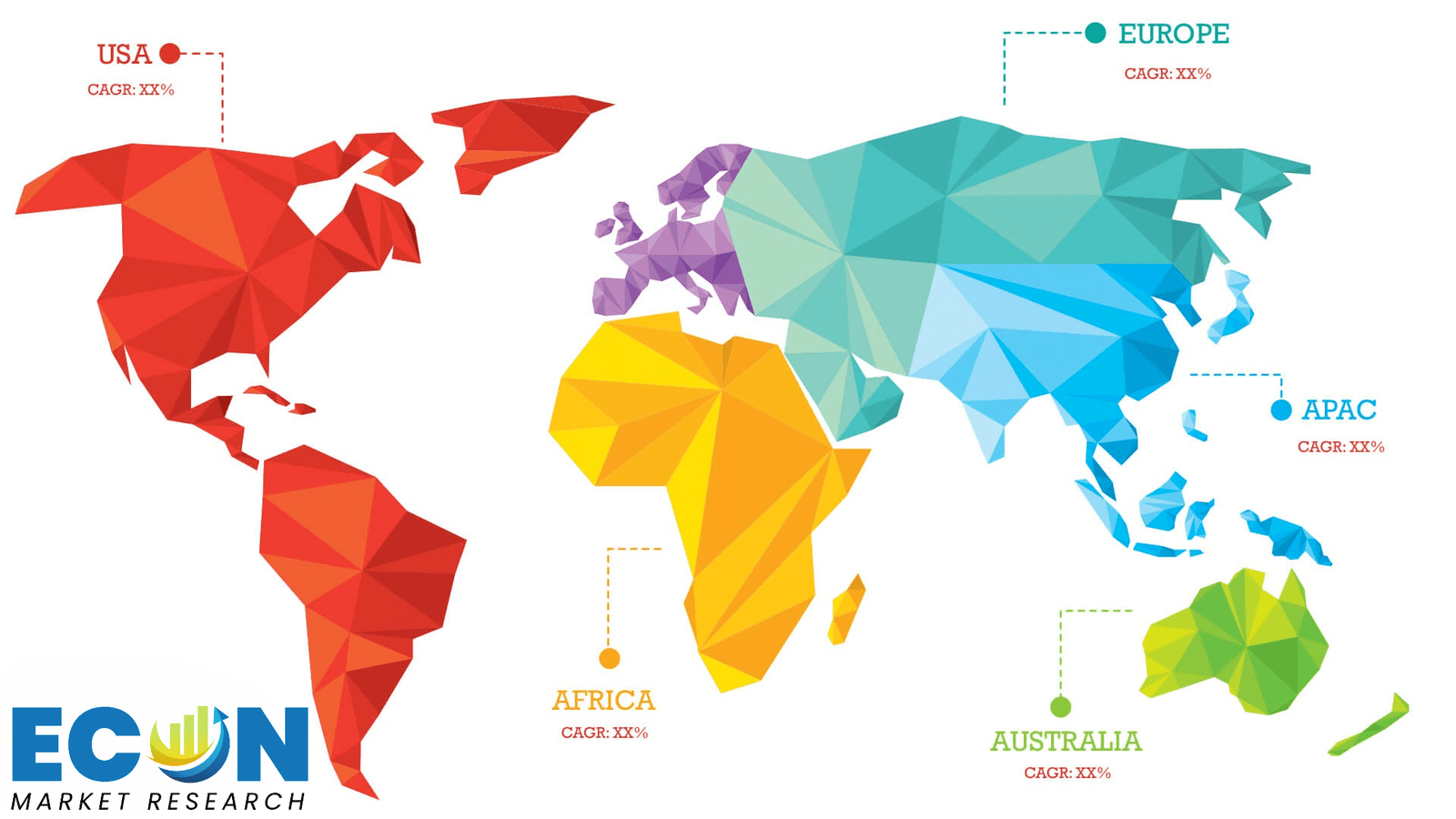 Global 5G in Defense Market Competitive Landscape
In the global 5G in defense market, a few major players exert significant market dominance and have established a strong regional presence. These leading companies remain committed to continuous research and development endeavors and actively engage in strategic growth initiatives, including product development, launches, joint ventures, and partnerships. By pursuing these strategies, these companies aim to strengthen their market position, expand their customer base, and capture a substantial share of the market.
Some of the prominent players in the global 5G in defense market include Telefonaktiebolaget LM Ericsson, Nokia Corporation, L3Harris Technologies, Inc., Thales Group, Ligado Networks, Samsung Electronics Co., Ltd, Huawei Investment & Holding Co., Ltd, NEC Corporation, Wind River Systems, Inc., Raytheon Technologies Corporation, and various other key players.
Global 5G in Defense Market Recent Developments
In August 2023, NATO will use drones and virtual reality to test 5G capabilities in Latvia. NATO's Allied Command Transformation, which is in charge of creating the network infrastructure for the alliance, has signed an agreement with Latvia that will enable allies to test out new capabilities at the 5G military test site in the Baltic state.
In May 2023, With a focus on extended testing, the Pentagon CIO will take over 5G initiatives. In an effort to contain Chinese influence in the communications sector, the chief information officer of the U.S. Department of Defence will be directly responsible for the department's 5G initiatives.
In August 2022, The Indian Army will build a 5G network for fast data along the borders. The Indian Army is attempting to build a 5G network along borders in order to have a high-speed data network to serve field formations' operational needs.
Scope of the Global 5G in Defense Market Report
5G in Defense Market Report Segmentation
ATTRIBUTE

DETAILS

By Communication Infrastructure

Small Cell

Macro Cell

Radio Access Network (RAN)

By Network Type

Enhanced Mobile Broadband (EMBB)

Ultra-Reliable Low-Latency Communications (URLLC)

Massive Machine Type Communications (MMTC)

By Platform

By Geography

North America (USA,

and Canada)

Europe (UK, Germany, France, Italy, Spain, Russia and Rest of Europe)

Asia Pacific (Japan, China, India, Australia, Southeast Asia and Rest of Asia Pacific)

Latin America (Brazil, Mexico, and Rest of Latin America)

Middle East & Africa (South Africa, GCC, and Rest of Middle East & Africa)

Customization Scope

Pricing
Objectives of the Study
The objectives of the study are summarized in 5 stages. They are as mentioned below:
Global 5G in Defense

Market

Size and Forecast:
To identify and estimate the market size for the global 5G in defense market segmented by communication infrastructure, by network type, by platform, region and by value (in U.S. dollars). Also, to understand the consumption/ demand created by consumers of 5G in defense between 2019 and 2031.
Market Landscape and Trends:
To identify and infer the drivers, restraints, opportunities, and challenges for the global 5G in defense market
Market Influencing Factors:
To find out the factors which are affecting the sales of 5G in defense among consumers
To identify and understand the various factors involved in the global 5G in defense market affected by the pandemic
To provide a detailed insight into the major companies operating in the market. The profiling will include the financial health of the company's past 2-3 years with segmental and regional revenue breakup, product offering, recent developments, SWOT analysis, and key strategies.
Intended Audience
Academic Community

Businesses and Industry Professionals

Healthcare Providers and Patients

Governments, Associations, and Industrial Bodies

Investors and Trade Experts
Research Methodology
Our research methodology has always been the key differentiating reason which sets us apart in comparison from the competing organizations in the industry. Our organization believes in consistency along with quality and establishing a new level with every new report we generate; our methods are acclaimed and the data/information inside the report is coveted. Our research methodology involves a combination of primary and secondary research methods. Data procurement is one of the most extensive stages in our research process. Our organization helps in assisting the clients to find the opportunities by examining the market across the globe coupled with providing economic statistics for each and every region. The reports generated and published are based on primary & secondary research. In secondary research, we gather data for global Market through white papers, case studies, blogs, reference customers, news, articles, press releases, white papers, and research studies. We also have our paid data applications which includes hoovers, Bloomberg business week, Avention, and others.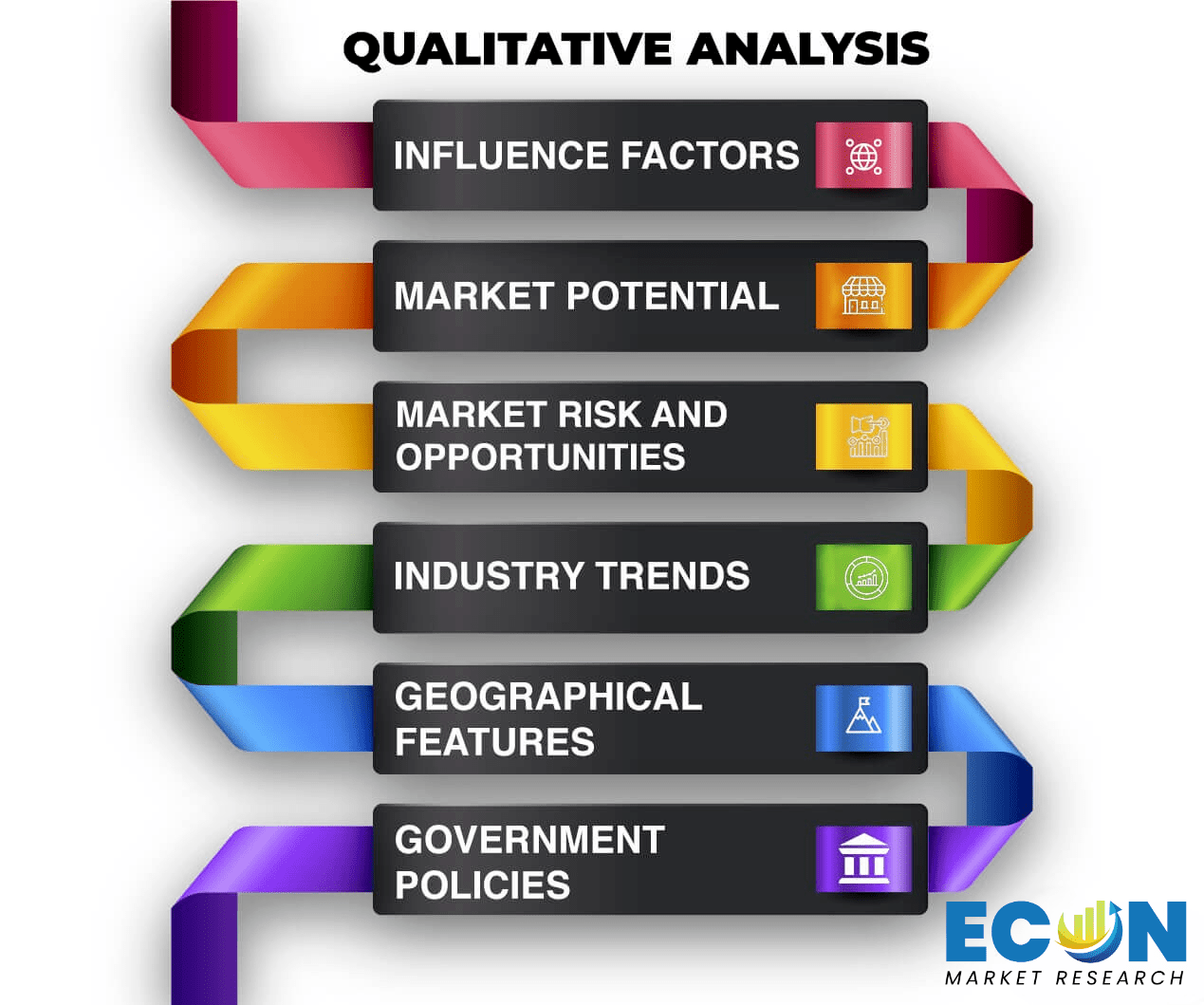 Data Collection
Data collection is the process of gathering, measuring, and analyzing accurate and relevant data from a variety of sources to analyze market and forecast trends. Raw market data is obtained on a broad front. Data is continuously extracted and filtered to ensure only validated and authenticated sources are considered. Data is mined from a varied host of sources including secondary and primary sources.

Primary Research
After the secondary research process, we initiate the primary research phase in which we interact with companies operating within the market space. We interact with related industries to understand the factors that can drive or hamper a market. Exhaustive primary interviews are conducted. Various sources from both the supply and demand sides are interviewed to obtain qualitative and quantitative information for a report which includes suppliers, product providers, domain experts, CEOs, vice presidents, marketing & sales directors, Type & innovation directors, and related key executives from various key companies to ensure a holistic and unbiased picture of the market. 
Secondary Research
A secondary research process is conducted to identify and collect information useful for the extensive, technical, market-oriented, and comprehensive study of the market. Secondary sources include published market studies, competitive information, white papers, analyst reports, government agencies, industry and trade associations, media sources, chambers of commerce, newsletters, trade publications, magazines, Bloomberg BusinessWeek, Factiva, D&B, annual reports, company house documents, investor presentations, articles, journals, blogs, and SEC filings of companies, newspapers, and so on. We have assigned weights to these parameters and quantified their market impacts using the weighted average analysis to derive the expected market growth rate.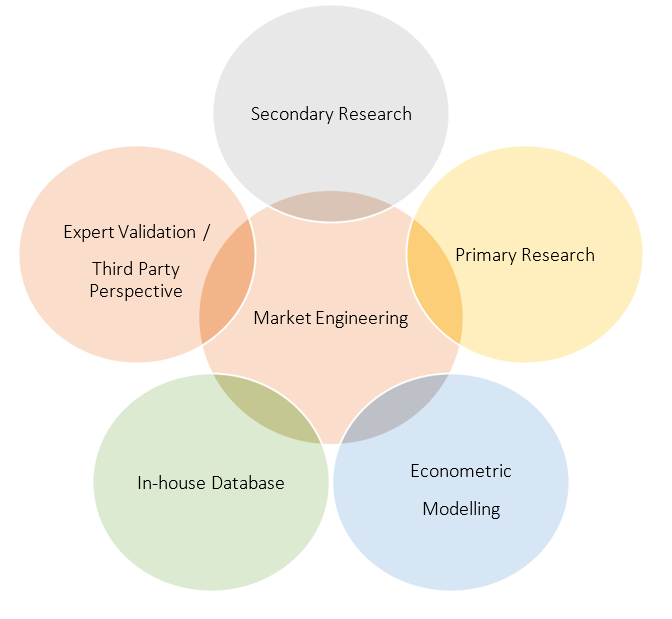 Top-Down Approach & Bottom-Up Approach
In the top – down approach, the Global Batteries for Solar Energy Storage Market was further divided into various segments on the basis of the percentage share of each segment. This approach helped in arriving at the market size of each segment globally. The segments market size was further broken down in the regional market size of each segment and sub-segments. The sub-segments were further broken down to country level market. The market size arrived using this approach was then crosschecked with the market size arrived by using bottom-up approach.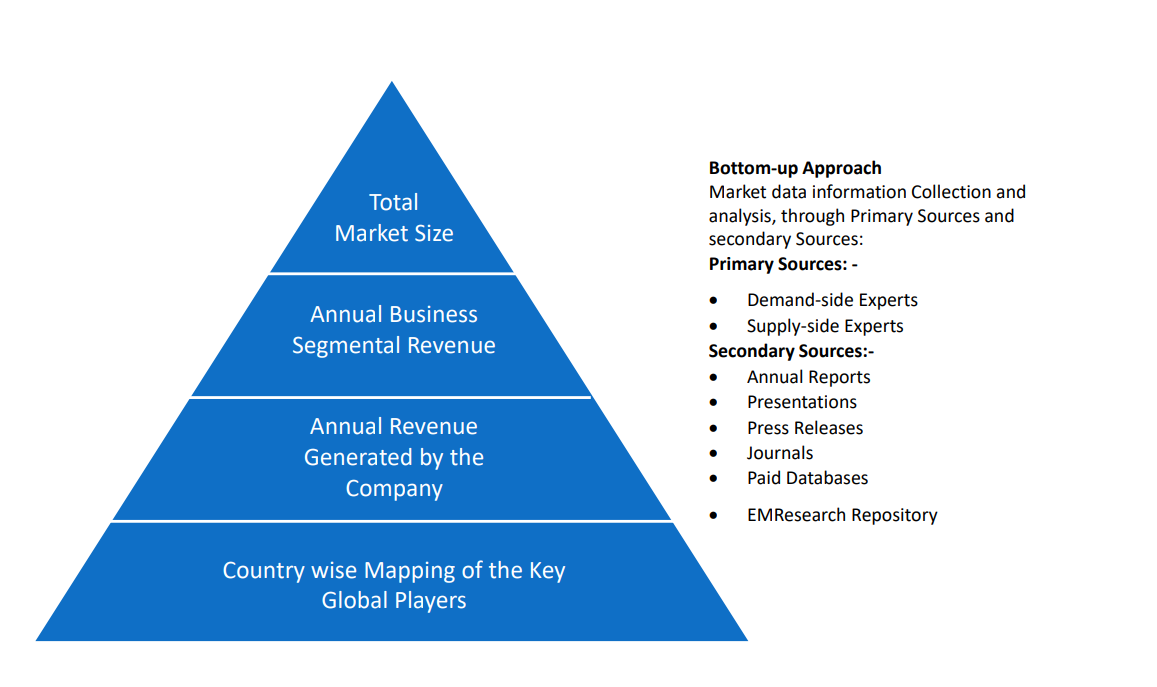 In the bottom-up approach, we arrived at the country market size by identifying the revenues and market shares of the key market players. The country market sizes then were added up to arrive at regional market size of the decorated apparel, which eventually added up to arrive at global market size.
This is one of the most reliable methods as the information is directly obtained from the key players in the market and is based on the primary interviews from the key opinion leaders associated with the firms considered in the research. Furthermore, the data obtained from the company sources and the primary respondents was validated through secondary sources including government publications and Bloomberg.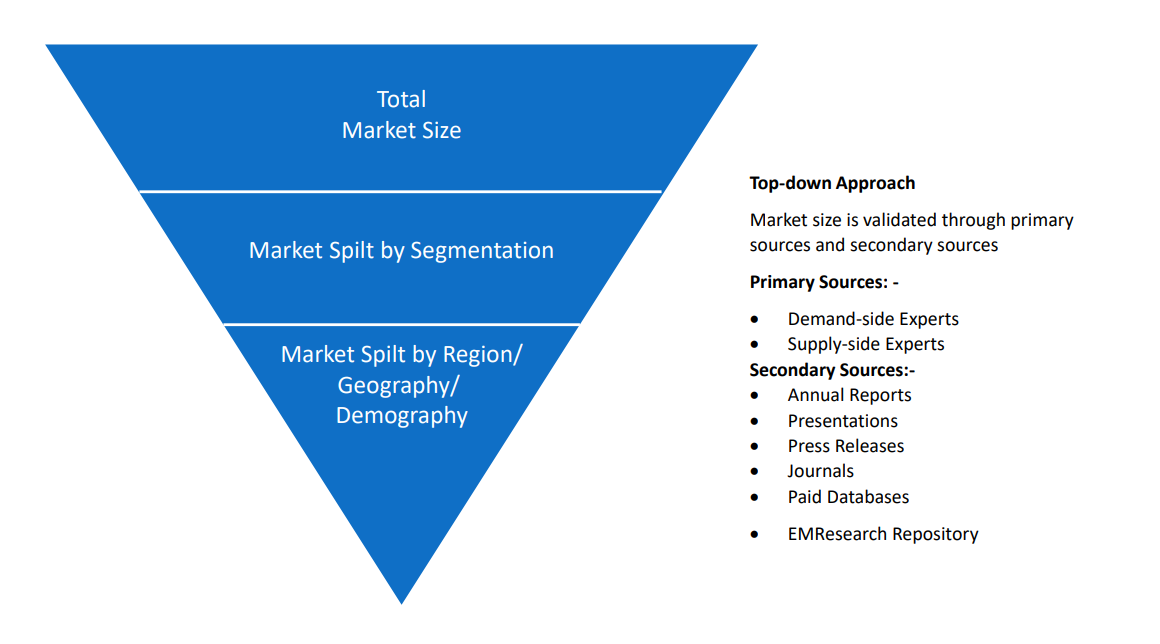 Market Analysis & size Estimation
Post the data mining stage, we gather our findings and analyze them, filtering out relevant insights. These are evaluated across research teams and industry experts. All this data is collected and evaluated by our analysts. The key players in the industry or markets are identified through extensive primary and secondary research. All percentage share splits, and breakdowns have been determined using secondary sources and verified through primary sources. The market size, in terms of value and volume, is determined through primary and secondary research processes, and forecasting models including the time series model, econometric model, judgmental forecasting model, the Delphi method, among Flywheel Energy Storage. Gathered information for market analysis, competitive landscape, growth trends, product development, and pricing trends is fed into the model and analyzed simultaneously.
Quality Checking & Final Review
The analysis done by the research team is further reviewed to check for the accuracy of the data provided to ensure the clients' requirements. This approach provides essential checks and balances which facilitate the production of quality data. This Type of revision was done in two phases for the authenticity of the data and negligible errors in the report. After quality checking, the report is reviewed to look after the presentation, Type and to recheck if all the requirements of the clients were addressed.