The Global 3D Animation Software Market was valued at USD 18.85 billion in 2022 and is estimated to reach approximately USD 51.45 billion by 2031, at a CAGR of 11.8% from 2023 to 2031. In recent years, the market for 3D animation software has grown significantly and undergone tremendous change, becoming an essential part of many different industries, including entertainment, gaming, architecture, healthcare, and education. Users can produce realistic and visually appealing 3D animations and renderings using a wide variety of programmes included in this software category. The growing need for realistic and engaging visual experiences is one factor driving the market's rise. Blockbuster films, innovative video games, and immersive virtual reality material have all been created using 3D animation software in the entertainment and gaming industries. Additionally, these tools are used by the engineering and architectural industries to produce architectural visualizations, allowing clients to see designs before construction starts. The 3D animation software market has advanced thanks to technological improvements. These software programmes' capabilities have been improved by features like real-time rendering, motion capture, and AI-driven animation, allowing designers and artists to produce more realistic and effective work. There is fierce competition in the market, as multiple top software suppliers are competing for supremacy. Market leaders like Autodesk, Maxon, and Adobe have gained a sizable part of the market, as have niche products like Blender and Unity. Additionally, the emergence of cloud-based and subscription-based business models has opened up access to these tools, facilitating their use by freelancers and small studios. The market is anticipated to increase as more sectors use 3D animation for a variety of uses, propelled by technical advancement and the always changing desire for visually beautiful and immersive experiences.
3D ANIMATION SOFTWARE MARKET: REPORT SCOPE & SEGMENTATION
| | |
| --- | --- |
| Report Attribute | Details |
| Estimated Market Value (2022) | 18.85 Bn |
| Projected Market Value (2031) | 51.45 Bn |
| Base Year | 2022 |
| Forecast Years | 2023 - 2031 |
| Scope of the Report | Historical and Forecast Trends, Industry Drivers and Constraints, Historical and Forecast Market Analysis by Segment- By Technology, By Deployment, By Application, & Region |
| Segments Covered | By Technology, By Deployment, By Application,& Region |
| Forecast Units | Value (USD Billion or Million), and Volume (Units) |
| Quantitative Units | Revenue in USD million/billion and CAGR from 2023 to 2031 |
| Regions Covered | North America, Europe, Asia Pacific, Latin America, and Middle East & Africa, and the Rest of World |
| Countries Covered | U.S., Canada, Mexico, U.K., Germany, France, Italy, Spain, China, India, Japan, South Korea, Brazil, Argentina, GCC Countries, and South Africa, among others |
| Report Coverage | Market growth drivers, restraints, opportunities, Porter's five forces analysis, PEST analysis, value chain analysis, regulatory landscape, market attractiveness analysis by segments and region, company market share analysis, and COVID-19 impact analysis. |
| Delivery Format | Delivered as an attached PDF and Excel through email, according to the purchase option. |
Global 3D Animation Software Market Dynamics
In 2021, the market for 3D animation software underwent substantial changes. The sector continued to flourish as a result of numerous factors. First and foremost, the popularity of 3D animation software was spurred by the rising demand for 3D material across numerous industries, including gaming, film, advertising, and architectural visualization. The transition to online streaming platforms and the demand for high-caliber visual material further fueled this demand. The development of technology was also very important. As real-time rendering capabilities developed, artists were able to produce immersive and more realistic animations quickly. Additionally, the 3D animation software's incorporation of artificial intelligence and machine learning improved the animation process, cutting down on production time and expenses. Additionally, there was more rivalry on the market as both established businesses and newcomers offered cutting-edge solutions. This competition sparked software invention and development, resulting in tools that are easier to use and more accessible. The popularity of open-source 3D animation software increased by the availability of affordable choices for independent and small firms. The COVID-19 epidemic also sped up the digital transition across businesses, increasing the demand for 3D animations for online training, virtual conferences, and remote teamwork. The 3D animation software market experienced strong growth, technological breakthroughs, and increasing rivalry overall, paving the way for further development in the coming years.
Global 3D Animation Software Market Drivers
Increasing Demand for Realistic Visual Content
A significant market driver for 3D animation software is the rising need for realistic visual content. Consumers and audiences have become accustomed to high-quality, immersive visual experiences in today's digitally-driven environment. A driving force behind the adoption of 3D animation software is the demand for realism and involvement, whether in movies, video games, product presentations, or architectural visualizations. Filmmakers and content producers in the entertainment sector aim to capture consumers with realistic characters, settings, and special effects. To produce aesthetically attractive and emotionally compelling storytelling, this need forces studios to invest in cutting-edge 3D animation tools. The gaming industry thrives on play ability and realistic graphics. Gamers want increasingly complex visuals, and 3D animation software gives game creators the tools they need to deliver on these demands, increasing gaming immersion and user pleasure. Additionally, businesses in fields like product design and architecture use 3D animations to produce lifelike prototypes that help clients accurately visualize ideas. This facilitates quicker decision-making and enhances communication.
The market for 3D animation software is significantly driven by cross-industry adoption, which reflects the broad acceptance of the benefits and adaptability of 3D animations across a variety of industries. This tendency can be ascribed to a number of elements that make 3D animation software an essential resource for a variety of sectors. First, 3D animations are used by the architectural and construction industries to create realistic visualizations of building designs, enabling clients to explore and comprehend concepts before construction begins. This helps with fault detection and design improvement in addition to improving communication. Medical personnel employ 3D animations in the healthcare sector for patient education, surgical planning, and training. These cartoons help doctors and patients better grasp complicated medical procedures, human anatomy, and disease processes. 3D animations in education increase learning's interactivity and engagement. These animations, whether used in classrooms or online learning environments, help students understand difficult subjects, especially in the STEM professions. Companies use 3D animations in marketing and advertising to exhibit goods and services in enticing ways, grabbing and holding customers' attention across a variety of platforms.
Restraints:
The market for 3D animation software is significantly constrained by the steep learning curve. These complex software programmes can be difficult to learn how to use successfully, and doing so can be time-consuming and frustrating. With its comprehensive toolkits and features, 3D animation software's sheer complexity can be overwhelming for novice and less experienced users. It frequently takes extensive training and practise to navigate complex interfaces and comprehend the full range of capabilities, which can dissuade newcomers from entering the sector. Learning how to use 3D animation software frequently requires a significant time and money commitment. This includes participating in specialized training sessions or allocating a sizeable chunk of one's working hours to self-learning. It could be especially difficult for smaller studios and individual artists to allocate these resources. Moreover, frequent updates and new feature introductions in 3D animation software can exacerbate the learning curve. Users must continually adapt to evolving tools and interfaces, which can disrupt workflows and necessitate additional training.
The market for 3D animation software is severely constrained by high costs, which harm both consumers and enterprises. These expenses cover a range of things, such as hardware requirements, software licences, and recurring fees, and they can affect affordability and accessibility. Software licences for 3D animation can be too expensive to obtain initially, especially for small firms and individual artists. Budgets may be strained and potential consumers may be discouraged from entering the market due to the upfront costs associated with obtaining these licences. Many 3D animation software programmes require powerful hardware setups to function properly. This includes robust processors, graphics cards, and RAM that is both expensive to buy and maintain. The costs are further increased by upgrading the hardware to satisfy the software's requirements. Additionally, some software providers offer subscription-based models, which, while providing more flexibility, can accumulate significant costs over time. Monthly or annual subscription fees can be burdensome, especially for users on tight budgets.
Opportunities:
Rising Demand for VR and AR Content
The market for 3D animation software is experiencing strong growth due to the increasing demand for virtual reality (VR) and augmented reality (AR) content. Numerous sectors, including gaming, education, healthcare, architecture, and marketing, have seen considerable adoption of VR and AR technologies. These innovations enable dynamic and immersive experiences that primarily rely on professional 3D animations, opening up a sizable market for animation software developers. VR and AR have completely changed how people play video games. With the ability to interact with 3D characters and locations and immerse themselves in lifelike virtual worlds, gamers have increased the demand for sophisticated 3D animation tools. As a result, there is a considerable need for 3D animation tools designed specifically for game creation. Furthermore, industries like healthcare leverage VR and AR for medical simulations, surgical training, and patient education. These applications rely on 3D animations to visualize complex medical concepts and procedures accurately, creating a significant market for specialized animation software.
Educational and E-Learning Growth
The expansion of the education industry and its growing reliance on 3D animation software present a considerable market opportunity. Digital and interactive instructional content is supplementing and, in some cases, replacing traditional teaching techniques, and 3D animations are essential to this change. The improvement of learning experiences is a crucial component. Using 3D animation software, educators may produce interactive, immersive teaching resources that accommodate different learning preferences. Through interactive 3D visualizations, difficult concepts like physics, engineering, and anatomy can be made more intelligible and memorable. This not only grabs students' attention but also helps them understand more deeply. E-learning platforms extensively rely on 3D animations to make online courses more engaging and effective. This is true especially in light of remote learning requirements. These platforms can offer simulations, digital labs, and accurate demonstrations, enhancing the learning process as a whole. Additionally, the versatility of 3D animations enables customized learning paths. Education can be made more accessible and efficient by allowing teachers to adapt the material to each student's needs. Additionally, due to the nature of global education, educational materials can be distributed to students everywhere. By bridging linguistic and cultural divides, localized content created with the use of 3D animation software can expand the market for educational resources worldwide.
Segment Overview
By Technology
Based on technology, the global 3D animation software market is divided into 3D modelling, motion graphics, 3D rendering, visual effects (VFX), and others. The 3D modelling category dominates the market with the largest revenue share of around 30.5% in 2022. 3D modeling is a fundamental component of the market, serving as the backbone for creating three-dimensional objects and characters. It is vital in industries such as architecture, product design, and gaming, where precise and realistic object representations are essential. Motion graphics, on the other hand, focus on adding movement and dynamism to visual content. This segment plays a crucial role in video production, advertising, and branding, as it enables the creation of eye-catching animations, titles, and transitions. 3D rendering involves the process of generating lifelike images or animations from 3D models, enhancing their realism through lighting, texture, and shading effects. It is integral in fields like architectural visualization, product marketing, and film production. Visual effects (VFX) encompass a wide range of techniques used to create or manipulate imagery that would be too dangerous, costly, or impractical to achieve in real-life scenarios. VFX are pivotal in the entertainment industry, particularly in movies and television, for creating spectacular and fantastical scenes.
By Deployment
Based on the deployment , the global 3D animation software market is categorized into cloud-based and on-premises. The cloud-based category leads the global 3D animation software market with the largest revenue share of around 65.2% in 2022. Cloud-based solutions can be accessed from anywhere with an internet connection, making them ideal for remote work and collaboration between geographically dispersed teams. Users can typically scale their usage up or down based on their needs, paying for resources on a subscription or pay-as-you-go basis. Cloud-based solutions often reduce upfront hardware and infrastructure costs since they do not require powerful local workstations. Cloud-based software providers can deliver automatic updates and maintenance, ensuring users have access to the latest features and security patches. On-premises 3D animation software is installed and operated directly on local hardware and servers. Users have full control over their data and software, which can be essential for organizations with stringent data security and compliance requirements. On-premises solutions can provide faster performance and reduced latency since they operate locally without relying on internet connectivity. Users can often customize and tailor on-premises software to meet their specific workflow and integration needs.
By Application
Based on application, the global 3D animation software market is segmented into media & entertainment, healthcare & lifesciences, manufacturing, education & research, and others. The media & entertainment segment dominates the 3D animation software market with 41.5% share in 2022. This segment includes film, television, gaming, animation studios, and streaming platforms. 3D animation software is widely used to create captivating visual effects, character animations, and immersive storytelling in movies, TV shows, and video games. The healthcare and life sciences sector leverages 3D animation for medical simulations, surgical training, patient education, and scientific research. These animations help visualize complex medical concepts, anatomy, and procedures, enhancing understanding and communication among medical professionals and patients. In manufacturing industries, 3D animation software is used for product design, prototyping, assembly instructions, and process visualization. It aids in creating realistic product simulations and animations for marketing and training purposes. Educational institutions and research organizations utilize 3D animations to enhance learning experiences and facilitate research presentations. These animations make subjects more engaging and understandable, from STEM education to historical reconstructions.
Global 3D Animation Software Market Overview by Region
The global 3D animation software market is categorized into North America, Europe, Asia-Pacific, and the Rest of the World. North America emerged as the leading region, capturing approximately 42% of the market share in 2022. In the market for 3D animation software, North America has risen to the top position, demonstrating its dominance and essential contribution to the development and innovation of the sector. North America currently holds the top spot in this competitive market as a result of several important considerations. First and foremost, Hollywood is the centre of a booming and significant entertainment business in North America. North America is a big user of this technology, with film and television studios in the region highly reliant on it to produce aesthetically spectacular and immersive visual effects. The area is a leader in the video game industry, housing many studios and developers. The adoption of 3D animation software has been fueled by the demand for realistic character animations, intricate world designs, and fun gameplay experiences.Additionally, North America is recognized for its invention and technological strength. This environment encourages the creation of innovative 3D animation solutions, drawing not only domestic but also foreign clients in search of the newest and most sophisticated technologies. In North America, 3D animation software is rapidly being used in the healthcare and educational fields in addition to entertainment and gaming. It contributes to the market's expansion by being used for surgical training, patient education, and improved learning experiences. A favourable environment for the creation and use of 3D animation software has been encouraged by the region's economic success, accessibility of a talented workforce, and readiness to invest in creative businesses. The fact that North America continues to lead shows how important it is as a centre for innovation and technology in the global 3D animation market.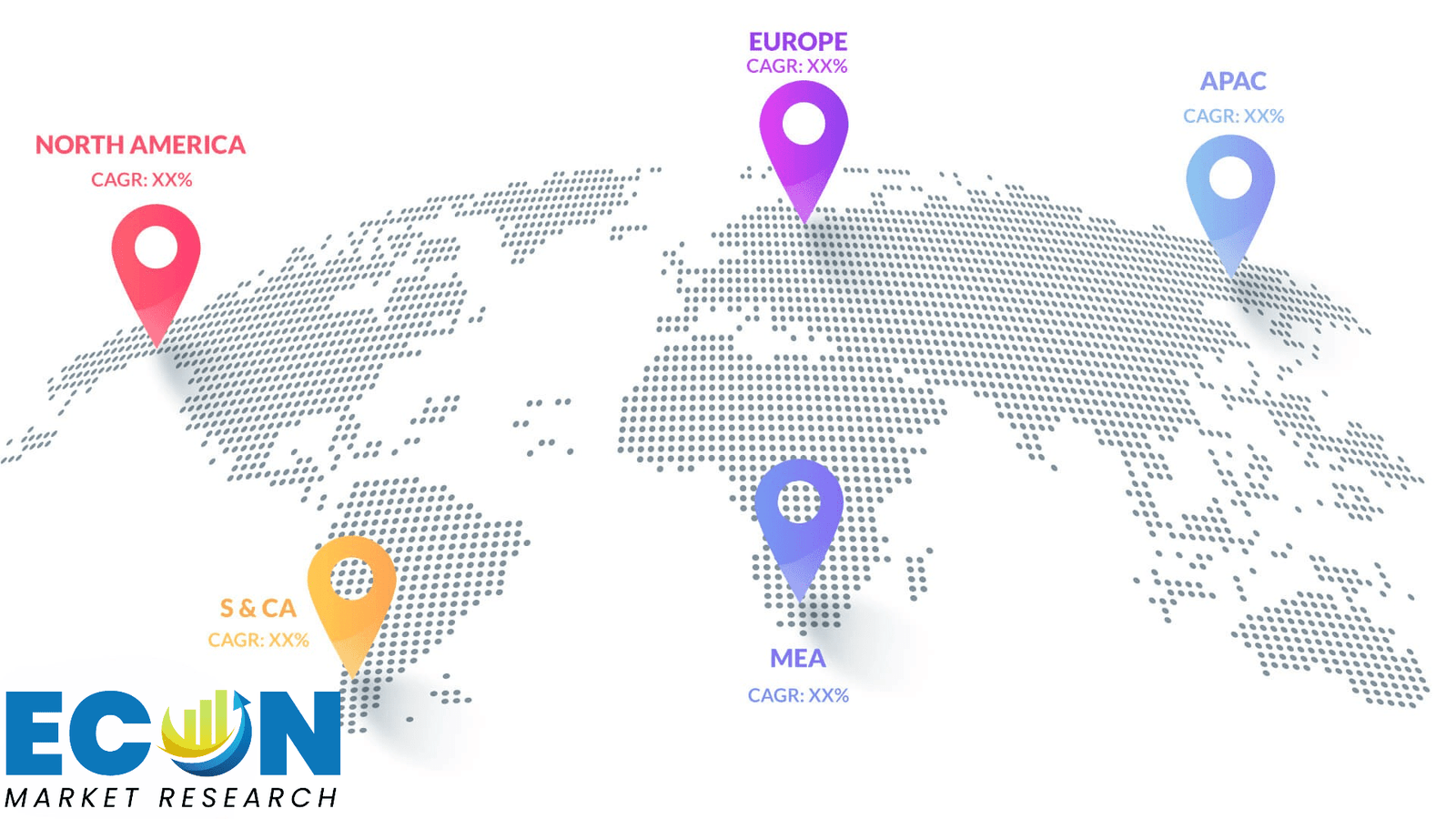 Global 3D Animation Software Market Competitive Landscape
In the global 3D animation software market, a few major players exert significant market dominance and have established a strong regional presence. These leading companies remain committed to continuous research and development endeavors and actively engage in strategic growth initiatives, including product development, launches, joint ventures, and partnerships. By pursuing these strategies, these companies aim to strengthen their market position, expand their customer base, and capture a substantial share of the market.
Some of the prominent players in the global 3D animation software market include Adobe Systems, Corel Corp., Autodesk Inc., Toon Boom Animation Inc., Electric Image, Maxon, Corastar, Magix, NewTek, Smith Micro Software, GmbH ,Side Effects Software., and various other key players.
Global 3D Animation Software Market Recent Developments
In July 2023, A 3D animation Design and Its 4D Animated Human Technology are Acquired by Chaos for Archviz. This acquisition broadens an expanding ecosystem of photorealistic renderers, 3D component libraries, and real-time visualization tools that assist teams in creating constructed experiences all over the world.
In February 2023, For AI-driven 3D animation mocap, Autodesk invested in RADiCAL. An investment by Autodesk has been made in RADiCAL, a company based in New York that creates cloud-based, AI-powered 3D motion capture software. Through its collaborative real-time platform, RADiCAL enables widespread access to 3D mocap, human virtualization, and analysis.
Scope of the Global 3D Animation Software Market Report
3D Animation Software Market Report Segmentation
ATTRIBUTE

DETAILS

By Technology

3D Modelling

Motion Graphics

3D Rendering

Visual Effects (VFX)

Others

By Deployment

By Application

Media & Entertainment

Healthcare & Lifesciences

Manufacturing

Education & Research

Others

By Geography

North America (USA,

and Canada)

Europe (UK, Germany, France, Italy, Spain, Russia and Rest of Europe)

Asia Pacific (Japan, China, India, Australia, Southeast Asia and Rest of Asia Pacific)

Latin America (Brazil, Mexico, and Rest of Latin America)

Middle East & Africa (South Africa, GCC, and Rest of Middle East & Africa)

Customization Scope

Pricing
Objectives of the Study
The objectives of the study are summarized in 5 stages. They are as mentioned below:
Global 3D Animation Software

Market

Size and Forecast:
To identify and estimate the market size for the global 3D animation software market segmented by technology, by deployment, by application, region and by value (in U.S. dollars). Also, to understand the consumption/ demand created by consumers of 3D animation software between 2019 and 2031.
Market Landscape and Trends:
To identify and infer the drivers, restraints, opportunities, and challenges for the global 3D animation software market
Market Influencing Factors:
To find out the factors which are affecting the sales of 3D animation software among consumers
To identify and understand the various factors involved in the global 3D animation software market affected by the pandemic
To provide a detailed insight into the major companies operating in the market. The profiling will include the financial health of the company's past 2-3 years with segmental and regional revenue breakup, product offering, recent developments, SWOT analysis, and key strategies.
Intended Audience
Software Developers and Providers

Media and Entertainment Professionals

Gaming Industry Stakeholders

Educational Institutions

Governments, Associations, and Industrial Bodies

Investors and Trade Experts
Research Methodology
Our research methodology has always been the key differentiating reason which sets us apart in comparison from the competing organizations in the industry. Our organization believes in consistency along with quality and establishing a new level with every new report we generate; our methods are acclaimed and the data/information inside the report is coveted. Our research methodology involves a combination of primary and secondary research methods. Data procurement is one of the most extensive stages in our research process. Our organization helps in assisting the clients to find the opportunities by examining the market across the globe coupled with providing economic statistics for each and every region. The reports generated and published are based on primary & secondary research. In secondary research, we gather data for global Market through white papers, case studies, blogs, reference customers, news, articles, press releases, white papers, and research studies. We also have our paid data applications which includes hoovers, Bloomberg business week, Avention, and others.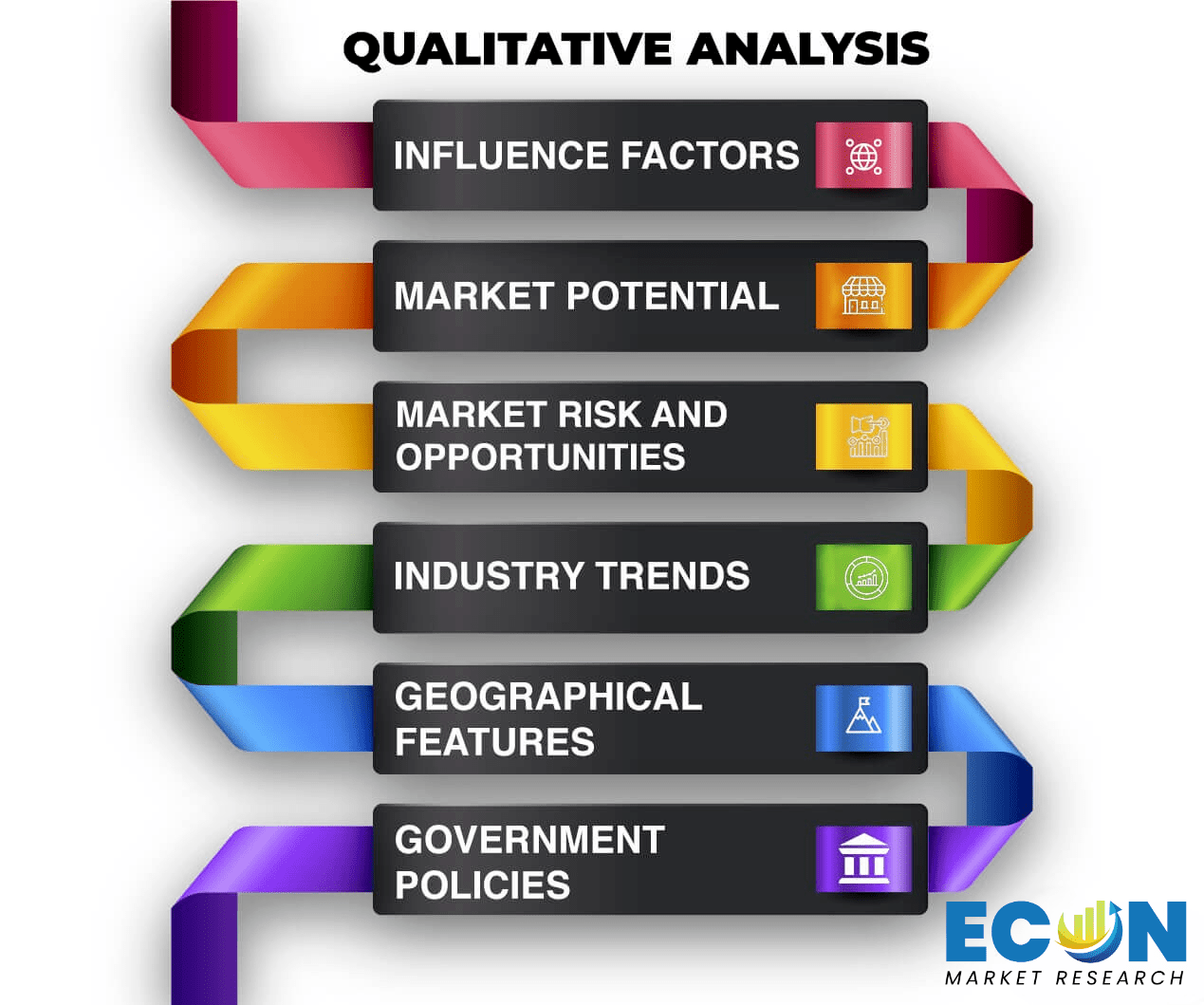 Data Collection
Data collection is the process of gathering, measuring, and analyzing accurate and relevant data from a variety of sources to analyze market and forecast trends. Raw market data is obtained on a broad front. Data is continuously extracted and filtered to ensure only validated and authenticated sources are considered. Data is mined from a varied host of sources including secondary and primary sources.

Primary Research
After the secondary research process, we initiate the primary research phase in which we interact with companies operating within the market space. We interact with related industries to understand the factors that can drive or hamper a market. Exhaustive primary interviews are conducted. Various sources from both the supply and demand sides are interviewed to obtain qualitative and quantitative information for a report which includes suppliers, product providers, domain experts, CEOs, vice presidents, marketing & sales directors, Type & innovation directors, and related key executives from various key companies to ensure a holistic and unbiased picture of the market. 
Secondary Research
A secondary research process is conducted to identify and collect information useful for the extensive, technical, market-oriented, and comprehensive study of the market. Secondary sources include published market studies, competitive information, white papers, analyst reports, government agencies, industry and trade associations, media sources, chambers of commerce, newsletters, trade publications, magazines, Bloomberg BusinessWeek, Factiva, D&B, annual reports, company house documents, investor presentations, articles, journals, blogs, and SEC filings of companies, newspapers, and so on. We have assigned weights to these parameters and quantified their market impacts using the weighted average analysis to derive the expected market growth rate.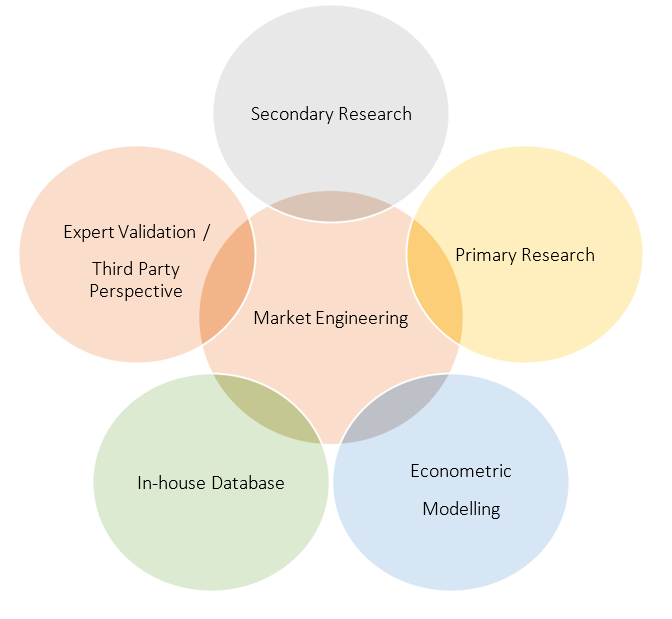 Top-Down Approach & Bottom-Up Approach
In the top – down approach, the Global Batteries for Solar Energy Storage Market was further divided into various segments on the basis of the percentage share of each segment. This approach helped in arriving at the market size of each segment globally. The segments market size was further broken down in the regional market size of each segment and sub-segments. The sub-segments were further broken down to country level market. The market size arrived using this approach was then crosschecked with the market size arrived by using bottom-up approach.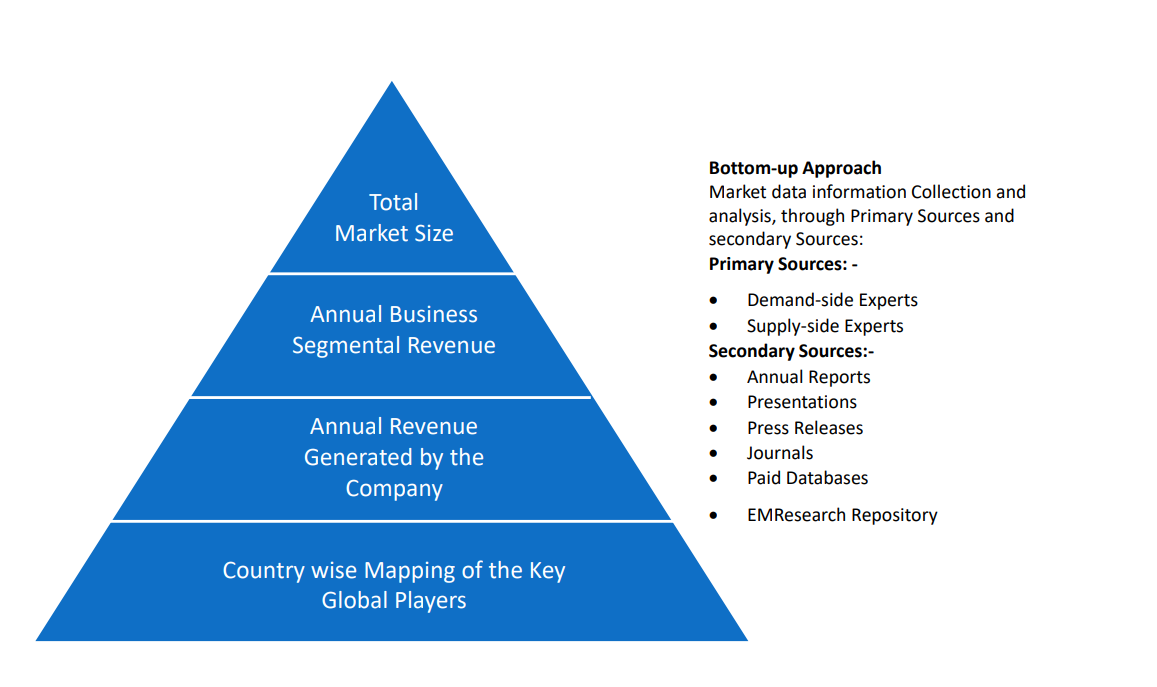 In the bottom-up approach, we arrived at the country market size by identifying the revenues and market shares of the key market players. The country market sizes then were added up to arrive at regional market size of the decorated apparel, which eventually added up to arrive at global market size.
This is one of the most reliable methods as the information is directly obtained from the key players in the market and is based on the primary interviews from the key opinion leaders associated with the firms considered in the research. Furthermore, the data obtained from the company sources and the primary respondents was validated through secondary sources including government publications and Bloomberg.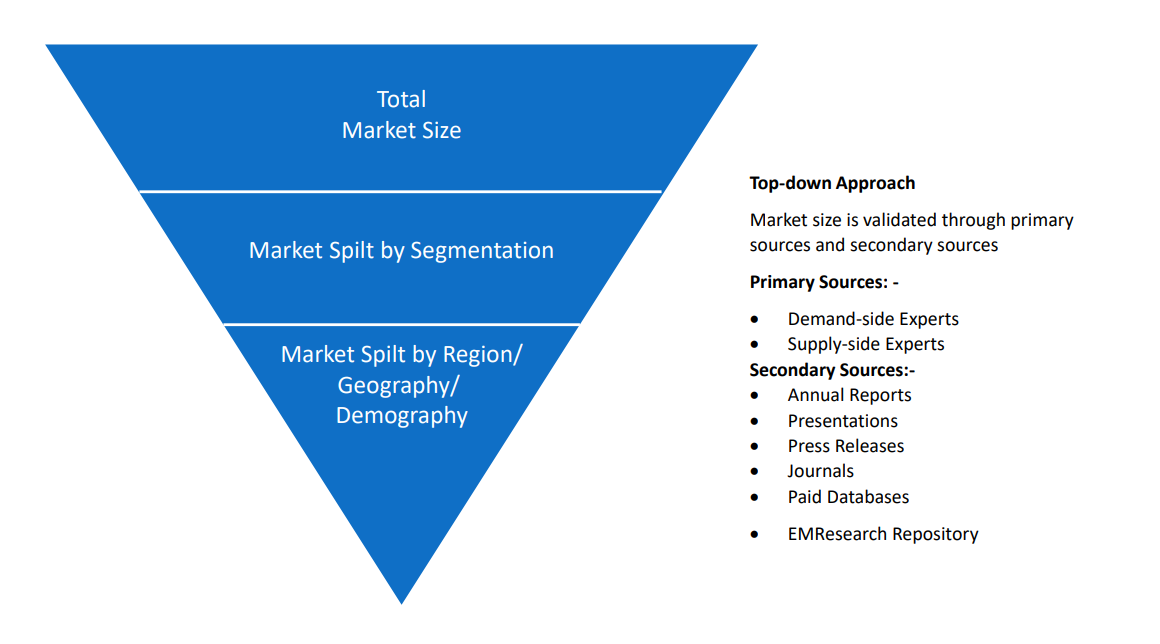 Market Analysis & size Estimation
Post the data mining stage, we gather our findings and analyze them, filtering out relevant insights. These are evaluated across research teams and industry experts. All this data is collected and evaluated by our analysts. The key players in the industry or markets are identified through extensive primary and secondary research. All percentage share splits, and breakdowns have been determined using secondary sources and verified through primary sources. The market size, in terms of value and volume, is determined through primary and secondary research processes, and forecasting models including the time series model, econometric model, judgmental forecasting model, the Delphi method, among Flywheel Energy Storage. Gathered information for market analysis, competitive landscape, growth trends, product development, and pricing trends is fed into the model and analyzed simultaneously.
Quality Checking & Final Review
The analysis done by the research team is further reviewed to check for the accuracy of the data provided to ensure the clients' requirements. This approach provides essential checks and balances which facilitate the production of quality data. This Type of revision was done in two phases for the authenticity of the data and negligible errors in the report. After quality checking, the report is reviewed to look after the presentation, Type and to recheck if all the requirements of the clients were addressed.